A long day of classes leaves me wanting nothing more than a hot shower and an American Idol-style singing session. I do all my best singing in the shower—just ask my roommate. Don't be afraid to belt out those tunes for your whole floor to hear. Let the world know you're a star. And if you're in the mood for good vibes only, these songs to belt out will definitely get the serotonin flowin'.
Keep reading for 21 songs to belt out when you need a good jam session.
Use your ← → (arrow) keys to browse
1. "Schoolin' Life" by Beyoncé
So you don't have as much soul as Beyoncé does. Don't let that stop you from schoolin' it.
Use your ← → (arrow) keys to browse
10 Songs to Sing in the Shower When No One Will Listen to Your Demos
Written by Andrew Checchia
While the dreams of "American Idol" and "The Voice" hopefuls wilt away with cable TV's continued downward spiral, college students still belt their hearts out in communal showers across the country. You might not sing during your daily cleanse for a chance at fame, but you should still perform the best songs for the occasion. Check out our list of iconic songs and deep cuts to add to your rotation of songs that will piss off your roommates. Maybe these will do it just a little bit less.
22. "Self Control" by Frank Ocean
Gen Z's emotional state generally oscillates between internet-radical outrage, depressive apathy and overwhelming emotional devastation. So when you want to get in that last mood, listen to this song. Aside from Frank Ocean's position as a culturally ubiquitous artist, "Self Control" stands as one of the best examples of songwriting from the past decade. The beautiful guitars, the choral build and the lyrics about lost love coalesce into the perfect way to start or end your routine on one of those days. Try not to get choked up in the process.
23. "Mr. Brightside" by The Killers
The white boy national anthem may soundtrack indie kid memes and conjure up memories of terrifying scenes at college parties, but in the shower, everyone can get down with the Killers' electrifying hook and iconic lyrics. You don't need the opening guitar riff or drum backing to pour your emotions into "coming out of my cage and I've been doing just fine." I can't vouch for the side effects of scream-singing in a communal bathroom, but you may just make some interesting new friends.
24. "Freaky Girl" (feat. Lil Kim) by Nicki Minaj
For Barbz—Nicki Minaj's dedicated stan community—across the world, quoting some early morning bars from the Queen makes any day better. In this early 2010 deep cut, Nicki wields her trademark lyricism and catchy hooks on top of Gucci Mane's iconic "Freaky Gurl" instrumental, taking a page from fellow Young Money rapper Lil Wayne's mixtape playbook. "Wake up, cook three overeasy eggs and sausage served with oat milk for breakfast, go to church, go to our local farmers market, and get home for a nice shower while dissociating to 'Freaky Girl' by Nicki Minaj," Texas A&M sophomore Shane Pesek said. Nothing says 'Zoomer emotions' like an apathetic listen to Nicki taking on a classic beat.
25. "It Wasn't Me" (feat. Rik Rok) by Shaggy
You don't need to say much more than "Picture this, we were both butt naked / Bangin' on the bathroom floor." This iconic 2000's throwback can make your shower experience as exuberant and promiscuous as you'll let it. While you might struggle with Shaggy's Patois verses (and should probably avoid offensive attempts), you can slip right into Rik Rok's perfectly smooth hook and maybe remind yourself to stay faithful in the process. 
26. "On My Own" (from Les Misérables) by Samantha Banks
However terrifying the threat of a theater kid wanting to talk to you about musicals may appear, sometimes musicals urge you to truly belt during that afternoon shower. Without the judgment of others, you can really get into those little vocal inflections and bombastic bridges. Plenty of tunes fit the bill, but this classic song from Les Misérables does it best. "It's extremely dramatic. I can add extra dramatic effect in the shower," UCLA sophomore Shay Embler said. I wouldn't recommend this one to students with rocky roommate relationships, but for those that find the confidence, go for those high notes!
27. "Life's a Bitch" (feat. AZ & Olu Dara) by Nas
"Life's a bitch and then you die"—a solemn reminder of mortality will kick start your day like nothing else, and few artists do it better than Nas and AZ. AZ's infectious first verse would keep you entertained working out the rhyme schemes and flow patterns all on its own, but the iconic hook and Nas' equally dexterous second verse will keep shower rappers engaged and stumbling through missed lines for weeks before nailing that perfect rendition. Next time you start steaming up your apartment mirrors just try to squeeze "Keepin' this Schweppervescent street ghetto essence inside us / 'Cause it provides us with the proper insight to guide us" into two clear bars. 
28. "The Breach" by clipping.
So you mastered "Life's a Bitch" and need a new challenge for your morning raps? Well, nothing can stop you from going straight to one of the most absurdly difficult lyrical exercises ever put on record. Take a stab at "The Breach" from the Daveed Diggs led experimental rap group clipping. The cut from the group's 2016 sci-fi epic "Splendor & Misery" can prove itself a full-fledged challenge to undertake. "It works perfectly in the shower. With no beat and cool atmosphere you can get into trying the crazy rap skill," Southwestern University sophomore Joseph Eaton said. So if you want a mental exercise while cleaning yourself off, try out this deep cut next time.
29. "Right Round" (feat. Ke$ha) by Flo Rida
Sometimes a good song only really needs a good hook. Flo Rida and Ke$ha seemed to have agreed when they interpolated Dead or Alive's 1985 hit "You Spin Me Round (Like a Record)." They managed to take an already instantly memorable melody and whittle it down to an even catchier exercise in sugary sweet pop: a perfect distillation to sing behind that shower curtain. No one knows the verses, but why would you? With a chorus that good, you can sing it round and round for hours—just try not to waste too much water.
30. "Cash Shit" (feat. DaBaby) by Megan Thee Stallion
"Hot Girl Summer" conquered the world for a reason: Megan's unique lyrical style never fails to make you feel like a bad bitch. The Houston Hottie's memorable lines like "he say he hungry this pussy the kitchen" will burrow into your head all day—so either let them sink in for your walk across campus, or risk getting too hyped-up to fall asleep at night. And take care with the sexually explicit DaBaby verse should you get that far. Your roommates might call you out on that one.
31. "S&M" by Rihanna
For more great hooks that get your blood pumping, almost any Rihanna song does the trick. But "S&M"'s sexually charged chorus and silky smooth verses combine to produce the perfect shower track to motivate you early in the morning. You probably remember and can sing literally every part of this song with confidence, down to the "na na na come on" that starts it off. So go ahead and relive some middle school memories of pop radio with this continually incredible throwback!
Need a new and awesome shower curtain so you can belt out your jams in privacy?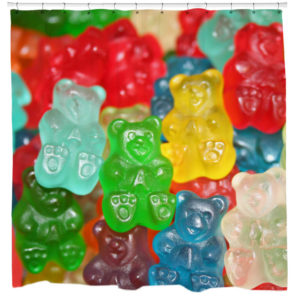 Gummy Bears Shower Curtain: $49.99
*Updated on July 30, 2020 by Andrew Checchia to include songs 16-25.