The Vibe:
Craziness in the Capital.
What it Feels Like to Go Here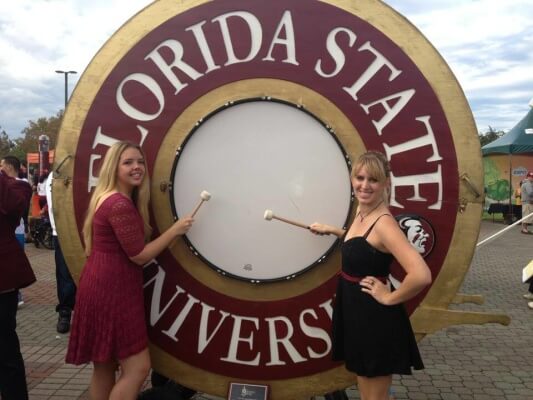 Florida State University has it all. Do you want a big school with championship-winning sports teams and a lively campus life? FSU has you covered. Do you want to focus on your academics and find student organizations fit to your interests? FSU has you covered. Do you want to join Greek life? FSU definitely has you covered. Whether your interests lie in academics, extracurricular activities, sports or campus life, FSU excels in all areas. Everyone here finds their niche.
At FSU, the students love the Seminoles. Whether you're in Doak, at the Civic Center or Mike Martin Field, you'll always find yourself cheering on the 'Noles in garnet and gold. When you're not at a sporting event, you'll usually find yourself sippin' on Starbucks in Strozier or Dirac while you study. Most students choose to study on the first floor, but when they do, they probably won't get much done. Why? Because Seminoles love to socialize. In Tallahassee, you can always find something to do. It's easy to go out every night in Tally, so you have to remember to make room in your schedule to finish that essay or wake up for your internship at the Capital.
Awesome Alumni:
Florida State University has a fantastic film school that educated Oscar-winning director Barry Jenkins. Anyone who hasn't seen Moonlight or If Beale Street Could Talk probably hasn't earned their metaphorical Seminole card. Speaking of film, you can't go to FSU without knowing Burt Reynolds. Visitors at FSU today can't miss the residence hall named after him or the football uniforms that he helped design. Fitness lovers know the iconic fitness instructor Richard Simmons. Before his fitness career launched, Simmons graduated from FSU with a BA in art. Vine users from when the app was still active know the user King Bach. Bach, otherwise known as Andrew Bachelor, graduated from FSU in 2010 with a degree in business management.
Where We Hang:
For FSU students, we mainly like to hang out locally during the day. Since Oglesby Union is under construction, some on-campus landmarks and hotspots are Landis Green, the Sweet Shop and the Leach. Planning to go out at night? Check out First Friday in Railroad Square. There, you can find food trucks, live music and art shows at 621 Gallery. Concert lovers usually end up at the Wilbury or the Moon for performances planned by Club Downunder, a student organization on campus centered around entertainment programming and production. For a bite to eat, Seminoles swear by Gaines Street Pies, Madison Social and Mr. Roboto's Tokyo Grill. For the readers over 21, check out Bullwinkle's Saloon. College Town, another popular area, has Township, Coosh's and The Brass Tap. Students wanting to go clubbing with friends should head to Recess or The Strip for their AYCD (All You Can Drink) deal. Out of all of the annual events at Florida State, Homecoming is the best, especially Pow Wow and Warchant. At Pow Wow, various student organizations entertain the crowd before a hilarious celebrity comedian takes the stage, like Nick Kroll or Hannibal Buress. Warchant, the annual Homecoming concert, has drawn in artists like Chance the Rapper and Rae Sremmurd.
Q&A:
1. How much are students partying?
"In my experience, the amount people 'party' depends on what they study in school. Some majors require more time to study and do homework. Most of my friends and I go out one to three times a week depending on how busy we are," junior Jordan Block said.
"It all depends on the people you spend your time with. I have friends who go out pretty much only on partying holidays, but then I had a roommate who would get mad at me for not going out with her any given night," said 2016 alumna Kaitlyn Krug.
2. What will you get in trouble for at your school?
"Not using common sense will get you in trouble at FSU. Like when you're trying to hide things in your dorm while continuing to be loud, remember that the walls are thin, and you're not as slick as you think," junior Calista Flores said.
"They very much value the honesty code. They take pride in knowing their students work hard for their grades, and therefore take it very seriously when a student tries to take the easy way out by plagiarizing," said rising senior Sarah Randolph.
3. How big is the hook-up culture at FSU?
"Hook-up culture at FSU is extremely prevalent. You go out and everyone actively tries to find someone to go home with. It's constantly talked about, too," junior Willmary Anderson said.
"I watched someone get road head while trying to find parking. It happened in February. I think they were trying to keep warm," said senior Jacob Gassen.
4. What would you tell incoming freshmen about your school?
"Take advantage of all the resources at FSU so you can find your true calling in life. It's okay to not know what you want to do, and it's okay to change your major. FSU has resources that can lead you down the right path, like the Exploration major. Get involved and join clubs to make essential connections in your life," senior Amanda Grapin said.
"Find a way to make the campus seem smaller by joining clubs and finding a group of friends who will share your interests. This will make the huge student population much less intimidating," said senior Ella McClellan.
5. What is finals week like at FSU?
"Finals week has always been a bit stressful. Obviously, with the classes we're in, it's crazy when we have each exam lined up in the same week, and you have to study for every single one while getting rest and working. At least at FSU, we have fun activities and usually free food, sometimes even coffee in the libraries for free, too," senior Rebekah Kohon said.
6. Where should I study?
"Strozier is great when I am already on campus and need to get a few things done before my next class. But I rarely, if ever, consider it an ideal location for serious and intentional study. It's just too much of a "hot-spot." Everyone is there because it is well-known to be a social location. I'd say study in a quiet corner in Dirac or in the lab below the Williams building, across from the Chick-fil-A on campus. You can rent study rooms where you can actually write on the walls! It's nice and quiet, but the walls are also glass, so if you need to you can stare out and watch the hallway rush for a minute when you're feeling dead," said 2016 alumna Allie Brockner.
Ten Student Reviews:
"One of my favorite parts about my FSU experience was my time in Greek life. In recent years, you could really see the community uniting, especially when it came to philanthropy, which has grown exponentially in just my four-year experience," recent graduate José de la Cabada said.
"I'm a transfer student, and my professor for Sex and Gender made the process smoother for me. She welcomed me and helped me a lot with the transfer shock. She told me about all of the resources on campus that would actually help, which made me like FSU more," senior Edda Barrios said.
"The biggest challenge here is definitely finding a niche or your group of people. It's easy to go to a large school like this and feel lost or lonely even though a lot of people go to FSU. Once you realize that so many other students feel the same way, you're able to feel more comfortable with going out and meeting new people," junior Alexandria Ablaya said.
"FSU has become such a home away from home for me. Between the friends I've made, opportunities that have presented themselves, and the growth I've made as a person, FSU has absolutely changed my life for the better. To any freshman coming in, I'd give you two pieces of advice. First, get involved in things you really care about to find your absolute best friends. Second, don't be afraid to ask for help. Whether you get lost on the first day, or you have a rough time transitioning to life away from home, the resources on campus are endless," junior Anna Vill said.
"There are many great experiences that I've had the honor of being a part of at Florida State. The single greatest experience that I'll remember for the rest of my life was my experience with our International Programs. I studied abroad in Valencia, Spain for the Spring 2019 semester. I was exposed to so many different cultures, people, and languages throughout Europe that I otherwise would never have had the ability to experience," senior Axel Tello said.
"FSU gave me the best four years of my life. It's hard to pinpoint just one thing I love about it, but if I had to choose it would be the school spirit. From the football games to the wames to the way Seminoles come together after tragedy, our love for FSU shines through." –Brianna Shoaf, PR, Class of 2016
"The sense of community was what really stood out to me. When we won the national championship, Tennessee street was filled with honking cars and people high-fiving each other as we drove by. When we had that awful shooting, we held a vigil (student organized) and raised money to help with the medical expenses of the victims. It was really moving." –Caroline Roth, Biology, Class of 2016
"It was always my dream school and it hasn't disappointed me one bit. I have met so many people. On the way to class I will always run into one or two people I know, which is amazing considering there are probably 35,000 people I still haven't met on campus." –Katerina Perez, Accounting, Class of 2017
"[My favorite thing about FSU is] the pride that students take in their school. From doing the warchant at football games to watching the commercial for FSU and getting chills, the Seminole Spirit is the real embodiment of what it means to be an FSU student, and it is evident in any Nole." –Stephanie Connor, Biology, Class of 2017
"At FSU, you meet a lot of friendly faces. Football games are full of school spirit and healthy competition. There's no better feeling than watching the stadium full of Seminoles Tomahawk Chopping." –Nick Arias, Biology, Class of 2017
Top 3 Majors
1. Biological Science
2. Business
3. Engineering
Top 3 Most Popular Student Organizations
1. FSU Flying High Circus
What does FSU have that most colleges don't? One of only two collegiate circuses in the United States. Founded in 1947, the Flying High Circus's welcomes degree-seeking students registered at the university to audition. That's right. You need absolutely no experience to audition to become FSU's next acrobat extraordinaire. "The Circus has so many opportunities to get involved from dance to circus acts to clowning and production, everyone can find their place," senior Miranda Lough said. In fact, for performers, FSU offers a one credit hour class called "Introduction to Circus" to teach students the basics of juggling, rigging and walking the high wire. At the circus, student performances rig all of their own equipment, make their own costumes, set up the Big Top and produce sound and lights for their performances. "I've met so many amazing people and learned so much while in the Circus, like the value of being part of a team and feeling like you're a part of something bigger," junior Nicole Vitiello said. If you haven't yet been to the circus, check out one of their annual Halloween shows in October.
2. Lady Spirithunters
Lady Sprithunters has been an organization on FSU's campus since 1979. Since the late '70s, the Spirithunters have been responsible for spreading Seminole spirit while rocking their garnet and gold handmade vests. You can find Spirithunters painting war stripes on fan's faces before any sporting event. The organization recruits new members every spring through an application and interview process. Alike to a sorority, they fundraise for their philanthropies like Camp Kesem; participate in Dance Marathon and Homecoming; have socials and date functions; semi-formals and formals and even a President's Retreat. "Our formals and Away Trip are my most memorable experiences in Lady Spirithunters. They give me the opportunity to meet members in the organization that I haven't talked to before and experience a new city with them," senior Trisha Ortiz said. Away Trip, one of the most awaited LSH events, involves members of the organization going to an away football game in another state and exploring a new college town for a weekend.
3. Student Government Association
SGA at Florida State is a big deal. Within SGA, a lot of Seminoles take on leadership roles and serve on committees. SGA even has a Student Senate where you can run for a seat like Senate Parliamentarian. There are class councils, a Campus Rec board, a Diversity and Inclusion Institute and both an executive and judicial branch. Most popular, though, are the SGA Agencies. At FSU, the agencies include an Asian American Student Union (AASU), Black Student Union, Hispanic/Latino Student Union, Pride Student Union, Veterans Student Union and a Women Student Union. "I moved from Chicago to FSU, and homesickness was a very real feeling for me my freshman year. AASU has become my home away from home. I have met the kindest, most supportive people in AASU, and they truly have become a second family to me," senior Nicole Hansen said. These agencies not only draw in a huge portion of the student body, but they also host fun events that the whole campus can attend, like Pride Student Union's Pride Prom and Amateur Drag Shows.
4. Marching Chiefs
FSU's official marching band dates back to the 1940s, when the school was still the Florida College for Women. The marching band features over 470 members and continues to perform at home games and various away games. Potential members compete for slots by completing a week of pre-season music in the summer and auditioning at the end of that week. Each new member must re-audition, and once in, rehearse almost every single day. It's no surprise that the Marching Chiefs received the reputation for "never losing a half-time show." "The best thing about Marching Chiefs has been the fact that I gained a second family when I joined. We stick together no matter what and I know that if I ever need something, one of those 400 people will come out of the woodwork to help me," Perez said.
5. A Cappella
If you want an accurate depiction of the A cappella kingdom at FSU, just watch Pitch Perfect. Yes, five groups exist on campus and actively participate in competitions, shows and gigs across the nation. In fact, when The Acabelles released their cover of "Royals" by Lorde, the Youtube video accumulated over 9 million views. Other groups at FSU include the co-ed groups All Night Yahtzee, Coda and The Acaphiliacs, and also the all male a cappella group, Reverb. Nearly every group has released a full length album and won various awards, but the biggest takeaway for FSU students might just be the incredible bonds they made singing with their fellow Seminoles. "It gave me the opportunity to meet people and sing a style of music I wouldn't have otherwise gotten to sing. I also got to meet many people outside of my major," 2012 alumnus Hayden Saul said.
Top 7 Quirks
1. FSU is home to one of only two collegiate circuses in the United States. Over 150 students participate as producers, performers, designers and technicians. No prior experience is necessary for the job.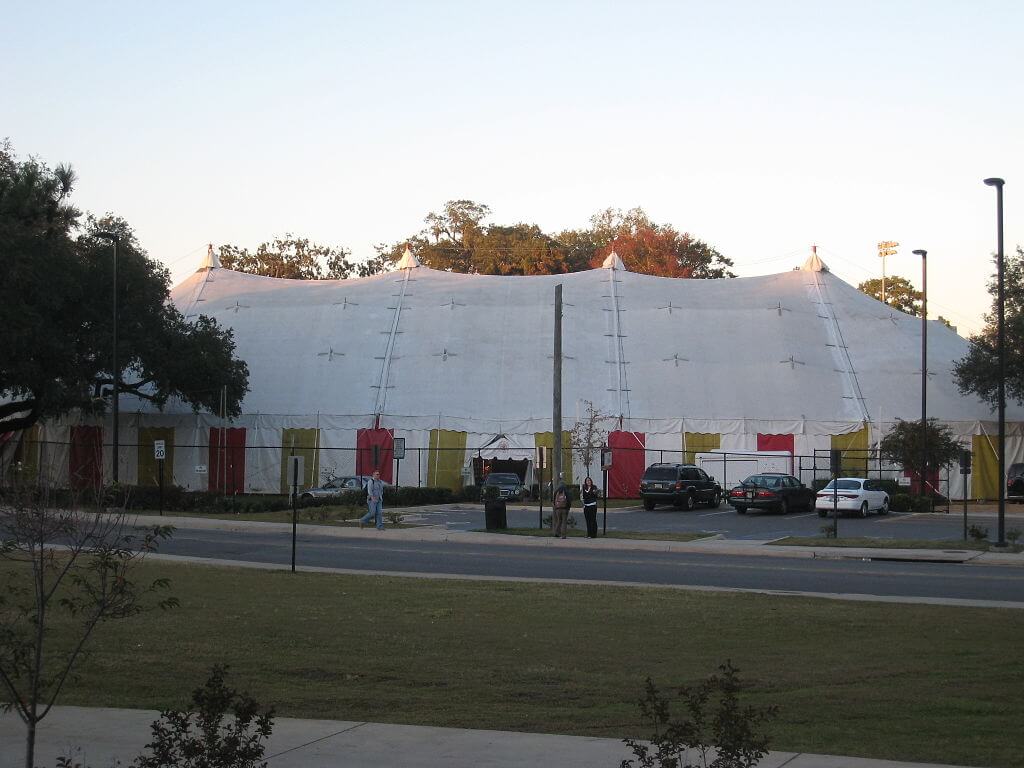 2. Along with 500 other student organizations, we have a Hide-and-Seek Club. No one exactly knows where members hold their meetings.
3. Between the 2013-2014 and 2014-2015 seasons, FSU has the longest active uninterrupted winning streak in NCAA Division I football.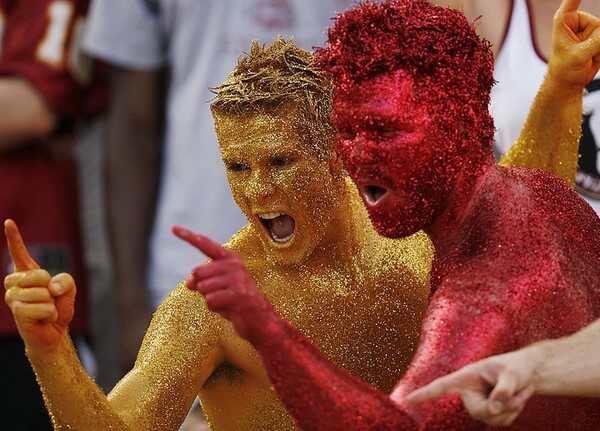 4. FSU has two mascots: Chief Osceola, a Seminole leader, and Renegade, a horse he rides on during football games.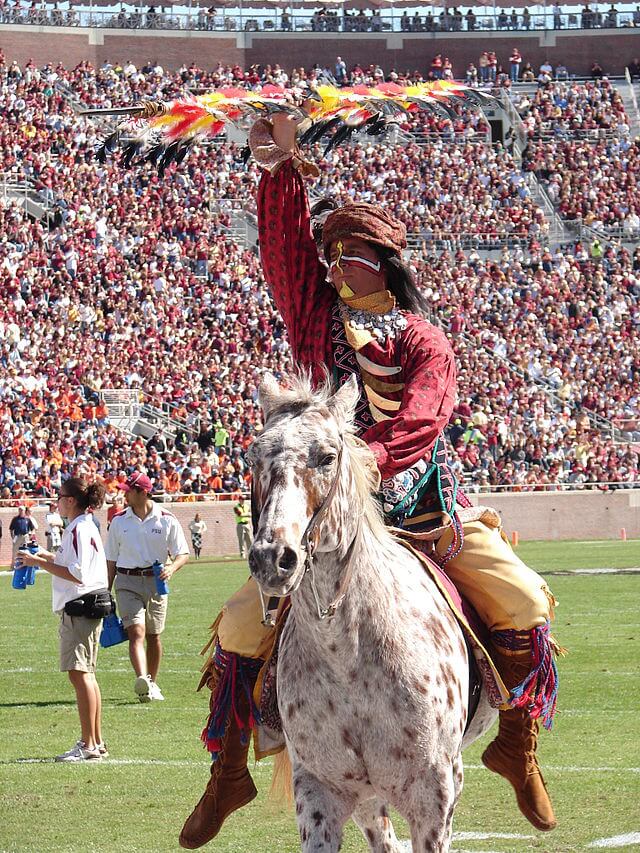 5. It's a tradition to throw people in the Westcott Fountain on their 21st birthdays, no matter how cold it is outside.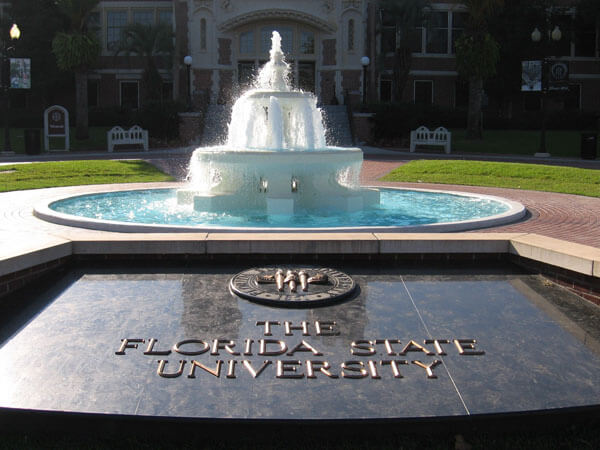 6. It's rumored and joked about that the squirrels on campus are all crazy because of how skittish and ravenous they act. They even have their own twitter account: @FSUSquirrels.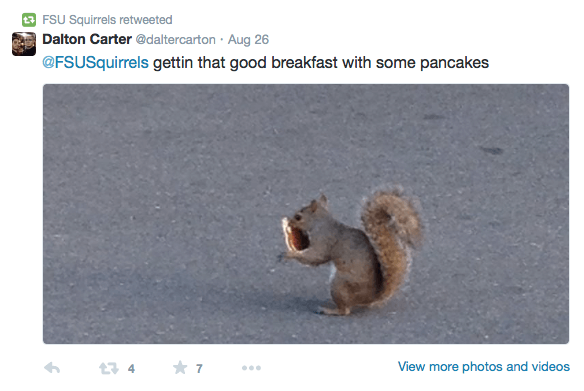 7. FSU has the largest, highest-powered magnet lab in the world called The National High Magnetic Field Laboratory. It attracts hundreds of scientists, students and visitors from all over the world.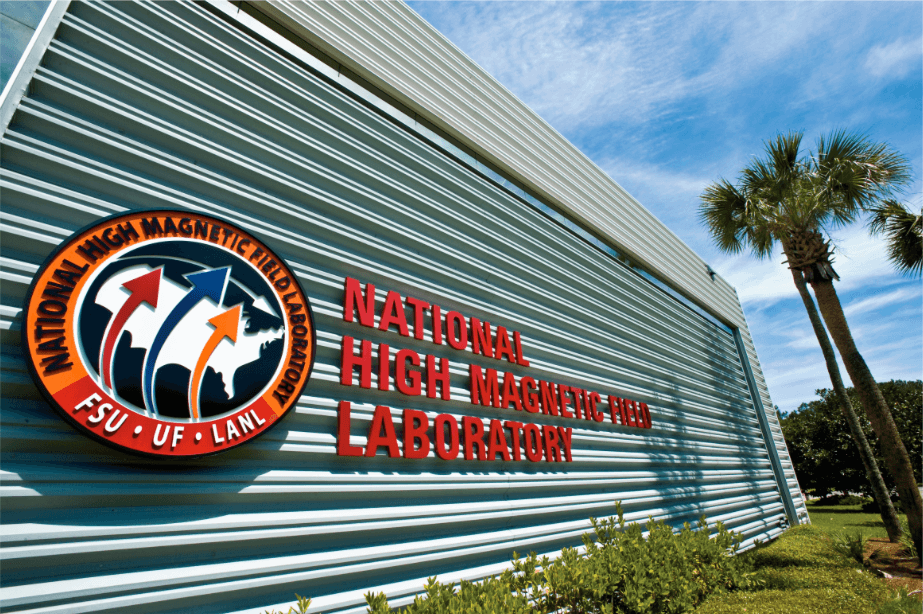 Getting In
To get into Florida State, first-year admission relies on a holistic approach which no single piece of your application guarantees you a spot. Here, admissions considers all pieces of documentation you submit, from your test scores to your academic record to your essay. FSU also takes a look at certain things such as the rigor of the classes you took in high school, whether you took math or not in your senior year and how long you took foreign language classes. Of course, certain majors require auditions, like for the theater and music programs. Each year, the acceptance rate gets harder to quantify because FSU receives more and more first-year applications as the years go on. However, the biggest tip to takeaway in the academic sense: keep up a rigorous curriculum up until your senior year to show FSU that you can tackle a college course load.
Stats
Location: Tallahassee, Florida
In-State Tuition & Fees:$6,516
Out-of-State Tuition & Fees: $21,683
Total Cost on Campus
Florida residents: $18,332
Non-Florida residents: $33,499
Undergrads Enrolled: 32,812
Grads Enrolled: 9,088
Total Enrolled: 41,900
Acceptance percentage: 35% for 2018-2019
Percent Admitted who Enroll: 27%
Percentage of Male Students: 44%
Percentage of Female Students: 56%
Percentage Receiving Financial Aid: 47%
Percentage Receiving Federal Grants: 43%
Percentage Receiving Federal Loans: 57%
Contributions by Ariella Senzamici and Arianna Theofan.
Contributions by Laura Durkalec