Imagine taking a lap in the lazy river in between classes. How about scheduling your workout sesh at a time that fits your crazy schedule? At these schools, you can set healthy habits right from move-in day to avoid the freshman 15. With high-tech machines, group fitness and personal training classes, relaxing spa facilities and every special interest class your adventurous spirit could imagine, these 10 best college gyms embrace innovative approaches to student health. Take a peek into the future of fitness.
Before you hit the elliptical, you'll need a tank that helps you find your gym beat: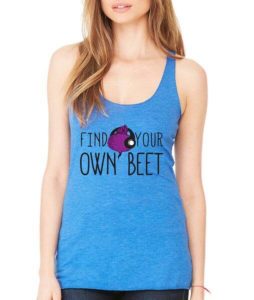 Check out the 10 best college gyms that'll help you meet your fitness goals.
10. University of Texas Rio Grande Valley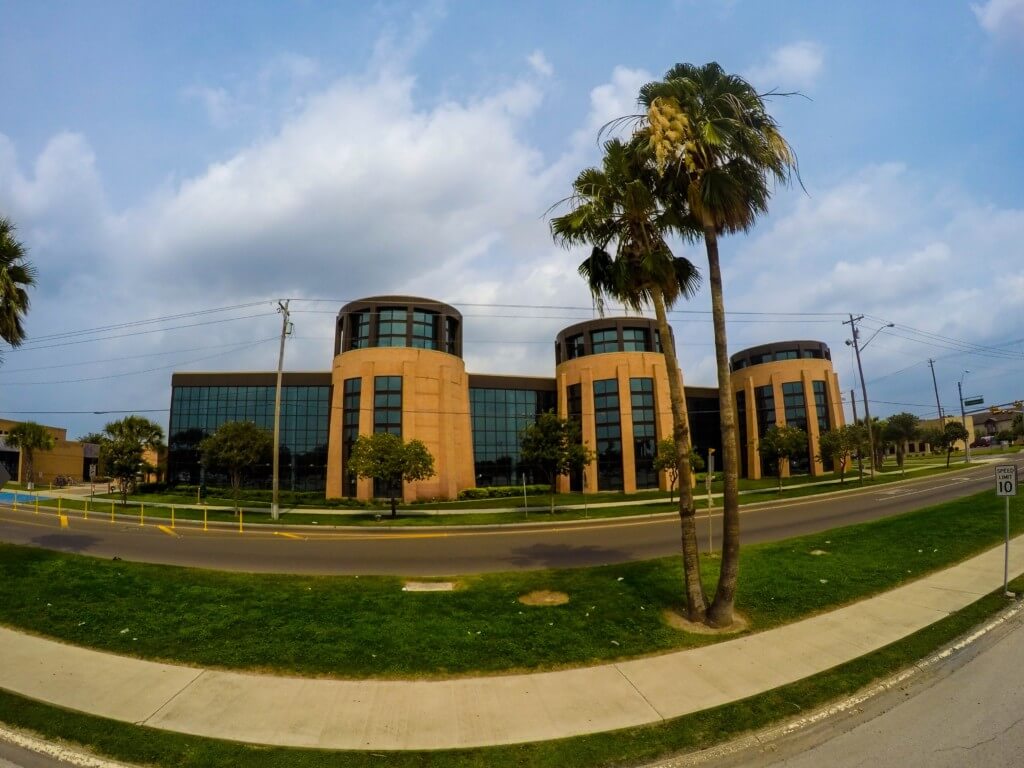 This gorgeous building keeps students on campus way past the end of class since its construction. "What I like about our UTRGV UREC is how comfortable I feel every single time I walk in there. From the staff to the culture and environment, everyone is friendly, which makes working out even better," senior Victoria De Leon said. It hosts the highest rock-climbing wall in the state, a juice bar, indoor soccer facility, lazy river, pool and indoor track. When you walk in, you'll notice plenty of space for you to spread out while you work out. The building was set up to create an open vibe—that way you won't bump elbows with every other fitness fanatic trying to break a sweat.
9. University of Missouri, Columbia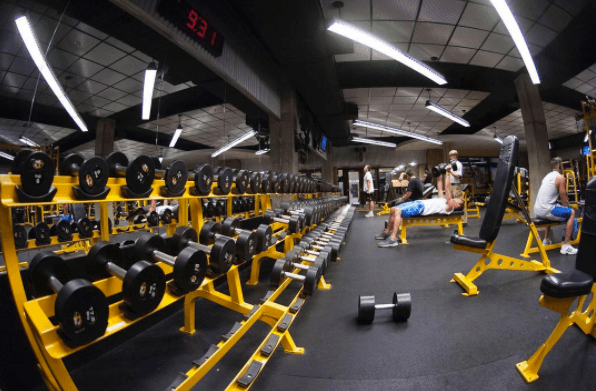 Need some R&R to round out your self care routine in college? Mizzou is the place for you. With a full spa providing an extensive menu of services from facial therapy to pedicures and bronzing, you'll feel relaxed and look your best for class. If you want to build up your fitness instead, MizzouRec has a room for any and every type of exercise imaginable. "The amenities are endless. Whichever style you like best, they have machines, open areas or classes to help every student stay healthy and active," junior Hailey Hasek said. "Having an incredible indoor pool and hot tub for when the temperatures drop is pretty great too!" Other facilities include a boxing gym, weight lifting room, racquetball/squash courts and an indoor track. Need a breather? Get some work done before heading back to class in the gym's study room.
8. University of Arizona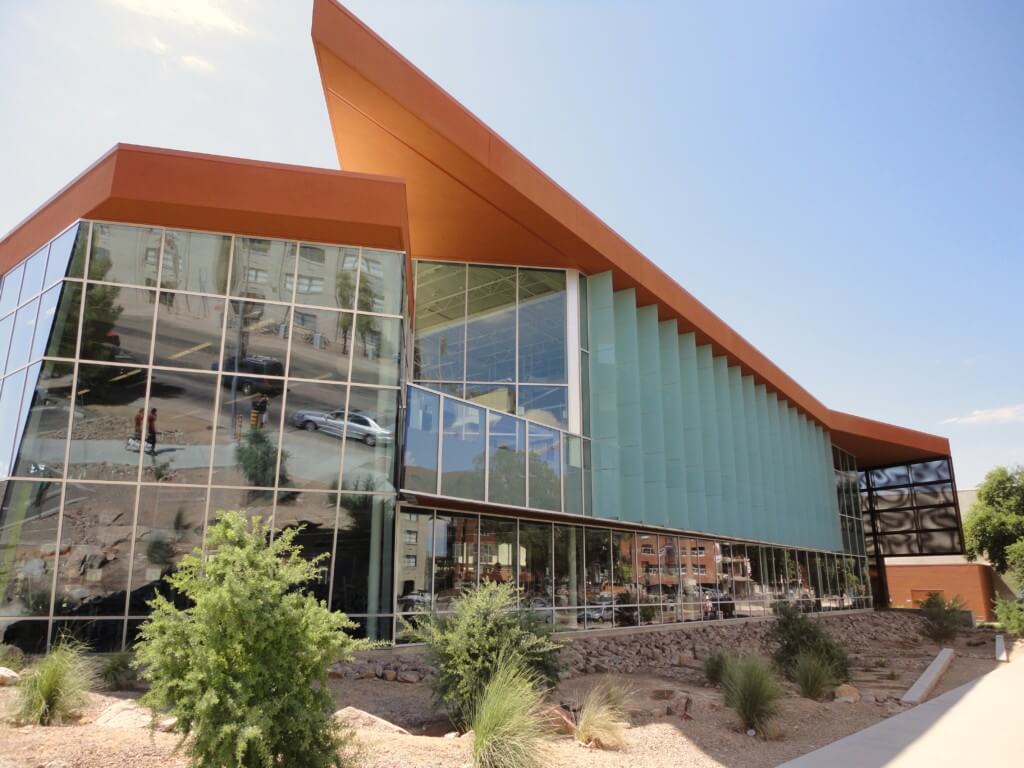 Take a spin class, work with a personal trainer or join a club sport at University of Arizona Campus Recreation. Sore yet? It also provides massage therapy services. Have you ever dreamt of dancing the salsa and bachata? UA offers a class for that. Curious about Brazilian Jiu Jitsu? UA has a class for that, too. This gym really builds a sense of community, especially in these classes. "All the workers are friends with each other and get to know the regulars," junior Laurel Kremer said. "People meet in group fitness classes and make sure to continue going together. Intramural teams form from people playing basketball together at open rec."
7. Drexel University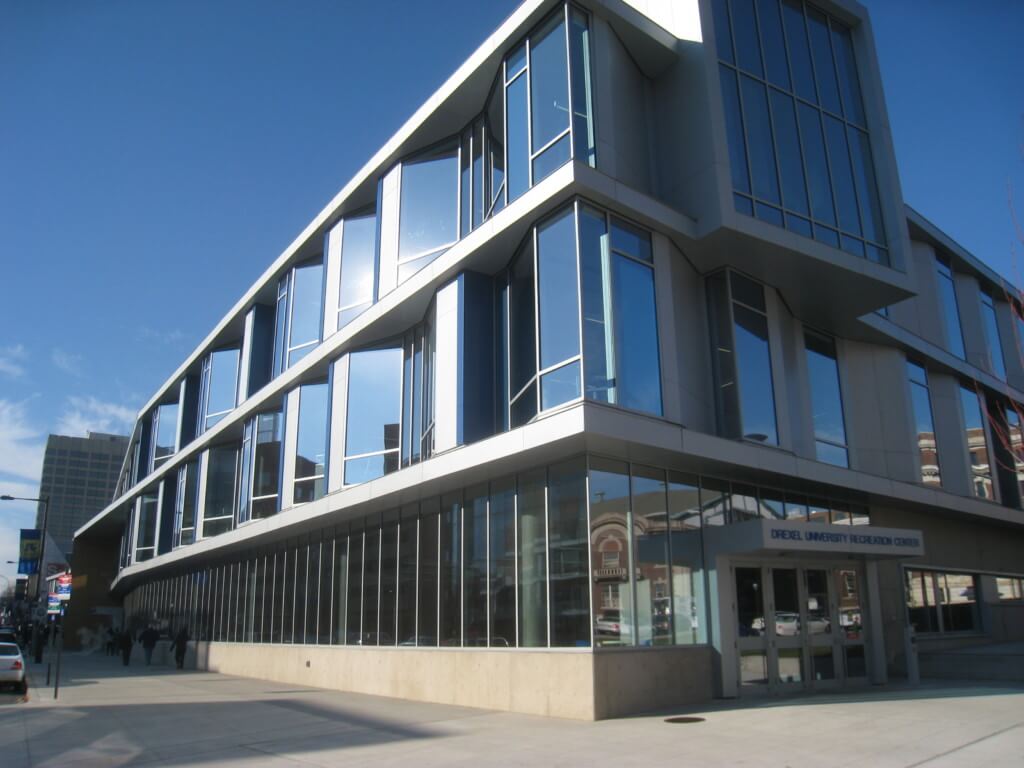 Drexel Recreation Center solves all of our lazy first world problems. You can literally take a virtual class and do the workouts from the comfort of your dorm while watching the Wexer Virtual Fitness videos. If you think you need some one-on-one attention, they also offer personal training services. "Anyone can build a gym but atmosphere can't be bought and I believe that's what propelled us into the top 10," junior TiAna Jones said. "When you walk into our gym you immediately are greeted by lively music, flat screen TV's everywhere showing various programs, and a membership and welcome desk full of friendly faces so to everyone that visits, it feels like home in a sense." Make the gym your home to find friends at meet those #fitnessgoals.
6. University of Maine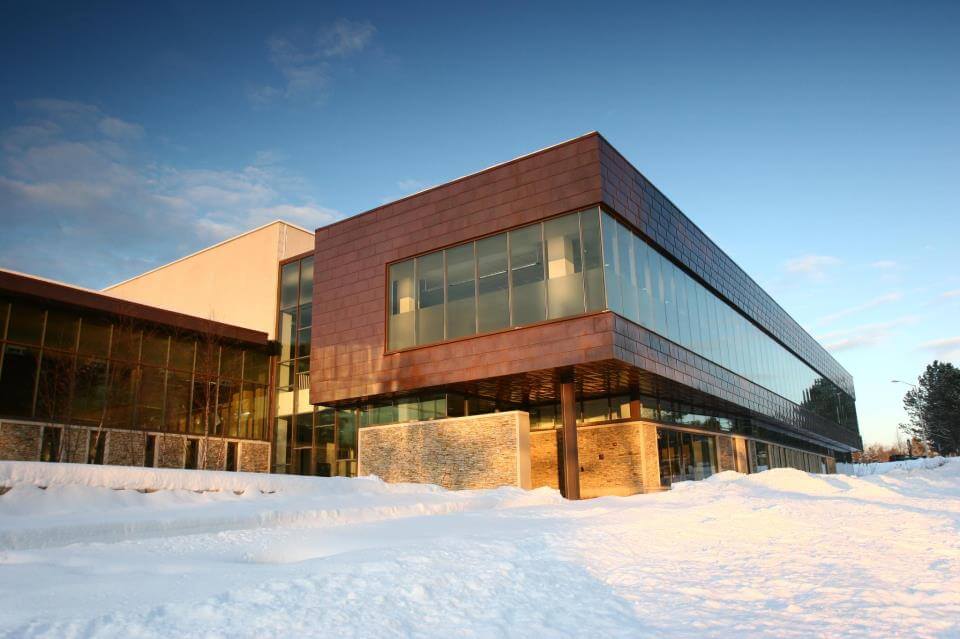 Get your adventure on at the Maine Bound Adventure Center. Students and members can enjoy the indoor rock-climbing center for free. They also provide outdoor trips and a ropes course for the more daring students on campus, plus basic personal training services, group fitness classes and intramural sports. "The New Balance Rec Center completely changed the atmosphere of my college career. From the racquetball courts where I discovered my new favorite sport, to the huge hot tub where I made some new friends, the Rec Center always has what you need," senior Andrew Chadwick said. "My only regret is that I wasn't there more often." While you work out at Maine, you can leave a green footprint behind, too. Its facilities won the LEED Silver Certification from the Green Building Association.
5. University of Iowa
https://www.youtube.com/watch?v=DSAx1ZzWW0U
Need some motivation? The University of Iowa Campus Recreation and Wellness Center's impressive looks will make you want to do just one more rep. The center includes three floors of space dedicated to student fitness, including a leisure pool and rock-climbing wall. The leisure pool has a lazy river, a vortex and a whirlpool. As for the "wellness" in "Recreation and Wellness Center," take advantage of the massage therapy and nutrition counseling. "What I think makes the CRWC so fantastic is the variety of equipment and group fitness classes, the awesome views from the huge glass windows and the very friendly staff," senior Kylie Fahel said. No matter your fitness level, you'll feel comfortable at UI.
4. Illinois State University
Why would you go to a generic fitness class when you want something more tailored to your needs? If you're a part of a club or other organization of students with specific training needs, the staff here will build a customized class. You can also take a Fitness Instructor Training Course. In no time, you'll share your passion for health and lead your students in their endeavor to improve their fitness. "Something I like about the rec is the large number of weights they have. This means less time sitting around waiting for the weights," junior Logan Wible said. "I also like all the different intramural sports they have here. If it can be played inside, they'll have it at the rec center." Check out the Adventure Program, pool, rock-climbing wall and other basic fitness equipment.
3. Ohio State University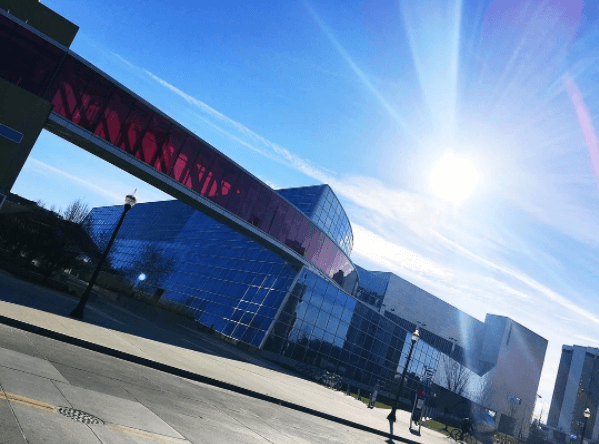 $140 million. This 569,459 square foot building cost $140 million, dedicated entirely to student health, fitness and overall well-being. "At Ohio State we are all about the scarlet and gray and the two colors are all over our facility," senior Leah Wiemken said. "I think one of the most unique aspects of our facility is the Scarlet Skyway, a glass pathway that is connected to the building. The reflecting glass windows of the facility are also beautiful especially on a sunny day." From a rock-climbing walls to cardio equipment, aquatic centers to basketball courts, Ohio State's Recreation and Physical Activity Center (RPAC) has it all. Speaking of cardio machines, RPAC even has ellipticals that can generate electricity.
2. University of Cincinnati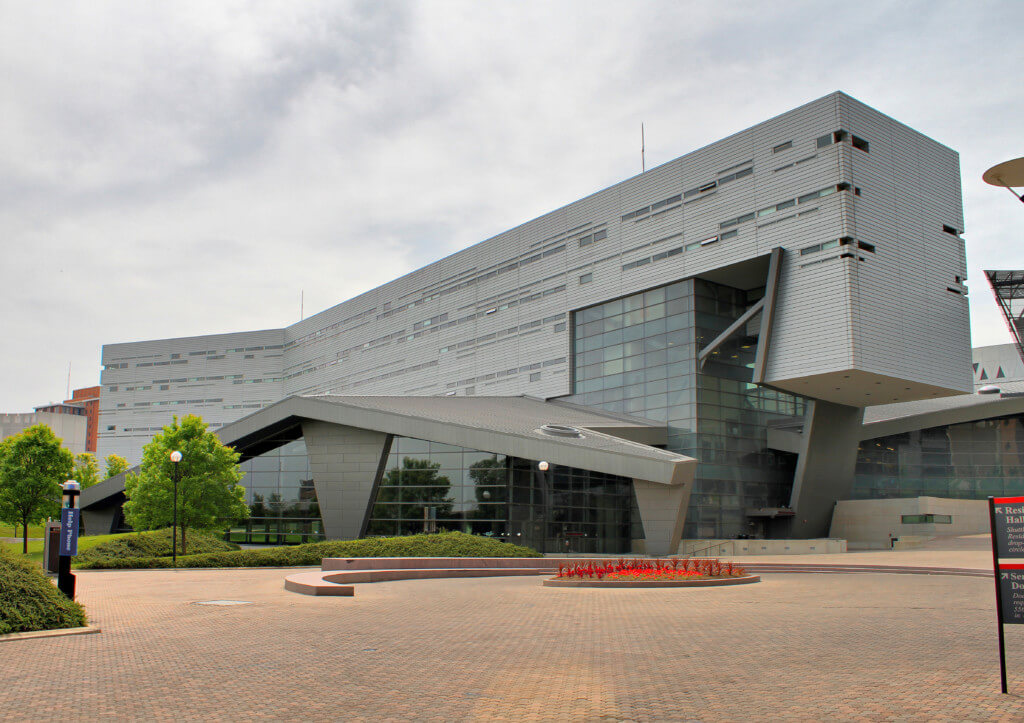 Here's another big one. Totaling up to $112.9 million, the Campus Recreation Center at the University of Cincinnati is huge and it has all the essentials: racquet courts, basketball courts, lap pool, leisure pool, climbing wall, track and multi-purpose rooms. But this gym is far from basic. "The first thing you'll notice if you walk around is the dynamic setup of our recreation center. It is diverse in both architecture and in capability," senior Nicholas Taylor said. "The building itself makes you feel as though you're walking through what the next century of fitness centers will look [very ahead of its] time." Ever wanted to learn martial arts? Or boxing, perhaps? They have group fitness classes for both and it doesn't end there. Dance classes, boot camp, yoga, Zumba, INSANITY, spinning, you name it.
1. University of North Dakota
UND emphasizes that mental health is just as important as physical health. This center goes beyond the basic fitness facilities to offer a meditation room. In the facility's kitchen, students can learn to cook nutritious meals that go hand-in-hand with their workouts. Students attending North Dakota get every resource necessary to keep their mind, body and stomach in great shape. "It's incredible that I can go to just one location to study, exercise, learn to cook and rent out recreational equipment," junior Megan Hilgers said. "We are so fortunate to have this facility at UND. It is wonderful to see the seven dimensions of wellness in action on a daily basis."