Getting gifts for parents who have everything isn't easy.
When you're young, receiving gifts is the best part of the holidays. But now that we're in college, and real (or pretending to be) adults, it's time to think about giving back with our favorite gifts for parents.
Our parents worked super hard to make our holidays special for us growing up, and now it's our job to do the same for them.
Your Warmth and Love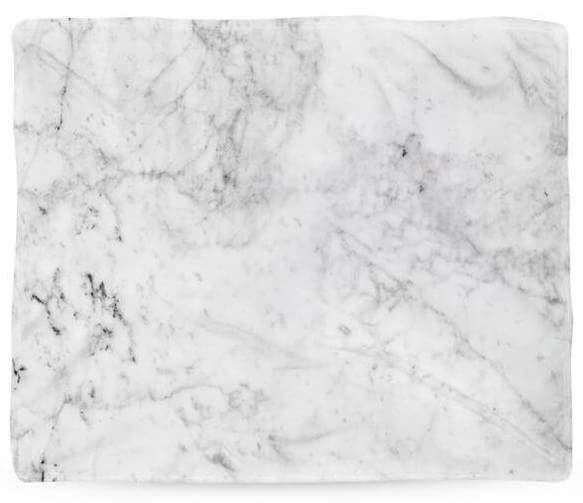 If you've procrastinated and need an easy last-minute idea, a super soft blanket is the solution. This gift for your parents represents your warmth and love.
Your parents will think about you every time they're snuggled up in it reading a good book or watching Shark Tank (we know, all parents love Shark Tank). Getting gifts for your parents, especially Christmas or anniversary gifts, doesn't have to be hard—they just want to see that you put a little thought into it. A blanket speaks volumes.
Are your parents more like a friend? Check out our Best Gifts for your Best Friend.
Check out the Top Gifts for Parents 2019.
1. Local theater tickets
Price: Varies
Your parents deserve a night on the town. Local theaters put on well-known musicals like Mamma Mia, Jersey Boys and Lion King that'll get your parents singing along to the show tunes. And if you want to spring for trendy shows like Hamilton, try entering a lottery for more affordable ticket prices. Or find them tickets to a show they already love, whether that means a Broadway show, opera, classical music performance or something else. Bonus if you score a seat for yourself at the show, too.
2. An engraved necklace
Custom Engraved Necklace: $12.59
Your parents' hearts will ache the minute you pull out of the driveway to head back to school or walk into the airport. Remind them a piece of your heart is always home. "[I want] something with my kid's name on it. Maybe a necklace with their names engraved on the back. That way they are always close to my heart," said Inna Pullum.
3. A Roomba
iRobot Roomba 675 Robot Vacuum: $249.00
"I am very much like my mother in that I love to clean and to have a clean house. So last year my dad and I decided to get my mom a Roomba and she absolutely loved it," said University of Florida Student Elizabeth Heidrich. "She was so fascinated by it that she just stood there and watched it clean for a good 10 minutes before she snapped out of it."
4. Instagram-worthy family photos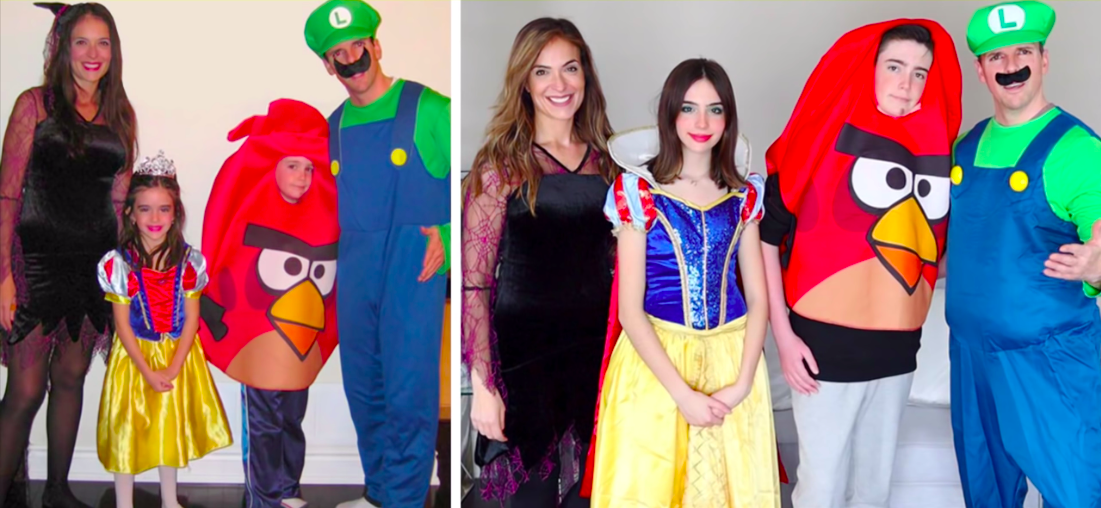 As a baby your parents cooed over you, taking endless snapshots with each new sound you grunted. Now they beg you in the middle of dinner for grainy selfies of you mid-bite to share with their high school buds on Facebook. Do them—and yourself—the favor of finding a photographer that focuses on lifestyle photography. "We haven't had [family photos] done since everyone was younger and it would be so special to have them done when you're all grown up," said Darcey Spensley. Lifestyle photography captures every day, real-life moments. So instead of sitting for a stiff portrait of you and your sibs, you'll get a candid family shot that captures everyone's personalities.
5. A mini fridge
Cooluli Black Blackboard Mini Fridge: $99.99
Mini fridge = mini getaway in the garage. Your parents might spend hours perfecting the house landscaping or fixing up their mid-life-crisis antique sportscar. Either way, they'll appreciate the quick access to cold refreshments from their mini fridge. "I put it in my garage so whenever I'm out there working I can stay hydrated," said Ray Deliz. Check the mini fridge next time you head home for a visit—they might also hide the good beer and aged wine from you in there.
6. Fancy kitchen wear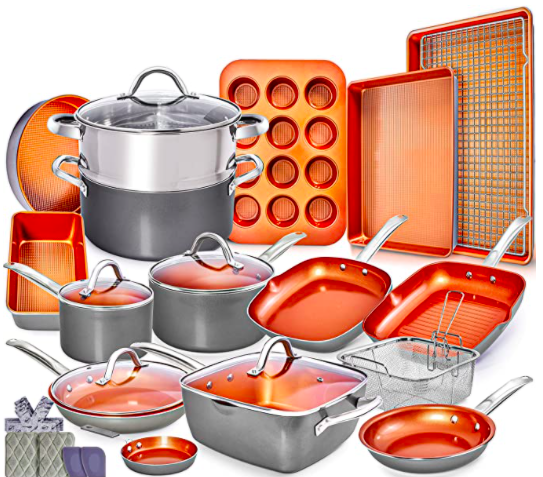 Home Hero Copper Pots and Pans Set – 23pc: $249.99
Back in the 70s, 80s, 90s or whatever decade your parents got married, family and friends showered them with house gifts galore. And some still may use those dingy pots and pans etched with memories of burnt dinners past. Give your parents' kitchen an upgrade. "I would never buy myself a nice set of non-stick pans. I love cooking and every time I used them, I would think of my daughter," said Cindy Bourgoin. Plus this makes the perfect excuse for them to make your favorite home-cooked meal.
7. A grill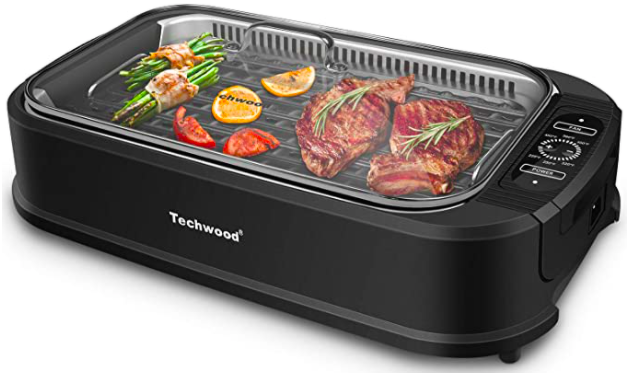 Techwood Smokeless Indoor Grill: $91.98
Speaking of fancy kitchen wear, how would you like to enjoy a thick, juicy steak when you visit home? "My favorite Christmas gift would be… [when] Jessie gave me [a] grill," said Charles Cato. Your dad will enjoy figuring out all of his new grill's high-tech features. And you'll enjoy chowing down on all the food he makes for you on it.
8. Luxurious pajamas
David Archy Men's Cotton Sleepwear: $43.99  Amazon Essentials Women's Lightweight Flannel Pajama Set: $22.68
The older you get, the harder it becomes to sleep comfortably. You can't ease the stiff joints or the backaches that come with age. But you can give your parents luxurious PJs that feel so comfortable that they forget the pain. "I bought [my parents] pajamas and sweatpants, like five or six years ago. Surprisingly, they really liked it," said Delaware Community College student Damarr Moon.
9. Upscale restaurant gift card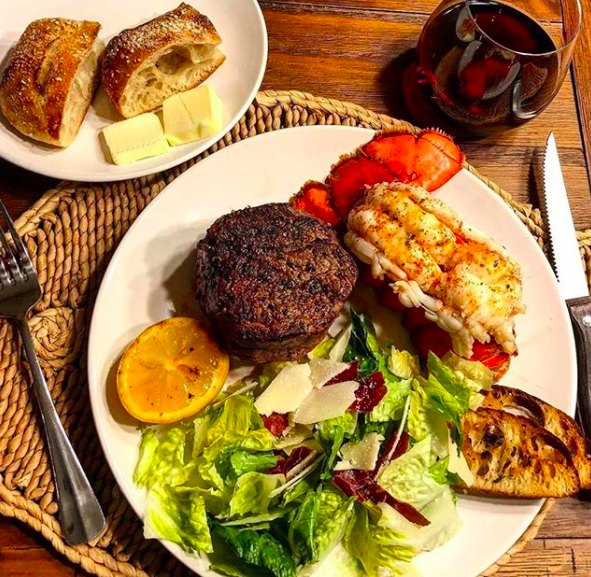 Fleming's Gift Card: Price Varies
Treat your parents to a fancy dinner at an upscale steakhouse like Morton's, Capital Grille or Ruth's Chris Steakhouse. "I like gift cards because they're simpler and more convenient for other to give especially for those that have a hard time getting out," said Carole Meuser.
Freaking out about gifts for your parents?
Coupons for free hugs were adorable when we were in elementary school, but now that we're adults it's time to step up our gift-giving game. Don't worry, we've rounded up some of the best gifts for parents to make your lives easier.
Keep reading to find out our top 20 gifts for parents who have everything to help you spoil your parents this holiday season. Need something quick and easy? You can't go wrong with this favorite:
Top Gift Ideas & Christmas Gifts for Parents
1. Something Sentimental
There's really nothing parents love more than family photos. What if they could take them and print them instantly? Every parent's dream come true. Hook your parents up with an Instax. Or get fancy and frame a sentimental photo in a gorgeous picture frame. You can even get creative with a photo collage. Both are fun and easy ideas when it comes to gifts for parents.
If you want to make it extra special, book a special photoshoot with your siblings and/or extended family members. "I've always wanted my kids to get professional pictures taken for a gift," said Darcey Spensley. "We haven't had them done since everyone was younger and it would be so special to have them done when you're all grown up."
Prepare to hear your parents say, "Awww–you are the sweetest!"
Get the rest of the top 20 gifts for parents here.
Even more gifts for parents who have everything!
You can't go wrong with tech gifts. Parents love the latest tech and they will appreciate that you went above and beyond to help make them the trendiest parents you've ever met.
Way to come up with this the best gifts for your parents ever. Shh…we won't tell them you were here.
P.S. We added even more gifts like cozy blankets, incredible slippers and golf swag. You're going to be #winning when it comes to getting your parents the best Christmas, anniversary and birthday gifts!
1. Kindle
Believe it or not, Kindle prices are dropping. Still, this gift may be a little steep for most college budgets. But if you really want to spoil your parents this year, it's a great gift option. Kindles are practical (especially for bookworm parents) and easy to use.
2. Cat swag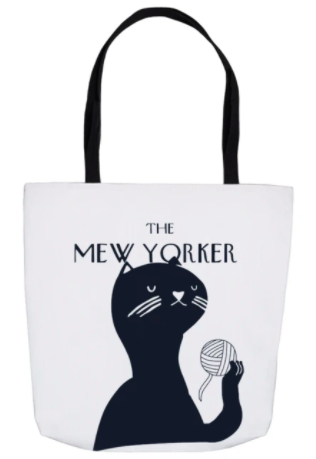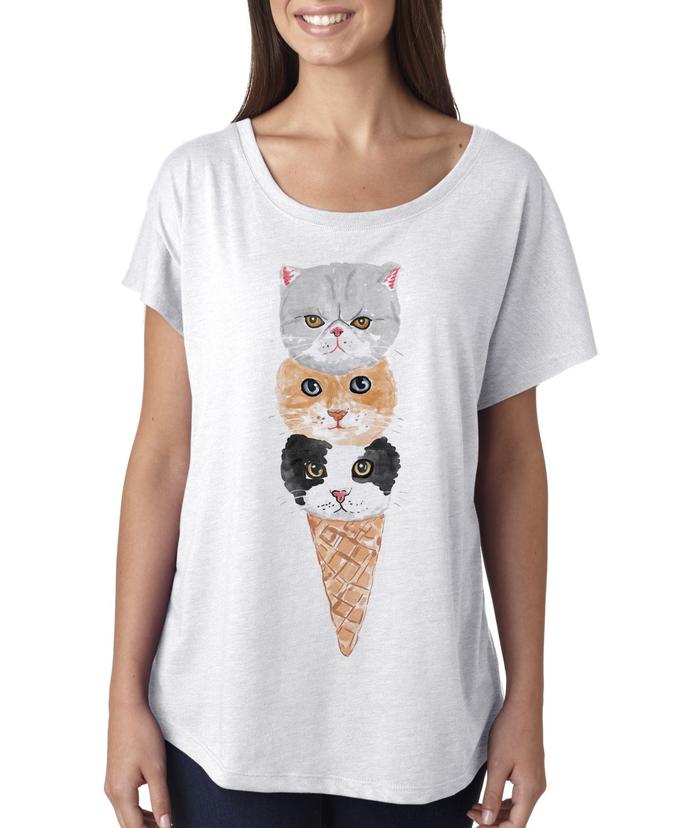 3. Digital Thermometer
Most of us just check our phones for the weather, but this digital thermometer is a cool gift for parents who still do it the old fashioned way. It tells you time, temperature and how humid it is. Plus it comes in a lot of different, fun colors.
4. Golf Gadgets
Putt-A-Bout Grassroots Par Three Putting Green: $38.26
If your parents love golf, you can't go wrong with feeding their addiction…I mean, love of the sport. These gadgets will be a constant reminder of just how thoughtful you are to consider their favorite hobby. Golf gifts = the ultimate gifts for parents.
5. Wireless House Speaker
Tech lovers take note: This isn't your typical speaker. This wireless bluetooth portable indoor and outdoor speaker is the perfect gift for parents because it fits all of their music playing needs. They can use it for family dinners or BBQs. It's super easy for even your parents to use and play songs from their iPads. If your parents still can't figure out the ancient stereo system in the house or they just play music from their phone when you're at a family gathering outside, it might be time to give them a nice upgrade.
6. Literary Pillow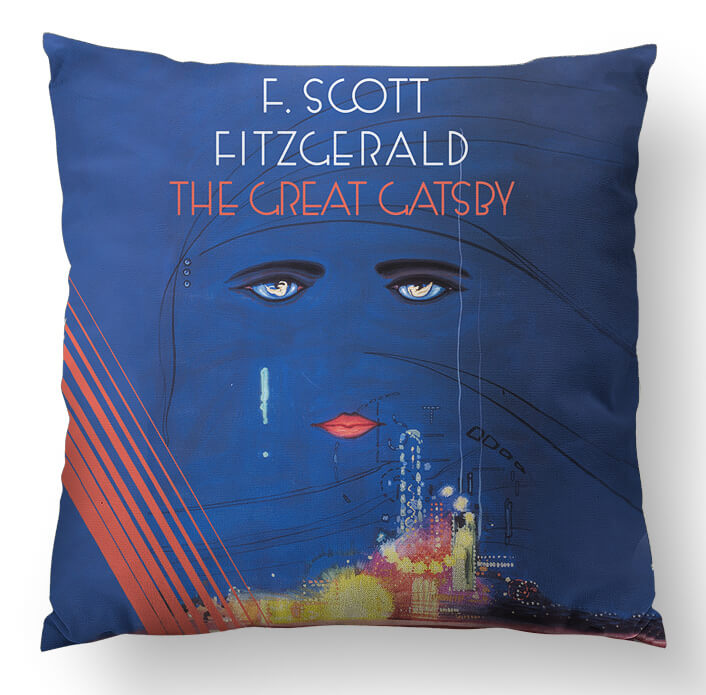 Teavana Perfectea Maker: $29.99
This is the ultimate gift for any parents who like to start the day with a nice cup of tea. Simply steep your loose leaf tea with water, and this device automatically strains itself when placed on any sized mug. Consider making a custom mug to go with it for a thoughtful plus functional parent gift. Even if they're not tea lovers quite yet, they will be soon.
8. Cool New Camera
Parents love cameras. That's a fact. And since your parents never got the hang of taking pics on their iPhone, help them go old-school with a designated camera that will help even the most technologically-challenged parent take awesome photos.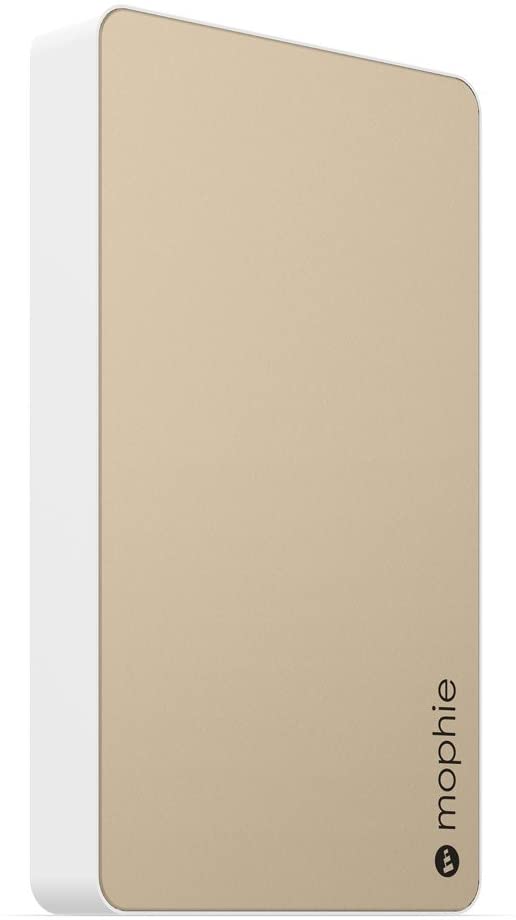 In the 21st century, all parents need to be plugged in. Help Mom and Dad keep their cell phones, tablets and cameras charged to the max with a portable charger that Dad can take to the gold course and Mom can take to brunch with the ladies.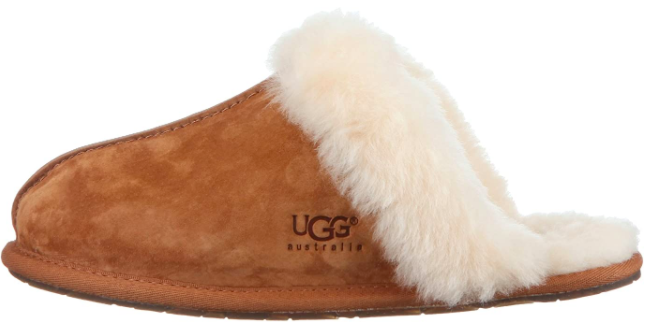 Your parents gave you life, so you give them slippers. Fair trade, right? To help even the score, get them top of the line footwear to keep their toes warm even in the coldest of winters.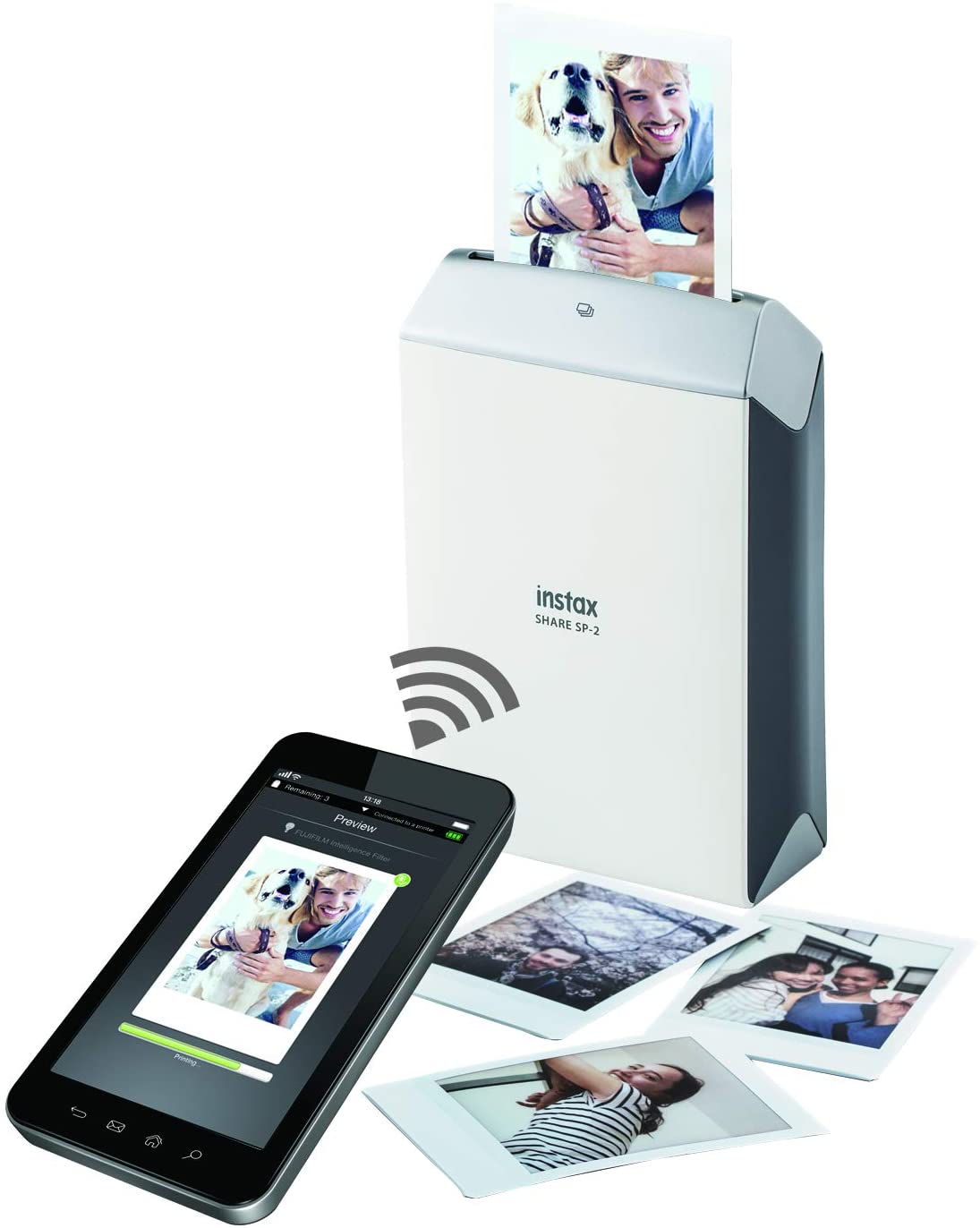 "My mom adores polaroids so I plan on getting her a printer like this so she can print out all the pictures we've taken over the years in the style she loves," said UC Berkeley freshman Mia Rubem.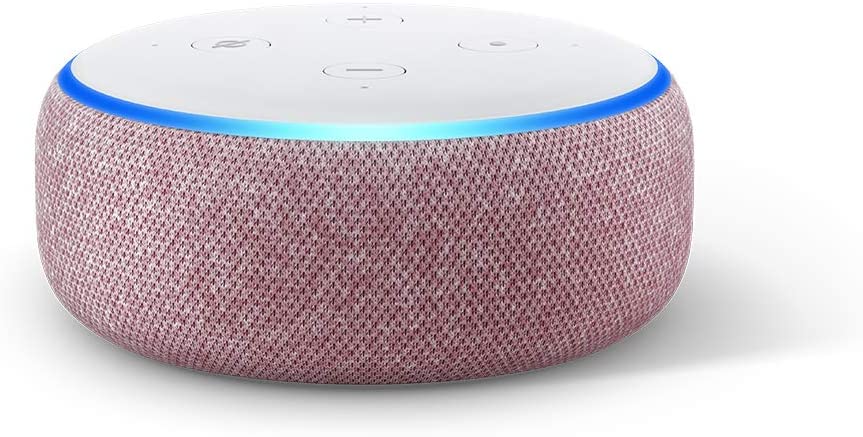 Echo Dot 3rd Gen: $29.99
"My mom loves her Alexa, I honestly think she considers her another child. My dad, on the other hand, would prefer if my mom wouldn't yell for Alexa's help from three rooms away, so getting speakers in multiple rooms would help keep the peace," said University of Oklahoma senior Kelly Stern.
13. Family Name Art

Metal Monogram Family Name Sign: $47.89
What says "family pride" better that a big sign of your last name? Not much by our standards. Maybe a family crest, but those are hard to come by.
14. Key Finder Love
Tile Pro with Replaceable Battery, 2-pack: $49.87
"My dad is constantly losing his keys, so I know both he and my mom would be very appreciative of any gadget that helps them get out the door faster," said San Francisco State University junior Lily Brown.
15. Music Love
Bose SoundLink Revolve Portable Bluetooth 360 Speaker: $199.99
"I love to play music when the girls come over for brunch, but I don't know much about speakers and the like. I'd love help from my kids on setting me up with a speaker so we can listen to Lizzo when we drink mimosas," said Ginny Whelan, a mom from Ann Arbor, MI.
16. Walkie Talkie Family Vacation Fun
"Walkie talkies take me back to the days when the kids were little. There's a lot of memories of walkie talkies and blanket forts in the living room," said father-of-four Lee Tully.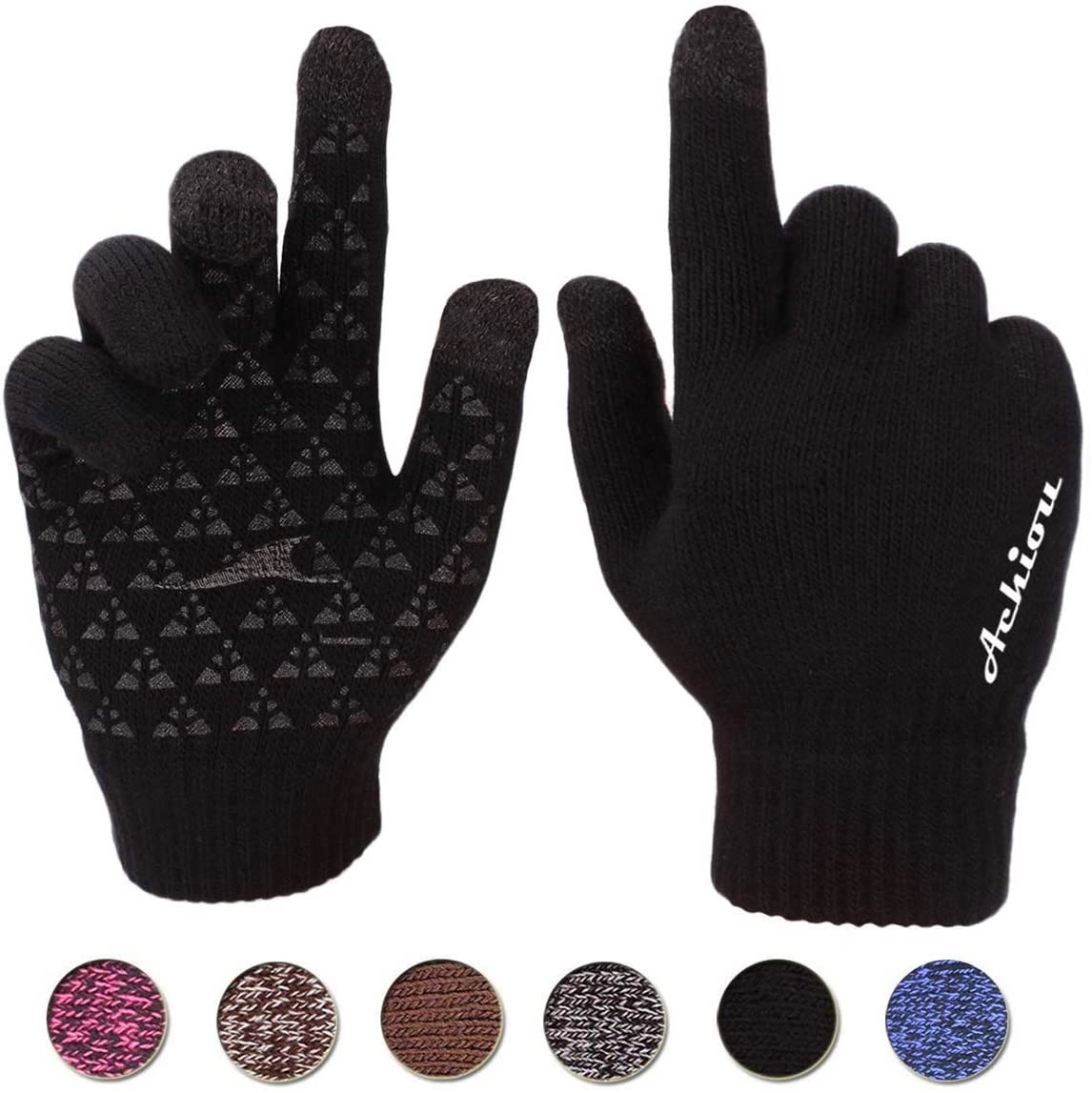 "I would like a pair of those touch screen gloves, the ones that allow you to use your phone. I like to go on walks in the morning and it is very cold," said Michael Siu, a dad from Seattle, Washington.
18. A plane ticket home for the holidays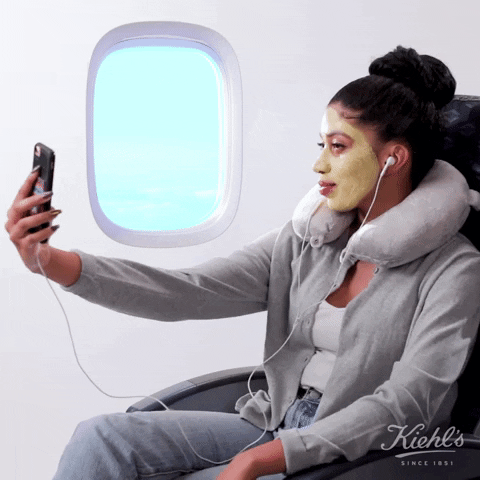 "No material item, that they are home for Christmas and they are happy and at peace, understanding the true meaning of Christmas and being with family and not getting caught up in gifts," said Kim Wiegand, a mom from Spencer, Iowa.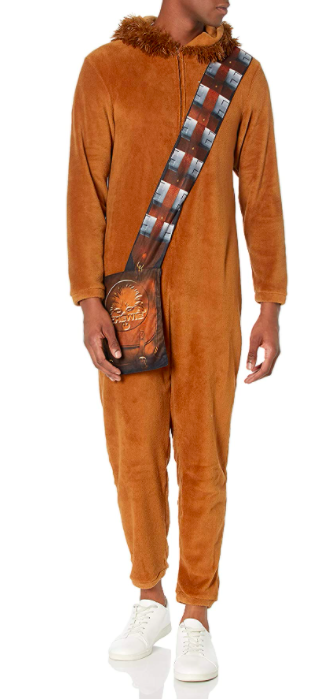 Star Wars Men's Chewbacca Union Suit: $24.99
University of Maryland sophomore Yasmeen Brooks said, "My dad loves Star Wars, so last year I got him a Darth Vader onesie from Walmart. He basically wears it every day during the wintertime."
20. Waffle iron paired with family breakfast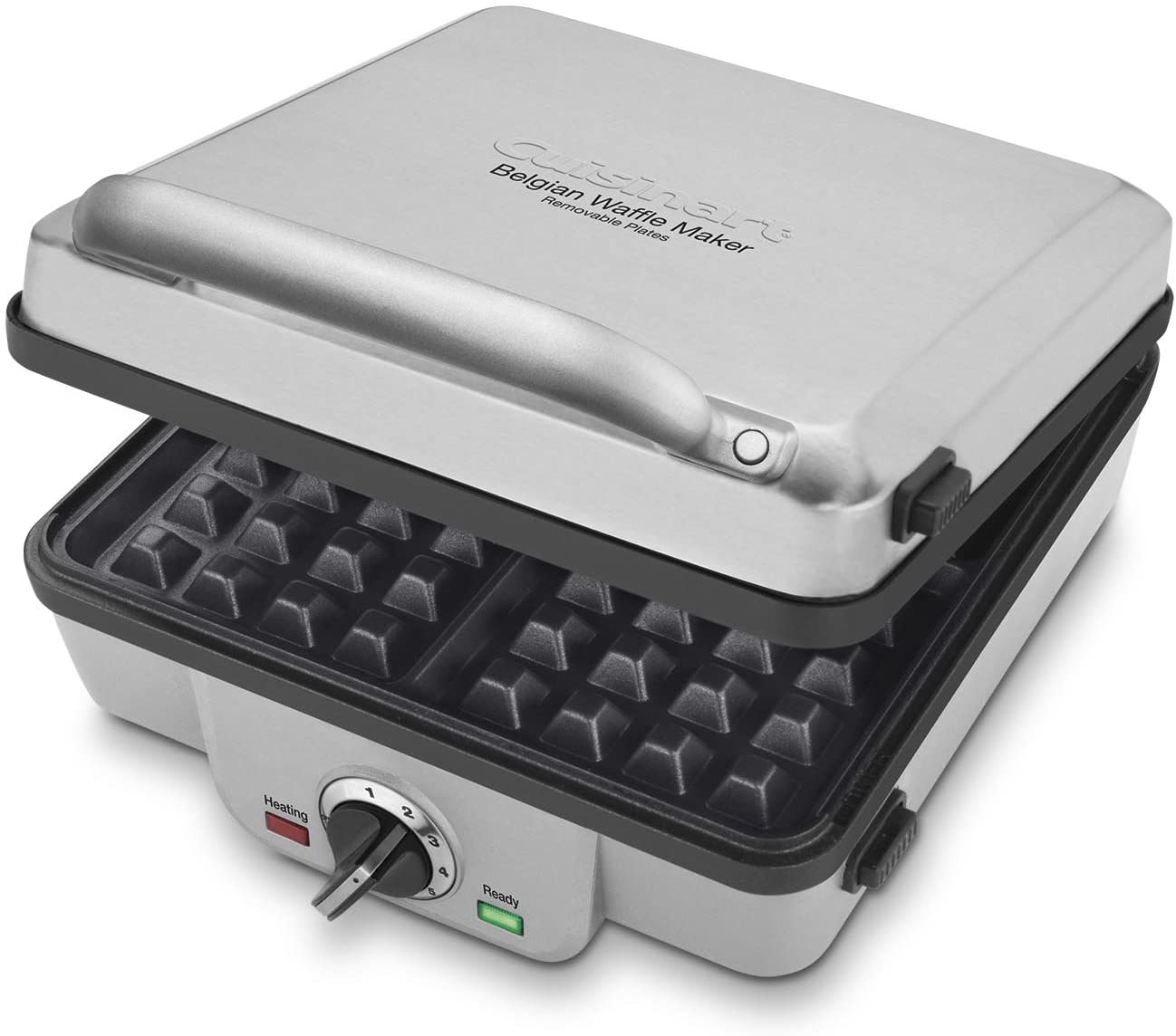 "I think the best gift my kids every gave me was when they pooled together their money to get me a waffle iron," said Theresa Sullivan, a mom from Viroqua, Wisconsin. "It's something we can all use and enjoy and makes me think of them."
21. Something sparkly
PANDORA Moments Silver Charm Bracelet with Heart Clasp: $54.99
Pandora Women's Mother Heart Charm: $42.75
"I've always wanted a diamond necklace or jewelry set for Christmas," said Darisa Cespedes, a mom from Reading, Pennsylvania. You probably can't afford to get your mom those diamonds until after paying off those student loans, but you can get her a charm bracelet that lets you keep adding memories to her wrist.
22. Cheesy kid coupons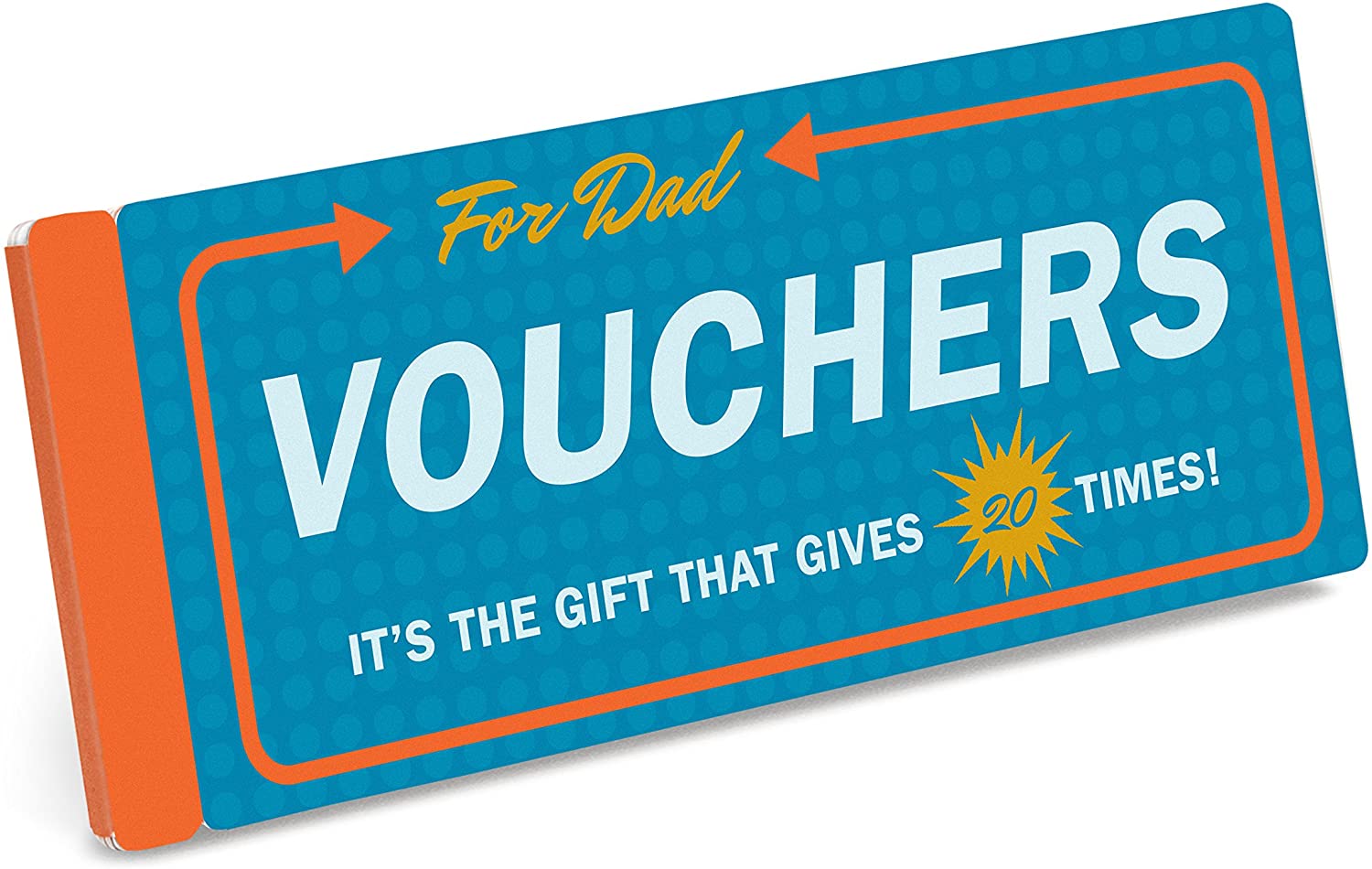 Knock Knock Vouchers: $8.18
"The gifts I enjoyed the most were when you girls were both young and made your own cards and included a card that was good for a free hug or back rub," said Terry Wiegand, a parent from Spencer, Iowa. Except actually follow through on those coupons this year, ok?
23. A canvas print of your cutest family pic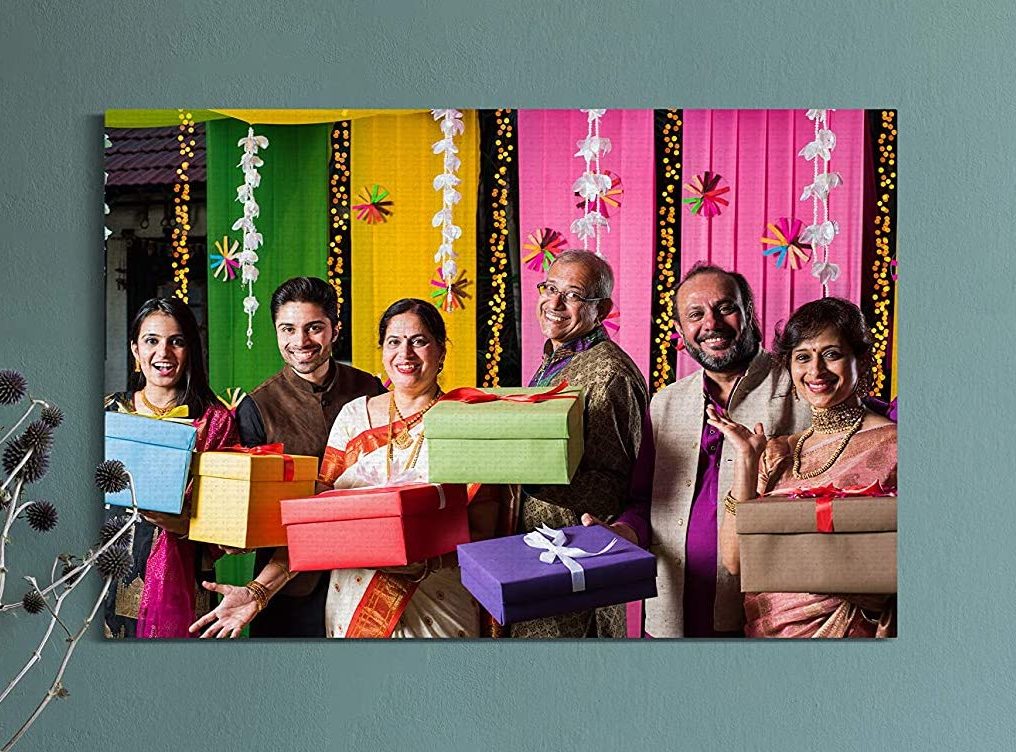 Renditions Gallery Photo to Canvas Print Wall Art: $19.99
"For my mom, I took pictures of me and my siblings and ordered a huge canvas print of all of us… she cried," said Temple University sophomore Kimi Bath.
24. Ceramic Tea Pot
"Honestly, I don't care what gift my kids gives me for the holidays as long as it comes from the heart. My daughter made me a ceramic teapot last year as a holiday gift and I loved it because I know it came from the heart," said Rokshana Akter, a parent from Upper Darby, Pennsylvania.
25. An Original Home Video or Music Video
Camera Camcorder: $245.99
"The most memorable gift I've ever received from my children was a music video they created for me," said Dayna Ingrum, a mom from Dallas, Texas. "Their dad did the filming and they acted out all the parts, it was a total surprise! To this day every time I think of or watch that video it fills my heart with joy, love and a whole lot of tears! I will forever treasure it!"
26. Some Much-Needed "Me Time"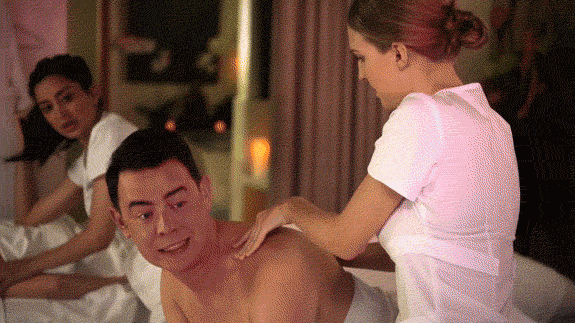 "Because I have the tendency to overstress at times, a massage would be the perfect stress relief, especially at holiday time," said Lori Ledbetter, a mom from Pensacola, Florida. "It would mean that they (my kids) care about my well being and see the importance of me taking that time for myself."
You can never have enough gifts for parents. Here's more.
By Nancy Mucciarone, junior, Syracuse University, Magazine Journalism
We're sure your wallet is feeling the pain of all the kegs, late-night pizzas and theme party costumes you purchased this semester. Still, there are gifts to be bought in the season of giving, especially for the people you care about. If you're stressing about what gifts for parents you should get, keep reading for more gifts from a range of prices that are perfect for mom or dad (or both).
27. Calendar Poster
Large Wall Calendar: $25.95
Every proud parent loves to see their children, especially when they're at work. This gift allows them to be reminded of great times with their families every day while they're at the office.
28. Frame Vows
Kate Spade New York KS Darling Point Frame: $100.00
Search around your house and see if you can get a copy of your parents' wedding vows. You can either have them custom framed—although it can get quite pricey—or buy a frame and do it yourself. Your parents will be touched by your thoughtfulness and you'll have some cash left over.
29. Wireless Grilling Thermometer
ThermoPro TP20 Wireless Remote Digital Cooking Food Meat Thermometer with Dual Probe: $55.99
This thermometer allows your dad to grill while socializing without worrying about burning the meat. The thermometer verbally tells you when the food is "Almost Ready" and "Ready." The thermometer takes the guesswork out of grilling.
30. Iceless Wine Chiller
Huski Wine Cooler: $64.99
This electronic wine chiller is great for parents who love having dinner parties or just enjoy opening a bottle of wine to share together. The wine chiller has an electronic thermometer that chills over 40 types of wine to their recommended temperature. The device also has a "quick chill" option that gets wine cold fast for those last-minute occasions.
31. Industrial Alphabet Photography Framed Print
Creative Letter Art: $59.95+
This long rectangular frame has an individual spot for each letter of your name, and each one is filled with a different black and white photo of something that looks like that letter. The print is a wonderful family symbol and a conversation piece that your parents will love to mount on their wall.
32. Snack Helmet
Team Effort NFL Snack Helmet: $61.99
When your dad needs a break from his hectic work week, help him relax on Sunday with this football team-themed snack bowl. The full-size football helmet can be ordered for any football team and includes two removable dishes for snacks, one in the face guard and one in the top of the helmet.
Need more inspo? Check out 10 more gift ideas to secure you the coveted favorite child spot.
Written by Jordan Thomas
33. A Family Activity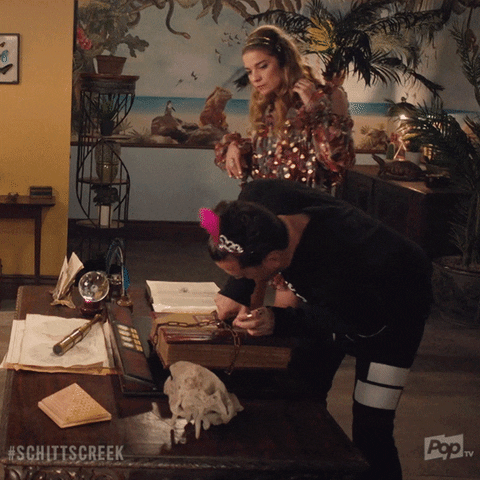 Price: Varies
When you have to be away from home slaving away on your studies, the family will want some quality time. Often times, the best gifts come in the form of experiences, so plan an excursion that will allow for some unforgettable bonding time and won't break the bank. You can do anything from going to the movies to solving an escape room. "I enjoy receiving gifts from my kids that involve spending time together. To me, it's not about the stuff. I'd prefer to go somewhere or do something. A movie, dinner, a puzzle or escape room…things like that. It's about creating memories and having fun," said Carrie Sides. Your parents (probably) consider you the best gift they've ever received and they will cherish the effort you put in to spend quality time with them.
34. A Bike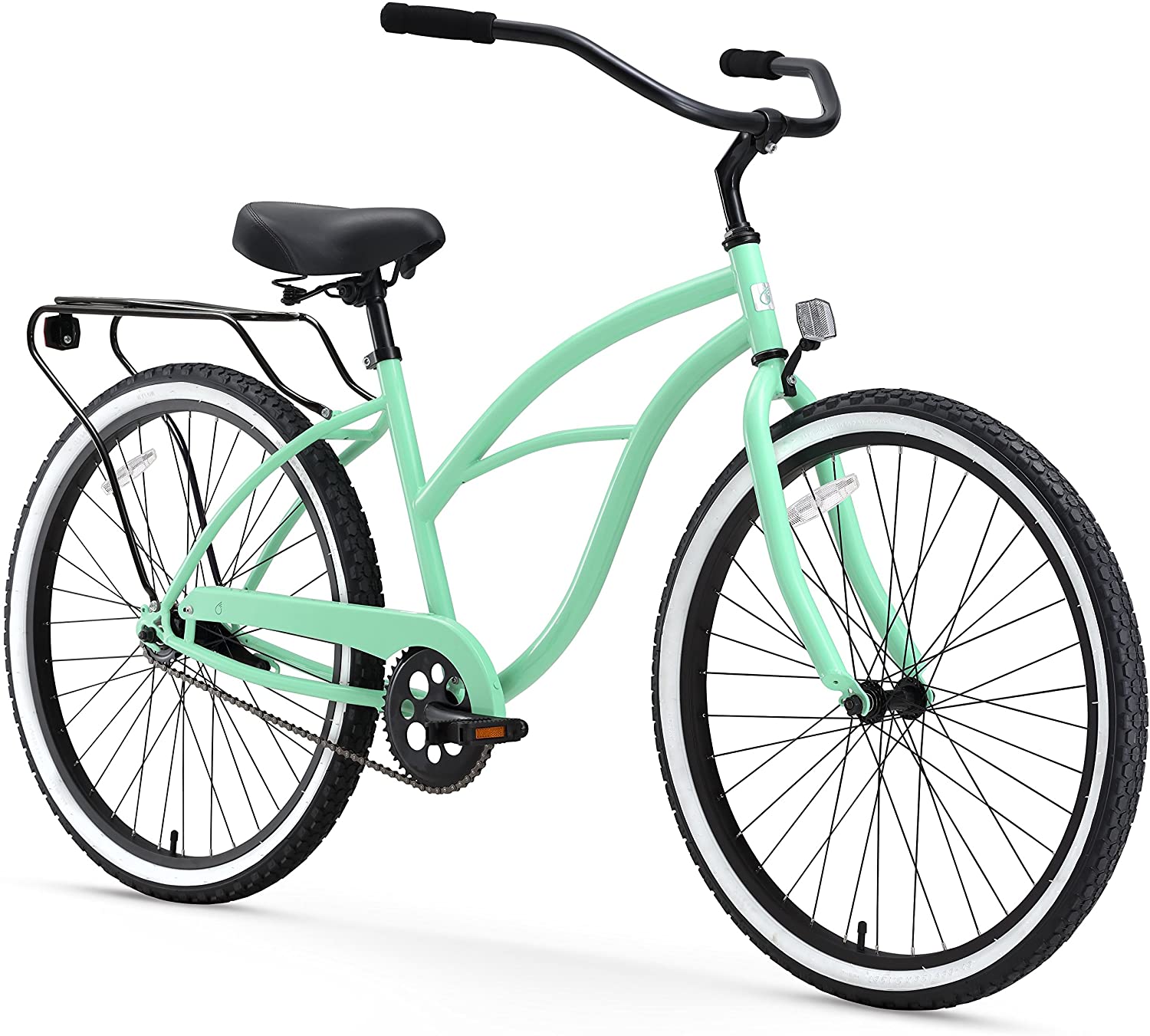 Around the Block Mint Green Cruiser: $221.00
It may be just me, but getting a bike might be the best gift you could ever receive. Bikes have so many pros: they grant you freedom, they let you soak yourself in the fresh outdoors, they work better for the environment and simply act as a reliable and cheap transportation method. Whatever reason, bikes rule. Your parents may never buy themselves a new bike, but that doesn't mean they wouldn't love to have one. Think of all the fun mini-treks you could provide for them in proper style.
35. A Pair of Fuzzy Slippers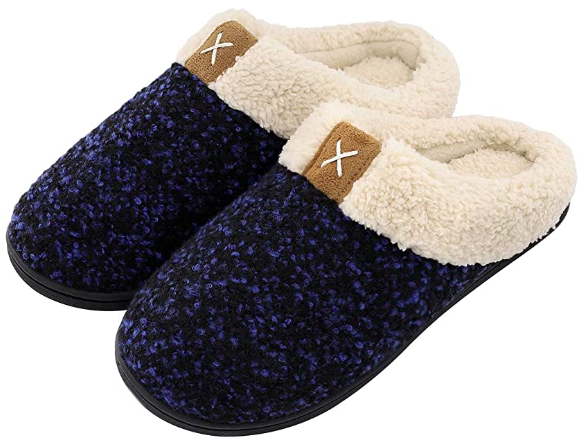 ULTRAIDEAS Women's Cozy Memory Foam Slippers: $25.90
Sometimes your parents just want to be warm. So help them, please. Fuzzy slippers remind us of the holidays and the comfortable warmth of being indoors amidst the cold weather. The point is, slippers can go a long way to remind someone that you care and give them a cozy holiday season.
36. A Sweater for Your House Pet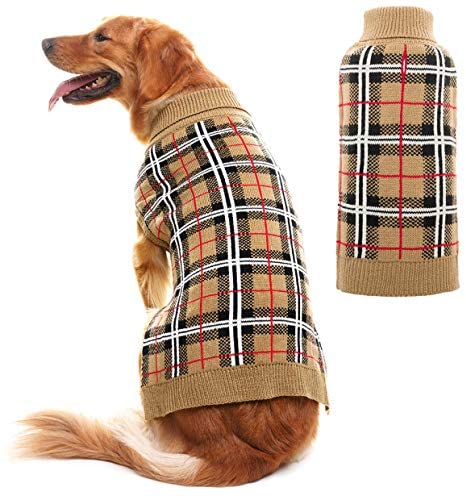 Classic Plaid Dog Sweater: $7.99
Giving your dog or cat a cute sweater acts as a gift to your parents, but will actually get everyone involved. Just imagine the cuteness potential with this one… Give your dog the sweater they deserve in the disguise of giving your parents a gift (kidding). Bonus points if your mom has a Facebook and posts a picture online.
37. A Journal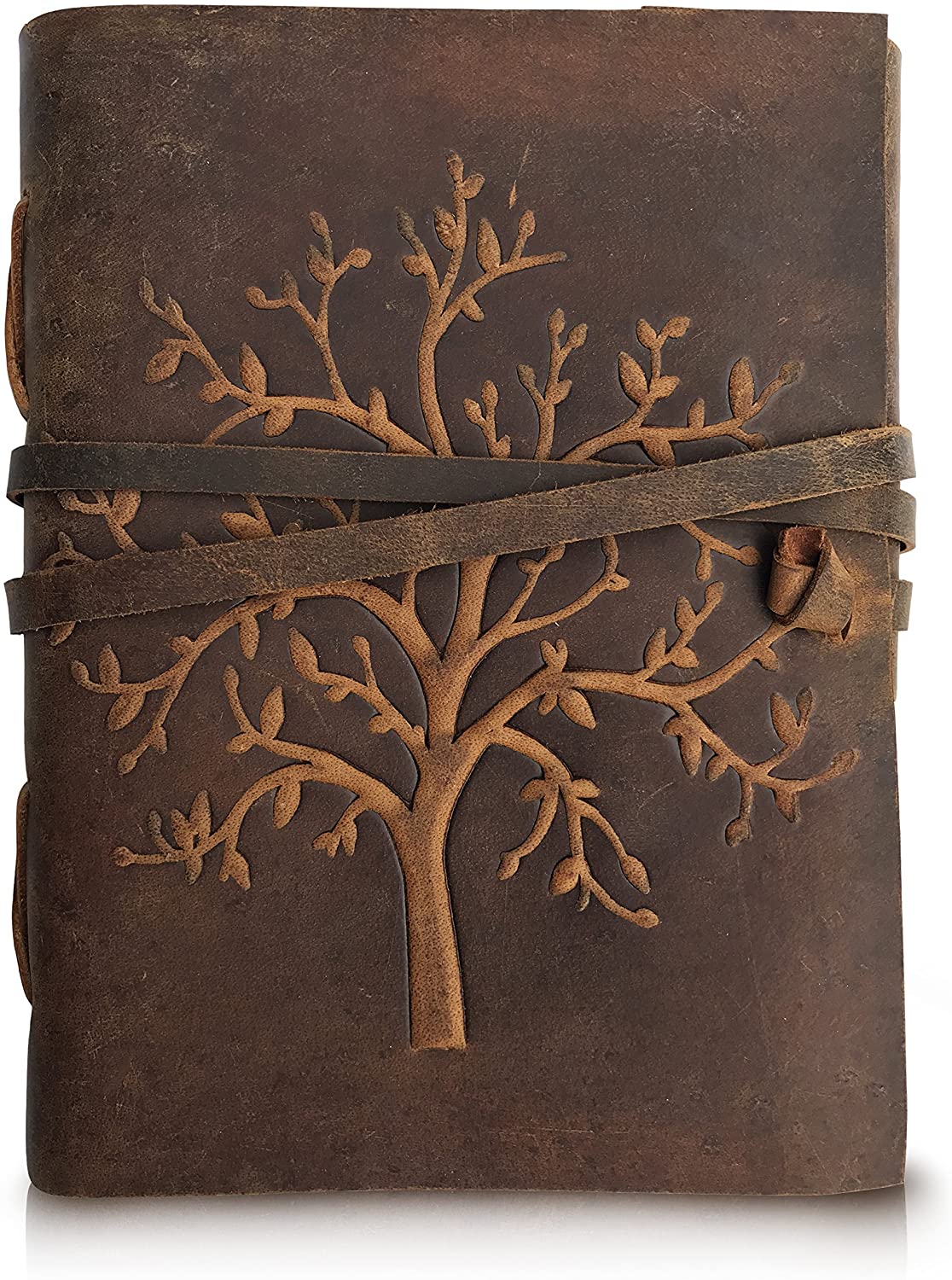 Leather Journal Tree of Life: $34.95
A journal works as a perfect store-bought gift that still offers a great deal of sentimentality. You can personalize a journal or get one with a cover that emits the right personality. "I would appreciate a personalized gift, something representative of myself that shows someone pays attention and cares. So, a journal would be great. I love collecting journals," said Ron Martin. You can easily make something as simple as a journal extremely personal and unique that anyone would love to get. Never forget, every single person always needs a journal. Whether they know it or not.
38. Handwritten Letters or Poems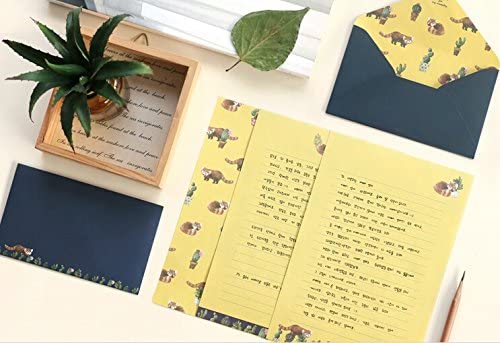 Lovely Cute Writing Stationery Paper Letter Set with 16 Envelope + 1 Sheet Label Seal Sticker: $11.99
Even though we constantly thrive on texting and direct messaging now, we all collectively as a species love handwritten notes. They make our communication so much more human and heartfelt, and, if you put real time and effort into writing your parents letters or poems from the heart, they will cherish it and read it over and over again—literally forever. Write about your life, your favorite memories with your parents, the things you remember or love most about them and anything else you want. "The best gift my daughter gave me was a book of handwritten letters. The letters were about her favorite memories with me, her favorite trip that we took together, the things she's always wanted to tell me and more. I still read it now!" said Connie Ferretti.
39. A Handmade Painting or Something Else Artistic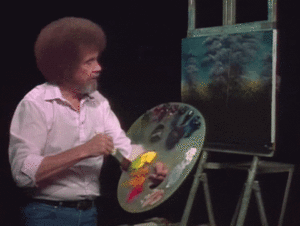 Price: Varies
If you have an artistic side, make a painting or other art piece that you can tailor to your parents specifically. Homemade gifts always go over well, you can show off your creative talent, plus you can make literally anything you want, so the art piece can be personal and special to the person you give it to. "The best gift I've ever received was a hand-made painting of all of my favorite sports teams' logos and helmets from my daughter," said Connie Ferretti. So grab a canvas, some paint and some brushes, and let your artistic side shine this holiday season.
40. A Subscription to Disney Plus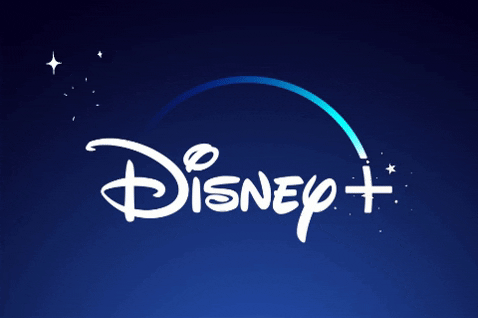 Nothing gets more topical than gifting someone a Disney Plus subscription. Every parent loves Disney movies and will appreciate the much-needed new streaming service content. "[I want] a subscription to Disney Plus! I'm pretty maxed out on subscriptions already!" said Sunii Benday. You better hurry now—they need to catch up to the last episode of The Mandalorian.
41. Ninja Bullet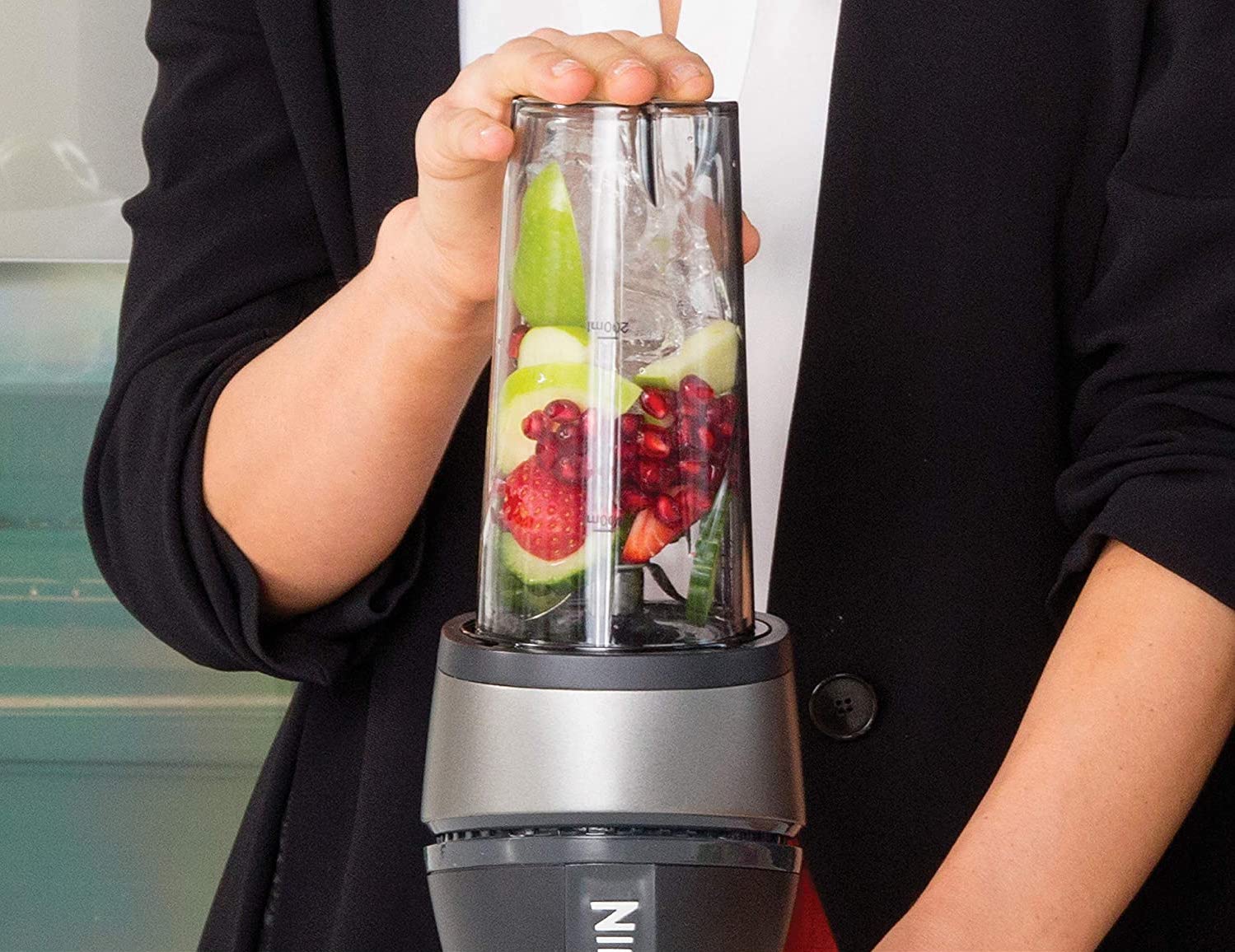 Ninja Personal Blender: $49.99
Your parents will never know they wanted a Ninja Bullet, but will greatly appreciate it nonetheless. The highly efficient blender will make their lives much easier, especially if they like to make smoothies or juices. "My blender broke and my children surprised me with [the Ninja Bullet] at Christmas and it warmed my heart," said Cindy Stuart. You can literally never go wrong with any fancy kitchen gadget.
42. Shadow Box Full of Inside Jokes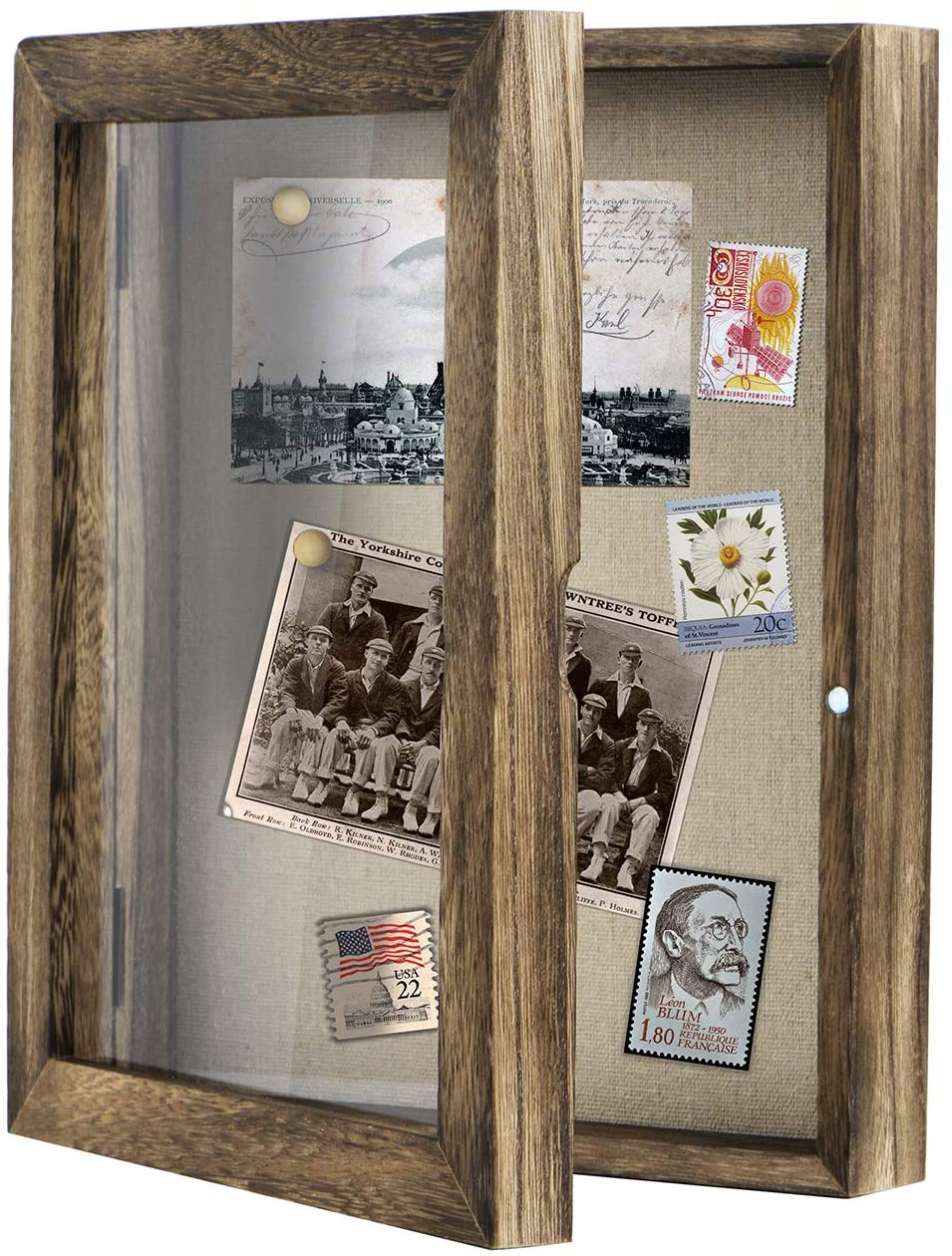 Shadow Box Display Case: $19.99
Wow your family with this fun way to remind them of the fun and special times you've had over the years. "[The best gift was] when you made me a shadowbox with inside joke quotes that we have had throughout a lifetime. It's a gift that keeps giving," said Heidi Kulak. Just take a shadow box and add clips of inside jokes you have handwritten, pictures and memorabilia. Having them displayed all together will bring the family together and let you remember those cherished times while letting you look forward to future inside jokes.
Get started on your Mother's Day shopping and grab a gift for your parents before it's too late.
Written By Kendall Russell 
Moms. They raised you, dealt with your stinky diapers and your hormonal teen attitude for years. Repay her for all her hard work this Mother's Day with 10 more gift ideas (and let's be real, Dad will probably like them too).
43. A Whimsical Tote Bag
Quad Tote Bags: $21.99
Moms always need new bags. Why not pick her up a super cute peachy tote? Or, for those cat-loving moms, grab a Mew Yorker tote. Perfect to carry all those "mom" things they always have.
44. A Cute Plant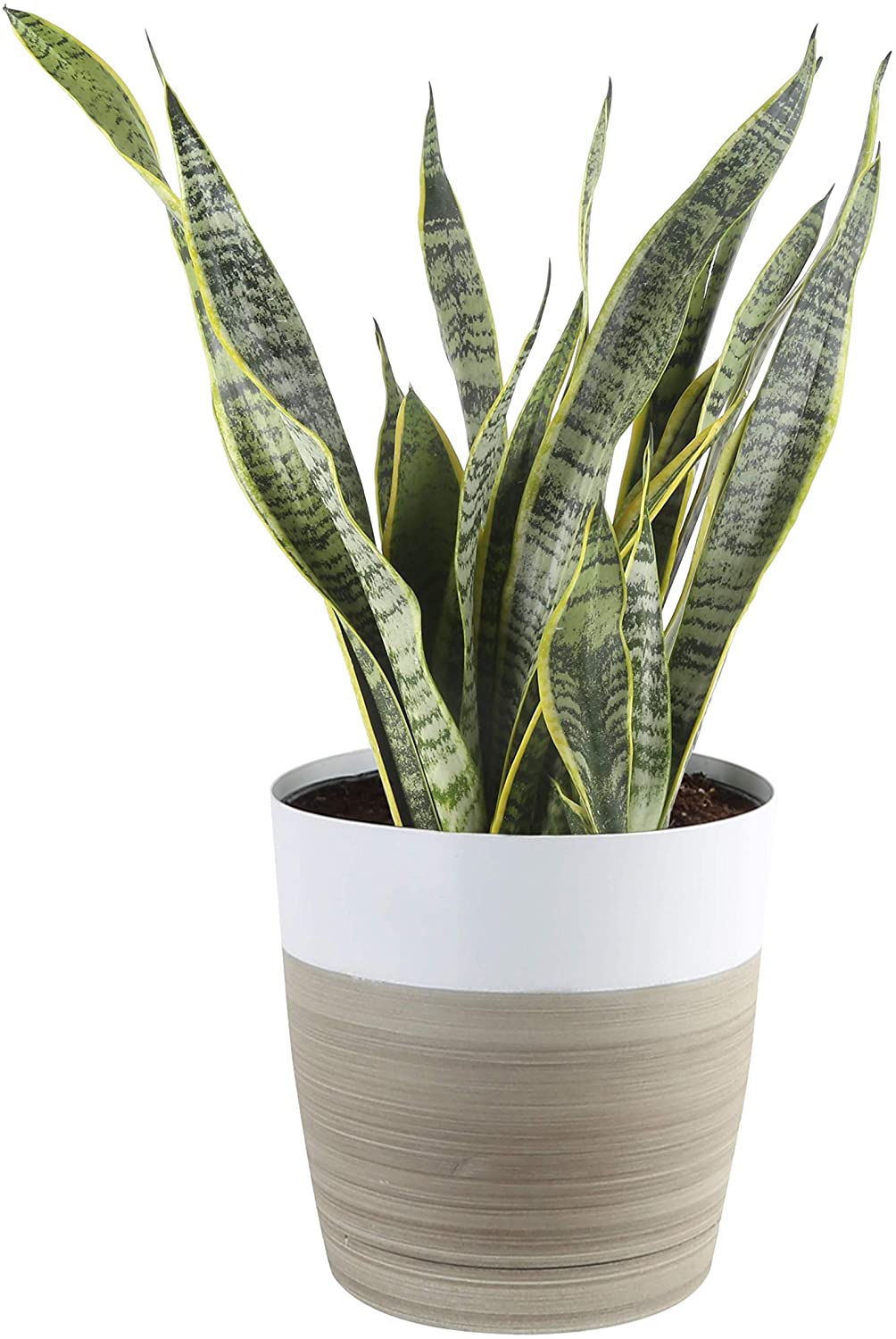 Costa Farms Snake Plant in White-Natural Decor Planter: $27.99
Pick your mom up a new plant from your local botanist. Grab a cute snake plant or an orchid to make her house a little more lively. Flowers will also do, only in a pinch though.
45. A Bottle (or three) of Wine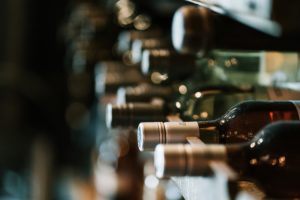 Price: Varies
Let's face it, moms need their wine (especially now with the whole family home during the quarantine). So, why not stop by an essential liquor store and pick up a bottle of your mom's favorite (or five).
46. A Photo Album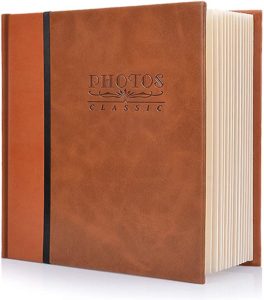 Self-Stick Page Leather Photo Album: $25.99
"It's little snippets of all the good memories we have had together. It really helps show all of the amazing times we had as a family," University of Kentucky junior Kaylee Poling said.
47. Beauty Product Care Basket
Vanilla Oat Bath Milk Soak: $20.00    Baby Foot Exfoliation Foot Peel: $25.00. Dr. Schultz Retinol Cream Moisturizer: $14.95
Moms always need new makeup, shampoo, body wash and hair care products, so why not put them all together in a cute little DIY basket? You'll save her a trip to the grocery store and give her a mini spa day.
48. Wireless Headphones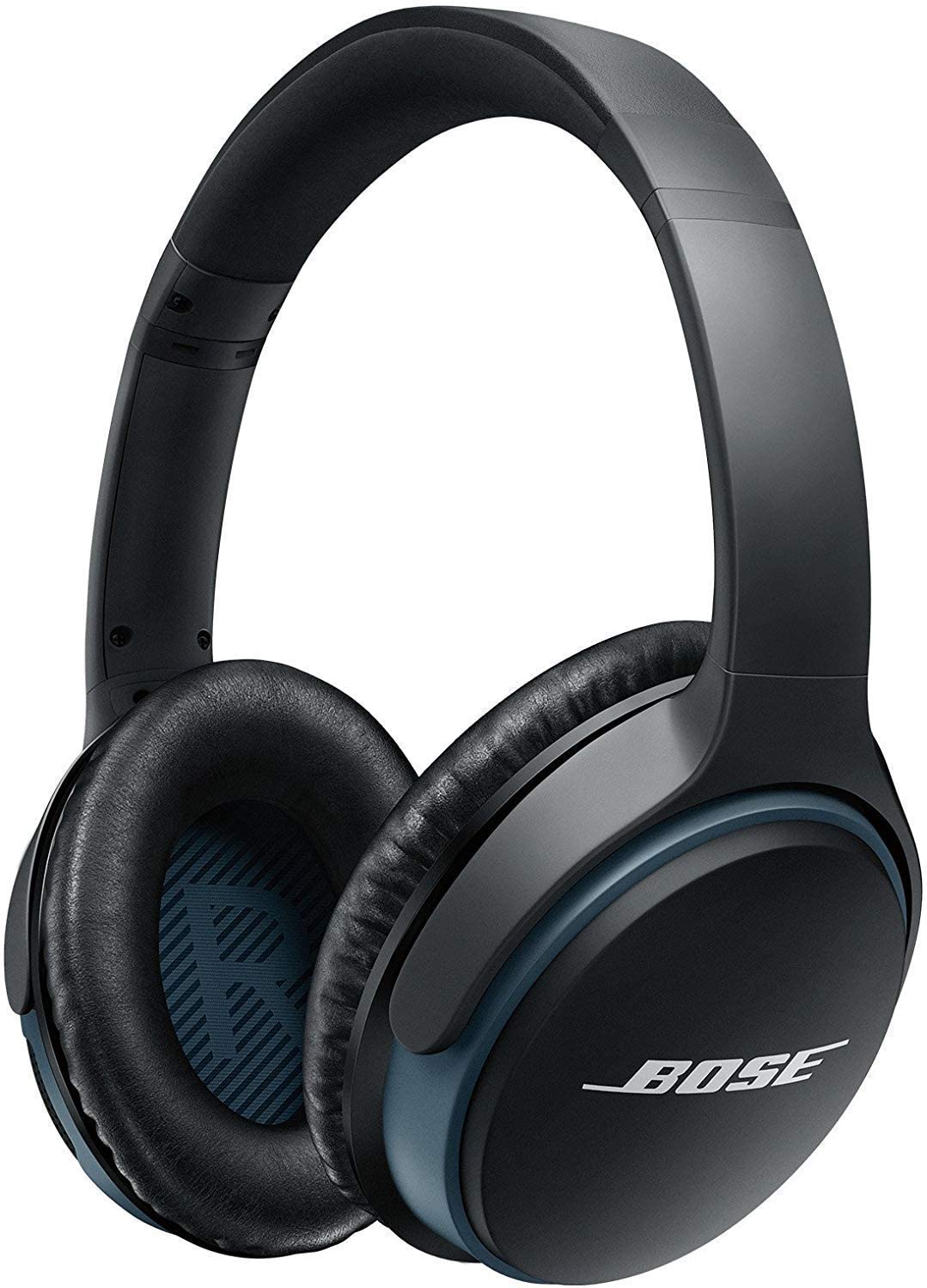 Bose SoundLink Around Ear Wireless Headphones: $159.00
You're home all the time now—your mom is definitely going to need to tune you out from time to time if she doesn't already. Give her the ultimate gift of peace and quiet with the proper headphones to ignore you.
49. Hulu Subscription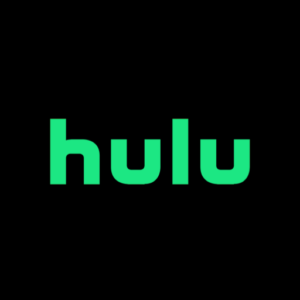 Price: Varies
We're all bored, and your mom is too. Sign her up for a Hulu subscription so she can watch her favorite shows like 90 Day Fiancée or Brooklyn Nine-Nine. She'll thank you later.
50. Bedsheets/Comforter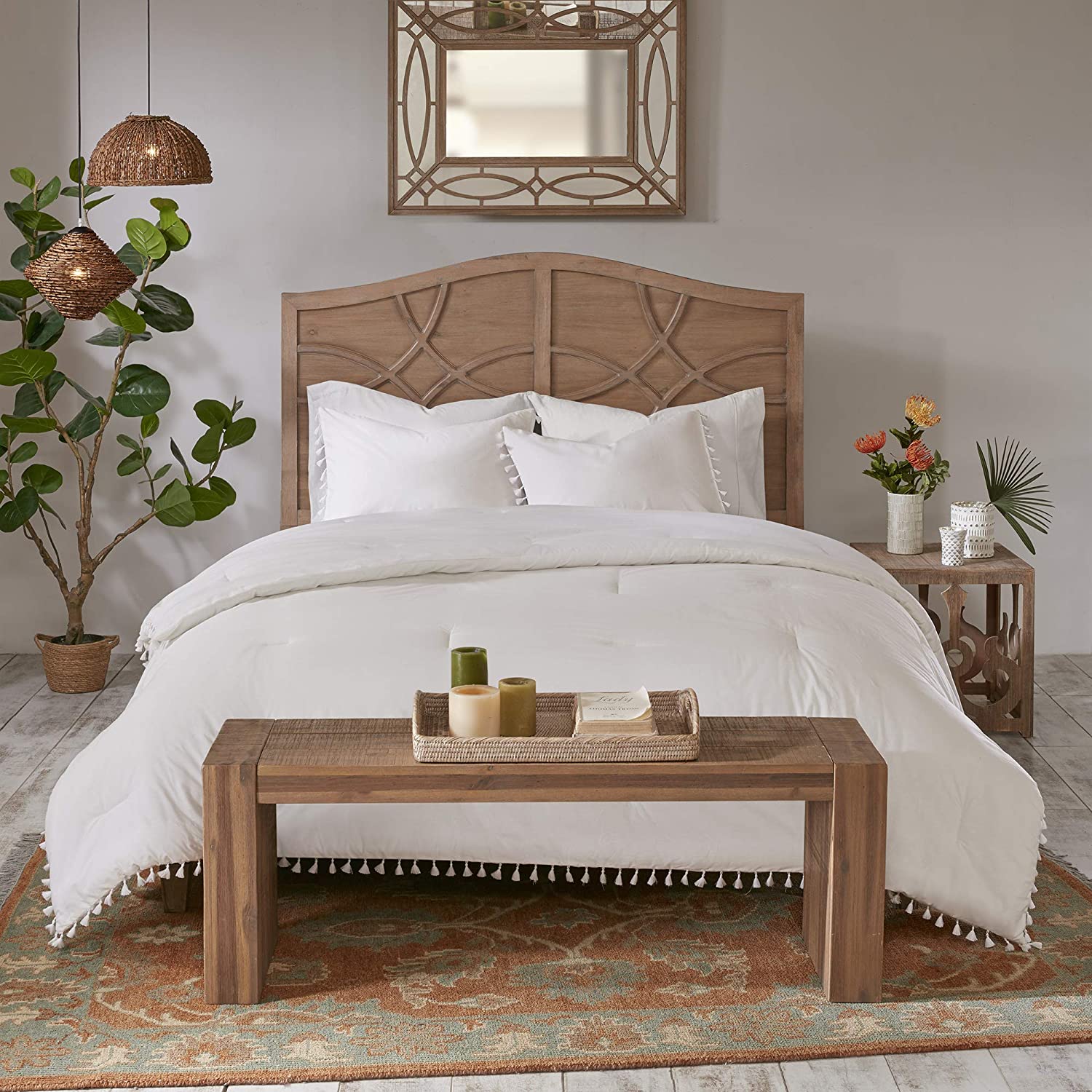 Madison Park Cozy 100% Cotton Comforter Set: $91.83
Your mom has been washing your sheets your whole life. It's time to gift her with a new set. Throw in a new comforter and some cozy throw pillows and you have the perfect gift.
51. A Home-cooked Meal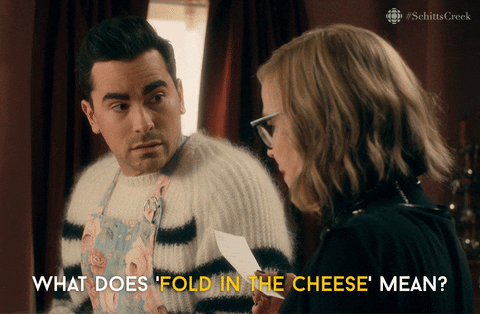 Price: Priceless
"When you make a home-cooked meal you can make exactly what they like to eat, and you know your mom better than anyone else. Also, when food's cooked with love it tastes even better," University of Kentucky senior Autumn Paine said.
52. Pandora Charm Bracelet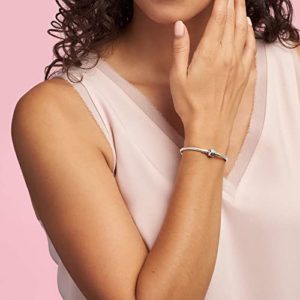 Pandora Charm Bracelet: $65.00
The gift that keeps on giving. Though it might be a little pricey, your mom is worth it. Get her a charm bracelet with one or two charms to start out. Then, for holidays and birthdays to come you always have a go-to gift for mom.
Don't forget about Dad this year. Check out 10 gifts designed specifically to make him smile.
Written by Vanessa Vazquez
Did you leave gift shopping for the last minute again? There's still time for you to run out and grab a killer Father's Day gift for your pops. Read on for 10 father's day gift ideas to impress your entire family this year.
53. All-in-one Stereo System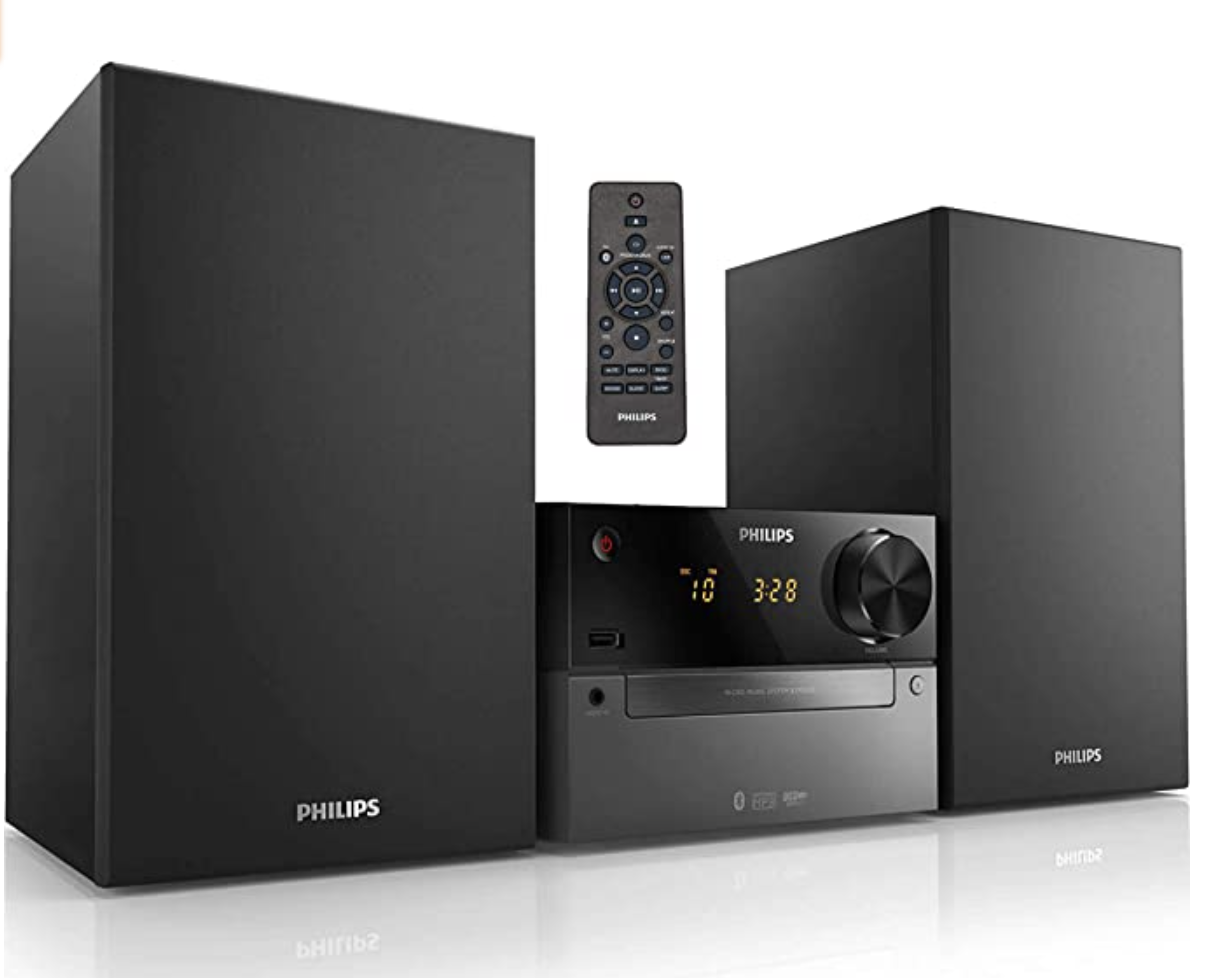 Philips Bluetooth Stereo System: $129.99
Father's Day can act like a pre-Fourth of July party if you do it right. Gift your dad an all-in-one stereo system to take backyard parties at your house to a new level. Can't work Bluetooth? Need an Aux? Prefer the good ol' fashioned radio? No problem when you buy a stereo in 2020. This gift works for all levels of technologically savvy.
54. iPad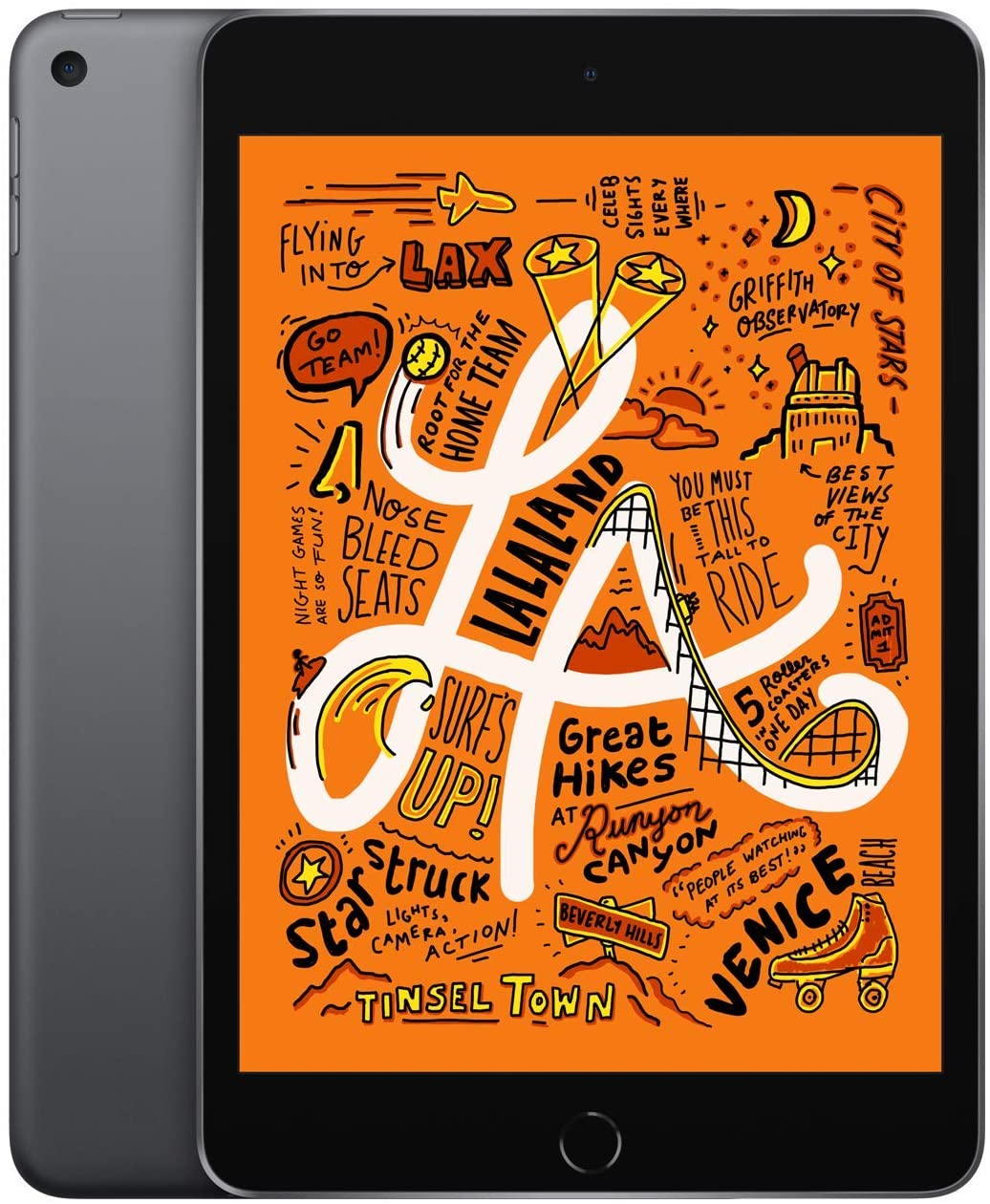 Apple iPad Mini: $349.00
You can't go wrong with giving your dad an iPad for Father's Day. Show them how to hook it up to their stereo system if you go all out this year. Take an hour to show them everything they can do with it to spend quality time with him.
55. Wall Mount Beer Bottle Opener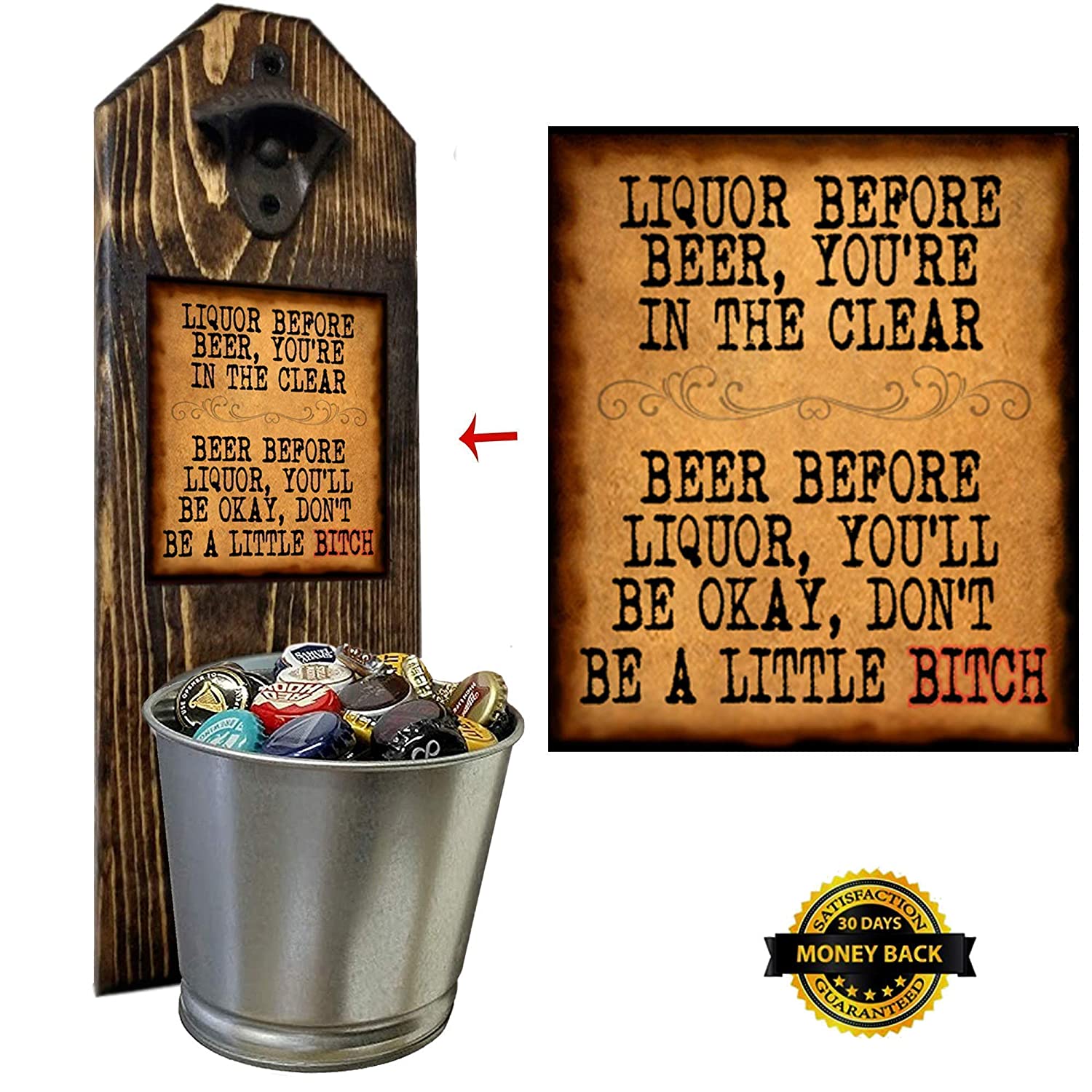 "Liquor Before Beer" Bottle Opener and Cap Catcher, Wall Mounted: $34.99
Make life easier and decorate the bar area for your dad this Father's Day. Wall-mounted bottle openers solve the problem of having to look for an opener to crack open a beer in the backyard. Buy one to suit your dad's style and you've got yourself a thoughtful and practical gift.
56. Travel Books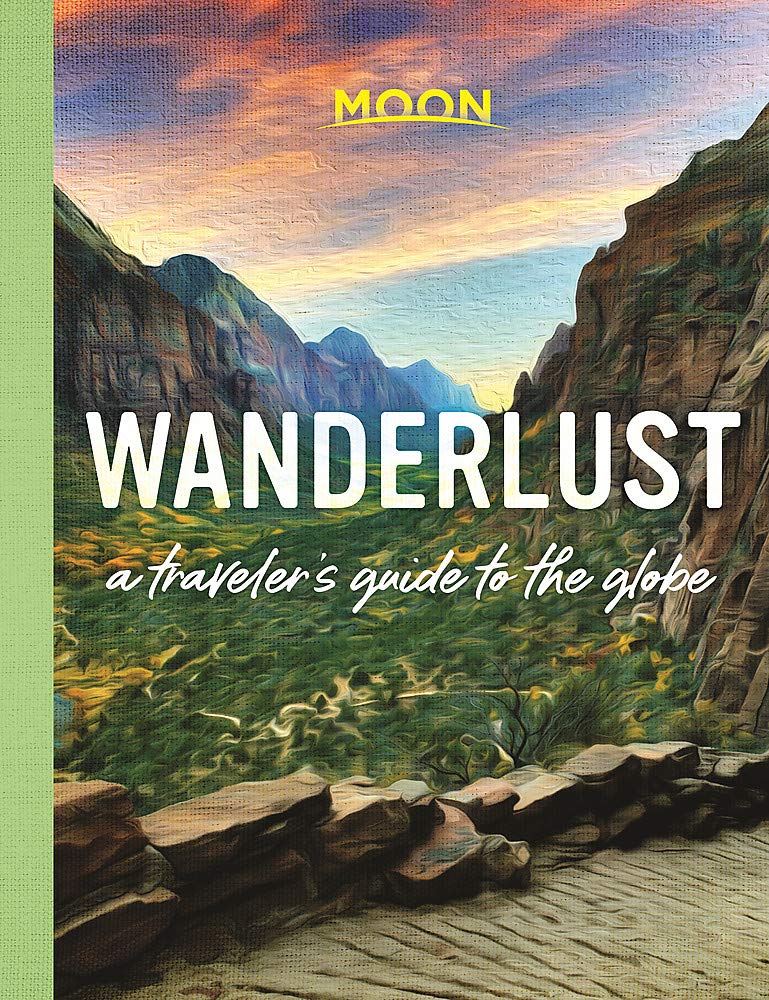 Wanderlust: A Traveler's Guide to the Globe: $29.42
Cure your dad's wanderlust and help him prepare for his first trip post-COVID-19. Grab a map, throw a dart and then get to reading travel books. From must-see places to best restaurants, your dad will appreciate narrowing down his options.
57. Customized Whiskey Glasses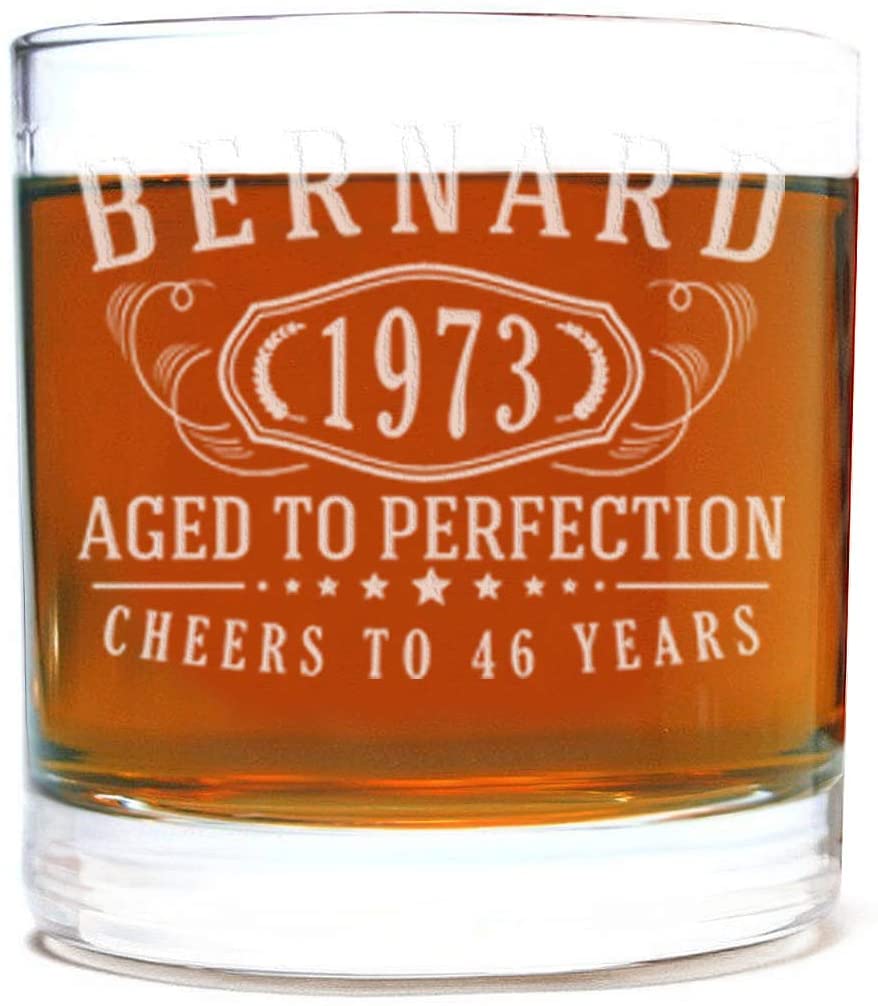 Personalized Etched 11oz Whiskey Rocks Glass: $27.99
So your dad goes for whiskey more than beer? No problem. Spice up his glassware with a set of personalized whiskey glasses. For the whole package, pass by a liquor store and pick up his favorite whiskey so he can try out his new glasses.
58. Shave Kit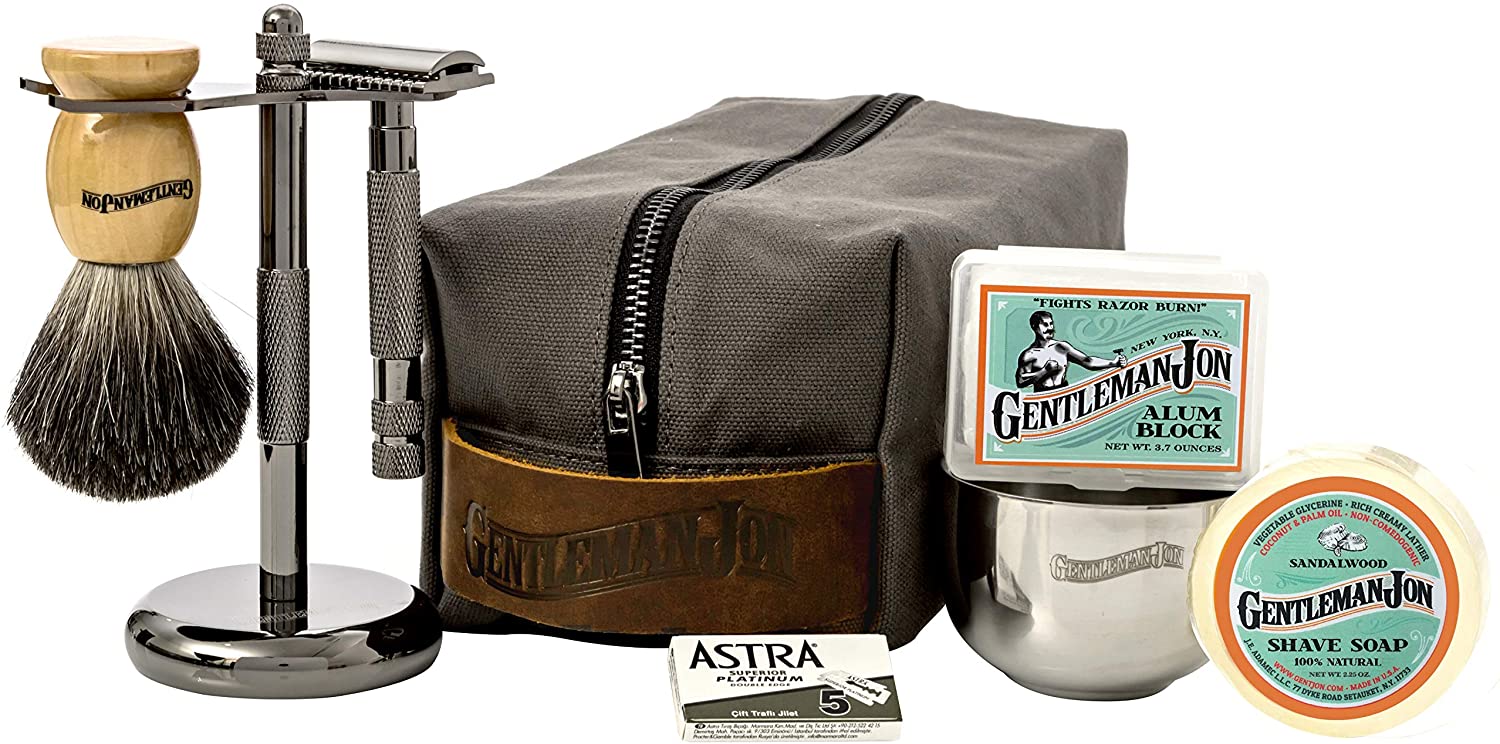 Gentleman Jon Deluxe Wet Shave Kit: $69.90
Desperate times call for desperate measures, especially when it comes to the hair on your dad's head. Since going to a barbershop still presents challenges at this point in time, bring it home with a shaving kit. Give your dad the equipment and freedom to experiment with facial hair. Now he can rock lambchops free of charge.
59. Dinner and a movie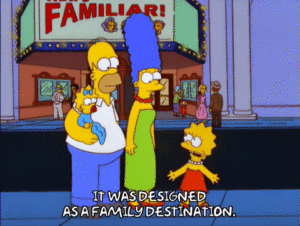 Movie & A Meal, Brinker-Regal Entertainment Gift Card: $50.00
There's no gift like quality time with your father (bonus: a free meal and movie). Take your dad to his favorite restaurant or enjoy an appetizer before watching that newest action movie he told you about last weekend.
60. Gym equipment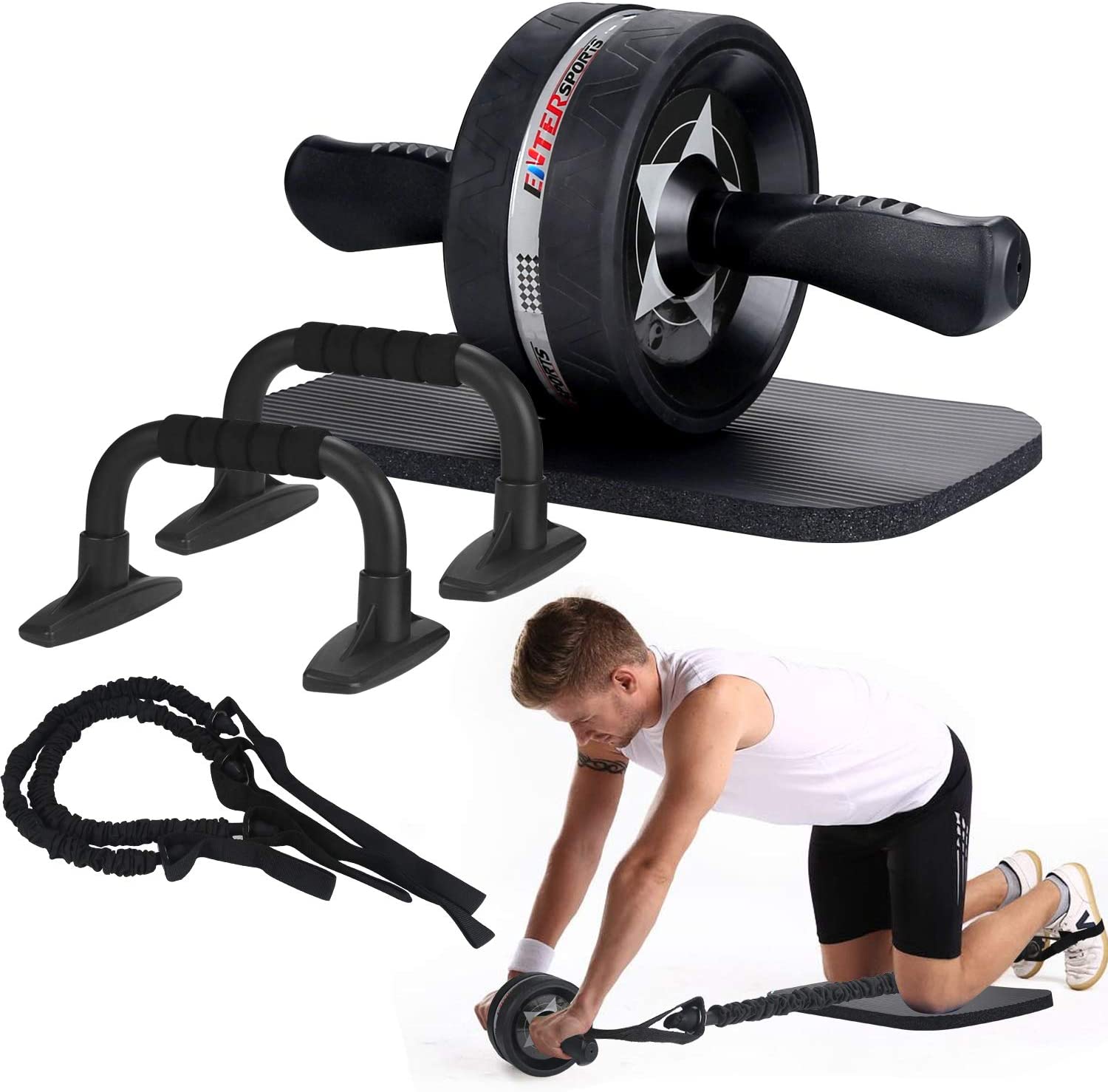 EnterSports 6-in-1 Ab Roller Kit: $32.98
With quarantine, your dad likely misses the gym and working out with professional equipment. Use Father's Day as an opportunity to help him build an impressive home gym that'll make him cancel his gym membership. Dad bods require a lot of upkeep!
61. Athletic Sneakers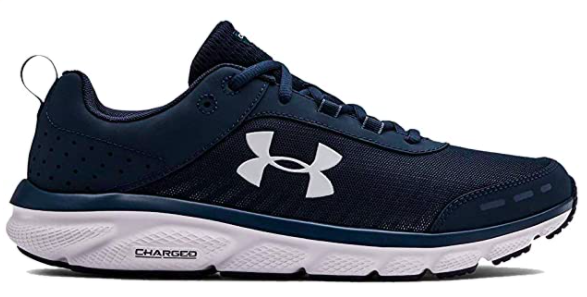 Under Armour Men's Charged Assert 8 Running Shoe: Varies
To go with your dad's new and improved home gym, splurge and also get him a new pair of sneakers! With this comfortable gift, you'll catch your dad wearing them everywhere from working out to shopping to sitting on the couch.
62. Functional office decor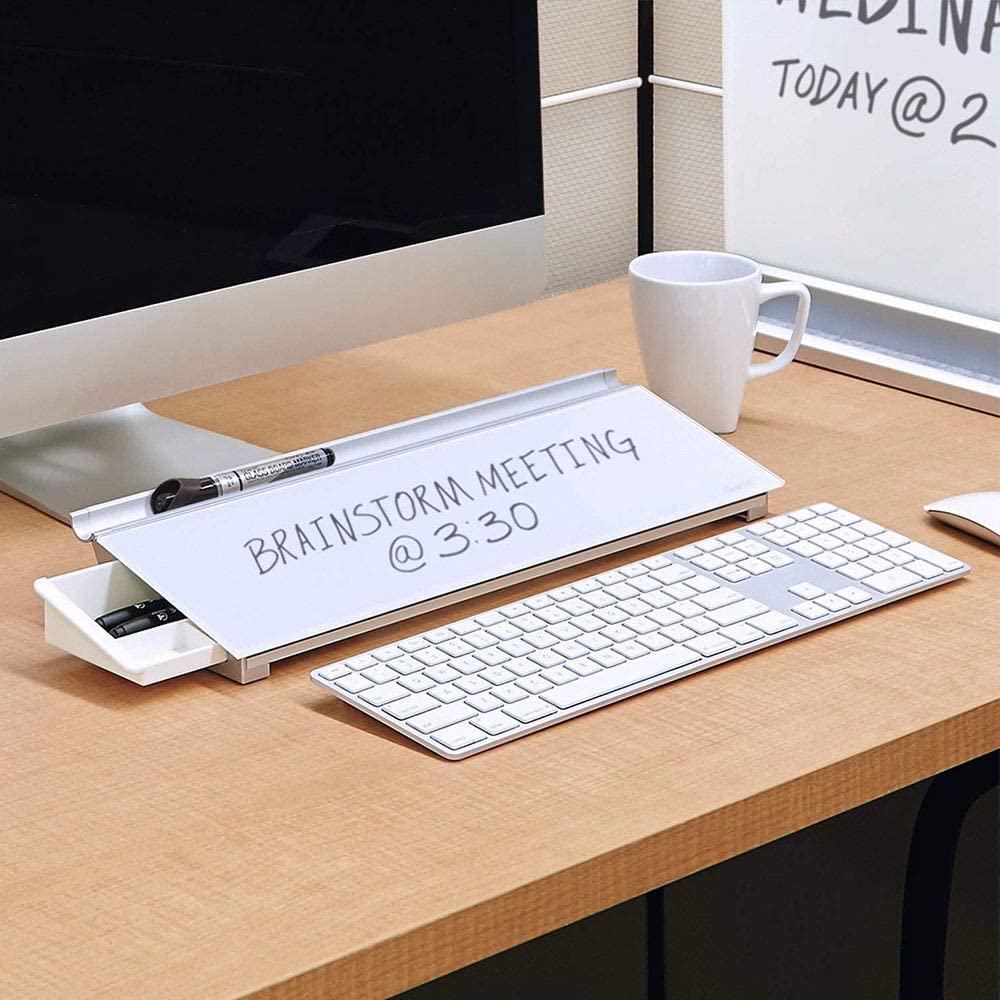 Quartet Glass Desktop Computer Pad Whiteboard: $22.32
Does your dad have an at-home office? Well, then the perfect gift will make his life much easier. Buy organizers, storage containers or just about anything that will make his office space functional AF.
10 More Gifts Your Parents ACTUALLY Want
Written by Kalyn Womack
Choosing gifts for your parents is no easy task, especially when you want to surprise them. Most of the time when you do ask them what they want for the holiday, they say, "Oh nothing," when you know they do want something. Well, check out the list below from actual parents to find an idea of what to shop for.
Check out these 10 Gifts Your Parents Actually Want
63. Personalized Gift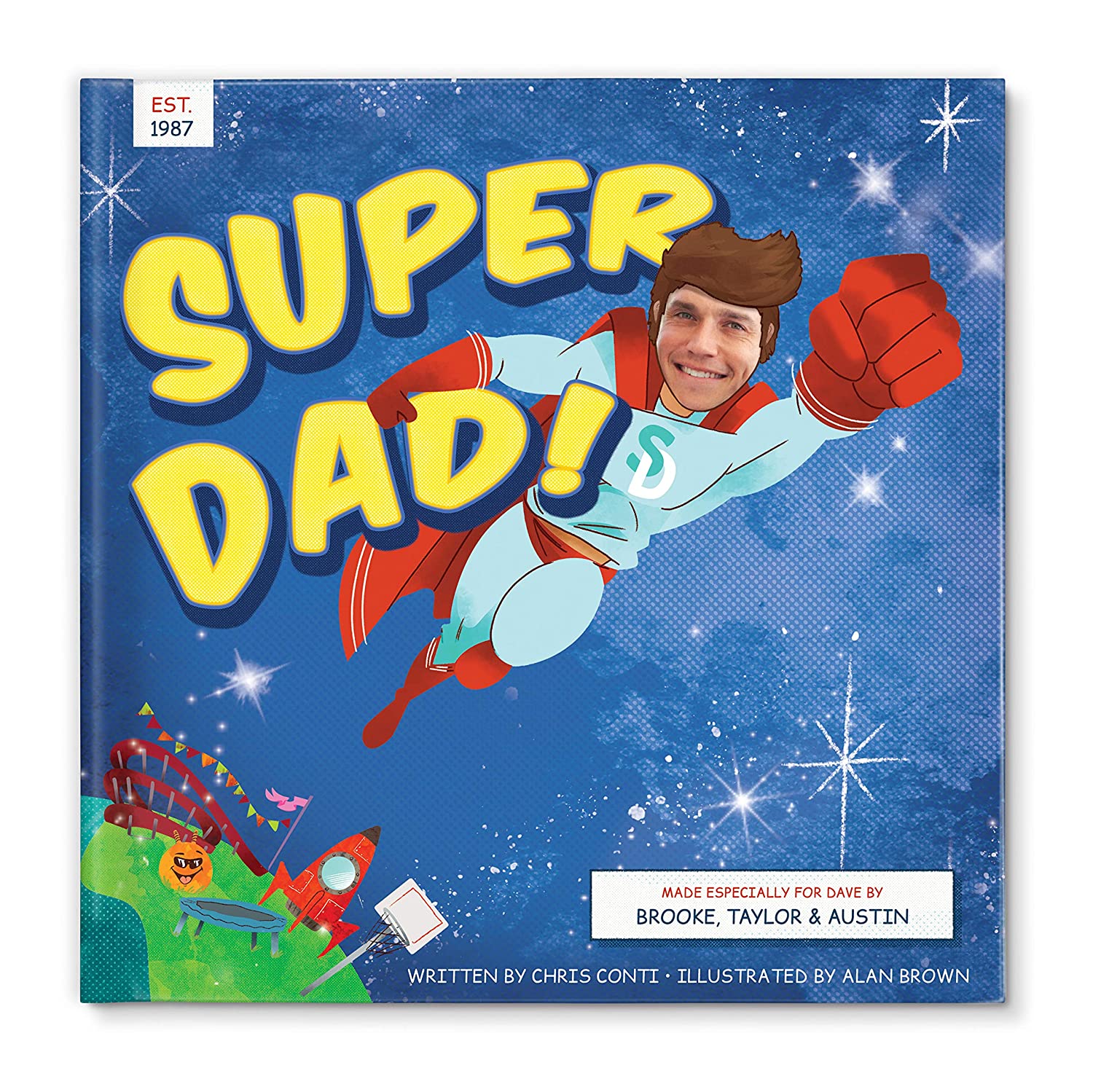 Personalized Super Dad! Book: $34.99
Nothing is more special than creating a heartfelt gift for your parent. "I love whenever I get a personalized or hand-made gift that holds some sort of sentimental meaning. Material gifts are great, but I always appreciate something that has a lot of thought put into it, especially from those I am closest to," said L.A. mom Sandra Tudon. Giving them something made especially for them with whatever you can gather exhibits an amount of effort they are sure to appreciate. Even a collage of pictures will suffice.
64. Trip out of Town
Whether exclusively for them or for the whole family, getting out the house is a great way to spend the holidays. "I would love to be able to go on a family vacation to Italy. I have always loved going on vacation with my family. I want to be able travel there with my family one day," said New York mom Luree Arena. COVID-19's stalled most travel, but you can always plan for the future (especially since plane tickets are dirt cheap these days).
65. Kitchen Free for All
DASH Safe Slice Mandoline: $39.99
With a world producing new kitchen gadgets day after day, bless your parents with something to take the edge off cooking. "Anything for the kitchen is a great gift, like a small food processor," said NJ mom Donna Tabatneck. Air fryers are a dream, Ninjas are elite and even a handy bottle opener can ascend the kitchen to the next level. Focus on what will make meal prep easier for them.
66. Books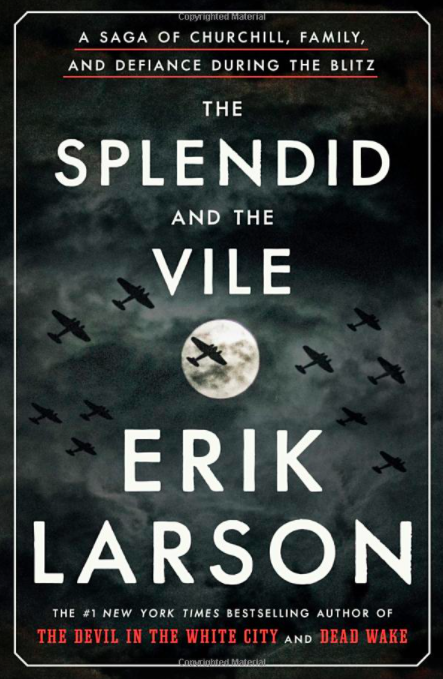 The Splendid and the Vile: A Saga of Churchill, Family, and Defiance During the Blitz by Erik Larson: $19.20
You may not stop to think about how the bookshelf you grew up with got all those books. If your parents love literature or a series of affirmations, why not give them a new addition to their reading collection? "I love getting books as a gift. Especially when the person picks a book on a topic I love," said Florida dad Chris Holder. Though a trip to Barnes & Noble may not seem super special, you never know how a few hundred pages may make your parents' day.
67. Exercise Equipment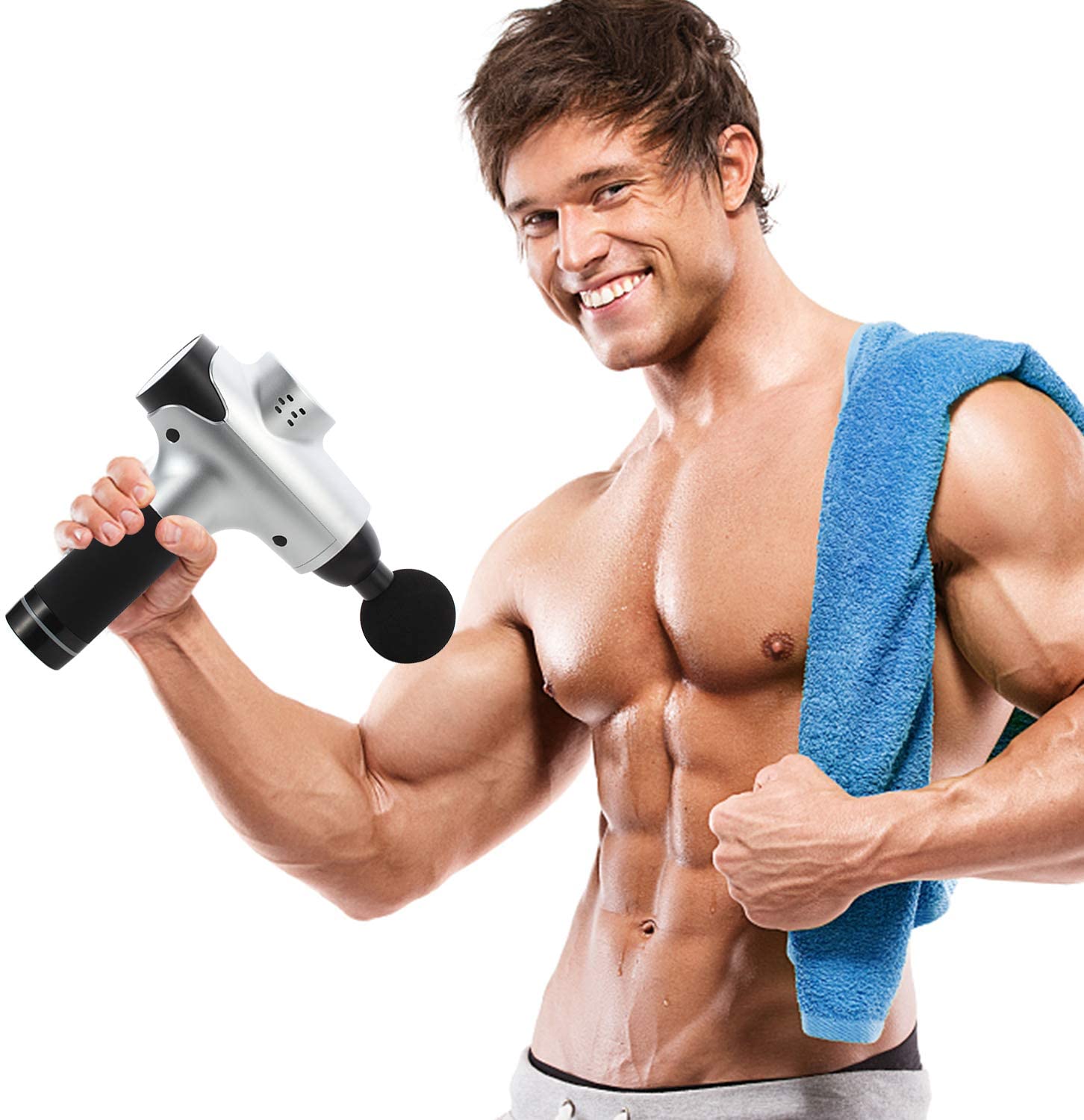 Cottile Massage Gun: $39.99
Your parents may want to get active but have no fun resources to do so. Whether it's exercise bands, a bike or a yoga pole, a little something to help them fulfill their fitness dreams is meaningful. "The best gift has to be a bike. It's good to get out of the house and get some exercise. A bike is the best gift for a parent right now," said Florida mom Kathleen Garner. Your parents care more now than ever about health and wellness. Gift them with something they can break a sweat with.
68. Baked Goodies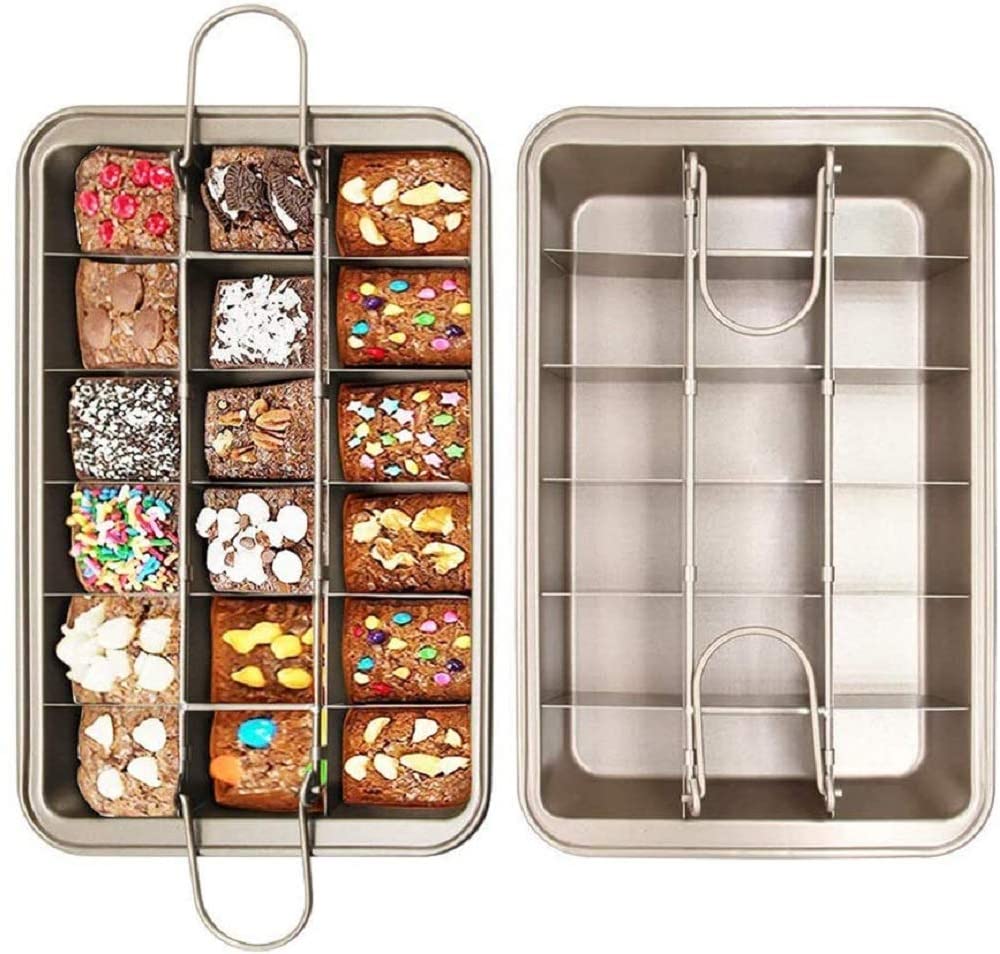 Non-Stick Brownie Pan with Dividers: $16.98
Maybe all your parents want is something to satisfy that sweet tooth. Store-bought bakery sections goods are overrated. Break out your electric mixer and make one of your forever-saved Pinterest recipes. "The best gift I received was a special pan just for brownies that made them bake in pre-cut squares. I use it all the time and it's so practical," said mom Darlene Lockett. Make sure you make enough for everyone invited. Brownies go QUICK.
69. Family Pictures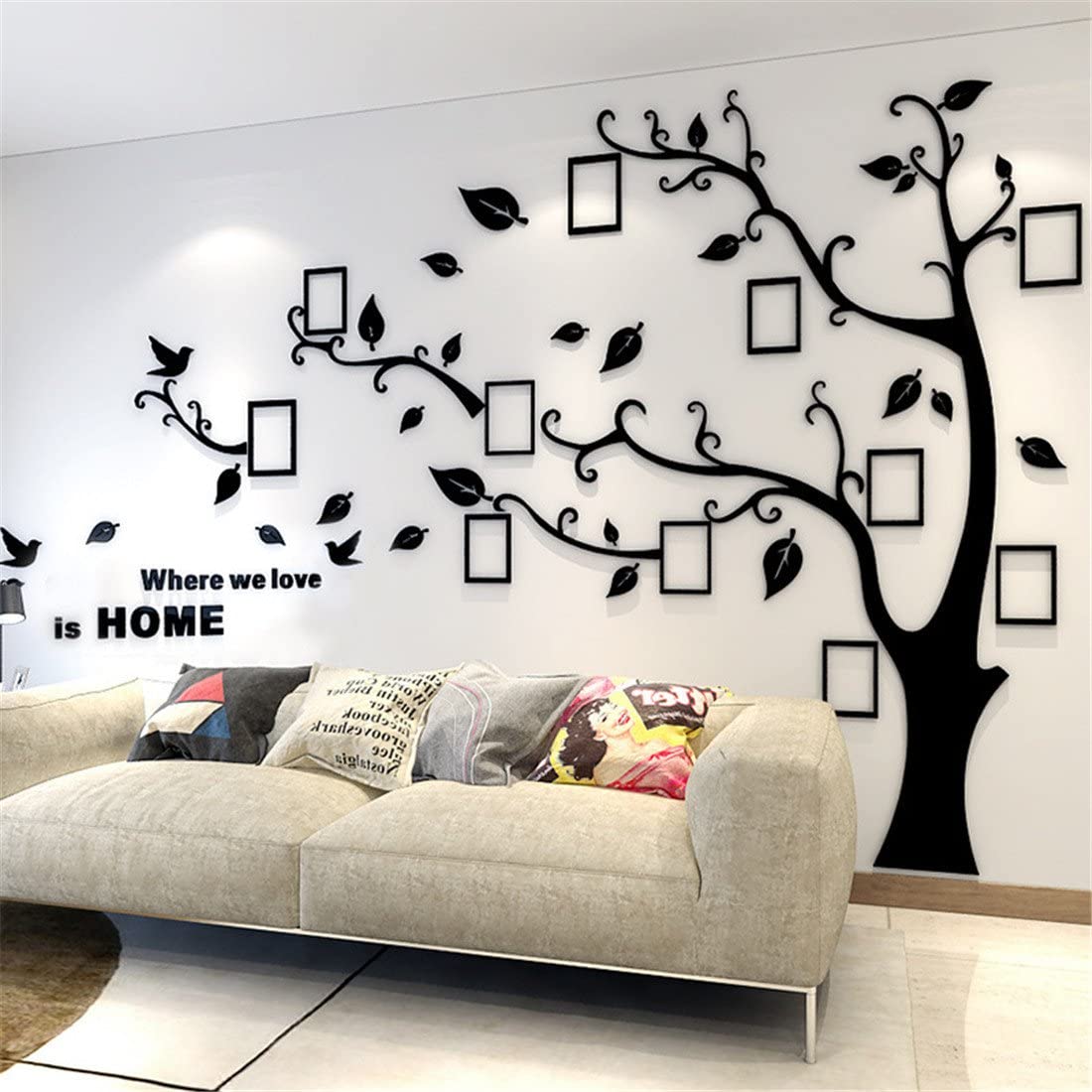 3D Tree Wall Stickers – DIY Photo Frame: $24.99
Trust us, your parents want more pictures, even though you have an entire catalog under your TV stand and scattered on the walls. They love reminders of moments, events or maybe just the right frame for the picture that's been hanging around the kitchen counter. Sometimes, a picture of you laughing as a baby or graduating from high school can make their day.
70. Handwritten Letter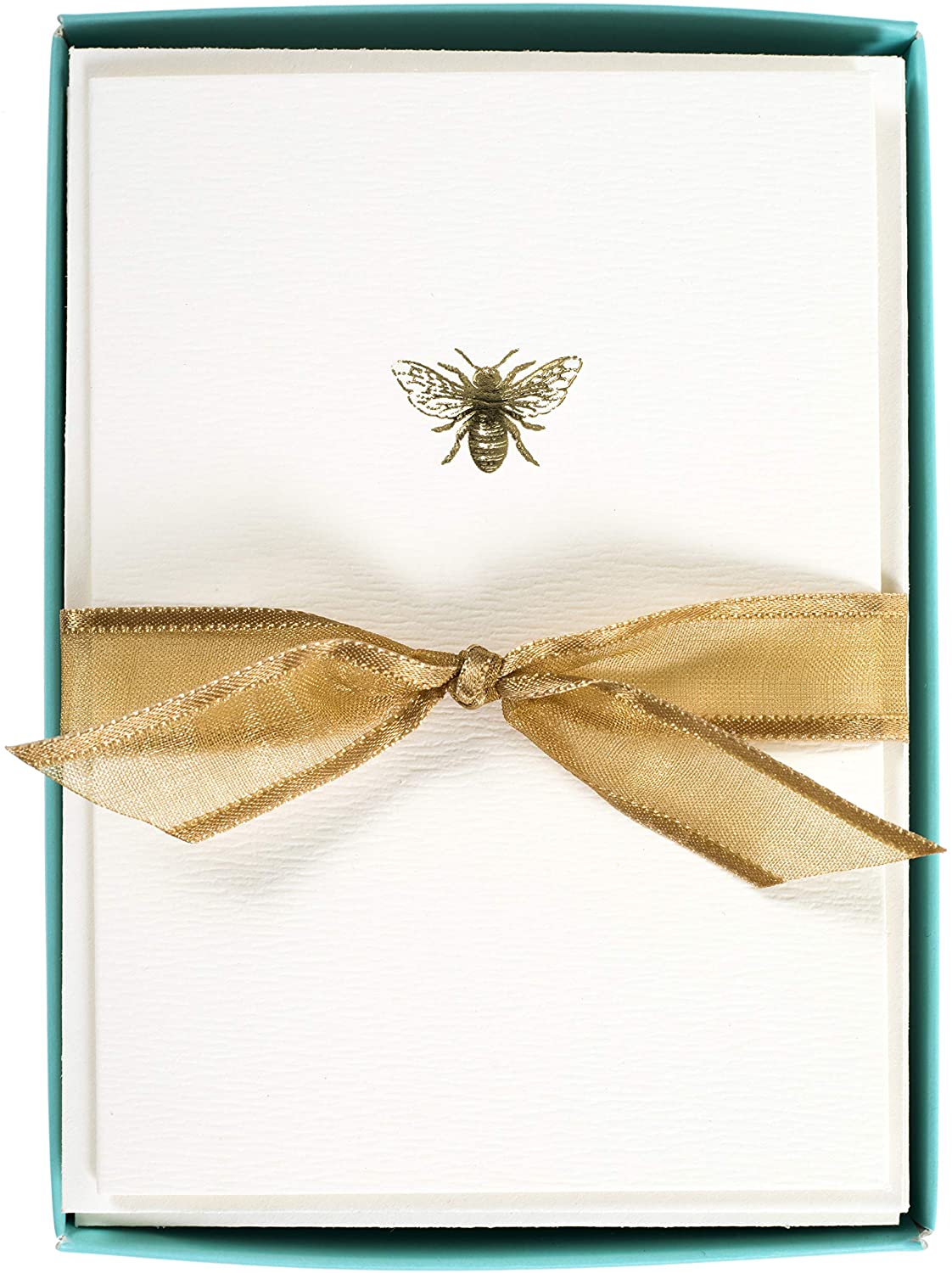 Graphique Bee La Petite Presse Boxed Notecards: $10.99
Grab the Kleenex. You might get teary telling your parents just how much you love them. Some aren't about the material things but something they can go back and read over and over. "I would love to receive multiple hand-written letters from my children expressing their love and gratitude toward me," said Florida mom Sandra Voelkl. Remind your parents how awesome they are. Even if you do already, it's the affirmation and love behind the words that matter.
71. Something They've Always Wished For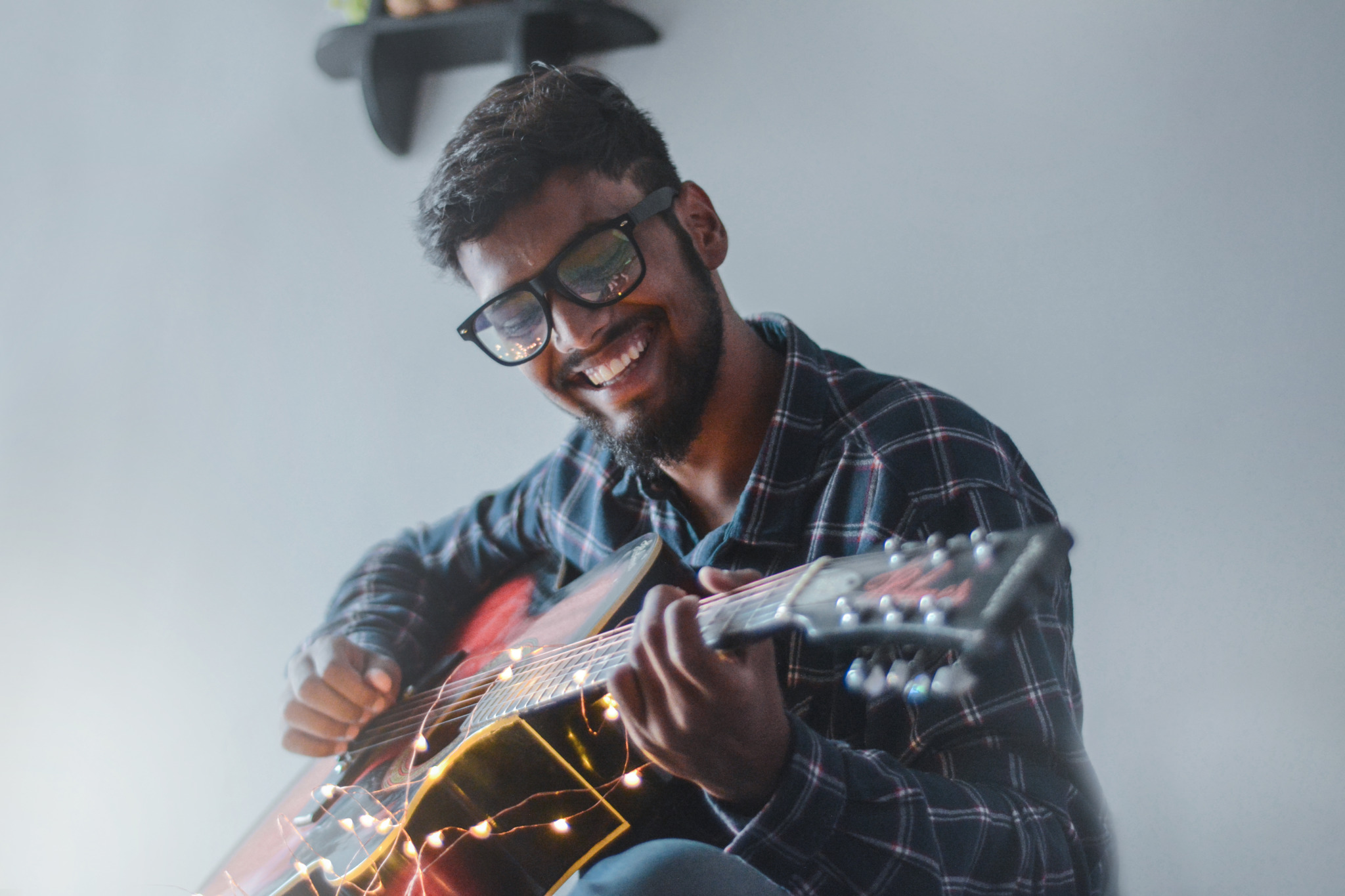 You ever catch your parents talking about something they wish they had? Maybe you can be the angel that makes their dreams come true. "It has to be the guitar that my father got for me. At the time I got it, the guitar felt so big in my arms. My father was so proud, every time I played for anybody that came to visit our home. I left it when I left Uruguay. A year ago, my mom brought it back to me. It is so small in my hands now…but it is filled with love and precious memories," said mom Teresa Valera. Something sentimental and what they never thought would make it under the tree will light their faces up.
72. Yourself (with a Bow on Top)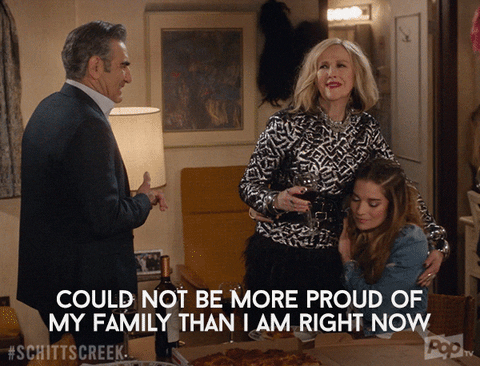 As cheesy as the thought may seem, your parents really are proud of who you are, what you've become and their share in making you happen. "The best gift my kids have given me is being born," said mom Lori Hankins. Who you've grown into is their greatest accomplishment. "The best thing my child can give me is showing how they have confidence in themselves. All I want is for my children to be happy, and always lead their lives with kindness," said Florida mom Katia Weiner. If you tell them you didn't have time to get a gift, they'll certainly reassure you were the gift the whole time.
Now that you've found the perfect gift for your parents, check out our incredible gifts for your girlfriend.
Need a stellar gift for your BFF? Thought so.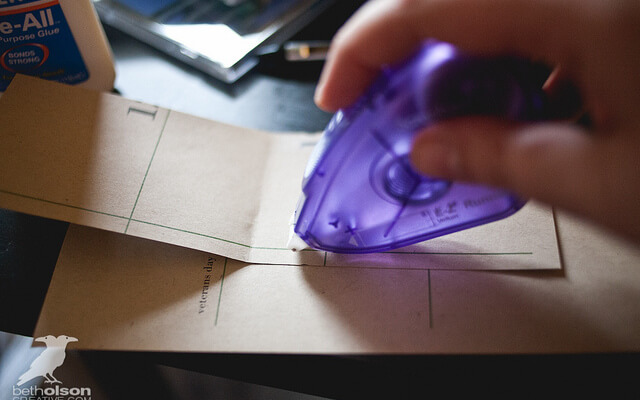 *Updated November 26, 2016 to include new gifts for 2016, new gift images and additional gifts for parents that will make their holiday extra special by Rocio Cosme.
*Updated December 14, 2016 to include more new gifts and quotes from parents by Valerie Siu.
*Updated November 15, 2017 by Celina Pelaez to include the latest gifts and more quotes from parents.
*Updated November 20, 2018 by Celina Pelaez-Arias to include the top 10 gifts for parents 2018.
*Updated November 20, 2018 by Nancy Mucciarone to include 6 more gifts for parents.
*Updated May 10, 2019 by Celina Pelaez-Arias to include more new gifts and quotes from parents.
*Updated December 2, 2019 by Jordan Thomas to include 10 more gifts and quotes. 
*Updated May 5, 2020 by Kendall Russell to include 10 more gifts and quotes for parents.
*Updated June 15, 2020 by Vanessa Vazquez to include 10 more gifts for parents.
*Updated October 5, 2020 by Kalyn Womack to include 10 more gifts for parents.