Katniss. Merida. Hawkeye. These recognizable fictional characters all share one thing in common— archery. As one of the fastest-growing collegiate sports in the United States, collegiate archery programs allow individuals to participate through a range of experiences, from club level to varsity level. Whether you've been shooting for years, or you've never held a bow in your life, archery is a fun and challenging collegiate sport. With strong support from USA Archery, many schools offer accessible programs, but with so many programs to choose from, the choices may seem daunting.
Fortunately, College Magazine performed the legwork to identify the Top 10 collegiate archery programs in the United States.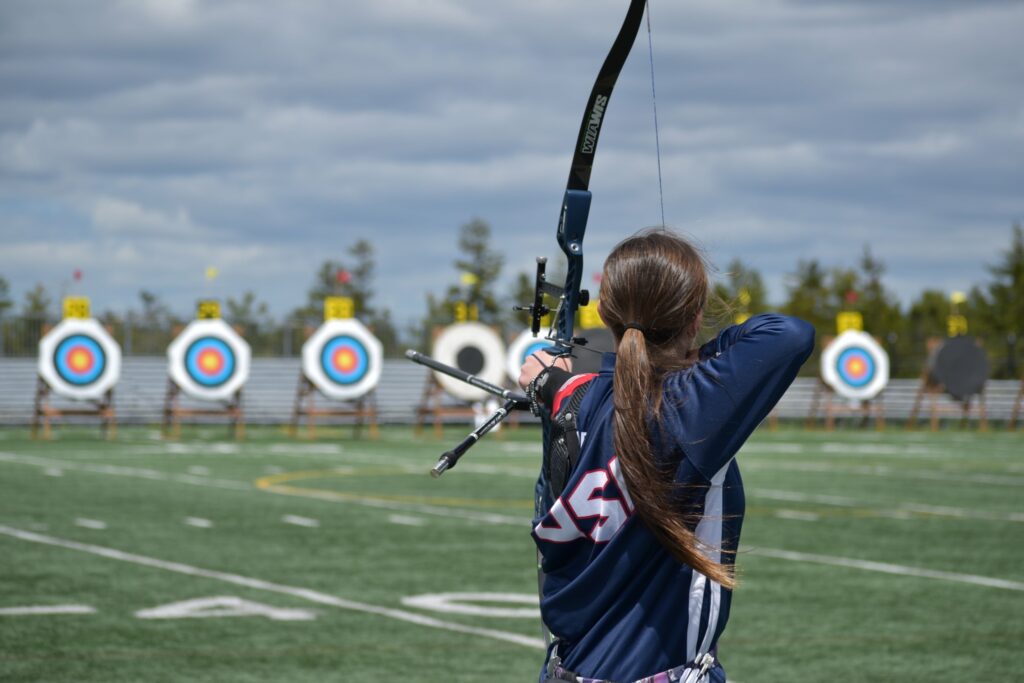 Competitive archery takes a bit of explaining. First, it's important to know that it's a co-ed sport. Male and female athletes compete under the same conditions (e.g., at the same distances), but in gender-specific groups. Second, it's significant that at the collegiate level, archers shoot with one of four different types of bows— recurve, compound, barebow and fixed pin. Because it matters for team competition purposes whether a team can field archers in all the categories, schools that —at the time of this review— cannot field archers in all or nearly all categories in national competitions did not make the list but are nonetheless still great schools for archery. It's also notable that for purposes of collegiate competition, it does not matter whether a school competes at a Division I level for other purposes. All archery programs compete head-to-head regardless of school size, etc. in USA Archery Collegiate competitions.
The ranking analysis considered whether programs send archers to three major collegiate tournaments (USA Archery Indoor Nationals, USA Archery Collegiate Target Nationals and USA Archery Collegiate 3D Nationals); whether the programs offer indoor and outdoor practice facilities, scholarships and strength/conditioning programs; if the programs are club or varsity level; and the highest level of coach associated with the program (II, III, IV or V). We awarded bonus points to programs with 3D fields and broke ties based upon which school had the higher number of Academic All-Americans in 2023. 
Without further ado, check out College Magazine's Top 10 Collegiate Archery Programs.
10. Michigan State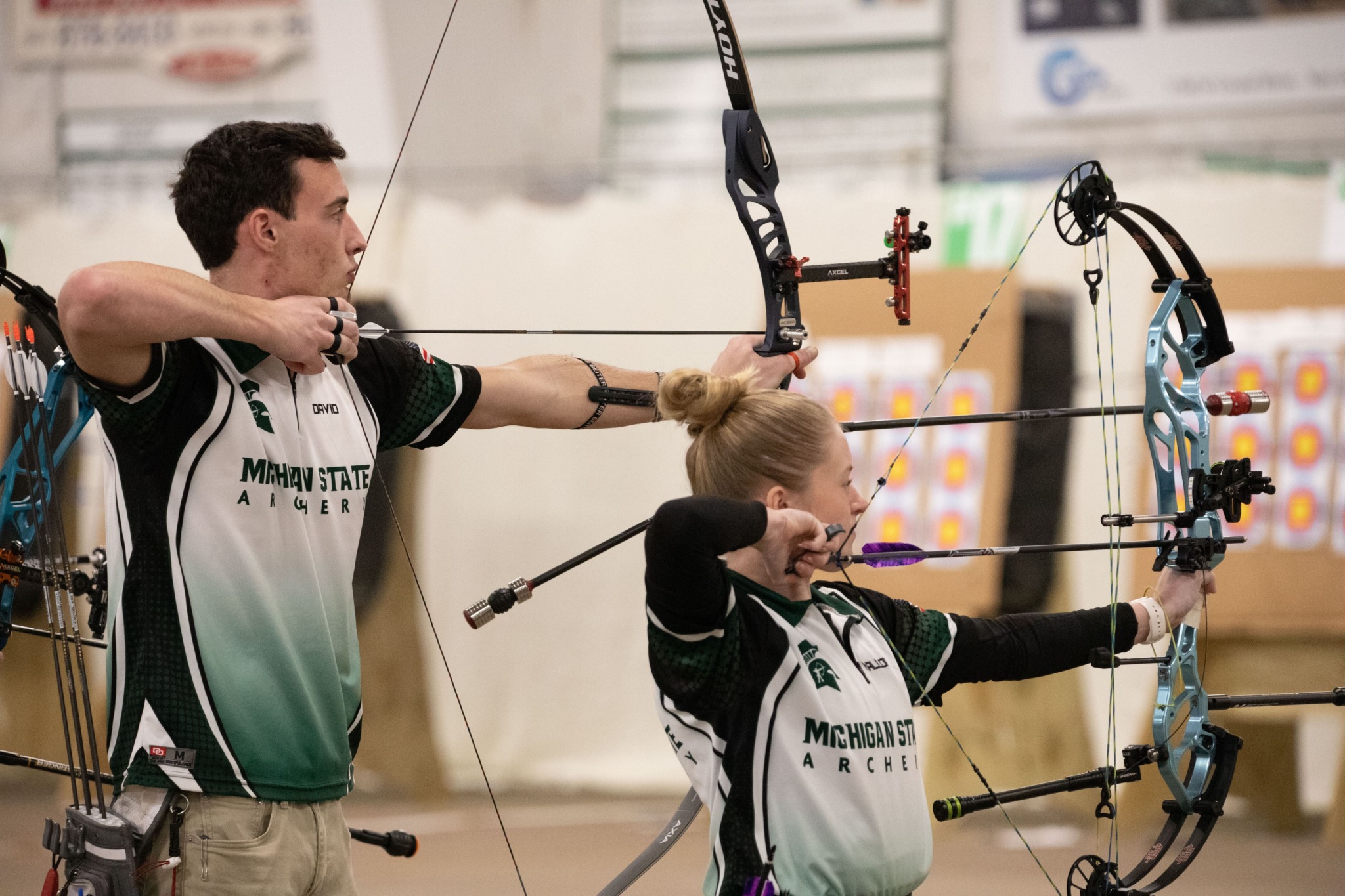 Whether you've never picked up a bow in your life or you're a highly competitive archer, the archery program at Michigan State University can make room for you. For those interested in competing, the MSU Archery Team is comprised of two teams— one indoor team and one outdoor team. The indoor team competes at the USA Archery Indoor Nationals each year, and the outdoor team competes in Collegiate Regionals and the USA Archery National Outdoor Collegiate Championship. For individuals new to the sport, MSU's head coach, Glen Bennett, is there to show them the ropes, or rather, strings.
"Something really unique about our programs is that we have a club and a team," Michigan State junior Mallory Nowiski said. "Our home range provides equipment to new archers, and that allows people of different backgrounds to take on archery. We've had folks who picked up a bow for the first time and advanced to competing."
That home range provides both indoor and outdoor shooting opportunities, including outdoor 3D targets, and even though the program may not be as large as others, the MSU archers finish in the top 25% of the competition while still having fun. The team is known for its cohesion and its shared goal of helping everyone become better archers. The team also has its share of Academic All-Americans, so they aren't slouching off the range either.
9. Union College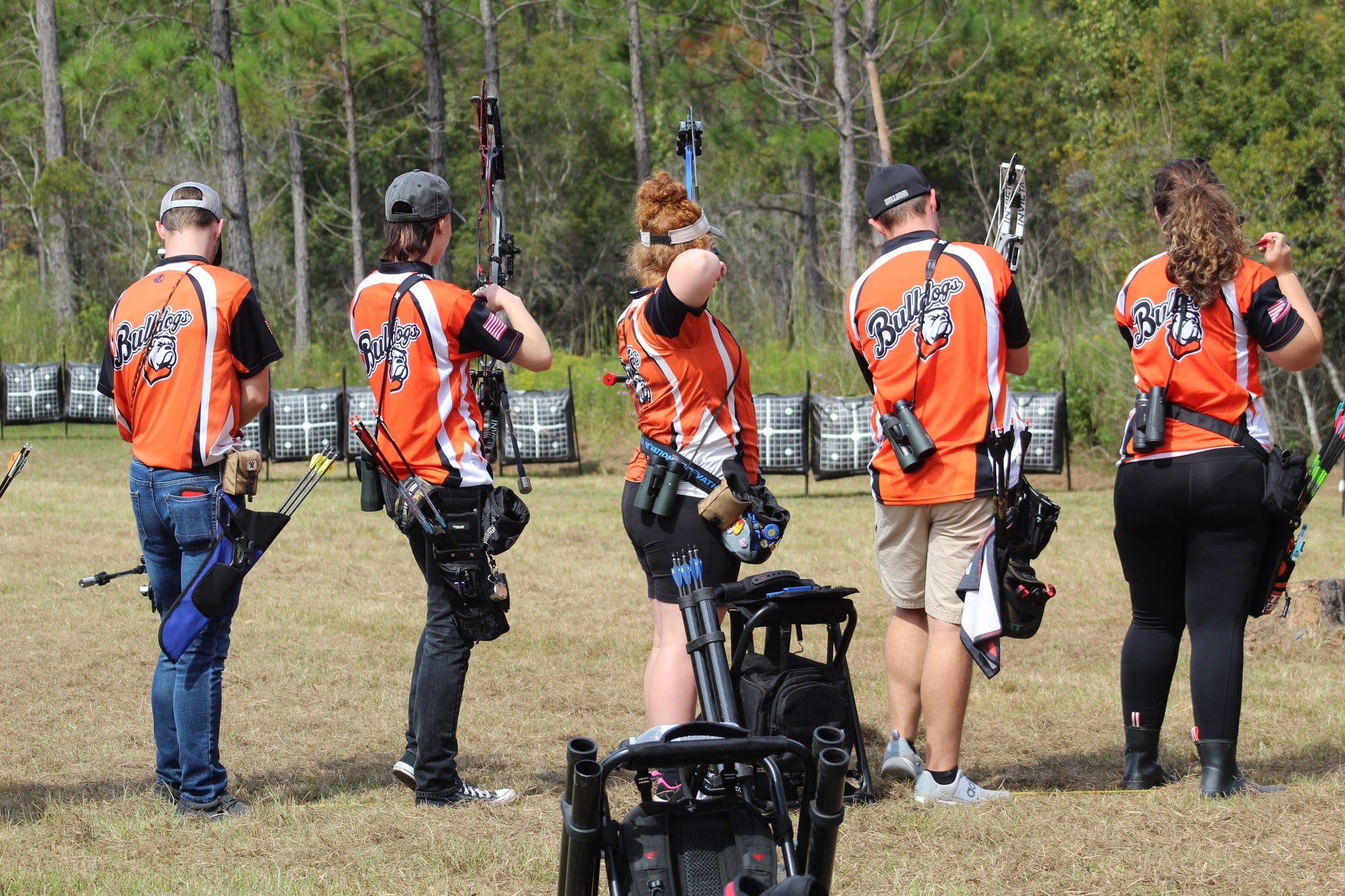 Union College, located in Barbourville, Kentucky, started a varsity archery program in 2015. Since that time, Union College accumulated multiple individual national championships, several team national championships and continues to shine. Sadly, in 2022, someone stole Union College's equipment during Outdoor Target Nationals. Undaunted and using borrowed equipment, Union College team members overcame adversity and won silver in the men's compound and men's fixed pins individual finals. In a true show of camaraderie, other college teams lent their equipment to the bowless archers, and fundraisers followed to help purchase new equipment.
8. Mount Marty University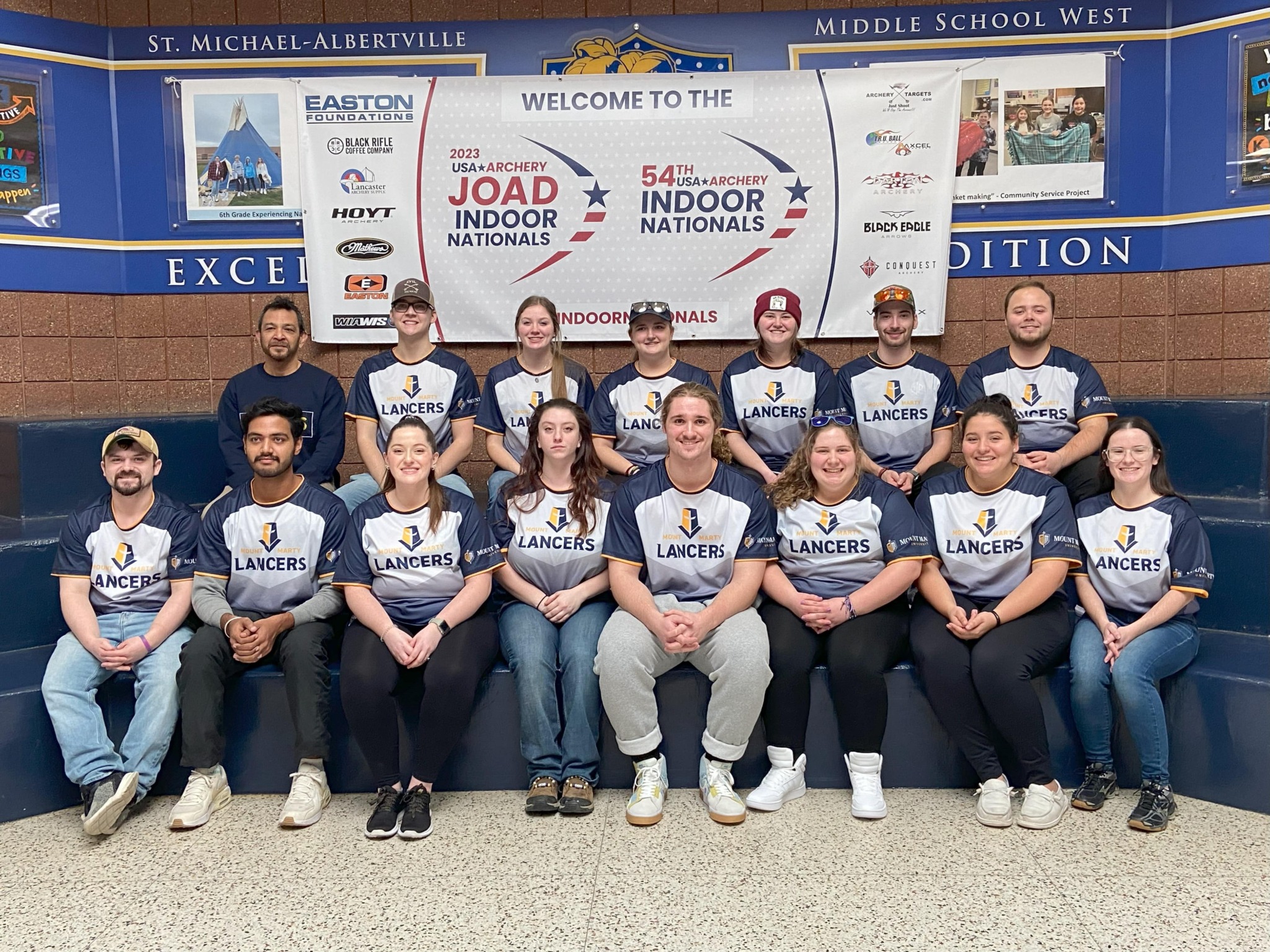 During the 2017-2018 school year, Mount Marty University in South Dakota transitioned its archery program from a club sport to a competitive team sport. Uniquely located with access to facilities at the National Field Archery Association's headquarters in Yankton, South Dakota, the MMU team has access to world-class facilities. Along with outstanding facilities, Mount Marty archers have access to world-class archers, including current Associate Head Coach, Paige Pearce. New archers join the team from throughout the United States and Canada and continue to fill out a full roster of archers.
"We have don't have a very large team, but every archer we have shoots exceptionally well. Since we are a collective team competing in an individual sport, we are our own competitors. This allows us to push each other even more as we all typically score within a few points of each other. We even have some athletes who have competed internationally," Mount Marty University senior Brady Klassen said.
Archers at MMU work on their mental, physical and technical game while creating a team bond and being highly competitive in the country. In 2022, the MMU team ranked 6th at USA Collegiate Nationals. In 2023, they placed 3rd in the Collegiate Team event at The Vegas Shoot. The Recurve Team Collegiate Men placed 2nd at USA Indoor Nationals, and one of the MMU recurve male shooters was crowned National Champion at the 2023 NFAA Indoor Nationals. Competitive at both the state and national levels, the Mount Marty team continues to grow and develop.
7. James Madison University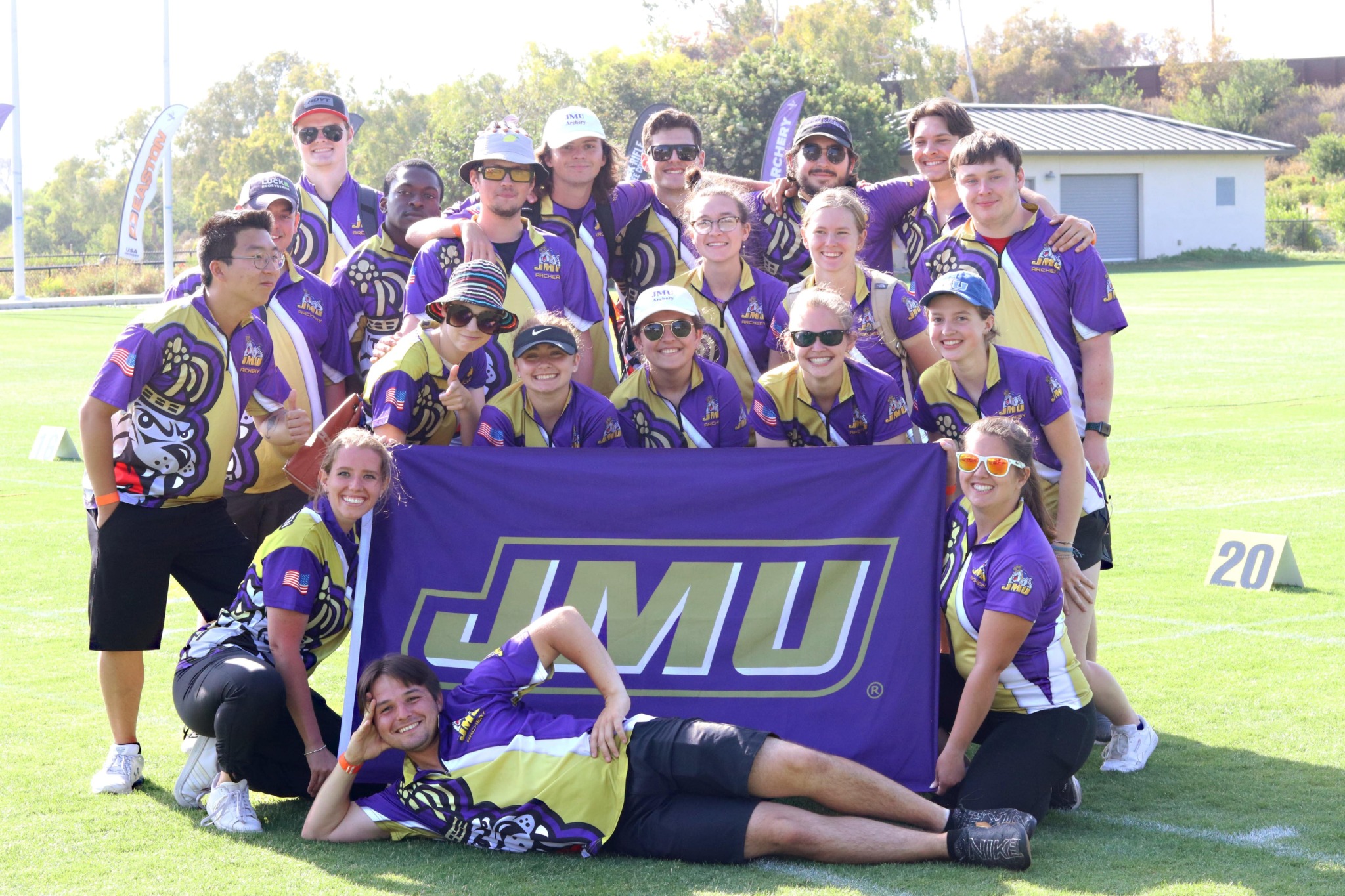 With a competitive archery team since 1965, James Madison University in Virginia is no stranger to success. Since its inception, only three head coaches have helmed the program, which allowed it to establish great continuity and strong traditions. Indeed, over the years JMU has accumulated countless All-Americans and many National and International Champions, including Olympic Silver Medalist, Jacob Wukie, and World Champions. Additionally, JMU earned multiple national team championships while supporting individual national champions.
"In all honesty, I sincerely do think we have one of the best Collegiate Archery Programs in the nation. We have had students from all over the country be a part of team, from as far as Colorado, California and Maine, to nearby areas like Maryland and inside Virginia. Our facilities are fantastic, and access to archery coaching, education and a network of amazing people inside the archery community are available to us," James Madison University senior William Bornschein said. "What is so unique about our club and team is that regardless of our prestigious history of All-Americans, National Champions, World Champions and even an Olympian, we really are like a family. We have team dinners together, bond at practice and outside of it, and experience the lows of challenging experiences, and highs of having a great time together. I am very fortunate that I have been a member, and now leader, of this team, and have a lot of gratitude to say I have been a part of this small, but tight knit family."
With access to a 20-lane indoor facility and a dedicated outdoor range, JMU's Level IV coach, Andy Puckett, and his staff open the club up in the Fall to any JMU student who wants to learn how to shoot a bow. The program provides beginning archers with bows, arrows and other equipment. Opening the club for new archers creates a very diverse group of students with varied skill levels. The coaches believe that openness benefits not only the competitive team in filling out the roster but also gives more experienced shooters a chance to coach and mentor new shooters. Those archers then come together to form strong bonds of friendship on and off the range.
6. Lindenwood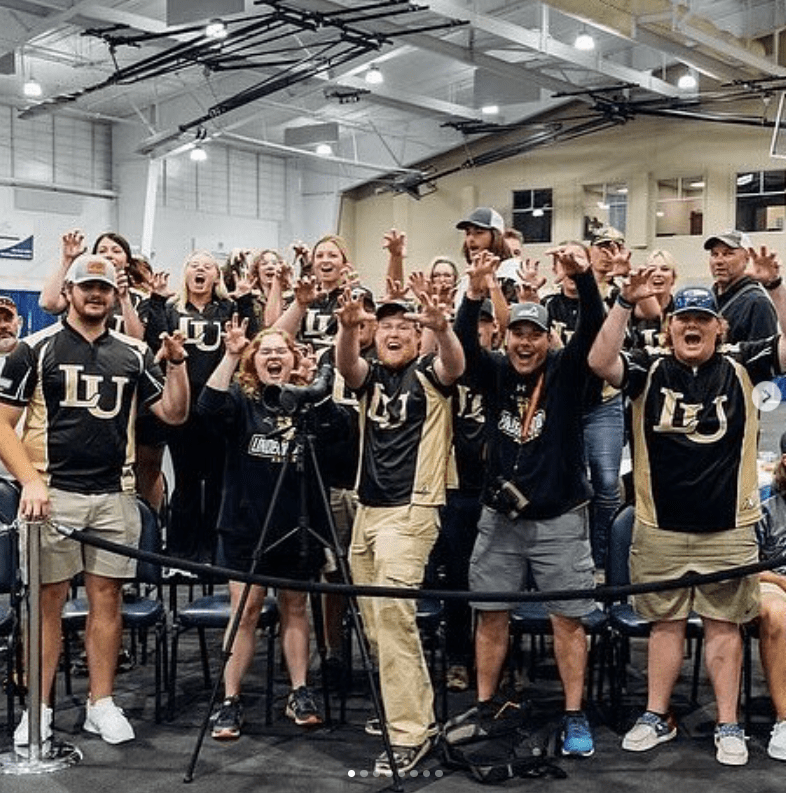 Although only stepping onto the competition field in 2021, the Lindenwood archery program arrived in full force, supporting competitors in all four equipment divisions and becoming the first school in Missouri to offer scholarships to archers. The team's home indoor range is half a mile from campus, and they have access to target, 3D and field outdoor practice ranges. Even though the team does not offer a specific conditioning program, the archers have access to a gym where they can work to build their strength.  
Even without a dedicated athletic trainer, five coaches provide the archers with a wealth of experience and wisdom to guide them through their collegiate careers. With such support and despite its youth, the Lindenwood archery team already finds its way onto the podium, finishing second in the team competition at the National Field Archery Association Vegas Shoot, one of the largest competitions around. The team finished sixth at the 2022 USA Archery 3D National Tournament and continues to improve.
5. William Carey University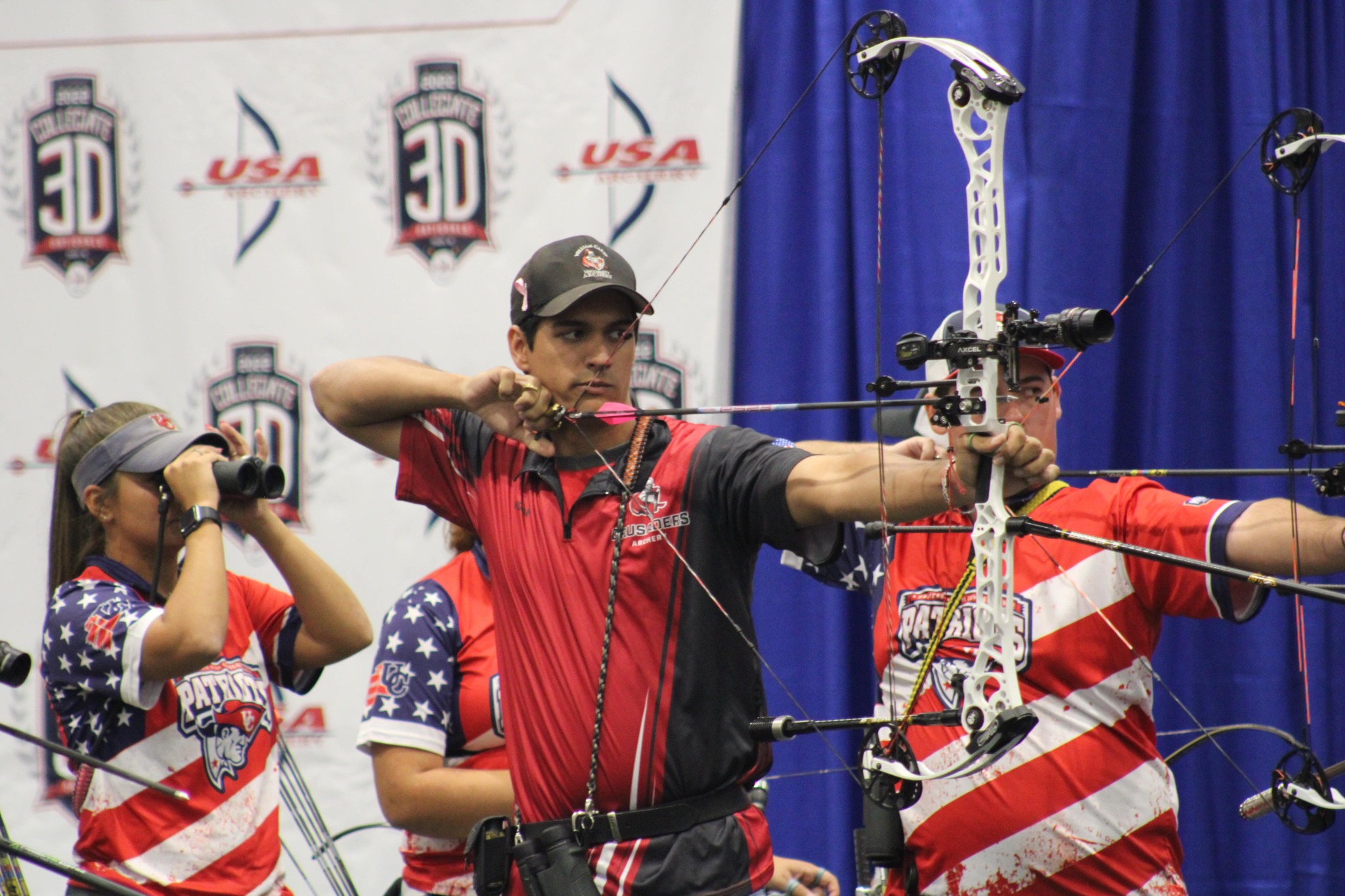 Sporting an archery bow shop, indoor practice facilities, outdoor target practice facilities, and an on-campus 3D range, William Carey University is uniquely situated in Hattiesburg, Mississippi to provide a supportive varsity team environment for archery. The bow shop is in the same building as the university's fitness center, where archers have access to fitness machines, cardio equipment and free weights. Archers receive a workout regimen, but are also encouraged to exercise and address their fitness to improve their performance. As a varsity sport, the archery team receives strong support from the university.
"The most unique thing about our program is the support and dedication we have from our coach as well as the faculty and staff here at William Carey University. We are considered a varsity sport; therefore, we receive fundings necessary to furnish all the equipment we need as well as travel and meal expenses. I am so blessed to have this support coming from so many places as equipment and travel is oftentimes expensive. We thoroughly enjoy being able to compete all over the United States, and it would not be possible if it weren't for the support we have received thus far," William Carey University junior Jaylyn Bridgman said.
"We are fortunate to have an incredible amount of support from our university. We supply each of our archers with their own arrows for the three different shooting seasons. We have several highly competitive compounds, recurve and Olympic recurve bows available for our team members to use if they do not have their own. We build our own strings and stabilizers for our archers at no cost to them as well. We want to build all-around archery athletes, so we do more than just teach them how to shoot but how to work on their bows as well," Head Coach Johnnie Stinson said.
"Our team has been growing exponentially for the past couple of years, and we have gained many archers with great knowledge and experience. We host regional tournaments for all three seasons (3D, indoor and outdoor) and have had record breaking turnouts each consecutive year. Our archers are some of the most respectable, helpful individuals that express good character both on and off the range, and I am extremely lucky to have an opportunity to be a part of a team like this one," Bridgman said.
The team practices for the indoor season in the university's second gymnasium with 12 indoor target butts. Team practice occurs twice per week, but archers can practice on their own five days per week. For the outdoor season, the team has 20 outdoor targets and a 20-target 3D range on campus. Due to the size of their facilities, the team can host both indoor and outdoor tournaments. William Carey also boasts of Academic All-Americans and solid participation at major national and regional collegiate tournaments. Each summer, team members travel to Montana to host archery camps along with the coaching staff. The trip serves as a great opportunity for the archers to grow as individuals and as a team.
4. Texas A&M University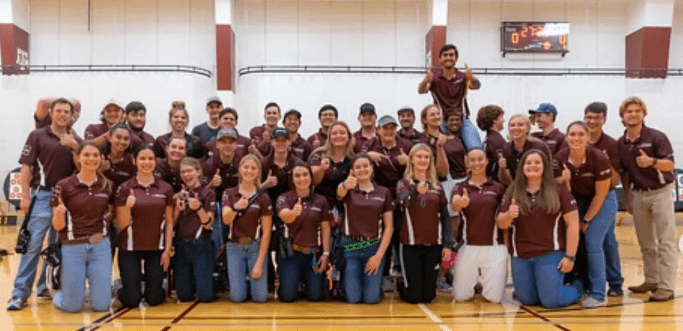 With the ability to boast of 22 national team championships, four Olympic archers, World Cup team members, national team members and national and international individual medalists, Texas A&M University has bragging rights the size of Texas. Despite not competing as a varsity team, TAMU has indoor and outdoor shooting facilities and offers scholarships. As a club sport, new archers find a warm, inviting atmosphere in which to learn and train. Experienced archers also have opportunities to grow and achieve high levels of success.
"The diversity of archers on our team makes us unique. We have archers that come from beginner classes, recreational shooters and competition archers. The mixture of all levels fosters an environment where everyone is there to assist each other whether on tuning bows, sighting in or having someone to practice with. The atmosphere at the range is open and inviting to allow everyone to learn and be yourself while we all enjoy the sport we love," Texas A&M graduate student Macy Wolf said. "The connections I made during my time with the team are my favorite part of the collegiate archery experience. This team gave me the foundation to create some of my greatest friendships. Being a part of winning two national championships, the electric vibe of competing with this team and experiencing the camaraderie, is something that will remain with me forever. Sharing the legacy that has come through this team is an honor that I will cherish."
Currently, three coaches share responsibility for helping archers achieve their potential. That responsibility includes a training program three days per week during the Fall and Spring semesters to help the archers improve their strength and stability. Beginning archers also receive instruction and are encouraged to begin competing. As successful as the team is on the range, team members are also successful off the range, with many TAMU archers earning spots on the USA Archery Collegiate All-American Academic Team.    
3. University of Pikeville
The University of Pikeville in Pikeville, Kentucky introduced archery as a varsity sport in 2017. Since that time, its archery program has grown by leaps and bounds. Archers have access to both indoor and outdoor shooting facilities and compete in indoor and outdoor tournaments. The team has a strength and conditioning coach as well as an assistant coach who is very knowledgeable about appropriate conditioning for archers. (That assistant coach, Jonathan Clemins, also serves as the USA Archery Paralympic Head Coach.) The university provides strong support for the archery team, including scholarship funding, travel funding, entry fee support and more.
"Our scholarships can be stacked. At other schools, students must pick between athletic and academic scholarships. At UPIKE, students can get academic and athletic scholarships. All archers are eligible for Academic Athletic Scholarships incentives if they have a high school GPA of 2.6 and keep a 2.6 while at UPIKE. Archers from out of state can receive an additional $1,000 if they have a high school GPA of 3.0 and keep a 3.0 while at UPIKE. The university also provides free textbooks, parking, laundry and tutoring," Head Coach Ellie Yocum-Jackson said.
"We also have one-on-one coaching session opportunities along with equipment allowances," UPIKE sophomore Alyssa Tenney said. 
The UPIKE archery team is perennially in the top three at national tournaments. UPIKE archers compete on the world stage too. In 2022, the university sent two compound archers, Mathew Russell and Alyssa Tenney, to the University World Games. Team members annually make the Academic All-American list.
2. Lindsey Wilson College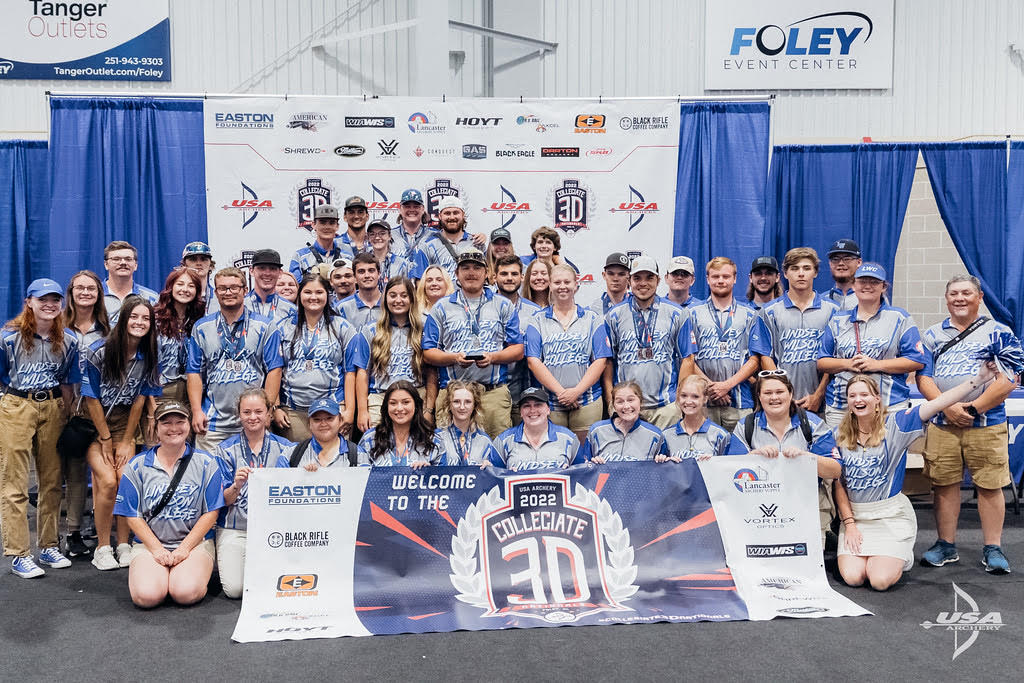 Lindsey Wilson College in Columbia, Kentucky supports archery as a varsity sport with financing for scholarships and travel included as part of the program. With indoor and outdoor shooting facilities on campus and access to a state-of-the-art wellness center, the team focuses on improving conditioning and performance. One unique part of their recipe for success is twenty-four-hour, seven-day-per-week access to practice facilities and the team's equipment room. Most programs do not have that luxury. Their conditioning program focuses on flexibility, weights and cardio training under the supervision of an athletic trainer.
"Facilities are a big standout for our program. We can practice indoors, outdoors and on a 3D range— all on campus. The level of commitment we have from the college administration is huge," Head Coach Mark Elam said. "The coaching staff has committed to continuing our education and progress. We are still building. We are still a pretty young team, but we have a really, really strong set of recruits. We will have more than 40 athletes in the Fall of 2023. But despite that size, we try to maintain a family dynamic as much as we can."
"My favorite part about college archery is the family aspect of it. No matter whether we're on the field or off, we're always doing something together. We're hanging out at the lake, or we're coming to the range to practice after hours," Lindsey Wilson College senior Anna Krampe said. "We have a good time! We have a great support system the among team parents and families, and if it wasn't for our archery parents, the team wouldn't be able to do what it does."
That supportive feeling pays off in the noise level the team can generate at national events. Finishing fourth in the team competition at the 2023 Indoor Nationals and second at the 2022 3D Collegiate Nationals, the Lindsey Wilson team makes themselves both seen and heard. The coaches work to recruit new team members who fit in and get along with everyone else in the program. The Lindsey Wilson team has access to industry experts for assistance with equipment and other issues, and the college provides all of the necessary maintenance equipment for the team as well as school-provided charter buses to allow the team to travel to away tournaments in comfort.
1. University of the Cumberlands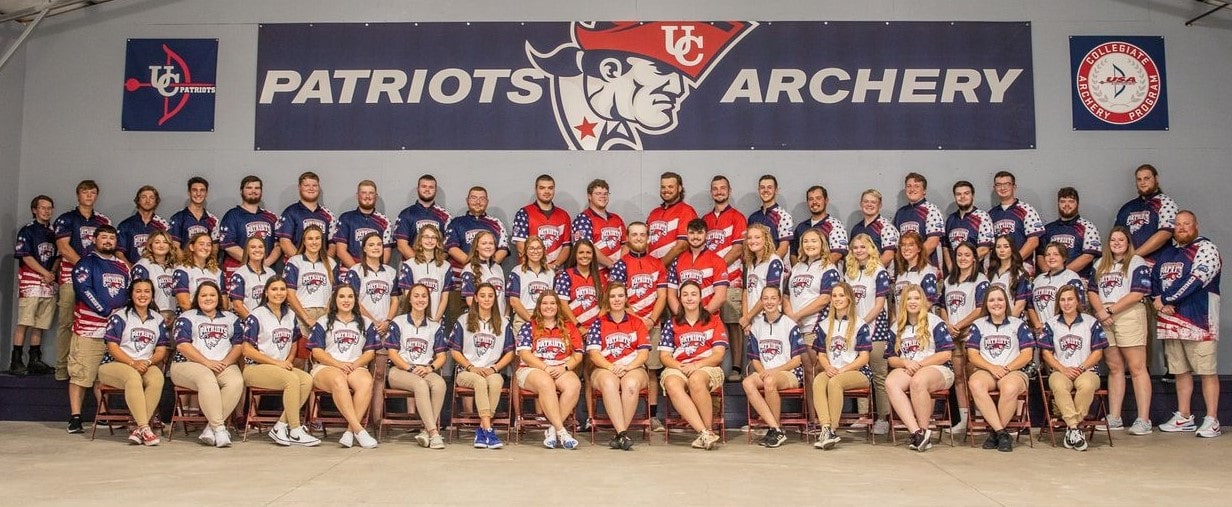 The University of the Cumberlands, a private university in Williamsburg, Kentucky, currently reigns as the 2023 Indoor National Collegiate team champion and the 2023 Collegiate Outdoor Target team champion. Although not the longest-term program, the UC Archery team has had several decades to mature. Beginning in 2012, UC committed to archery as a varsity sport. Since then, archers have taken podium after podium, graduated and taken positions coaching at other schools, won regional and national indoor and outdoor titles, competed at the World University Games and more. Part of their success comes from strong support from the university as well as world class facilities. The team's indoor facilities provide access twenty-four hours each day. Their outdoor target facility holds 50 targets, and the team can practice at a nearby facility for 3D. An athletic trainer also supports the team's strength and conditioning efforts. Top that off with a head coach honored as the 2020 USA Archery National Collegiate Coach of the Year, and the team has a strong foundation for success.
"We have two full time Level IV coaches on staff. We have our own practice facilities that are available for archers not only during scheduled practices but also, they can access them 24/7. We have 55 archers on the team from 30 states/countries who come together for one goal. We have top notch administration that supports our program not only in the athletic department but also from the campus community. We have a strong alumni base that puts our program on the map and bring it to the status that it has today," Head Coach Kris Strebeck said. 
"Our school goes above and beyond with backing from the athletic department, starting with our institution and all the way to the sports information department. From the sports information department, there are countless videos, articles and graphics for our team. Our athletic department's slogan is 'One Big Team,' meaning all of our teams are equal and we support each other," University of the Cumberlands senior Elliott Cross said. "Lots of our archers are close friends outside of shooting, resulting in a strong team bond."
As a varsity sport, the UC Archery team offers scholarships for students and provides financial support for competitions. The team credits its leadership, hard work and dedication for its success. The archers strongly believe that they compete not only for themselves but also for the school displayed on their chests. With this they have been able to succeed on the national stage with five straight 3D National Team Titles, the Inaugural Indoor National Team title and the 2022 Outdoor National Team Title. Their passion shows in their results.