March is Women's History Month, a time to commemorate, celebrate and recognize the contributions of women in our society. Fortune favors us as a country with many celebrated women in science, music, academia, media, sports, literature, politics and other walks of life. Women we can admire and hope to emulate. But we do not need to look only to women with names listed in history books to find women to lift us up and encourage us. In fact, many female heroes walk, and sometimes roll, right among us.
In honor of Women's History Month, I'd like to introduce you to a hero of mine, Candice Caesar.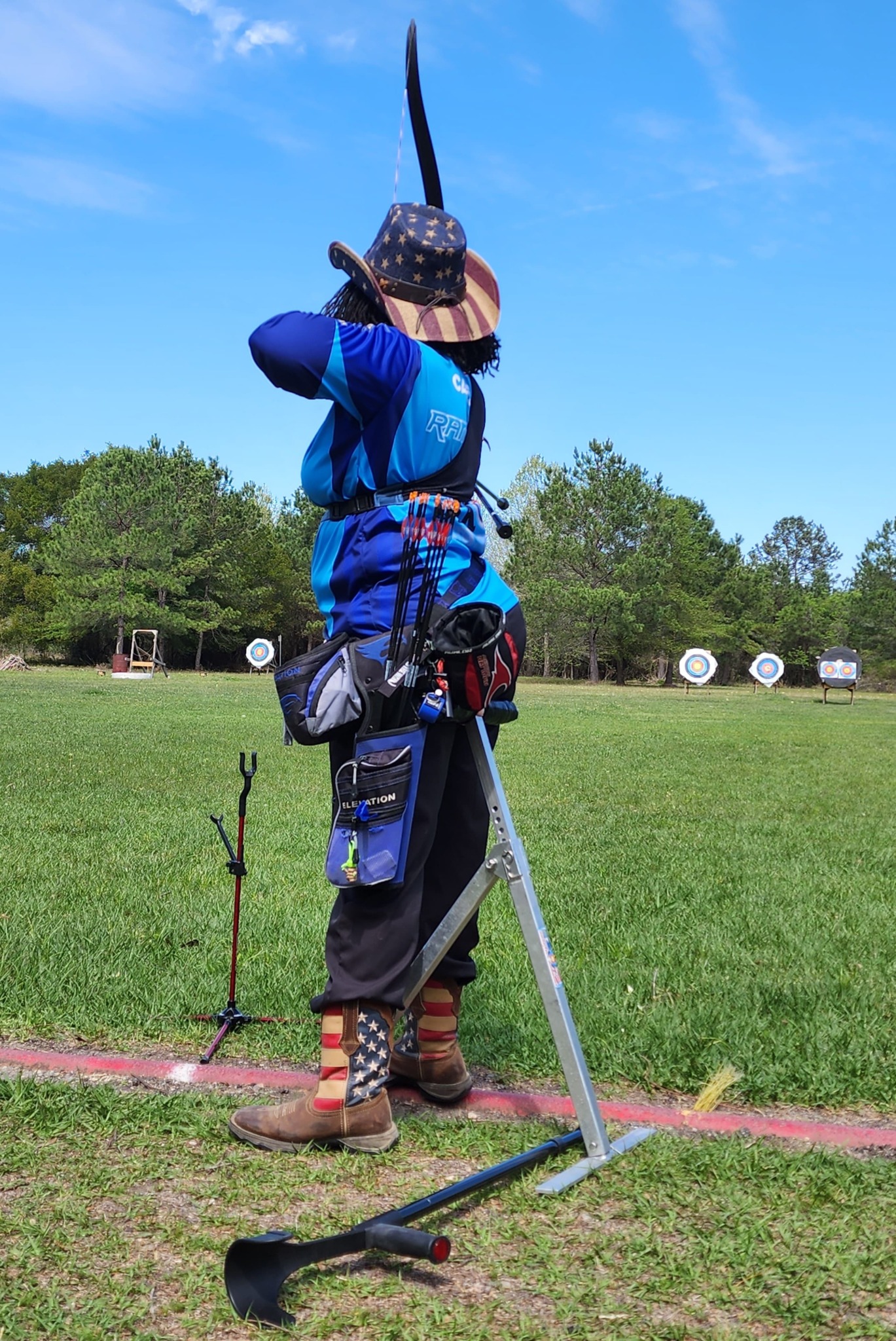 Candice is a fellow archer and a fellow native Texan, but a way cooler individual than I'll ever be. She inspires all of us to dig deep inside when we feel like giving up and find a way to keep going.
Candice attended the University of Houston. From the University of Houston, she joined the Army. Her grandfather was a veteran of World War II. Her father was a veteran of the Vietnam War. So, she naturally moved to join the military. Unfortunately, her military career ended abruptly after an accident in Germany that left her traumatized and paralyzed after suffering from a broken neck. Doctors said that she'd never walk again. Surgery also damaged her vocal cords, and doctors warned her that she might never speak again either.
Candice said nope, you're wrong. With a firm grip on her faith, her grit and her determination, she learned to speak again.
And about that walking thing? Again, she said nope, you're wrong.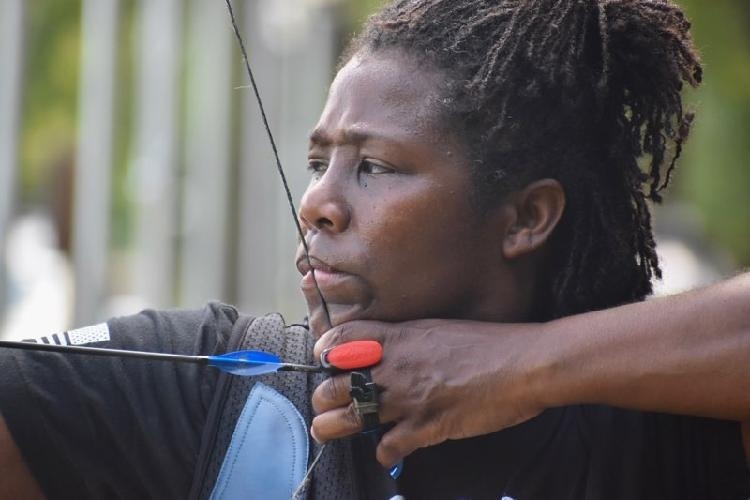 In fact, she became a marathoner and then a cyclist and a triathlete. She still battles against the lingering impact of Brown-Sequard Syndrome, which causes weakness or paralysis on one side of the body and a loss of sensation on the opposite side of the body, but she continues to grow and challenge herself. She returned to college, earning two bachelor's degrees (communication disorders and psychology) along with a master's degree in speech pathology.
How did I get to know her? We met through archery. Injuries from a fall sent her back into a wheelchair, so she looked for another outlet. When asked why she turned to archery, Candice pointed out the adaptive nature of archery as a sport.
"Archery was something I could do in a wheelchair. It's an adaptive sport. It's an inclusive sport. It's a sport where able-bodied individuals complete alongside paraplegic athletes. When I was at track meets, ables and paras competed in different races, but archery is more inclusive. We compete on the same line as the able-bodied archers," she said.
In fact, Candice won the 2023 Texas Field Archery Association indoor state tournament for female recurve archers against able-bodied archers.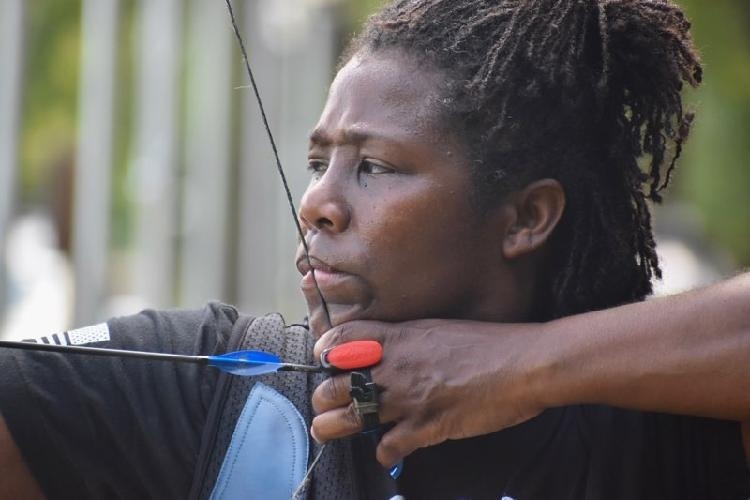 Two weekends prior to that, Candice set a national indoor record on the first day of the U.S. Indoor Nationals competition, which broke the record she set the prior year. But not to rest on her laurels for the weekend, she promptly broke that new record again on final day of the competition and then set a double-round record to boot.
Not content to compete at the national level, Candice also competes internationally and has her sights set on the 2024 Paralympic Games. Currently, she ranks eighth in the world —yup, the world— among female para recurve archers. In 2022, she won a gold medal for mixed teams along with Paralympic Gold Medalist Kevin Mather and two bronze medals (one for women's teams with Valeria Duron and one individual) at the Para Pan American Outdoor Championships. So, yeah, she's pretty good at the archery thing.
But through all of this, Candice wants to inspire others to recovery through movement.
"No matter what your situation is, motion is lotion. Do something. Take a walk. Run. Move. Walk in a direction you've never walked before," she said.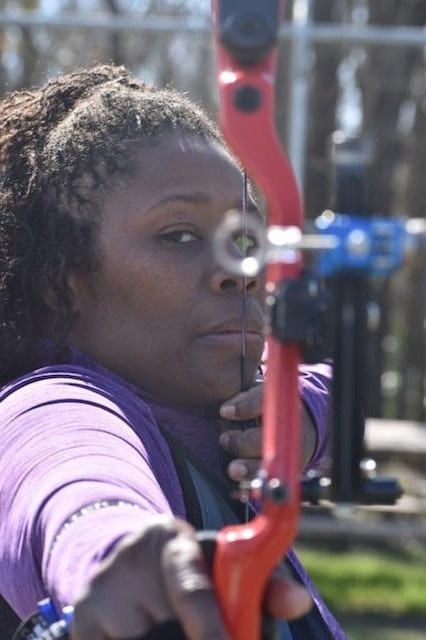 When times get tough, she turns to her own personal mantra: "Greater is he that is in me than he that is in the world." That mantra powers her as she sets her sights on becoming a Paralympian. To do that, she just needs to put in a lot of hard work, score the minimum ranking points during qualified competition, earn a Paralympic spot for the United States through international competition and remain ranked number one in the United States. Not much, huh?
So, what advice would Candice give to you dear reader?
"Dream. Do. Become. It's the motto for my sponsor, RamRods Archery, but it's something I really believe in. Remember why you started college and go with that. Working through difficulties will help you later in life when times get tough again," she said.
So, yeah. When you feel like walking away from a dream, when you feel like times are too much to bear, I'll be happy to lend you one of my heroes and her words of wisdom.
Dream. Do. Become.