Get the latest ranking of 10 Best College Dance Teams in the Nation 2019 here.
Point your toes and hit those turns—college dance nationals season is coming soon. Every January, the best college dance teams in the Universal Dance Association division compete for the number one spot at college nationals. Some teams manage to make the cut every year, holding national records for decades. So how do they stay at the top? It takes extreme physical fitness, years of practice, fresh choreography and a lot of fake eyelashes. Just getting to nationals requires a bid from UDA dance camp, multiple routines, a history of landing in the top 10 and a decent return rate. Dancing is an amazing athletic and artistic activity. But for these teams, it becomes a lifestyle.
You'll need killer technique if you want to make one of the 10 best college dance teams nationwide.
10. Temple University Diamond Gems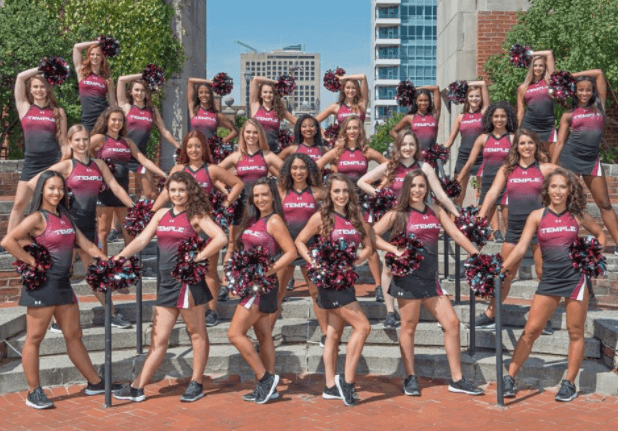 The 26 women on this dance team practice three to four times a week to master their moves. And that hard work pays off—they ranked eighth in the nation for hip-hop at the UDA national competition in 2017. The Diamond Gems energize the crowd at football and basketball games with their effortless hip hop. These dancers sported retro shimmery Temple jerseys in competition while performing complex tricks like headsprings in unison. These women are fierce and not new to national competition, considering they've placed in the overall top 10 for the past few years. Don't believe me? Check out their routine for yourself.
9. University of Delaware Blue Hens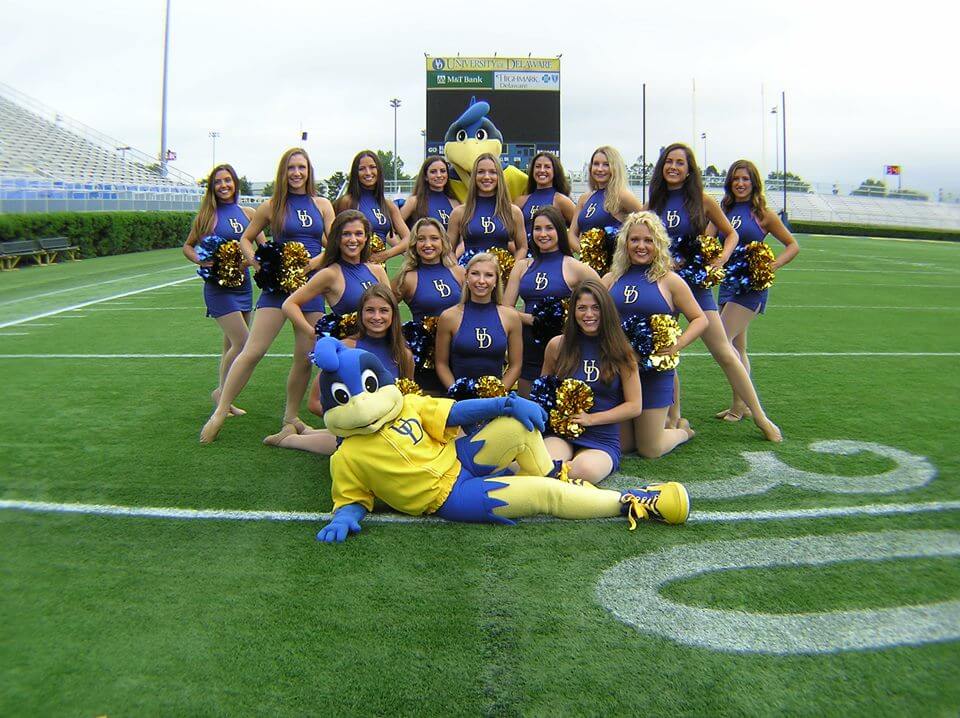 This dance team with 16 women knows all the tricks to place in the top 10 at nationals. They've placed in the overall top 10 for hip-hop four times. They also came to this year's UDA finals finishing fourth in jazz and second in hip hop. Don't think that comes without a little sweat. Three to four times a week, these dancers meet for three hours to train and practice. They also hold mandatory morning workout sessions at least twice a week. Those workouts help them incorporate tough hip-hop tricks like headsprings into a dance while staying in sync. And they make it look effortless.
8. Hofstra University Pride
HUDT has been nationally ranked for over 21 years. They've also been in the top 10 for 20 of these years at nationals, top five for at least 18 of the years and top three for 11. That may sound like a lot of numbers to a dance outsider, so let's just put it this way: This team must have one large trophy shelf. Great timing and technique helps them expand that trophy case. And it doesn't hurt that every girl can perform an aerial flip. "My team prepares for UDA nationals by practicing multiple times a week, attending 6 a.m. workouts, performing our routines at basketball games and even practicing on our own. A lot of hard work and dedication really goes into our routines so they are ready for nationals," said team member Marissa Cannella.
7. Louisiana State University Tiger Girls
These women slayed their hip-hop routine this year. The women locked in each moment on time, and at one point, the dancers jumped high over each other. "Representing the LSU Tigers with your best friends is truly special. We spend so many hours together and share so many life experiences, that we truly become a family," said team member Micah Odom. Their moves earned them 10th in jazz and fourth in hip hop this year. The Tiger Girls dress the part, too. You might easily confuse them with the Lakers Girls wearing their yellow and purple uniforms for basketball season. Some of their alum take their moves to the pro world, too. Alumna Cersten Lynese, a former LSU Tiger Girl, now dances with Dallas Cowboy Cheerleaders.
6. University of Michigan Dance Team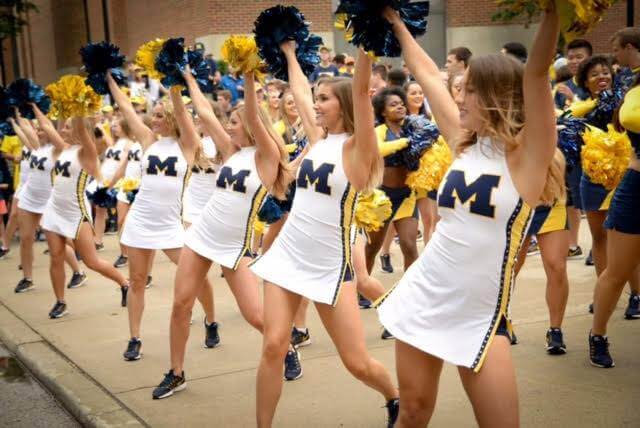 A Big Ten school brings a big sports reputation. Lucky for U of M's basketball and football players, the dancers pump out team spirit to bring wins for days. After spinning for 30 seconds, the dancers leaped out of the turns with ease in this year's nationals routine. They make the hardest dance moves look easy. "My favorite by far was our 2017 jazz. It was challenging but so rewarding. We were able to hit difficult turn sequences and hit an intensity level that we have been working towards for years, said team member Emily Trinkler. "There was so much team chemistry in this piece that really showed on stage and made the dance that much easier to get through because we were all pushing on together." In that number, the women looked like dancing gold medals on stage twirling in tandem in their glittery costumes.
5. University of Kentucky Dance Team
If you love a team that can all perform complex tricks with ease and perfect timing, look no further than the UK Dance Team. These women currently rank fifth in the nation for hip-hop and seventh for pom. Their sharp moves in both styles definitely help them get to the stop and stay there. From the look of their most recent competition pom routine, these ladies definitely have the most toned arms in all of Kentucky after nationals season. To land a spot on this exclusive squad, the dancers need to show their technical skills, performing quad pirouettes, toe touches, side aerials and special hip hops tricks during tryouts. And once on the team, the squad puts in the work with three-hour practices multiple times a week. This year, they sent team members Kristen Ratliff and Natalie Swarts to compete in the International Cheer Union World Championships.
4. San Diego State University Dance Team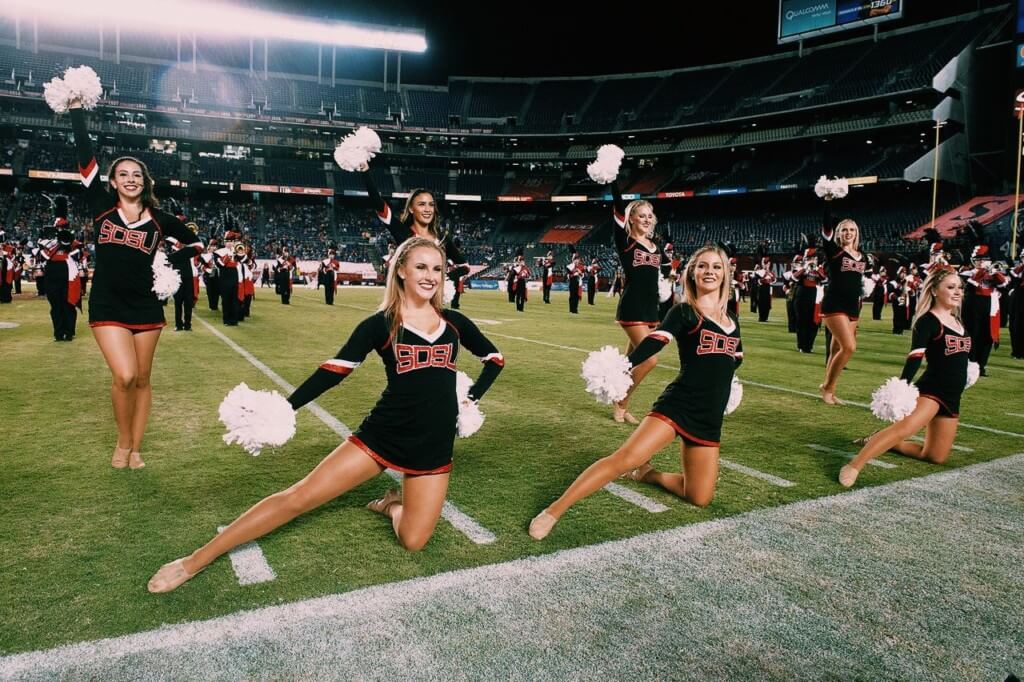 This West Coast team reigns as a top 10 placing team for the past four years. Their UDA 2017 nationals routine proves this team can turn for days while sporting beautiful dark mesh skirted leotards. The girls literally performed fouette after fouette turn that will have you stop counting after their sixth time around. The jazz routine makes you feel like you walked into a trippy museum—a group of girls turns while some lift dancers high above their heads, almost like an optical illusion. "We practice how we perform! We practice with facials and the same amount of energy we plan on using at nationals. We all push each other as teammates and make sure that we are always being are best," said team member Kathleen McCarthy. No wonder most girls from this team continue to dance professionally after college. Many SDSU dance alumna including Shana Ned joined the dance company Tribe 99.
3. Ohio State University Dance Team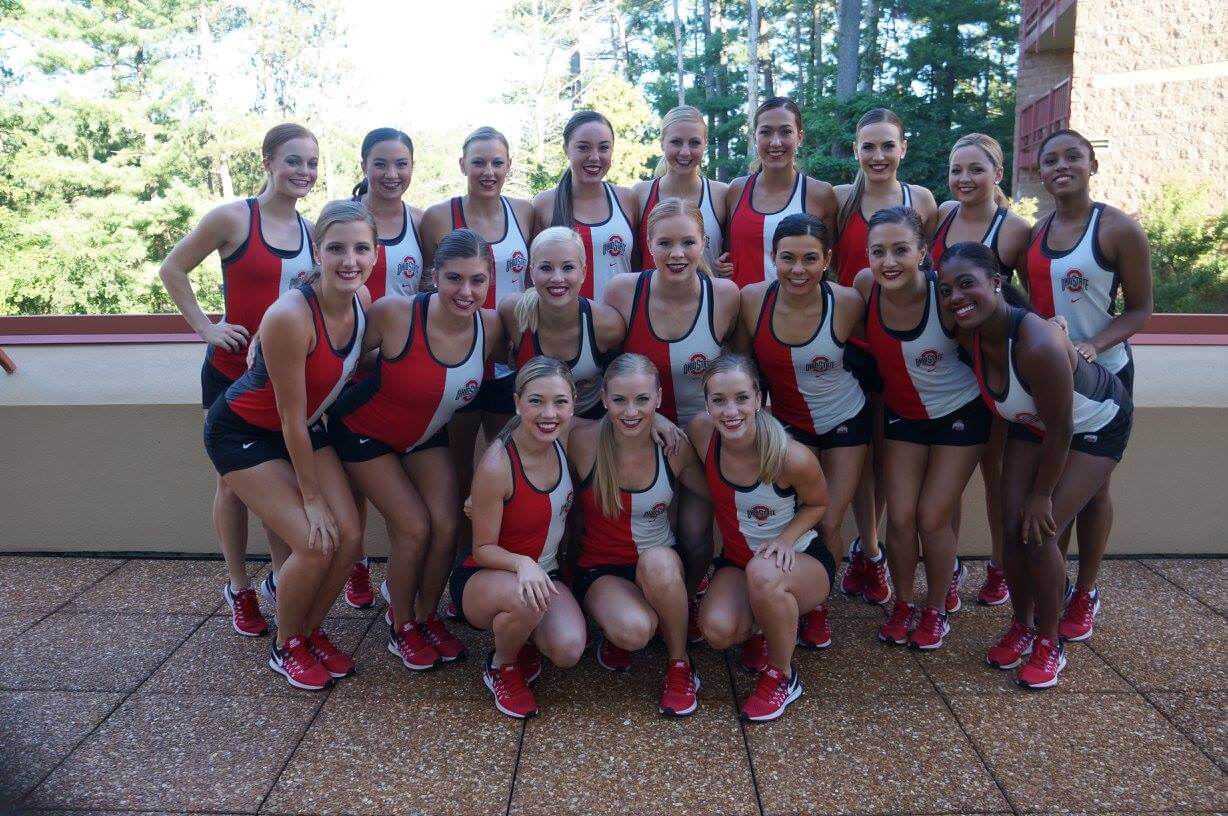 These women represent what it means to be a college athlete: They're fierce and fit. Every girl on this 19-person team can perform an aerial flip, helping them land in the top five for each nationals season year after year. They scored second in both pom and hip hop during the 2017 nationals, where they performed the perfect combination of killer turns, lifts with complex leaps and perfect team timing. They make dancing at the collegiate level look easy—probably because these women practice two to three times a week while attending bi-weekly workouts. The team devotes 15–20 hours a week to dancing, making it like a part time job. To make up for those long hours, the dancers get to access student-athlete resources like extra tutoring and an on-campus nutritionist.
2. University of Cincinnati Dance Team
Who runs the world? The women of the University of Cincinnati dance team. They hold seven national titles plus 10 world titles. These girls won second overall on hip-hop and pom, an impressive double win not many pull off. Seven girls performed advanced back handsprings in their hip-hop routine this year. And even with 33 members, this dance team manages to keep time together flawlessly. "My favorite part about being on a competitive dance team is the kind of person it's shapes you into. The UC dance team has given me an incredible work ethic and has also taught me the value of being a teammate and a leader," said team member Morgan Quatman. And working together for hours on end only helps the team form a stronger bond. "I wouldn't be half the strong and confident person I am today without being a member of this team."
1. University of Minnesota Dance Team
If you know anything about collegiate level dance, you know to bow down to the University of Minnesota dance team. From contemporary to hip-hop, these girls can do it all and do it well. They've finished in the top five overall for the last 13 years. They also hold a record for eight straight first place wins. But these titles don't come easy. These girls put in hard work and dedication to their almost perfect routines by devoting 15 to 20 hours a week to practices, games and appearances. Their 2017 nationals routine, complete with perfectly timed and fast moving open second-fouette turns will make you spin. It truly says something about team dedication when every girl on the squad can perform such advanced acrobatic dance flips like front and side aerials. You can't miss their royal blue one-piece outfits from their jazz routine this year. In other words? The 2017 jazz routine will definitely make you want to binge watch all of their performances on Youtube.
The 10 Best Colleges for Aspiring Choreographers
The Top 10 Schools for Dance 2019