Whether you ran in high school on a team or you consider yourself a casual runner, finding a college that meets your running needs should take precedence. For some, they need to live in a place with warm weather. For others, they need a place where they can find a running community. Whatever you need, go out and find it.
Take a look at this list of top 10 universities for all types of runners to find the school that fits you.
1. University of Texas at Austin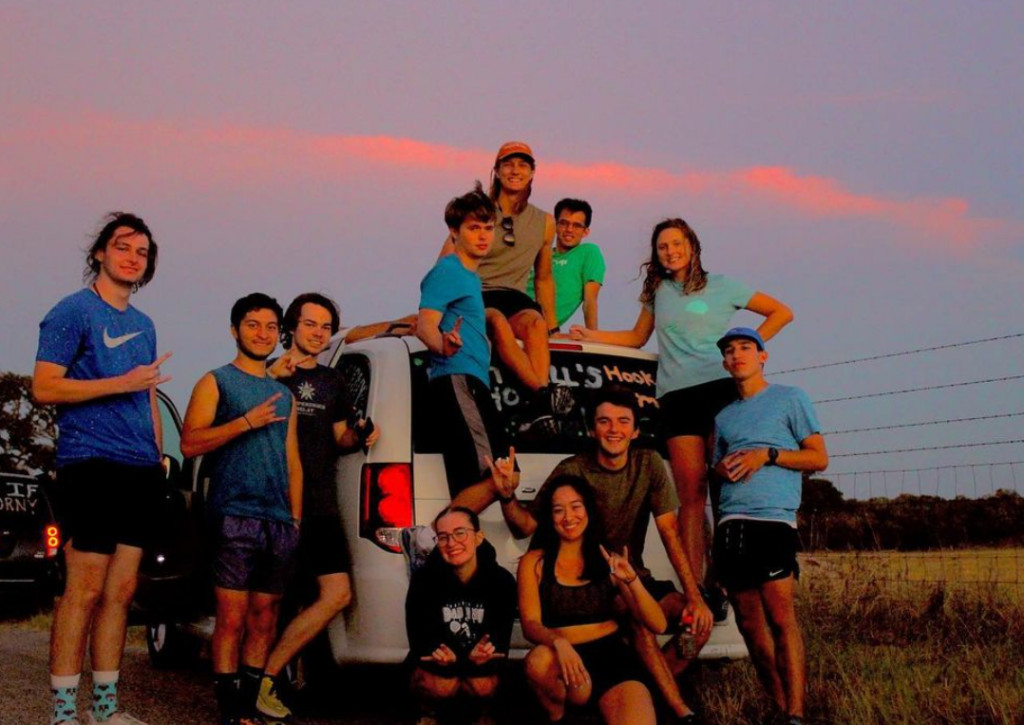 Featuring impressive cross country and track and field teams, you'll fall in love with the University of Texas at Austin. You can choose to run off campus on one of many beautiful trails. Check out Lady Bird Lake trail and the dazzling Austin skyline might just take your breath away. Or try visiting Barton Creek Greenbelt trail and become one with nature. If it becomes too hot in Texas, you can always train on the indoor track at Gregory Gym.
"I definitely think UT Austin is a top school for runners both competitively and recreationally. On the competitive side, we have one of the top cross country and track programs in the nation. I think our men's team won indoor nationals last spring and our women's team I think got runner up in the outdoor championships… And also, as a recreational runner I think there's just a lot of great locations to run. Austin's unique and the city layout kind of incorporates a lot of natural areas. So, one of our favorite places to run in the Running Club downtown is along the Colorado River. There [are] nice dirt trails that go around the lake and it's just really gorgeous to use," University of Texas at Austin junior and president of the Texas Running Club Ryan Gerety said.
The Running Club not only gets you out running, but it helps you get involved in the community. The club provides great volunteer opportunities. If you go to school at UT Austin, you also can participate in the Austin Marathon. If a marathon sounds too daunting to you, check out the other races taking place in Austin throughout the year. You can find something that piques your interest.
2. Iowa State University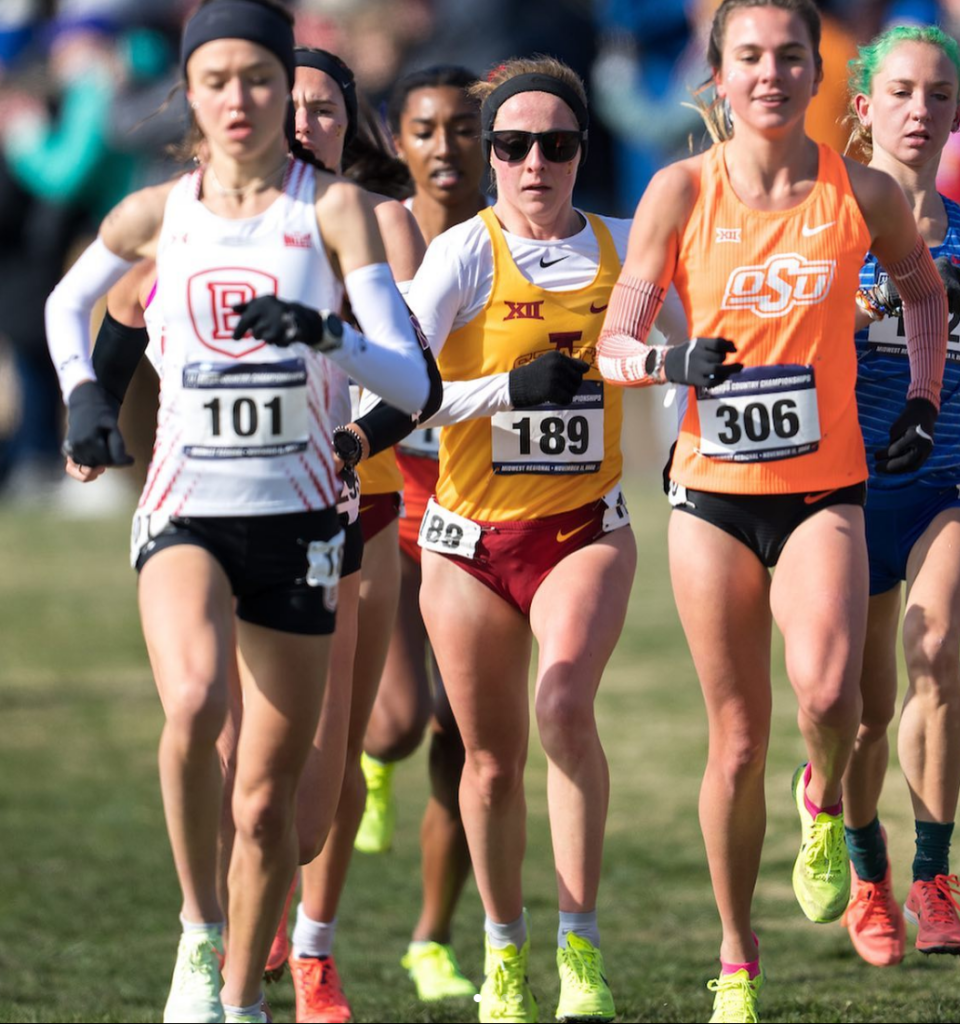 Are you into cross country? Check out Iowa State. Featuring their very own cross country course, you get the opportunity to thrive on their university's teams. In 2021, the Iowa State men's cross country team ranked number two in the U.S. Track & Field and Cross Country Coaches Association (USTFCCCA), and their women's team ranked number nine. Even if you don't consider yourself a serious runner, you can find your people at Iowa State.
"We compete against other clubs from other schools through the NIRCA Association, which is the National Intercollegiate Running Clubs of America I believe. So, we compete against other clubs, and we'll also compete against small schools, most likely D3 schools. So, we'll race against schools like Wartburg, Grinnell, Luther and other local schools. And that's a lot of fun too just to get the experience of being an actual college runner without making the commitment of being a full-time team member," Iowa State University junior and vice president of the Iowa State Running Club Andrew Dixon said.
The city of Ames provides many beautiful trails to run on. Enjoy the fresh air and breath-taking scenery by exploring the parks near Iowa State. Once it gets too cold outside, check out the indoor tracks at State Gym and Lied Rec. Make sure to stay up to date on community news and participate in the many races that take place in Ames. What better way to celebrate the holidays than running in the Ames Gingerbread 5k Run/Walk for Adoption?
3. University of Oregon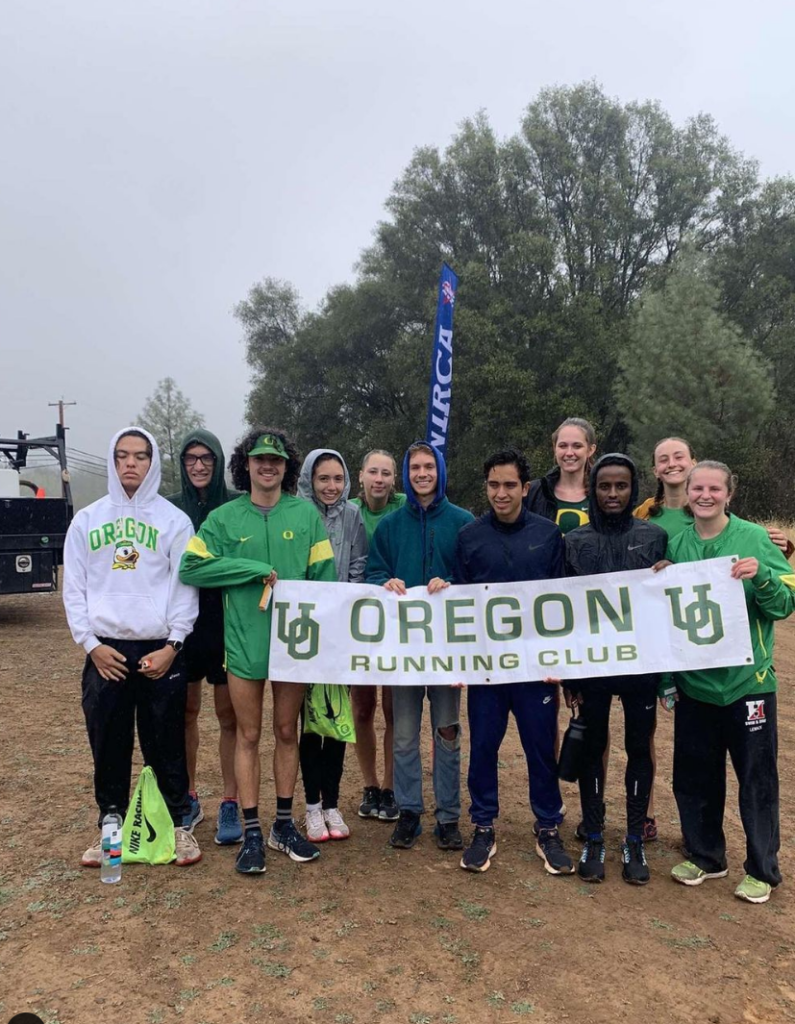 Become an Oregon Duck and attend the University of Oregon. This Division 1 school includes impressive cross country and track and field teams, as well as a running club. Get off campus and participate in the many races that take place in Eugene, Oregon. Consider showing your holiday spirit by joining the Turkey Trot or the Jingle Bells Run. Eugene also homes the Eugene Marathon, a Boston Marathon qualifier.
"Oregon has it all for runners: the facilities, the medical staff, the trails, amazing coaches," University of Oregon senior and cross country and track and field team member Emilie Girard said. "Everything is [designed] to help runners [improve] and give them the opportunity to do so."
If you decide to attend the University of Oregon, make sure to explore the beautiful scenery Eugene offers. Some popular trails include Spencer Butte Trail and Mount Pisgah Trail. But when the weather doesn't cooperate, the university also features an indoor track. So, whether the sun shines or the rain pours, you can still get your run on. Now isn't that sweet?
4. University of Arkansas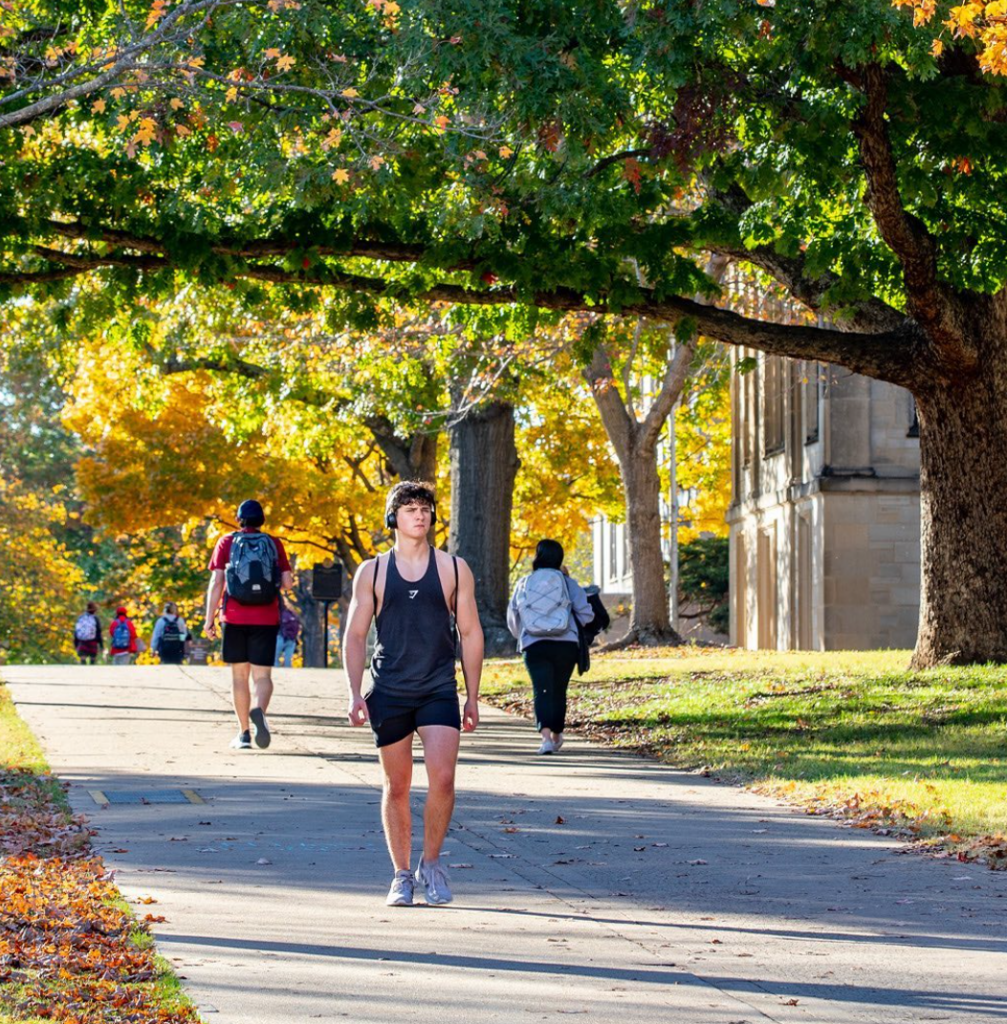 This Division 1 university's cross country and track and field teams rank high. In 2021, the men's cross country team ranked four and the women's cross country team ranked eight by the USTFCCCA. Their track and field teams also do well. In 2021, the women's indoor track team ranked number one. But if you don't want to join the school's competitive teams, consider joining one of Fayetteville's many running clubs. You can decide if you want to join the school's organizations or a running club off campus.
"The running community in this area is really big. Outside of the university there's a lot of running clubs. There's the Arkansas Track Club. I mean, it's not really geared for college students but it's really big for high schoolers and I know there are college graduates who do it. And then just in Fayetteville there's a couple different running clubs. Besides our own there's Rise Physical Therapy, which they kind of do their own running community. Rush Running, which is a big shoe store here. There's the Columbus House Brewing Company. And there's the Mustache Running Club. And they're all pretty individual clubs. We still on occasion run into each other, mostly just if we do a race together, but we're all pretty independent," University of Arkansas junior and co-president of the Running Club Jackson Burnett said.
Fayetteville also hosts many fun races. One popular running event includes the Chile Pepper Cross Country Festival. Both high school and college teams participate and compete for the chance to win chile pepper themed awards. The race takes place on the University of Arkansas's very own cross-country course. You don't want to miss out on this flaming hot event.
5. Grand Valley State University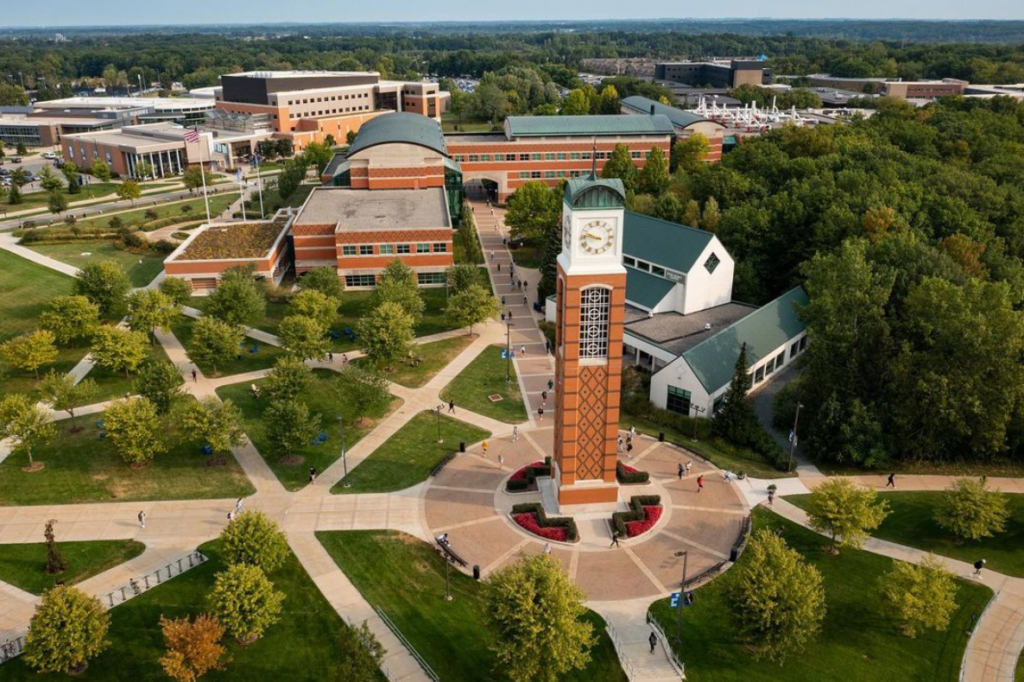 If you've traveled to Michigan, you know the state features stunning scenery. If you attend Grand Valley State, you'll have plenty of trail options. This Division 2 school has a fantastic record. In 2021, the men's cross country team and women's indoor track ranked number one in the USTFCCCA. Their women's cross country team, men's indoor track team and women's outdoor track team ranked number two.
"From my experience on our team, we won Division 2 Nationals in cross country a couple years ago and that was like a very Cinderella kind of story for me. I wasn't very fast the year before and I wasn't very fast at the beginning of the year and then kind of by the end of the year I ended up racing at Nationals and I ended up scoring and we won. I never ever in a million years thought that would happen so it was a pretty awesome experience. And we competed against a lot of big schools, and we beat like a lot of big schools that year, which is pretty cool as a team that not a lot of people know of, or knew of at least back then; now I think it's getting a little more on the radar," Grand Valley State University senior and men's cross country team member Ben Zaremba said.
That state of Michigan provides many trails to train on, including the Bar and Seedy Trail created by Grand Valley State alumni. The university also features indoor tracks at both the Recreation Center and The Kelly Family Sports Center. Whether you want to join their cross country or track and field teams, or you want to join their Cross Country and Track Club, you can find your people at this university. The club welcomes both serious runners who want to compete, as well as casual runners. They host groups runs Monday through Thursday. Runners also get the opportunity to attend cross country meets in the fall and indoor and outdoor track meets in the spring. The club even hosts volunteer events.
6. Louisiana State University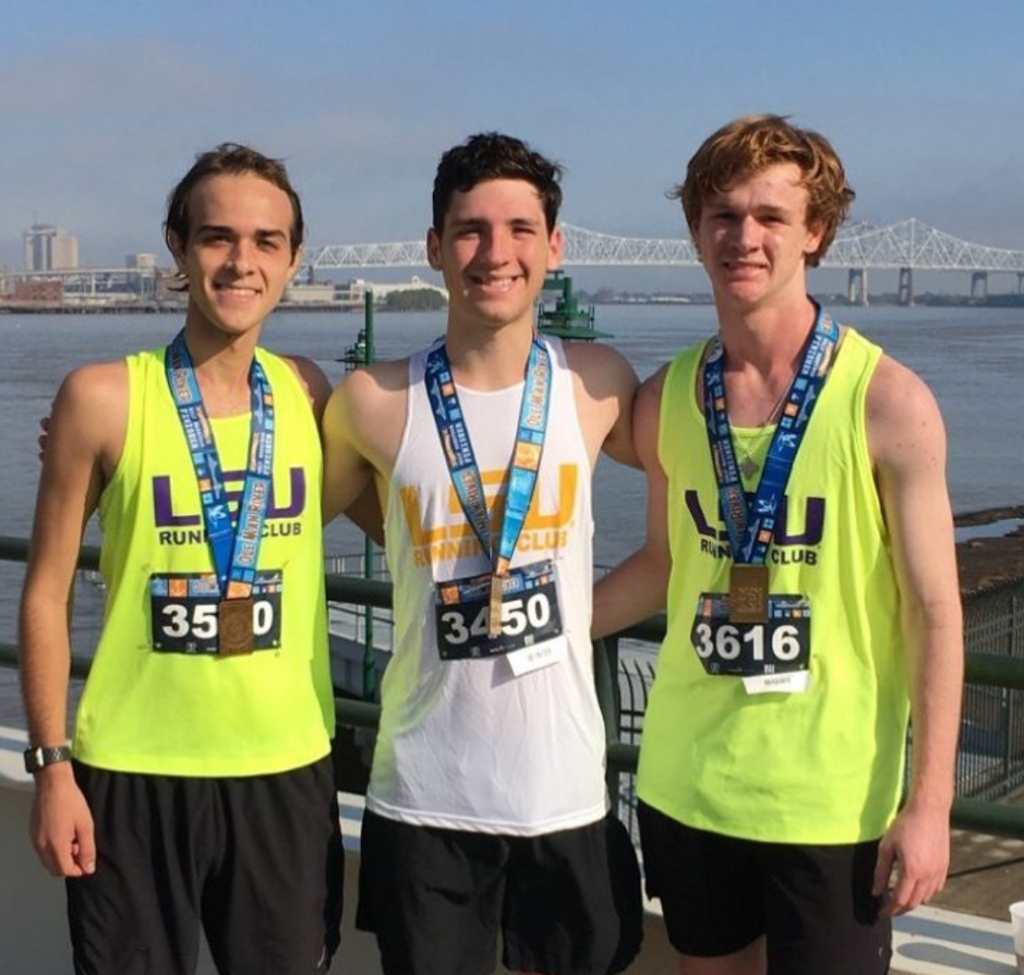 Track and field runners should check out Louisiana State University. In 2021, the USTFCCCA ranked their men's outdoor track and field team as one and their indoor team as two. Don't forget about their women's team. The USTFCCCA ranked their women's outdoor track team number six and their indoor team number three. Are you impressed yet? Not into track? The LSU running club welcomes all runners, regardless of skill.
If you feel inspired to work out and you want to find like-minded people who share the same passion as you, join the LSU Running Club. You don't need to be a pro to participate. For those who dream of running a marathon, the Louisiana Marathon takes place in Baton Rouge. In February, you don't want to miss the Mardi Gras Mambo run. How could you turn that down?
7. Wake Forest University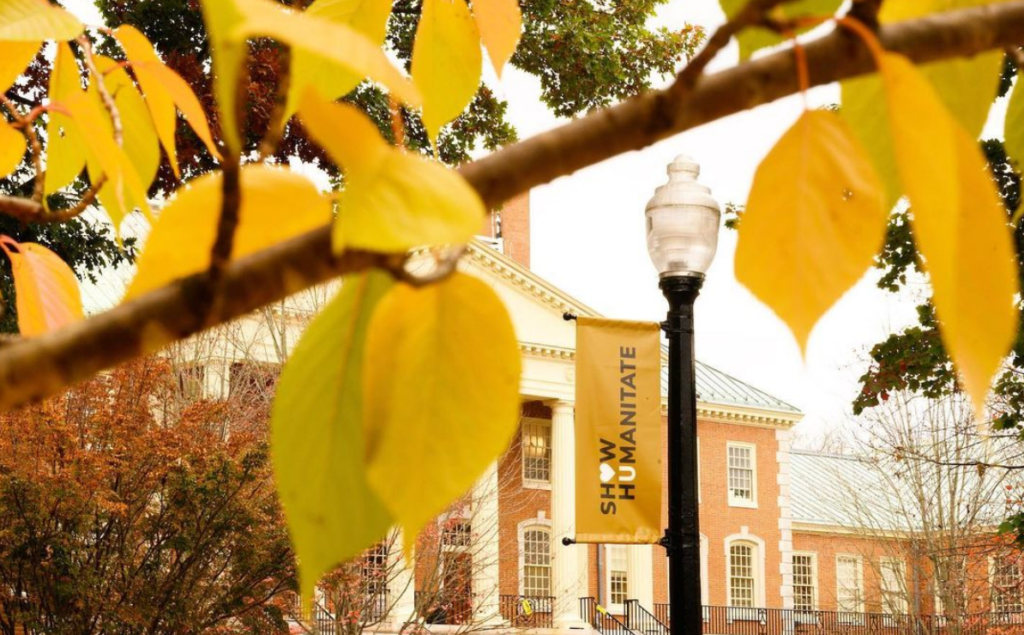 Looking for a smaller Division 1 private school? Check out Wake Forest. Wake Forest features cross-country jogging trails with a variety of different route options. You can also run off campus on trails, a popular place being Salem Lake Park. This park features soft surfaces to run on that are softer on your joints. Cross country teams from Wake Forest, as well as other nearby schools, often train there.
"All of us are on different mileages. I've been building up my mileage now. When I came here, I think I was running around 40, 45 miles a week, and now I'm up to 55. I think most of our top five right now run over 70 miles a week, they run like 75, I think. But again, a lot of them are seniors and grad students who have had years to kind of build up, so we're definitely a program that focuses a lot more on progression and development than just quick bang for your buck one-size-fits-all model, which I really appreciate and that's also something that is a perk of having a smaller team," Wake Forest junior and women's cross country and track and field team member Alli Boehm said.
A definite plus of going to school in North Carolina: the fantastic weather. You never have to worry about running in the freezing cold. If you don't want to join their cross country or track and field teams, you can consider joining their running club. You don't have to participate in competitions, but this club provides a great community of runners. You'll meet some running buddies in no time.
8. Brigham Young University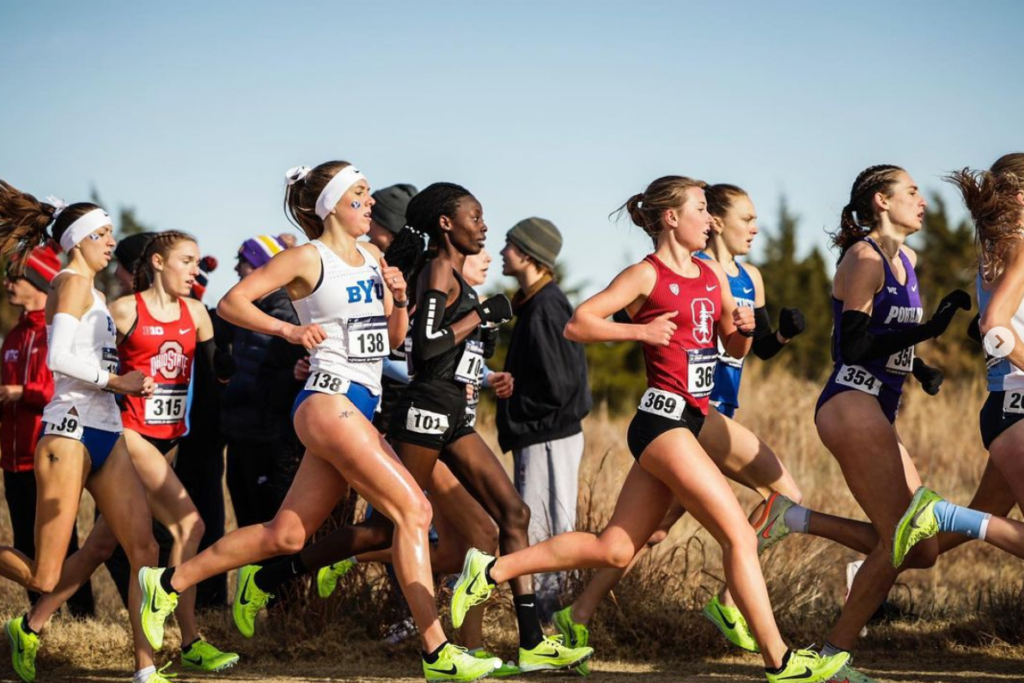 If you dream of running for a university team, explore Brigham Young University. Both their cross country and track and field teams ranked high in the USTFCCCA in 2021. Also consider Provo, Utah's, exquisite scenery. Imagine running while taking in the sight of gorgeous canyons. Even if you consider yourself a casual runner, you can join the BYU Running Club. The club helps students make new friends.
"One of my most favorite running memories at BYU was during my freshman year. I was just a couple seconds away from qualifying for regionals. So, for one of our home races, my coach got five other teammates that had already qualified for regionals to surround me in a box the whole race to keep me on pace. They kept me surrounded for 1300 meters, and then dropped off while I finished the race and qualified. That was a whole new level of sisterhood that was absolutely amazing to experience. They helped me accomplish something I didn't think I would be able to do as a true freshman," Brigham Young University junior and cross country and track and field team member Alissa Fielding said.
Provo, Utah, also hosts races near campus. Distance runners can consider running the Utah Valley Marathon that takes place in June. Or check out the Frigid 5k that takes place in January. BYU also houses an indoor track. When the weather turns cold, train indoors on the Smith Fieldhouse indoor track.
9. University of Southern California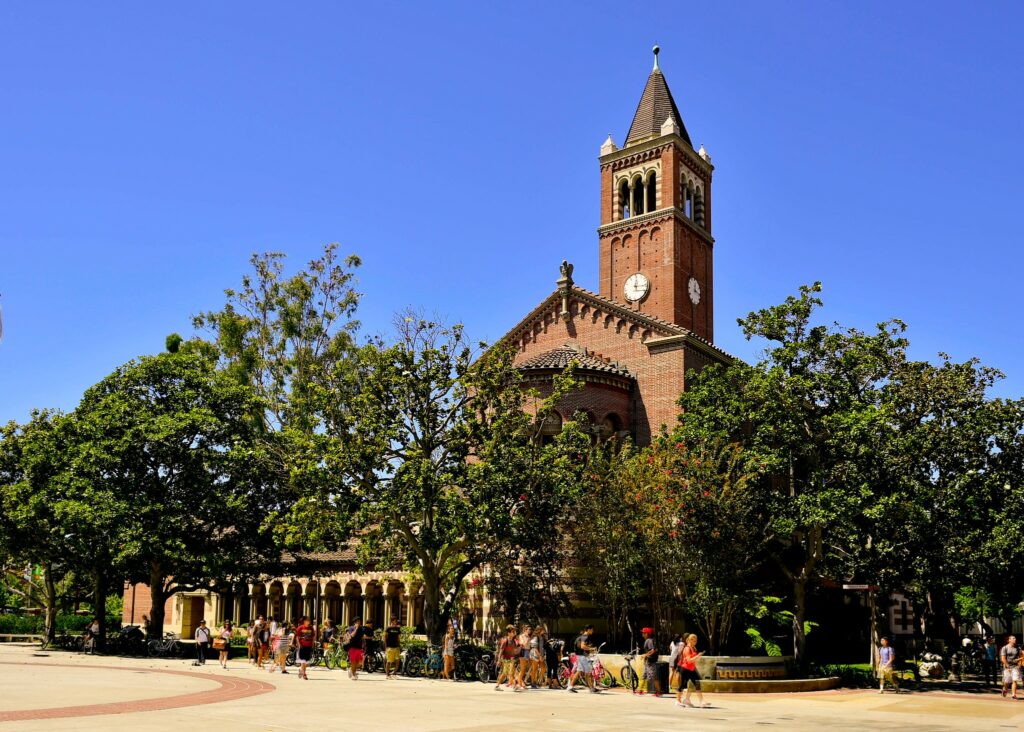 Dream of going to college on the west coast? Visit this private university in Los Angeles. According to the USTFCCCA, all of their track and field teams ranked in the top 15 in 2021. With warm weather all year round, you get to run outside as much as your heart desires. Make sure to check out the races that take place in this vibrant city, such as Cal Tri LA and the Los Muertos 5k.
You don't want to miss out on the amazing sites of Los Angeles. Run to the Hollywood sign and snap a photo for your socials. Now how iconic is that? Explore Griffith Park and visit the Los Angeles Zoo for a nice cool-down. You won't ever get bored in this city. Convinced yet?
10. Northern Arizona University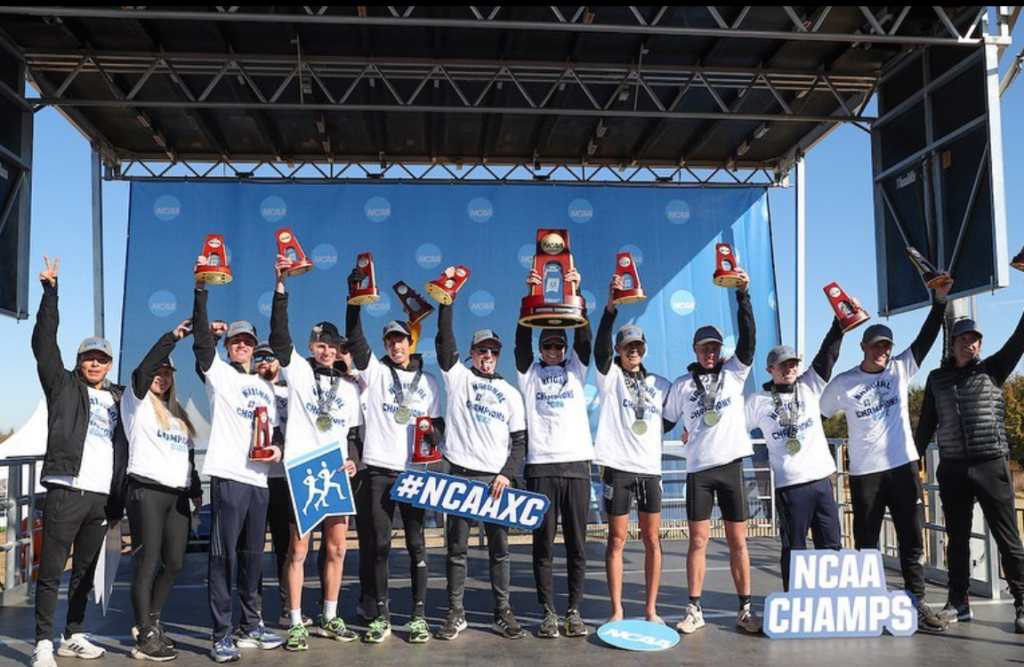 Take a look at Northern Arizona University's impressive cross-country record. In 2021, their men's cross country team ranked number one by the USTFCCCA and their women's cross country team ranked 23. Take advantage of Arizona's nice weather and check out Flagstaff's many trails. You don't want to miss out on the beautiful mountaintop views. Some popular trails include Fatmans Loop Trail and Old Caves Crater Trail.
"Right off campus we have trails that we run on daily that are awesome. They are very convenient and different from one another. There are also other roads that we drive out to that are very close to campus as well. Some other popular and great roads to run on close to campus are A1 Mountain Road and Mailboxes," Northern Arizona University sophomore and cross country and track and field team member Anna Fenske said.
If you end up attending NAU, check out their running club. Whether you want to train to walk-on to the cross country or track and field team, or you want to just run for fun, you can get the help and support you need by joining Run NAU. Consider yourself adventurous? Sign up for the Crater to Canyon Arizona event. Mountain bike or hike the intense trail that takes place on Arizona's meteor crater. Up for the challenge?