UT Austin students love burnt orange. Seriously, it's everywhere – show up to any sporting event and the unique color will cover the crowds. With more than 50,000 students it's easy to show our immense pride — everything's bigger in Texas, right? We might be borderline obsessed with our school spirit, but it's this passion that makes attending UT truly memorable.
Take a look at the traditions that students believe make UT, UT.
1. Luck Brought by Albino Squirrels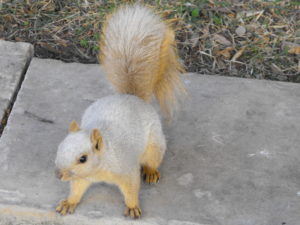 Students find squirrels everywhere at UT. You can't miss one scavenging for dropped food or racing up trees, but there remains one surprise associated with the bumbling forest creatures. Every once in a while, students excitedly report that they saw one of the rare albino squirrels. Said to earn the student who spots the pale squirrel an A on their next exam, albino squirrels bring students wonder and even relief. "Everyone sort of stops and some people get excited, some get frustrated, some are just like 'oh my god,' and I just think it's funny and definitely something unique to UT," UT freshman Julia Abreu said. Of course, their reactions depend on whether or not students believe the superstition. Sophomore Grace Xiong has her doubts. "It seemed bizarre to associate them with good grades," said Xiong. However, some students were a little more fortunate. "I was surprised by students claiming that seeing an albino squirrel on the way to an exam will give you good luck — I didn't believe this until it happened to me," said James. So far, there's no definitive answer as to whether or not albino squirrels truly bring students luck, but the sighting of them continues to be a staple tradition on campus.
Not-so-fun fact: Last semester, the legendary Ruth Buskirk, a professor of biology at UT, said the squirrels we thought were albino were actually just blond squirrels. Maybe the blond, albino-ish squirrels are lucky then?
2. Jumping into Littlefield Fountain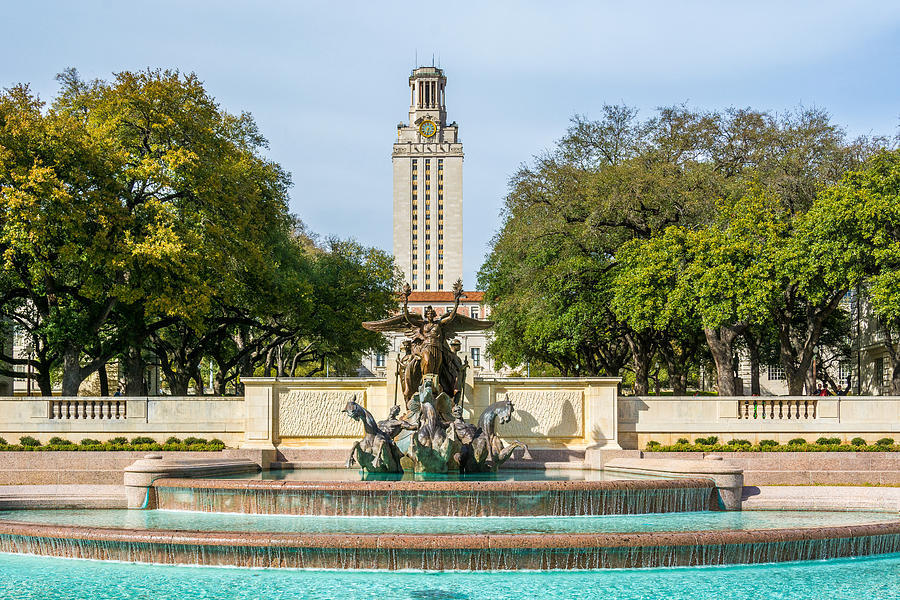 Not only is Littlefield Fountain a common carpool pickup zone on campus, but jumping into it is also a rite of passage for many students on campus. "The most surprising tradition I've seen has probably been the one where recent graduates jump into the fountain and spray champagne all over the place," UT freshman Juliette Draper said. "I can't lie, I'm very excited for that, but it's always struck me as strange." Draper first heard of the tradition from her sister. "She skinny-dipped in the fountain as a freshman and is now excited to go full circle and do it as a senior." If there's one thing that makes jumping into the fountain memorable, it's that it lies in the heart of campus. Depending on which direction you look, you can see both the UT Tower and the capital of Austin, making Littlefield fountain a central part of the university.
3. Sightings of Matthew McConaughey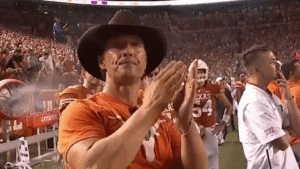 Since 2015, the Academy Award-winning actor and UT alum has taught a Radio-Television-Film course titled "Script to Screen" at the university.  Students were incredibly excited to hear he'd be joining the staff. Students consider the class highly competitive to register for, but regardless of whether or not the course interests students, many would still simply like to meet him. From teaching film to proudly donning his burnt orange suit, McConaughey has become a campus icon over the past 4 years. "I think having Matthew McConaughey as such a huge presence at UT is a reminder that UT has and continues to produce some super dope people who have accomplished awesome things," junior Amanda Hua said. McConaughey can also be seen at UT football games, where he roots for his team from the field. Every time he comes near the student section or appears on the big screen, UT students cheer wildly. "I love seeing Matthew McConaughey on the jumbotron," Hua said. Meeting or seeing McConaughey up close and in person is something many students hope to do while at UT.
4. Our Beloved Bevo(s)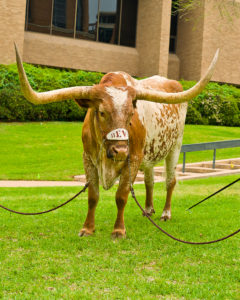 Bevo is UT's official mascot, and like many UT students, he attends home football games. In fact, he's been attending them since 1916, according to the Texas Sports website. Not the same longhorn of course, but one of the same spirit and "lineage." The Bevo of today is Bevo XV. The Texas Spurs, an organization on campus, work as the primary caretakers and handlers of the longhorn. However, because he's a live animal, sometimes things go awry. Bevo XV made headlines when, during the 2019 Sugar Bowl, he charged the gates and almost ran over the University of Georgia's mascot, a bulldog by the name of Uga. Luckily, the Texas Spurs quickly got him back under control. Despite this incident — maybe even because of it — UT students continue to love Bevo XV.
5. Chanting Texas Fight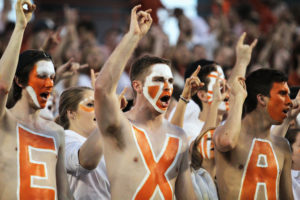 Texas Fight is the official fight song for the university and on top of singing the song, students enjoy the back and forth cry of "Texas!" and "Fight!" led by the cheerleaders and pom squad. "I think the Texas Fight cheer really shows off how big UT is, but also how united we can be … in the act of yelling?" UT junior Eisha Rao said. Students really do unite through chants. In fact, the student org, the Texas Hellraisers, exists primarily to show UT sports team the support they deserve. Any student can point them out as the group extravagantly painted orange and white, cheering their heads off at games.
6. Watching the UT Tower Light Up Orange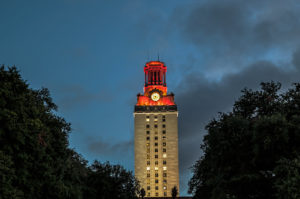 The UT tower marks the center of campus — you can see it from almost any point on campus. On top of its timely bell rings, the UT tower glows burnt orange for special occasions. In addition to glowing after a sports win, the tower lights up with a freshman class' graduation year before their first-ever day of classes at UT. The tower also offers students a unique view of the university. "Before I graduate, I would like to take a tour of the UT tower and go to the viewing deck," UT junior Vicky Ritter said. "I know that's not particularly wild, but it seems like an amazing view." I'm sure UT's very own falcon would agree. Interested students can check out the live cam feed of Tower Girl, the falcon who nests atop UT's tower, on UT's biodiversity website. The tower holds many of its own traditions and secrets, making it a fun part of the university.
7. Hooking 'Em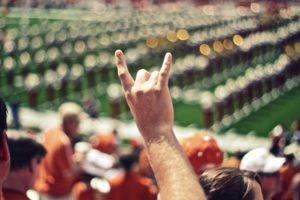 The hand signal that forms a longhorn counts as an everyday sight on campus. Whenever referring to school spirit, football or the university itself, people often "hook 'em." According to The Daily Texan, Harley Clark, the longhorn head cheerleader at the time, and his friend Henry "HK" Pitts created the hand sign together in 1955. Later, at a pep rally before a big game with Texas Christian University, Clark introduced the sign to the crowd. It quickly caught on and can now be found everywhere. You can even find an emoji perfect for representing the school over text or online.
8. The Red River Rivalry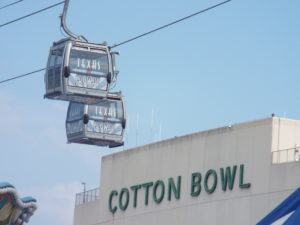 Ah, yes. The University of Oklahoma. AKA UT's largest rival (sorry A&M). Once a year, the two teams come together to face off at the Red River Rivalry. Located in the Cotton Bowl stadium smack in the middle of the Dallas State Fair, the games reign as the top event to attend.  "When I was in Longhorn Band, our weekend in Dallas was the most enjoyable memory I had," senior Luke Berringer said. During this time of year, especially during the game, students commonly shout "OU sucks!" or joke, "Longhorns say y'all because it drops the worst two letters — OU." Freshman Julia Abreu enjoys the rivalry. "My government professor was an OU alum so she would never say hook 'em and always talked about how they were doing better in football, and people in the class would put horns up while she did, and it was just all in good fun," Abreu said. It may just be in good fun, but still, don't be caught wearing Sooner red at UT.
9. Class Rings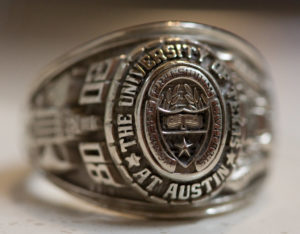 At UT, students earn their class rings upon reaching 75 credit hours, and the ring ceremony is a sight to behold. Plus, around the time of the ceremony students post pictures on social media proudly adorning their new jewelry. "I want to get my [class] ring and take cute photos punching the camera in front of the tower," Hailey Hollowell said, a sophomore at UT Austin. "As someone who's been single for a while, I can't wait to get cuffed – to UT." For many students the ring commemorates their time at the university. "It's a symbol for some of the best parts of UT, like the tower," said Hollowell. "It's a way to keep all the good memories close to our hearts when we leave and go off in the world." The tower is actually featured on the ring — while a student, ring holders wear the tower facing in. After graduating, alumni flip the ring around, wearing it instead with the Texas Exes symbol facing in.
10. Attending Spirited Football Games
People who know UT know that a large part of the university focuses on athletics, making sporting events, particularly football, incredibly fun to attend. "There are no other fans like Texas fans," sophomore Sharika Menon said. "We're just so dedicated and proud to represent Texas." Even non-football fans love the enthusiasm football games bring the crowds. "I didn't even learn what a 'down' was until my 5th UT football game," Hua said. "But even when my feet are aching from standing for hours and I'm sweating in the ridiculous Texas heat, I love being in the stands and hearing people just yell chants at the top of their lungs." Clearly, you don't have to be a fan of the sport to enjoy the event, and that's part of what makes the games here at UT so special.