Get the latest ranking of The 10 Best Colleges for English Majors 2019 here.
Any old school can give you some classic titles to read. They'll toss in a Shakespeare course and a few papers to knock out. But only a handful of colleges can guarantee the ingredients of your English-major dreams: small class sizes, fan-girl worthy professors, a slew of courses that sound made up and award-winning, student-run literary magazines. Now, stop drooling and put your nose back in your excessively-annotated copy of Jane Eyre because we've done the hard work for you. These 10 schools really can satisfy the midnight cravings of any English major, even the crazy Hannah Horvaths of the world.

Literary buffs, check out the 10 best colleges for English majors.
10. Boston University
Tuition: $49,176
Financial Aid: approximate average package of $37,000-$41,000
Featured Faculty Member: Jonathan Foltz—Sydney native who joined the faculty after receiving his PhD from Princeton; has studied modernism and narrative in film
Boston University's English department course offerings alone will leave you feeling giddy: "The Arts of Gender in Drama, Dance, Film and Theory," "History of the Novel" (bet you never thought of this before!) and "Representing Boston." In fact, "Representing Boston" not only covers literature written in or focused on the city of Boston, but then students take trips throughout the city. The city itself becomes your "text."  That's right. BU students turn the town into their literary oyster. If you've already started planning for your future, BU offers a one-year Master of Fine Arts program in creative writing after which graduates receive a year-long global fellowship to travel and write. If travel writing isn't on your dream list already, you might want to add it. With reading, writing and exploring, BU offers bookworms the literary trinity.
9. Emerson College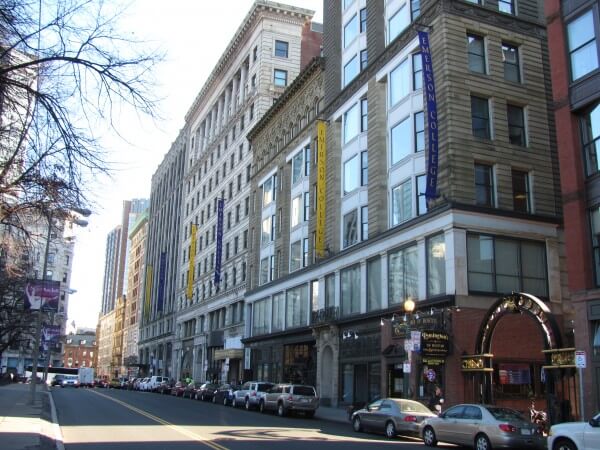 Tuition: $42,144
Financial Aid: about 65% receive it, average package is $15,000
Featured Alumni: Stacy McKee—MFA '99; writer and co-executive producer for Grey's Anatomy
English at Emerson is housed under the writing, literature and publishing department, and focuses on preparing its students to succeed in the real world of literary arts. Yup, your career starts here. Emerson whips your writing into shape with its staff of full-time professionals and fully-trained graduate students in their Writing Resource Center. None of that peer-tutoring nonsense. And–plot twist–students actually have a say in the department. "The student government, as well as student organizations, often meet with the Chair to discuss the state of the department," said Professor John Skoyles, Associate Chair of the WLP Department at Emerson College. Emerson seeks to cut out the bureaucracy and red tape so you can annotate your Henry James novel in peace.
8. New York University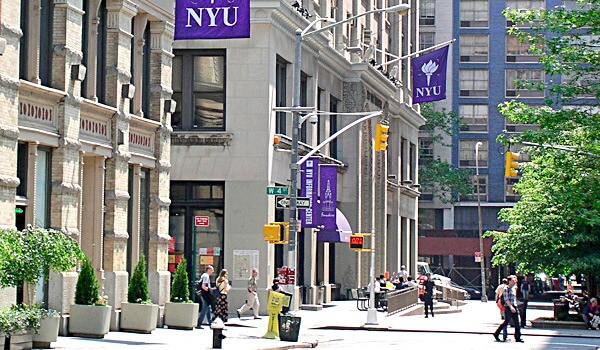 Tuition: $58,950
Financial Aid: $28,179 average NYU scholarship, 21% receive Pell grants
Famous Alumni: John Cusack, Martin Scorsese
NYU's faculty directory reads like a summer-blockbuster cast list: Jonathan Safran Foer, E.L. Doctorow, Colson Whitehead and Zadie Smith are just a few of the famous writers who could be teaching you. Needless to say, students are in good hands (read: famous, Pulitzer-Prize winning, talent-leaking-out-of-every-pore hands). The English department offers a major, a minor, a creative writing minor and an accelerated masters program–a literal smorgasbord of degrees. Creative writers have the additional resource of the Lillian Vernon Creative Writing House, a private location on NYU's campus available for readings and workshops. It's like the "English Majors ONLY!" treehouse you never had.
Related Read: Top 10 Schools for Asipiring Writers
7. Columbia University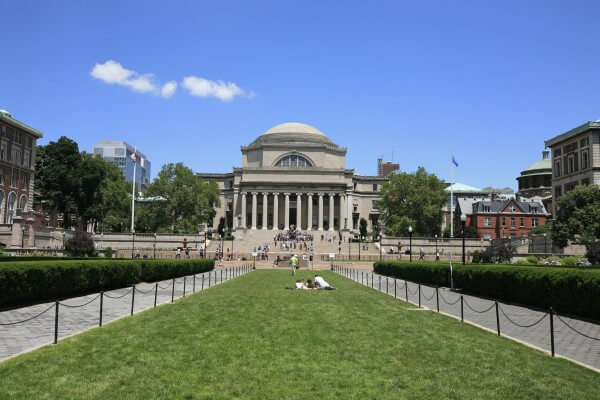 Tuition: $53,000
Financial Aid: average student receives $46,516 in grants, and 50% receive grants
Famous Alumni: Allen Ginsburg, Famke Janssen, Ezra Koenig, Thomas Merton, Arthur Miller
If NYC is the hive for students with an interest in English, then Columbia is the Queen Bee. Contemporary novelist Gary Shteyngart teaches at Columbia while  pumping out bestsellers. There are over 20 different student publications available as creative, award-winning outlets for wordsmiths. The university's very own Columbia Scholastic Press Association hands out awards to other schools' publications like Tina Fey and Amy Poehler hand out Golden Globes to thirsty celebs. Because even a seasoned English major can improve her paper-writing skills, Columbia provides professional writing consultants for everyone from students to faculty. But you may not even need to leave the classroom. With a student-to-faculty ratio of six to one, you're certain to always get the one-on-one assistance you need. Can you say "discussion-based?" You'll never sit through a 300-person lecture class again.
6. Williams College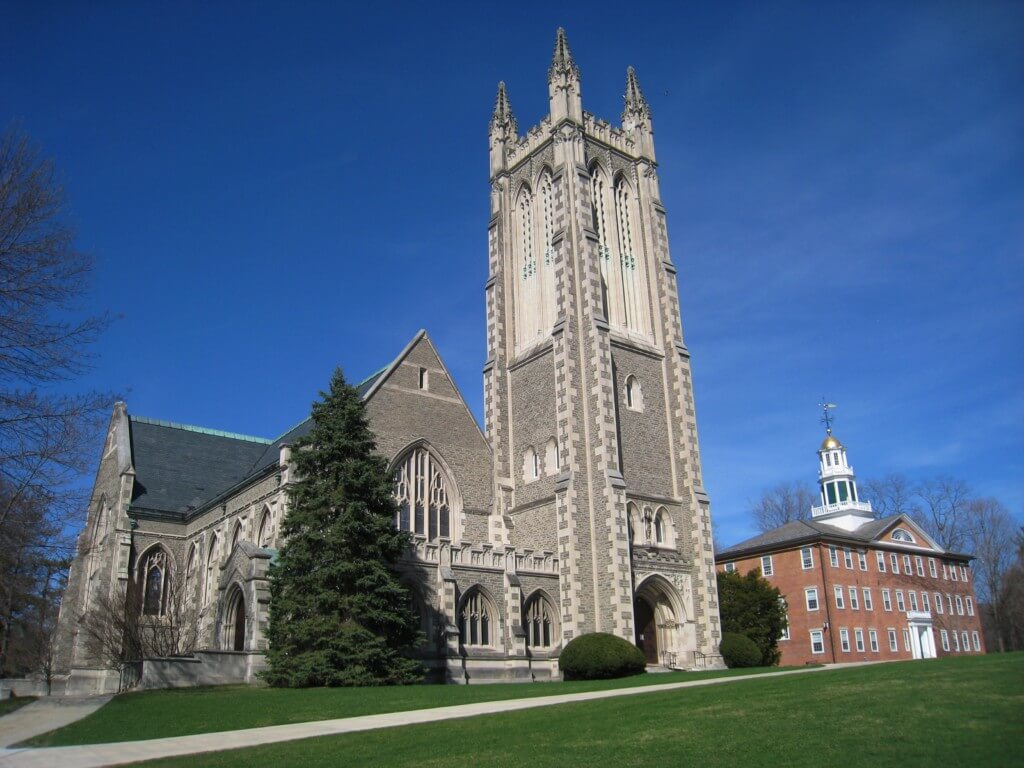 Tuition: $51,490
Financial Aid: average grant covers 85% of tuition
Famous Alumni: Charles Webb, author of The Graduate
Williams College took the #1 spot in U.S. News and World Report ranking of National Liberal Arts Colleges. Now, this isn't a competition (who are we kidding, yes it is) but it's clear that Williams' English department probably won it. Yearly, the English department hosts a series of readings called "Lit:" that bring in modern writers like Claudia Rankin and Dean Young multiple times every semester. There's nothing better than using a reading of your favorite authors as a guilt-free study break. The English department makes sure that every undergrad starts thinking like an English major from year one. As freshmen, every student has to write out a detailed major plan about what they're going to do over their four years. Sounds more promising than a vision board.
5. University of Michigan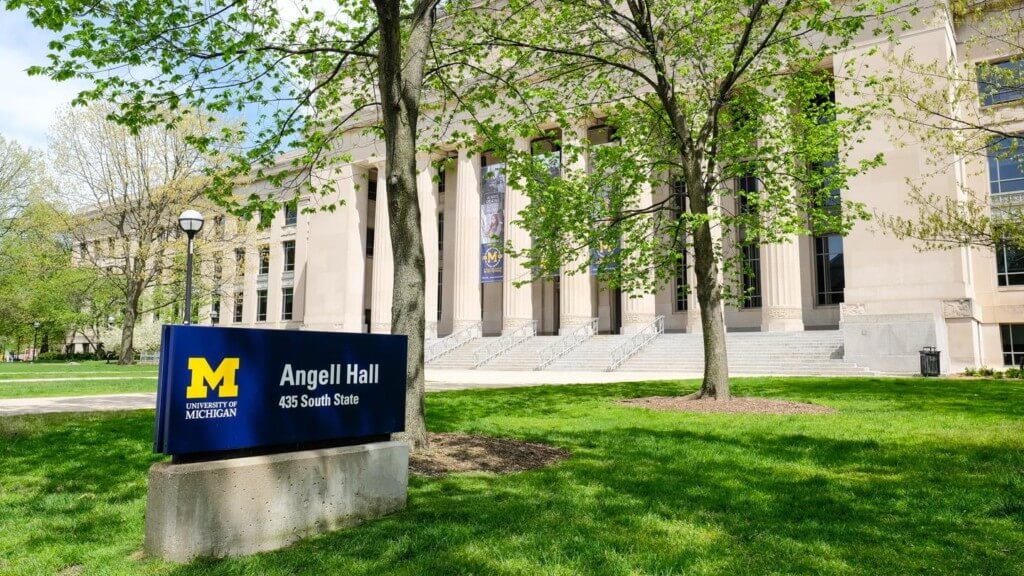 Tuition: $13,528 for in-state, $43,148 for out-of-state
Financial Aid: average award of $20,207
Featured Alumni: Sarah Lamstein—children's book author
Take Michigan's logo (basically a giant yellow M) and turn it sideways. That E is like the batman signal for all English majors. Its student newspaper, the Michigan Daily, is published daily during the semester. You read that right, daily. A team of undergrads support this massive undertaking, so they're always on the hunt for grammar-versed recruits. For students looking into the future, Michigan has no shortage of opportunities in the English discipline (head nod to the Master of Fine Arts in Creative Writing and Ph.Ds in English language and literature, English and education, and English and women's studies). For those students looking to enter the "real" world, there are some killer networking opportunities for English majors. Michigan boasts over 18,000 alumni in the major alone. That's a whole lot of prospective employers.
4. Emory University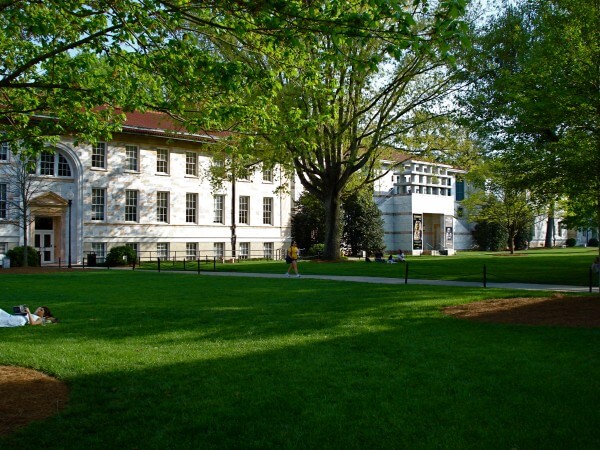 Tuition: $45,700
Financial Aid: average award of $38,798
Featured Faculty: Jericho Brown— associate professor; writes about poetry, LGBT studies and African-American studies in his book Please
Attention English nerds everywhere: Emory University houses the papers of Flannery O'Connor, former U.S. Poet Laureate Natasha Trethewey, Alice Walker, Seamus Heaney and Salman Rushdie. That is one star-studded laundry list, not to mention the fact that both Rushdie and Trethewey still teach at the university. The school offers a creative writing program for poetry, fiction, nonfiction, screenwriting and playwriting. Its independent student newspaper, the Emory Wheel, isn't anything to scoff about, either. "The Wheel is truly a hub for Emory's writers to enhance their writing skills and get published and read while doing so," said Dustin Slade, Class of 2016 and Editor-in-Chief of the Emory Wheel. If none of that appeals to you, then why are you even here? You should probably get out of school ASAP; good thing Emory provides a 5-year bachelor's and master's program to get you out into the real world, quickly.
3. Purdue University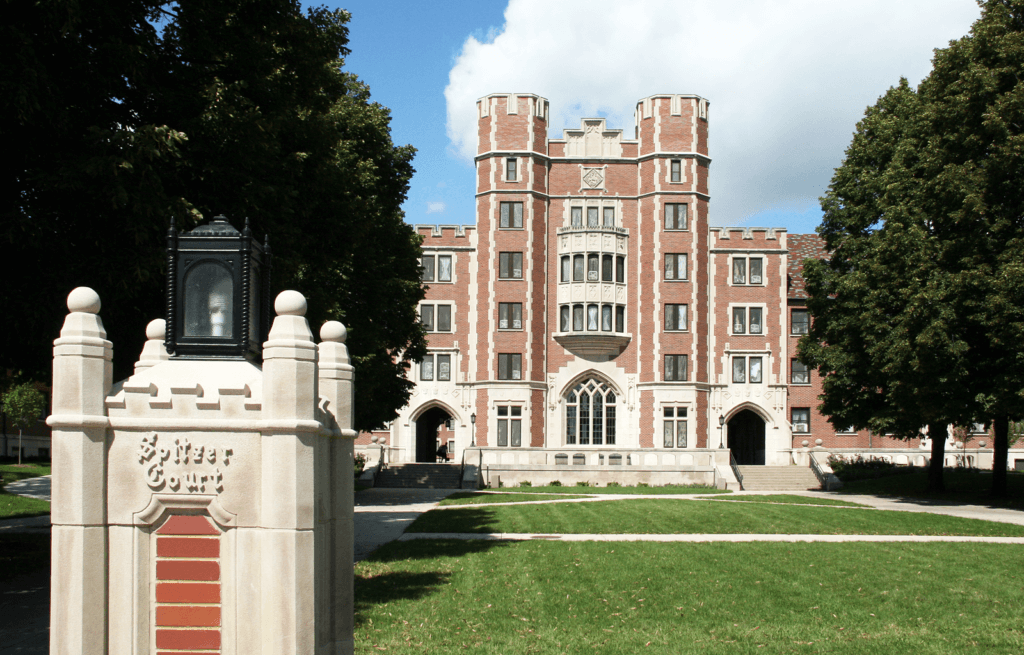 Tuition: $10,002 for in-state, $28,804 for out-of-state, $30,964 for international
Financial Aid: average package of $12,530
Featured Alumni: Rob Davidson—published two collections of short stories and a scholarly book before becoming associate professor of English at California State University
Anyone who's ever had to write a research paper knows about Purdue University. Yes, this is the Purdue of Purdue OWL (Online Writing Lab) citations-format fame. Not only does it provide a killer online writing resource to struggling college students everywhere, but Purdue gives English students the choice of not one, but four different bachelor's programs. Creative Writing, Professional Writing, English Literature and English Education are all available. Take your pick, bookworms. And if you're a poet and you know it, then Purdue University has a great program called the Looseleaf Writing Workshop Series that allows staffers from their Sycamore Review and students in the writing program to teach writing workshops to the Lafayette community. The best way to spread English cheer… is to go host-writing workshops,  I guess.
2. University of California Berkeley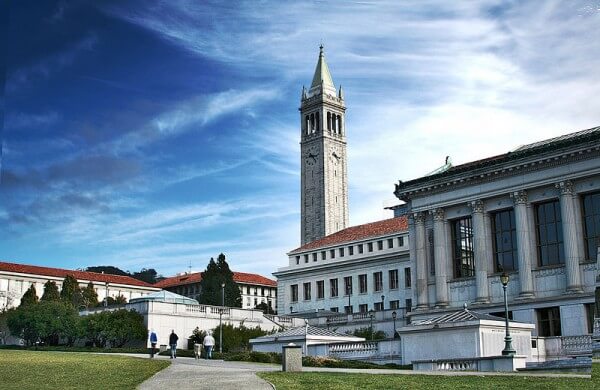 Tuition: $13,518
Financial Aid: average award of over $16,000 (helps to cover room & board and additional costs)
Famous Alumni: Joan Didion
University of California Berkeley is a veritable breeding ground for creative talent. Home to 80+ different student publication and media groups, UC Berkeley definitely knows how to inspire English students. I mean, they have former U.S. Poet Laureate–yes, the government does still pay people to write poetry–Robert Hass on staff. If you love to write but mostly just want to learn about books, then they have a top-notch interdisciplinary creative writing program available to English students. And yes, I know you aren't thinking about post-grad plans yet, but Berkeley's Ph.D program in English is top-rated. Not a bad idea to get thinking about that now.
1. University of Iowa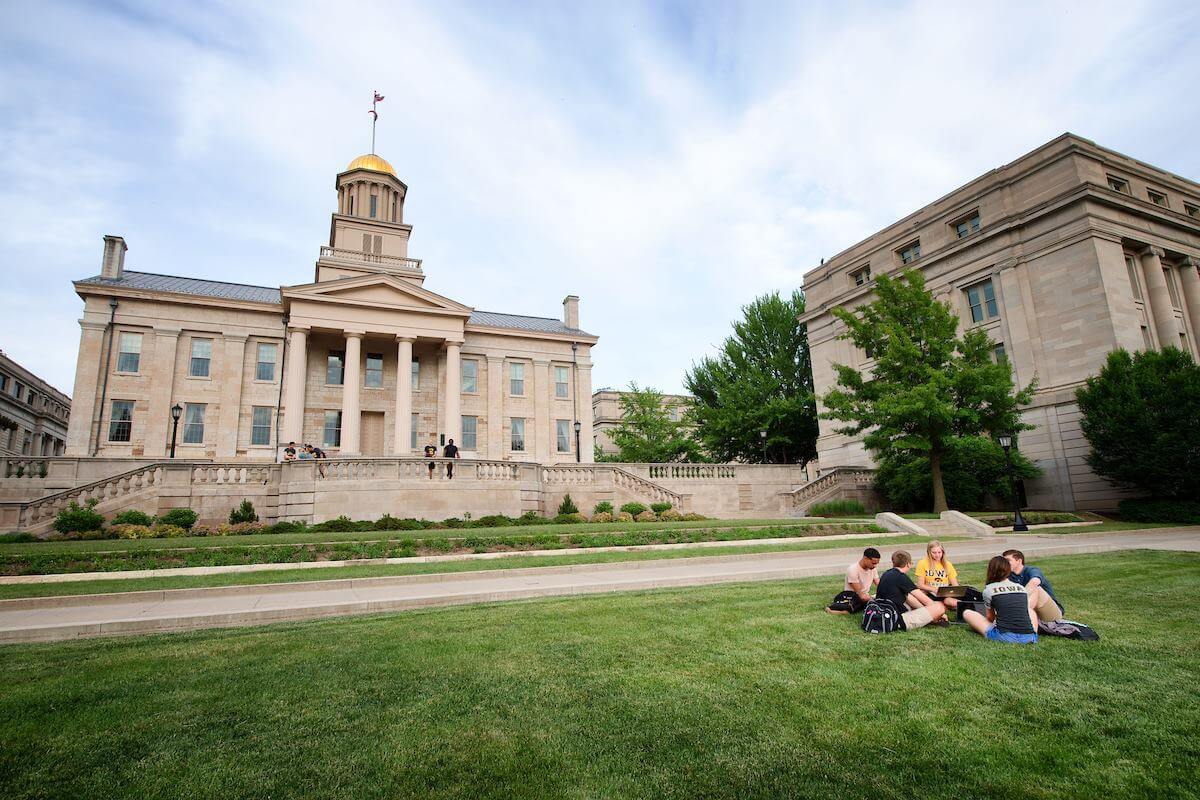 Tuition: $21,010 for in-state, $40,796 for out-of-state
Financial Aid: $16,386
Famous Alumni: Eula Biss—prolific nonfiction author and current creative writing professor at Northwestern University
University of Iowa is no stranger to Best-Of lists, and they always seems to crop up more often than Taylor Swift's bad Grammy's dancing on any ranking for writers and book-lovers. They host the incredibly prestigious Iowa Writer's Workshop, with 17 Pulitzer Prize-winning alumni to its credit. Your name could be next to Philip Roth's one day. Swoon. In addition to a huge course selection that includes an entire class on something called the "Toni Morrison Effect," they offer the Montpellier Exchange program that brings in faculty from France to teach classes for a year. Oui, merci–that's all I got. While some student publications have a hard time getting students to actually read their papers rather than just use them as fancy coffee cup placemats, University of Iowa's newspaper, the Daily Iowan, boasts a nearly 19,500 daily circulation. "We thrive on both the city and university community as our readership, and have to balance our coverage as such," said Jordyn Reiland, Class of 2015 and Editor-in-Chief of the Daily Iowan. That's right. Someone out there may actually read your exposé on dining hall food and care.
10 Skills English Majors Can Apply to Any Industry
Written by Phoebe Bain
Contrary to popular belief, English majors are capable of a lot more than just working at Starbucks post grad. Click through for a list of all the skills you can take from your English classes into the real world.
1. Critical Thinking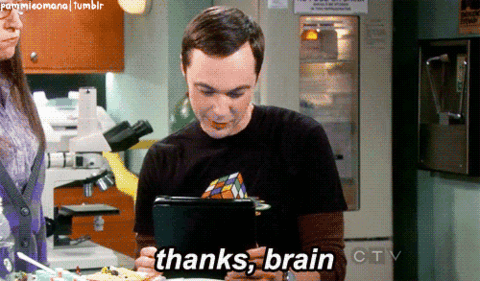 "[Being an English major at Columbia has given me] the ability to reason beyond what is presented at the surface, the skills to reflect society as it currently stands in a written medium available to anyone, and critical thinking ability that extends beyond a page and into any other area of life to deduce meaning," Columbia University English major Sean Kelso said.