Sunday brunch with a live band? Hogwarts themed dinners? Lunch made by Bobby Flay? Nope, you're not dreaming. There are actual universities that offer these exceptional meals. Say goodbye to the drab dining halls with mystery meatloaf Mondays. These ten universities are upping their dining hall game.
10. MIDDLEBURY COLLEGE- Middlebury, VT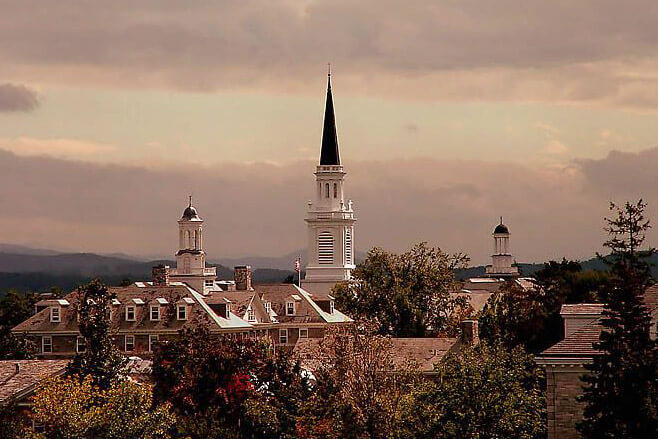 Unlike typical colleges, Middlebury College doesn't require students to swipe to enter the dining halls. Their motto is come in and eat as much as you want. This offer is hard to resist with menu items like garbanzo bean and lentil soup and basil coconut curry chicken thighs. Their sustainability program not only encourages the chef to buy from local food suppliers but also works to turn approximately 300 tons of food waste into compost to be reused. There is soy milk at each dining hall for the lactose intolerant and vegan/vegetarian options at each meal. Being sustainable never tasted so good.
9. TUFTS UNIVERSITY- Medford, MA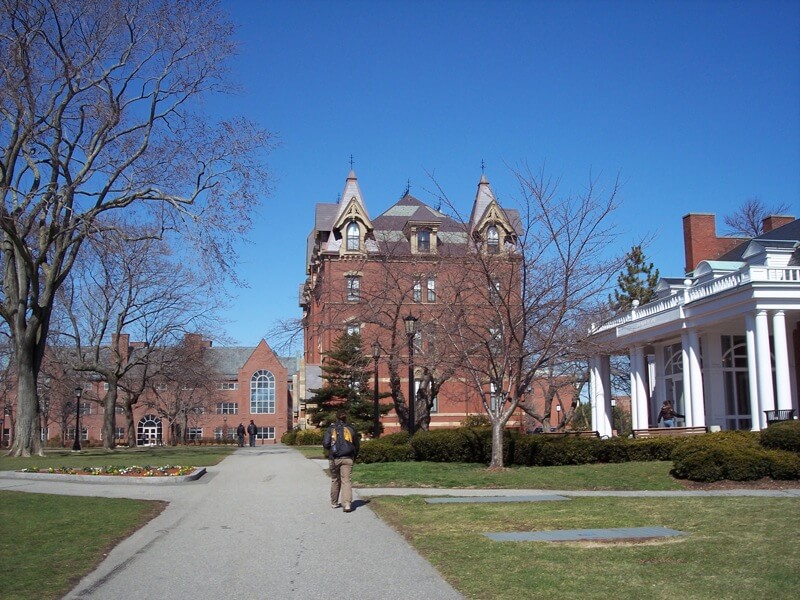 Imagine grabbing a fresh picked apple on your way to class. Thanks to the on-campus farmers' markets, students at Tufts University don't have to imagine. According to Thrillist, "[Tufts is great] for anyone who likes stupidly good food." On-campus dining hall Carm is known for tasty theme meal nights like stir-fry and pepper steak night, said sophomore PJ Allen. "My favorite meal last semester was a dinner where the Italian club sponsored an event at Carm," said Allen, "There was pasta, pizza, fish and cannoli and tiramisu for desert." Their motto "Think Global Buy Local" is prevalent throughout the sustainability commitments the university dining offers to their students. During the fall, the university even hosts on-campus farmers' markets to allow students access to fresh food. There are no eateries on the Tufts meal plan, but off campus has many popular eateries like Chipotle, Boston Burger Company and J.P. Licks. The vegan and vegetarian crew is covered with options at all the major dining halls on campus.
Related read: Top 10 Vegan-Friendly Campuses
8. JOHN HOPKINS-Baltimore, MD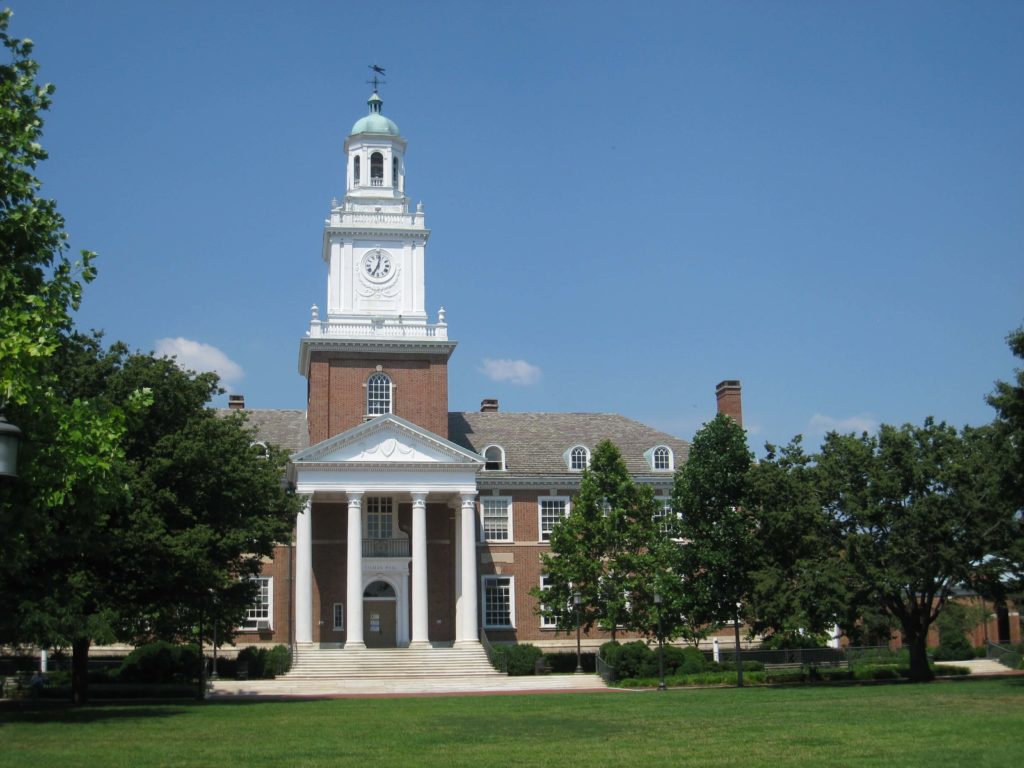 Do you know what's better than a Sunday brunch? A Sunday brunch with a live band. According to the John Hopkins website, the university's goal is to make campus dining "a fundamental part of campus life." This could be why the university brings in a live band for brunch every month. The passion for food almost makes up for the fact there are no on-campus eateries on the meal plan. "The dining hall always does a good job of mixing up the food and keeping it fresh," said freshman Hunter Eaton. The dining facility is peanut and tree nut-free, gluten-free, trans-fat-free and vegan and vegetarian friendly. The Daily Meal contests that "John Hopkins' dining services boast hotel-quality," and ranked them number two on the 2014 list for Best Colleges for Food in America. We're still trying to get over the fact that they actually offer brunch on Sundays.
7. JAMES MADISON UNIVERSTITY- Harrisonburg, VA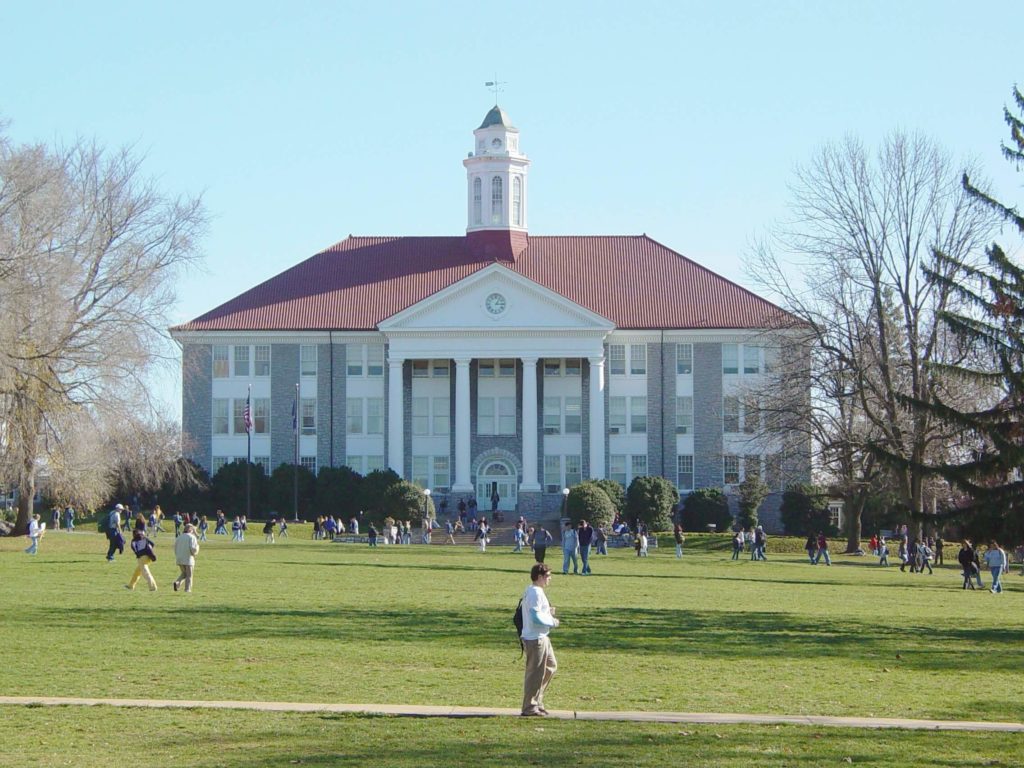 From the all-you-can-eat dining hall to the smoothie bar in the gym, this is a campus worth noting. On campus, there are numerous eateries that take dining dollars from the meal plan: Chick-Fil-A, Einstein's Bagels, Quizno's, Starbucks and Dunkin Donuts. If the on-campus options aren't enough, Outback, Chipotle, Panera and many popular chain restaurants are just a quick trip downtown. "They had lots of variety between healthy and not so healthy food so there was always something satisfying," said 2013 graduate Kristen Hotz. In addition to good eats, JMU is expected to receive the U.S. Green Building Council's Leadership in Energy and Environmental Design for their sustainability practices. Everyone wins when the food is great and the environment is thriving.
6. CORNELL UNIVERSITY-Ithaca, NY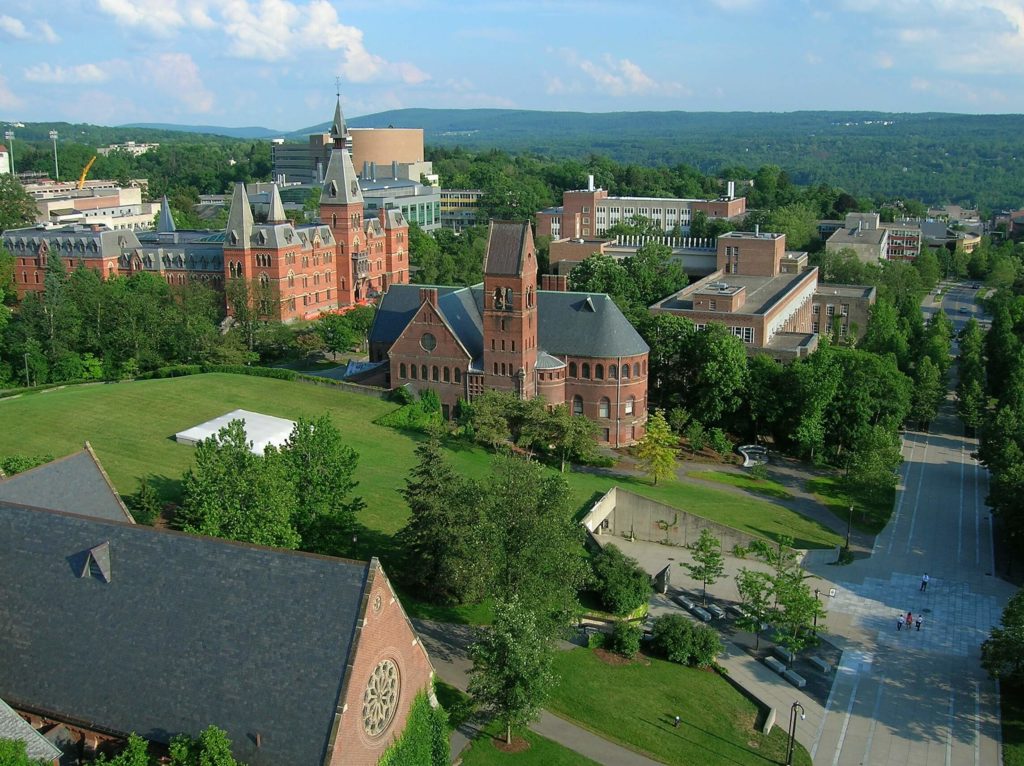 If you've always waited for an owl to bring your acceptance letter to Hogwarts, this school is as close are you're going to get. Cornell's most notable themed dinner is "A Night At Hogwarts," which serves butter beer and chocolate frogs galore. Cornell is also big on sustainability, and this is evident with their dining plans. If you buy a reusable mug you can get discounts on coffee around the university and many initiatives exist on campus to encourage students to make healthy decisions: Local Food Growth, Take Back the Tap and responsible coffee sourcing. According to sophomore Catie Smith, West is the best dining hall, which serves chocolate milk and ice cream supplied straight from the Cornell Dairy. While there are many on-campus eateries on the meal plan, they aren't well known chains—however favorites like 5 Guys, Chipotle and Panera are located close to campus.
5. UCLA- Los Angeles, CA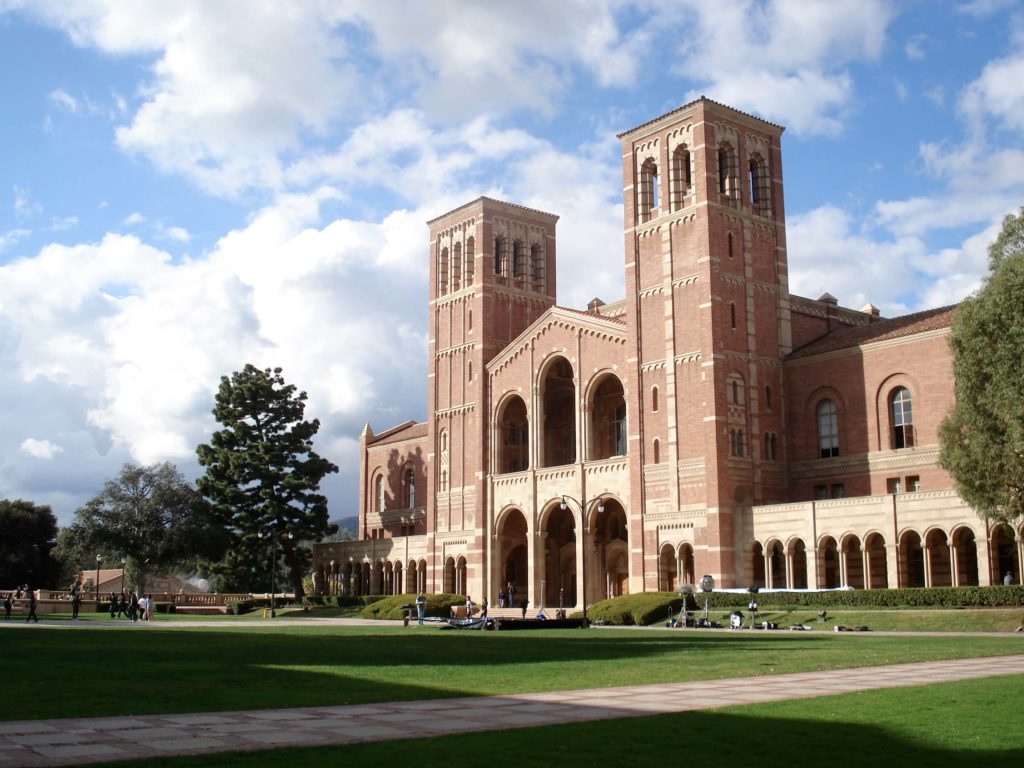 If healthy options are on the top of your list for campus dining then look no further. The Bruin Plate dining hall is one of the first dining halls in the nation completely based on health, meaning any choice you make is a healthy one. This dining hall carries only fresh produce and locally grown meat, and puts a healthy spin on the foods we all crave, like their whole grain pancakes. "Bruin plate is probably way healthier than anything else I could eat at home," said sophomore Maegan McGee. "My favorite thing to eat there is grilled salmon and an argula salad with avocado with their kale dressing." In addition, every dining hall on campus has some type of vegan and vegetarian option. At Bruin Plate, they also serve vegan meals like smoky tomato and kale soup and pasta and rapini sauté, according to McGee. McGee recommends Novel Café, a cute brunch spot in Westwood L.A., if you're looking for a good spot for a hungover breakfast. Nothing cures a throbbing headache like freshly squeezed cold-pressed juices, which are served daily at Novel.
4. NORTHEASTERN-Boston, MA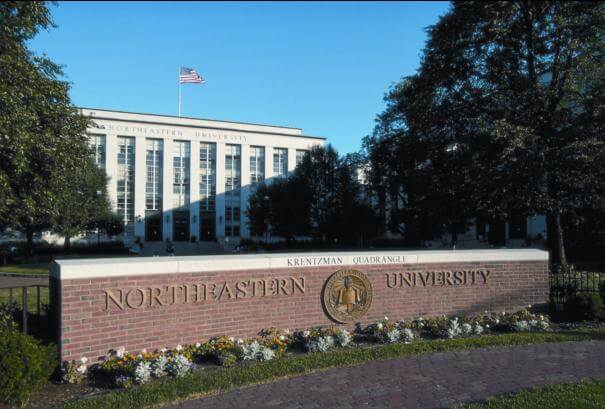 Near the heart of the city of Boston, Northeastern has as much to offer on campus as it does off. One of the on-campus dining halls, the Curry Student Center Dining of Northeastern seats 188 people and has almost as many dining possibilities. According to sophomore Amanda Kim, the dining halls feature a lot of vegan and kosher stations along with plenty of international food options. It's no surprise this dining hall placed on Food Management's list of 9 Best College Dining Halls. The dining dollars that come with the meal plan can be used at Jamba Juice and Subway on campus. Venturing into the city exposes you to a world of savory restaurants. "There are so many amazing restaurants throughout Boston to eat at if you get sick of dining hall food," Kim said. The university became a founding member of the American College and University President Climate Commitment in 2007 and carries through mainly sustainability practices in the dining halls, like buying local produce and using Energy Star-rated dishwashers.
3. UMASS, AMHERST- Amherst, MA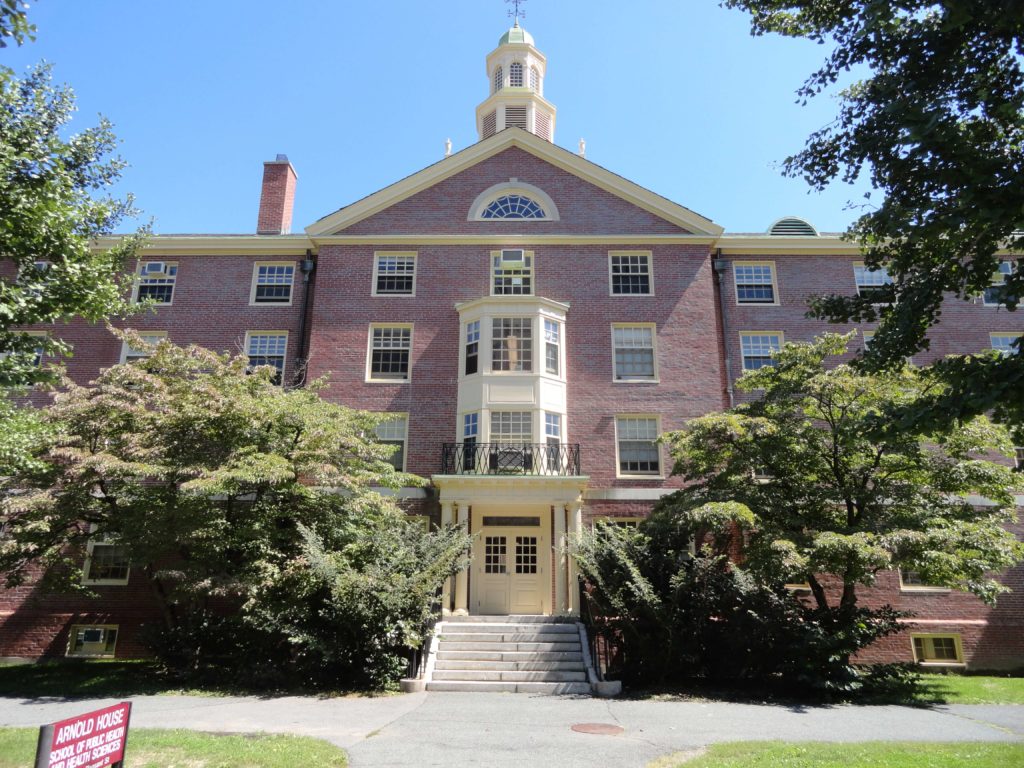 Ever wished you could have your meals prepared by a world-famous chef? UMass brings in chefs like food blogger Virginia Wills and Bobby Flay, former TV kitchen director for Martha Stewart Living, to keep the food they serve tasty and interesting. According to the UMass website, each dining commons offers rice milk and soy milk, one or more hot vegan entrées and vegetarian options for lunch and dinner. They pledge to their "Real Food Challenge Campus Commitment." At least 20 percent of their food is locally grown and fairly traded. They are also known for social dining events like the "Spring Fling BBQ." Downtown, some of the restaurants include Bertucci's, Subway and Panda East. "You could say I'm obsessed with UMass dining," said sophomore Laura Kavanaugh. "It's just amazing quality food with a huge variety."
2.BOWDOIN COLLEGE- Brunswick, ME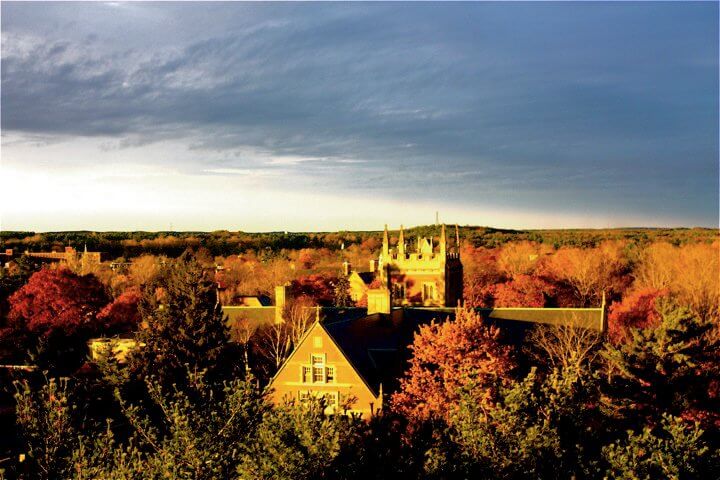 Two-time winner of the Best Colleges for Food in America by the Daily Meal in 2013 and 2014, Bowdoin college is no stranger to being praised for its meals. The proximity to the Atlantic allows fresh seafood to be a norm at the dining hall. According to the Daily Meal, "menu options include mussels in butter sauce, haddock jalapeños, squash fettuccine, and roasted root vegetables with polenta." At Bowdoin, freshmen are welcomed with a lobster bake, which is a far cry from the traditional burgers and hot dogs at most orientations. Where do we sign-up?
Related Read: Top 10 Health Obsessed Universities
1. VIRGINIA TECH- Blacksburg, VA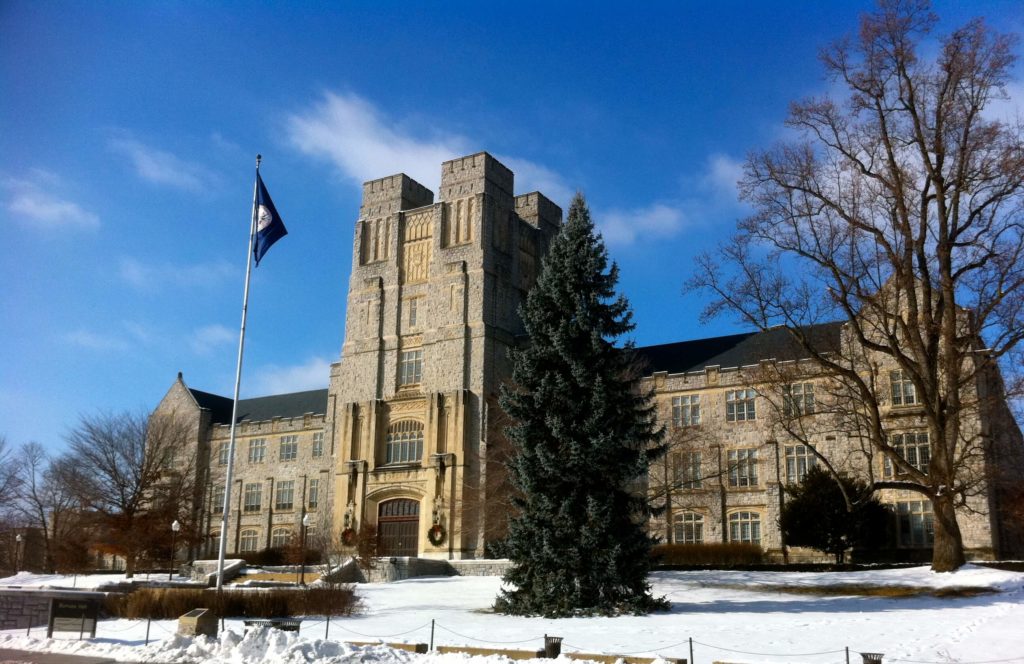 This campus is a food-lover's dream. With nine dining halls and a vast range of on-campus eateries, the options at VT are endless. "At West End you can get lobster and rib-eye steak, it's fine dining," said sophomore Stephanie Hotz. Qdoba, Pizza Hut, Chick-Fil-A and Jamba Juice are just a few of the well-loved eats around campus that offer 50 percent off with a meal plan. Downtown Blacksburg has just as many favorites, like Chipotle, Starbucks and Five Guys. "For my birthday freshman year we ate at the on-campus hibachi restaurant which is on our meal plan," said junior Douglas MacDonald. Onion volcanoes on your birthday? Sweet deal.
Check out more college rankings:
Top 10 Most Beautiful Campuses
The 10 Most Progressive Campuses
The Top 10 Universities for Drama