We apologize in advance if this article makes you hangry because you chose to read it instead of getting dinner. We're also sorry if it makes you drool all over yourself. But hey, a little mouthwatering is expected when the best burgers in America's college towns are all compiled together—stacked seamlessly like perfectly charbroiled sirloin atop a toasted bun, nestled between a few pieces of crispy bacon, some special sauce and some crisp veggies, a basket of steaming fries on the side, a few frosty beers… ah, the perfect burger experience. It's time to take that great American road trip to hit up a few burger joints for the most exotic, college budget friendly, all American burgers. And hey, if your college town made the list, have a burger on us.
$=less than $5/burger, $$=$5-$10/burger, $$$=$10 and up/burger
10. MICHIGAN STATE UNIVERSITY
Crunchy's
East Lansing, MI
Bang for Your Buck: $$
Order: The Crunchy Burger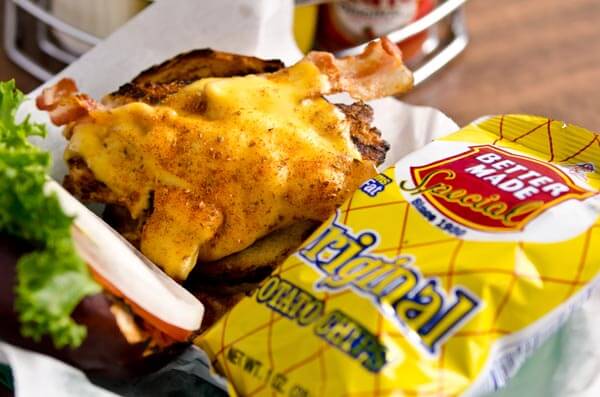 The Spartans knows how to beef up their burger, and Crunchy's is the place to do just that. Start with The Crunchy Burger, a classic burger whose taste is anything but basic; the fun is in the signature add-ons. Choose from a long list of toppings to make that burger yours: teriyaki (pineapple and teriyaki sauce), olive (black and green olives and cheese) even Cajun (roasted green peppers, onions, jalapeno cheese and Cajun spice). Paired with a beer and onion rings, you might have found burger bliss.
9. OHIO STATE
Thurman Café
Columbus, OH
Bang for Your Buck: $$$
Order: The Thurmanator or The Johnny Burger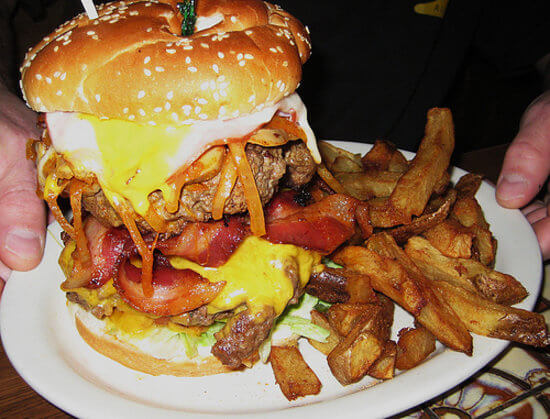 When Buckeyes get hungry, they kick back at Thurman Café for giant burgers and a rustic lounge. If you can handle it, go for the Thurmanator: all the goodness of a perfect burger (doubled because you're getting 24 ounces of beef) plus a party of mushrooms, onions, ham and two kinds of cheese. If it's tequila Tuesday, conquer The Johnny Burger: bleu cheese, horseradish and bacon—all cooked in tequila. That's it—only $4 more for a shot of the good stuff.
8. Arizona State University
The Chuck Box
Tempe, AZ
Bang for Your Buck: $
Order: The Great Big One
The best way to start your evening is with a burger and some booze (actually, you can do that anytime of day at Arizona State). Gear up for The Great Big One, because the Sun Devils keep their burgers big and straight-up American. Just the classic toppings, but did we mention that this burger is a half a pound of chuck? Yeah, we said that you'd have to gear up.
7. BINGHAMTON UNIVERSITY
Binghamton Hots
Binghamton, NY 
Bang for Your Buck: $$
Order: The HOTS Burger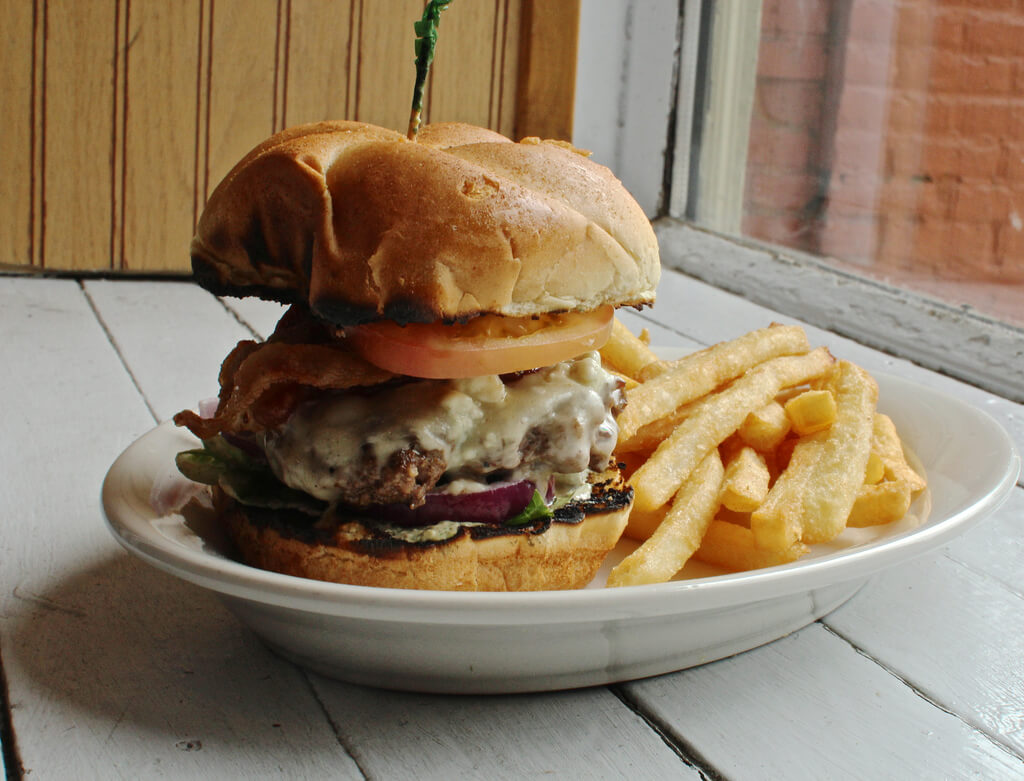 Bearcats are crafty when it comes to the perfect burger. At Binghamton Hots, the HOTS Burger is usually topped with one of the restaurant's famous sides. "The combinations are only limited to customers creativity and they can throw in just about anything on the menu," says David Whalen, owner of Binghamton Hots. "The students love it, especially after a couple cocktails." Take your pick of macaroni salad, salt potatoes or even garlic-mashed potatoes. Your burger has never looked better.
6. JAMES MADISON UNIVERSITY
Jack Brown's Beer & Burger Joint
Harrisonburg, VA
Bang for Your Buck: $$
Order: The Elvis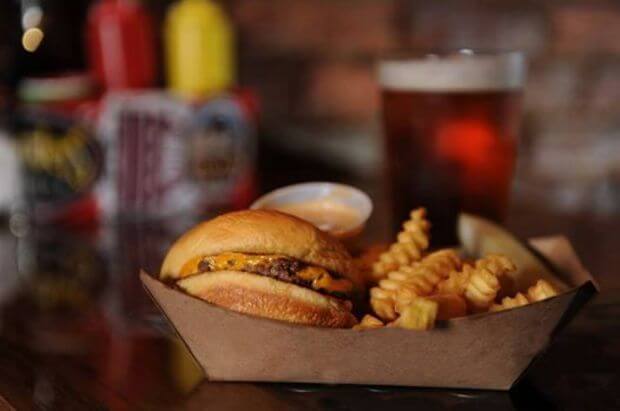 JMU Dukes head over to Jack Brown's Beer & Burger Joint for a lengthy list of brews and over-the-top creative burgers. "[It] has the most unique food and venue in Downtown Harrisonburg," says Leanna Yevak, JMU 2019. Her personal favorite? "The Greg Brady burger, which is stuffed with barbecue chips and homemade mac n' cheese!" Word on the Harrisonburg streets is that ordering extra patties is the only way to go. We suggest The Elvis (it's weirdly good): A good ol' patty of sirloin smeared with peanut butter and mayo, topped with thick smoked bacon and tons of cheese. Don't be a hound dog— just give it a try.
5. OREGON STATE UNIVERSITY
Clodfelter's Public House
Corvallis, OR
Bang for Your Buck: $
Order: Monroe Street Monster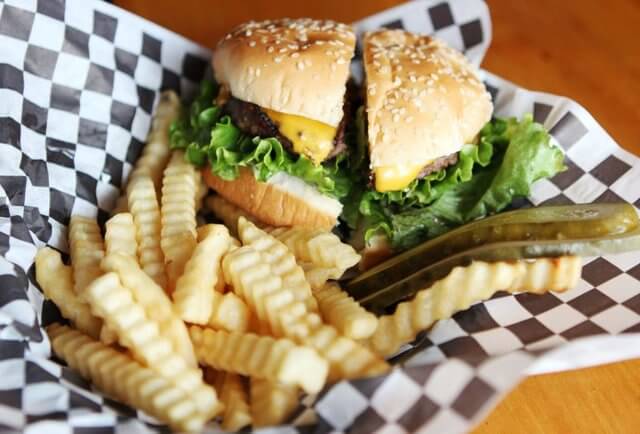 West Coast, best coast (at least when it comes to burgers). The Beavers will take any chance they get to settle into a Clodfelter's booth, whether it's for sports and premium microbrews or for family's weekend and a full menu of nachos, tots and seafood. Go for the Monroe Street Monster, AKA the Death Burger: a patty of ground beef and a cascade of bacon and mushrooms, lined with tons of cream cheese. If we had more energy, we'd accompany you to Corvallis, but this burger has us on the brink of death (or food coma, at least).
4. COLUMBIA UNIVERSITY
Mel's Burger Bar
New York, NY
Bang for Your Buck: $$
Order: Too many to choose from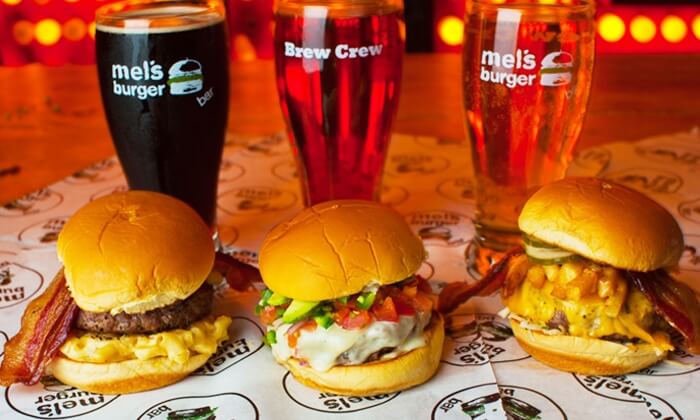 Hard-working Lions need outrageous burgers. Mel's offers you the best, each paired with a staff-picked beer. "During the school year faculty and everyone comes here," said Rich Roth, manager. "The late night crowd is kind of the scene." Roth swears by The Broadway: "a little bit of spicy, little bit of sweet, it's great." We hear that The French Onion—with melted Swiss, caramelized sweet onions and tons of beef, all with au jus for dipping—is a New York favorite, but close behind it comes The Widowmaker—straight mac and cheese piled on top of bacon and patties. One more (because yum): The L.E.S—brisket, cheese and tons of 'slaw. Who says you can't put any dinner entrée on a burger?
3. UNIVERSITY OF KANSAS
The Burger Stand
Lawrence, KS
Bang for Your Buck: $$
Order: The Barnyard Bash and the Black and Blue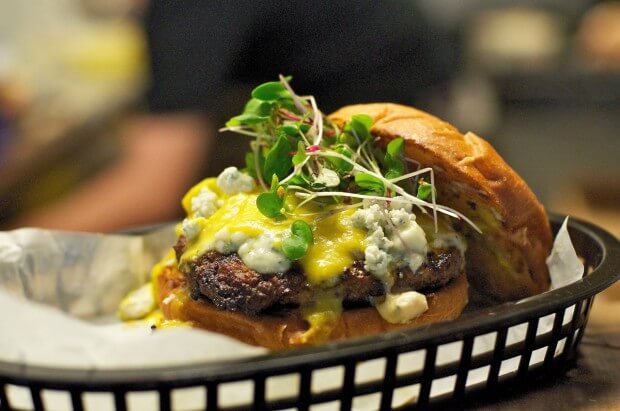 The Jayhawks don't settle; they need over-the-top fries and a full bar with their burgers. The Burger Stand's chic environment won't stop you from spilling your burger fixings all over the place, but they're just too amazing to complain. If you're trying to be "healthy," pair a Black & Blue Burger—tons of crumbly bleu cheese and apple chutney—with tofu fries. Yeah, that's a real thing. For the meat lovers, go for The Barnyard Bash—fried chicken, avocado, bacon, cheese and spicy BBQ sauce— with duck fat fries or bacon cheddar cheese fries. We'll talk about cholesterol intake another time.
2. UNIVERSITY OF IOWA
Short's Burgers and Shine
Iowa City, IA
Bang for Your Buck: $$
Order: The Dundee, The Jamaica, & The Germantown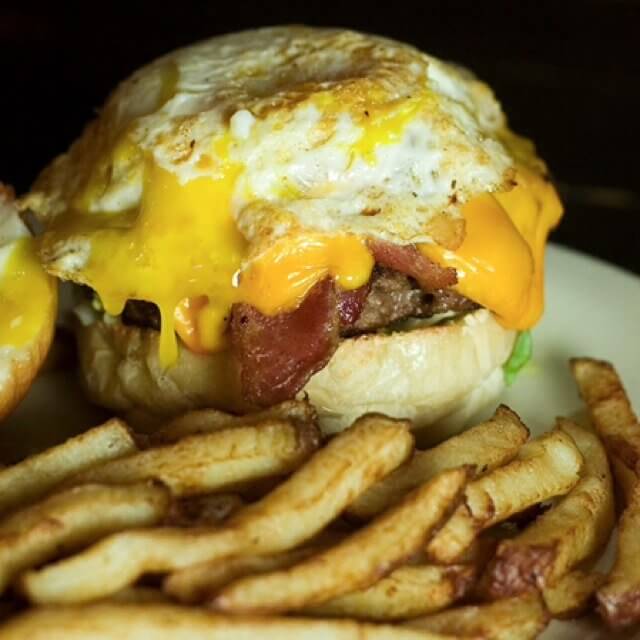 When it comes to burgers, the Hawks appreciate a global palate. At Short's Burgers and Shine, your tongue can take a trip to the Caribbean with The Jamaica (spicy mango salsa, jerk spice and cheese) or journey to Bavaria with The Germantown (straight-up sauerkraut, Swiss cheese and thousand island dressing all on marbled rye bread.) If your heart resides in America, settle with The Dundee. What else does a pile of sautéed 'shrooms, grilled bacon, garlic aioli, a fried egg covered in cheese and a patty of beef say besides America the beautiful? Ryan McKinley, manager, says that they've got "all-local beef from riverside Iowa, all-local ingredients, and 30 beers on draught of all-Iowa beer. All Iowa everything plus Iowa football." Score for America.
1. UNIVERSITY OF COLORADO, BOULDER
The Sink
Boulder, CO 
Bang for Your Buck: $$$
Order: BBQ Bacon or The Sink Burger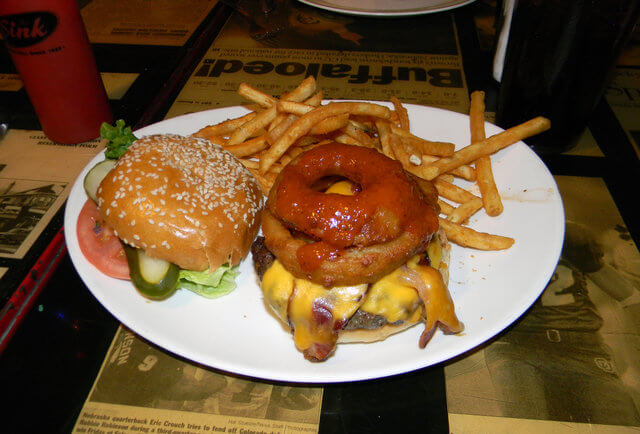 Boulder, Buffs and burgers: never a bad combination for first place. The coolest part of Boulder's oldest restaurant? "It's full of funky artwork and a graffiti ceiling (which you are highly encouraged to make your mark on!)," said Casey Heidohrn, CU Boulder 2014. "It is a popular stop on a Boulder 21st birthday bar crawl, where you are presented with a 'Sink shot' containing anything the bartender wants to watch you drink–mine was made up of rum, tequila, ranch, tabasco, Worcestershire sauce, etc." Funky and a little drink creativity–no wonder the Buffs frequent this burger hall so often (so does Obama). The Sinkburger is what we're known for," says Kelly Hughes, UC Boulder 2013. "What started out on the menu as a 40 cent burger (in the 1920's) has developed into a delicious tradition for many students." The BBQ Bacon Burger is the go-to: a thick battered onion ring and applewood smoked bacon start it off, and a hearty patty of beef, cheddar cheese and chipotle BBQ sauce complete the perfect burger. Just look at that photo, now read the description again. Cue the drool.
For more college rankings, check out:
Top 10 Schools for Hangover Breakfasts
The 10 Best Dining Halls on College Campuses
Top 10 College Towns You'll Never Want to Leave
The Top 10 Vegan-Friendly Campuses