Great college towns offer much more than blackout Friday nights. They provide perfect settings for game days, gorgeous (and walkable) natural scenery, awesome art cultures and traditions you won't find anywhere else. When a college acts as a beacon of light for a town, call it poetic. When town and college embrace one another, call it harmony. These college towns wear such characteristics in spades.
10. BINGHAMTON, NEW YORK
Like hall of fame coach Bill Parcells, the Binghamton community leaves drunken, late nights on the sidelines by offering a ton of events on the weekends. "First Fridays" let Binghamton University students immerse themselves in the town's culture, including music, art exhibits and (saved the best for last) wine and cheese tastings. "There's a great local hangout at Nathaniel Cole Park where students can picnic, swim, play soccer or volleyball," said Binghamton University class of 2014 graduate Jen Carpenito. "Students call it 'The Blake' because it's looks like a combination of a beach and a lake." Binghamton is also home to on and off-campus sports, as well as an exciting bar scene that includes Tom and Marty's and Rathskeller Pub (Never mind the sidelines—a great coach knows to play his best talent.)
Student to Townie Ratio: 1:3
Locals' Favorite Restaurant: Lost Dog Café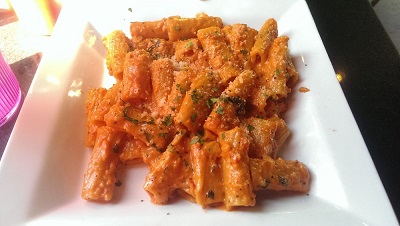 Must-Experience Annual Festivity: Spring Fling
Learn about off-campus housing here.
9. ATHENS, GEORGIA
Athens loves its football team, and for good reason. The University of Georgia competes—and consistently succeeds—in the best conference in college football. Athenians also love their adorable white bulldog mascot that roams the sidelines wearing a dog-sized football jersey. But thank Zeppelin, Athen's music scene proves that it enjoys more than football. "Downtown is just a few steps away from campus and is filled with delicious food, great music and an awesome night life," said University of Georgia freshman Meg Murray. "Athens is also relatively inexpensive which is great for us poor college students." Bands like the B-52's, R.E.M. and Pylon (ask your parents) started in Athens' now-famous venues such as the Georgia Theatre and 40 Watt Club. What brings a community together better than bands and brews?
Student to Townie Ratio: 1:3
Locals' Favorite Restaurant: Mama's Boy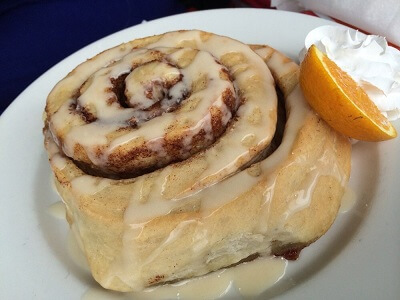 Must-Experience Annual Festivity: AthFest Music and Arts Festival
Learn about off-campus housing here.
8. ITHACA, NEW YORK
When Cornell University students day dream about the 100 beautiful gorges and waterfalls in Ithaca, they can't help but take study breaks to check out the town's miles of trees and lakes. For realz, Ithaca belongs on a postcard. "Ithaca and the populace have such a unique and endearing vibe that attracts thousands of new students from all over the world every year," said Cornell University junior Karen Lin. The community embodies a refreshing fine arts culture that it breathes in at the historic State Theatre and Kitchen Theatre Company. A local Shakespeare group even performs plays outside like it's 1599. "Many students liken Ithacan culture to that of liberal hippies with a bustling music scene and a fantastic farmers market." Oh, and did I mention Ithaca invented the ice-cream sundae?
Student to Townie Ratio: 1:1
Locals' Favorite Restaurant: Ithaca Bakery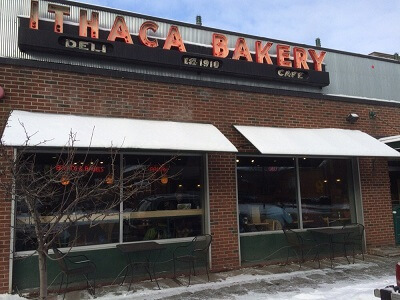 Must-Experience Annual Festivity: Apple Harvest Fest
Learn about off-campus housing here.
7. IOWA CITY, IOWA
The old Field of Dreams saying goes, "If you build it, they will come." Sure, "it" referred to a baseball field in an Iowa cornfield and "they" to resurrected players, but when the University of Iowa was built in Iowa City, people came—oh boy, did they come. Ray Bradbury, Flannery O'Connor and John Irving (famous American writers) flocked to the renowned University of Iowa writers' workshop. Though historic buildings and the Pedestrian Mall make Iowa City memorable, the black and gold make it unforgettable. Students and residents alike show their Hawkeye sports pride—which only helps this community to soar. Like a hawk. Get it?
Student to Townie Ratio: 1:2
Locals' Favorite Restaurant: Shorts Burger and Shine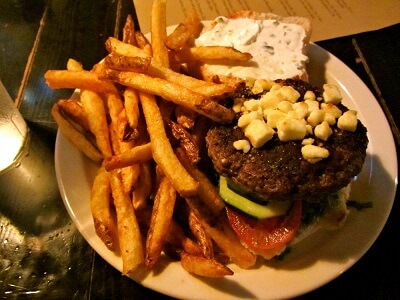 Must-Experience Annual Festivity: Johnson County Fair
Learn about off-campus housing here.
6. BLACKSBURG, VIRGINIA
Every Virginia Tech Hokie football season, Lane Stadium battles structural issues. Blame it on the al-al-alcohol and the thousands of passionate fans jumping to Metallica's "Enter Sandman" before each game. Blacksburg embraces its reputation as a college football town, but also offers an endless number of Appalachia hiking trails, plus under-the-radar restaurants and bars like TOTS—"Top Of The Stairs." "Add all the events on campus, the town's close relationship with the school and everyone's love of Hokie football, and that equals out to a place where there's always something to do," said Virginia Tech senior Aswin John. Southwest Virginia sounds like a whole lot of nowhere, but this college town manages to make a name for itself.
Student to Townie Ratio: 1:1.5
Locals' Favorite Restaurant: Carol Lee Donuts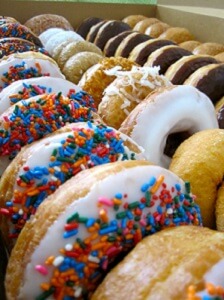 Must-Experience Annual Festivity: Winter Lights Festival Holiday Parade
Learn about off-campus housing here.
5. BOULDER, COLORADO
Whoever thought to build a college at the foot of the Rockies deserves major cred. "The flatiron mountains surround the town, which makes for awesome photo-ops," said University of Colorado sophomore Avery Sampson. As a result of this ingeniousness, Boulder supplies its outdoorsy residents with an endless dose of biking, hiking and climbing on those famous Rocky peaks. "Even though CU is a huge school, the town makes it seem small, and it provides an amazing sense of community," said Sampson. For more laid back folk, Boulder also offers activities like getting drunk at local breweries and wineries, attending music and art festivals, pretending to appreciate art at museums, hitting up all the free samples at farmers' markets and bringing classmate cuties to picnic at Lovers Lane. All of which surround the true rock of the town: the University of Colorado.
Student to Townie Ratio: 1:3
Locals' Favorite Restaurant: Brasserie Ten Ten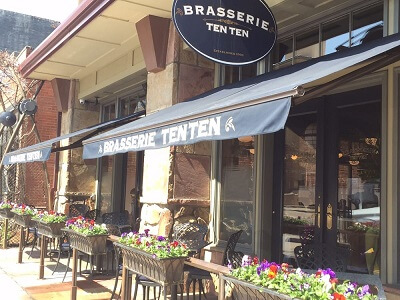 Must-Experience Annual Festivity: Colorado Shakespeare Festival
Learn about off-campus housing here.
4. CORVALLIS, OREGON
What's found in a place dubbed Tree City, USA? You got it — trees. "Absolutely gorgeous, no matter what season, it is always strikingly beautiful," said Oregon State junior Ali Jorgenson. Because Corvallis offers more than just pretty scenery, naturalists, "green thumbs" and the Jolly Green Giant dream about living here. But don't worry about being told to eat your vegetables: People with all kinds of interests and tastes live in Corvallis. "We have a great downtown area that encompasses local small shops and businesses along with unique delicious restaurants," said Jorgenson. This community dies for Oregon State sports, as well craft beer weekend, Corvallis beer week, concerts and local plays at the Majestic Theatre. But mostly, entire weeks devoted to the celebration of beer (at least one town is doing it right).
Student to Townie Ratio: 1:2
Locals' Favorite Restaurant: Block 15 Brewery & Restaurant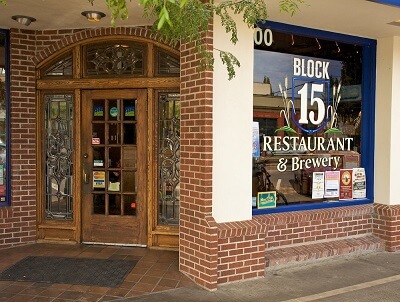 Must-Experience Annual Festivity: Corvallis Culinary Week
Learn about off-campus housing here.
3. ANN ARBOR, MICHIGAN
Main Street restaurants and nearby theatres whet nearly every appetite in Ann Arbor, but Michigan Stadium (aka The Big House) garners the most attention. The University of Michigan football stadium nearly seats the entire town, and when the maize and blue floods "The Big House" on game day, you really feel all of Ann Arbor in your company. "It's rare will you find a community that has such an immense amount of pride, passion, integrity and respect all concentrated in one place," said University of Michigan senior Marie Lamour. The excitement only continues after football season as the town hosts seasonal events like the Rolling Sculpture Car Show, Taste of Ann Arbor and the Ann Arbor Folk Festival.
Student to Townie Ratio: 1:2.5
Locals' Favorite Restaurant: Zingerman's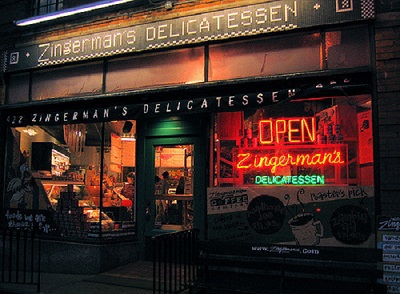 Must-Experience Annual Festivity: Ann Arbor Art Fair
Learn about off-campus housing here.
2. CHAMPAIGN-URBANA, ILLINOIS
Don't call Champaign-Urbana another ho-hum Midwestern town. Its rural environment is the Oreo cookie to the town's defined and cultural urban, creamy middle. That gross metaphor translates into the old cliché: You get the best of both worlds in one place. "There are many festivals that take place and you could potentially run into Jason Segel at one of them," said University of Illinois senior Emma Pasquinelli. "On Green Street we have so many different food places that anything you crave is just a short walk away." The town lays claim to talented bands such as REO Speedwagon, and features incredible theatre at the historic Virginia Theatre. The University of Illinois acts as the kingpin that brings all these elements together. And just as important, Nick Offerman aka Ron Swanson's illustrious acting career began here.
Student to Townie Ratio: 1:5
Locals' Favorite Restaurant: Farren's Pub and Eatery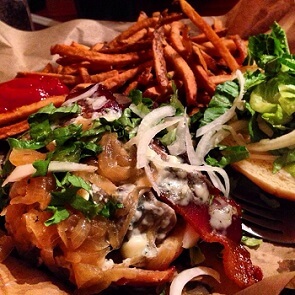 Must-Experience Annual Festivity: Taste of Champaign-Urbana
Learn about off-campus housing here.
1. CHAPEL HILL, NORTH CAROLINA
The judges give Chapel Hill straight 10s when it comes to its flawless beauty (cue roses thrown on stage) and passion for on and off-campus events (Bring out the golden sash). "Chapel Hill is the best college town because of all it offers—great weather, great teams and a great atmosphere to live in," said University of North Carolina-Chapel Hill freshman Colleen Brown. People bleed Carolina blue when they play tobacco road rival Duke, but the excitement heightens to a hysteric level come March Madness—I guess ACC and national championships speak for themselves. Outside of basketball season, Chapel Hill and the University of North Carolina community enjoy great local restaurants like the Carolina Brewery. In this quintessential college town, you can check out local shops, muck it up at art festivals or swoon a date at an outdoor movie screening. Talk about four years flying by; it's no surprise why they call it 'The Southern Part of Heaven.
Student to Townie Ratio: 1:2
Locals' Favorite Restaurant: Merritt's Store and Grill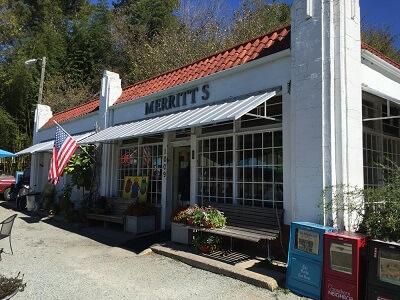 Must-Experience Annual Festivity: Tar Heel Downtown
Learn about off-campus housing here.
For more college rankings:
The 10 Most Powerful Alumni Networks
The 10 Best Colleges for Career Services
*Updated September 14, 2016: We've added in more information to give you more of an insider look into these college towns, including off-campus housing info, must-attend events, ratios and favorite local restaurants.