Pass, dribble and score your way into the best colleges for varsity soccer. We scouted schools with bragging rights (aka championships) for both the men and women's teams, soccer school spirit, beautiful fields and facilities and active club soccer teams.  When you're at these top 10 soccer schools, you'll be bending it like Beckham in no time.
Keep reading to find out where you can find the best soccer colleges in the U.S.
10. University of Notre Dame (Notre Dame, Indiana)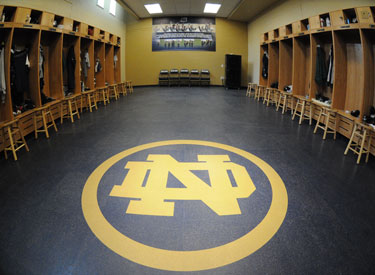 The Fighting Irish can pack a wallop. With the women's varsity soccer earning three NCAA National Championships, Alumni Stadium is their warzone. The soccer facility hosts 2,500 seats and top of the line sod that was also laid in the Notre Dame Stadium, Wrigley Field and Busch Stadium. Both men and women's varsity teams utilize this $7.5 million joint, and with due pride.
9. University of California (UCLA, Los Angeles, California)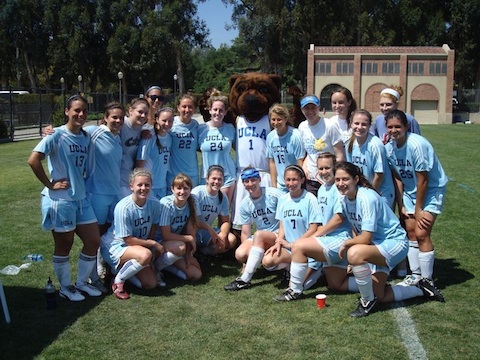 "UCLA, you see me babe?" I see UCLA scoring four NCAA Championships for the men's varsity team. Up to 11,700 spectators can watch men and women's varsity teams take charge on Marshall Field in Drake Stadium. Fans can get even more in on the action by joining the soccer spirit squad or by uploading pictures with the hashtag #onegoal112 for women's soccer.
8. Franklin Pierce University (Rindge, New Hampshire)
Franklin Pierce runs through its competition with five NCAA Championships for their women's varsity team. Avid soccer fans can catch live games broadcast from a local radio station (105.3 FM) or varsity games. Home games or away, Ravens never miss any of the fast paced soccer action. Sodexo Field is a synthetic field the Ravens rally on. Due to great up-keep, it's also been home to multiple NCAA Championship Regional Tournaments and Northeast-10 Conferences.
7. Creighton University (Omaha, Nebraska)
With 22 NCAA appearances, keep your eye on Creighton's men's soccer. Even though they haven't been National Champs yet doesn't mean the title is out of reach in the near future. "Creighton has great tradition with its soccer program and is competing for a national championship each year. Our players are hardworking, good students and ambitious in improving and in pursuit of their goals," said men's head coach Elmar Bolowich. Soccer is not taken lightly for men or women's varsity teams. In 2010 Creighton spent $160,000 in game-day expenses. For such a small college, that says a lot. To give that some perspective, UNC only spent $75,000. Michael J Morrison Stadium cost $13 million to build—with no football at Creighton, soccer is definitely their fall sport.
6. University of Virginia (Charlottesville, Virginia)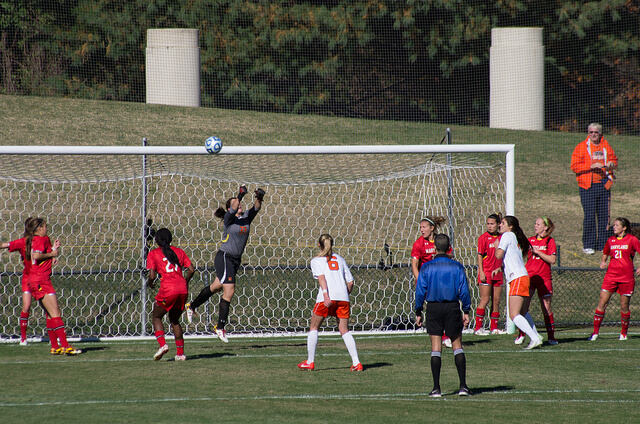 UVA has club and varsity teams for men and women, so no matter your soccer skills, the school's dedicated fans will cheer you on. There was even a time during a UVA vs. Virginia Tech game where over 3,000 crazy dedicated students waited out a 30- minute rain and thunderstorm delay—ending in a successful win for the Cavaliers. Klöckner Stadium record crowd was 7,807 people, which shows how suited it is to have hosted 33 NCAA playoff games. Seven NCAA Championship victories also lock UVA into the number six spot.
5. Indiana University (Bloomington, Indiana)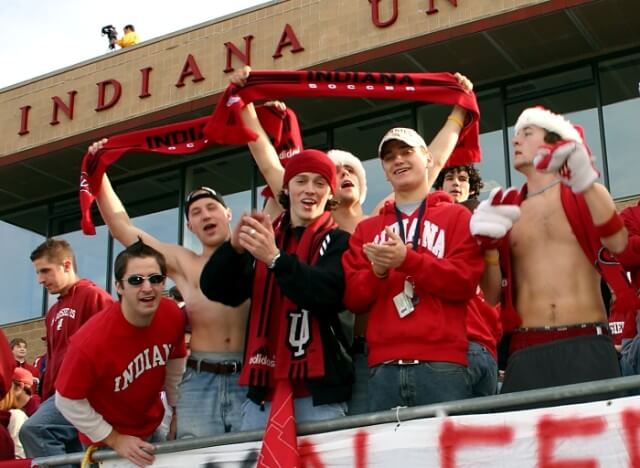 The Hoosiers at Indiana University slide-tackle into the number five slot as the second best large college on CM's ranking, with UNC as being the first. "I can't say enough about our players on the roster. They make coming to work every day extremely enjoyable. Getting the chance to be around them and watch them grow as people and athletes is what makes my job so great. I really enjoy the players we have in our program. Their attitude and work rate are second to none," said men's assistant coach Kevin Robson. With the men raking in eight NCAA Championships, they own the field at Bill Armstrong Stadium. The Hoosiers also have a women's varsity team and club teams.
4. St. Louis University (St. Louis, Missouri)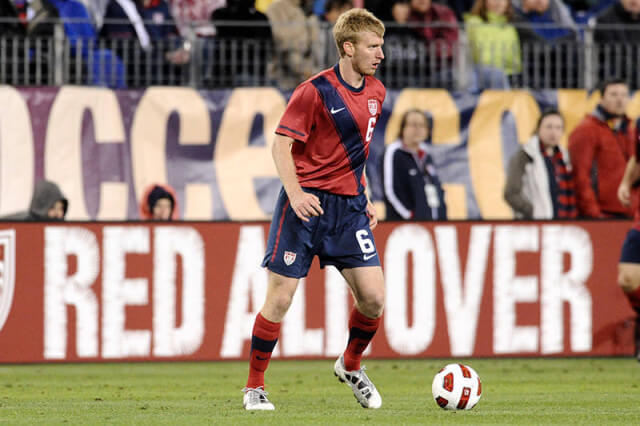 Soccer fans at SLU proudly flaunt the title of being SLUnatics. Their soccer fan base is so prominent that there's even a student organization called Legion 1818 dedicated to rising soccer SLU's men and women's soccer fans to another level. Check out their twitter account to get in on their soccer fan action: @SLULegion1818. The men's team has won 10 NCAA Championships—the most in NCAA's Men's Soccer Championship history. Athletes and fans are proud to call Robert R. Hermann Stadium their home. Worth $5.1 million and spacious enough for 6,050 fans, Hermann Stadium has held eight conference tournaments and proudly hosted the NCAA Tournament.
3. University of California, San Diego (La Jolla, California)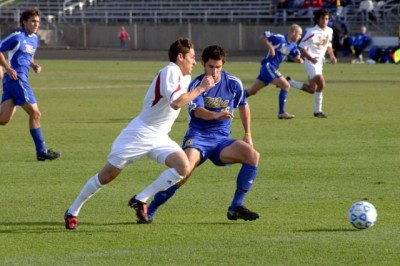 San Diego, California, where the sun is hot and the soccer is even hotter. The Triton women's soccer team has scored seven NCAA Championships and channeled their way from Division III to Division II. Triton Soccer Stadium is home to both men and women's varsity soccer and can squeeze in 1,750 of their triumphant Triton fans. UCSD's soccer stadium was even used for the San Diego Chargers during their 2010 training camp.
2. Messiah College (Grantham, Pennsylvania)
Messiah is a small private school that should be flashing on your soccer radar. Dedication to the sport is something seen in both the players and the coaches. "I chose to coach at Messiah because I am a 1993 Messiah men's soccer graduate and I love this place, its employees, and its student body," said head coach Brad McCarty. With the women's team locking down 5 NCAA Championships and the men's bringing home twice that, Messiah soccer is second nature for the fans and the athletes. U.S. News and World Report ranks Messiah as the 3rd best college for soccer fans. Assistant coach Aaron Faro said the players at Messiah are unique—"They strive to live out our team verse. Proverbs 27:17 'As iron sharpens iron, so one man sharpens another.'"
1. University North Carolina- Chapel Hill, North Carolina
UNC has rightfully claimed the top school for women's soccer. They have barely given other Division I schools a chance in the NCAA Championships, taking home the title 21 times. "Every player that has spent more than two seasons here has won a National Championship. And UNC has become an excellent feeder system for the U.S. Women's National Team and the Olympic Team," said head coach for the women's team, Anson Dorrance. Fans flock to Fetzer, which was even used for the U.S.A. track and field team's training for the Summer Olympic Games in Atlanta; and Carolina has steadily ranked top five for best home game attendance. Dorrance explained, "We are in the process of building a state of the art soccer/lacrosse stadium that will set the standard for collegiate stadiums. We think the price tag will be anywhere from $25 to $35 million. The facility will be more than well kept it will set the standard." Don't snub the men's club team though—they're good enough to compete against local Division I and Division II varsity teams. UNC brings the heat, watch out.