What it Feels Like to Go Here:
When you come to the University of Notre Dame, you're Irish—even if you're not. Founded in 1842, the University is home to the No. 1 Mendoza College of Business, the oldest marching band in the country and a whole lot of spirit. Its Catholic identity creates a welcoming atmosphere that'll have you waving to new friends across the quad on the first day of classes. Beyond that, what really sets Notre Dame apart is the place it holds in so many hearts. When an alumnus hears you went to ND, he will flip out. "What dorm are you in?" is always the first question. Going to Notre Dame gives you access to a community of tens of thousands of students and alumni who all share the same experience under the Golden Dome. Something about the atmosphere of this medium-sized research institution in the middle of Indiana gives students the urge to do something incredible with their lives.
The Vibe: Catholic, Athletic and Irish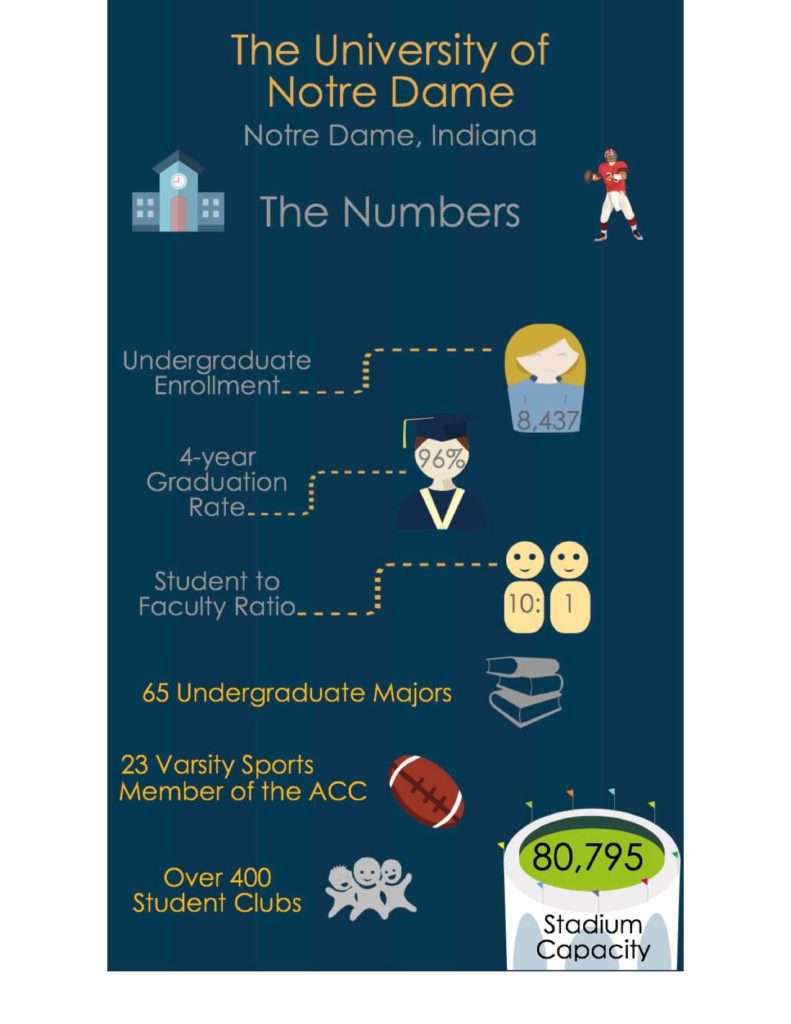 7 Things That Make ND Special:
1. The Golden Dome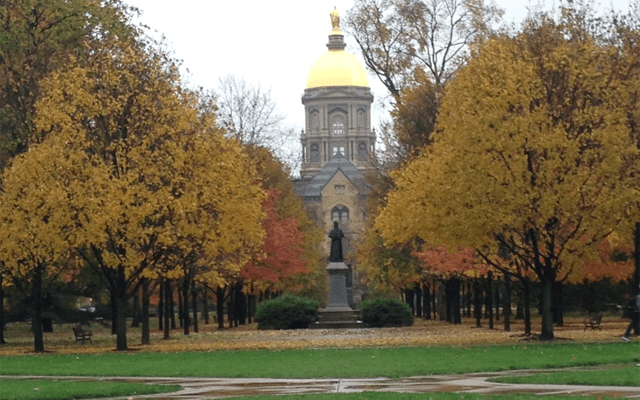 The most distinct landmark on campus, the dome sits atop the Main Building and features a 19-foot-tall, gilded statue of the Virgin Mary. You'll often hear students tossing around the phrase "home is where the dome is," or referring to themselves as "domers." It's both a landmark and a guiding light on campus.
2. Football Saturdays
Nothing compares to the rush that is a game day. Thousands of people descend on campus to take advantage of all ND has to offer. If you don't go to at least one football game during your time as a student, did you even go to Notre Dame? Even students who aren't into football come out to eat steak sandwiches on the quad while listening to bagpipe players, the ND Glee Club and The Band of the Fighting Irish.
3. The Band of the Fighting Irish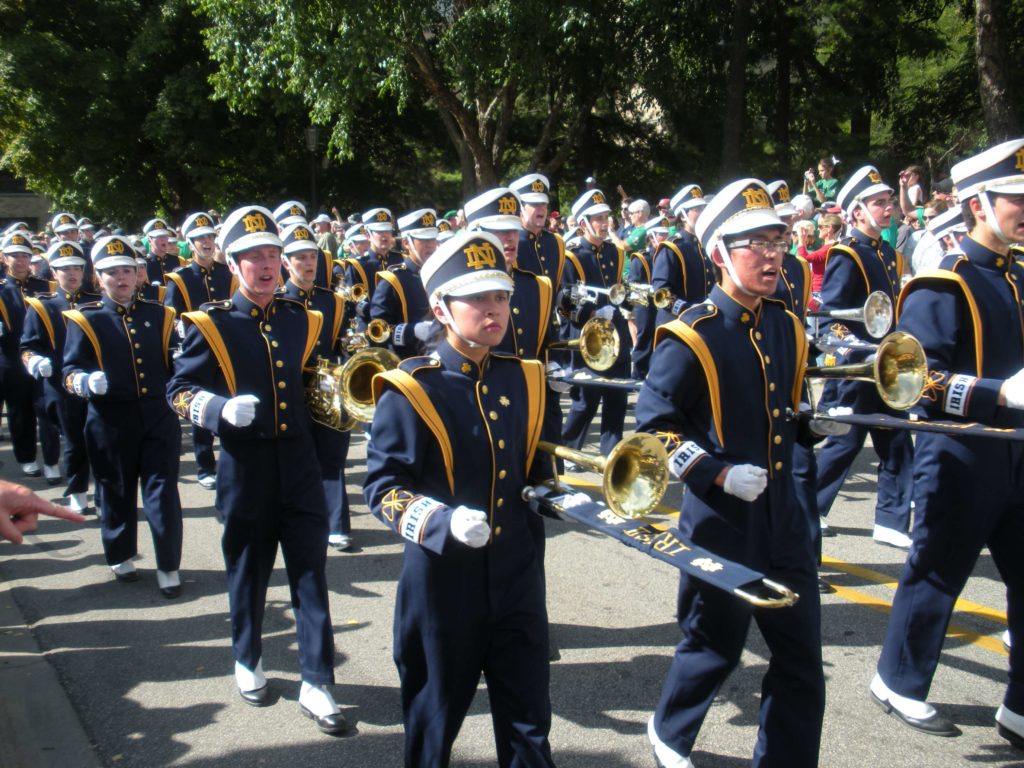 "Here come the Irish!" If there's a sporting event, convocation or really any university function, you can guarantee that the oldest band in the land will be there. Indiana state law prohibits anyone/thing from blocking the path of the band. The Band of the Fighting Irish means business.
4. Dorm Community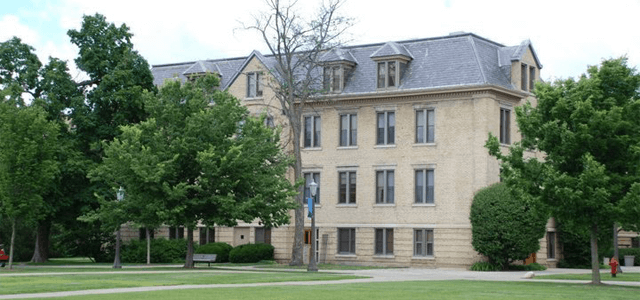 No Greek life means that each of the 29 single-sex residence halls has built up its own sense of community. Things like interhall sports teams and each dorm's signature event keep life interesting. Breen-Phillips Hall introduced a bowling team this year, and its members do their best to crush opposing dorms. Fisher Hall hosts the annual Fisher Regatta, an anything-goes-if-it-floats race across one of two lakes on campus. Dorms flaunt their pride and their dorm colors from atop soggy mattresses, inner tubes and even buckets held together with duct tape. Each weekend is filled with a different crazy event—and the dorm rivalries only make each hall try harder to outdo the other.
5. Quarter Dogs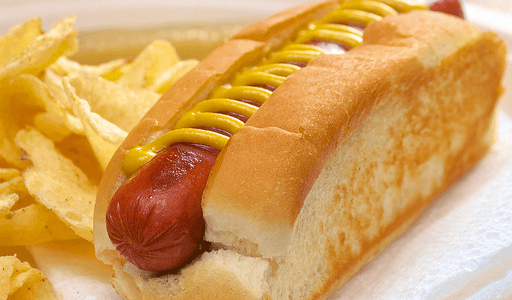 At midnight any day of the week, students flock to the Huddle Mart—the on-campus convenience store—to purchase a cheap late night snack. While the price of quarter dogs recently rose from 25 to 33 cents, the tradition and the name remain.
6. Campus-Wide Snowball Fight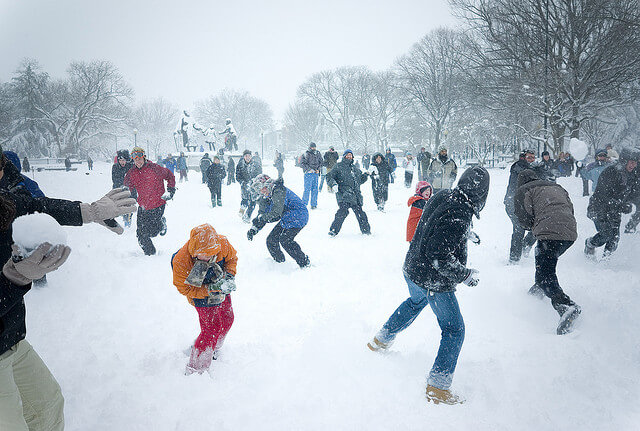 The first big snowfall of winter is a sign that the campus-wide snowball fight is going down at midnight. Students don their snow pants and engage in an epic battle of north versus south quad. No one is safe, and everyone is going to get pelted.
7. Nicknames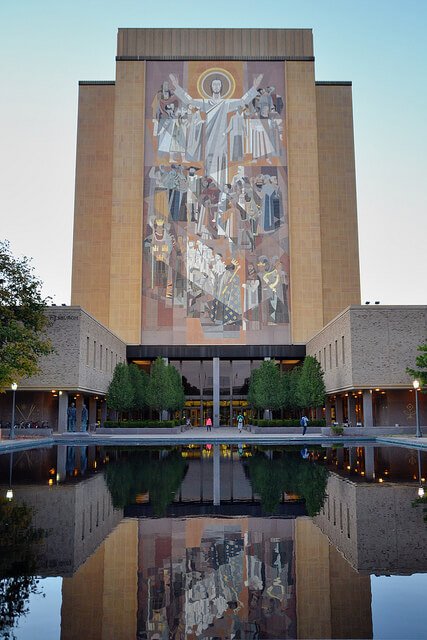 Between intense classes, standup shows, symphonies and the occasional trip to the sand dunes of Michigan, Domers have no time to waste words. And we like to say what we mean. As a result, everything on campus has a nickname. The buildings. The events. The statues. Lafortune Student Center becomes Lafun. The Coleman-Morse building is CoMo. And the statue names are all football-related, of course. The most famous of these is Touchdown Jesus aka the Word of Life Mural.
$$$
$61,775 tuition+room and board/year
$38,664 average financial aid package
$10,000-$25,000 merit-based scholarships
Top Majors
Political Science
Psychology
Ranked:
No. 1 in Best Undergraduate Business Schools by Bloomberg Business
No. 16 in Best Colleges by U.S. News and World Report
No. 17 in Top Colleges by Forbes
Getting In:
SAT Composite Range: 1240-1520
Selectivity: 23% admitted in 2013
Application Deadlines: November 1 for Restrictive Early Action or January 1 for Regular Decision
What's important: Going beyond academics. Service plays a large role in the Catholic tradition, so having a service project or some type of involved work looks great on your resume. Playing on a varsity team or taking on a leadership role in a club that expresses your interests is also important. But overall, the key to standing out in your application is letting yourself shine through—write a poem for one of your essays, show how passionate you are about ND and what you want to study—and doing whatever you can to stand out as more than just a number. You've got perfect grades, excellent SAT scores and the extracurriculars, now what are you truly passionate about? Tell them.