College mascots are huge—both literally and in the hearts of their fans. They rile both the team and the spectators up and keep the spirit alive no matter what. However, some mascots go above and beyond for their team. Here are some of our favorites.
10. Cayenne—Louisiana Lafayette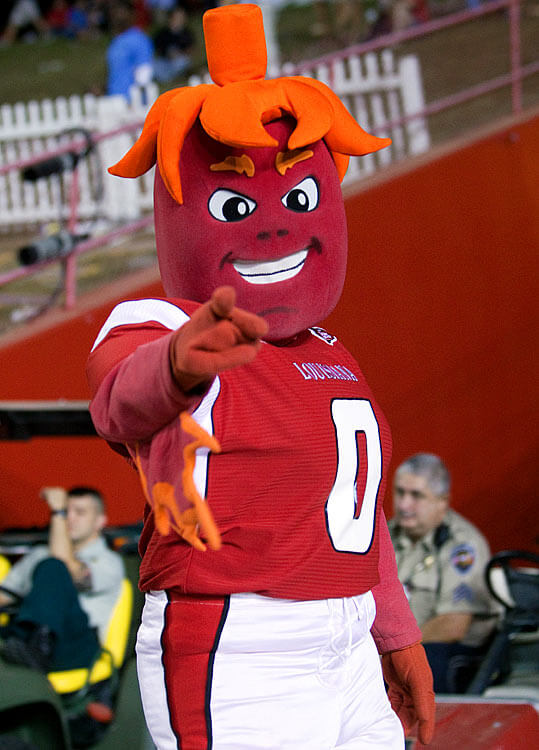 UL Lafayette has jumped around a lot with its mascots over the years, and although Cayenne is a "spirit leader," not a mascot, he fulfills all of the traditional duties of a mascot for his school. Cayenne symbolizes not only the spicy food that the region is known for, but also the attitude and spirit of the Ragin' Cajun student body. Plus, he's a giant pepper-man hybrid. How cool is that?
9. Smokey—University of Tennessee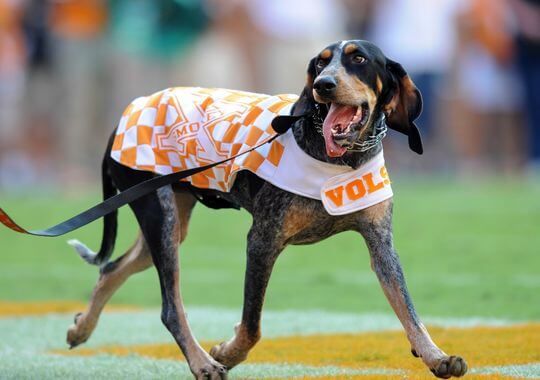 Okay, schools with actual dogs totally win in my book. The Vols have live and costume versions of their mascot, which is a Bluetick Coonhound (native to Tennessee) named Smokey. While the costumed version is fine, Smokey the living breathing dog is spirited and adorable.
8. Bevo—University of Texas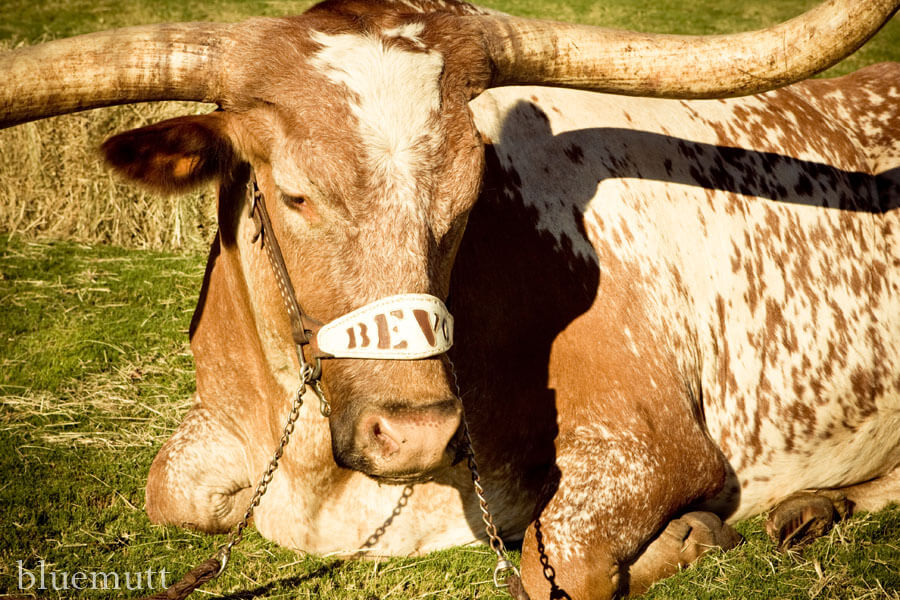 A real-life Texas longhorn steer, Bevo is a literally a huge symbol of the school's team name. Giving rise to the college's hand symbol and saying, "Hook Em' Horns," Bevo is an institution at Texas. Not to mention how generally striking the animal is in the first place. (Story: Bevo III escaped from his cage and was loose on campus for a full two days.  Bevo IV attacked a parked car, and Bevo V broke free and charged the Baylor band. They've since been bred to be docile.)
7. Sooner Schooner—University of Oklahoma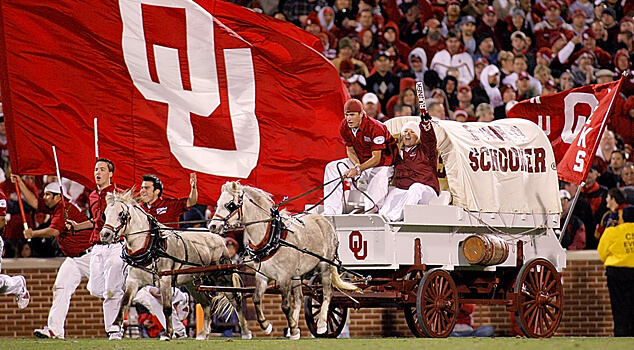 Named the school mascot in 1980, the Sooner Schooner is a covered wagon pulled by two Shetland ponies that runs around the field after every score. A larger mascot than most, the wagon is the symbol and identity of this football team.
6. Uga—University of Georgia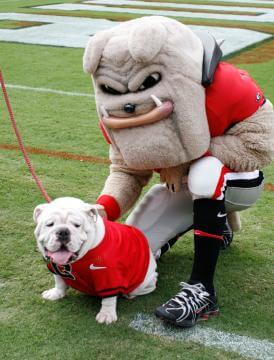 Back to the ridiculously cute dogs, Uga is a large English bulldog that always manages to rile up his fans. Uga is treated like royalty, with a jersey made out of the same material as the players' and a real student ID card. He also gets an air-conditioned doghouse in the stadium and bags of ice are set around him to avoid heat stroke during hot games. That's some real dedication.
5. Mike the Tiger—LSU
There's no denying that LSU's live tiger, Mike, is a fierce symbol of LSU pride and power on the field. Students ride atop his cage as he enters the field, which seems both dangerous and brave at the same time. When off the field, Mike's cage sits comfortably outside the visiting team's locker room, reminding them whose territory they're in.
4. Chief Osceola and Renegade—Florida State University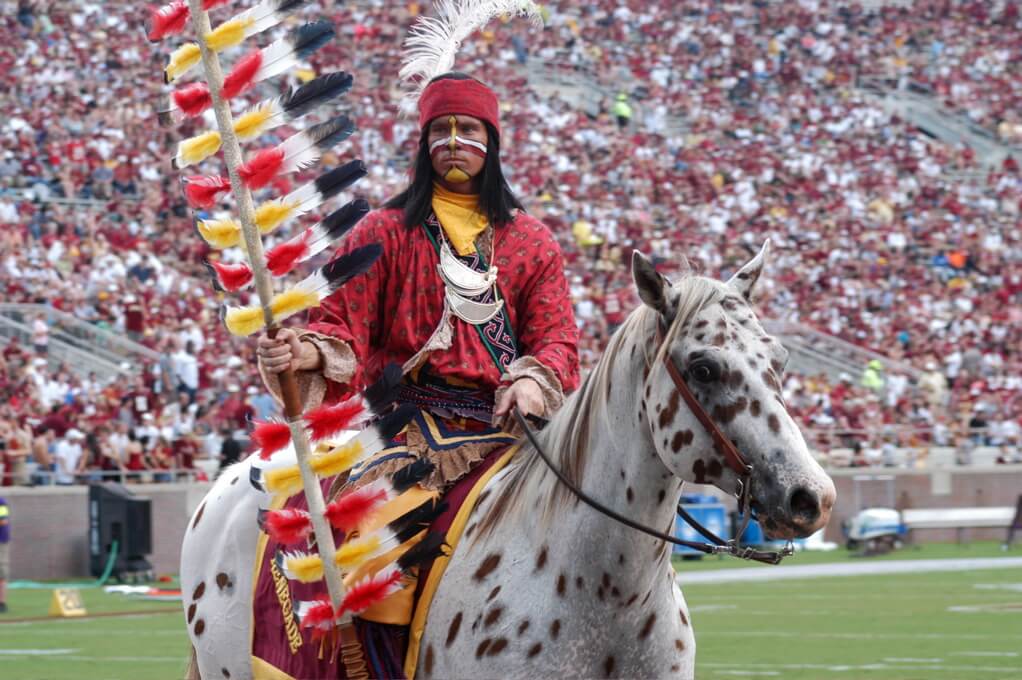 I'm not a Florida State fan, but even I can say that their mascot is legit. Approved by the Seminole Tribe of Florida, Chief Osceola depicts the historical Seminole leader riding on his Appaloosa horse, Renegade. Renegade charges the field before every game, rearing while Chief Osceola throws a flaming spear into the ground. Awe striking is really the only way to describe it. And they get mad props for actually managing to be politically correct by getting the Seminole seal of approval.
3. Ralphie—University of Colorado Boulder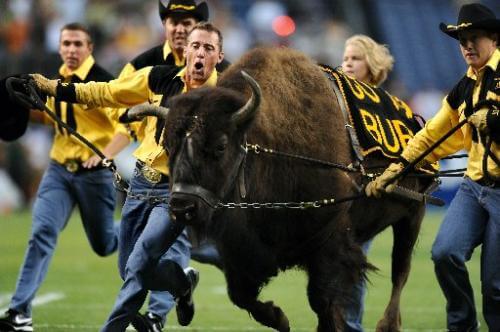 Again with the live animals, Ralphie is a full-size, live buffalo that leads the team onto the field at speeds of up to 25 MPH. She is led by a group of students called the "Ralphie handlers," who have lost control of her on multiple occasions, just upping the danger and cool factor by about a thousand. Hey, no pain no game, AMIRITE?
2. Albert and Alberta—University of Florida
I'm totally not trying to be partial on this one, but who can deny the level of awesome behind of these two chompin' gators? The most famous married-mascot couple, they are completely loved by their entire school, and rank at 100 percent when it comes to mascot equality. They share the duties of being some of the rowdiest reptiles out there—they even Tweet each other about who has more spirit. Competitive nature aside, they remain a loyal and faithful couple at the end of the day.
1. Puddles—University of Oregon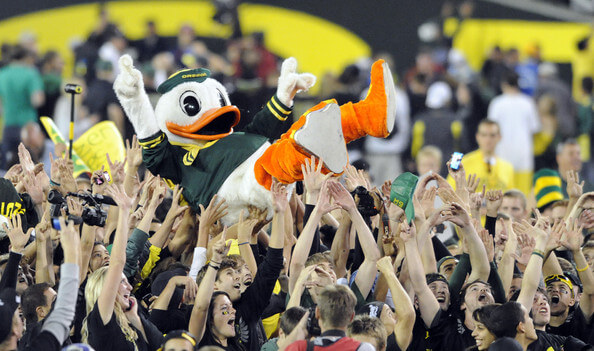 Okay, I know his name is Puddles and he's a duck, but this guy if fierce. In 2007, he got suspended for one game after attacking the Houston Cougars mascot, Shasta. If that's not school pride, I don't know what is. He manages to stay fit by doing pushups after every Oregon touchdown. He can't go down all the way, because of his beak, but it's the effort that counts.