Career services are rarely a consideration during your college search—universities with the hottest guys or girls seem more imminently relevant—but come graduation, career support can make or break your entry into the real world. We've uncovered the schools with the most resources to get you employed. We're talking high graduation rates, strong alumni networks, innovative career fairs and top-dog recruiter connections.
10. Princeton University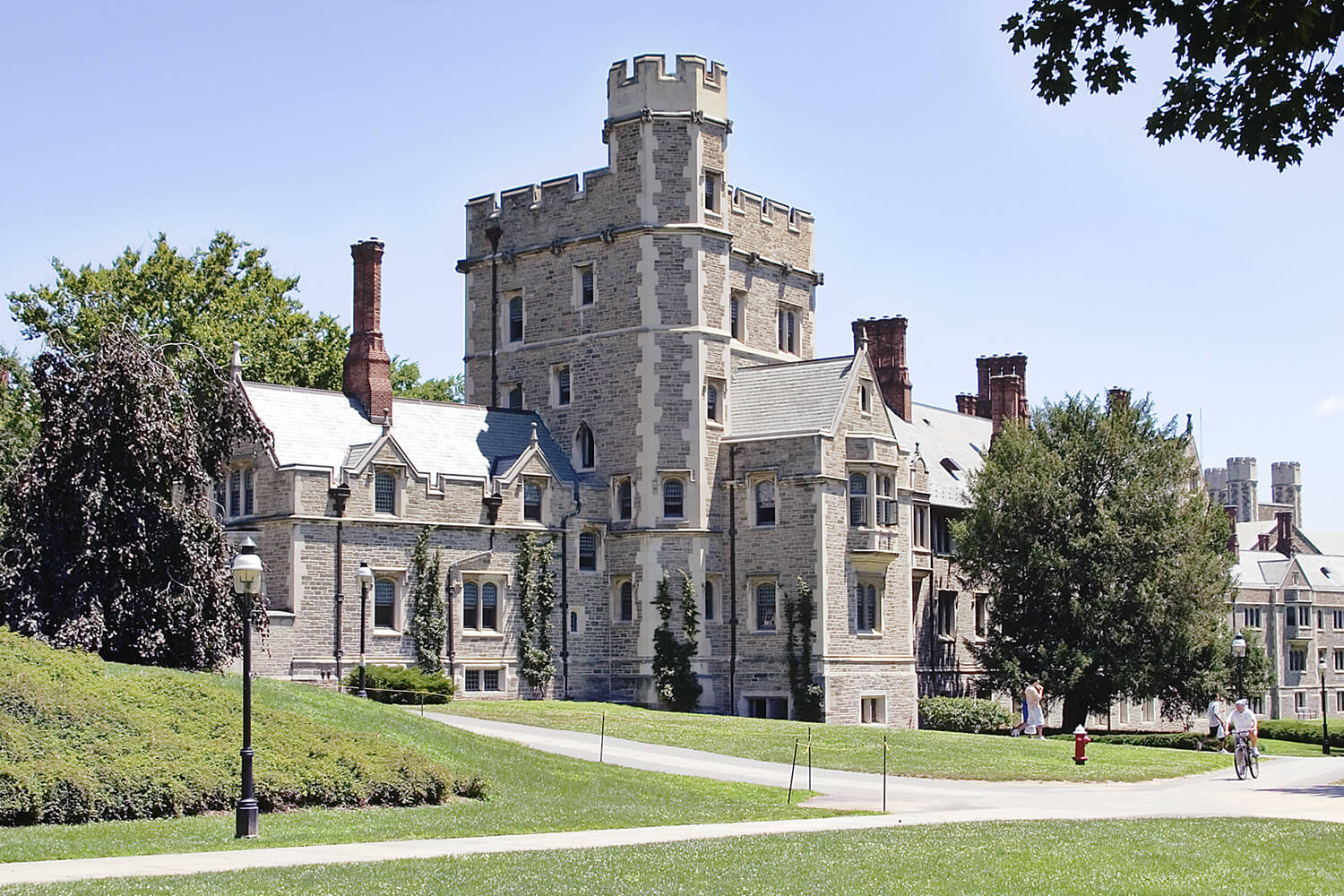 (Photo courtesy of wikimedia.org)

Ivy League students often go on to further education rather than entry-level jobs, sometimes making their bachelor's degree graduates less valued by recruiters said a Wall Street Journal study. But Princeton rises above this trend. Nearly 87 percent of graduates from Princeton's Class of 2013 acheived their post-graduation plans within six months of graduation and more than 65 percent accepted employment. For the career-minded Tiger, the job hunt is anything but scary thanks to Princeton's alumni connections. Their unique Princeternship program offers 1-3 day shadowing opportunities with alumni over spring break. And the new #HireTigers Meetup, a casual career fair blending traditional employer networking with alumni panels and industry-specific chat areas, will replace the General Interest Career Fair this September.
9. Texas A&M
(Photo courtesy of tamu.edu)

With over 44,000 current undergraduates, Texas A&M boasts an impressive alumni network (#8 in the nation for being the "biggest, most active and most enthusiastic" according to Online College.org). Over 400,000 students have graduated from Texas A&M since it was founded in 1876, and 50% of graduates are from the Class of 1996 on. That's 200,000 potential connections for current students. Recent notable Aggies include Rita LeBlanc, owner of the New Orleans Saints, four current Texas senators and ten Nobel Prize laureates. Texas A&M has department-specific career services pages and a generous offering of industry-themed career fairs including Construction Science and Retailing.
8. University of Notre Dame

(Photo courtesy of nd.edu)

Indiana-based Notre Dame is committed to getting students diplomas: 96% of undergraduates finish within six years. In addition, the career services site offers extensive resources for interview preparation, which may contribute to Notre Dame's top recruiter rating by the Wall Street Journal. Shannon Hagedorn, senior Management Consulting and Psychology major, who developed her own on-campus position in a department related to her career, says she would never have had such an opportunity without "the little push from the Career Center counselors."
7. Massachusetts Institute of Technology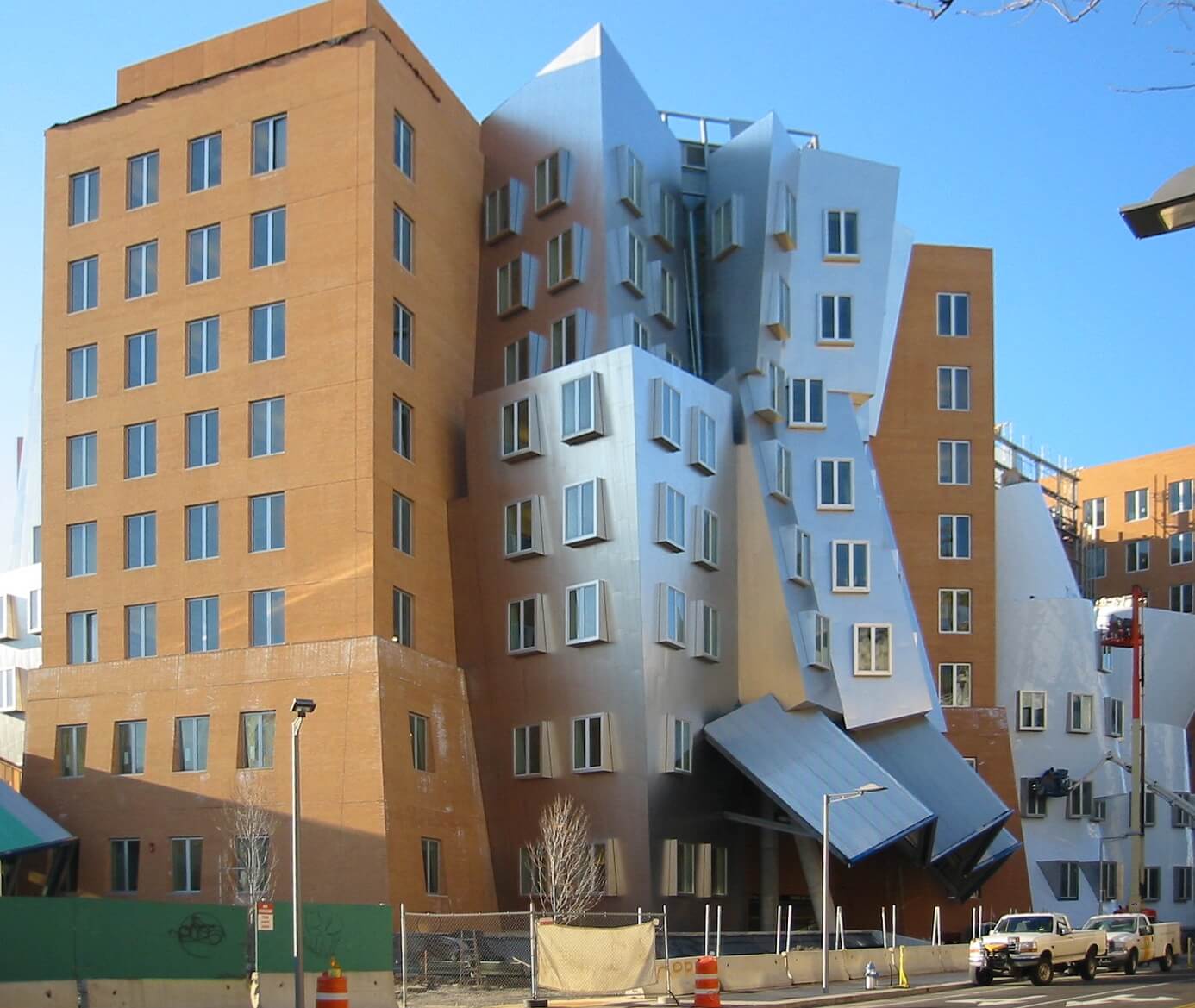 (Photo courtesy of wikimedia.org)

Big tech companies like Google, Apple, Microsoft and Boeing have their eyes on MIT undergraduates. That hiring profile translates to the 7th best alumni network in the nation, which is great news for students looking to network their way into the startup world and entry-level positions. Thinking that a future in America isn't for you? MIT is holding a European Career Fair next spring featuring international companies recruiting in the US. That's in addition to their annual Fall, Spring, Tech and Civil and Environment Engineering fair offerings.
6. University of Florida
(Photo courtesy of ufl.edu)
Recruiters surveyed by the Wall Street Journal love the University of Florida, and the school's stellar job search support (top-ranked by Best Colleges and the Princeton Review) is a major contributing factor. Stephani Babcock, Psychology and Counselor Education Ph.D. candidate noted UF's diversity of resources for helping students find employment. The school hosts several annual career fairs, one of which is catered specifically to summer jobs—great news for undergraduates looking to test the waters of the working world. For students still unsure of their path after graduation, they can use the online CHOMP resource (Career Help fOr Major Planning). "It helps students make sense of their interests," said Heather White, director of the Career Resource Center.
5. Bentley University

(Photo courtesy of bentley.edu)
If you're in need of an internship to launch you into the professional world, Massachusetts' Bentley University will get you one. The US News & World Report states 90% of Bentley graduates held internships during their undergraduate years. Students can receive credit for internships as upperclassmen, and are eligible for an additional one-credit academic internship after completing the Career Development Introduction Seminar. If credit isn't your thing, Bentley strongly encourages employers who post internships to their site to offer interns financial compensation. Bentley's HIRE Education program–seminars, personal advising and year-by-year checklists–guides students through career preparation starting in freshman year. 97% of graduates go on to employment or graduate school; we're not surprised in the slightest.
4. Barnard College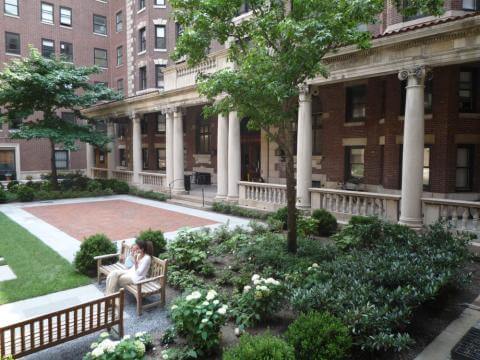 (Photo courtesy of barnard.edu)

Always wanted a personal career coach? Consider Barnard, an all-women's college in New York City that stands out for its 90% 6-year graduation rate. Almost all graduates—99%—go on to employment or graduate school. We're most impressed by their Senior Initiative Program, a series of workshops such as "Marketing Yourself 101" and "Conducting a Comprehensive Job Search in a Tough Market" held each February to prepare graduating seniors for a competitive job search. Better yet, each participating student is assigned a career counselor and coach to guide her through the process.
3. Purdue University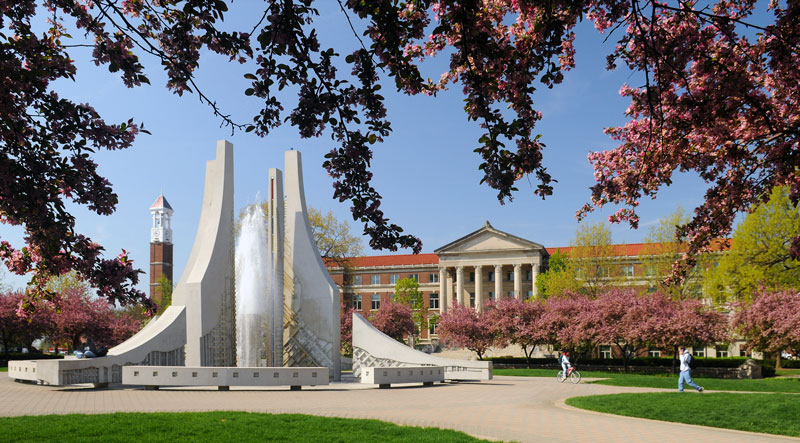 (Photo courtesy of wikimedia.org)

Purdue's Center for Career Opportunities website shows they're serious about helping students stand out. A boldly-colored, boxy modern website design organizes the university's wealth of resources in an intuitive manner, making it easy for students to inform their job search. Senior Finance and Management major Evan Langbehn said, "Having a central hub [myCCO] to look for job openings, and then interview on campus, relieves a lot of stress … and allows you to better maintain your other school commitments." Langbehn secured both his summer internships through the CCO. Timothy Luzader, director of the CCO, said, "We know that we make a difference in students' lives when we help them to successfully transition from campus to the world of work." In fact CCO Career Closet collects donations of business attire for Boilermakers unable to afford the outfits they need for interviews.
2. Pennsylvania State University
Being at a big school means you're automatically a guppy swimming in an ocean, right? Wrong, when it comes to Penn State. Jeff Garis, Senior Director of Career Services at Penn State, says students can receive walk-in advising during all business hours; if their questions are more complex, individual counselors are available by referral. This personal attention complements "one of the largest recruiter employment bases in the country," said Garis, so it's no wonder Penn State is on everyone's career services radar. They're ranked #1 by the Princeton Review, and first among recruiters by the Wall Street Journal. And it certainly doesn't hurt that the career services building is huge and beautiful.
1. Northeastern University
Job opportunities are literally on your doorstep at Northeastern, thanks to the Employer in Residence program. Companies are granted actual offices in the Career Development Center to increase interaction with students. In addition, potential employers regularly chair panels about career fairs and resumes. Their no-holds-barred approach to building connections between students and recruiters has earned them recognition by both Best Colleges and the Princeton Review. If you're the independent type, their online database of the usual career search support materials—interview tips, resume guidance, and job search prep—is also extensive and well-organized. Overall, Northeastern is the perfect party host when it comes to careers: it'd be hard to come and go as a student without making an employer connection.
For more articles on getting the job, check out:
CM's College Resume Survival Guide

Top 10 Tricky Interview Questions

Rejected Resumes: Your First Time

For more college rankings, check out:
CM's Top 10 Colleges for Entrepreneurs

Top 10 Daily College Newspapers