University of California, Los Angeles (UCLA) is well-known for its dining halls on campus. Spread across The Hill (student dorm area on campus) these dining halls vary in cuisine, atmosphere and vibes. All of them hold a special place in the hearts of Bruins, but that doesn't mean they're all equal. We've got a limited number of days during each quarter and an even more limited number of swipes. As such I've broken down the dining halls ranking them against one another to determine what is the best UCLA Dining Hall.
Read on to find the ten best dining halls at University of California, Los Angeles.
10. The Drey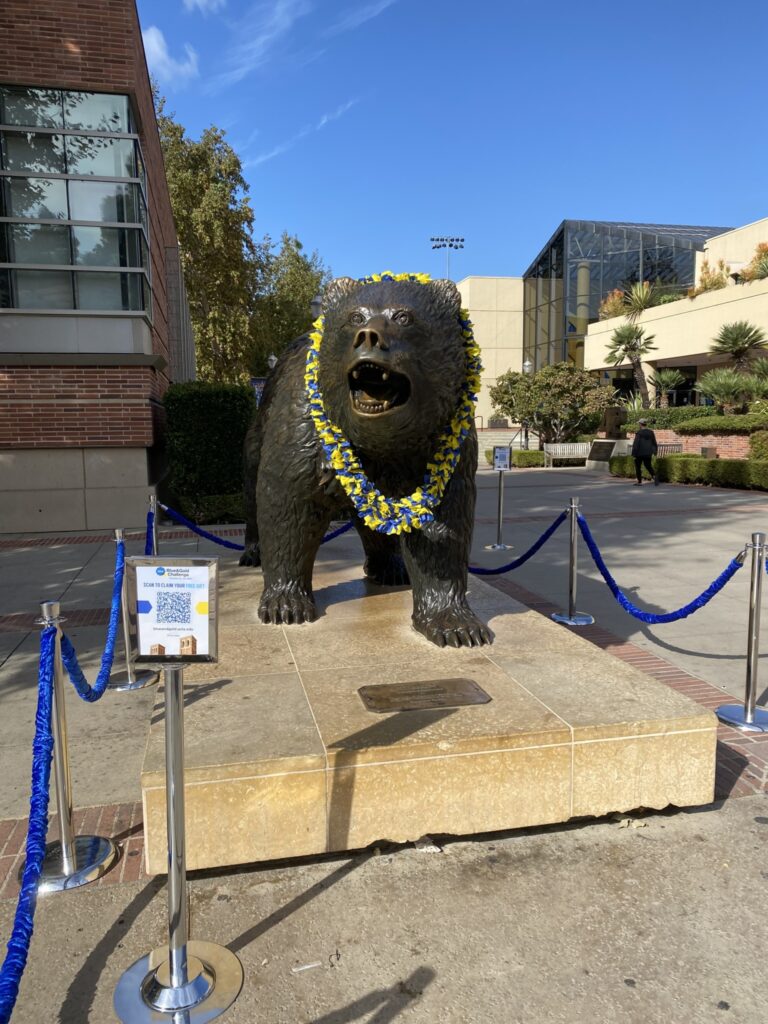 Starting off our list we have The Drey. The Drey is one of UCLA's newest residential dining options having opened with the new building Olympic Hall. The Drey acts as less of a typical dining hall and more of a take-out, convenience store. If you go to The Drey expecting a traditional sit-down experience then you might find yourself disappointed. The Drey excels in convenience for students (especially those living in Olympic and Centennial) to simply grab a meal and go down off to classes. The Drey doesn't try to be something it's not, instead it embraces its grab and go nature and excels because of that.
9. Feast at Rieber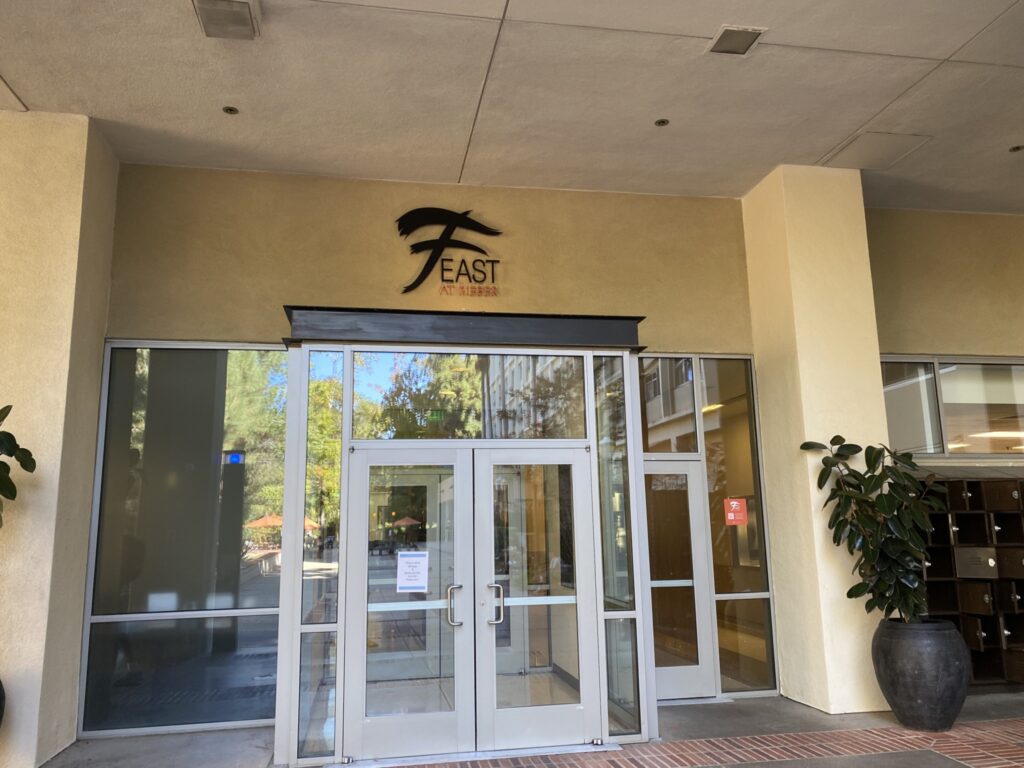 Feast is one of the only dining halls in the nation that specializes specifically in Pan-Asian fusion cuisine. However, it's hard to know what it specializes in when its barely ever open(though I won't hold that too much against Feast). It offers great bang-for-buck, though in this case Meal-Swipe. However, Feast offers nice outdoor seating and a sequestered spot from the hustle and bustle of Rendezvous' lines.
"Feast used to be pretty great, but honestly 2020 hit it hard and it hasn't come back to how it was before yet. There always seems to be a line when its open," UCLA junior Luke Smith said.
Its food choices, while on the small side for a meal swipe, are quite enjoyable. I specifically like Feast's sushi options. With a little bit of attention, particularly regarding the staffing situation that's currently affecting all UCLA dining halls, the ranking could be higher. Overall Feast is a fantastic dining hall which was affected unfortunately by the pandemic, causing it to have lost some of its reputation over the last couple of years. Despite this, I'm optimistic that Feast open up even stronger and move up the ranks when it reopens in the Fall 2023 quarter.
8. Rendezvous East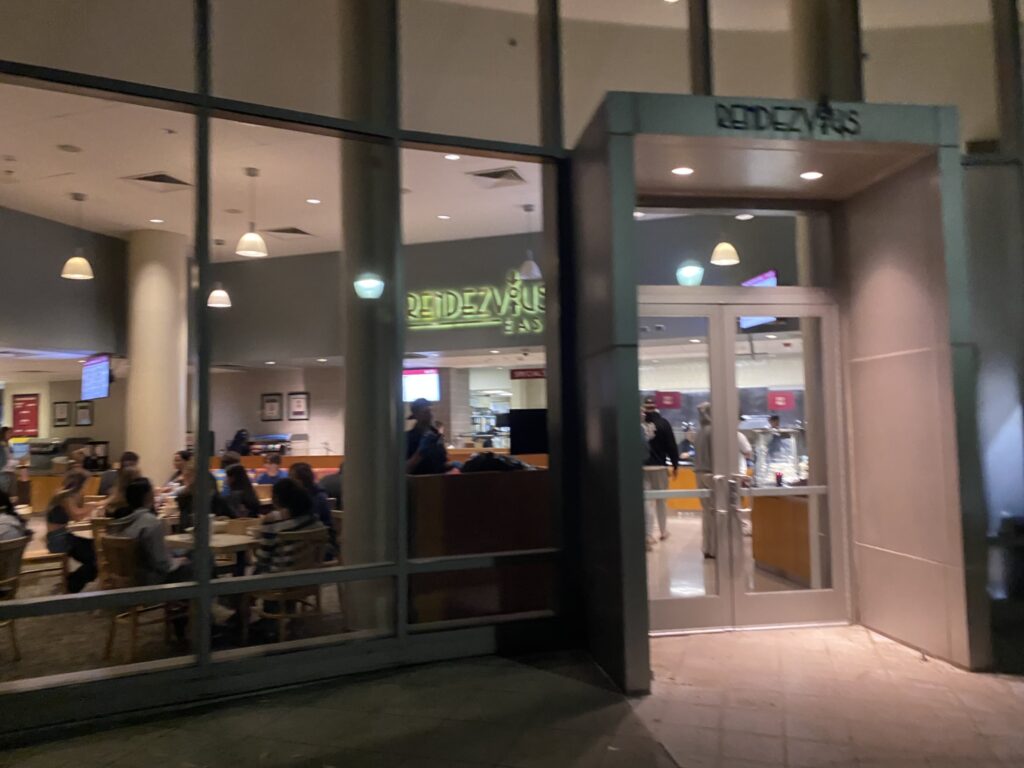 The less popular of the two Rendezvous locations, Rendezvous East (more commonly known as Rende East) is a great dining hall that suffers from sharing a name with Rendezvous West. East specializes in East Asian cuisine and functions similarly to a Panda Express on campus. East holds popular spots including boba, a great selection of specials/themed dinners and a smaller line than Rende West. Sharing its seating options with West does hurt the ability to sit inside. However, with it located in Rieber Plaza, the dining hall brings many options for sitting outside and the option to take your food to-go.
7. Bruin Café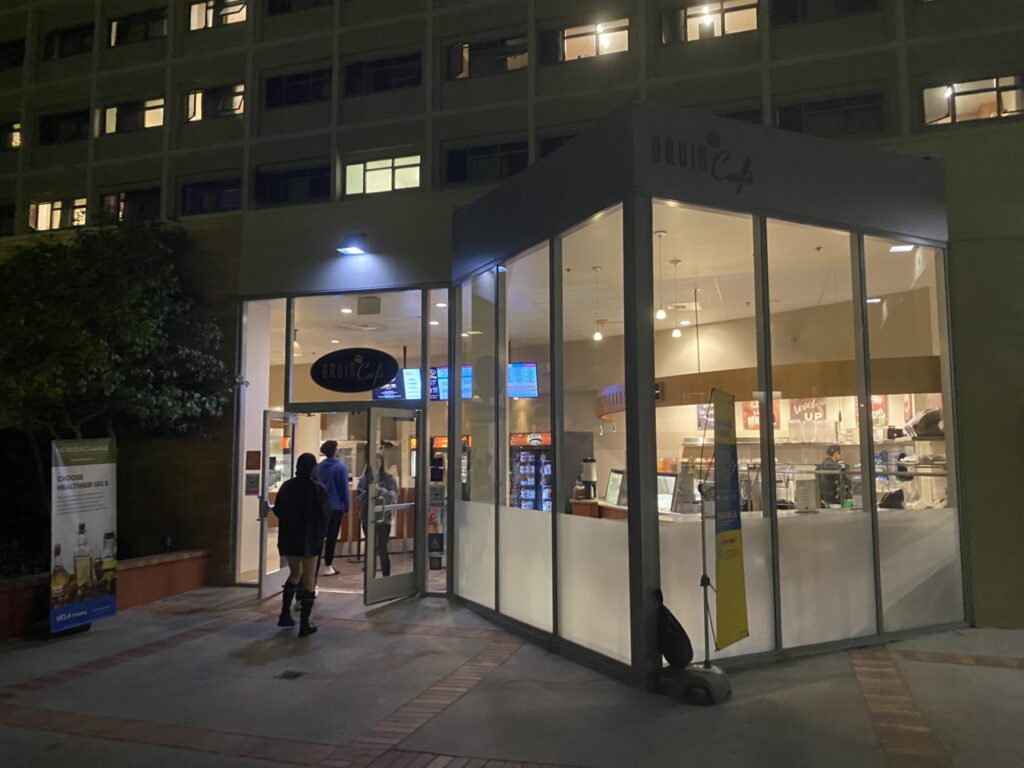 Bruin Café (also known as B-Caf) ranks as The Hill's favorite little spot. B-Caf holds great moments, like when you get a sandwich on a perfect spring day and there's barely a line. As the name implies, Bruin Café is a café. What's not to love about a café? Students love that the university designed B-Caf specifically for Bruins. Move aside Starbucks, B-Caf is the true home for Bruins! (I'm kidding Starbucks, same time tomorrow?)
"I love Bruin Café! I just wish it didn't have such a long line when I go there. The sandwiches are nice and its less of a walk compared to going to The Study," UCLA sophomore Katelyn Park said.
B-Caf's long line outside serves as a testament to its popularity but may also act as its biggest drawback. Otherwise, just like all other UCLA dining halls, they serve great food. I particularly like their sandwiches and smoothies (when available). If you need a startup meal before your classes, Bruin Café is the place to go.
6. Epicuria at Covel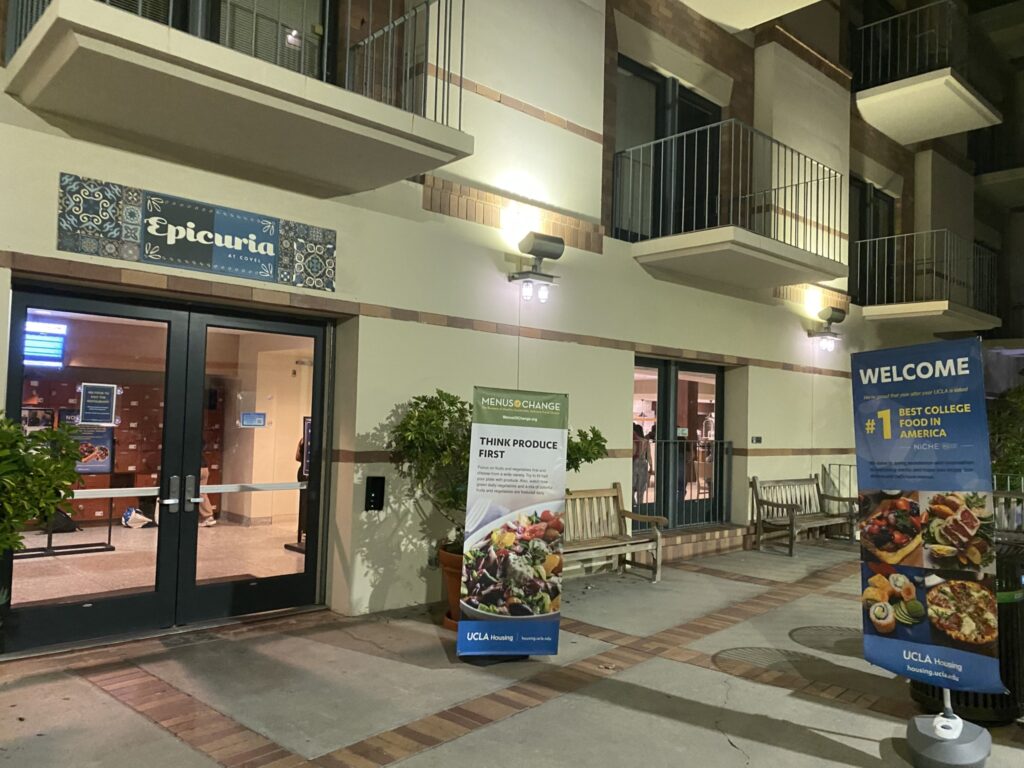 Not to confuse it with its similarly named twin Epicuria at Ackerman, Epicuria at Covel (which I will just now refer to as Epicuria) recently replaced the old Covel Dining hall and has been a major hit with Bruins. The views and seating are some of the best at UCLA. It's a great spot to hang out with a bunch of friends. Alumni will probably give you a strange look when you mention this spot as a name change happened in the last couple of years. There's an ongoing debate between upperclassmen who remember Covel and the newer students who only know Epicuria. No matter what you call it, this dining hall acts as a great destination to try some Mediterranean cuisine.
5. Bruin Plate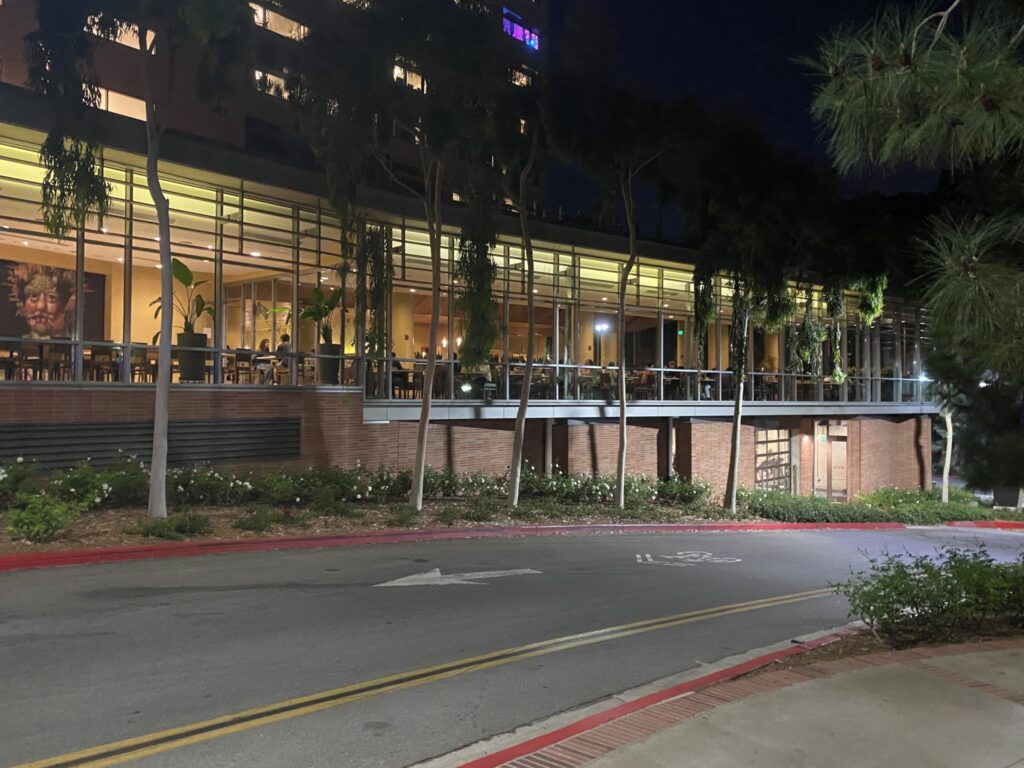 The all-around healthiest option on UCLA's campus is one of its most divisive. As a Bruin you either love or you hate B-Plate and there seems to be little in between. On the pro-side: good views, healthy food options, lots of seating, right next to the gym. As for the negatives: pretty much only healthy food options, the long lines might make you late for class. However, B-Plate is a unique dining option for sure.
"The only dining hall you can sustainably eat at without practically killing yourself internally," UCLA sophomore Tahsanul Faruque said.
The Menu is filled with items such as open-faced sandwiches and a granola greek yogurt wrap. They also provide quite a few vegan options including chocolate brownies and tofu. They remove all meat options for dinner on Mondays to celebrate Green Monday. Bruin Plate is a great choice for Bruins looking for healthier options.
4. The Study at Hedrick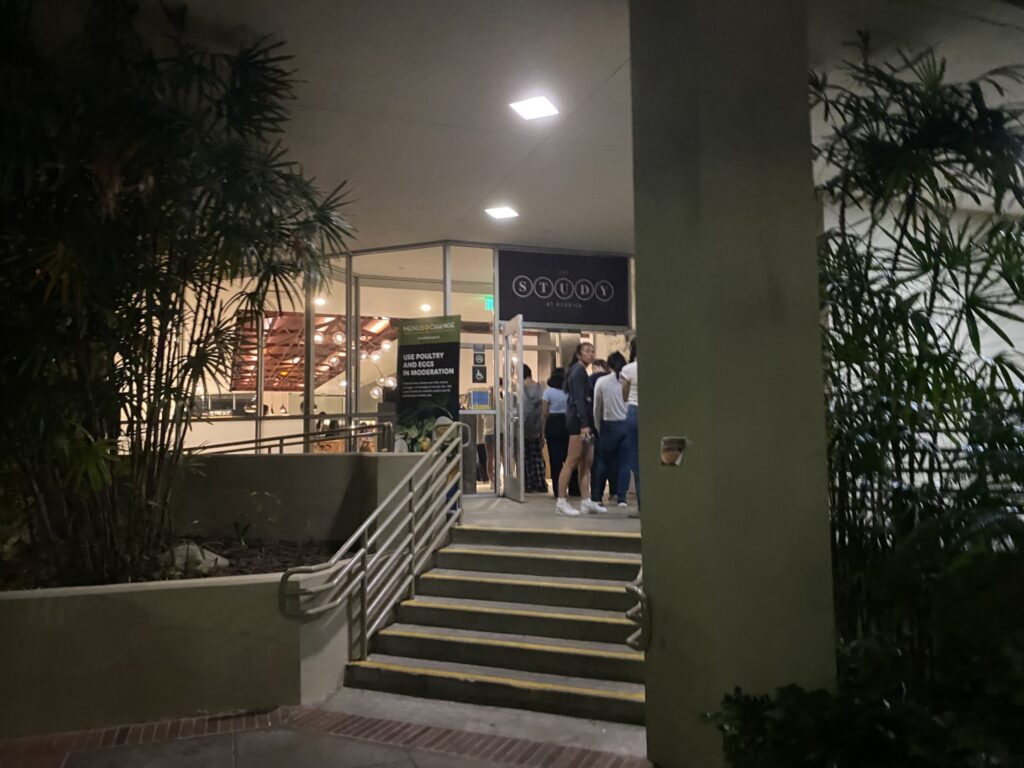 The Study is one of the three options open for Late Night dining (as of Spring quarter 2023, but hopefully that changes!) It is always a popular spot for Bruins. Its location in Hedrick Hall makes it one of the furthest dining halls on The Hill. However, almost everyone will say it's worth the hike. Not only serving as a dining hall but also as a study lounge (thus the name) The Study truly feels like a dining hall that is designed less to be a dining hall, but more so a place built for students and all their needs.
"Study hits the spot at midnight after those games. Grab a sandwich and heat it up in your dorm's micro fridge," UCLA senior Zack Miller.
Sandwiches and pizzas are two of the main items at The Study. Their easy ability to take to-go make it the perfect late night dining spot for students pulling all-nighters to study. The Study also has available study rooms with TVs that students can reserve for their studying needs. In the past they've had a minor problem with lines being long, but if you show up ahead of closing the staff typically let you in. With rumors of online ordering coming in the upcoming year, there's only room for improvement in The Study.
3. De Neve Dining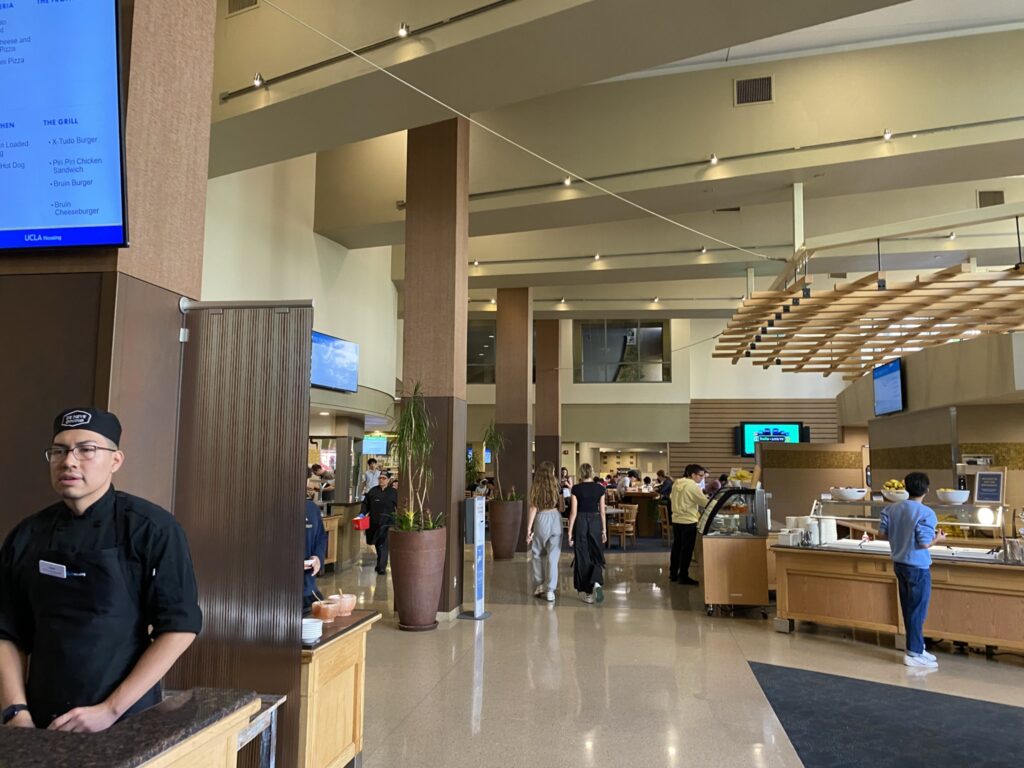 Found at the heart of De Neve Plaza, De Neve Dining (better known as simply De Neve) is the most traditional dining hall at UCLA. It serves something for everybody ranging from pizzas, fish and chips, burgers, a full blown salad bar and its famous soft-serve ice cream. De Neve truly acts as a jack-of-all-trades type of Dining Hall which works for its location at the lowest point on The Hill and as the closest to main campus. They also offer the largest seating area of any Dining Hall at UCLA. With daily rotating specials and themed dinners, such as last year's Argentina Night, De Neve will have something for everybody and you only need one swipe.
2. Rendezvous West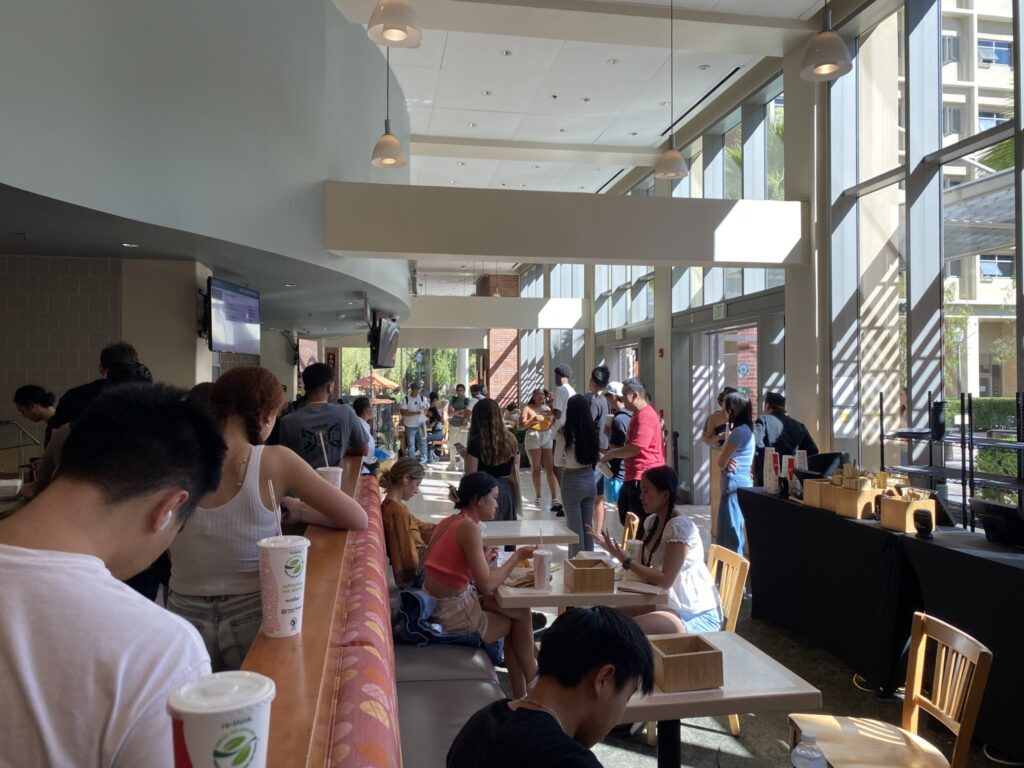 Ah Rende West, what is there to say that hundreds of others haven't said before? This definitely ranks in the top three UCLA dining halls amongst students. Rende West focuses on takeout Mexican style cuisine with a long line always found outside the building. Their rotating daily specials have some of the best options in Westwood, especially their Thursday Lunch California Burrito.
"Rende is a go-to option. I just wish it wasn't so much of a walk. I basically eat their steak burritos every day. Plus the staff like Dolores and Martha are so nice," UCLA senior Broderick Foster said.
Rende West functions similarly to a Chipotle with the left line focusing on build your own and the right line focusing on its daily lunch specials. I can't wait to see how the adoption of mobile ordering will affect Rende West. But I know that come finals week, I'll stand in line for my burritos again.
1. De Neve Late Night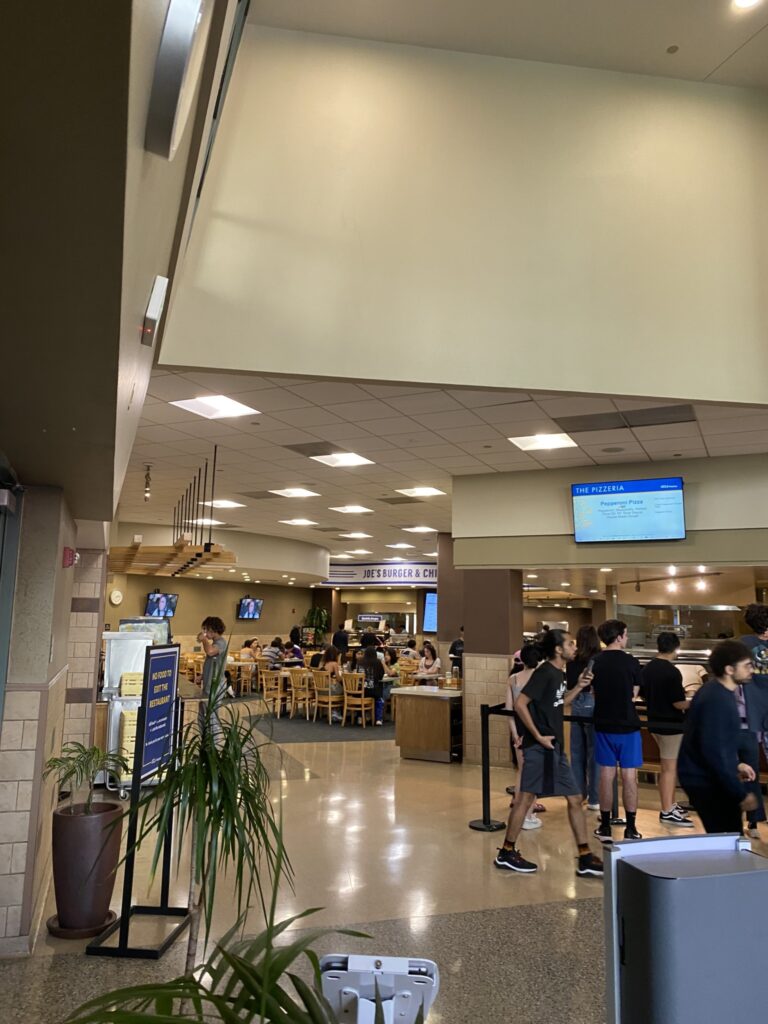 Is this cheating ranking De Neve twice in one list? Probably, Late Night will take the number one spot as best Dining Hall at UCLA. Only open from the hours of 10 p.m. to midnight, Late Night provides the best options for insomniacs like myself. Though their line is split down the middle (quite literally) between the chicken tenders and the burgers, you'll find this dining hallunites Bruins in Late Night unanimously. Late Night truly is a special experience and helps when you need to pull another all-nighter studying for a midterm. It's one of the only dining halls still open after football and basketball games, making it a great place to celebrate and make sure the night never ends, or to drown your sorrows in some good food.