As Bruins, we spend much of our time at UCLA passionately partaking in tailgates, undie runs and nights out at Rocco's. But sometimes we need to embrace the inner nerdiness that we all possess and sit down and get some work done. This is where caffeine typically comes in. Whether you're pulling an all-nighter studying hard for your final tomorrow or just looking for a nice place to study on a sunny day, UCLA's got you covered with plenty of spots to get your coffee (and then hopefully an A on that exam).
Check out this list of the top 10 coffee spots around UCLA to find out which one you should hit next:
1. Kerckhoff Coffee House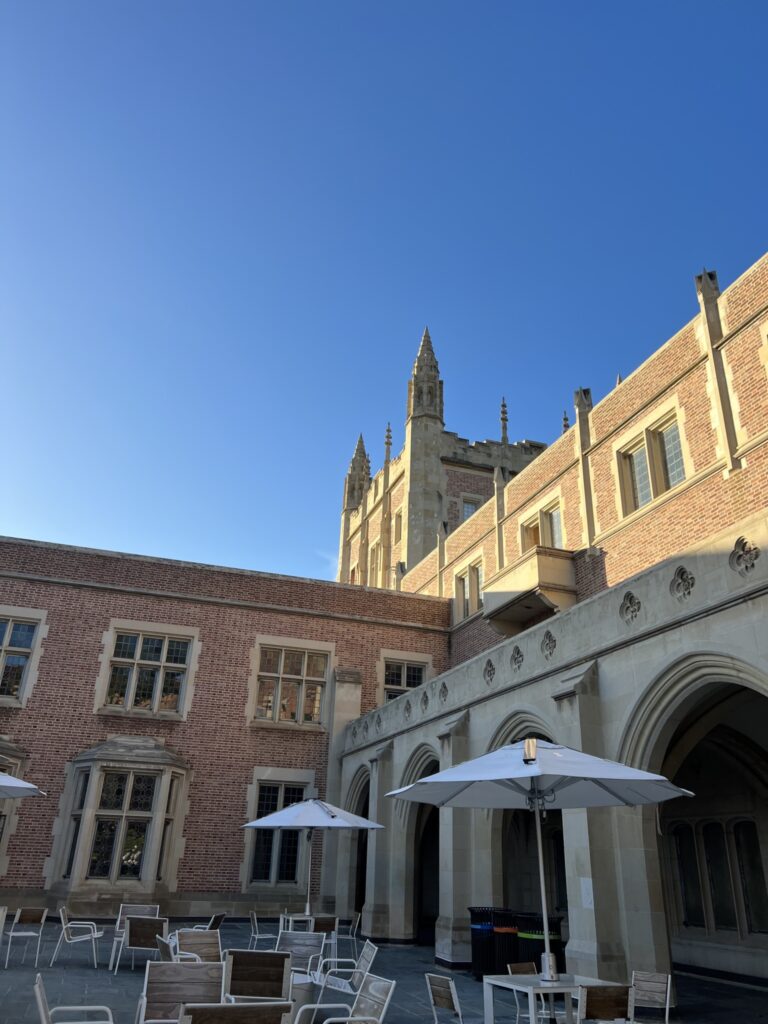 Bruins may still be transitioning back to a normal routine of in-person classes, especially given the haywire ending to the past fall quarter due to the UC strike. But Kerckhoff Coffee House is a spot all students should know. Reigning as UCLA's oldest coffee shop, Kerckhoff sits at the center of north and south campus along Bruinwalk. It attracts both humanities and STEM majors alike, bringing temporary peace to the playful rivalry between the two sides of campus.
"I love Kerckhoff because of the ambience— I enjoy the music and the bustle. It's like a 90s cafe in France," UCLA fourth-year biochemistry major Alexia Andrikopoulos said.
Whether you're looking for a quick coffee stop between classes or a cozy indoor study space, Kerckhoff's the place to go. There's plenty of outlets and seats available at this popular hub. If you don't go early enough, though, the inside does get crowded. Everyone loves Kerckhoff, and for this reason you'll never see it empty.
"Kerckhoff has the best tasting coffee on campus! My friend and I love sitting outside because we have to enjoy the LA weather and people-watching," UCLA fourth-year psychology major Alejandro Carranza said.
Luckily, there's several outdoor tables where Bruins can hang out and enjoy Kerckhoff's wonderful drinks and pastries. Sitting outside, you'll often spot friends either walking after class or studying out in the courtyard. It's the perfect social setting for a chat with friends. From dirty chais and matcha lattes to croissants and breakfast sandwiches, Kerckhoff provides Bruins the ideal breakfast to pair with a coffee hangout.
2. Ministry of Coffee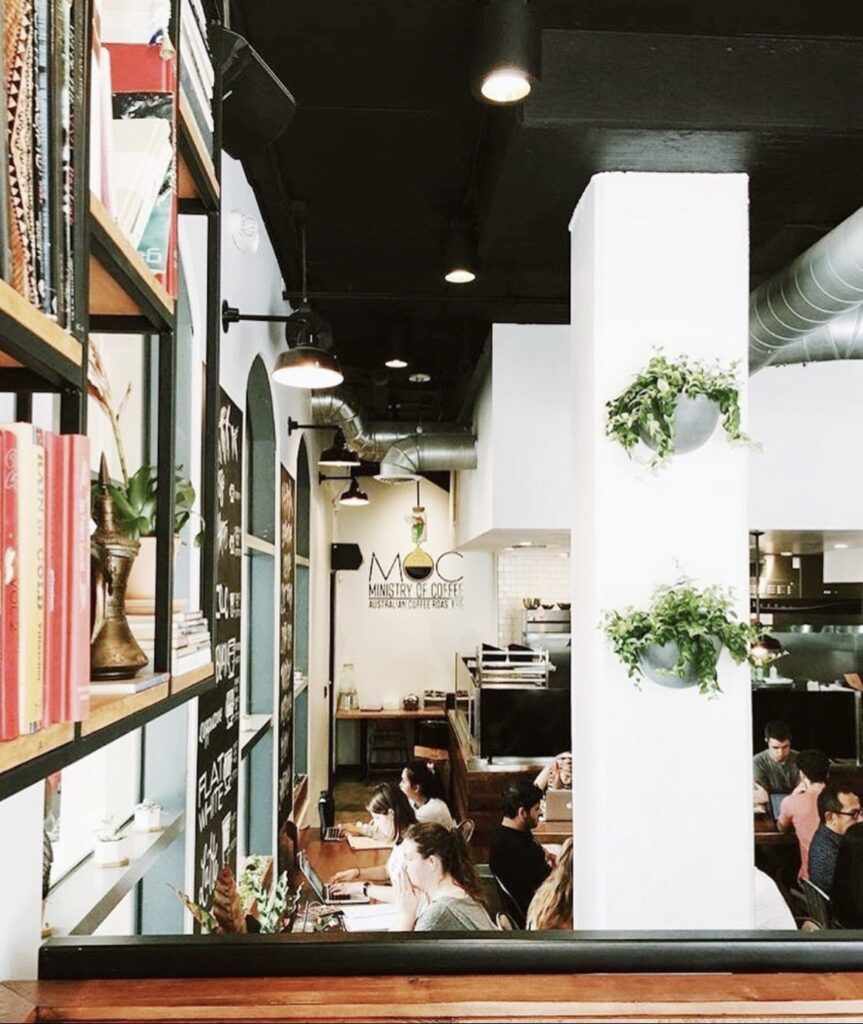 Located just outside Trader Joe's in Westwood, Ministry of Coffee makes a convenient coffee spot to hit after your grocery shopping. It does get a bit pricey, but the quality of coffee and food offered makes it worth your money. The cafe can be a great breakfast or brunch location for families and friends. It's a social hangout spot, with tables set up outside for eating and hanging out. If you're looking for a quieter place to study, you can also find a table inside.
"Definitely go earlier in the day— the space inside isn't that big. There's good wifi connection and lots of outlets though," UCLA fourth-year computational science major Mimi Tsang said.
The modern architecture inside lines shelves with books and plants, fostering the perfect study environment for Bruins. Ministry study vibes are ideal for a Sunday morning, especially when you're up for a walk through Westwood. With the cashier counter located just at the entrance to the building, there's a very open feeling to this spot. It's truly the perfect set-up for the average beanie-wearing Trader Joe's-shopping coffee-drinker.
3. Upside Down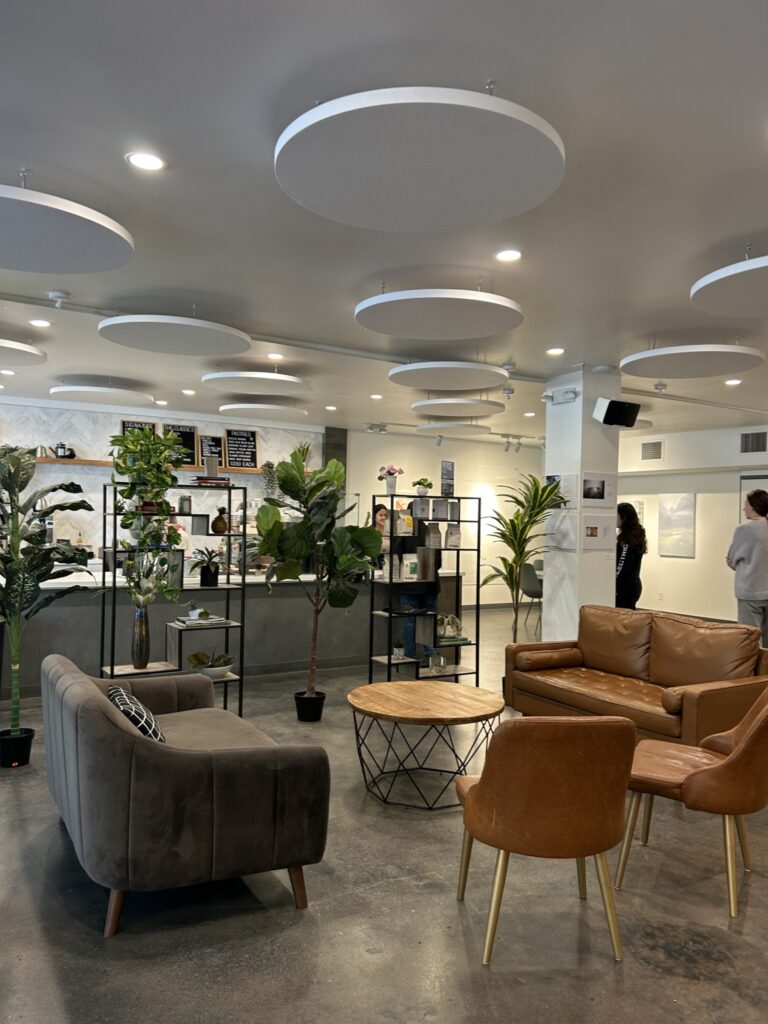 Upside Down provides Bruins another wonderful spot to either set up camp and study at, hang out with a friend or grab a quick coffee on the way to campus. It's located just around the corner from In-N-Out on Le Conte Avenue, the first street you encounter going from campus to Westwood. The donation-based spot offers high-quality pastries and drinks, including festive seasonal specials. And customers are always greeted with kind service from the workers.
"It's a smaller staff, so you start to recognize the staff and they recognize you. It's fun to go in and chit-chat with the employees," UCLA fourth-year chemical engineering major Joel Glasman said.
The seasonal specials provided at Upside Down make for fun new drinks to try during the holidays. Customers can enjoy these tasty drinks while admiring the variety of art pieces that decorate the walls. The plants littered across the interior and the natural light that floods in through the glass front wall contribute to a calm, peaceful ambience. Because it's such a popular study spot, Bruins should arrive as close to opening time as possible.
4. Espresso Profeta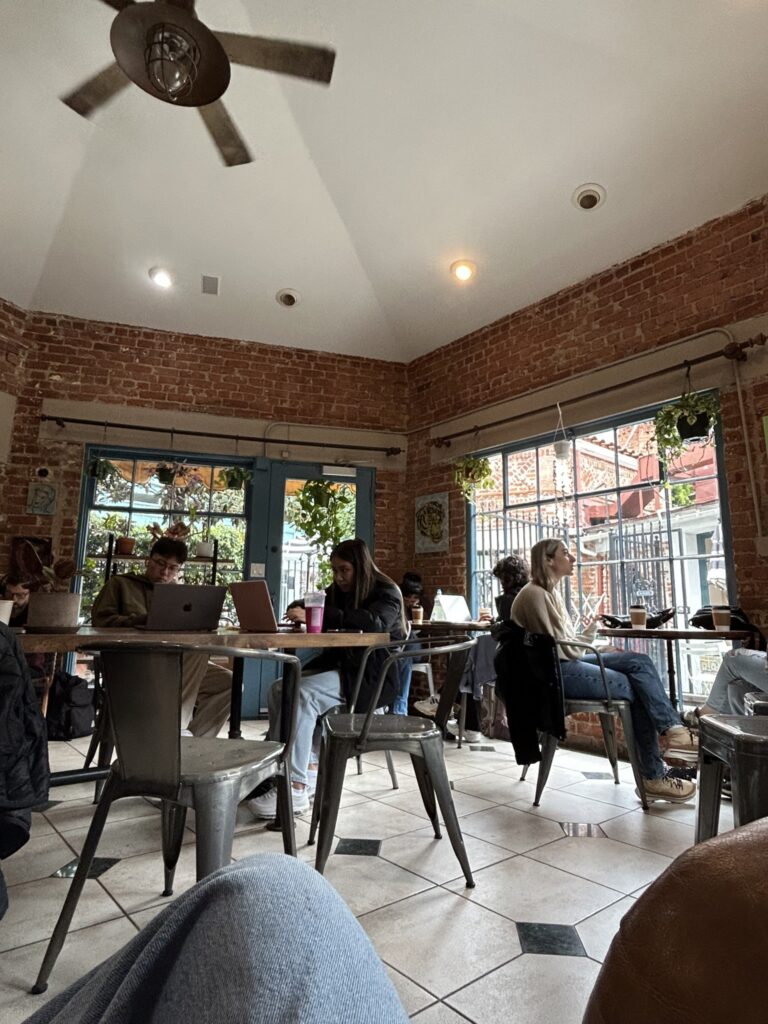 Music plays softly inside this quaint, tucked-away coffeehouse on Glendon Avenue. Tables span both the brick-walled space inside and the leafy patio outside. The rustic and homely atmosphere creates a perfect study space or cozy hangout spot, and the myriad of drinks offered makes for plenty of new ones to try upon each visit. I recommend the Spanish latte for a semi-sweet coffee drink with a smooth caffeine boost.
"I like that it's hidden. Every time I go there I feel like I'm showing someone somewhere new, which is rare when you're doing something mundane like getting coffee. It's like an added element of satisfaction," UCLA third-year math econ major PJ Colino said.
If you ever feel the urge (like myself) to fulfill your coffee needs away from the bigger crowds at the popular coffee spots, Espresso Profeta calls your name. The small space and abstract art could very well be the introverted coffee-lover's sanctuary. Or, if you're looking to go on a wholesome coffee date without being spotted by everyone you know, this is your spot. Regardless of your individual intentions, Espresso Profeta never fails to provide soft, warm vibes.
5. Alfred Coffee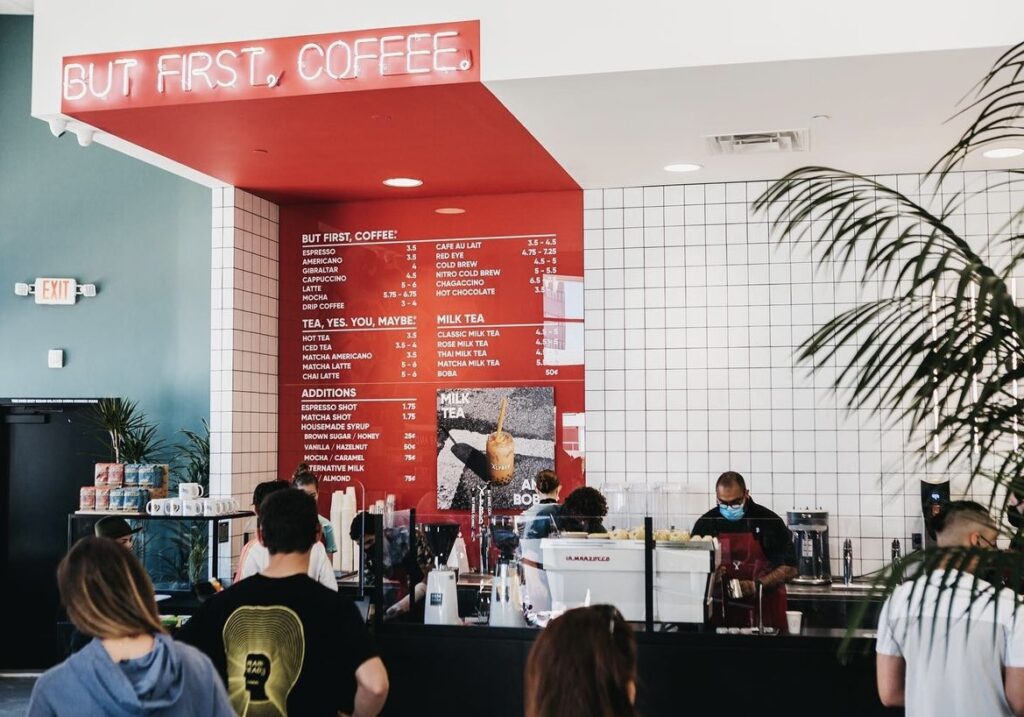 Looking for a cool hangout spot with great coffee? Alfred's is the place for you. The famous iced vanilla latte made with homemade syrup is a crowd favorite at this modern spot. It's located a bit further from campus— at the corner of Westwood Boulevard and Lindbrook Drive.
"It's not a good study place— the tables are small. They play really good music, but it can be loud. Most people are having conversations, so it's definitely more of a chatty spot," UCLA third-year business economics major Rujula Rao said. "The first time ordering from the app your drink is free, including alternate milk types and stuff!"
The additional distance makes for a lovely walk with a friend or two on a nice day. After a long week of studying (or partying) hard, a little bit sunshine goes a long way. The drinks and pastries do get a bit pricey (it's a coffee chain in Los Angeles, after all), but the quality is worth the few extra dollars. Especially if you're looking for a strong caffeine buzz, Alfred's got you set.
6. Jimmy's Coffeehouse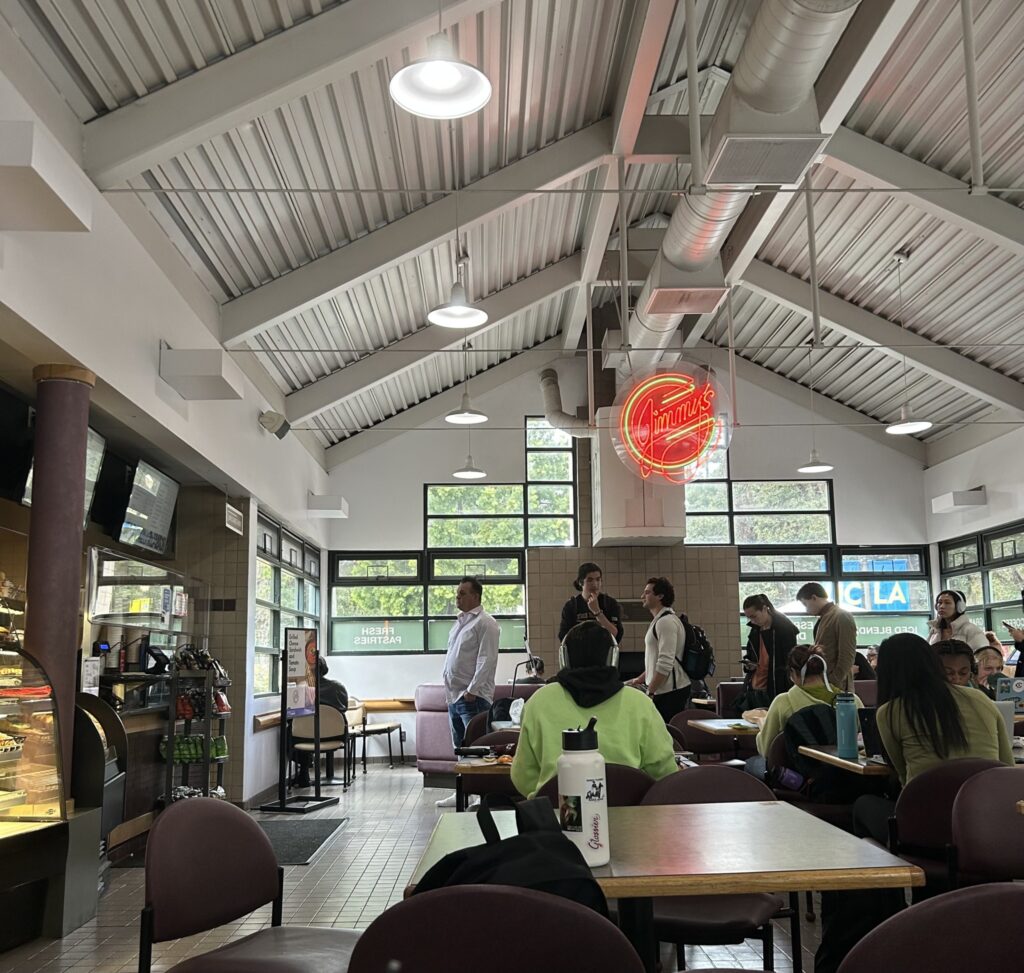 Located at Lu Valle Commons, Jimmy's provides espresso drinks, pastries and a laid-back study space. Plenty of seats are available inside for students to both work and hang out with friends underneath the retro neon Jimmy's sign. The courtyard outside offers a lovely spot for people-watchers as other Bruins mill about north campus. The food court at Lu Valle Commons offers even more tasty food options for students.
7. Bruin Buzz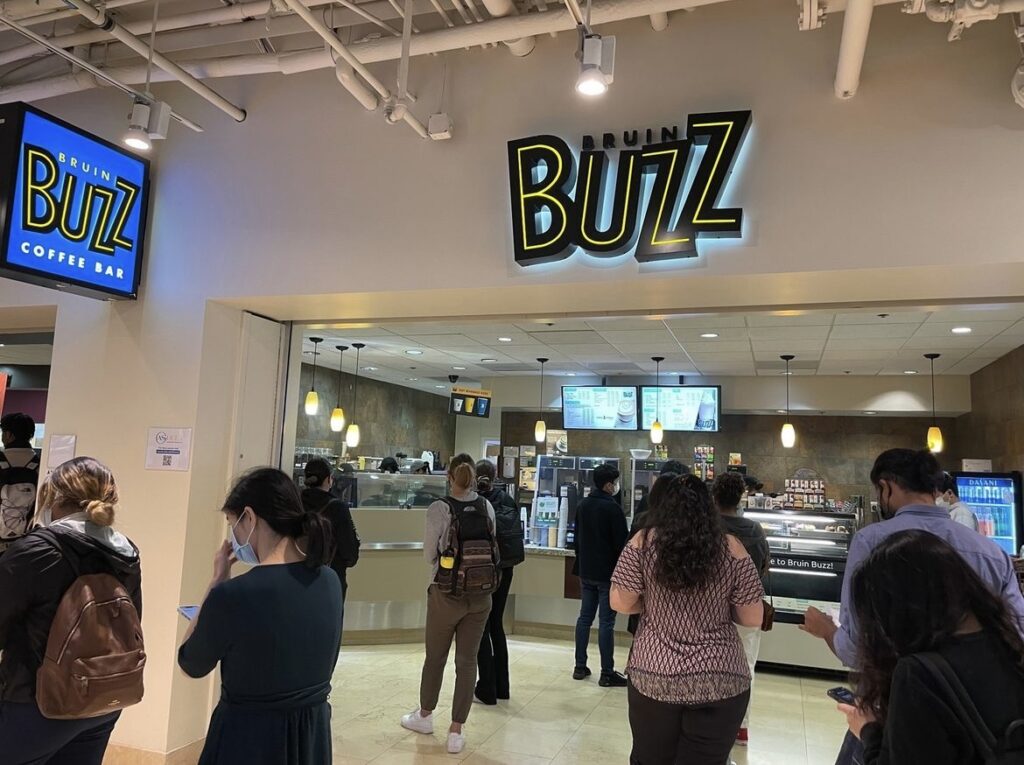 Ackerman Union hosts several food and drink options for students from both north and south campus— and Bruin Buzz is the best quick coffee stop available. Though the lines can get quite long during rush hours, students never wait too long to get their order. Bruin Buzz lacks chairs in the shop itself, but the food court area just in front of it holds several tables for Bruins to sip their coffee, do some work or just relax and unwind for a while. If none of the tables are empty, don't be afraid to ask a stranger if you can join their table!
8. Music Cafe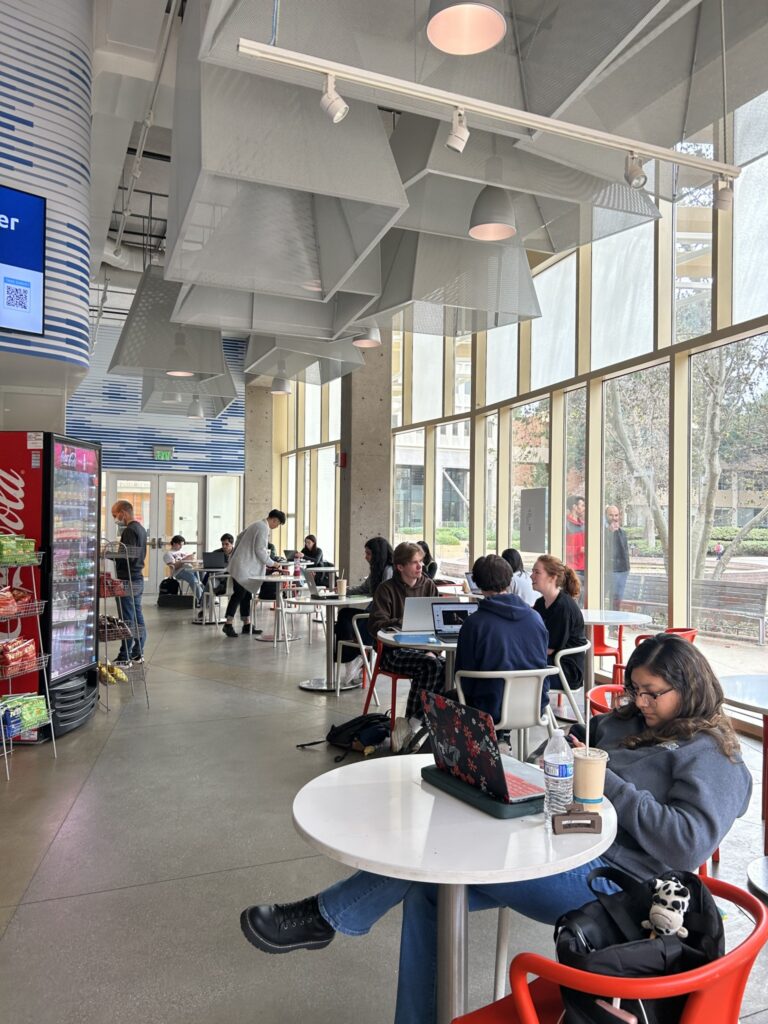 A plethora of natural light floods into the glass walls of the Music Cafe, giving Bruins a perfect view of the infamous inverted fountain as they study. With limited seating and lengthy lines during class passing periods, the Music Cafe provides a more of a grab-and-go coffee spot than a sit-down or hangout one. Don't be discouraged by the line out the door— the wait is relatively short! The open feeling of the space inside makes for the best quick stop on south campus while providing the soft ambience of north campus.
9. Anderson Cafe (Starbucks)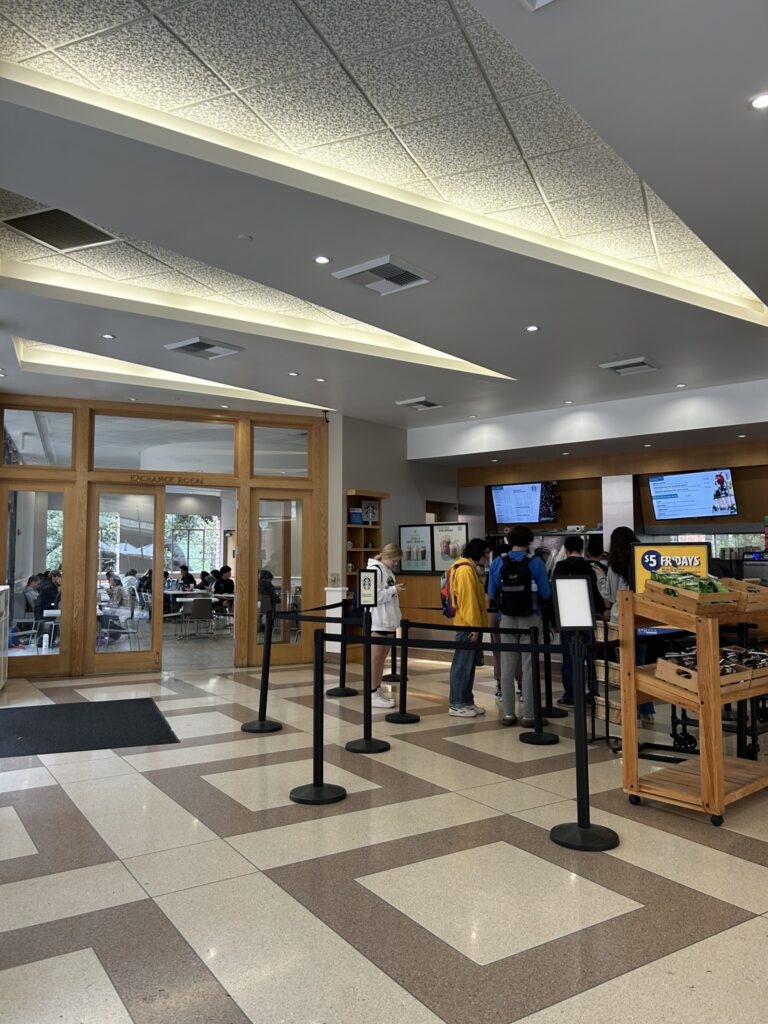 The Starbucks location at the Anderson School of Management offers yet another north campus location for Bruins looking for a caffeine buzz. Both indoor and outdoor seating are available here, and it also works as a coffee grab before class. But be aware of the time – this modern-styled Starbucks is typically bustling with students. As such, the lines get long and the wait time just to order can take between five to ten minutes.
"It's nice to not have to walk all the way down to Westwood to get the Starbucks experience. And they offer salads and paninis, unlike other Starbucks locations," UCLA fourth-year political science major Langston Brown said.
The Starbucks in Westwood simply doesn't provide the convenience and study atmosphere that Anderson does. Anderson offers plenty more seats and a much larger space overall. If you have a few hours to kill between classes, keep this location in mind. It's essentially Westwood Starbucks but better— more food options and less walking from campus involved!
10. Dunkin' Donuts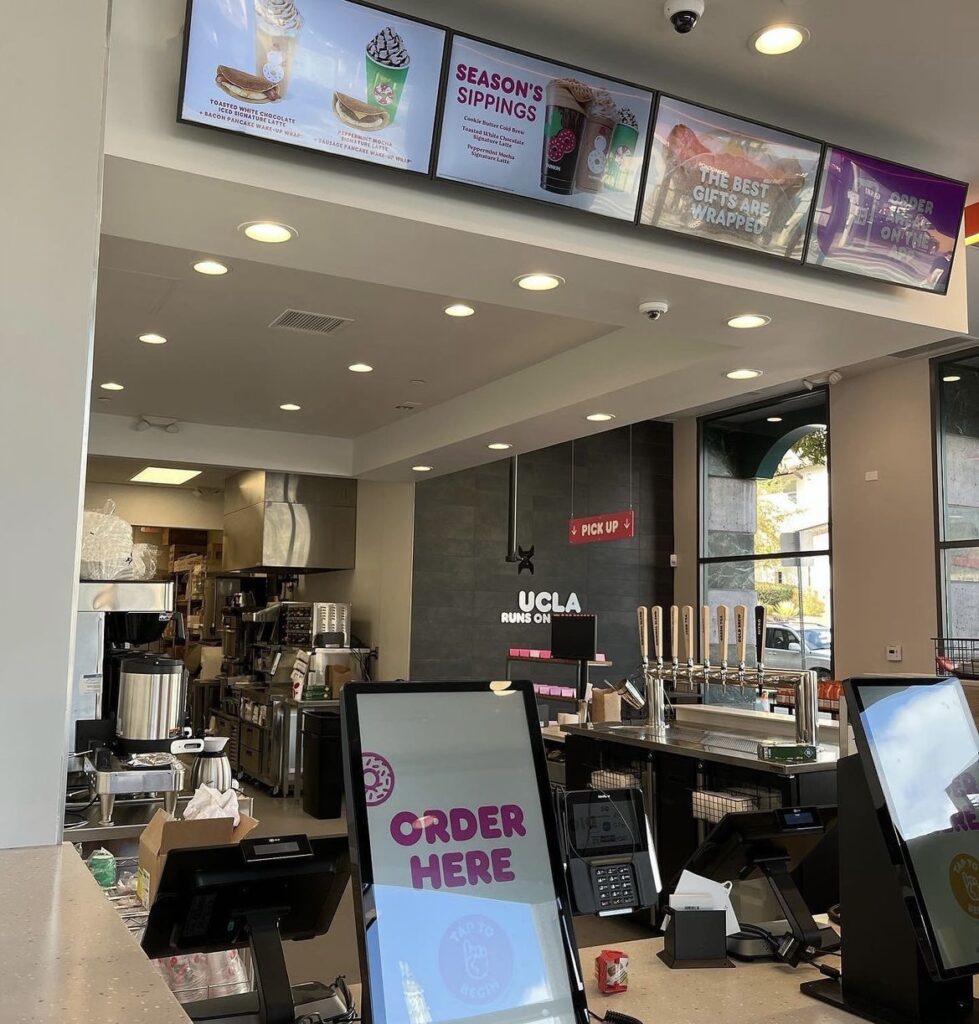 Opened recently in January at the corner of Gayley and Le Conte, the Westwood Dunkin' Donuts location offers Bruins a convenient, cheap coffee and breakfast option. The warm smell of coffee greets students as they enter the glass-walled building. A few outlets and sitting areas are available, but this location isn't conducive for studying or hanging out. (In my experience, Dunkin' is best when I need a quick caffeine boost or to cure a hangover.)