We've all been there. You wake up after an evening of uproarious fun with a churning in your gut and a sudden, violent aversion to sunlight. You witness rather unsavory things leave your body from one end or the other, and your head feels too small for your brain. Slowly, your sluggish mind hones in on a single, animal desire: food. Nothing sends a hangover packing quite like a huge, greasy breakfast, so we at CM have compiled a list of the best college spots to get that fix.
10. University of Virginia – "Bodo's Bagels"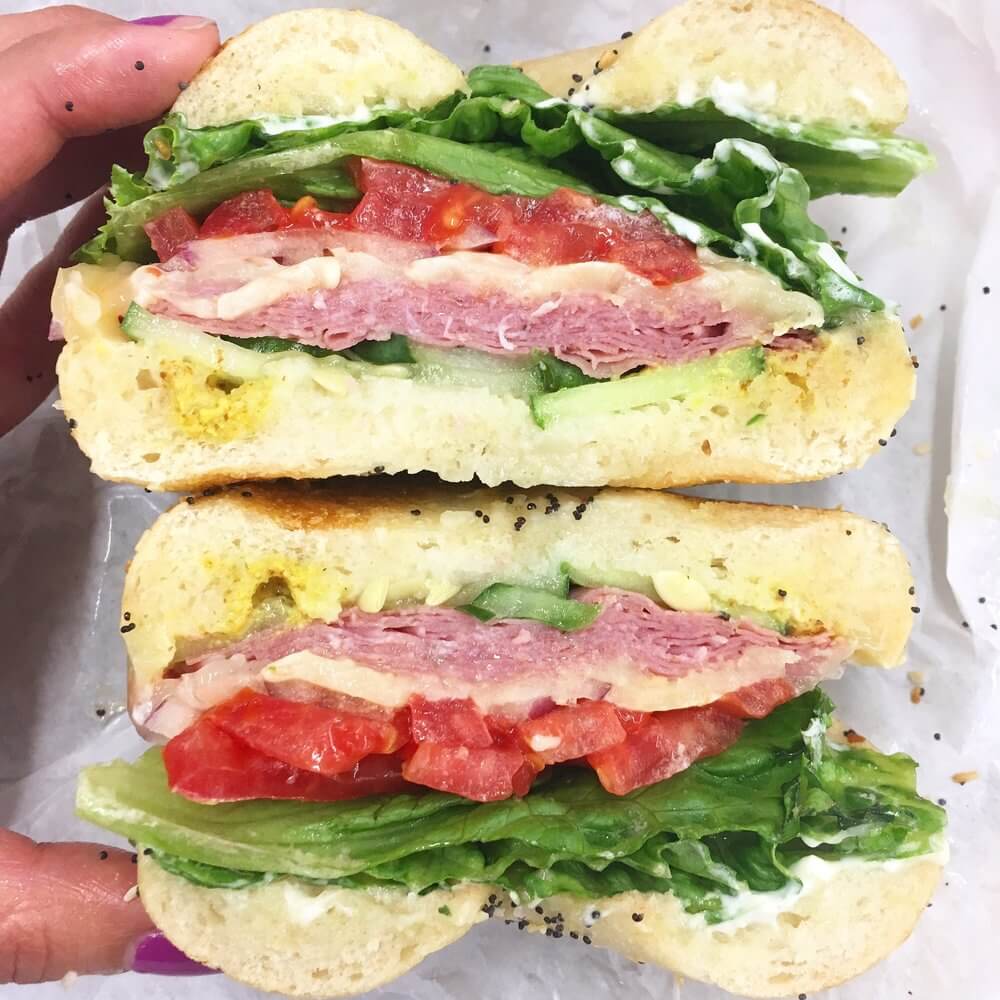 Open bright and early for those superhuman morning people or those just crawling home from a memorable night ne'er to be remembered, Bodo's Bagels has become a long-standing staple on the UVA Corner. New York style bagels made fresh all day, every day entice even the most comatose of students to emerge from their comforter caves and sofa sanctuaries. "I swear they put something in their bagels," UVA senior Alex Kohout said. Selling at just $0.70 a pop, or $0.60 apiece for orders of a dozen or more, Bodo's Bagels are the perfect fix for hangover junkies everywhere.
9. Purdue – "Triple XXX"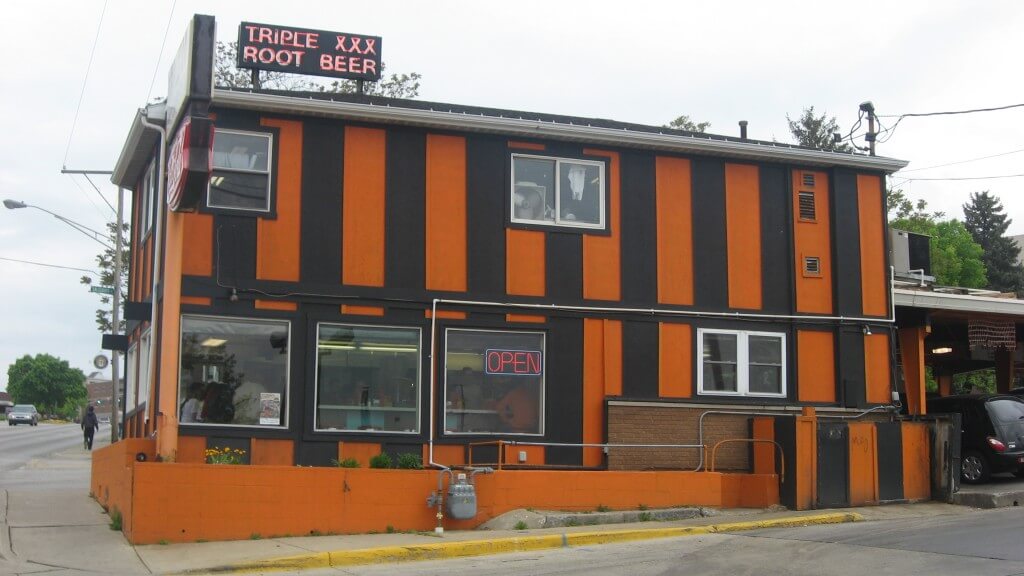 Get your minds out of the gutter. Triple XXX isn't a roadside "superstore" with a drive-thru on the side. It's actually a family appropriate burger joint a few blocks from Purdue's campus. "Nothing can beat a good burger and milkshake to cure a headache," sophomore Megan O'Brian said. Known for their breakfasts, burgers and (root) beer, the nostalgic atmosphere of this diehard black and old gold joint (Boilermaker Burger, anyone?) is as comforting as the food.
8. University of Mississippi – "Big Bad Breakfast"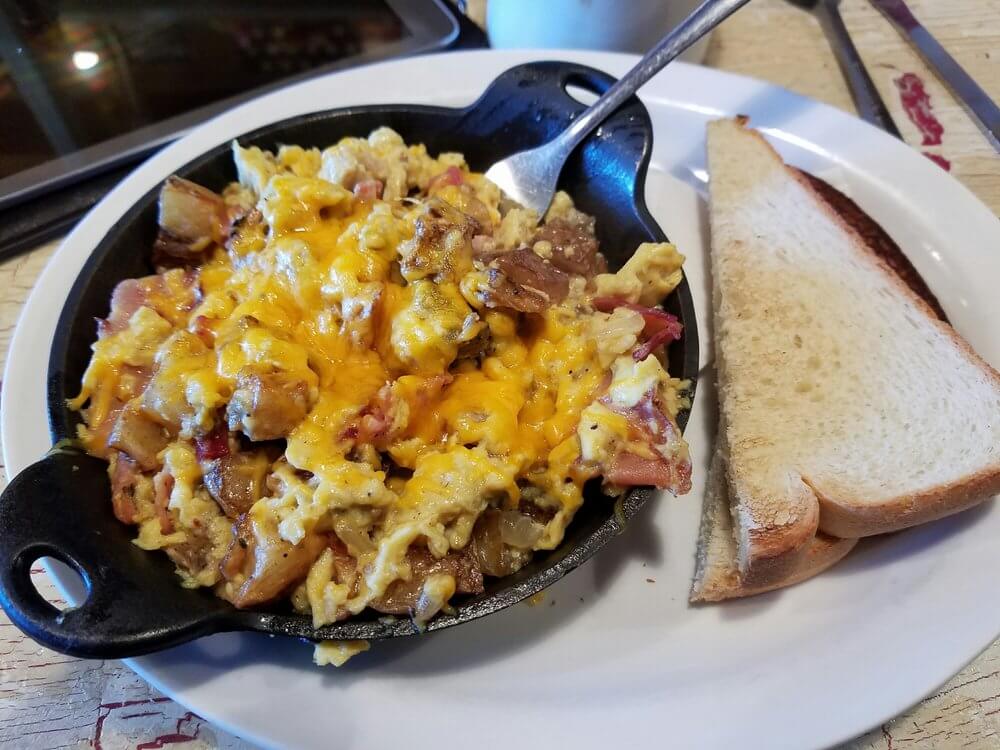 You took full advantage of that Southern Comfort last night. Why not try a different kind of southern comfort this morning? Don't let the bustling atmosphere fool you, at Big Bad Breakfast you'll be surrounded by your equally disheveled Ole Miss peers looking to lose themselves in a hearty helping of Shrimp & Grits. Ole Miss junior Adam Hollander captures the welcoming spirit of the joint: "It's okay to go to BBB with a sharpie penis on your face; it's that kind of place." If your recent shenanigans haven't sated your appetite for adventure, try the Pylon: a sweet waffle piled high with chili dogs, pickles, cheese, mustard, saltines and jalapeños. The only thing better than the alcohol-absorbing food? The prices. The most expensive thing on the menu is only $12.50.
7. UW-Madison – "Mickies Dairy Bar"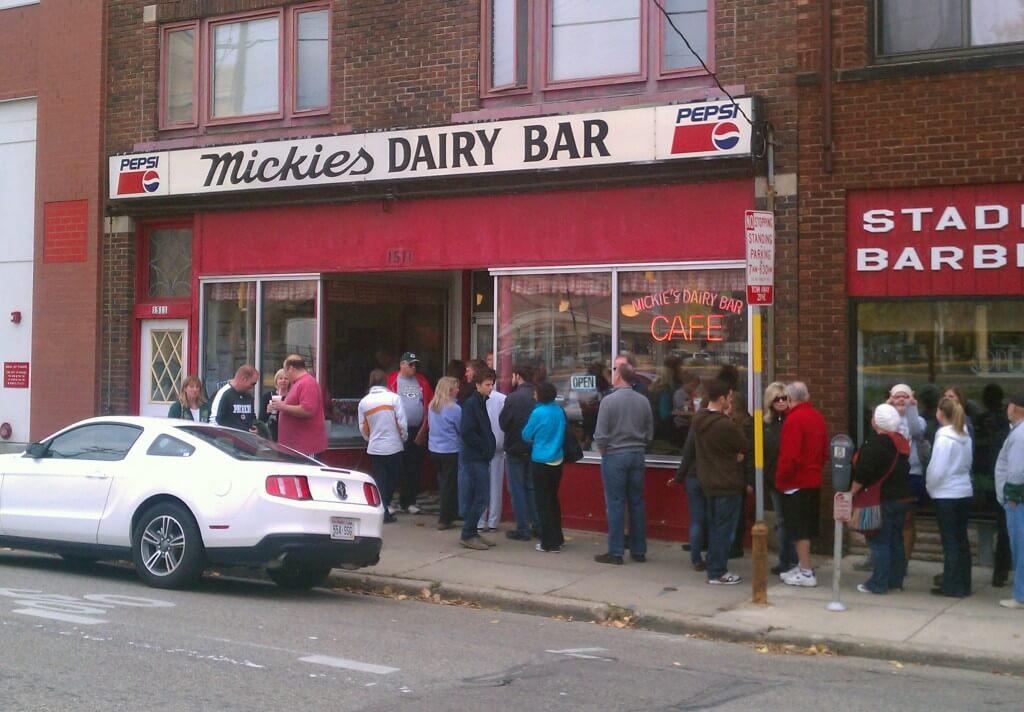 The state of Wisconsin is known for its beer, which is fitting considering Wisconsin's largest university boasts a rather prominent proclivity for partying and a staggering hangover rate. But with the tools for destruction come also the tools for reparation, and Mickies Dairy Bar stands strong at the front of the war against hangovers. "Mickies is the only thing more important than sleeping off your hangover," said senior Jonah Bastin. From old-fashioned milkshakes to inch-thick buttermilk chocolate chip pancakes, Mickies serves up affordable hangover cures in the shadow of Camp Randall. Whether choosing Mickies for its location, its down-to-earth atmosphere or the beautiful fiasco that is the egg Scrambler, the diner never fails to impress.
6. Oklahoma State – "Shortcakes Diner"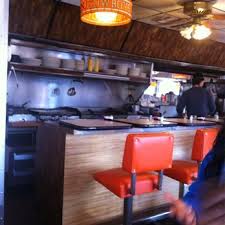 Take a guess as to this diner's specialty. Go on, guess. Did you guess shortcakes? If you did, then last night didn't do as much damage as you thought. If you didn't, run down to Shortcakes Diner immediately because you need help that only a plate of steak and eggs or a stack of hot pancakes can give. Whether you roll in at 4 a.m. with your party dress on and your heels in your hands or at noon with sunglasses and a hoodie, the saintly folks behind the counter of Shortcakes keep the doors open 24/7 for every wayward student. "Shortcakes is definitely a hole-in-the-wall diner," senior Ryan Hammons said. "It comes with that southern hospitality." Sadie Higgins, whose grandparents own the diner, agreed. "The employees at Shortcakes treat you like family," Higgins said. "It's the best place to go after a long night of drinking, but it's so much more than that."
5. University of Oregon – "Dough Co."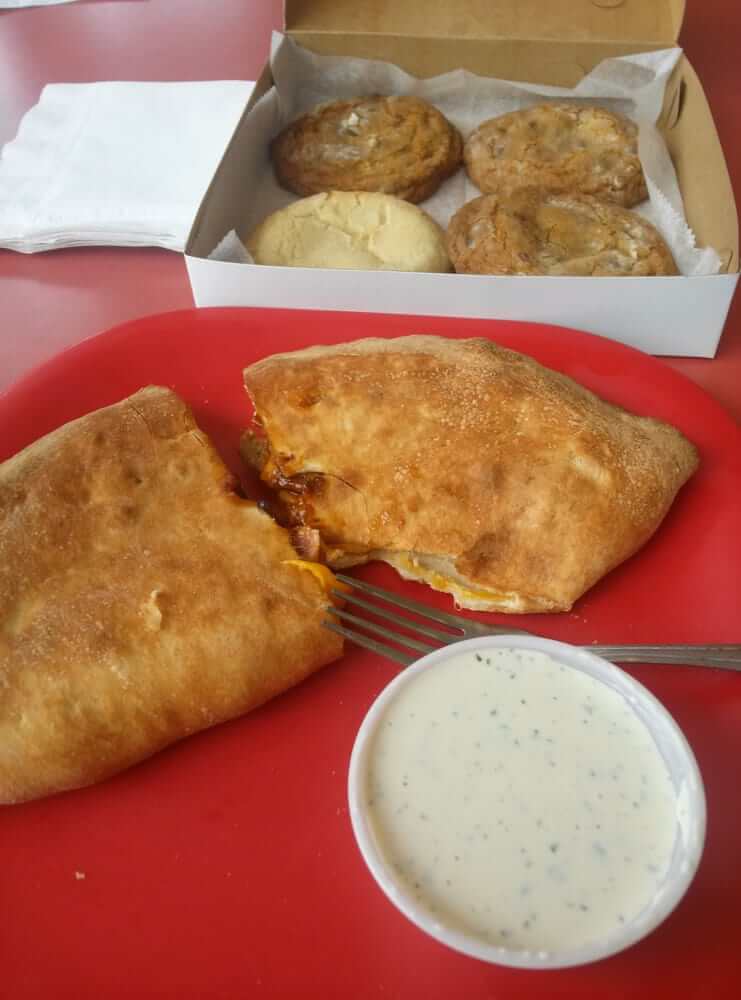 Imagine you're sitting on your grandmother's floral couch, the pattern just visible under the sheet she uses to protect it from her many small, fat dogs. You've skinned your knee, and you're certain you'll only recover with a plate of grandma's warm, gooey cookies. Grandma's couch has become the University of Oregon's Dough Co., and the Co.'s homemade cookies are curing something a little less savory than a bruised knee. "The cookies are easily the best part," 2014 graduate Chris Fuglestad said. "Freshly made, gooey and doughy, there's nothing so satisfying – sober or inebriated." Along with four kinds of cookie, Dough Co. also offers over thirty kinds of calzone for the famished student (ranging from breakfast flavors to pizza combo), all at less than $8 each.
4. University of Minnesota – "Al's Breakfast"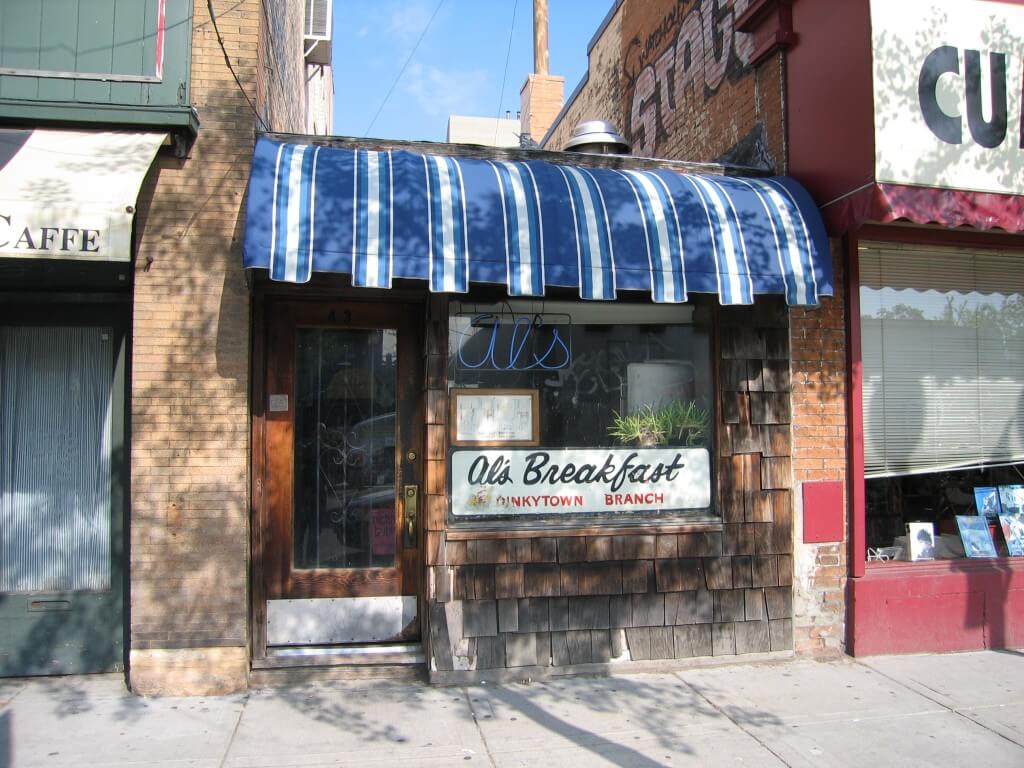 If you were to look up the definition of "hole-in-the-wall," you probably wouldn't see a picture of Al's Breakfast because there are actually very few pictures in dictionaries. But, as hole-in-the-walls go, this Dinkytown diner is one of the best. "There's only one bar to sit at, so it's a really fun atmosphere because you get to know people around you," sophomore Katie Moenck said. Serving an exorbitant number of people from a ridiculously tiny base of operations (I'm talking a 10 foot storefront) Al's pairs student-friendly pricing with greasy, made-from-scratch portions to match even the most brutal of hangovers. As for Al's, this hole-in-the-wall is a hole-in-one.
3. Northwestern – "Sarkis Cafe"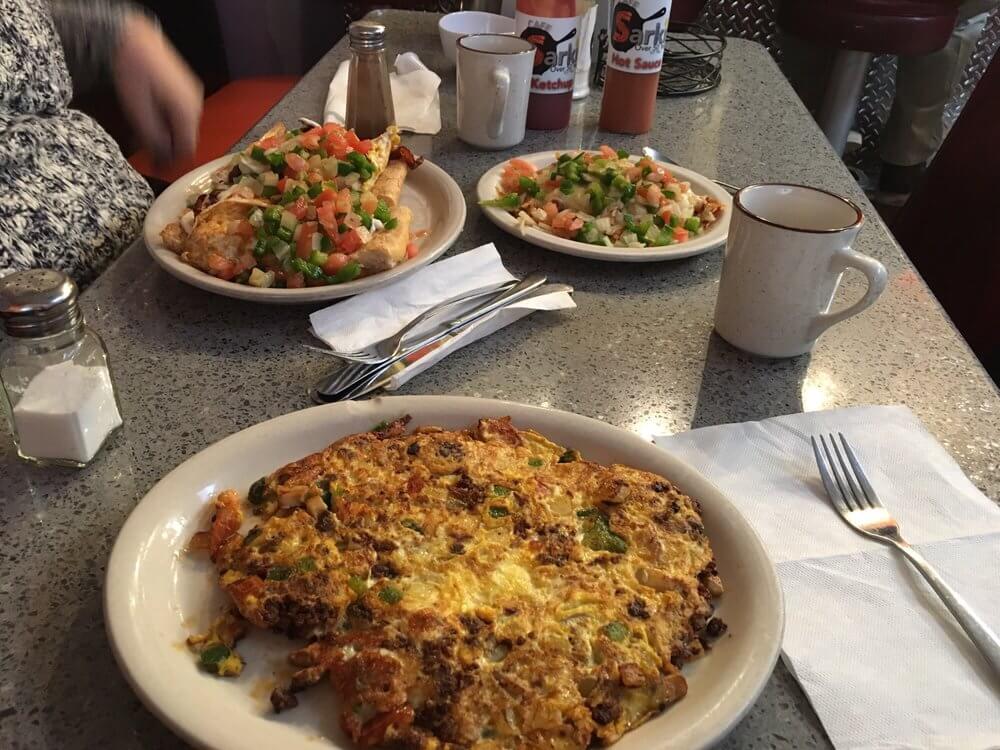 Sarkis Cafe is, with all of its heart, a haunt for the hungover. After you've managed to drag yourself out of bed, or out of the bathtub or out of that bush by the freshman dorms, Sarkis is ready to welcome you in all your glory. Your smudged mascara fits right in with the dilapidated restaurant, and you disregard the throbbing behind your eyes as soon as that Bacon Loretta makes its appearance. "Leave your diet behind at Sarkis," sophomore Isabel Seidel said. Only $6.50, the Loretta is a hot mess of eggs, veggies, melted cheese and stacks of bacon piled atop toasted bread. Ineffable in its perfection, the Bacon Loretta is not described, it's experienced.
2. Syracuse – "Funk 'N Waffles"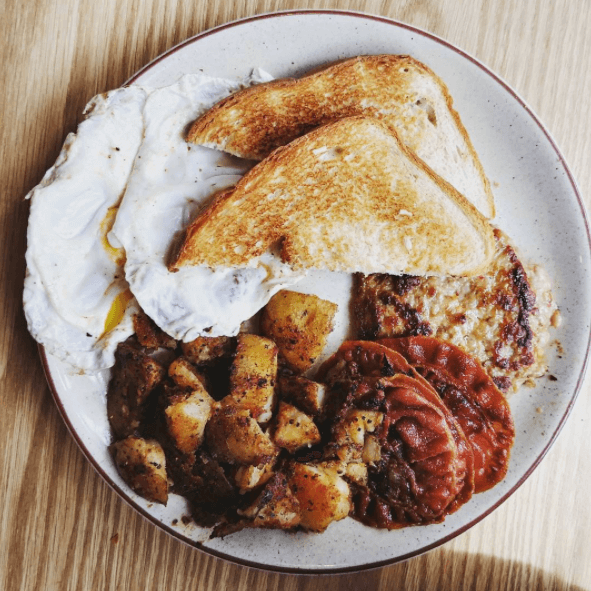 The perfect mixer of music and food, Funk 'N Waffles combines the alternative atmosphere of an underground music scene with the godsend that is the waffle. Offering over 23 different types of waffles, the Funk 'N Waffle caters to even the funkiest of post-drinking conditions. Picky? You can design your own waffle if the house favorites (including the Jive Turkey, a waffle stuffed with smoked turkey, mashed potatoes, cranberry sauce and gravy) are beyond your current capacity to stomach. Funk 'N Waffles was created by Syracuse students for students, so the atmosphere is perfectly calibrated to fit the college vibe. "Funk is the definition of hangover food, and you get great bang for your buck," senior Aaron Liebman said. "Which is important considering you probably blew too much money on drinks the night before." You can claim that you're only there for the live music or open mic, but you aren't fooling anyone. Order a waffle and bask in the syrupy relief, you crazy animal.
1. Ohio State – "Hang Over Easy"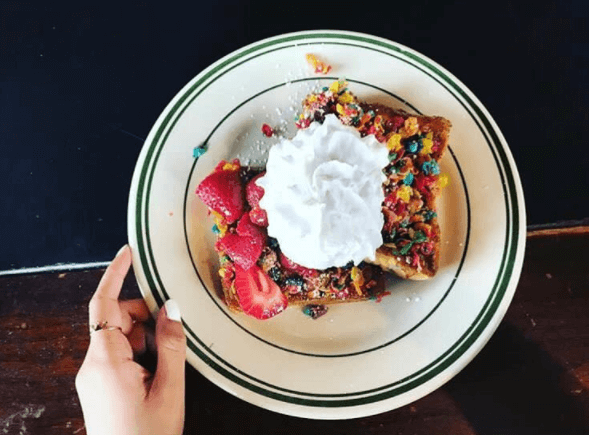 As their motto declares (but in hushed tones, for the sake of their patrons), Breakfast Cures All. Nestled on the edge of Ohio State's south campus, Hang Over Easy takes home the bacon as the best hangover cure on college grounds. "Not only is the food excellent, but the atmosphere and price of it all is also exceptional," Ohio State senior Shea Murray said. "I am definitely a HOE lover." With a menu boasting huge, greasy portions for under $10, Hang Over Easy breathes life back into bedraggled students and caters to even the most desperate cases. Wake up with your blood alcohol content still turnt from last night's party? Trust the "Tipsy Bread Pudding French Toast" to bring you back to the land of the fully conscious. Wake up in the bed of an unfortunately chosen non-stranger? "Sloppy Seconds" might be a better choice for you. Having trouble waking up at all? Hang Over Easy can relate with "Struggling to Get Up." You'll find comfort in the buttery, feather-light pancakes – and in the knowledge that you've nursed your wounds with the best hangover food in the country.