It's a wonder there haven't been more songs about backpacks since the one we all sang along to on Dora the Explorer. Backpacks hold all of the essentials of college life. Forget a briefcase full of cash; your backpack is worth more with your small fortune of textbooks in there. And what would proud, basic girls do without backpack's mesh side pockets to hold their monogrammed coffee tumblers? Plus, your backpack has probably been the treasure chest that hid your booze collection from your RA while walking to a BYOB get-together once or twice.
If you're ready to take a minute and research further, check out our guide to the best college backpacks for 2018. Ideally your backpack will last for a year or more, and even in this modern world that seems to fear commitment, you should make sure to choose the best backpack for college that fits your academic needs. That means it's time to ditch that old high school bookbag. Our guide to choosing the best backpack makes your life easier. We describe the features plus the perks. Then we top it all off with real life examples and feedback from students.
Not sure what to sling around your shoulder this semester? Start here!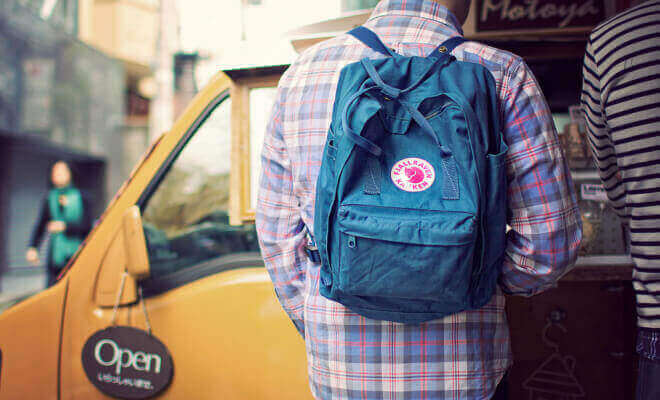 10 College Backpacks for 2018
Written by Kelsey Llewelyn
You know how Dora the Explorer's backpack always has exactly what she needs? Try out the Yorepek Travel Backpack to discover the real-life version of that magical backpack. Although this water resistant bag is neither purple nor anthropomorphic, it will help you tremendously on your daily quests. Protect your belongings with the backpack's anti-theft lockable zips and removable key ring while storing your electronics in the phone bag and laptop compartment. On top of all that, charge your phone with the external USB port. Thanks to the multi-panel design of the backpack, you'll never complain about its lack of comfort and back support. See? We told you this backpack has everything.
Price: $39.99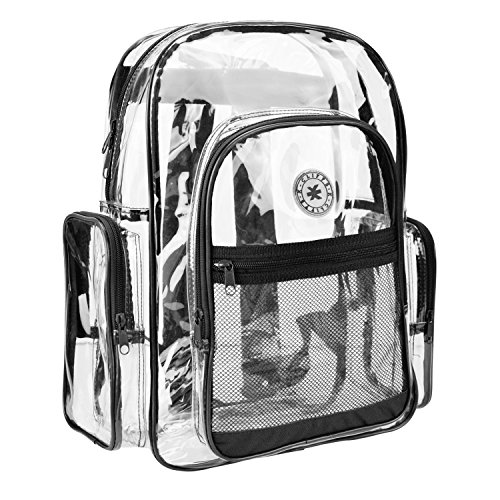 Designers, models and the Kardashians flaunt transparent plastic shoes, umbrellas, jackets and bags. Make your college campus your own runway by flaunting this fashion trend via your backpack. The clear PVC of the bag exposes the contents of your bag, allowing you to show off that cute new notebook or array of highlighters. The adjustable padded straps and assortment of spacious exterior pockets transform this bag from a fashion accessory into a highly functional and comfortable backpack.
Price: $22.99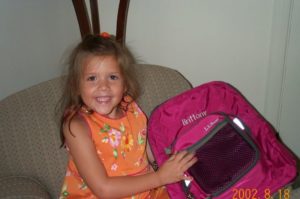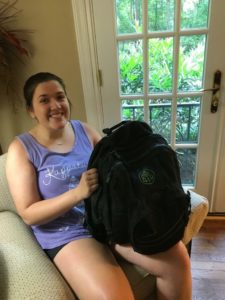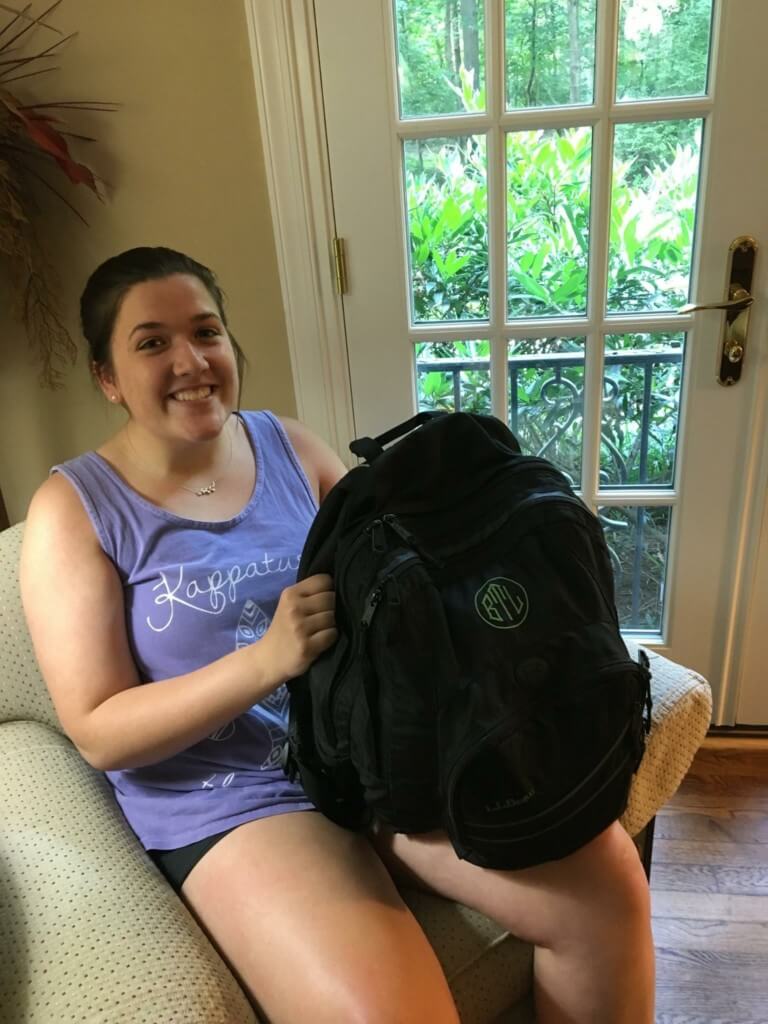 Skittles lets you taste the rainbow, but L.L. Bean lets you wear it. Choose from a seemingly endless selection of backpack colors to really pop on campus. "I've had my L.L. Bean backpack since first day of kindergarten," William and Mary senior and lifelong L.L. Bean fan Brittony Trumbull said. "It can hold so much stuff, has tons of pockets and is incredibly durable. I have only had to replace it twice in the past 17 years and that's just because I wanted to upgrade a side up to fit my needs." Want to personalize your backpack even more? L.L. Bean provides free monogramming on all of its classic backpacks.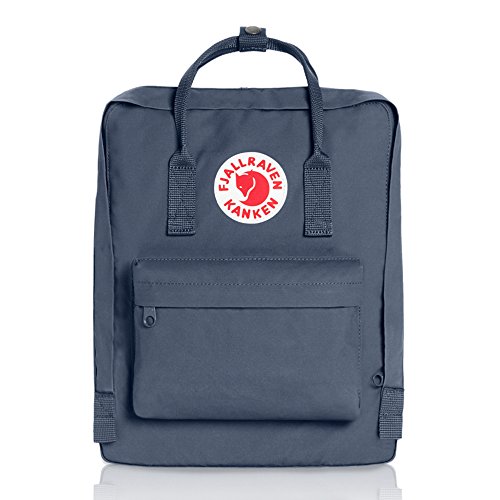 A Swedish brand, Fjallraven creates comfortable, stylish and functional backpacks. We see this multi-pocketed backpack regularly on Instagram and on the backs of students in cities all over the world. Made in a wide variety of colors and color combinations, the Fjallraven Kanken Classic Pack is sweet on your eyes and even sweeter on your back.
Price: $68
Buy a Patagonia backpack once and you'll own a Patagonia backpack forever. Patagonia's founder, Yvon Chouinard urges shoppers not to buy new products, but to repair their old ones. With this environmentally friendly mission, Patagonia creates ageless, durable products and offers to fix broken ones. "I like my Patagonia backpack because it gives me good back support. It's meant for hiking so it can carry my heavy books," Washington University freshman Mackenzie Llewellyn said. Though initially expensive, the Patagonia Chacabuco Backpack lasts years and benefits the environment, all while exuding style.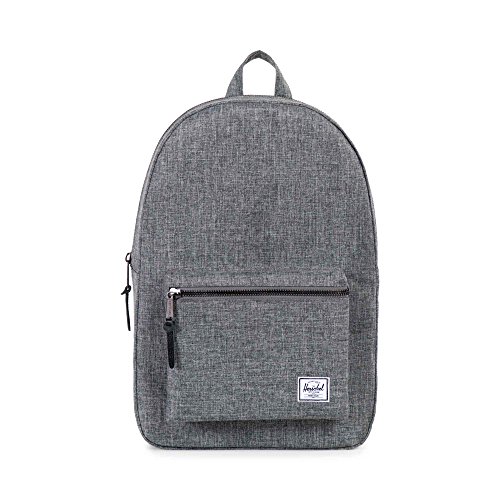 Fashionably modern and incredibly comfortable, the Herschel Supply Co. Settlement Backpack boasts spacious pockets, a laptop compartment, cell phone sleeve and headphone port. Herschel blends a vintage outdoorsy look with global fashion and functionality. Spot other Herschel enthusiasts with the backpack's red signature nylon lining. Now that you know, you'll notice them everywhere.
Price: $47.50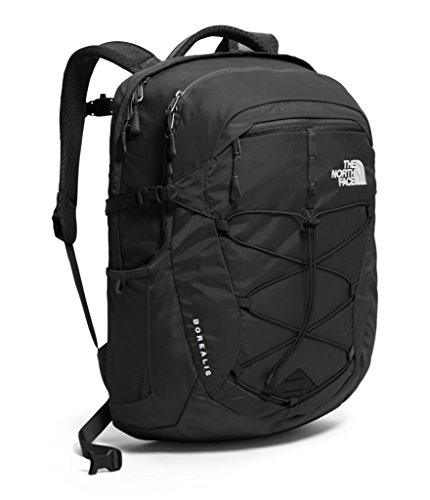 The North Face Borealis Backpack helps you compartmentalize everything. Highly organized students love the internal organization of the front compartment, which contains a padded tablet sleeve and a few zip pockets for miscellaneous items. Easily access your water bottle from one of the backpack's two mesh side water bottle pockets as well as your phone from a side compartment.
Price: varies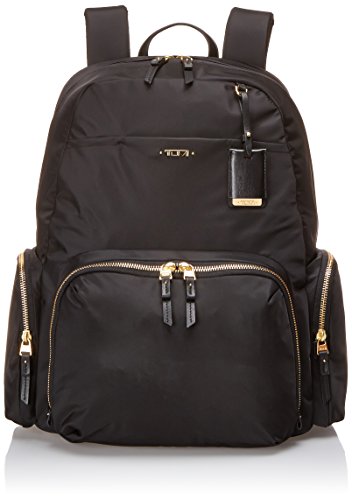 The Tumi Voyageur Backpack exudes elegance, style and class. On the expensive side, this backpack lasts a long time (think long after college graduation), making the investment totally worth it. It contains a padded laptop compartment, U-zip pockets and phone pockets. The backpack's water-repellent nylon exterior means that in a downpour, you may get wet but the valuables inside your backpack definitely won't. Check out the Tumi Voyaguer Just in Case Travel Backpack for a less expensive, yet equally chic alternative.
Price: $395
School backpack by day and invaluable hiking partner at night, the HikePro 20L resists rain, folds up into a tiny transportable package and holds school and hiking supplies alike. Lighter than your workload between semesters, the HikePro 20L endures any and all weather conditions, keeping your books dry and your back straight.
Price: $15.99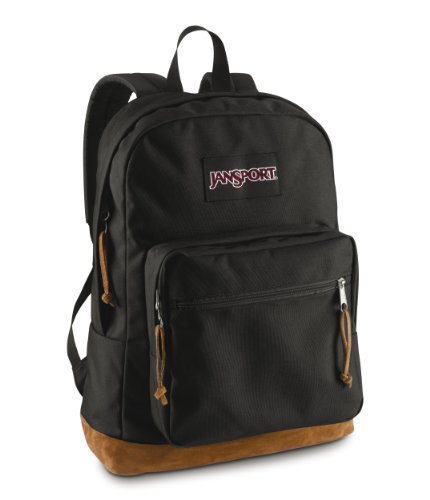 With its suede leather bottom, padded shoulder straps and laptop sleeve, the JanSport unites style, comfort and functionality in the Right Pack Laptop Backpack. The backpack's front zipper compartments afford organization and safety as well. Whether your signature color is pink blush, Tahitian orange or Viking red, JanSport makes it easy to rock your signature color.
Price: $52.79
Check out 10 more must-have backpacks for busy college students.
Written by Jaclyn Childress
Nothing screams back to school like a fresh new backpack that fits all your academic needs — and social of course. Whether you need a USB port, multiple laptop pockets or just want to walk around campus in style, this list has it all. Time to whip out your credit card and hit the computer because these holiday sales won't last long.
21. The North Face Jester Backpack – $69.99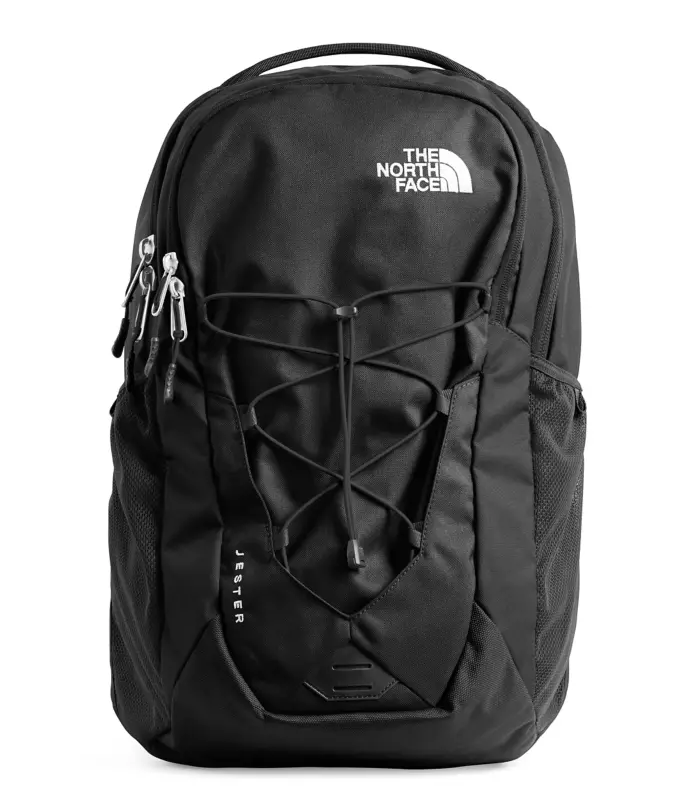 Protecting and organizing all of your stuff has never been easier. The North Face Jester Backpack includes one large pocket with a padded laptop sleeve to hold your books and binders, and a front pocket with multiple sleeves for your phone, pens, chargers and more. It even has crisscrossing bungee cords right on the front for shoving your jacket in or securing your bike helmet. "For someone who can never get back to their room throughout the day, this backpack fits everything I need, from my workout clothes to my books for 9 p.m lab. It keeps me moving with no sign of slowing down," said Wake Forest University junior Chloe Harty. If you always get caught in long days, this backpack is a must have.
22. Patagonia Refugio 28L Backpack – $89.99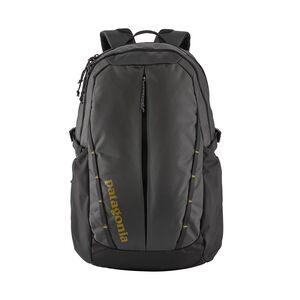 Patagonia has become known for its array of colorful jackets and they're no different when it comes to backpacks. Choose from Tasmanian teal, Mako blue, Mojave Khaki and more to get the perfect fit just for you. With two large pockets and one zipper pocket at the front for smaller accessory items, you can fit all your books while having easy access to your ID, football tickets and anything else you may need on a dime. And don't worry, the two large water-bottle pockets are perfect to fit any Hydro Flask.
23. Under Armour UA Hustle 3.0 Backpack – $54.99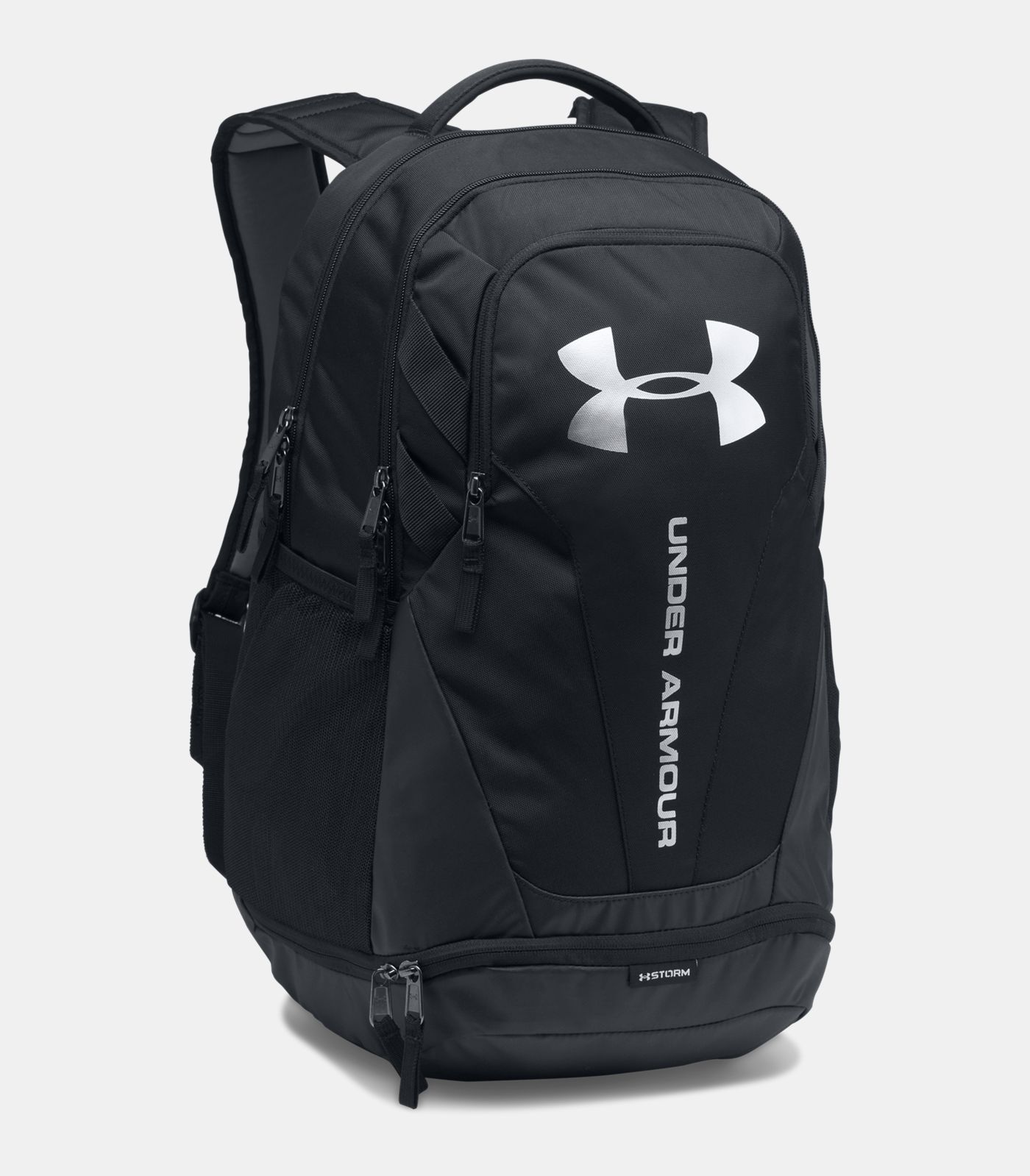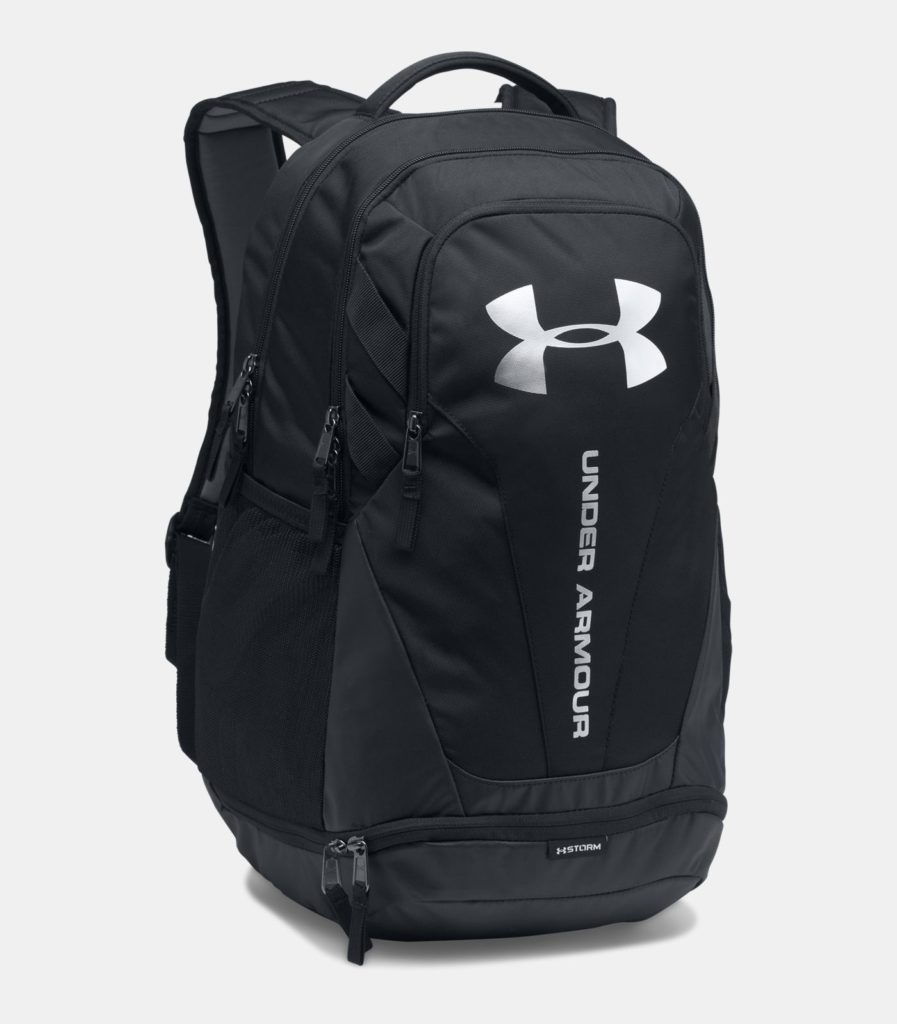 Nothing frustrates a student more than waking up and hearing the sound of pouring rain hitting the window. You can almost see the soggy papers in your future. Well, no more turning in soggy homework because Under Armor has you covered with the Hustle 3.0's storm resistant finish and water repellent front pockets. It keeps everything secure and dry so you don't have to miss a beat. This backpack also comes with a huge zippered pocket on the bottom, perfect to fit your workout clothes and shoes without smelling up your books.
24. Herschel Supply Co. Nelson Backpack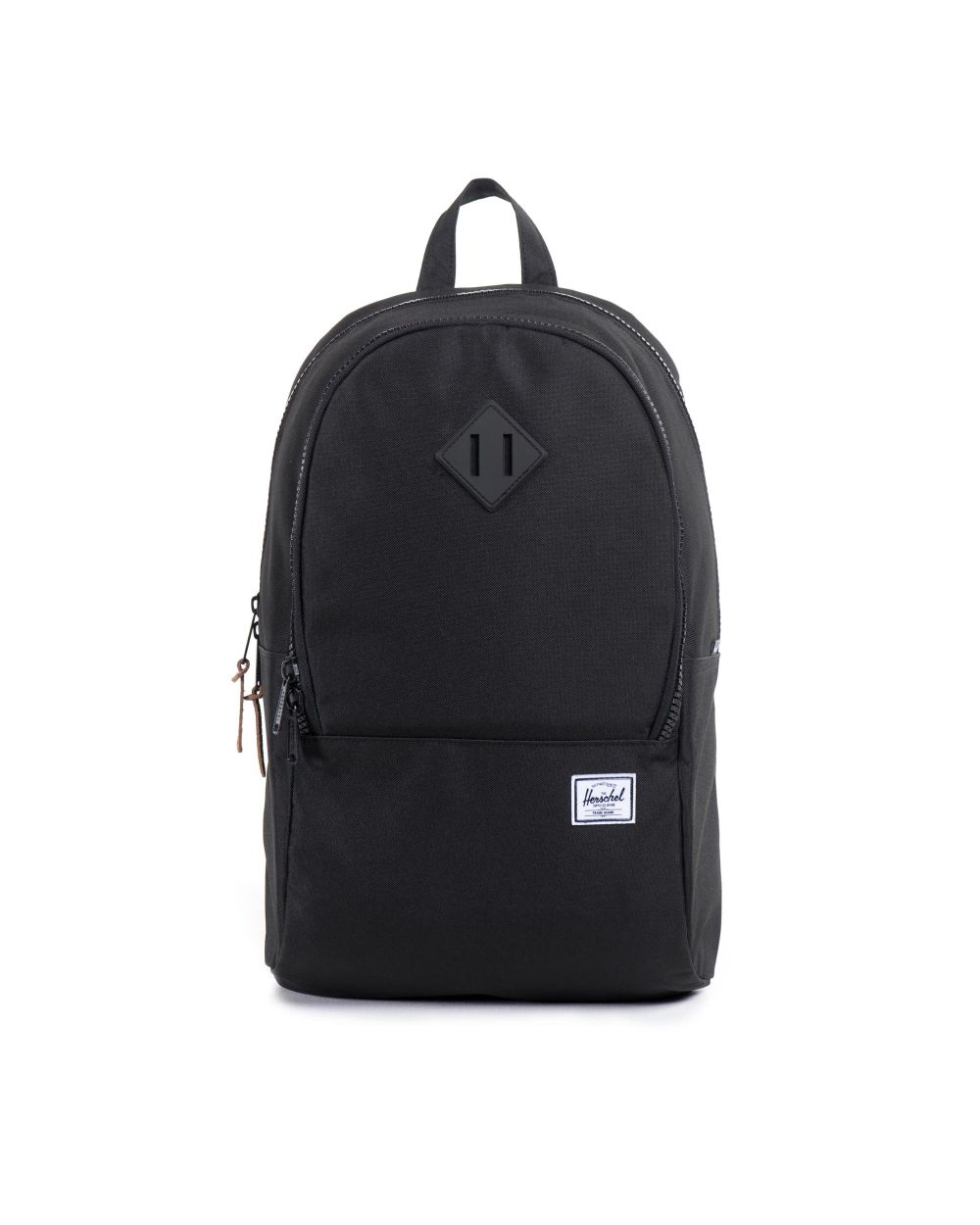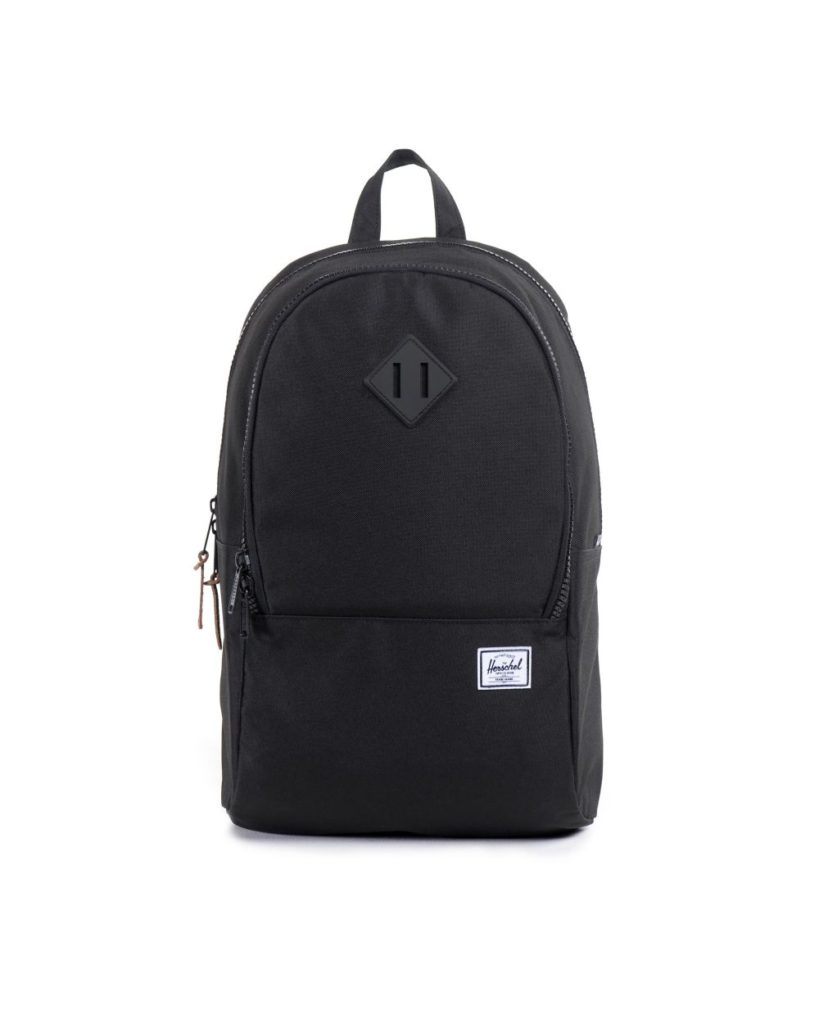 This sleek design satisfies all your minimalist dreams. But don't worry, with two large pockets, one with fleece lined laptop padding, you can bring anything you need on the road. Two padded and adjustable straps ensure your walk across campus feels like luxury, without the luxury price point. This backpack gets the job done while being the perfect Instagram aesthetic. "I love this backpack so much that not even my friend spilling Margarita mix all over it could keep me from it," said Wake Forest junior Maddy Harris.
25. eBags Professional Slim Laptop Backpack – $139.99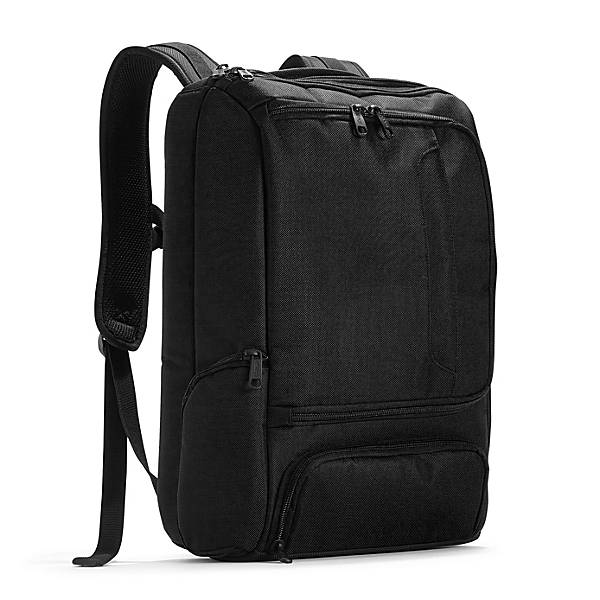 At this price point, you're expecting this bag to be able to do everything right? Well, lucky for you it does exactly that. Just the front pocket alone has over four different compartments for credit cards, snacks, cords, pens, etc. With three more larger pockets, including a laptop sleeve, a tablet sleeve, room for shoes, and more, this backpack keeps its slim rectangular shape, never getting big or bulky. It even has a sleeve on the back so you can transfer it onto rolling luggage. This makes it extremely easy to kill your last final and hit the road home.
Coming from Amazon, this backpack can be all yours in just 48 hours. The Modoker Vintage Laptop Backpack keeps you in style year round with two secured front leather buckles, while offering you lots of space to keep you organized on the road. For the people who only need a few things and a pocket for each, this has it all. Best of all, this backpack comes with a USB charging port on the side so you never have to worry about missing an outlet.
27. GIZMODERN The Most Functional Backpack for Commuters – 228.00 (on sale for 66.00)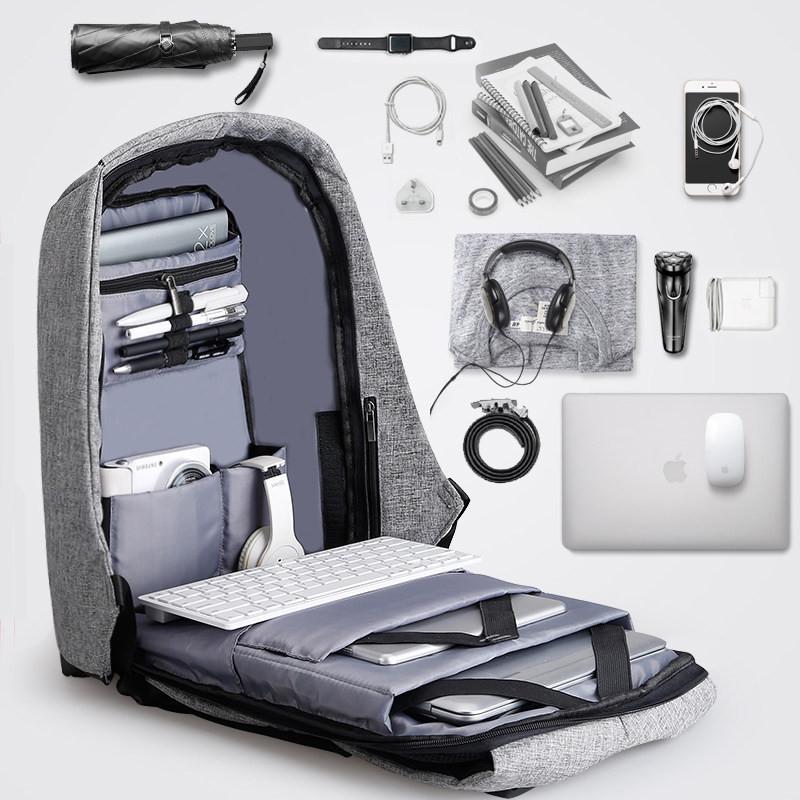 You do not want to miss this backpacks major sale. For a student who thrives on organization, this looks like the perfect Christmas gift. The Most Functional Backpack for Commuters unfolds into two levels with pockets and sleeves for days, this is every organized students dream as nothing will get lost in this bag. It features a small zippered strap pocket, perfect for keeping your plane ticket, ID or any card, for quick easy access on the go and a USB charging port makes it the perfect all day bag. No need to make any pit-stops with this backpack, you can carry more than you need with room to spare.
28. The North Face Router Transit Backpack – $159.00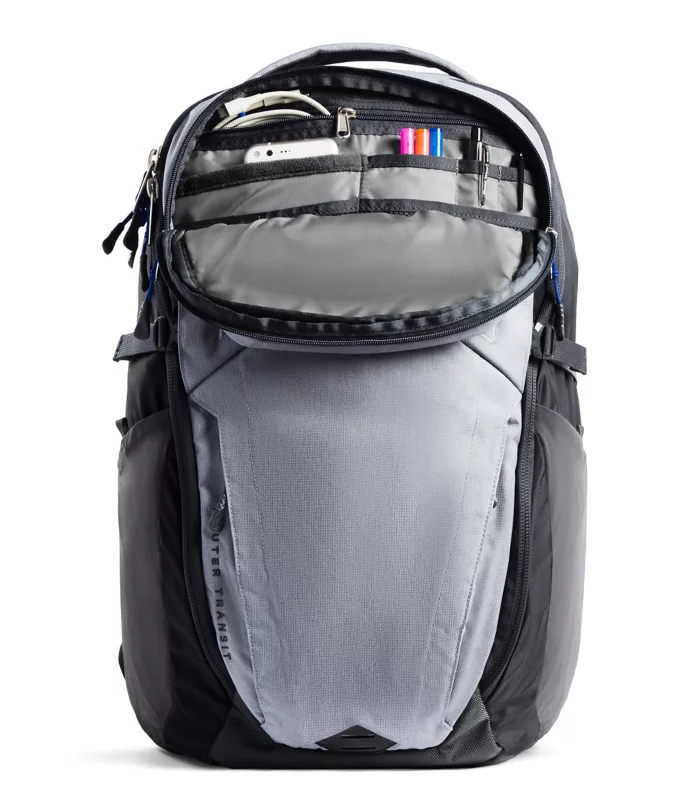 Not everyone is carrying just a book or two with a small laptop and, once again, North Face swoops in ready to save the day. This backpack is able to hold 41 liters with a 17" laptop compartment. While one pocket comes free and ready for whatever you have to throw in it, the second one features mesh zippered pockets and keeps your things just a reach away. Don't worry, just because this bag fills up with clutter doesn't mean it causes discomfort. With a padded back and straps you can carry all your things with ease.
29. Pearlyo Waterproof anti-theft college backpack with USB charging port and lock – $54.27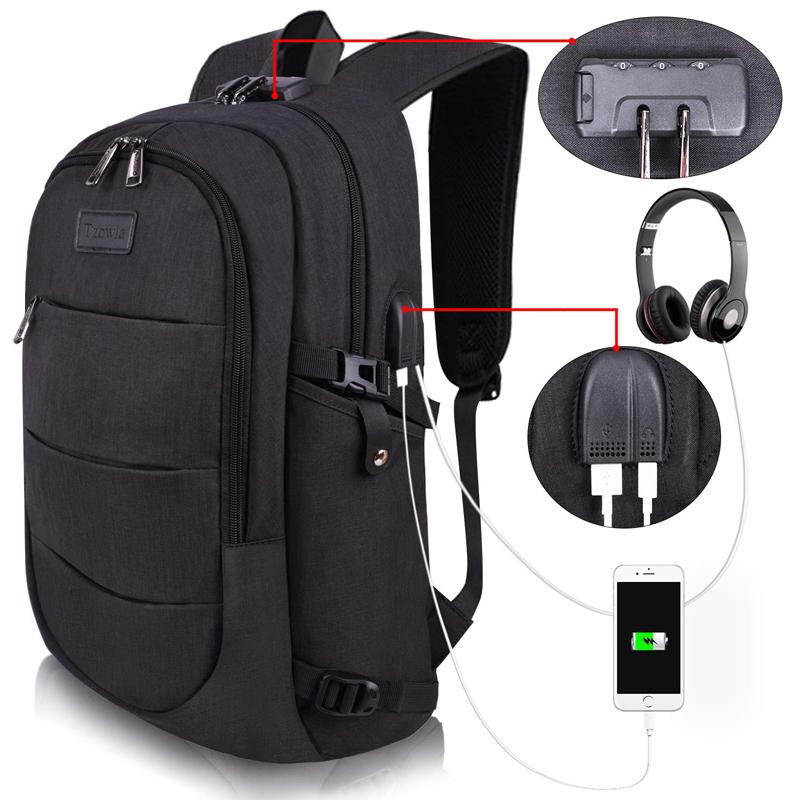 Wow, it's almost as if the name of this backpack says it all. This waterproof backpack also comes in over 10 colors and has a custom code lock, making it perfect for travel or even when sitting in the library. Everyone gets up and leaves their bag for a quick study break, why not feel secure when doing so? With this backpack, missing a pen or book becomes a thing of the past. Also, get ready to become the favorite in the friend group with a USB charging ports and a headphone jack on the side, perfect for any and all charging and music needs.
30. Summit Convertible Tote Pack – $88.00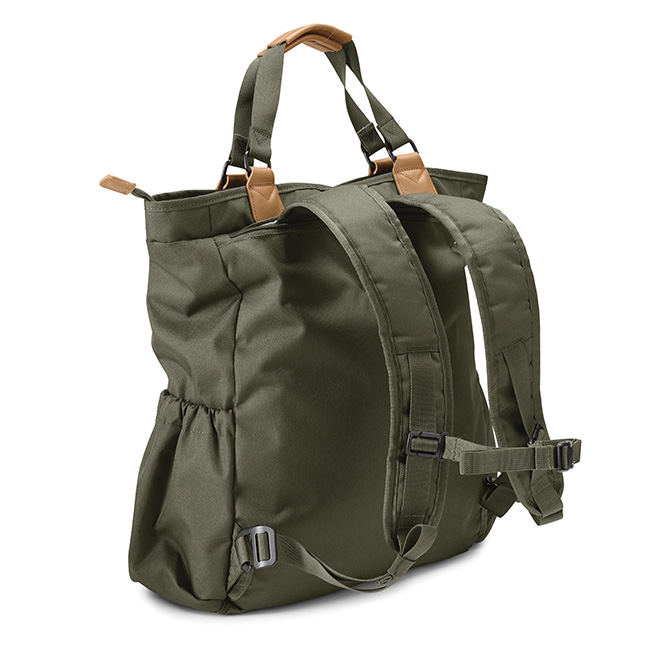 Whether you need an over the shoulder bag to get from class to class or a two strap backpack to make the campus trek, this backpack can do it all. With one giant pocket, little pockets fit inside so you can fit all of your books, clothes and folders while also having a specific place for pens, gum and more. "I love that United by Blue is a company focuses on sustainability and quality. They have an amazing lifetime guarantee and the products are so practical. This bag has at least a thousand pockets," Wake Forest Graduate student Jamie Shapiro-Martin.
Still haven't found the one for you? Check out 10 more backpacks to handle your schoolwork and your life.
Written by Bella Witkowich
It doesn't matter what year you are or even what school you go to, you will most definitely require a backpack for your classes at college. Rather than carrying textbooks and notebooks on your head (like a royal in training) we have recommended the top 20 types and brands of backpacks for college students. Whether your backpack style is environmentally, artistically, financially or even technology-focused below are some of the best backpacks tailored personally for you as a college student.
Price: $106.25
The story of STATE backpacks starts with the STATEment that fashion meets philanthropy. Not only is this brand of backpacks fashionably flawless, but it's also charmingly charitable. "For every bag purchased, STATE supports American children and families in need in the way they need it the most," said Jacq Tatelman Creative Director/Co-Founder of STATE bags. Additionally, STATE bags offer "a more elevated approachable durability and functionality for college students. With all of the bags different pockets, latches, attributes and intricacies STATE bags are worthy of off and on duty college students," said Tatelman.
Price: $55.00
"Bold products. Big events. Better ways to help others." Giving back and doing good is at the core of Cotopaxi's mission. So, what makes Cotopaxi backpacks products and backpacks different from others on the market? "Each product is thoughtfully designed and created, from using repurposed materials and sustainable natural textiles and one of a kind colorways that help empower their factory employees. Cotopaxi puts people before profits, and encourages individualism and self-expression whether through colorways or seeking adventure whilst doing good," said Jess Smith, Vice President of the PR team for Cotopaxi. "Additionally, each backpack is created with repurposed materials and one of a kind colorways, meaning the options will be as unique as you are," said Smith. Each pack in this collection is one-of-a-kind and chosen for you at random. Be prepared for a total surprise!
Price: $195.00
Want to feel like James Bond? Of course, you do. With the backpack designed by Solgaard Design Inc., all of your spy fantasies can come true. This state-of-the-art anti-theft computer bag even comes with solar panels which automatically charge in the sunlight, enabling it to collect and store energy whenever you're out and about. About four hours of sun is equal to one phone charge. While it may be more expensive, it's well worth it. Its anti-theft features are integrated through its retractable cable lock which means you can lock the bag to something while locking it shut. It also has secret passport pockets and hidden pockets for credit cards. This backpack offers you a convenient way to charge your phone on the go.
34.
Johnny Urban Backpack Roll Top "Oskar" Multicolor Gym Sports Bag Women & Men
Price: $29.95
Johnny Urban is a Denmark-based brand that creates classic bags and backpacks for your urban adventures. They use all-natural materials like cotton canvas and they even have an eco-collection that's made from 100% recycled plastic. They also make their backpacks with a PFC-free agent to prevent pollutants from entering the environment. Johnny Urban's "Oskar" backpack combines the simplicity of a gym bag with the efficiency of water resistance. So, for any student that wants a dual-purpose bag for the gym as well as for the books or even both at the same time this backpack is for you. Even it's cool color blocks designs are uni-sex meaning both types of bags can be used by anyone.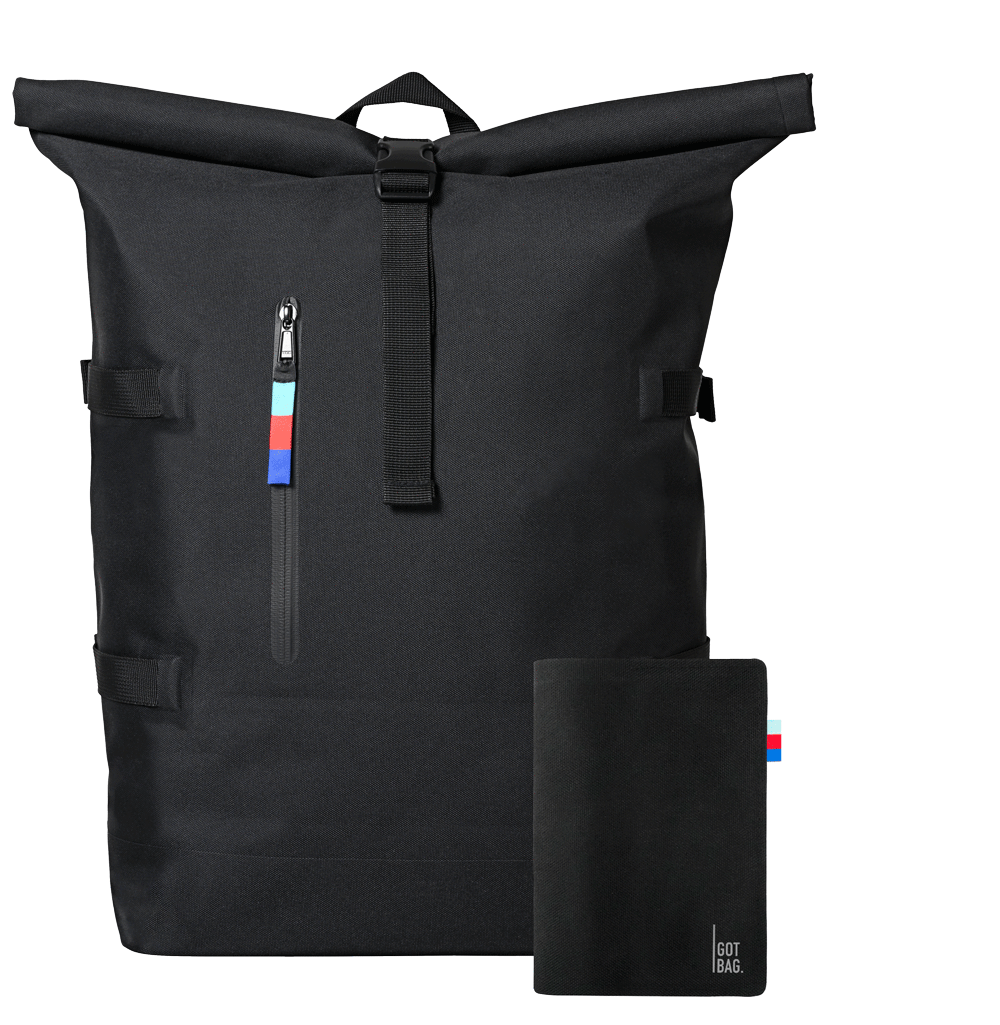 More than 75% of the pollution in the ocean is plastic, moreover, only 9% of that plastic waste is being recycled. GOT BAGS are a completely waterproof backpack that's made from 100% recycled plastic from the ocean. This voluminous bag can be stretched and expanded with a roll-top and compression straps. A fully removable laptop bag inside your backpack also secures your equipment and devices with an extra layer of protection. It can be used as an everyday pack, or better yet for the great adventurer student. You just GOTta get this bag!
Price: $20.00
Ethnotek bags are not only beautiful, but also extremely functional for college students. "Our mission is to keep culture alive whilst collaborating with global artisans to bring beautifully artistic designs to bags," said Jake Orak Founder and Head Designer of Ethnotek. Everyone from the inspiring art major to the commuting student will love Ethnotek bags. "Ethnotek bags are perfect for college students. Because college students are already open minded and learning so many new things, we feel that our mission will help encourage students to learn more about how manufactured goods can be done differently whilst giving back, but also bringing in profit and supporting cultural artistry," said Orak.
Price: $29.99
Matein offers both travel and everyday backpacks focused on durability and practical design. So if you're not necessarily into the fancy frills of some other backpacks, this simple, yet effective backpack is the one for you. The Matein Super Backpack is highly recommended for students. It is affordable and offers everything a college student needs. Matein strives hard to ensure every backpack they sell is the highest quality. If anything happens to your Matein backpack, simply return it to them.
Price: $11.99
If you're a football novice, you might not understand the importance of having a clear backpack in your closet. However, after going to your first football game, you will never again underestimate its importance for college students. Most stadiums will only allow clear bags to games. Super affordable, this clear pack comes in several different options, each with a unique color for the straps. "You can even buy matching transparent, clear fanny packs which like the bags are pretty spacious and convenient," said UF freshman Alina Chen. Instead of having the contents of your bag spilled out for thorough inspection, just get the bag.
Price: $29.95
The North Coyote Insulated Backpack: affordable, spacious and it includes a cooler compartment. Yes, that's right a cooler compartment. You know, for food. What could be better than this? Instead of carrying around a backpack and a lunchbox carry both in just one bag. The bag feature pockets, compartments and a cooler making it easy for you to bring a full-blown picnic to all of your classes or late-night study sessions.
Price: $33.08
It's pretty well known that Nike makes some great shoes, but did you know they make great backpacks too? Nike Heritage backpacks are amongst the most popular. Their bright and colorful designs compete with the best on the market. "The backpack I use for school is a Nike backpack, it's pretty spacious enough to fit my laptop, my lunch and some notebooks I need for all my classes," said Chen. After all, what more do you need?
Backpack Accessories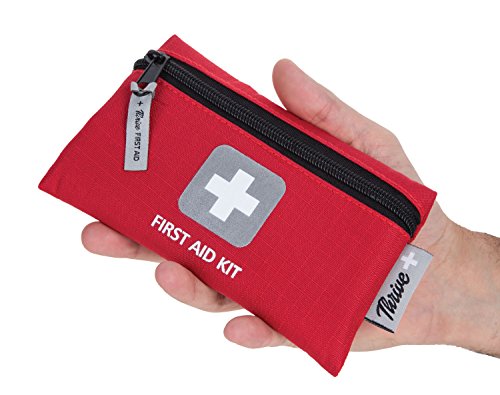 Aspiring chefs, outdoor junkies and those prone to tripping up stairs all need first-aid kits at some point or another. This lightweight first-aid kit comes with a pair of scissors, alcohol pads, antiseptic cleaning wipes, a tweezer, bandages, safety pins, tape and many other valuable items for minor physical injuries. The nylon bag contains 66 emergency-ready pieces and fits into the palm of your hand.
Price: $9.95
2. Water bottle
The hunt for the perfect water bottle mimics the hunt for a perfect pair of jeans. They come in many different shapes and sizes, but few fit you perfectly. "I loved my Kappa Swell until I realized it is a purely professional water bottle and sucks for sports purposes," William and Mary senior Erin Johnson said. "So, I will be buying a Hydro Flask bottle, which keeps drinks just as cold but has better grip, a loop to clip to my harness, and a sports top thing you can squeeze into your mouth." Moral of the story? Those seeking a professional, chic accessory should invest in a Swell, while those interested in adventure parks and hiking should purchase a Hydro Flask bottle.
Price for Swell: $19.99
Price for Hydro Flask: $34.95
Never walk home alone in the dark again. Bright, light and portable, the Coast HP1 flashlight fits perfectly inside backpack compartments. Having a flashlight with you at all time rocks for a few reasons: you can't be caught off guard in the dark, you look like Nancy Drew sleuthing and you always have a creepy light source for scary stories. In short, we can't see a downside of always being equipped with a mini flashlight. Need a smaller flashlight with similar abilities? Check out the Coast G19.
Price: $8.38
Don't limit your fire playlist to car and shower jam sessions. Instead, throw a mini speaker in your backpack and bring the heat with you wherever you go. At about half a pound, the Anker Mini Portable Speaker fits comfortably in your backpack, providing high-quality music for 15 hours as well as a noise-cancelling microphone. Connect this batter-powered speaker to your device within a 66-foot Bluetooth range before jamming on the go.
Price: $21.99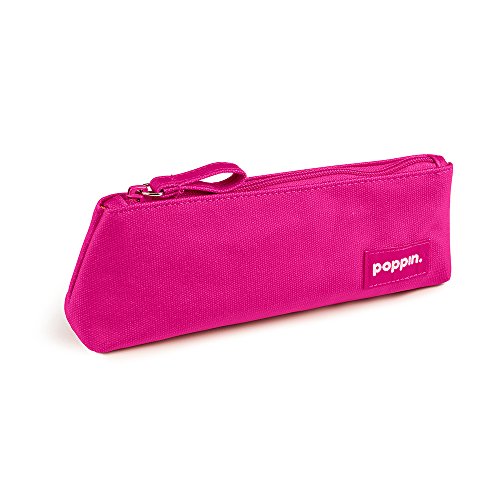 Make your pencil pouch as poppin' as Lil Mama's lip-gloss (although we can't guarantee the boys will chase you after school). Designed in New York City, the Poppin Pencil Pouch keeps your pencils, lipstick and dorm key dry and safe. Simply wipe this coated canvas case clean when rogue stains or marks tarnish its exterior. Available in aqua, pink, navy, pool blue, blush and metallic colors, every pouch contains an interior, colorful cotton lining.
Price: $14.97
Read on to find out what your backpack says about you.
Written by Lianne D'arcy
Anyone can check their horoscope every month. What your nails say about you exists as only one Google search away. The internet constantly tells us what our favorite foods, what our hairstyles and even what our handwriting says about us. But what about our backpacks? You know, the thing you drag to class every day. Well no need to look further. What your backpack says about you, right here.
It's a-me, Bowser! What this pack lacks in practicality, it makes up for in personality. Those that wear this backpack store all their mushroom boosts and flower–power-ups in here while they conquer the Mushroom Kingdom, and maybe a few study guides and notebooks, too. But be warned: If you use this backpack, make sure you don't keep Princess Peach in there. Mario is always watching.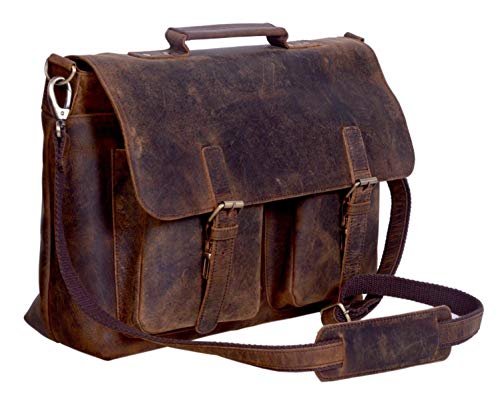 If you have this backpack, I already know what lies inside. Papers. Perhaps a small recording device. A yellow legal pad. Quality pens… and more papers. Those who have this bag are probably always running late or on their way to finish a huge paper, because their deadline was like, yesterday. I know you, English and journalism majors. I am you.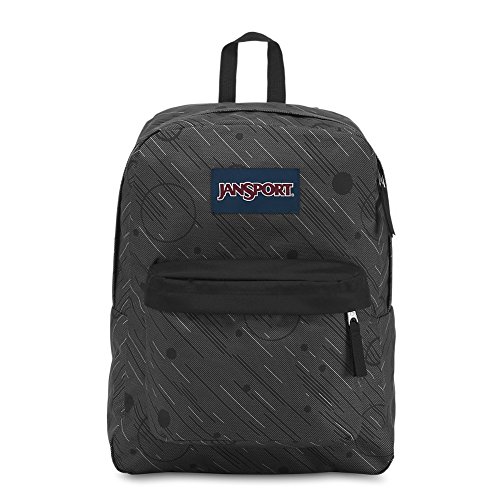 I also know what lies within this black hole of a backpack: the void. This backpack is where all forgotten papers and halfhearted assignments go as their final resting place. Say goodbye to anything that comes within 500 feet of this pack, because it will most definitely disappear forever.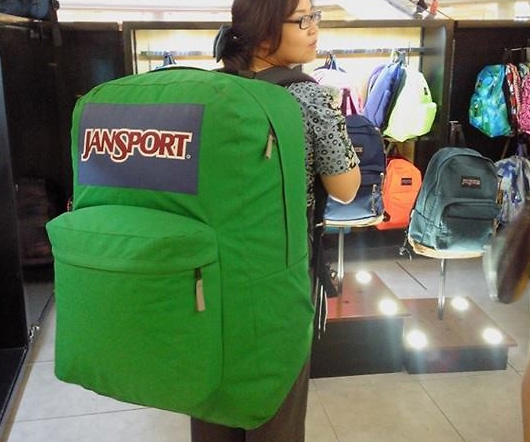 Right now, curvy is cool. Thick thighs save lives, right? Even if these backpack users aren't known for their cake, they're no strangers to curves. I'm pretty sure your spine looks like a question mark if you have this bag. If this pack says anything about you, it's: "I have scoliosis." Thanks, gen chem.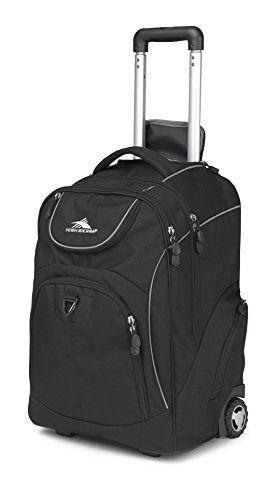 Those that roll their bags are either headed to the airport or are suffering from the aftermath of the 500lb JanSport, seriously. While they might save you that extra bit of effort, is it really worth it? Navigating the quad with this thing in hand looks about as impossible as maneuvering the bars on Thirsty Thursday with a jetpack.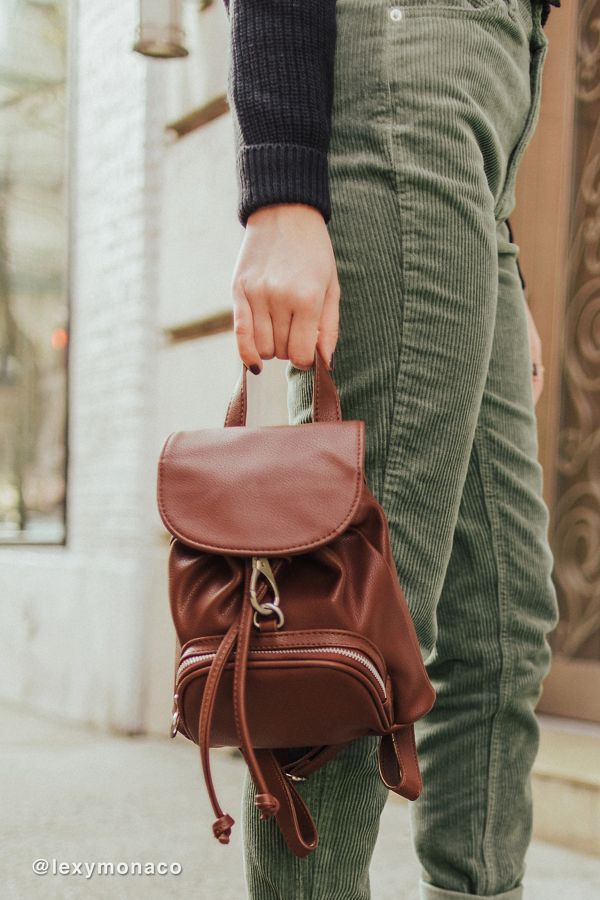 I have no judgments when it comes to this pack—only questions. What do you carry in here? A single tube of chapstick? One piece of paper? Air? Do you guys even go to school? How much did Urban Outfitters overcharge you for this? Please let me know as soon as possible, and thank you for your time.
If you see someone with a waterproof bag sprinting, you'd better start running too, because these people don't mess around. I can just tell that these bags don't carry around mere college assignments: they carry zombie apocalypse survivor gear. Crossbows. Baseball bats. Probably a granola bar or two. People with this bag are ready. If you ever want to get stranded on an island with someone, choose the guy with the waterproof bag, seriously.
If you have this backpack, you have no fear. I bet you stare God in the face and walk backward into hell like that one guy on Twitter. I bet you sleep with your closet doors open without batting an eye and you probably don't even have a protective case over your phone. I'd even go as far to say that I think you don't use the protective strap on your Wii remote controller. Please repent for your sins.
Once, in the middle of a macroeconomics lecture, I saw a boy. He walked in twenty minutes late, waltzed to the back row and then whipped out a single notebook from a plastic Wal-Mart bag. He leaned back in his chair, adjusted his beanie and then casually asked me for a pencil. If you've ever used a plastic Wal-Mart bag as a purse or backpack, don't worry. That's just life sometimes.
Get the 10 Best Backpacks for College
A bad backpack is a backstabber that leaves you almost as unprepared as your group project slacker; a good bag will always have your back. Since picking the best backpack for college is one of the most important items on anyone's back-to-school packing list, we created a guide just for you.
We surveyed students on the best college backpacks available based on comfort, durability, organization, weight and style.
The Dobler pack sports a simple, classic design for backpack minimalists. Large main pocket? Check. Organizer-equipped front pocket? Yup. Tablet sleeve and mesh water bottle pockets? Sure thing. But wait! I have a 17-inch monster laptop! No problem, there's a sleeve for that too. This college backpack is like the cargo shorts of backpacks with all its functionality, but way cooler. Trust us. Six different color schemes exist, most with a sharp contrast between pack face and zippers.
The two outermost pockets on this pack give it a distinctive look, so you probably won't be getting it mixed up with other students' backpacks. Because of their extreme exposure, these pockets are easily accessible for neat freaks to keep their smaller items separate from each other. Plus, the two front pockets make on-the-go essentials that much more accessible.
What's a college backpack without a laser pointer readily accessible to annoy your boring professor? Oh… that's just me? "One-strap it, two-strap it, or no-strap? No brainer: two-straps. Who likes shoulder aches from one-straps or arm aches from heavy books? Not I," Spelman College sophomore Janae Lyttle said. How about four straps instead? On long days, wearers will appreciate this pack's waist strap and sternum strap, which help distribute weight to relieve the shoulders.
None of the three color schemes are particularly exciting, but special pockets for water bottles and other gear more than make up for any blandness.
3. Columbia Track III Backpack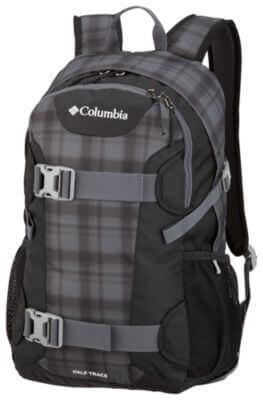 Columbia's packs stand out because of their high-tech fabrics that last. ""It's gotta be sturdy. I'm sick of backpacks breaking on me because my books are too heavy," Tulane University senior Chloe Arbarbanel said. The Half Track III has durable fabric and advanced water repellency that protects it during rainstorms or pool trips or tears from students that just got out of midterms.
Electronics are further protected inside a tricot-lined specialty pocket. The pack's contoured, foam-padded back soothes aching spines, and walking home from the library after an all-nighter has never been safer since this college backpack shines bright like a diamond. The Half Track III's features are excellent for its $59 price tag.
Retail Price: $59.00
4. Golite DayLite Backpack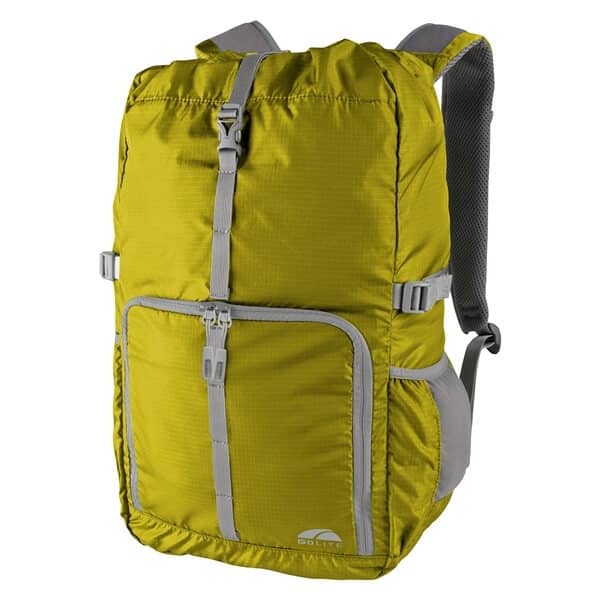 Have you been hitting the gym lately? We didn't think so. Good thing the DayLite prides itself on being an ultra-lightweight pack (only 1 lb, 2 oz) with roomy storage space. With its boxy nylon design available only in black or primary colors, it certainly looks the part. It sports side compression straps in case you ever want it to look smaller or are trying to sneak through the dining hall crowd on chicken strip day, and it still includes a 17-inch laptop sleeve, organizers, and sternum and waist straps.
Because of GoLite's core values of sustainability and simplicity, you'll feel like you're helping the environment by wearing it. Go green with this college backpack so your friends will turn green with envy.
Retail Price: $49.99
Look at all the pretty features! A breathable padded air-mesh back with channels for anti-sweat airflow? Perfect for when you see your library crush while studying and get all hot and bothered. FlexVent injection-molded shoulder straps, which sound ultra-comfortable even if you're not sure what they are? Perfect for feeling like Marty McFly in a 1980s concept of 2015. A separate zipper compartment for both your tablet and 17-inch laptop? Oh, and that compartment lies flat when it unzips so you don't even have to take your laptop out at airport security. Perfect for when you take over Air Force One, because this college backpack is presidential quality. Unless you do a ton of plane travel, it might seem extravagant. But if bragging rights are your thing, this is your future backpack.
Price: $128.95
Finally, a college backpack that fits into a college budget. The Bravo is great for laptops too, with an 18-inch laptop sleeve in its own zippered compartment and an 11.5-inch laptop/tablet sleeve in the main compartment. Unlike with most packs, the Echo's main compartment has more organization than your planner during syllabus week, and its exterior includes multiple small compartments for your miscellaneous gadgets.
There's even an open-air sleeve designed for magazines; it can't hurt to stuff a Wall Street Journal in there so you look extra smart. Eight designs exist, and the variations include several different patterns in addition to standard color changes.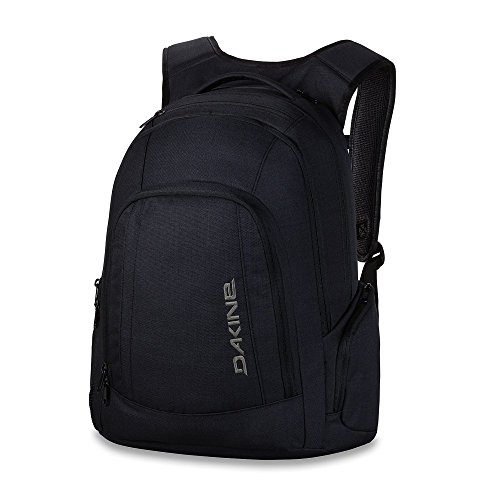 Although this backpack has a classic shape, it distinguishes itself with excellent designs, especially its contrasting zipper tracks. Where many companies get too color-happy with their zippers, this pack's variations use bright blue, black-on-color and black-on-black zippers to great effect. A sternum strap, laptop sleeve, tablet sleeve, sunglasses pocket and breathable back panel are all here, but the coolest feature is for those with the motto, "Trust no one."
This college backpack has a back-panel security pocket for keeping sensitive items like your money, ID (real and fake) and your Starbucks gift cards nearby and safe.
Price: varies
8. Columbia Drifter II Backpack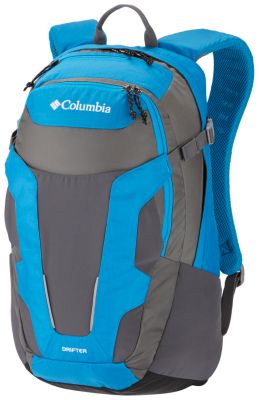 The Drifter contains many of the same cool features as the Columbia Half Track III. One of the most important improvements is cosmetic: the compression buckles have been moved to the sides for a much cleaner look. Comfort also gets an upgrade, with an added sternum strap and thicker, better-padded shoulder straps. The main bummer with this backpack is that it only comes in two colors, blue and purple. But who needs more colors when Columbia pimped your college backpack?
Retail Price: $89.00
9. Kelty Marmalard 28 Liter Daypack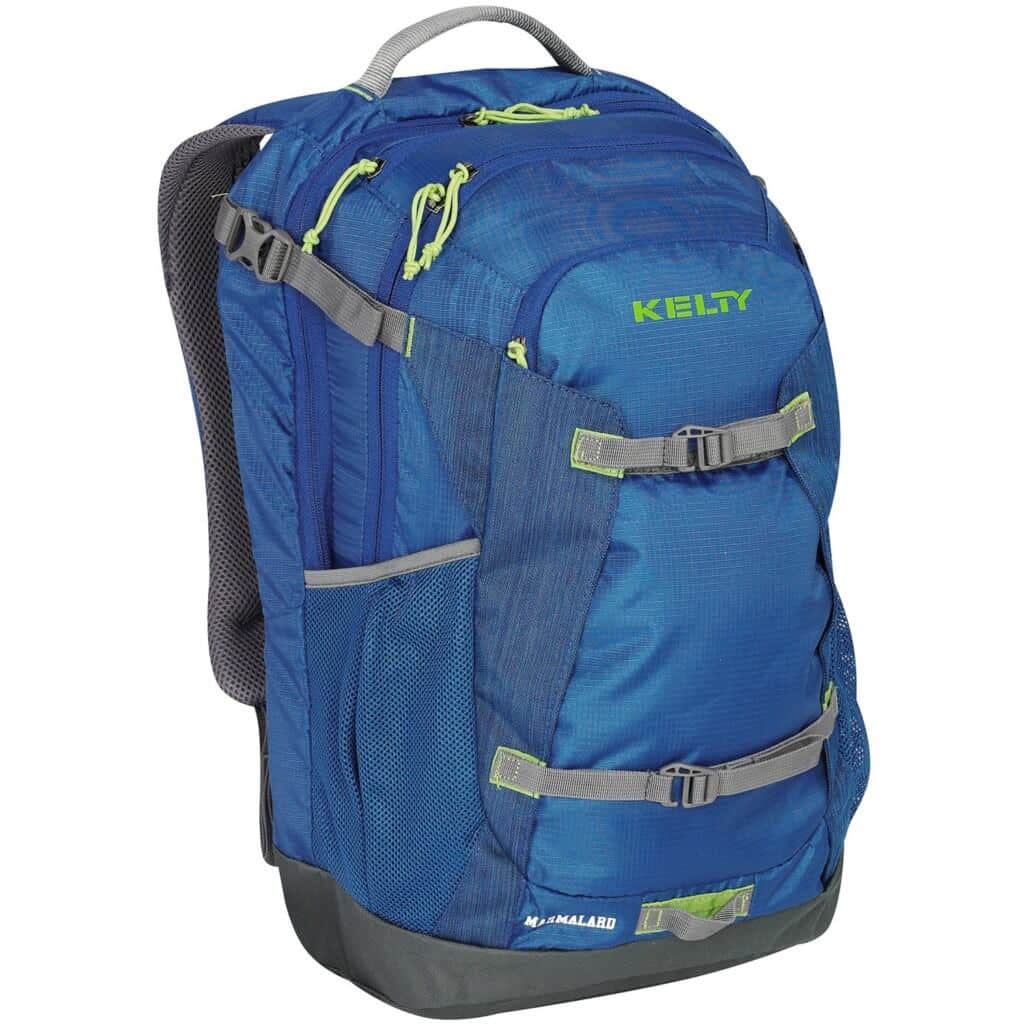 The Marmalard is essentially a more expensive version of the Kelty Dobler. Twenty-five more dollars for one extra liter of space might initially sound like a raw deal, but the Marmalard adds useful features that the Dobler lacks, such as waist and sternum straps, a dedicated sunglasses compartment and a number of compression straps. These features make the pack appear markedly more sophisticated.
As a clincher, the Marmalard contains a very rare specialty feature: exterior flaps and tension hooks capable of holding a skateboard or yoga mat. So 'sup, skaters, and Namaste, yogis: If you often find yourself carrying these awkward items by hand, this college backpack has got your back (pun intended).
Retail Price: $74.95
Striking a perfect balance between simplicity and fancy features, the Recon is a toned-down version of The North Face's luxury Surge II Transit Pack. Endorsed by the American Chiropractic Association for its injection-molded shoulder straps, thickly padded air-mesh back panel, waist strap and sternum strap, the Recon has an exceptionally comfortable ride. Small-item storage space is extensive, with multiple zipper and Velcro compartments inside the front pocket's organizer space, so you won't find a small graveyard of all the Chapstick you lost at the end of the year.
"I need a backpack that's durable and lightweight with many compartments. I not only carry academic stuff with me but also things like my wallet, phone, Kleenex, hand sanitizer and mints, basically what I would put in my purse," University of Wisconsin-Green Bay junior Taylor Ponczoch said. The pack's exterior also offers storage space, with a buckle-accessible mesh pouch for snacks or miscellaneous items. The eight color schemes range from conservative blues, greens and browns to eye-popping neon, so you really can choose your own style. I bought this college backpack last summer and make excuses to carry it around even on Friday and Saturday nights at school. It's that good.
Price: $99.00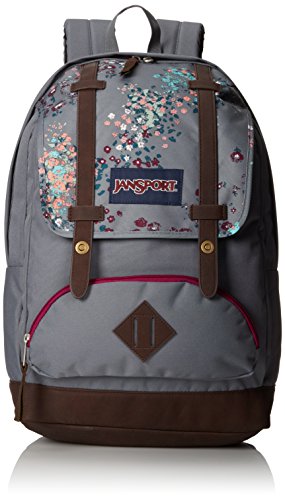 If you walk around a college campus, you'll find almost 50 percent of the students wear a JanSport of some kind. This is a college backpack with its own devoted fan club. That's because these backpacks won't break your bank, hold up against the stresses of college life and get the job done.
"I own a JanSport Cortlandt (unisex) that has a couple of compartments that are useful to my needs," Rafael Alvarado said. "It's a backpack that is decent in size and has a pouch for my computer to be safely carried in and the best aspect is the durability because I've had it for up to two years and has held up nicely." These backpacks also come in different colors and designs, and look fashionable with two fun but purposeful buckles.
Price: $48.45
Everyone knows a Vera Bradley aficionado, and this backpack screams perfection for them. In true Vera style, these college backpacks boast bright colors and patterns that add a major pop to your college aesthetic. Feel like wearing sweats but still want to look cute? Let this backpack do all the heavy lifting for you—but these backpacks aren't just about the look. "It has a laptop section which is really all I use for class and I like the durability," said Manhattanville College sophomore Amanda Grimmer.
Price: $92.96
Maybe you're a second-semester senior or maybe you keep your packing simple. Either way, Herschel Supply Co.'s Little America backpack works perfectly for those who care more about style than cramming every little trinket into their bag.
"When I look for a backpack, the first thing I look for is the size. I don't want to carry around a big bag that stretches down to my knees." Florida State University freshman Danielle Gimpel said. The backpack fits most styles, from flowery and feminine prints to bright solid colors to trendy earth tones. They can get a little pricier than the amount your average college student has seen in their bank account since pay day, but the back padding and style options make this college backpack well worth it.
Price: $99.99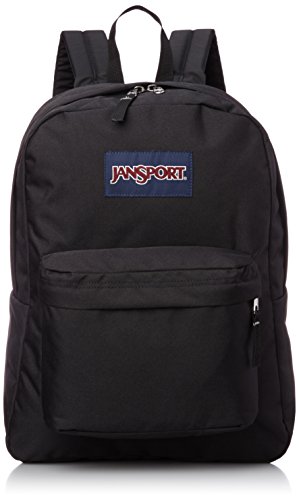 Debatably the most standard college backpack you could think of, the JanSport SuperBreak fulfills your basic needs. Average sized, sturdy and not flashy, this backpack is the immediate go-to. While it's not the most exciting or industrial, this backpack does the job well without making a big deal about it. You won't need to spend much money, can fit everything you need and don't have to worry about making your backpack a "statement piece" (but you could if you wanted to since it comes in every color and pattern imaginable).
"I would say I like JanSport backpacks because of their lifetime guaranteed policy. I had to send my blue one back because it ripped and they sent me a new one free of charge and it's bigger and nicer because my old one they didn't make anymore," University of Maryland sophomore Isabelle Minkin said.
Price: $21.75
Like JanSport, Northface also tops the list of brands that immediately make you think of college. For those who don't feel like changing up their backpacks, or don't have time to worry about needing a new one, this backpack will win their heart with its durability and classic style. "I think the Northface Jester is an incredible deal," Boston College senior Nikita Patel said. "It's cheaper than some of Northface's other models, but it's still really durable and will last for your entire college career." This classic college backpack should get its own star on your campus' walk of fame, right next to the professor that gives extra credit.
Price: $52.07
Calling all outdoorsy types! This college backpack looks casual enough to use as a daytime backpack for your books, laptop and other supplies, but has an exterior that can survive the elements for anything else you might want to do. "I need a backpack that can keep up with my work inside the library and my adventures outside of it," University of Florida senior Ariane Rice said. This backpack will keep up with any adventures you strap it on for. Plus it can totally protect your laptop and cell phone on those rainy days when you still have to trek across campus. You won't have to choose whether your umbrella protects your 'do or your backpack, because the waterproof feature will take care of that.
Price: $54.99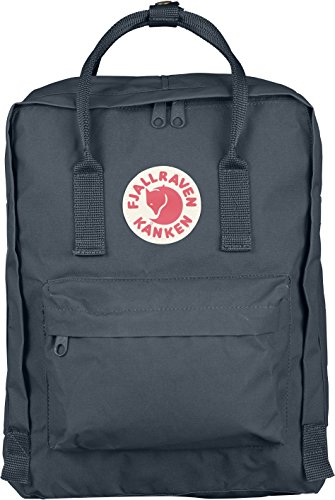 For those students who like to pack light, you might want to consider the Fjallraven Kanken. These backpacks look small and stylish, and come in many different bright colors. "[It's] on the smaller side so it's easy to carry around, but there's still enough room to fit everything," SUNY New Paltz sophomore Olivia Passanante said.
You could fit your laptop and a book or two without getting tempted to pack in every pen you own, that cute planner you never use, a change of clothes in case your classroom doesn't match your outfit, your roommate, your dog, etc. into one college backpack.
Price: $57.09
Looking for something fashionable yet also eco-friendly? This pack by Ecocity has you covered. They come in five different earth tone color schemes for that vintage vibe, with buckles and straps as bits of added style. These college backpacks are 100 percent cotton canvas, which feels like the silken sheets of a millionaire next to the rough canvas of some other packs.
Price: $39.99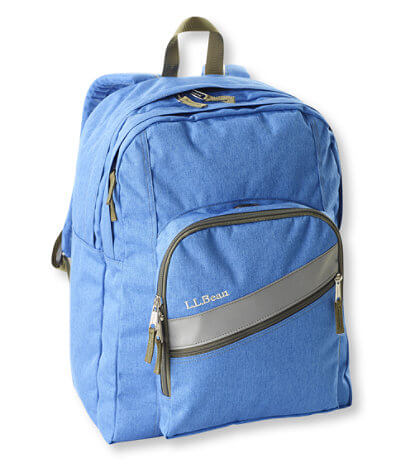 If you want something reliable that will stick with you throughout your entire college experience, L. L. Bean backpacks trump the list. L. L. Bean focuses most on durability, but also wins some style points. These college backpacks come in countless colors and patterns, and you even get your initials embroidered on them.
"I've had it since the sixth grade, so I definitely love it for its durability…I actually have a lot of feelings about this backpack, since I've had it for so long. It's gone with me to every day of school and on all of my travels, so there's a real bond!" Boston University graduate Alison LaFrance said.
If style trumps all for you, this backpack will meet those requirements. Falling into the bohemian style that makes campus feel like Coachella, this college backpack comes in five brightly colored patterns. It'll surely keep you cheerful during those dreary winter months. Keep in mind that this backpack is small, so pack light. Fortunately this will make sure you don't break your back since you won't be carrying many books.
Price: $28.99
Still not sure which college backpacks are the best for you?
When buying a backpack, there are many factors to consider.
1. Weather
Will you be sweating in the Florida sun like that kid who comes to class for the first time on the day of the midterm? Will you be a professional puddle-jumper or a monsoon survivor? Will your backpack regularly rest on a salt-covered floor beside your snowy boots? Some backpacks offer ventilation for sweaty backs, waterproof exteriors for rainy days, and extra-durable, washable fabric that will stand up to salt, sand and dirt. You'll need to find the right features for your climate
2. What You'll Be Carrying
Science students know that their backpacks will be stuffed with textbooks, lab books, lab equipment and many other unexpected bits and pieces. They'll need large pockets to hold their books and smaller pockets to hold their instruments (and their teeny motivation to continue their major). Meanwhile, other majors like art and drama probably won't carry much to class because their materials will be in the studio or theater. A big backpack for these students will make them look like a lost skydiver.
3. Your Personal Style
Are you minimalist like Portland or flashy like Vegas? Do you prefer neutrals or neons? No one parades backpacks down the runway, but your college backpack can still be a fashion statement if you want it to be.
4. Your Bank Account
College student bank accounts can range from "not even enough for a Doritos Locos Taco" to "student loans just came in." A backpack can be a yearly purchase to fit your changing needs or a four-year investment, and the prices will reflect this.
Top 5 College Backpack Features
1. Organizers
A lot of backpacks have built in organizers to hold smaller items in your backpack or separate textbooks. These organizers can be helpful or annoying depending on your needs.
2. Water bottle holder
A pocket specifically for your water bottle keeps condensation away from your books and hydration right at your fingertips, but some streamlined backpacks forgo this feature.
3. Laptop sleeve
A laptop sleeve gives extra padding to protect your baby– whoops, we mean your computer.
4. Waterproof/water-resistant material
Waterproof and water-resistant backpacks protect your backpack's contents from wet weather and spills.
5. Sternum/waist strap
These straps buckle in the front of your chest and/or waist to distribute the weight of your backpack evenly around your torso. These straps are good for heavy backpacks and long walks across campus.
Even More College Backpacks
Backpacks say, "I've got you," like no other school supply. You constantly carry your backpack for support and to carry all of your necessary (tbh, unnecessary) items. The struggle is real. But, we've got your back. We've uncovered the best functional college backpacks that make a fashion statement too. They're great for you, or as a gift.
Price: $88.00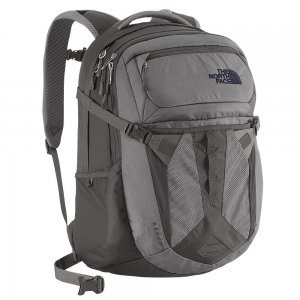 Price: $71.31
Bolang Water Resistant Backpack
Price: $51.89
More Back-to-School Prep:
Top 10 Duvets for Back to School
Top 10 Ways to Pack for College
*Updated November 26, 2016 by Caitlin Mason to include 10 new top backpacks from interviews with students on their favorites. We added even more of the hottest college backpacks for you to choose from.
**Updated January 6, 2017 by Marin McCall to include more student interviews and a buying guide.
***Updated by Kelsey Llewelyn on July 9, 2018 to include 10 more backpacks and 5 accessories
****Updated by Lianne D'Arcy on December 12, 2018 to include What Your Backpack Says About You.
*****Updated by Jaclyn Childress on December 9, 2019 to include backpacks 21-30.
******Updated by Bella Witkowich on December 13, 2019 to include backpacks 31-40.