College kids love Halloween. But while girls tend to throw on the sluttiest outfits possible, guys just put on a white t-shirt and call themselves ghosts. Booooring. Change up the typical lackluster Halloween costume norms with these creative group costume ideas. You and your friends will be the talk of the party.
Check out all the Halloween group costumes you need on your insta feed asap.
1. Mean Girls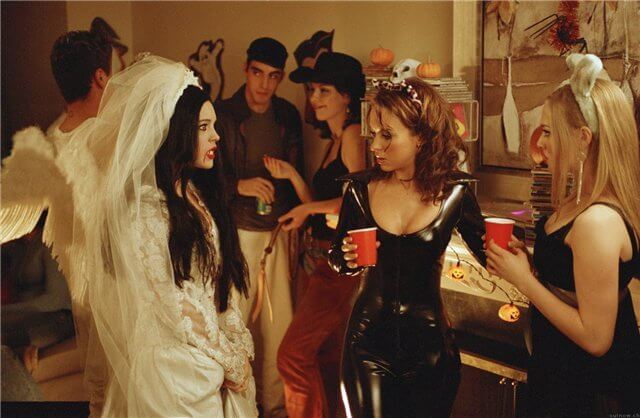 Goal of the night: make fetch happen. (Check out this Victorian Ghost Bride costume to make this look happen.)
2. iPods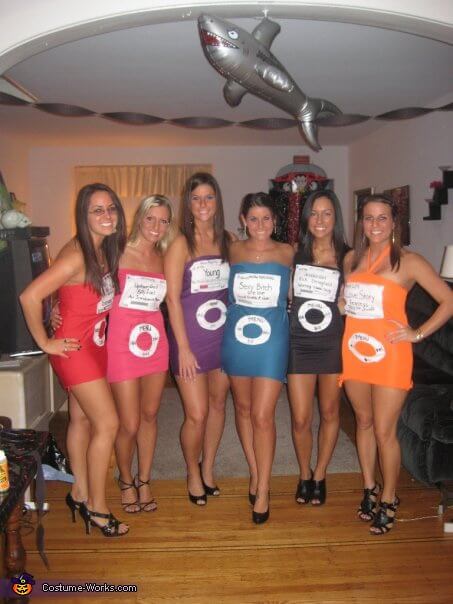 Make sure the song your iPod costume displays is one suitable for dropping it low.
3. Loofas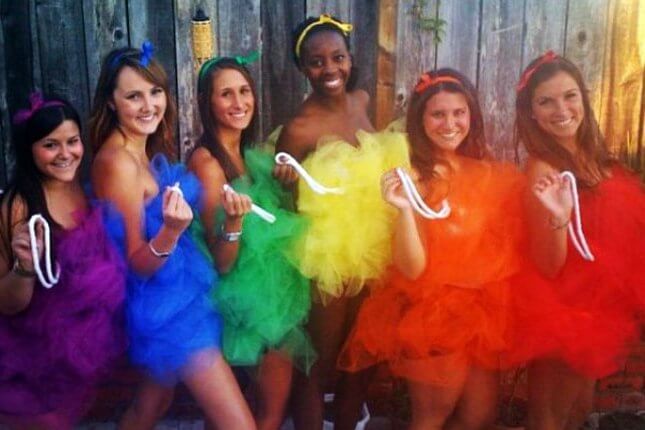 Take the bathroom to the party. You can scrub-a-dub-dub your way through the sweaty frat crowds with this loofah costume.
4. Minions
No one will miss your yellow shirt and overalls. Maybe a few drinks in, you'll talk like a minion, too. Let's not forget about your owner, Gru.
5. Teenage Mutant Ninja Turtles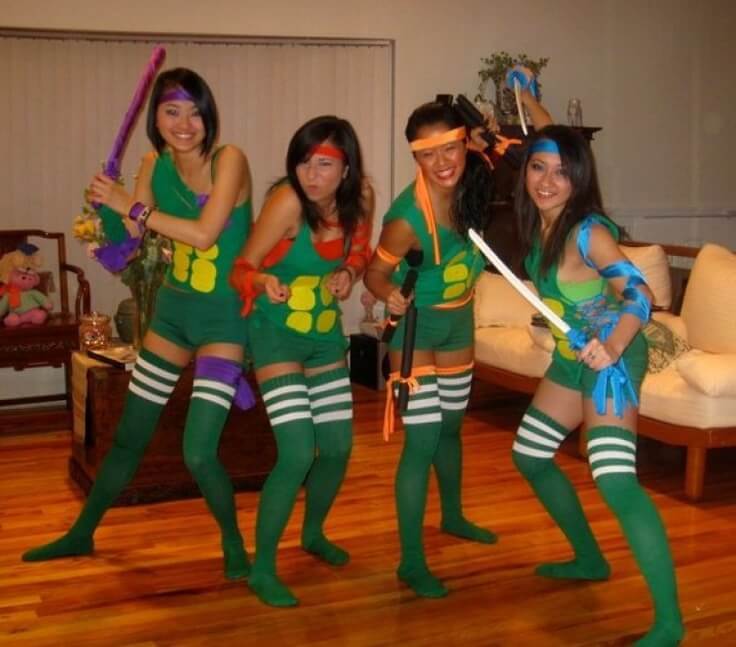 What better time than Halloween to break out of your shell? Pair your green shorts and tank with some tube socks, a headband and a katana and you'll be good to go.
6. Crayons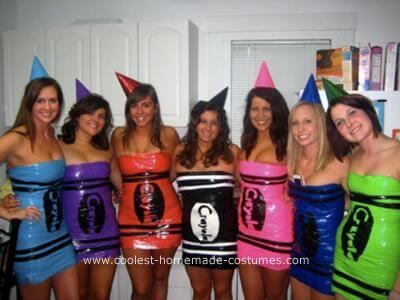 Crayons were an important part of childhood, so why not bring them back and make them a bit sexier? You and all your friends can choose your favorite colors: simpler than a free printable coloring page.
7. Grease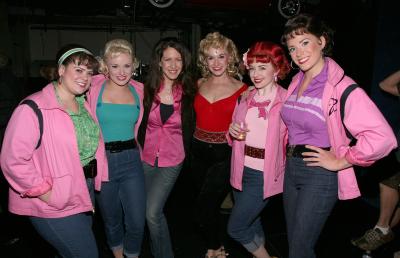 Get ready to tease your hair, throw on your tightest black pants and pink jackets and boss all the guys around. Not only will you and your friends look hot as Pink Ladies, but you'll also be Queen Bee for the night. As the girls in Grease say, "Let's go get 'em."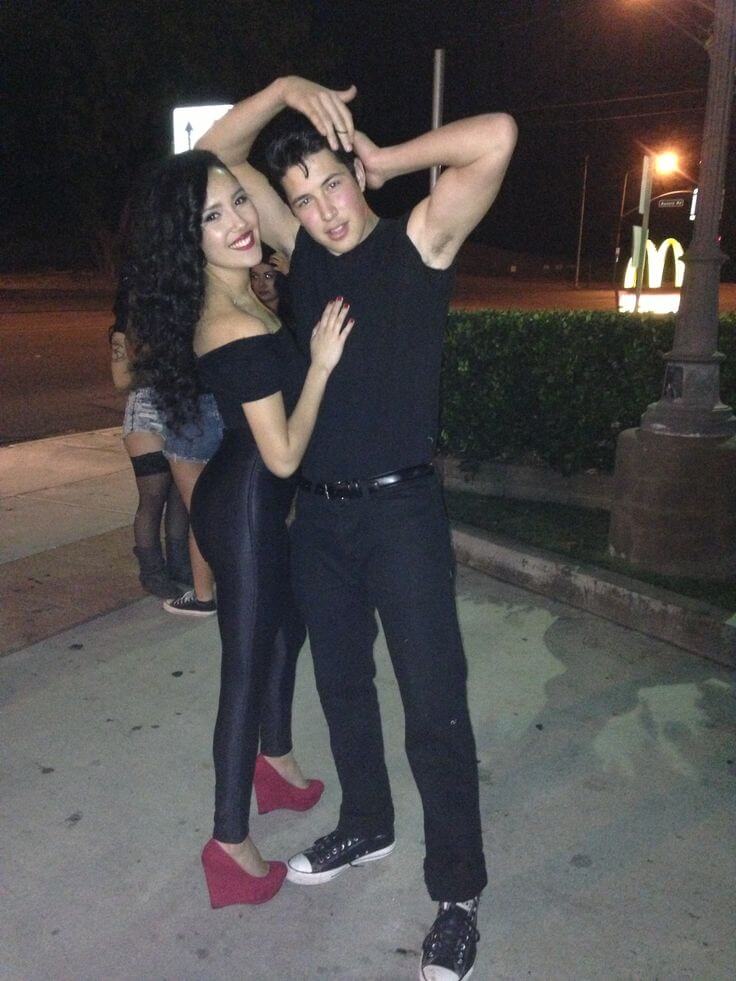 And don't forget about the boys from Grease, by your side the entire night in leather jackets.
8. Bagged Wine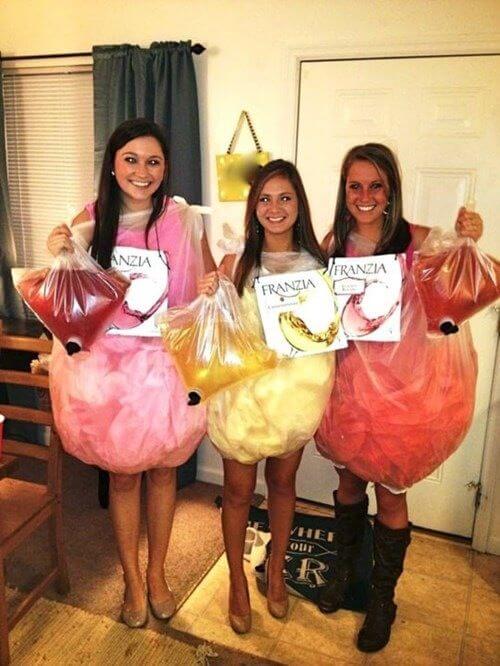 Just make sure no one "slaps the bag." You wouldn't want to start a bar fight. This costume is perfect because you can show up with your own alcohol and people won't think you're strange.
9. Social Media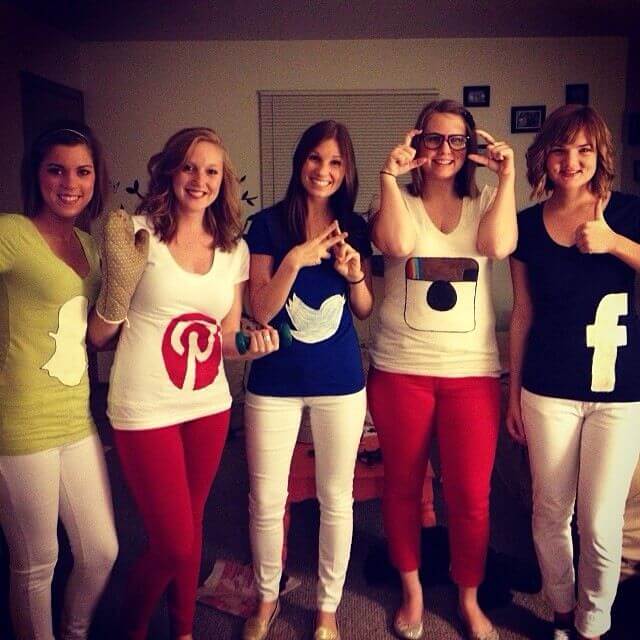 In today's day and age, all anyone in college cares about is live-Tweeting AHS and Facebook stalking. This costume is not only different and cute but you may also gain some followers. It's all about the following to follower ratio.
10. Beer Pong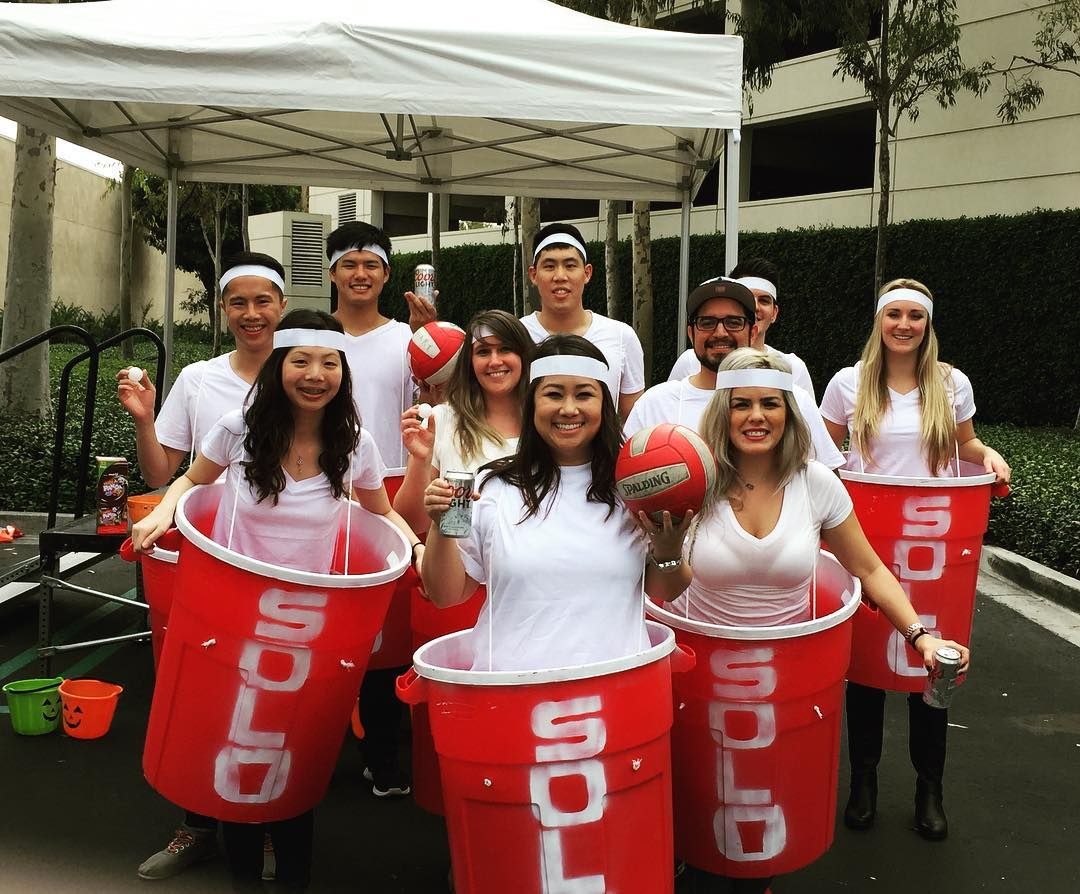 The infamous college game in costume form. You can either dress as the whole game…or get 20 people and each be an individual cup.
19 More Group Halloween Costumes for Your Spooky Squad
Written by Kaylin Purvis
11. Three Blind Mice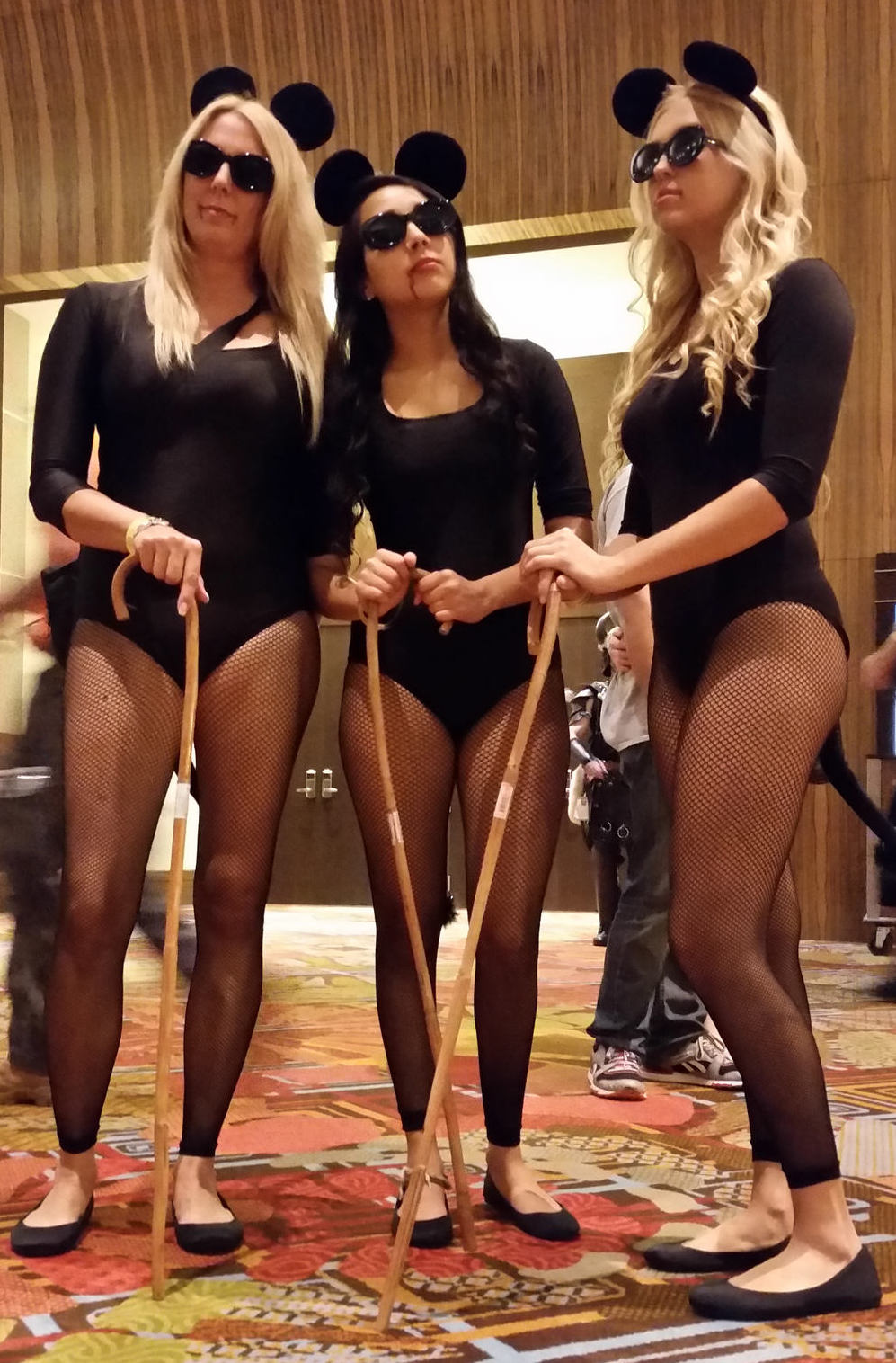 Everyone knows the gruesome English nursery rhyme, Three Blind Mice, but I bet you didn't know that it makes for a darling costume for three. Grab a gray leotard, hit up your local Halloween store for some ears and pick out your fav shades for a night out fetching candy. I mean, only during Halloween can you wear sunglasses at night in the name of fashion.
12. East Compton Clovers cheerleaders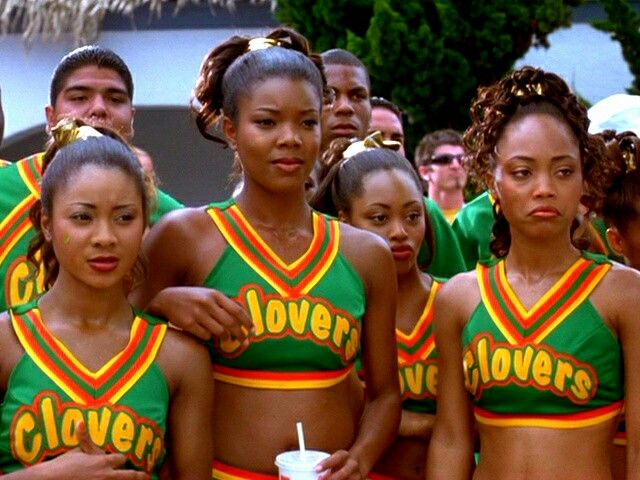 Ever wanted to be a cheerleader? You, too, can channel your inner Isis (Gabrielle Union) from the film Bring It On. "It's from such an iconic movie so it's recognizable enough to even stand alone," said University of Florida senior Olivia Brown. The fashion blogger "knee-pop" may be the secret to getting those hundreds of double-taps in this 2000's uniform.
13. Seven Dwarves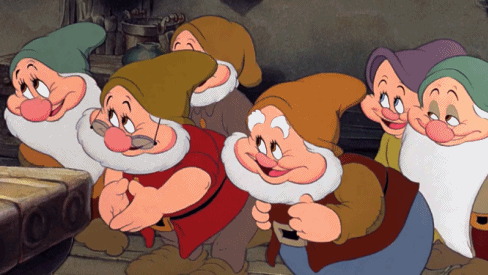 Hi Ho, Hi Ho, grab seven of your buddies for a fairytale Halloween. You're sure to find a friend that fits in with happy, grumpy, bashful, etc, and if you can't, maybe that friend is… you. Assign each member of your squad a dwarf and pair an oversized shirt with leggings, a belt and a beanie.
14. Power Rangers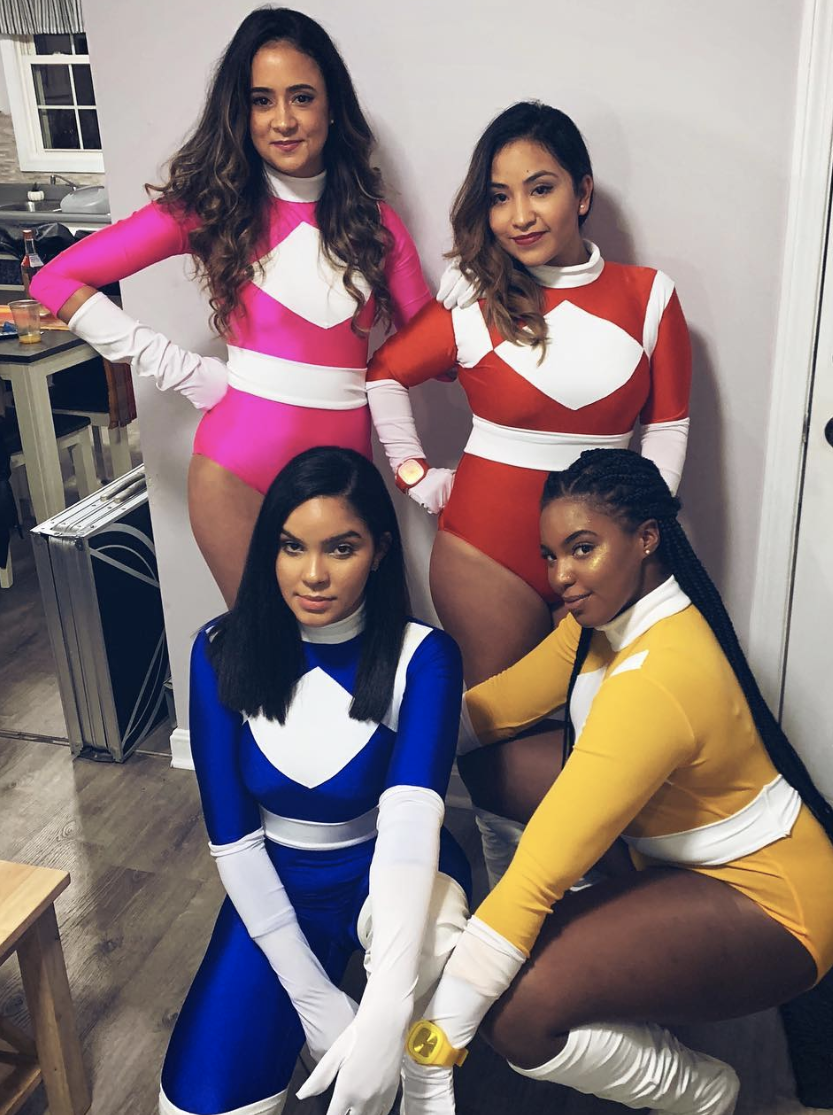 If you're planning the ultimate squad group costume, you'll definitely want to pick this costume up. Help trip up the forces of evil as a group of these ordinary teens, and then break it down on the dance floor. GO POWER RANGERS!
15. Bob's Burgers family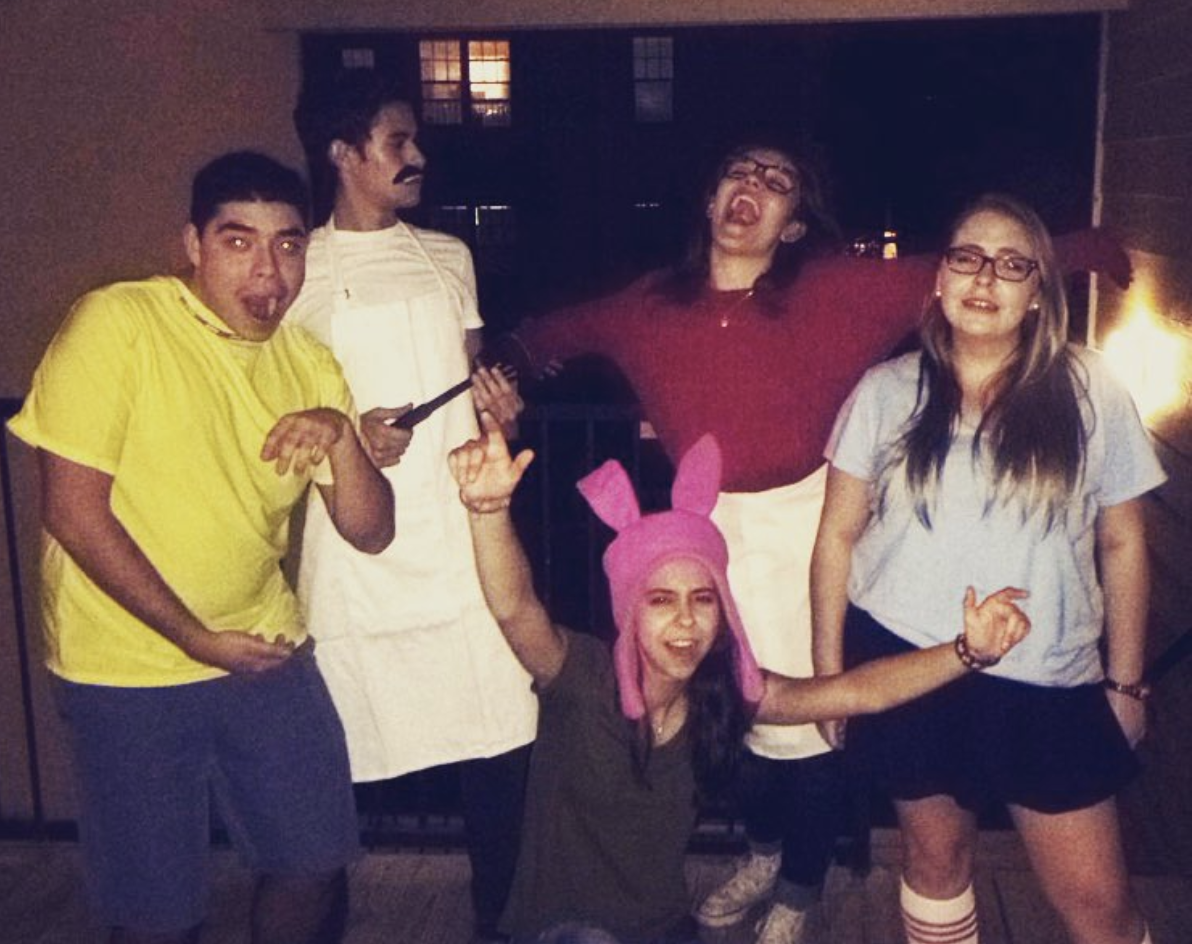 Capture the essence of the five members of everyone's favorite cartoon family. "We wanted to do a group costume that was cheap, easy to do and last minute," said recent Florida State University grad Scarlett Dunkley. "We only had to spend money on accessories like a fake mustache and aprons." And Ta-da, a costume complete, with a few extra bucks to spare!
16. "Spice Girls"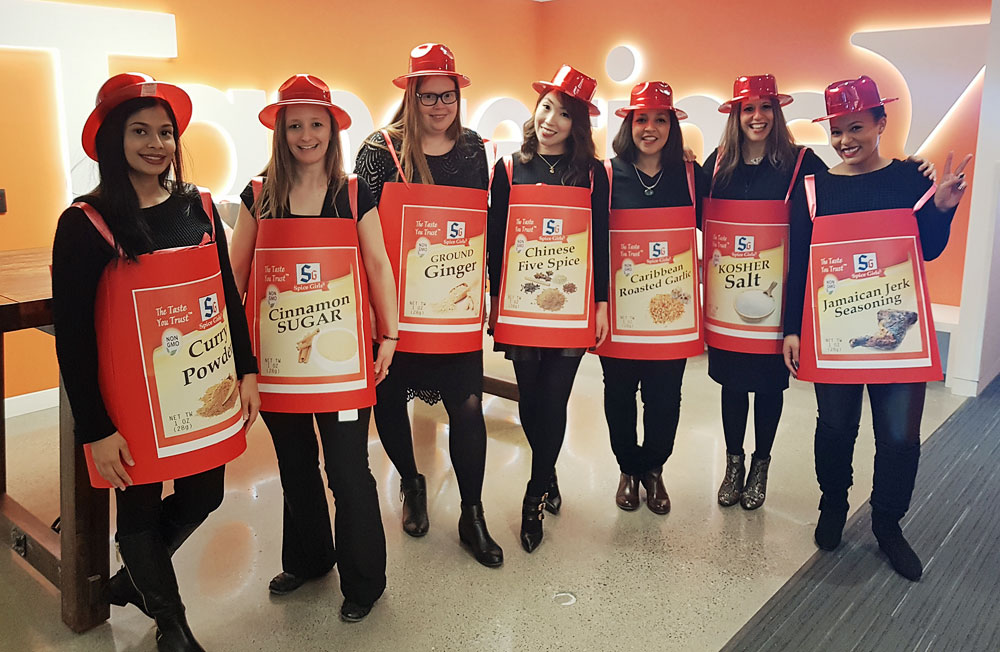 What we want, what we really really want is… Halloween candy. With a red apron and some fun labels, we're sure that your friendship will never end with this pun-intended funny costume. Add a red firefighter hat for some extra pizazz.
17. The Actual Spice Girls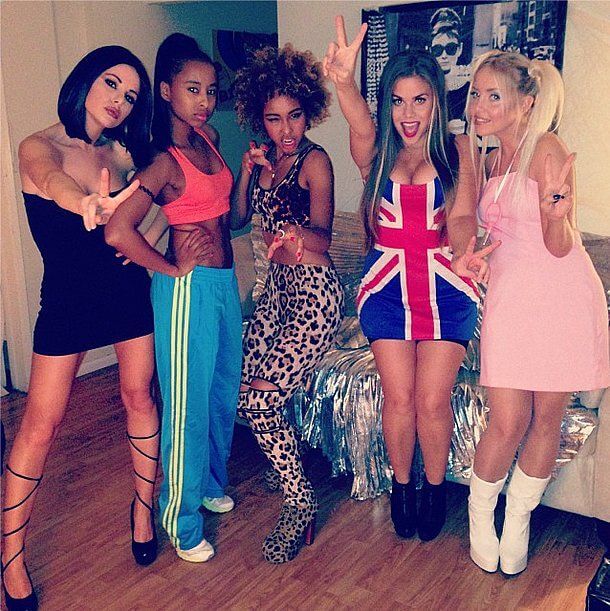 It's time to spice up your life by becoming an outlandish British pop star for a night. I mean you already know all the words to the Spice Girls tracks, so you already have half your costume nailed. Plus, the costume's timely, too—the girl group just announced a 2019 reunion tour, making it the perfect time to bring back this iconic group Halloween costume.
18. The Incredibles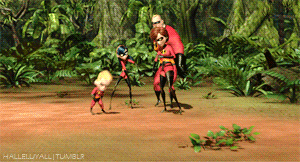 Celebrate this super family's 2018 return to the big screen with some super easy DIY costumes. "You only need a few cheap items to be recognized as Violet," said Florida Agricultural and Mechanical University sophomore Yamani Kennon. "Unless she's using her invisible power." And who doesn't love an easy DIY?
19. Orange Is the New Black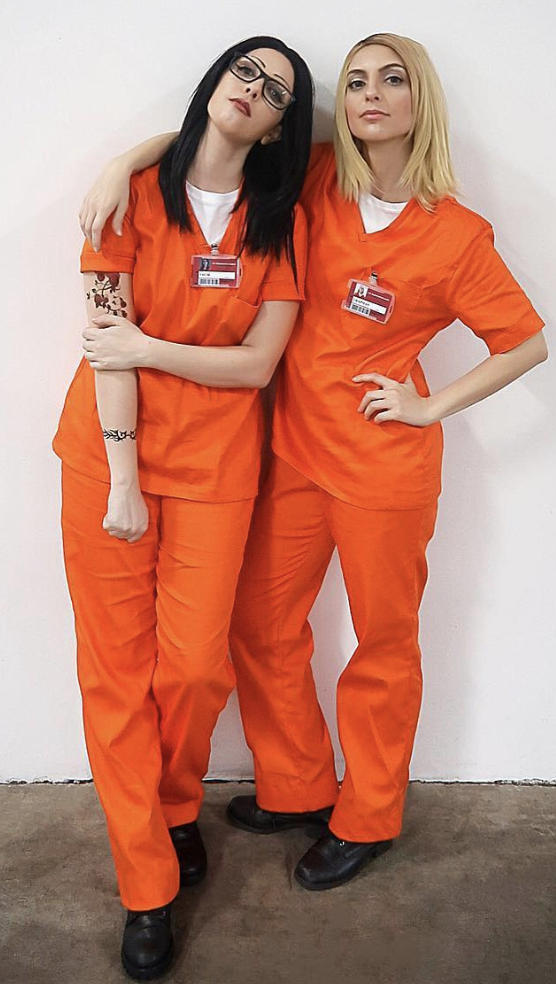 Dress up as the favorite inmates from the hit Netflix series, Orange Is the New Black. Thanks to nursing scrubs, this one recreates easily and for anyone on a serious budget, proves cheaper than buying the show-specific outfit from the costume store.
20. Stick Figure Family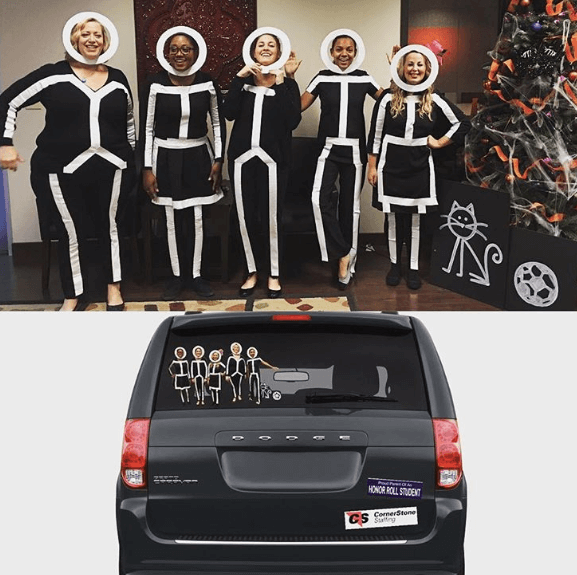 With black outfits, masking tape and some poster board, your posse can be the main talk of the block for the night. Or maybe years. Strike a pose and stick your pic on the back of a minivan for authenticity when posting to your IG feed.
21. The Powerpuff Girls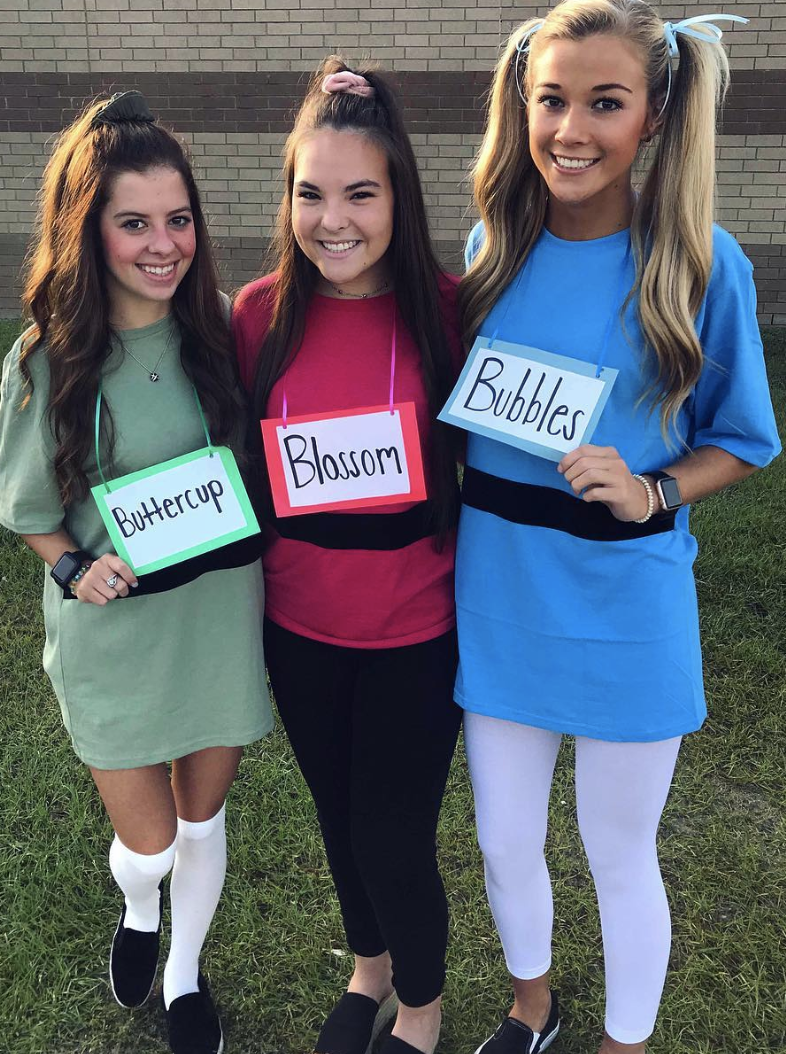 Become sweet, sassy and powerful in these colorful costumes. "They were three girls who made it their business to save the world while also being cute," said University of Florida junior Ashley Garner. "I mean who wouldn't want to be them? They're legendary!" These adventure-loving '90s superheroes brought so many memories as children, so why not make some more in college?
22. Playing Cards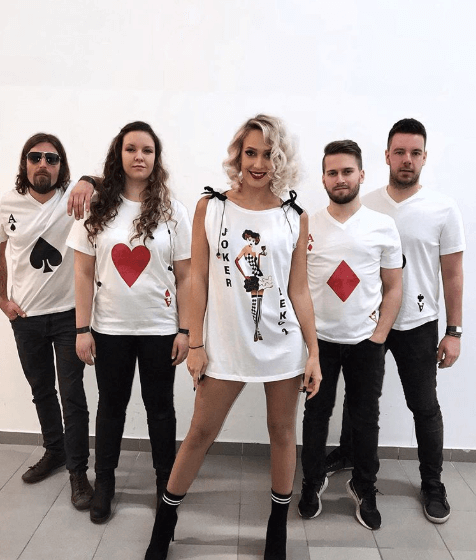 If you want a last-minute costume that will still have you super on-trend, these outfits should be your go-to. A large white tee and some paint can give your squad an original costume with a small amount of DIY work.
23. Popeye and Olive Oyl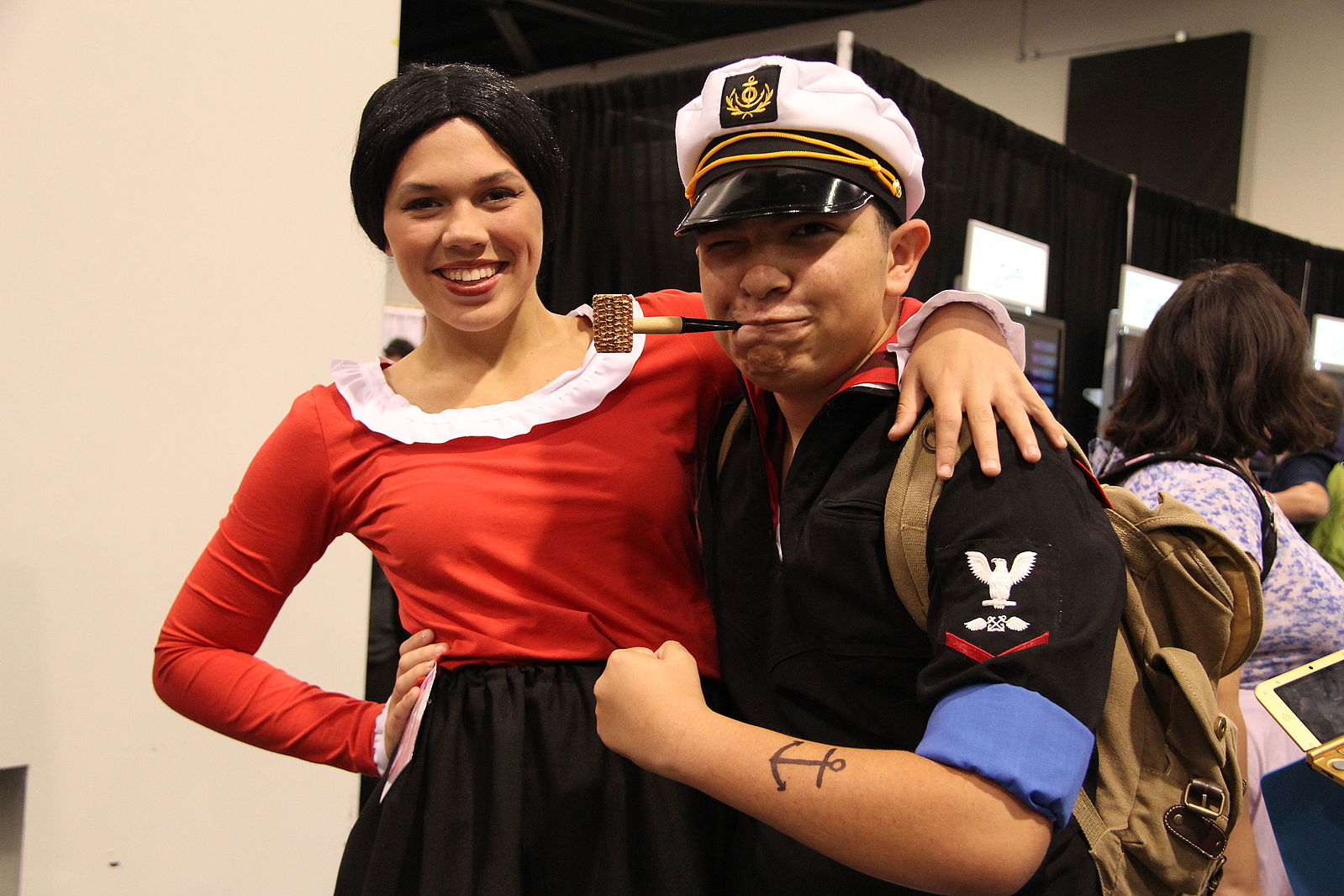 These once very popular comic strip characters are the ultimate couple's costume. Dress as everyone's favorite pair: the spinach-loving sailor and his main squeeze, who he often had to rescue from his nemesis Bluto.
24. The Kardashians
Watch out for the flashing paparazzi lights as you roll up to a Halloween party as the Kardashians. With some nude athleisure and Yeezy style, get ready to pose for lots of selfies. For extra star points, have a friend go as North.
25. Trolls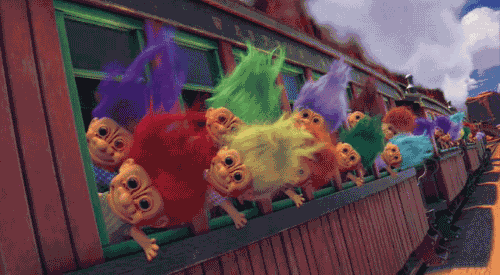 With colorful wigs and nude outfits, this Troll doll costume idea throws it all the way back to the iconic '90s toy. Don't leave your house without a gemstone belly button and a pillowcase for all the candy you'll collect.
26. The Avengers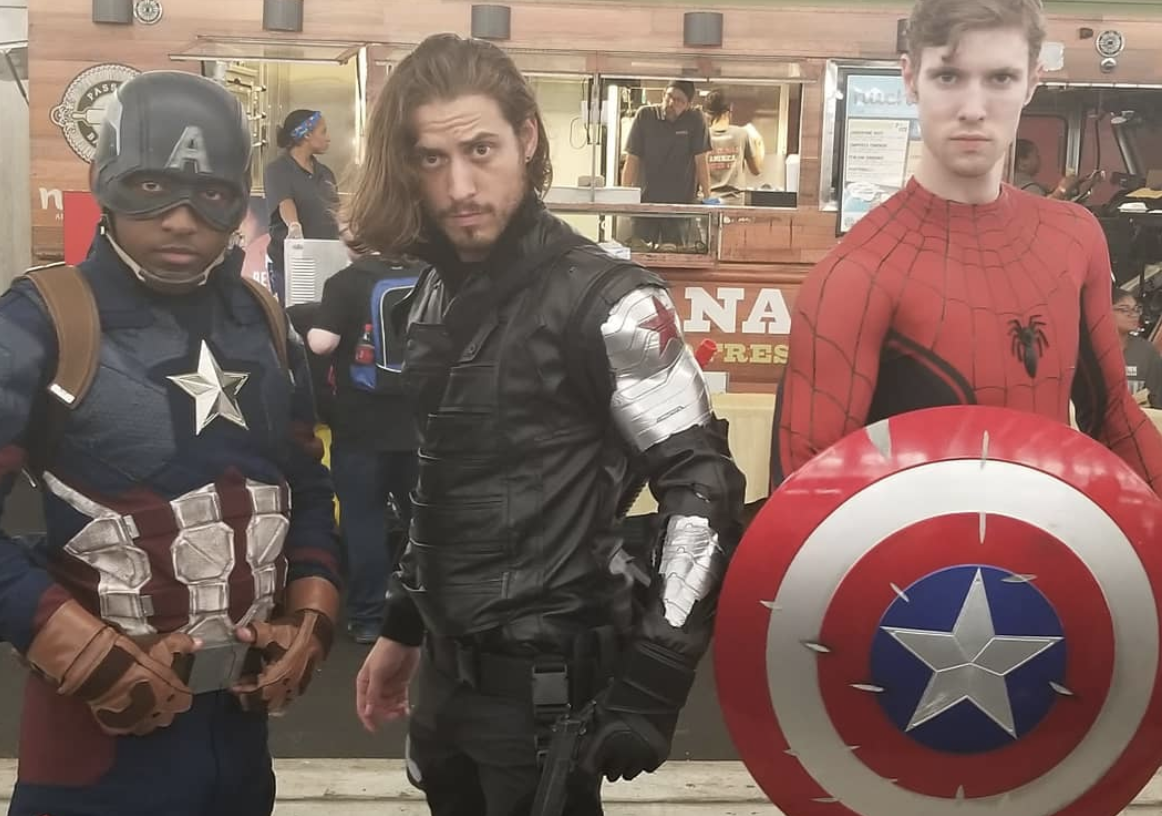 Halloween isn't complete without an awesome superhero costume. Team up with Iron Man, Captain America, Thanos, Black Widow, Black Panther and all the others when it's time to save the world on Halloween night. Are you up for the challenge? Don't worry if your arms aren't quite ready to be shown off just yet. Find a Hulk costume with built-in muscles!
27. Wayne and Garth (Wayne's World)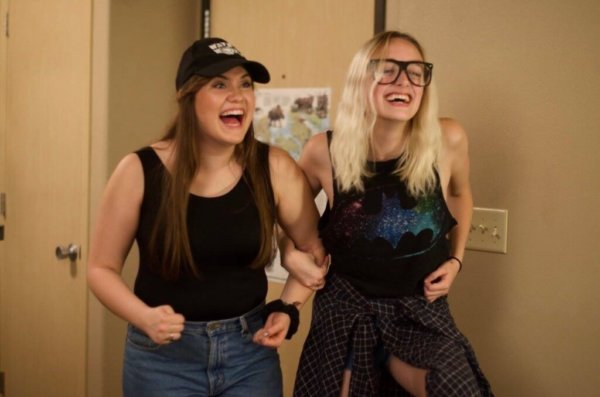 Dress up as Wayne and Garth to embrace your inner dudes. Any true fan will easily recognize these simple outfits you probably already have in your closet. Imagine how fun it would be to totally take on their personas for the night.
28. Inside Out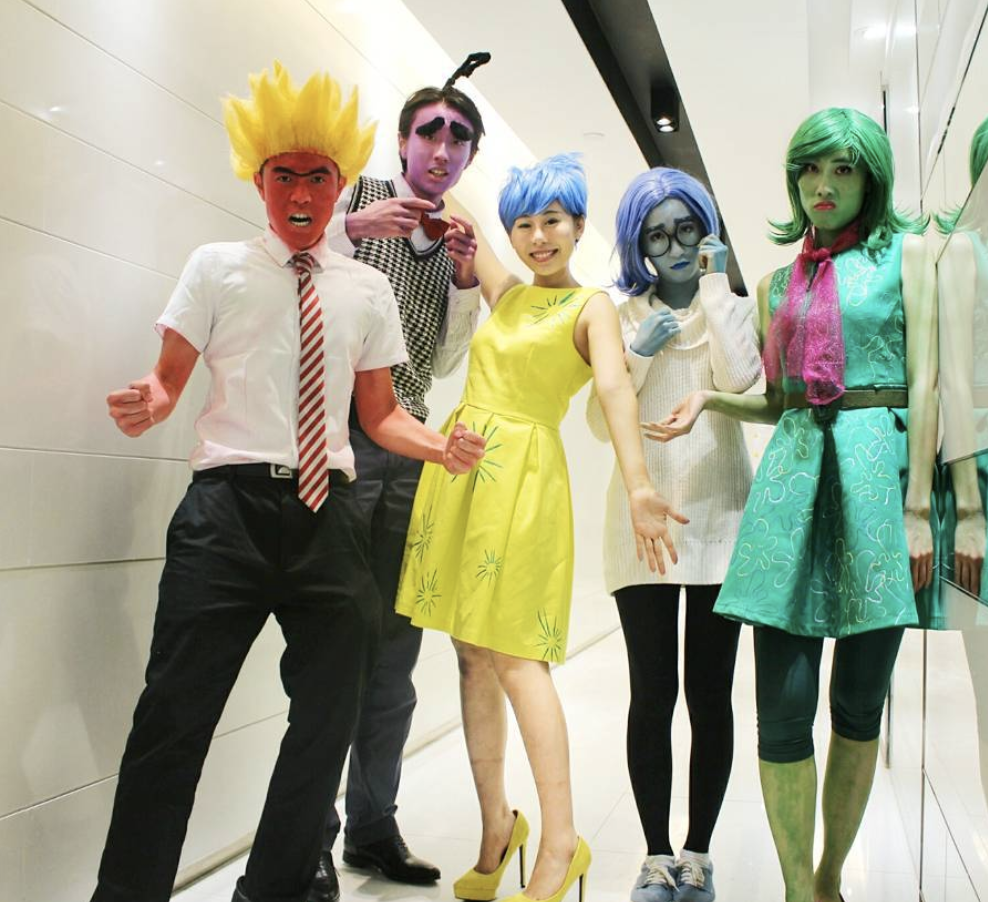 Leave it to Disney-Pixar to create characters perfect for the impersonation of moods: dress up in red for Anger, purple for Fear, yellow for Joy, green for Disgust and blue for Sadness. (Disclaimer: you must be able to pull off the facial expressions).
29. Ghostbusters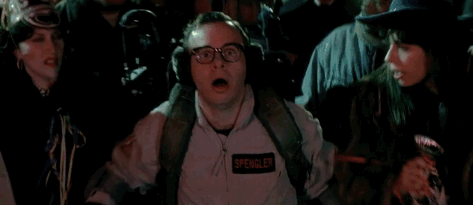 When you need a last-minute Halloween costume, who you gonna call? Ghostbusters! Only have a friend group of girls? No worries, grab your besties and pay homage to the new all-girls crew.
10 Unforgettable Go-To Group Halloween Costumes
Written by Virginia Gomes
Despite the chaos of the world right now, Halloween season continues to shine a positively wicked light during a dark time. Although this spooky season operates significantly different from past years, we can still make the most of our socially distanced blues. Coordinate with your friends despite the agonizing distance and make your Halloween safe, creative, and virtual.
30. The Scooby Gang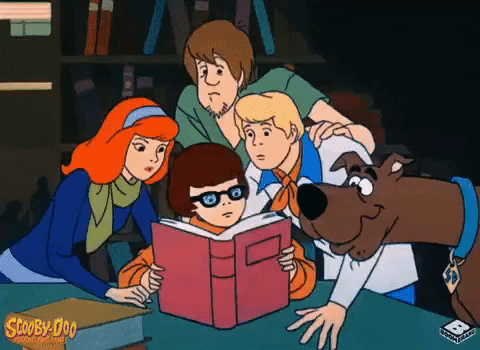 This classic group costume never goes out of style. The Scooby crew and their colorful attire continue to maintain their top-tier costume status. Investigating monsters never looked more fabulous than with Daphne, Velma and Fred's preppy looks. Frankly, the fact of the matter remains that Halloween is simply not the same without at least one Scooby group costume.
31. That '70s Show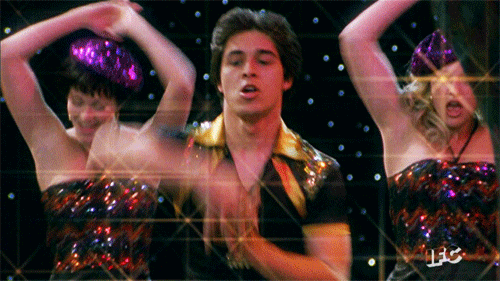 The thrill and love of thrifting live deep within us all. Grab a mask and search for the nearest vintage store for your chance to become a 70s dancing queen has arrived. Although Netflix brutally took That 70s Show away from us, it will never leave our hearts. Dress as your favorite character and recite iconic lines from the show with your friends. Not only will you look absolutely groovy on Zoom, but also, you will rock a sustainably hippie-chic costume!
32. Outer Banks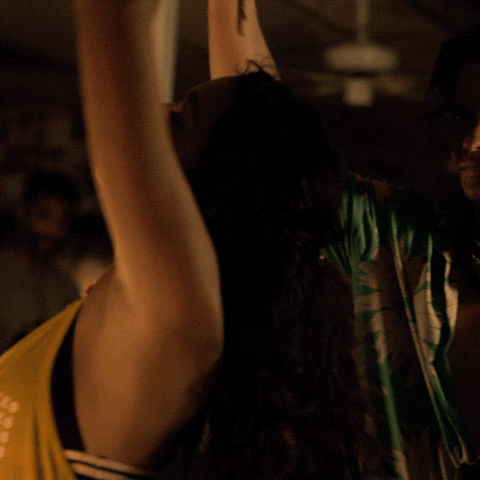 The show that everyone probably binged in less than 24 hours during quarantine brings us the easiest costume to produce in a small amount of time. All one needs consists of appropriately summery attire, bandanas, delicate chokers and beachy hair. For an added twist, change your Zoom backgrounds to dangerously tall waves, storms and piles of dirty gold. So, round up your "Pogues" and go treasure-hunting virtually.
33. Clueless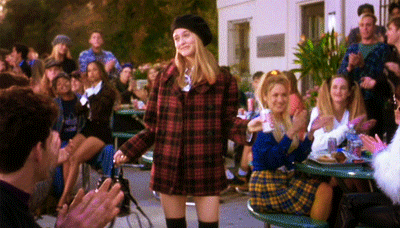 Due to the 90s fashion making an unsurprising comeback this year, you may already have some of the essential pieces in your closet. Go full rich-girl prep with some plaid skirts, berets, sweater-vests and chunky heels. There exist so many iconic looks to choose from, and you can brush up on your Cher-approved language. Don't forget your flip-phone!
34. The Office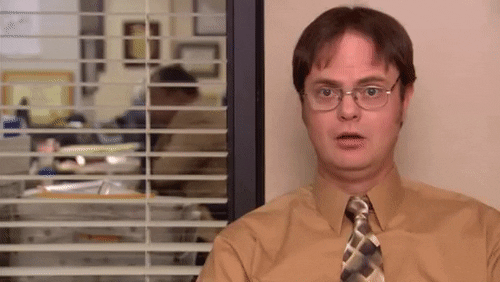 Want to roast people with Dwight's farm analogies and staring at the camera disapprovingly when someone says something stupid? The Office certainly takes the cake for the easiest group costume. Simply whip out some business attire from your last internship and grab a coffee mug to transform into a Dunder Mifflin worker. Put on the classic conference room zoom background, to get in the mood to complain about your coworkers.
35. Lizzie McGuire Movie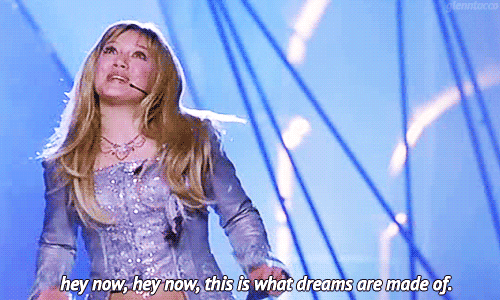 The movie that defined a generation and now takes millions back to a simpler time will never disappoint as a group costume. Lizzie's unforgettable performance at the Italian Music Awards with Isabella and Paolo continues to slay, and the song never leaves your head. "Lizzie McGuire was such a big part of what I would watch growing up. Recreating the iconic costumes from the movie is just a really fun blast of nostalgia," UVA senior Victorya Cintra said. Get some tulle, put on your microphone headset and "sing to me, Paolo."
36. Avatar: The Last Airbender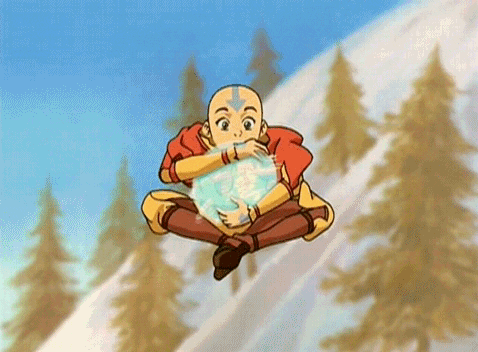 Due to Netflix's recent addition of Avatar: The Last Airbender, this timeless amination series continues to receive the recognition it deserves. Any OG fan knows Team Avatar's costumes and personalities by heart. Find some Aang-approved gear and put on some Zuko angst for Halloween night. Every 2000s kid dreams of being a bender, so now you can finally live out your childhood dreams on Zoom while imagining yourself flying through the air with Appa.
37. Iconic Animal Sidekick Duo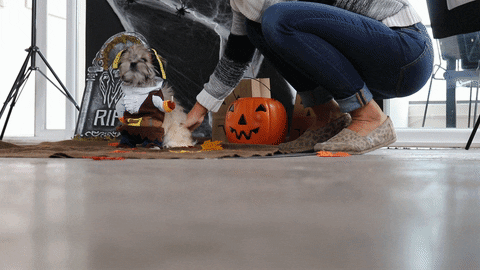 If your friends confess that they not feeling the spirit of Halloween this year, take your furry best friend and dress up as your favorite duo! There endless possibilities from Lilo and Stitch to Pikachu and Ash Ketchum. " When I was younger, I dressed up as Felicity (the best American Girl doll) and dressed my dog as her horse for Halloween. My dad sewed the costumes, it was charming, and yes, I was homeschooled," UCLA senior Jane Miramontes said. Who needs people when you have adorable pets?
38. Cheetah Girls
Cheetah sisters unite! Let's strut down the streets of virtual NYC. Whether you and your friends decide to wear the tasteful matching tracksuits or the classic cheetah print outfits, this costume never fails to appear iconic. "If I could pick a group costume, I would pick Cheetah Girls because it has always been my dream to dress up as one of the four cheetahs with my friends. I think it's a great costume idea and brings back so many fun memories," USF senior Giovanna Seabra said. This certified crowd-pleaser of a costume reinvigorates your inner sass and growl power.
39. Four Seasons Makeup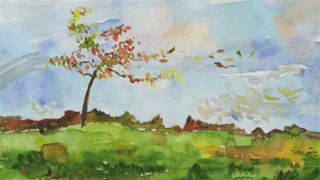 Being a whiz at makeup comes with a multitude of perks, one of them being the ability to completely transform yourself into abstract concepts. If you and your friends are up for a makeup challenge, try transforming yourselves into the four different seasons using the most colorful eye palette you can get your hands on. This creative costume allows you to showcase your artistic ability and take some voguish photos for Instagram.
**Updated on October 24, 2018 by Kaylin Purvis to include 19 more costumes.
***Updated on October 2, 2020 by Virginia Gomes to include 10 more costumes.