Don't want to spend a week of your life sunburnt, blackout drunk, and living out a real life version of Spring Breakers? Luckily, there's plenty of ways to enjoy your Spring Break without it being basic AF. Forget Mexico and say hello to exotic locales that might just be in your own backyard. Who knows? Maybe this will be one spring break you'll never want to forget.
Here's spring break trips better than the beach.
1. Take a State Park Roadtrip
Grab some friends you trust with the aux cord, and head out on the roadtrip of a lifetime–no passport needed. "Put Wow by Beck on the playlist, and I'll be a happy girl," said University of South Florida student Hannah Droke. "State parks are great because it's a way to get out into nature without breaking the bank or having to travel hundreds of miles away."After all, there's over 10,234 state parks in the United States to discover. Pack your tents or hammocks and hit up that Starbucks drive through because this will be one trip you'll actually be able to remember- and one you won't want to forget.
Who to Bring: Your friends who most likely live in their Burks or Timberlands and are always ready for an adventure.
What to Pack: A comfy pair of hiking boots, plenty of leggings and flannels. Just because it might be spring break doesn't mean it won't get a little chilly during the night.
How Much $$$: Bring a few 20's for gas, state park entry fees and any cool postcards or trinkets you buy along the way.
2. Volunteer Vacation
Most people think that going on an alternative spring break trip means going to some far flung locale, but nothing is further than the truth. You don't have to travel miles away to help out a community, but all power to you if you want to go a little farther out of your comfort zone. If you stay local, grab a few pals and help your own community with Habitat for Humanity projects, or check out IVHQ, a website that links college volunteers to weeklong volunteer abroad programs. How's that for making a difference?
Who to Bring: That friend who's always down for an impromptu beach clean-up. She's probably philanthropy chair of every club, somehow managing it all with her 16 credit hour course load.
What to Pack: An old tee, backpack and a healthy snack or two if you plan on heading out somewhere close to home. If you decided on going somewhere a little more ~exotic~ it can't help to throw in your favorite bikini.
How Much $$$: Depending on where you your destination, one can be free or go up to a few thousand dollars. Don't be discouraged, though. Usually, volunteer orgs will take care of your lodging, meaning you only have to pay for your plane ticket.
3. Tour Your Own Town
Don't feel like spending all your alcohol fund on some cheap cruise to Mexico with people you don't even really like? Try living the tourist life in your own town. Go to your local library, pick up a travel book and plan a trip around town as if you've never been there before. "It's the rest and relaxation of a vacation with the added benefit of being able to revisit any time you'd like," said University of Florida freshman Katia Schwinghammer. "The only thing better are virtual vacations where you literally don't have to leave your bed." Head to that little hole in the wall restaurant you've always wanted to go to or that new brewery you've never gotten around to trying out. Just make sure to pack your sunscreen and fanny pack to really play the part.
Who to Bring: The high school squad. You all are all home on break. Why not make the most of it? Find somewhere no one in your crew has been and use this as the soundboard for your next epic adventure.
What to Pack: Walking shoes, because you're about to take a trek. Fill your bag with your favorite pair of shades, sunblock and your travel guide.
How Much $$$: Be super extra by booking a motel in your area for the ultimate tourist experience. Or save some bucks by just spending a day in your area's downtown district making use of every student discount possible.
4. Go Camping
Whether you camp out in your favorite park or in your own backyard, pitch your trusty tent and spend an evening under the stars. The weather won't kill you (no summer heat) and there won't be any pesky mosquitoes either. Mix up the whole ghost story thing by scaring your friends with your latest midterm grades.
Who to Bring: The friend who won't run away screaming when a bug the size of their own head flies by or when a bear is heard sniffing outside around the tent.
What to Pack: Pack a tent, hammock and enough food (hello, use for left over ramen) to last you a few days out in the wilderness. And don't forget the marshmallows, because 'mores are a must. Burks optional.
How Much $$$: Ok, Tom Haverford. This one should be easy on your wallet. If you really aren't feeling spending a few days laying on the ground, Skymall will be more than happy to hook you up and make sure you're more than a little comfortable.
5. Theme Parks
Take a spring break trip that makes you feel like a kid again, or just look like a really over grown child. "Spring break is the perfect time to go," University of Florida freshman Christina Speranza said. "It won't be crowded with summer tourists." Plus, most theme parks, like Disney, have with resident rates that might save you a little more money for your party, I mean textbook, fund next semester.
Who to Bring: Take your family along for this one. Take your little sister or brother to the most magical place on earth and make memories she or he won't ever forget.
What to Pack: Make sure to pack your character gear for this trip. That means your favorite Mickey and Minnie shirt for Disney or your Harry Potter gear for Universal.  And as any Insta diva knows, you need your mouse ears, too.
How Much $$$: This spring break trip is one of the more expensive trips on the list. Tickets can cost upwards of $100 per day, and this doesn't include the cost of food or souvenirs. If you have your heart set on Disney World for spring break, start saving now.
6. Casino Weekend
Channel your inner James Bond and spend a weekend at your favorite gambling establishment. Go to the extreme and head out to Vegas or Atlantic City, or keep things local (and save money) by going to your favorite hometown dive. Grab your girls, your fanciest dress and pretend that you know how to do more than just play the slot machines.
Who to Bring: Bring your facey squad. This is the time to whip out the girl gang where every angle is their good angle. T. Swift's squad has nothing on you.
What to Pack: Pack your favorite LBDs, Loubitins and of course, jewelry that makes you look like a million bucks. Hey, when in Vegas… might as well look the part.
How Much $$$: Shelling out money for plane tickets and hotels might set you back a couple hundred. Save yourself a few bucks by booking Spirit or Allegiant.
7. Get your History on
Head out with your favorite pals and drive to the closest historic district. Dress in your favorite vintage garb because, trust me, your Insta game is going to be poppin'. Stroll down memory lane and see what trouble you can get yourself into.
Who to Bring: Your favorite history buff. With someone who knows all the little facts about the place, no tour guide needed.
What to Pack: Don't forget your extra phone battery pack. Your battery might not survive taking all those photos to make your Insta on fleek. And you can never go wrong with a floppy hat or fedora.
How Much $$$: Give your wallet a break by just taking day trips and look out for student discounts at museums. 
8. Get Lost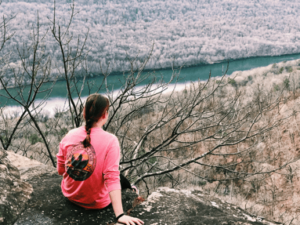 Set out with no destination in mind; you might be surprised where you end up. If you really want to let loose, head out to a known place and explore it in a different way. Try closing your eyes and having a friend lead you, or only walk backwards. This will lead to all sorts of adventures you might never have had, maybe you'll run into future bae on the way.
Who to Bring: A friend who knows how to work Google Maps…just in case. Oh, and a fire DJ to control the aux.
What to Pack: This one's all part of the fun. The packing is up to you. But we recommend snacks, just in case.
How Much $$$: If you're really looking for a spring break trip that will be easy on your wallet, look no further.
9. Take a Hike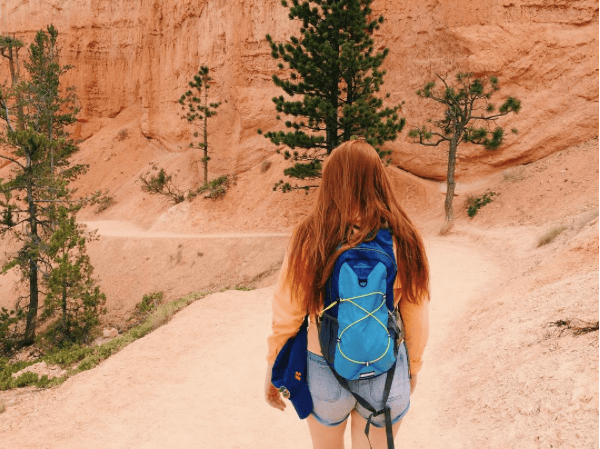 Find the nearest trailhead and head out into nature. "Don't worry about grabbing fancy hiking shoes or your Patagonia T-shirts," said University of Florida freshman Alexis Gornik. "Use Alltrails.com to find cool hiking trails and spend the day pretending like you'd be able to hike the Continental Divide without dying." If that sounds a little too intense, just try a day hike. Hiking some mountains on a spring break trip is more adventurous than that hike you took to that Sigma whatever party the other weekend. After that, anything is possible. I mean, you did that in heels.
Who to Bring: Friend who don't complain when you have to walk from one side of campus to the other–stamina is a must. Or Forrest Gump. Forrest Gump will work too.
What to Wear: Comfortable shoes. I'd also recommend investing in a CamelBak. Instead of having to refill your water bottle every five seconds, just wear it on your back. Hands free hydration, am I right?
How Much $$$: Depending on how much gear you already had, this trip could be relatively inexpensive. But if you haven't already bought out the entire Columbia store, this one could set you back.
10. Be Spontaneous
My favorite way to do this is to take a spontaneous road trip. "We had the idea that one person could plan our entire day," said University of South Florida freshman Trinity Foster. "The kicker is that person wouldn't tell anyone else where we were going." Pack a suitcase and let someone else drive. You'll soon find out that sometimes the best trip (or the best spring break trip) isn't planned.
Who to Bring: This is a trip made for you and your best friend. As long as you have a coffee in hand, this will be a trip you'll never forget.
What to Pack: The joy of spontaneity is that you don't have to plan anything. Throw a few tees into your bag and you're done.
How Much $$$: Set a budget before leaving. Whoever has the destination in mind should make sure that their plan sticks to it.
Hear from three students who are "spring breaking the stereotype."
Written by Lizzie Horne, sophomore, Journalism and African American Studies, University of Maryland
When you think spring break, you usually picture tanning, drinking, dancing and more. Although many college students partake in these activities, hundreds of others take a different approach to their freedom from classes. Every spring break, students from all over the country travel to places in the United States and around the world to do community service as an alternative to the typical spring break.
Public and private universities along with many non-profit organizations sponsor alternative spring breaks for students to participate in. These three students are proving that helping others over spring break can be just as fun as heading down to Mexico or Panama City.
Ed Herman, a sophomore at Southwestern University, is going to the Gila Wilderness near Silver City, New Mexico. It costs $55 for the program and another $10 for the optional t-shirt. The program, through Southwestern's Office of Religious Life, will have Herman repairing trail-heads that lead to the most popular hikes in the wilderness using nothing but pioneering tools (shovels, mallets, axes, picks, etc.).
This is Herman's third experience with the program and he said he would instantly go again. "It offers me some time away from the college atmosphere, electronics and stressful world I'm normally in," he said. Herman especially likes the alternative spring break program because he can work side by side with the ranger and park staff for a week for almost no cost. Herman said, "[I enjoy making] the public aware of the natural beauty of the world we take for granted."
Kate Raulin, a sophomore at Ohio Wesleyan University, is going to Chicago through her school's Chaplains Office. The $100 trip involves learning about Christian-Muslim dialogue and how it relates to poverty, immigration and homelessness. The trip members go to various organizations that relate to the issue and deal with interfaith relations. Her group will be working on the small projects that the organizations have started throughout the city.
Raulin is really looking forward to learning more about the city of Chicago and witnessing the interfaith movement in action. She cannot wait to tackle real-world issues over her spring break. "There are only a few chances where we are able to have a set amount of free time with no obligations. Therefore it is a chance to completely dedicate your time to help others… and the Mexico beaches aren't going anywhere," Raulin said.
Aaron Picus, a sophomore at Tulane University, is going to Buenos Aires, Argentina, over his spring break. The $950 program is through Hillel International, and they will volunteer with the local Jewish community because it has not been as self-sustaining as it was before the Argentine stock market crash of 2001. Picus said that they have not gotten a schedule that is set in stone, but they will probably be repainting the exteriors of buildings and helping to rebuild.
He really enjoys the people who choose to go on service trips because to him they are top-notch people that are excited to spend spring break doing manual labor or something similar. "I hope to make some really strong connections with the people on the trip, to gain some really good friends, see Argentina, and immerse myself in the Jewish community there," said Picus. "It's a different culture, and it's making an impact while I'm at it."
*Updated March 1, 2017 by Lizzie Horne to include "Spring Breaking the Stereotype."