In middle school, those pesky Accelerated Reading points made reading feel like a chore. You know you read the small and easy books just to get more points. But as impressionable young adults, there's bound (pun intended) to be a book whose story we still carry with us today. Maybe you were the kid who pulled your covers over your head to read "Harry Potter and The Chamber of Secrets," or maybe you wandered through your high school hallways with your nose in "The Perks of Being a Wallflower." Maybe you were never much of reader, and you're questioning why you're even reading this article. Don't lose hope—you just might find your love of reading through these books that have inspired college students.
Keep reading for 10 good books for college students.
Aliens, accounts of war, profound characters, scathing but hilarious satire—what's not to love about the insightful and oddly brilliant Kurt Vonnegut? Slaughterhouse Five focuses on a mentally unstable optometrist, Billy Pilgrim, who is kidnapped by aliens and taken to their planet, Tralfamadore. While Billy is stuck in the Tralfamadorians' unconventional ideas of time, he learns to accept his fate. "I love Vonnegut in general, because he has this uncanny ability to mix humor with some really deep messages and tough topics. Slaughterhouse Five in particular, because it's a spot on depiction of what PTSD is like, but it's written in terms that are entertaining and palatable enough for anyone," said Florida State University senior Christiana Lloyd-Kirk.
2. #GirlBoss — Sophia Amoruso
There's a part in all of us that wants to be a boss, but to be a #girlboss is even more kick-ass. So why not learn from the best? Sophia Amoruso, the founder of the online clothing company Nasty Gal and the girl boss empire, tells about her humble beginnings as a college drop-out shoplifter who makes it to the top of the fashion industry and becomes a total boss-ass b—h in her acclaimed book #Girlboss. "#Girlboss is a must-read for young women looking for inspiration and empowerment. For me, the main takeaway was that we are all on our own personal journey, but the only way to progress is to work hard and listen to your instincts," said FSU 2015 alumna Jaclyn Daley. Amoruso's honesty and colorfully explicit advice is hilariously entertaining. She even gives advice on how to land a job working for Nasty Gal. Um, yes please! Where do I apply?

If you're looking for a clever, funny, exciting, surprising and tragic book, end your search. Looking for Alaska encompasses all of those things. Prepare to immerse yourself in the life of Miles, a high school junior attending boarding school in Alabama. While away at school, he falls deeply in love with a slightly manic, pixie dream girl named Alaska. Aside from the drinking, pranks, chainsmoking and sex advice, John Green paints the lives of these teenagers as something very real. "Looking for Alaska" teaches about love, loss, redemption, guilt and friendship all at once.

You may never know what you can take from the wild until you actually go into it (and hopefully return). In 1990, a recent college graduate named Chris McCandless burned all of his money, stopped communicating with his family, changed his name and hit the western United States looking to escape from his life. McCandless made it to Alaska in 1992 and survived off the Alaskan bush for a little over 100 days until he perished from eating poisonous bacteria from a plant. Working to untangle the reasons he disappeared, Journalist Jon Krakauer turned McCandless' story into a book. In Into the Wild, Krakauer talks about McCandless' family life, impressive education and his passion for the outdoors. "I found it very inspiring because it's a story about a young person who seems to have everything in life, but still has to search for more," 2013 FSU alumna Katie Haggerty said. "I think most people can relate to that feeling and can learn and grow from Chris's experience."

As far as we know, we can't erase the past. No, that double cheeseburger you ate for dinner last night won't go away with the snap of your fingers. The Brief Wondrous Life of Oscar Wao follows a "fat ghetto nerd" named Oscar Wao through the eyes of his college roommate, Junior. As Junior narrates Oscar's struggles of figuring out his own identity, he also tries to grapple how Oscar's past has impacted his life. Many of Oscar's misfortunes are blamed on an ancient curse called the Fuku that can only be destroyed by the Zafa. "One of the reasons it is really inspirational is because of the beautiful way it's written, and the way its chapters are structured. I think it's really important to think about how to move forward, make things better, and work for a way to recognize and begin to repair the wounds of the past," Evergreen State junior Zoe Wright said.
In Let the Great World Spin, author Colin McCann weaves together several different lives of unique New Yorkers, including an Irish immigrant, a prostitute, an artist, a judge and a mourning mother. Their hardships differ, but they all have one thing in common—they've all seen the mysterious Twin Tower tight-roper, who tightropes between the two towers in 1974. The characters' lives are brought together by coincidence and misfortune. "Let the Great World Spin" upholds that in the end, everyone and everything connects, and that fate makes the world go round.
In Left to Tell, Immaculee Ilibagiza recounts her life during the Rwandan genocide in 1994. Ilibagiza tells of her family's brutal murders, and how she came to forgive her family's killers. Reading Ilibagiza's story takes you right into the tragedy. "What impacted me most about [Left to Tell] was that through the despair of losing most of her loved ones, Ilibagiza still managed to come out with a positive outlook. She chose happiness and mercy by forgiving the men responsible for the deaths of her parents and brothers," University of North Florida senior Stephanie Joost said. "It puts things in perspective when you realize you're reading a story like this as you lie in bed safe and sound."
Of Mice and Men follows two friends George and Lennie as they travel through California looking for work on a farm. George, often short-tempered, acts as Lennie's protector, as it's clear Lennie has a mental disability. "Of Mice and Men by John Steinbeck inspired me to work with special needs people as well as support their caretakers. Lennie helped me realize that all humans have dreams and all just want to be understood," Penn State senior Annie McGuinness said. Through the experiences of life and death, Steinbeck shares the harsh realities about human nature. "[I] hope to let people with disorders be able to accomplish all their dreams and help them to realize a full potential," McGuinness said.
Even though readers tend to get more detail from actually reading the memoir than seeing Julia Roberts gallivant through India in the 2010 movie, this story spoke to audiences. In Eat, Pray, Love, author Elizabeth Gilbert reveals the hardships in her marriage and the struggles of getting a divorce, while also taking the reader across the globe to Italy, India and Brazil where she finds love once again. "I like the message of self discovery, and that at any age, it's never too late to reinvent a new life for yourself. [It helped me] to take chances and to do things for my own personal enjoyment rather than to please others or to fit an expected mold of what in life is suppose to make you happy as a woman," said FSU senior Carla Badame. "Eat, Pray, Love" may influence you to travel the world and find yourself, or maybe you'll just crave a lot of different ethnic foods.
Lois Lowry tells us in this book what we college students want to hear most: "Let your freak flag fly." She paints readers a utopian society through the eyes of a boy named Jonas. However, Jonas learns that this society is actually far from ideal when he meets the Giver, aka the town's "Receiver of Memory." The Giver shares the town people's emotions and memories with Jonas. Jonas soon realizes that his neighbors sacrificed their individuality to live in this illusion of perfection and be controlled by others. "I remember it making me feel like even though you're told what to do in your life, that sometimes the utopia isn't so perfect," University of Central Florida junior Giorgy Molano said. "That the real way to find happiness is doing what feels right to you. Because at the end of the day, it is your life and no one else's."
Check out 10 more good Books for College Students who need inspiration.
Written by Rosie Forster

Every single teenager feels underappreciated and lonely at some point, so feel the angst with Holden Caulfield. "I was a f—ked up teenager," University of California Los Angeles senior Manj Daniel said. "It made me feel understood." Holden Caulfield has inspired legions of teenagers with his moody prose that hits you with adolescent nostalgia. Follow Holden as he travels around New York and broods in a way every teenager (and most college students) can relate to.
Time to get real: so many college students struggle with body image issues and feel pressured to conform to society's ideal standards of beauty. In her memoir, Roxane Gay examines how she takes care of herself and her body in a world which often doesn't accept her. The honesty of Gay's writing can face you with some brutal confrontation, but will resonate with so many college students. In a world where you can find it incredibly difficult to accept yourself, look to Gay for advice on how to go about it.
13. Bluets by Maggie Nelson
When you hit rock bottom, look to Bluets, a lyrical essay that will remind you that even at rock bottom, you have nowhere to go but up. This essay explores love and suffering with beautiful prose and painfully relatable quotes. For example, Nelson writes, "I want you to know, if you ever read this, there was a time when I would rather have had you by my side than any one of these words; I would rather have had you by my side than all the blue in the world." If you go through a college breakup in the future or deal with homesickness, read this book and feel less alone. "Sometimes you've got to feel bad," Macquarie University sophomore Georgia Chahoud said. "You've just got to do it."
"It is a truth universally acknowledged that a single college student in possession of this book must be in want of changing their life," said Jane Austen (more or less). Once you read this book, you will want to adopt all of Elizabeth Bennet's witticisms, regardless of your gender. In addition, Mr. Darcy's silent brooding will remind you of the frat boy you met a few weeks ago who is now ghosting you, because he thinks he's a stud and has found a good way to get your attention. Enjoy the frivolity, the hilarity and the etiquette of Regency Era England. Learn why Jane Austen garnered so much attention in her time and how she continues to make an impact on society today.
This book will make you long for your childhood again. When the pressures of college life threaten to overwhelm you, take a trip to the world's most mysterious circus. Follow Celia and Marco as they play a game of magic against the backdrop of an entirely black-and-white circus. The black-and-white scenery may seem monochromatic, but the colorful characters will make you wish this place existed from the bottom of your (now black) heart.
16. Naked by David Sedaris

No, this book doesn't contain nudes of David Sedaris, so don't worry. This collection of short stories examines life from Sedaris' witty perspective, tackling issues such as families, weddings and deaths with a light touch. Sedaris' trademark cynicism takes the sappiness out of any heartfelt moment, and provides a unique insight into the world at large.
If you like the Hulu adaptation (and even if you don't), you will find reading the book will make you angry, amused and captivated. In a dystopian world where the government uses women as baby-making machines, Offred attempts to navigate and avoid being completely crushed by the Republic of Gilead. We live in a world where women's rights, particularly reproductive rights, often get debated and questioned. This book examines the effects of the law on women and their wellbeing in a fantasy world that creepily exaggerates our real-world debates. The book also deals with an unreliable narrator and the nature of truth itself.
If you ever feel like life weighs you down, jump into this satirical fairytale of fencing, fighting, monsters, torture, revenge, escapes, true love and miracles. The book behind the cult movie contains sardonic and witty writing, but holds just as much heart. Escape into the pages as you cheer for Buttercup and Westley, and learn more about Fezzik and Inigo. If you don't, that would be inconceivable.
Personal story time: I recently received a copy of this book in the mail, from a family friend, along with a note that stated, "This book got me through a lot of hard times. I hope it can help you." When I read it, I felt seen and understood, the same way many people feel when they read this book. Reading this will make you realize that the world exists on a larger spectrum than whatever you go through at any given moment. Sometimes it seems hard, but it shapes you into the person you want to be. Read this book whenever you feel down and understand that even though college can get tough, all the hard work prepares you for all the places you'll go.
This story combines science-fiction concepts with beautiful prose and incredible story-telling. From the perspective of Kathy, we see an idyllic private school with a dark secret. This story will change your perspective on certain ethical issues (I can't go into detail here because of spoilers) and combines a frightening dystopia with the gorgeous nostalgia of childhood. I guarantee you'll come to a spot in the book where you'll either stare at the pages in shock or throw it out of the window in horror.
With these next ten books, you'll always have a way to get inspired.
Written by Nikki Gallant
Trying to find a book to read but can't figure out what you want? Take the advice from current college students to find just what you're looking for during a study break, weekend, or a quick-read during your week off. Romance, drama, humor, this list has got all of the books you don't want to miss. Keep reading to see exactly what each of these must-reads entail.
#1 New York Times Bestseller, Oprah Winfrey's 2018 book club pick, Becoming tells the tale of a true queen. Former first lady, Michelle Obama's memoir talks about everything from her experiences growing up in the South Side of Chicago to becoming one of the most influential people in the country. She talks about the successes that follow staying true to yourself and not letting anyone push you around in life. The book is inviting to people from all walks of life: rich, poor or struggling college-student. Or maybe you're just a true Michelle Obama fan and want to know her on a more personal level, this book has your back.

A literary classic, The Color Purple, highlights the life of Celie, a poor, African American woman growing up in the pre-civil rights South. The novel explores Celie's relationship with herself as a quiet and submissive housewife, trying to find her voice. With the help of Shug Avery, a singer whose confidence and sensuality shines from within, Celie is able to make her dreams a reality. Looking for a female-empowering novel that isn't afraid to tackle sexuality and race? Grab yourself a copy of The Color Purple.
Arguably the best work from author Zora Neale Hurston, Their Eyes Were Watching God, tells the story of Janie Crawford who so desperately wants to find true love. It follows a young African American woman tackling race and gender issues. The story challenges the traditional gender roles that encapsulated the early 1900s, a time when women were expected to be quiet and obey the rules of their husbands. Hurston puts it like this, "she had an inside and an outside now and suddenly she knew how not to mix them." The story reaches its climax when Janie is forced to choose between attaining the love she has always longed for and putting that yearning aside and love herself first.

Kaling bares all as she shares her innermost feelings with her readers in her second memoir, "Why Not Me?" She infuses her sarcasm and witty charm with motivational and inspiring advice giving her readers the confidence to never apologize for being who they are. Kaling shares the idea that, "There are not many relationships more powerful than that of two women who fall fast and deep into a friendship." Whether it's meeting former President Barack Obama or having an awkward encounter with Bradley Cooper, Kaling holds nothing back.

Alvarez tells the inspiring true story of the Mirabal sisters, who were murdered in 1960 for their attempt to overthrow the Trujillo regime in the Dominican Republic. The story's point of view alternates between the four sisters: Dede, Minerva, Patria and Maria Theresa. Alvarez brings each sister's story to life, revitalizing how four sisters were able to spread their wings and fight for freedom that they never got to see. Each of them fills a piece of the puzzle, bringing her own distinct personality into the rebellion. Although their fight came to a devastating end, the Mirabal sisters still serve as a symbol of freedom.

Jodi Picoult is a literary master at bringing political and social issues to the forefront. In one of her latest works, Picoult poignantly examines the ways in which racism are still entwined into American society. The story centers on an African American labor and delivery nurse, Ruth Jefferson. More specifically, it focuses on how her career comes to an unexpected halt when she is accused of not doing everything in her power to save a newborn baby. The parents of the deceased baby are white supremacists who, from the beginning, didn't want their child in the arms of Ruth. Picoult examines the role race plays in the courtroom with Ruth's defense attorney, who doesn't want to bring race up in court. However, Ruth is ready to take on the whole system.

Considered a classic American novel, The Adventures of Huckleberry Finn, is one college students won't want to miss. This novel tackles themes about slavery and racism and challenges readers to think critically. "A lot of people reference the book because of its themes, " Temple University freshman Carolyn Sette said. The ultimate American literature The Adventures of Huckleberry Finn is perfect for anyone who wants to get a start on the classics, but doesn't know where to start.
A raw and emotional memoir, A Stolen Life: A Memoir, tells of what Jaycee Dugard experienced when she was kidnapped at age 11. Although a dark story, Dugard speaks measures to what perseverance and strength look like. "People should read it because it's a true story about a girl who was kidnapped and missing for years but managed to survive. It shows you to always be strong," Bucks County Community College freshman Mary Mills said. All college kids could use a story about perseverance, strength and determination—especially during times like midterms or finals.

Shonda Rhimes, the mastermind behind TV favorites like "Grey's Anatomy" and "Scandal," chronicles how one little word changed her life forever. An introvert at heart, she explains how saying "yes" for one year impacted her in ways she did not expect. "It's so motivational and helped me start the spring semester strong and kept me invested in school," University of South Carolina sophomore Danielle Hassan said. Rhimes tells of what happens when you let go of your fears, learn to make yourself vulnerable and let go of your fear of the unknown. When you're trying to figure out your summer plans, career goals or even class schedule, try picking up this book to help with your decision.

Adapted into not one, but two films, The Great Gatsby is a masterful take on the jazz age. The novel is centered on Jay Gatsby, who is known by everyone, but not truly understood by anyone. His mysterious character yearns for all of the finer things in life but ultimately, gets the best of him. "A personal favorite of mine. Within the text was hidden messages about how to live your life based on different events and happenings," McDaniel College freshman Andy Witten said. If you decided to skip out on this one in high school, make sure to pick it up for college.
Love nonfiction? Check out 9 nonfiction reads to get you through the day.
Written by Natalie Wollenzien
Fact is stranger, and often more beautiful, isn't it? Check out these ten nonfiction works that every young adult should read.
If you want to feel angry, sad and enlightened all at the same time, check this narrative out for size. Baldwin goes on to describe the complex relationships he feels, from the weight his own father felt in growing up to the ways he was treated as a young, black man at different points in the world. In spite of its publishing year, 1955, what he says will feel just as relevant today as it did over half a century ago.
Price: $11.59
Joan Didion, also known as the Mother of Existential Angst, released this collection in 2005 in response to losing her husband. Her words transcend in a way for everyone to relate to the ideas of mourning she puts forth. The year following her husband's death shows to the reader her honesty, her vulnerability and in the end, her strength for letting it all in the open.
Price: $11.54
Well, this collection of essays feels apt, doesn't it? In this published work of the musician and artist, he describes all the humiliation that mingles with personal victory, as well as how to accept rejection and defeat. He speaks of his personal battles with epilepsy as well as the almost too strange to be true situations that all come along with living life to the fullest.
Price: $14.39
Get ready to read one of the most emotionally impactful tells on the American psyche of racism with this collection of narrative, poetry and news. This work has been re-published several times since its initial release in 2014, continuously adding to the list of black men and women that have been the victims of police brutality. Rankine's voice emits power as well as yearning, a want for better change in America.
Price: $11.44
Sit down with this read if you're into the true crime for this chilling, real-life account of a murder of a family in Holcomb, Kansas. In Capote's six-years in the making creation, he explores the lives of the family and the rural area in which they lived as well as delving into the psychology and dynamic of the two murderers. The 1966-published work remains one of the most renowned true crime novels that exist today, as well as one of the first nonfiction works that garnered so much success.
Price: $12.19
While the names of the characters have been changed, this narrative mirrors and describes the descent of Plath's mental illness the same way that of the protagonist's. In the protagonist's internship in New York, she finds herself increasingly less interested and less dazzled by what she imagined she would fall in love within the large city. This madness and spiral she feels only increases as she returns to her home, struggling with what she is meant to do as well as what she truly wants to do. In spite of reality's sad ending, the narrative itself ends on a high note of potential (if that's not too big a spoiler).
Price: $8.99
Explore the complexities of today's prison system and the way it inherently rigs itself against men and women of color with this nonfiction work. It can be best summed up with a quote from the author herself: "We have not ended racial caste in America; we have merely re-designed it." While this work was published in 2010 following the election of Barack Obama to the presidency, this rings true more than ever with the 2016 election. The call to action this work puts forth will have you more invigorated than ever to make a change for this country.
Price: $14.85
In both the fierce humor and painful moments of a childhood spent in the closet, Bechdel describes the complex relationship with her father and her brother through the gothic-themed illustrations of her graphic novel. Its success became so grand that an award-winning musical was even constructed to base itself off the memoir-comic combination. No matter your sexual orientation, gender or place in life, it's worth a read for the love and beauty brought forth in spite of the pain.
Price: $10.19
Don't let the whimsical illustrations fool you into thinking this narrative is any less impactful. This series of comics follow Art Spiegelman and his interviewing of his grandfather, a Jewish Holocaust survivor. The Jewish people attempting to escape are depicted as mice, the Nazi Germans as vicious cats and the metaphors go from there. As well as battling with the ideas of so many horrible things that happened to his family, Spiegelman struggles with his own personal demons with his mother's mental illness as well as the idea that trauma can be inherited (spoiler: it can).
Price: $21.15
How does the brain benefit from reading?
Research has found that reading not only has entertainment value, but also health benefits. Jude D. Gallik, a psychology professor at Schreiner University, conducted a study to prove that recreational reading is healthy for the brain. Gallik's study found that reading does in fact improve academic abilities. "Students who spend more time reading have, in general, superior academic skills, and these skills help them achieve academic success," said Gallik after reviewing her findings. The study also found that academic success is not the only thing benefitting from recreational reading. Those who spent more time reading for fun had a longer attention span. So next time you turn the TV on for some quality entertainment, consider picking up one of the books listed above. You could be doing yourself a huge favor.
Check out some of our literature themed shop items below
Alice's Adventure Throw Pillow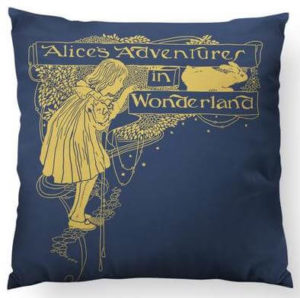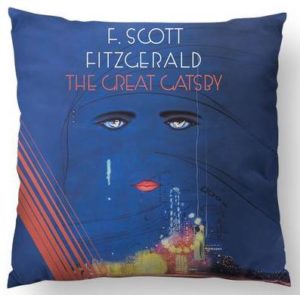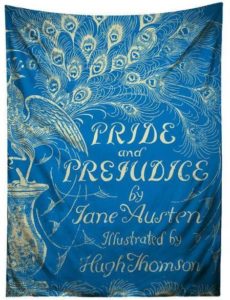 *Updated on January 3, 2018 to include items 11–20 by Rosie Forster.
**Updated March 4, 2019 to include items 21 – 30 and "How does the brain benefit from reading?" by Nikki Gallant.
***Updated December 10, 2019 to include items 31-39 by Natalie Wollenzien.