Finding the perfect gift for your brother doesn't have to be hard. It's just a matter of picking the right one out or at least something he'll like. If you've given him all the socks and hats his closet and dresser can hold, it may be time for an upgrade.
Switch up your tactics and get your brother one of these 10 gifts.
1. Money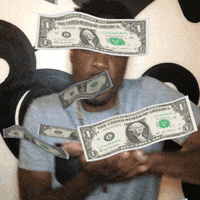 College student or not, your brother needs money. He hates debt like any other Joe. If helping him pay his student loans off doesn't scream gift, then I don't know what does. "I wish for someone to pay off my student loans," said  University of Central Florida sophomore Alex Duarte. Cheap and college are far from synonyms, (even if we wish they were). For that reason, help a "brotha" out and loan him some money, he'll definitely thank you for it.
Keep sliding through the slideshow to get the full list of top 10!
Need more gifts for your brother? Check out these tees.
Looking for even more gifts for your brother? We've got your back.
Written by Rosie Forster.
11.A Jersey from His Favorite Sports Team
Chicago Cubs Kris Bryant #17 MLB Jersey: $50
What screams masculinity more than total blind devotion to a sports team? Get him a jersey that displays his team proudly, whether it's football, baseball or rugby. He'll love you for it. "I was so surprised because I never thought [my sister] was listening when I was talking about baseball because she hates it. But she went out of her way to get me what I really wanted," University of California, Los Angeles sophomore Austin Cook said.
12. Weights
Not everyone has access to a gym, and if your brother lifts (bro), he'll appreciate a way to work out on the go. Get him some weights that he can keep in his dorm room for those days he'd rather stay in and watch Top Gun. As we all know, weights will keep gym junkies endlessly busy, and he'll get muscles out of it (the ultimate gift to a macho man). He'll thank you for keeping his bulking schedule on track.
13. A Keyboard
Price: $58.99
Do you want your brother to wreak havoc on the ears of everyone in his dorm? A keyboard will help your musically inclined brother reach his dreams of stardom. Even if he can't read music, the ebony and ivory can gently push him into the profession. "My sister bought me my midi keyboard for my birthday and that's my favorite thing I've ever gotten because I'm a f—king nerd," Macquarie University sophomore Cal Maritz said. Get tone deaf brothers a poster of a keyboard instead so no one blames you for him waking up the dorms at  3 a.m. with his rendition of "Clocks" by Coldplay.
14. TV Show Merch
Stranger Things Eggo Card Game: $20.99
My brother's favorite T-shirt proudly displays one of his favorite quotes of all time: "M as in Mancy" (bonus points if you can guess the show it's from). Show him you've been listening to his slew of TV recommendations and get him something that he'll actually like. Whether it's a shirt, a World's Best Boss mug or a Dothraki language guide (you're welcome, GOT fanatics), he'll love it. Not only does he already like the show, but your gift proves to him that you value his opinion.
Lonely Planet's Ultimate Travel: Our List of the 500 Best Places to See… Ranked: Price $14.74
A lot of siblings in college don't get to hang out together for months at a time. Show them you truly love them by planning a day out together when you come home. Take him to a movie, a sports game or take him shopping. Watch the sunset if you like. Make time for him and be present. "The best gift I ever gave was being born," UNSW sophomore Eliza Priest said. Cherish the fact that you have a lifelong connection to this person, and go beyond the occasional FaceTime call. Nick, when I come home, we're going out for ice cream, even if you are lactose intolerant.
16. Concert Tickets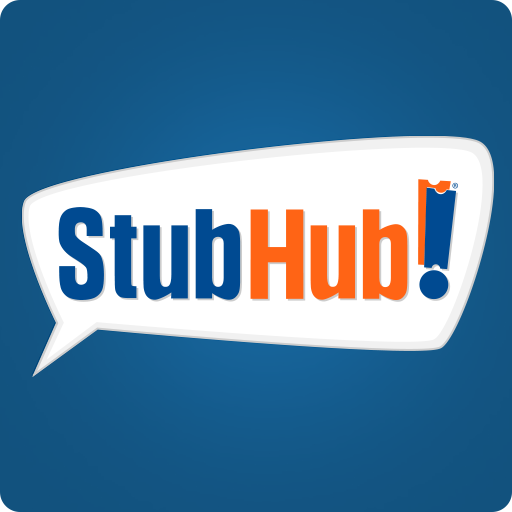 If your brother likes music (because who doesn't like music?) and you have a few dollars to spare, grab him a ticket to his favorite band, or maybe a music festival. "My sister got me Coachella tickets. I got to meet so many new people, and it opened my world," UCLA junior Kenny Nicholson said. If you have other siblings, pitch in together to give your brother the experience of a lifetime and cut down on the cost per person. If your brother nerds out more than he rocks out (because college students tend to be nerds), get him tickets to see a magic show or an art festival.
17. Duffel Bag
Nike Sport Duffel III Gym Bag: $112.09
Give him another reason to come home and hang out with you. Buying your brother a quality piece of luggage will not only make him remember you when he goes on his frat retreat, but it'll also make him feel guilty about living so far away. He'll be more inclined to go traveling (hopefully with you) if he has a bag that's both durable and stylish.
18. Handmade Crafts
The Big-Ass Book of Crafts: $23.21
If you have a heart of gold, break out the glitter and colored paper. Making your brother something by hand declares your love for him and looks great on his dorm room wall. "My sister made me a card. It opened my eyes, cause it showed how big a role I play in my sibling's lives and how they look up to me," UCLA freshman Jose Perez said. It doesn't have to be a macaroni necklace, but even just writing something out by hand adds a personal touch that elevates your gift to the next level.
19. A Board Game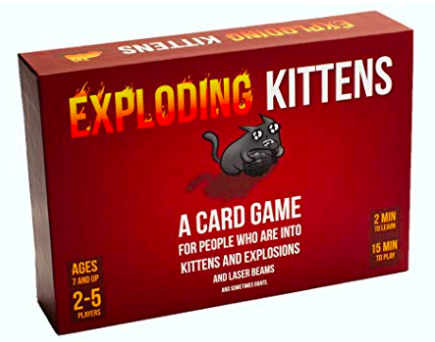 Exploding Kittens: $19.99
Families across cultures spend nights arguing over a game of Ticket to Ride or Clue. Get your brother a board game to take to college with him, and he'll have an instant way to connect with his new floormates. It'll make for a great reminder of you while away if he can remember all the times you fought over the game together. Before we had Words with Friends, we had Scrabble. Give him the gift of fun without the screen-induced headache.
20. Steam Gift Card
Steam Gift Card: $50
Steam is the ideal marketplace for every gamer. You can buy almost any PC game that ever existed and will exist in the future. Let your brother throwback to his favorite memories on Star Wars: Knights of the Old Republic or test out the new graphics on Call of Duty: World War II.
JBL Flip 4 Waterproof Portable Bluetooth Speaker: $59.99
Imagine being the only kid in the house for your mom to nag about a dirty room. You left to college and stranded your brother to face the parentals all alone. Let him drown out the nagging with a speaker that shakes the walls of the house in all his teenage angst.
22. Vinyl Records/Portable Record Player
 Bluetooth Turntable Portable Suitcase Vinyl Records Player: $59.99
If your brother thinks he needs to work on his ~aesthetic~ or his ~vibes~, indulge him by getting him a vinyl recording of his favorite album. Listening on vinyl sounds different than hearing the songs on Spotify, and he'll thank you for a cool way to decorate his dorm. Who doesn't love displaying their album covers proudly all over their walls? He'll drown himself in nostalgia when he plays it, and you'll be at the forefront of his mind as the person who gave it to him. If he doesn't have a record player, get him that first, and then you'll know what to get him for the rest of your life.
23. New Laptop
Apple 13″ MacBook Pro: Price Varies
Don't give him an excuse to forget to do his homework. There's always a classmate who says the dog ate his homework. Don't let that be your brother.
24. Photobook
Pioneer Sewn Bonded Leather BookBound Bi-Directional Photo Album: $19.49
Worried your brother won't remember you when he leaves for college? Make him a photobook of all the photos you have of the two of you together. Even the toughest of bros will tear up when he's presented with a book of touching memories. "Every page was a new age/important moment and then I added a blank page at the end to represent his blank canvas for the future for him to write his own history," UNSW sophomore Eliza Priest said. Add some Polaroids for extra nostalgia.
25. Echo Plus
Alexa is the mom you can't have in college. Let her remind you to do your homework every day or play music to keep your mind mellow.
26. A power tie
Tommy Hilfiger Men's Core Stripe Tie: $24.99
Give your bro the nudge he needs to interview for his dream job and ditch the secretary position at your dad's office. Power ties are typically red or yellow. Give him a few ties to show that you believe he can land the job and actually have a need for multiple snazzy ties.
27. Headphones
Beats Solo3 Wireless On-Ear Headphones – Black: $179.99
Maybe he dreams of becoming a Grammy-winning producer. Maybe he has an annoying roommate (AKA you) that snores up a symphony every night. Either way, he'll need headphones to feel the beat and block out the world.
28. Protein Powder
Optimum Nutrition Gold Standard 100% Whey Protein Powder, Double Rich Chocolate, 5 Pound: $55.61
Time to bulk up, dude. Your gym rat brother wants to make gains for his new SO and you can help him do it the healthy way.
29. Dress Shirt
Calvin Klein Men's Non Iron Slim Fit Solid Point Collar Dress Shirt: $39.99
Buy your brother what he needs but won't spend money on willingly. A classy dress shirt can be used at career fairs, internships or even a fancy family dinner. And if you find him a "non iron" shirt, he won't show up to any of these places a disheveled mess.
30. Nerf Gun
Nerf Modulus Regulator: $59.99
No matter your age, a Nerf war can and will break out this holiday season. Prepare your brother for the game of a lifetime… or just get it for yourself and take the win for yourself.
Check out these 10 that your brother would absolutely love to take back to campus.
Written by Sydney Foster

Give him the gift of cheering on his favorite team live and in person. The perfect gift to schedule some sibling bonding time while also showing that you actually do pay attention to his fantasy draft picks. "I bought my brother tickets to a basketball game this year. It's something we can do together and I don't have to worry that he will return it," College of Charleston senior Jess Ervin said. Your brother would love to see his sports heroes live in action. Not only will you win 'sister of the year', but it is something you can enjoy as well.

Don't let your brother walk around campus with the same backpack he has been slinging over his shoulder since freshman year. Gift a backpack that elevates his style while also being the perfect organizer for all of his study supplies. Plus, a stylish pack can be carried into post-grad life.

Have a brother with a knack for photography? Tie a bow around a droneand leave it under the tree for a gift that definitely brings Christmas to new heights. Your brother can take some stunning fly–over shots while also learning the art of drone flying. Just make sure for take off your brother steers clear of any trees.

A hammock will have your brother swinging in style when he gets back on campus. Everyone knows that relaxing in a hammock is the perfect way to chill out between classes, so make sure he is ready to spend spring semester out of his dorm room and hanging out on campus. Hammocking makes for an adorable first day so make sure to get him a 'DoubleNest' to give his love life a boost .

The perfect gift to make friends with your dorm hall. Your brother will appreciate this fun, ice–breaking game that he can whip out and make instant friends. Plus, this gift can make for a hilarious evening after all of the presents have been opened. Just make sure your cards won't get you in too much trouble in front of your grandparents.

Who said skincare is only for women? Give the gift of self-care with a moisturizer or mud masks for your brother to get glowing skin. Especially during the winter months when cold weather wreaks havoc on skin, make sure your brother adds moisturizing to his nighttime routine.

A good cooler is a must for every tailgate, so make sure that your brother is well prepared for game day. Pick out a cooler that sports team colors to take this gift to the next level. Your brother and fellow tailgaters will thank you for making sure their drinks stay cool all day long.

If you have some cash to splurge, a nice pair of sunglasses can be a gift that your brother will love and wouldn't buy for himself. Pick out some stylish frames for your brother to block out the sun and elevate his style." I would get my brother some sunglasses because he's outside a lot! He would need them for all sorts of things like swimming, sports, driving, mowing the lawn or even riding around on a bird scooter," University of Oklahoma senior Carla Clark said. Oh, don't forget to add in a croakie if you think you brother is prone to losing things easy.

Help your brother keep up with his new year resolutions with a fitness tracker. Whether he just wants to count his steps, or he is looking for a lifestyle change, a fitness tracker will encourage him to stay healthy even when back on campus and without your mom's reminder to eat his veggies.

Teach your brother to say goodbye to plastic water bottles and say hello to a hydro flask that can actually classify as a  unique display of his personality. Gift him a water bottle that will keep his H20 at the perfect temperature and add some stickers (maybe of a sports team, a Michael Scott sticker or song lyrics) that reflect his personality to add a personal touch. Your brother will appreciate having  a way to stay hydrated in-style.
*Updated on October 11, 2017 by Rosie Forster to include gifts 11-21. 
*Updated December 4, 2017 to include even more gifts your brother will love.
*Updated on December 17, 2018 by Sydney Foster to include items 31-40.