Every fall semester, the Hawkeye Nation gathers in Kinnick Stadium to watch their beloved Hawkeyes take the field for another season. Iowa games are unmatched by any other college team. Not only do you have fellow students cheering around you, but the entire state of Iowa roots for the Hawkeyes. The pride and tradition of Hawkeye fans lead to game day experiences that you can only relate to if you've been there yourself.
1. Melrose Avenue
Melrose Avenue inspires some crazy and hazy memories. The street on which our lovely Kinnick Stadium stands houses the best tailgates in the country. Miles down the street you can hear the chorus of Iowa's fight song, and see swarms of people in black and gold, people selling scalped tickets, people selling T-shirts with hilarious and obscene sayings and Chuck screaming about and selling his "big ass turkey legs." "I've seen people dancing and yelling on the roofs of garages. The energy on Melrose is insane," freshman Hayley Moran said. Freshman Kati Lutcavish said she's seen just about everything on Melrose. "Once I saw a whole kiddie pool filled with beer cans."
2. Hawkeye game day essentials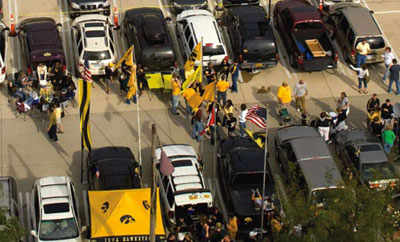 Every Hawkeye owns closet full of black and gold, and probably owns a game day bib: baggy black and yellow striped overalls worn by males and females, young and old. Of course, some people find different items essential to the game day experience. "I've seen people arrive to tailgates in Hawkeye limos and party buses to set up barbecues in the middle of the streets," freshman Abbe Sindlinger said. It's true, some tailgates are bigger than others. Hardcore fans deck out their scene with speaker systems, life-sized Jenga games constructed out of two-by-fours and garages holding custom-carved Hawkeye bars­­. "The more people you have, the more fun the tailgate," Sindlinger said. So grab your best friends and fire up the barbecue.
3. Making new friends on the way to the game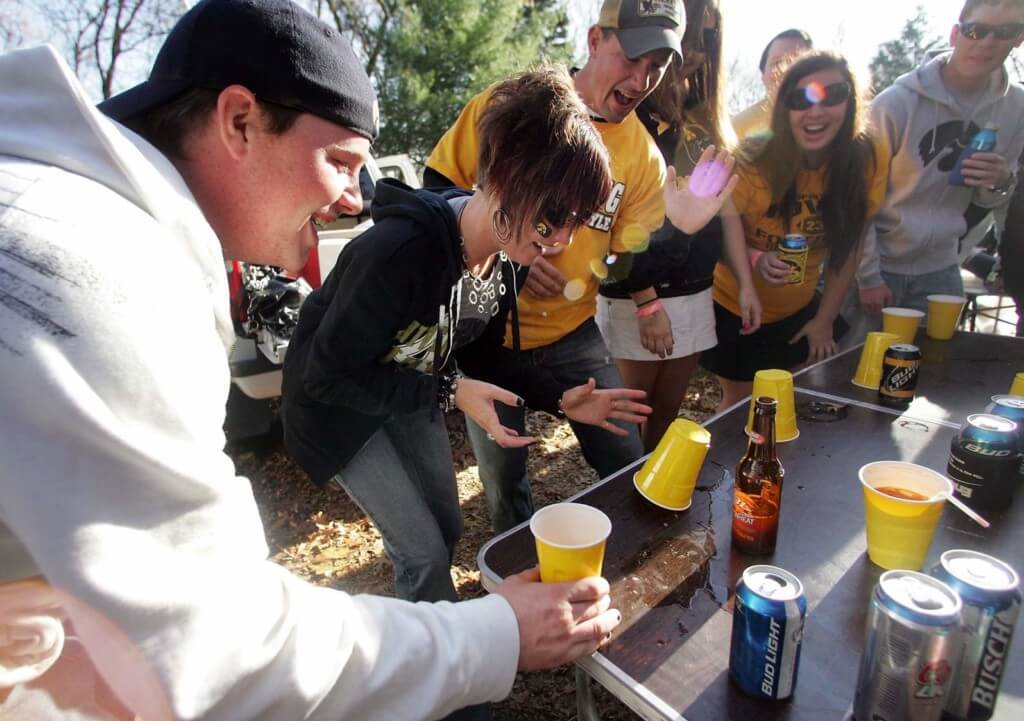 The best way to bond with fellow Hawks is through the mutual hatred towards our enemy, the Iowa State Cyclones. "You know a Hawk because they're the ones yelling 'F—k State!'" Moran said. Hawkeye fans are generally friendly, but yelling "F–k State" guarantees a hug from a random drunk person, an invite to a family tailgate, a free hot dog or a rousing sing-along of the fight song with your new squad. God forbid you wear any red and gold though. Hawkeye fans are friendly, but don't test them.
4. You use "Go Hawks" as punctuation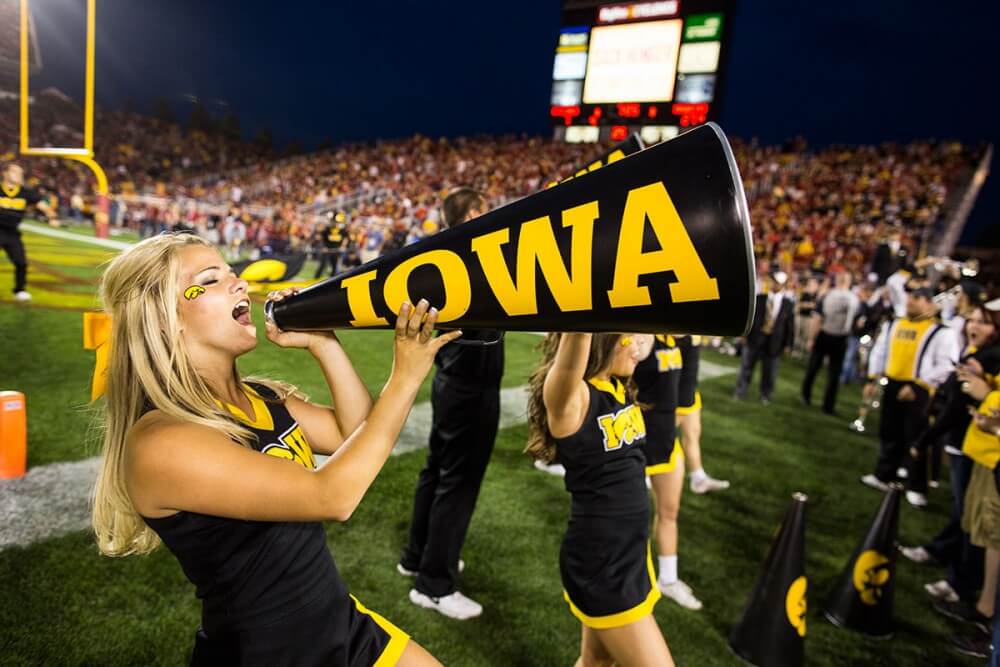 Freshman Alex Anderson said the actual way you can spot Hawkeye fans is by how many times they say "Go Hawks." "A Hawkeye fan has more passion for their team than anyone else, and will say 'Go Hawks' to you anytime they see you wearing Iowa gear," he said. Whether in celebration, encouragement or anger, Hawkeye fans simply can't go more than ten minutes at a game without saying it. We're winning 27-16? Go Hawks! We're losing, but coming back quick? Go Hawks! We just fumbled? Go Hawks! You're majoring in journalism? Oh, so is my granddaughter. Go Hawks!
5. "Back in Black" by AC/DC is your anthem
When this song starts playing over the speakers in Kinnick, the first chords echo through the stadium and vibrate the stands. Some headbang. Others whip out the air guitar. But everyone gets their game face on. Finally, when our Hawks emerge onto the field to the beat, as Brian Johnson sings "Back in black/I hit the sack/It's been too long I'm glad to be back," Hawkeye fans go crazy screaming and cheering. Freshman Allyson Anderson said her favorite Hawkeye game day tradition is watching the players strut onto the field to the sounds of AC/DC. "The players just look so intimidating and intense, and the music backs them up perfectly," she said.
6. So is "Pump It Up" by Joe Budden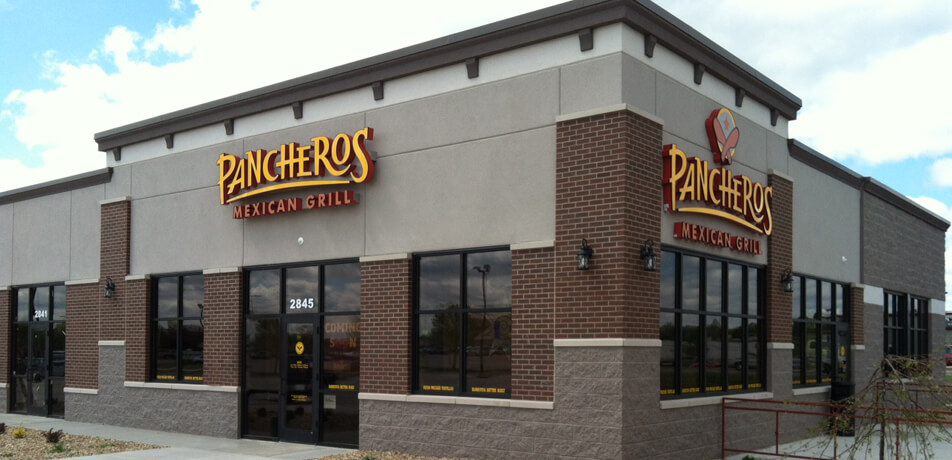 A staple in every Iowa University student's diet is Pancheros. Pancheros is so beloved that it takes over the screen before halftime every game. The takeover is similar to the kiss cam, except that instead of kissing your true love in front of a stadium of people, you attempt to bounce a tiny graphic of your real true love, a Pancheros burrito, on your hands. While the song plays, fans pump their arms in the air as if they are raising a Panchero's burrito to the sky. "I love seeing the crowd's faces on the big screen when the burrito graphic lands on their hands," Anderson said. "Sometimes people lift their babies into the air like burritos, and it's hilarious."
7. You know Nile Kinnick's life story better than your own
Every Hawkeye learns the whole life story of Nile Kinnick during the first week of freshman year. The story itself is great: Kinnick, the namesake of Iowa's football stadium, was a role model for all. He played football, basketball and baseball. He even accepted the Heisman Trophy with an inspiring speech that Iowa plays before each game that makes the usually rowdy crowd go quiet. Kinnick's speech reminds us all why we should be grateful to be American, why we should be brave and why we watch football together as an Iowa family. After the speech is finished, the Hawks are invigorated with new energy and ready to face the competition.
8. You forget that the alphabet doesn't go "A-B-C-D-E-F-G-H-I-O-W-A"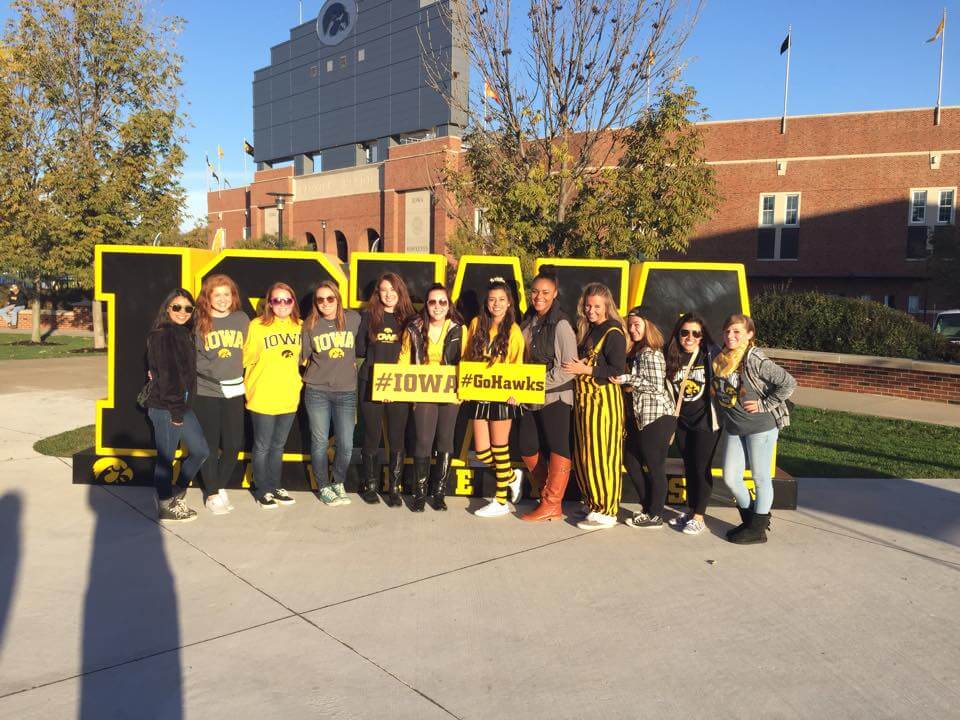 After every touchdown by the Hawks, the spirit squad waves flags spelling out "Iowa." The four sections of the stadium each say the letter of the flag in front of them when the cheerleader waves the flag. Throughout the stadium, for as long as the fans can, the crowd chants I-O-W-A. "It's unbelievable to see around 70,000 people celebrating a touchdown in the same way," Sindlinger said.
9. You're never too young or old to be a Hawkeye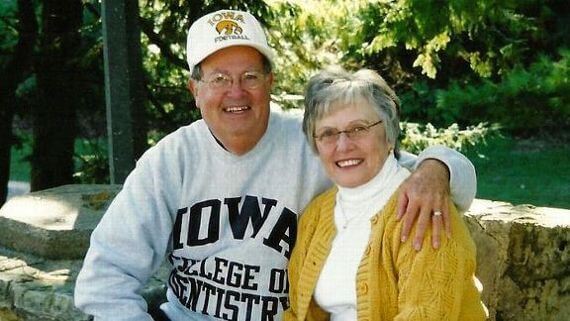 Walking down Melrose or through Kinnick's, one can see Hawkeye's of all ages. Babies who can't even walk are decked out in black and gold. Men and women decades past their Hawkeye days cheer just as loud as the college kids. Apparel of fans ranges from "Future Hawkeye" onesies to canes decked out with Hawkeye stickers. Some were born Hawkeyes, some became Hawkeyes. Either way, once a Hawkeye, always a Hawkeye.
10. Kinnick feels like home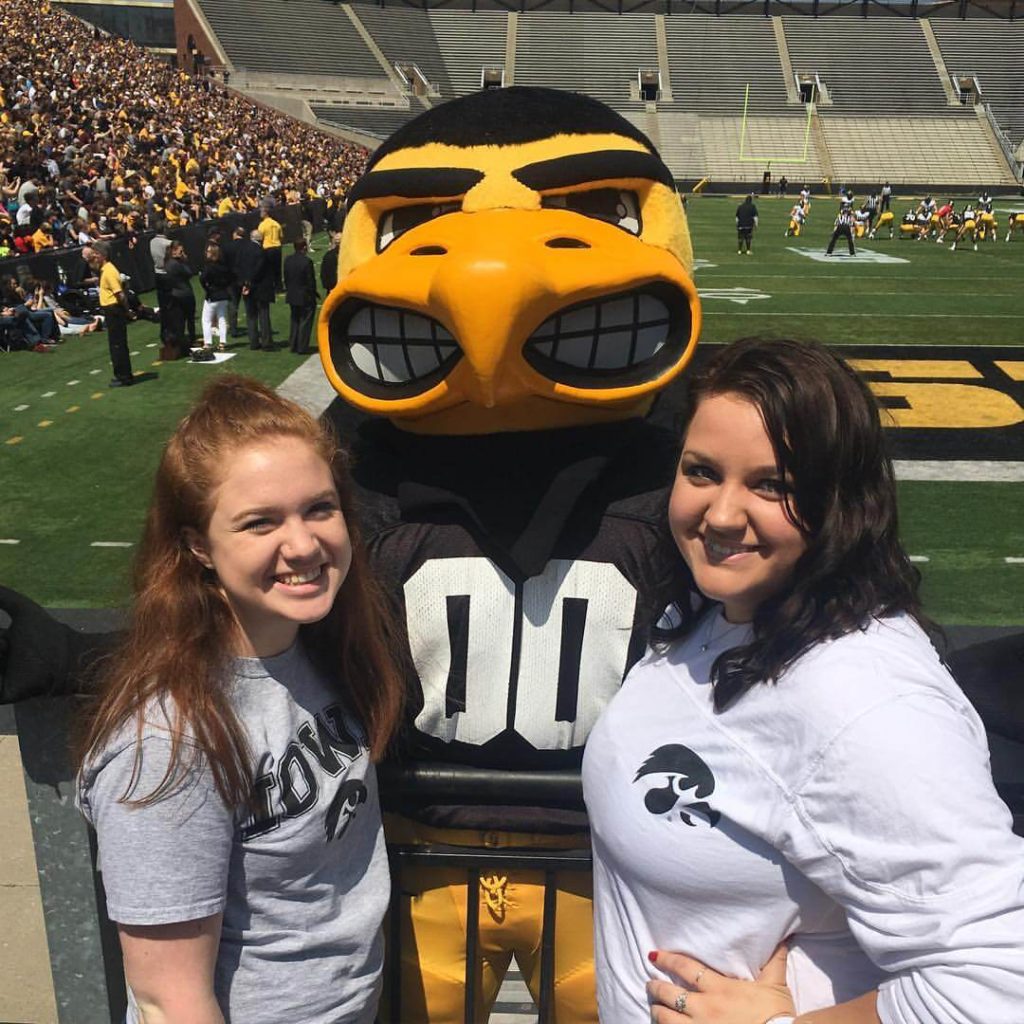 "Coming from my small town, I didn't think college football games would feel as homey as the ones at my high school," Allyson Anderson said. "But now, every time I walk into Kinnick it feels like my home just as much as my hometown." Kinnick is a mecca for Hawkeye fans from all over Iowa and beyond. It's hard to imagine that 70,000 people in one of the largest university-owned stadiums in the nation could feel like home, but that's just what the Hawkeyes and Kinnick are for.