If you're from the South, you know that a good tailgate is just as important as who's playing in the game. Guests must be entertained, but more importantly, fed. I mean really, truly, won't-eat-for-days kind of fed. But how will they wash their munchies down? How about beer, totties and whiskey and soda for the weak of heart (or bladder)?
Snacks
Want to please your guests? Snacks. Snacks, snacks, snacks. Sure, you could go with healthy stuff like veggies and dip…yawn. This is football, people! Give them the down and dirty, the greasy and yummy. Guests will leave feeling like they need to be rolled out.
Walking Tacos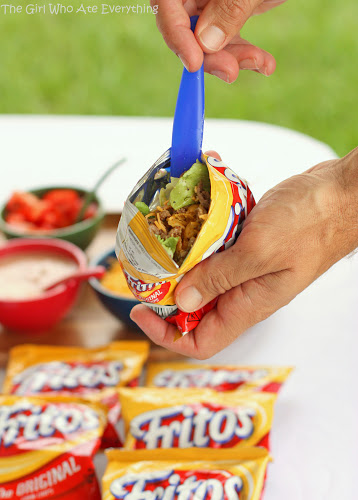 "Walking Tacos" from The Girl Who Ate Everything are sure to please a crowd. In a big pan cook a pound of ground beef with taco seasoning and ½ pound of onion. Then get a mini bag of Fritos for each guest and crush up the Fritos inside. Put out some guacamole, cheese, refried beans, salsa, chopped lettuce and other taco fixings and you're done. Guests grab a bag, fill it with toppings and meat to their liking, grab a fork and munch away. The best part is there's no clean up for you at the end. Super easy, super yummy.
WINGS.
Ask Men Chicken Wings are a staple for any self-respecting tailgate. Lucky for you, they're easy as pie. I like to think that each person could eat a quarter pound of wings, so grab 4lb of uncooked wings from your local grocery store for 16 people. Pick up some yummy sauces while you're at it, like mild, hot and barbeque. Lay the wings out on a non-stick cookie sheet and coat them in the sauces of your choice. Then just pop them in the oven, set to 350, for 30 minutes and you've got 4lb of chicken goodness. Don't forget the dipping sauce, or your ravenous guests might eat you alive.
Cinnamon Sugar Pretzels
Baking Junkie Cinnamon Sugar Pretzels are a must for the sweet tooth. Simply buy a big bag of pretzels and put them on a greased cookie sheet. Then, in a separate bowl, stir together 2/3 cup of vegetable oil, ½ cup of sugar and 2 tablespoons of cinnamon. Pour it over the pretzels to coat them and put them in the oven at 300 degrees for 30 minutes. Keep an eye on them, though; depending on your oven they may cook faster and no one wants burned pretzel smell in their house.
Biscuit Pizzas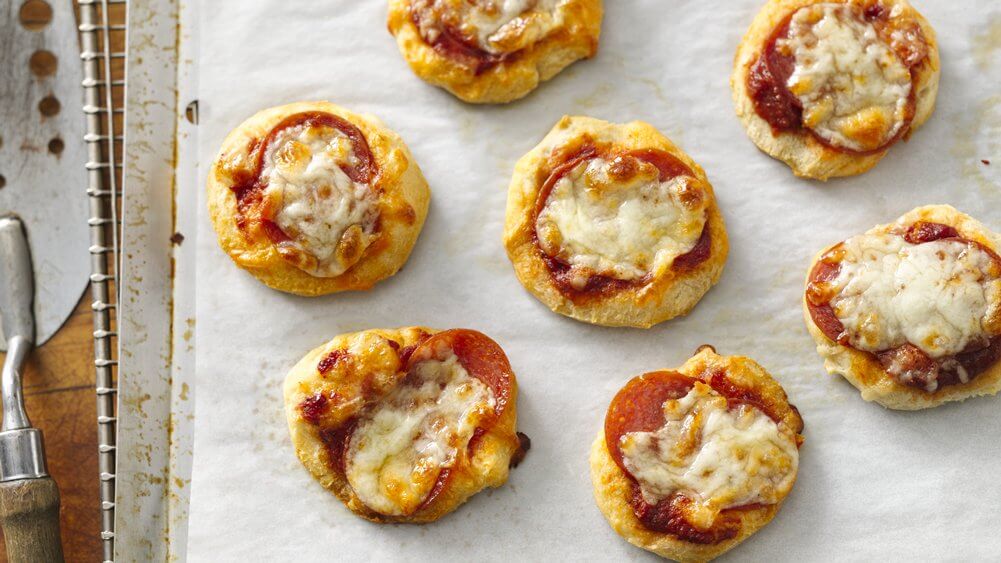 Take Pillsbury Grands biscuits and split them in half on a cookie sheet. Then add tomato sauce (pasta sauce works well too), shredded cheese and pepperoni on top to create perfect mini-pizzas. Just pop them in the oven and follow the regular baking instructions on the tin of biscuits.
Katie's Perfect Pies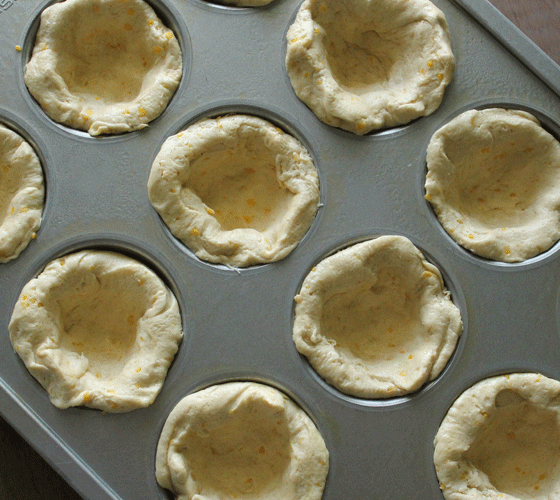 You may tell everyone that these are "Perfect Pies," or really any other name you want because I made them up and they are on point. Push baked biscuits into a muffin tin to form cups. Fill them up with canned chili or chunky chicken stew, and take the other half of the biscuit and put it on top to create a phenomenal mini potpie. Your friends will be amazed by your culinary skills, and you won't break the bank (or a sweat). Plus, you can tell them you came up with it all by yourself; I promise not to rat you out.
Drinks
By now, these awesome dishes have your guests feeling parched. Spice up your drink selection past boring beer and bottled water.
Apple Pie on the Rocks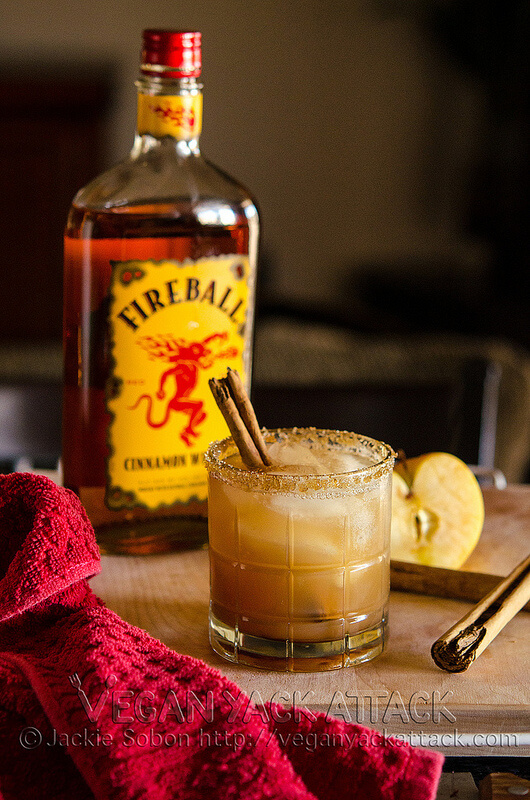 As a forewarning, this drink packs a punch. Big kids only. Take one part Fireball whiskey, one part Vanilla Stolli Vodka and four parts apple juice and pour them in a glass. You may want to add a pinch of cinnamon for a little extra spice. Want to get even fancier? Wet the rims of your glasses and push them into brown sugar for a delicious extra step.
Beermosa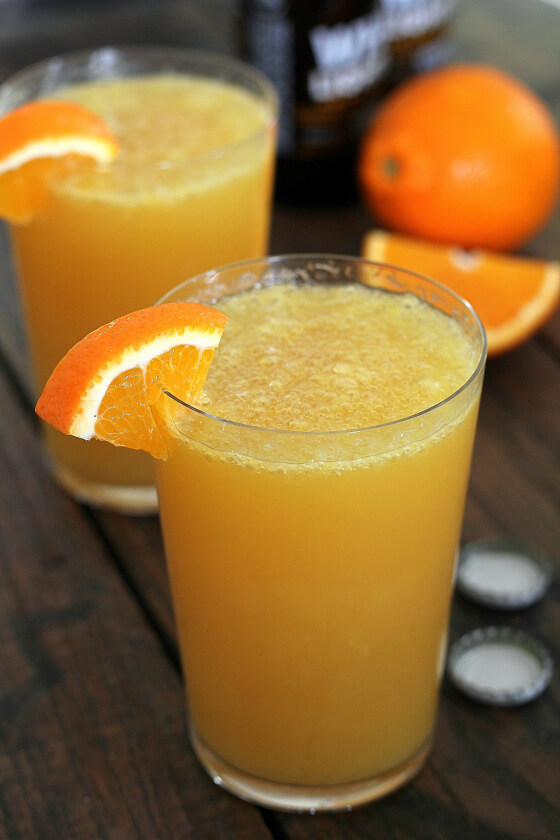 What about those early morning games? A Beermosa is the way to go. Fill your glass with ice (I prefer mine crushed), pour in beer of your choice 2/3 of the way, and finish it off with orange juice. You can add in a little peach schnapps for an extra punch and add an orange slice to the side for garnish.
Jell-O Shots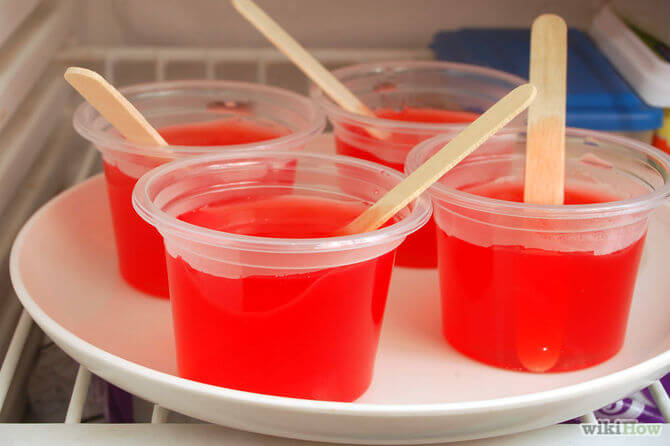 But what if you need a drink on the go? Jell-O Shots to Go are perfect for heading to the stadium. You can get little sauce containers with caps at any grocery store. Then take a 3 oz packet of Jell-O and stir in 1 cup of boiling water, ½ cup of vodka of your choice and ½ cup of cool water. Stir it all together and pour into the little cups. Put the caps on and refrigerate them for at least two hours, although I recommend leaving them overnight. Make them in team colors and you're ready for game day.