Decked out in cargo shorts, fake Ray Bans and boat shoes while wearing an inane facial expression that reveals a lack of brain activity, bros are taking over college campuses. Whether they're holding a pong ball, lax stick or longboard, they're destined for a journey of epic bro-portions. Let's get bro-tally honest about the top 10 universities for bros, based on Greek life, party scene and the campus gym (so they can satisfy the 'G' in their GTL routine—which in this case means gym, tailgate, lacrosse… ahem, lax, brah).
1. Duke University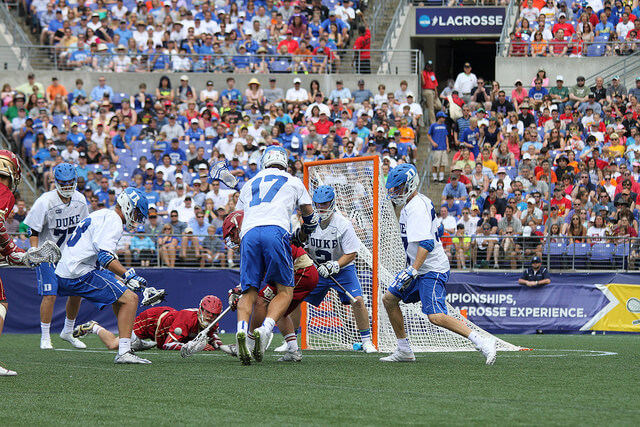 (Photo via Flickr)

Duke is home to both bros and brains. Besides its outstanding academics, Duke is infamous for its rowdy tailgating reputation. So infamous, in fact, that one of Duke's wildest, time-honored traditions, Tailgate, was cancelled in 2010 when the teenage brother of a Duke student passed out by a port-a-potty (we said they're smart, not classy.) Duke is known for its stellar lacrosse team— champions on the field and at the beer pong table. Duke student David Kornberg said football and basketball are also huge at Duke. "We camp out for the UNC game in tents, and some people do it for over a month. As for bro culture, its definitely prevalent at Duke and greek life is pretty big," he said.
Cool Story, Bro: Duke's student newspaper, The Chronicle, had a column called "Gossip Bro."
2. Penn State
(Photo via Onward State)
Penn State's motto is "Making Life Better," but it should be "Totally Sick, Bro." With an all-star football team (the university is referred to as "Linebacker U") and a leading lacrosse team (three championship tournaments and seven alumni in the National Lacrosse Hall of Fame), the Penn State Nittany Lions deserve a rambunctious tailgate. They are true seasoned veterans of the darty—annual events like Syllabus Week and State Patty's Day spawn drinking that starts early and goes all day. With over 50 fraternities on campus, the university has one of the largest Greek systems and some of the wildest frat parties in the nation. "On the East Coast, bros are all frat bros," said recent Penn State graduate Sarah Leslie. "They usually have pointless majors that are made for sole purpose of networking, which allows them to party 7 days a week and skip class."
Cool Story, Bro: Penn State was voted #2 douchiest college in America according to a 2011 GQ ranking.
3. University of Florida
University of Florida's fraternity row packs over 20 houses and a bus line, dubbed the "Later Gator," runs through the UF campus Wednesday through Saturday to take drunken students back to their dorms or Greek houses. It's no wonder the university is one of the country's biggest party schools. The UF football team has swooped up more victories than any other program in the NCAA's Football Bowl Subdivision. And victories inevitably mean copious amounts of booze. And where there's booze, there's bros.
Cool Story, Bro: Remember when that "don't tase me bro!" dude had his 15 minutes of fame? Yeah, he was a UF student.
4. Ohio State
5. UC Santa Barbara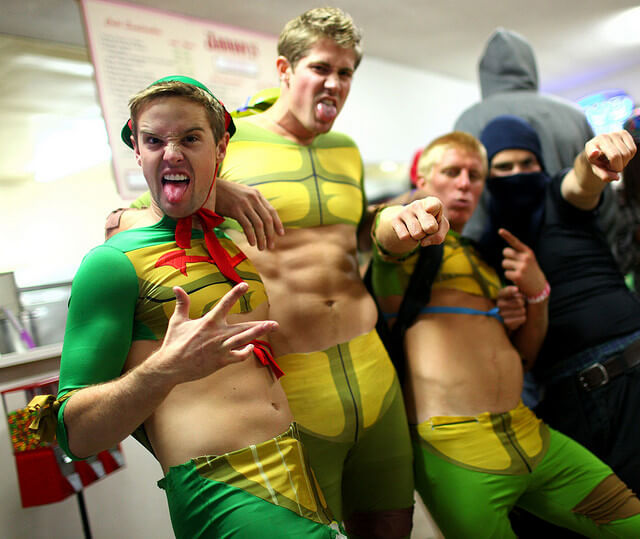 (Photo via Flickr)
The vibe at UC Santa Barbara and the surrounding area of Isla Vista is totes chill, bro. However, UCSB bros are no strangers to a wild rager. Constantly ranked as one of the top party schools in the nation, the university is known for its Halloween celebration and annual events Deltopia and Floatopia—where thousands of SoCal bros and their affiliates get wasted on the beach. A typical Saturday evening in Isla Vista includes no shortage of beer cans and board shorts and music blasting from nearly every beachfront balcony.
Cool Story, Bro: UCSB was voted the #1 school for surfers by Surfer Magazine, and offers classes like History and Geography of Surfing.
6. University of Texas at Austin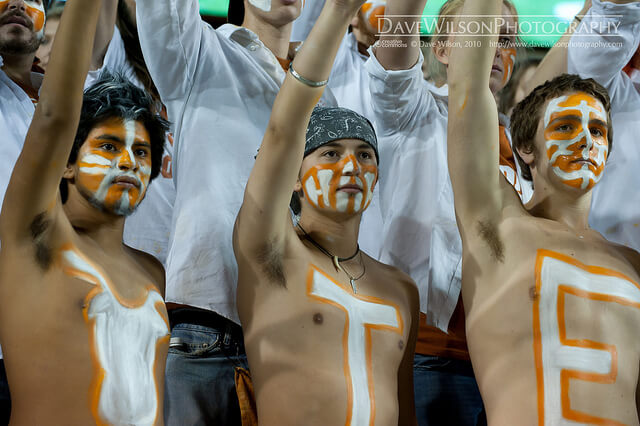 (Photo via Flickr)
UT has a rage-worthy football team, over 20 fraternities and a killer party scene: several blocks of back-to-back bars within walking distance, gameday drink-a-thons and Round-Up, a yearly competition to see which fraternity parties the hardest. Nearly 20,000 square feet of customized training equipment, a top-notch sound system to blast "Turn Down For What" and Gatorade dispensers make UT's fitness center a bro-topia. "Bro culture at UT mainly consists of excessive partying, being in a fraternity, massive amounts of tailgating for almost every single sports event, and wearing the proper attire which is usually: chubbies, a button down Ralph Lauren, Sperry's or those hideous New Balance shoes, bro hat (associated with said fraternity), and of course the cheap neon sunglasses," said Kristina Torres, an Exercise Science major at the University of Texas.
Cool Story, Bro: Hollywood's favorite bro, Matthew McConaughey, was a Delta Tau at University of Texas.
7. University of Southern California
The Trojans are nine-time National Champions, and you will likely find an inebriated, red-and-gold painted bro obnoxiously yelling about this in the stands of every game. Nearly 20% of the student population is involved in the Greek system and USC's fraternities throw massive shindigs that put college movies to shame. Playboy ranked USC at #4 for its Top Party Schools in 2013 and Trojan tailgates tend to get pretty rowdy.
Cool Story, Bro: USC's campus is about an hour away from Monster headquarters, which produces the energy drink known as the lifeblood of Cali bros.

8. Arizona State University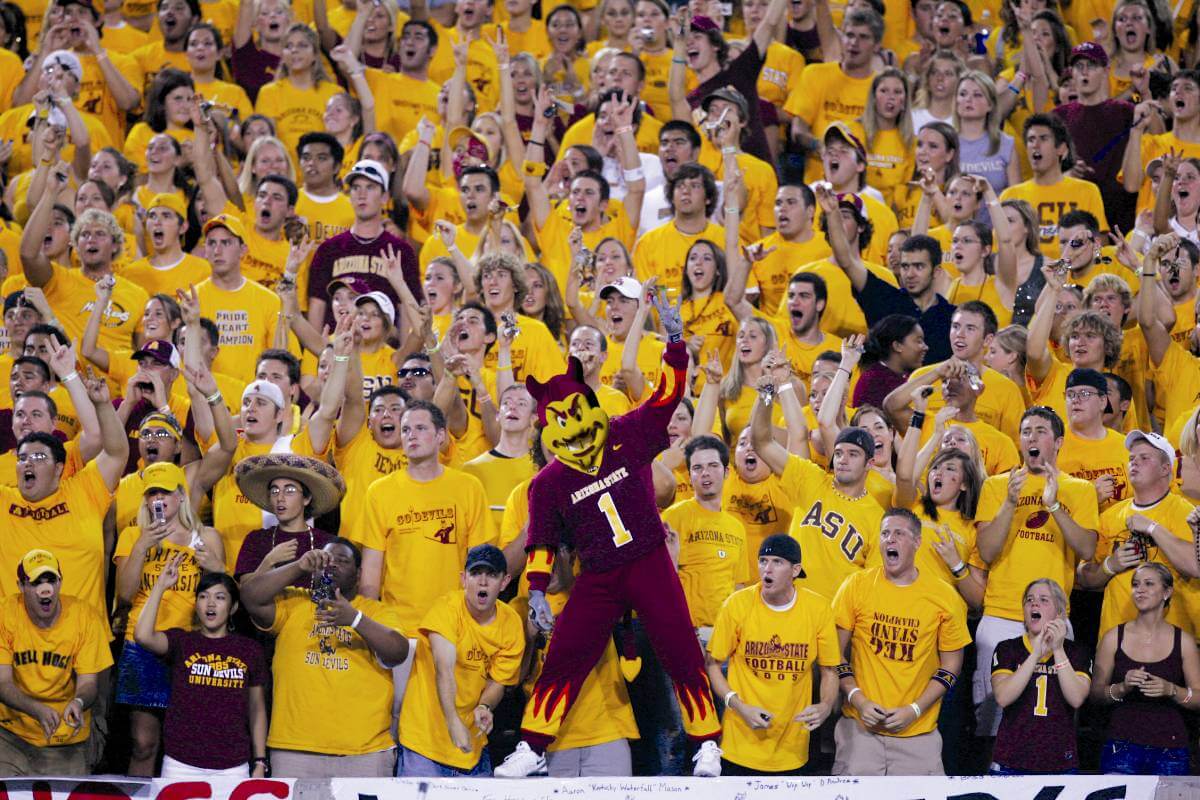 (Photo via Flickr)
Football games, pool parties, an undie run (think American Pie) and nightlife on Mill Avenue (a stone's throw from campus and home of $3 LITs) are just a few reasons why ASU is so bro-tastic. When they're not chugging brews at one of the university's fraternity houses, the dudes of ASU are working out in the fitness center's state-of-the-art weight rooms.
Cool Story, Bro: Barry Bonds, David Spade and Jimmy Kimmel are just a few members of ASU's celebrity alumni network.
9.University of Mississippi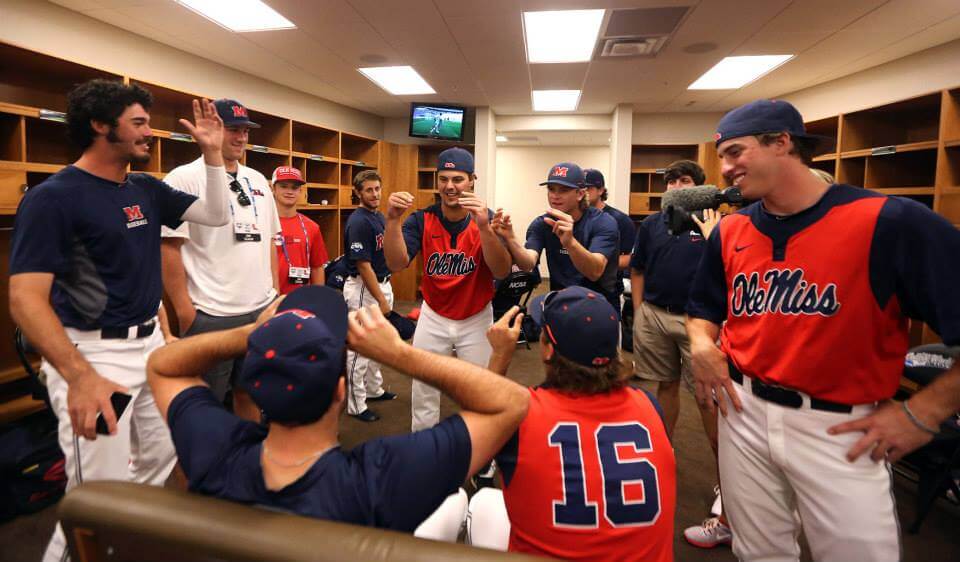 (Photo via Facebook)
The University of Missouri is tucked into the Bible Belt, but they may want to consider renaming it the Bro Belt; Ole Miss is brimming with bros. These Southern bros can be found enthusiastically cheering on the Rebels on game day or brushing up on their beer pong skills at one of the 19 fraternity houses on campus. University of Mississippi's fitness center boasts personal trainers and disc golf rentals. "Just about every weekend there is a major fraternity event on campus that garners attention with tons of students trying to get in," said Caleb Rushton, a sophomore at Ole Miss. The concept of bro culture at the University of Mississippi goes beyond just being in a fraternity and wearing cargo shorts–it is deeply rooted in being there for one another. "Being an Ole Miss 'bro' is about being confident in yourself and your interests and always being there for your friends," said Rushton.
Cool Story, Bro: Footballers Eli and Archie Manning previously played football at Ole Miss.
10. Lehigh University