With college football season looming around the corner, we gather not to discuss potluck dinners or neighborhood barbeques; hail-Mary and Joseph, we're talking about campuses jammed with cars, tents and anxious fans far as the eye can see. So get ready to wake up an hour early to paint yourself in your school's colors, tie your shoes extra tight (hope I don't get in a fight) and high-five people you've never met before—because it's game day!
Whether you plan on throwing your own or snagging free beer and finger food from them, the highest caliber tailgates excel when it comes to food and drink, musical playlists, rec activities and the make-it-or-break-it X-factors. Don't let your tailgate lag behind the competition.
FOOD
The rule of thumb for tailgate food is anything and everything from a grill—granted you have a Certified Grill Master on standby. Like a fine Chardonnay, burgers and hotdogs always pair well with beer on game day; but that's an amateur move. Next-level tailgating kicks things up a notch with barbeque chicken, wings, ribs or even cold cut sandwiches. "Of course you'll always have the chips, salsa and the occasional bean dip or buffalo chicken dip, but the tailgate is all centered on the meat. If the meat is good, the tailgate is good," said Virginia Tech senior Tyler Aprahamian. Whether your school ranks top 25 or loses by 25, a belly full of meat, snacks and alcohol will push you through four quarters and even overtime.
DRINK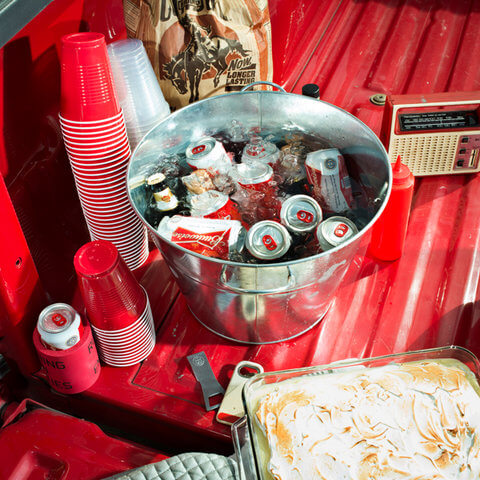 A tailgate that lacks the proper food and drink is like a bird attempting to fly without wings—sadly, the laws of physics prevail. But once a tailgate offers an acceptable spread, it's really difficult to mess things up. College students can and will consume anything. Suffice to say, beer—preferably cold—in all its many forms takes the cake on most game days. But don't sleep on the non-alcoholic options like orange juice and soda for those early morning tailgates—or hey, take an adventure on the OJ-with-alcohol mimosa train or the tried-and-true coke and rum trolley.
MUSIC
The genre that gets you belting out lyrics about "turning cornfields into parties" and "enjoying your chicken fried with jeans that fit just right" gets the nod. No true American would question why country music, football and tailgating go together like a delicious s'mores. Simply relish in the fact that all three do go perfectly together like that s'mores you're going to consume while listening to a killer playlist comprised of solely Luke Bryan, Eric Church and Zac Brown Band. "Hanging outside, sipping on drinks with some of your best friends is the perfect setting for country music," said Boston College senior Brian Delgreco. Nothing prepares to you for watching the boys of fall like the sounds of Nashville.
REC GAMES
With a belly filled by three pounds of barbequed meat and a soul filled by Kenny Chesney's soothing voice, you may understandably feel compelled to start tossing the football around the parking lot (or take a pre-game nap). Sweet Joe Montana, you soon realize that although you could definitely walk on to the football team next year once you start getting back into "playing shape," you should probably stick to the great stationary tailgate games—corn hole, kan jam and ladder toss. Who says you can't achieve a long, prosperous and maybe even a Hall-of-Fame caliber corn hole career?
THE X-FACTORS
Beyond the food, drink, decent music and somewhat engaging activity, there's always an extra something, that je ne sais quoi, that can elevate a tailgate to Tom-Brady-in-the-fourth- quarter status. Think of these "x-factors" as the things that will stick in your mind for years to come, but that you don't always account for beforehand. Even if you don't go to a powerhouse top 25-football school, a few key factors will definitely make for great tailgates—using your fist as a microphone to harmonize John Denver songs with the rest of your tailgate crew, getting sunburned on a sunny October day, falling asleep in comfy lawn chairs, yelling at the other team's fans because it's a rivalry game and talking to and sipping beers with passionate alumni who graduated in 1978.
In other cases, your school may dominate in football year after year and that in itself serves as an important X-factor. "Tailgating often reflects the personality and culture of a fanbase better than the team itself does," said Boston College senior Juan Santini. "It's a culinary and cultural experience." In other words, tailgating in college football hotbeds—any Southeastern Conference school—leads to more serious tailgating. Game days (and tailgates) mean everything for the school, town and community. They say you practice how you play, and in some places, the belief even extends to tailgates. Tailgate how you expect your team to play. Hard.