Canvas or yarn, ink or pixels—visual arts comes more mediums than can fit on one palette. Not to mention visual artists shape the world. They make us laugh, they inspire us and they beautify our surroundings in a universal language. These ten schools offer the most cutting edge programs, intimate classes, visual arts clubs, talented faculty and connections to the real world of visual arts after graduation. If you want to send a message, entertain or inspire through visual arts, launch your career by majoring in visual arts at these incredible art colleges.
Get your portfolio ready, because these are the 10 best schools for visual arts.
10. Moore College of Art and Design
As the first and only all-female art school in the United States, Moore College is small but mighty. Both cis and trans women are welcome to join its roughly 400-strong undergraduate body, which enjoys a 6:1 student to faculty ratio. Aspiring creatives at Moore can easily jump into the Philadelphia art scene because campus sits right in the middle of the city's Parkway Museum District. And when students aren't visiting one of the college's five professional galleries, Moore artists can feature their own work in SuRGE, Moore's student-run exhibition space. Accomplished Moore women include fashion designer Adrienne Vittadini—you might have seen her name on a purse or two before—and Polly Smith, whose costumes dressed up your Sesame Street and Muppets faves and won her not one but four Emmys.
9. Pacific Northwest College of Art
Want to grow your artistic talent in a tight-knit community? Become a PNCA Sloth at this school for visual arts. Portland's Pacific Northwest College of Art houses only about 350 students. "You will see the same people nearly every day on and off campus, and you will love it," 2016 illustration graduate Colin Laurel said. Despite the school's modest size, clubs like Friends of Frank Ukelele Society and weekly yoga classes keep campus life fresh and lets everyone find their niche. Professors at PNCA, like award-winning photographer and performance artist Jaleesa Johnston, offer a top-notch education and a lasting support system. "I adore all of the illustration faculty," Laurel said. "Each of them have paved the way for themselves and their students. They're all successful at what they do, and they're all truly approachable resources," he said. "They're my family, really." Even if you like to roll with a small crowd, you're sure to feel at home at the PNCA campus' downtown location, where galleries line the streets.
8. Cleveland Institute of Art
https://www.youtube.com/watch?v=BcyfqXvydZ0
Surrounded by art with six museums, the Severance concert hall and a botanical garden in its University Circle neighborhood, at the Cleveland Institute of Art you'll never be short of inspiration. CIA also sports the brand-new, 80,000-square-foot George Gund Building, which holds all of the school's art departments, galleries and the Peter B. Lewis theater. Once you become a sophomore, you can work in your own personal studio. In class, you'll study under artistic powerhouses like Lincoln Adams, whose clients include the likes of Disney, Dreamworks and Lucasfilms (AKA your childhood, your current inspiration or both). School for visual arts or school where dreams come true?
7. Cornish College of the Arts
Less than a mile away from the Seattle Space Needle lies Cornish College of the Arts, one of the of the three colleges on the continent that dabbles in both performing and visual arts. Despite the metropolitan neighborhood, this school for visual arts is anything but crowded. The average class size is about 13 students. In fact, art majors stick together in cohorts that meet for class in a studio space where professors often go to them. Acclaimed photographer Preston Wadley, once featured in the Critical Mass Top 50, is just one of the accomplished teachers you'll learn from. And after class, you can visit the nearby Museum of Pop Culture, Cornish's own student-run Closet Gallery or relax in any of the school's 17 student organizations. Where else but Cornish can you find a bath bomb-making club?
6. College for Creative Studies
It's no wonder that this Detroit-based school for visual arts is well-known for its transportation design program. After all, provost and professor Sooshin Choi, a lifelong automotive designer, holds about 47 patents and multiple awards for his work. But if cars aren't your thing, students like Yugo Limbo and Omar Romolino are putting CCS' Department of Entertainment Arts in the spotlight. Last summer, the two animation juniors directed , bringing 16 peers together for a collaborative short that not only blew up on Vimeo, but caught the attention of French animation website Catsuka. Their department's faculty is full of famous names too, like Thunderbean Animation director, animation historian and longtime professor Steve Stanchfield. "[Stanchfield] knows literally every fact about animation there is," Romolino said. But being extremely intelligent is his field doesn't make Stanchfield any less personable. "As a person, he's just like—you know how Owen Wilson goes 'wow'? That's him," Limbo added. Life outside the studio at CCS is packed with opportunities to mingle, too. Every year, the school hosts "Geek Week" with events ranging from a seven-person bike to human hamster ball races. "The big grass plateau in the middle of campus just becomes mud," Limbo said. "It's chaotic, but amazing." Everything is more fun with a little chaos, including college.
5. Maryland Institute College of Art
Founded almost 200 years ago, the Maryland Institute College of Art is one of the longest-running schools for visual arts in the country, but it's hardly old-fashioned. The college earned a reputation for recycling buildings after renovating places like an old train station and a former shoe factory. With 11 different galleries and over 50 student organizations, you can take your mind off any homework with the hula hoop dance club known as Hoopnation or sharpen your film knowledge at Cinephiles in Action. And because of MICA's size, it's easy to get to know everyone. "Almost all of the buildings on campus are within a six or seven-minute walking distance of each other, so I constantly see people I know when I'm walking between buildings," illustration sophomore Nim Kuehne said. At MICA, you'll be studying under the same roof of alumni like writer Noelle Stevenson. Her webcomic-turned-senior-thesis Nimona got published in graphic novel form and might even be a movie someday. #Goals, am I right?
4. Ringling College of Art and Design
Ringling's name might scream "circus," but this school for visual arts isn'twhere clown makeup artists get their degrees. But if you're in love with painting faces, don't worry: beauty YouTuber and entrepreneur Michelle Phan is a former Armadillo. Your favorite movies wouldn't be the same without Ringling College of Art and Design, either. Ringling alumni worked on Inside Out, Mad Max and Star Wars: The Force Awakens. Ringling students are famous pre-graduation, too—like Michelle Kwon and Mike Bidinger, who created Jinxy Jenkins and Lucky Lou, a 3D animated short pushing over three million views on YouTube. The minute you hit campus as a freshman, you're handed a new, free laptop to use until you trade it for your diploma. And with the beach minutes from campus, it's hard to not enjoy the college's forever summer in sunny Sarasota, Florida. The weather is just right for playing ball with the Ringling's own Quidditch (yes, Quidditch) Team, complete with a human Snitch.
3. Rhode Island School of Design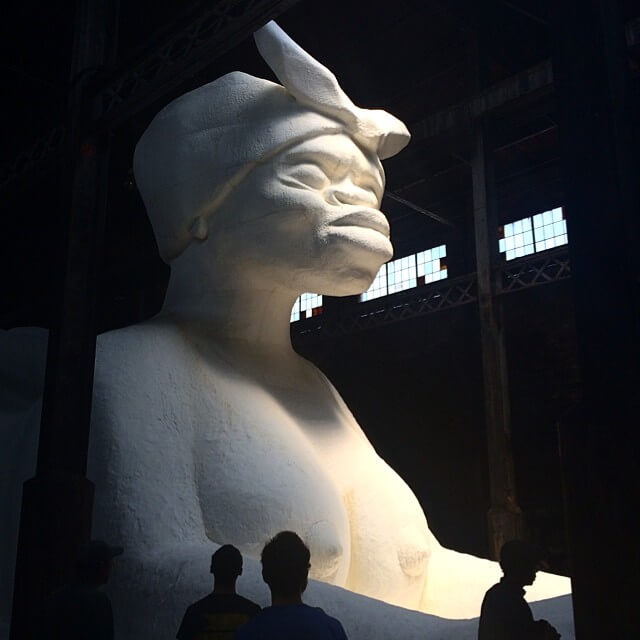 Forbes' 30 Under 30 list has named 27 RISD alum in its art and style category since 2011. You've probably seen an alumni's piece before without realizing it, like Kara Walker's giant sugar sphinx installation or any one of Jenny Holzer's all-caps projections. That's because professors at RISD are literally world-class. Architect Peter Tagiuri, who works with design firms in Europe, North Africa and the United Kingdom, could be your professor. RISD also operates its own 100,000-plus piece museum and the Nature Lab, where students can get up close to plant and animal specimens as big as a stuffed owl or as small as a scrap of a mummy's cloth. No matter what type of visual artist you are, you can round out your skills with a dual degree at the neighboring Brown University, an Ivy League research school that allows RISD students to take science and math courses free of charge. Or you could just use their ice skating rink, that's cool too.
2. School of the Art Institute of Chicago
The School of the Art Institute of Chicago spreads out across downtown, instead of radiating from a central building, facing the Chicago River. Majors at SAIC are just as untraditional as its campus, as students are encouraged to explore multiple disciplines. If you have a passion for painting, be prepared to learn skills in other visual arts, too. And with a population of roughly 3,500, SAIC manages to be tiny compared to major universities while still larger than other art schools. "I think I had more students in my high school than I did in college, but because the culture is so intertwined with all the other artistic communities in Chicago, it feels a lot bigger," senior Janani Nathan, who specializes in painting and fibers installation, said. SAIC not only hosts over 60 organizations on campus, but has an overall inclusive atmosphere. "It's kind of like a bubble, or like a haven," Nathan said. As for past SAIC Lions, many are basically immortal at this point, like Georgia O'Keefe, Edward Gorey and Grant Wood (AKA the painter behind that portrait of the staring farmer couple).
1. School of Visual Arts
Remember that one scene in Spiderman when Peter Parker tears out page after page of his notebook while designing the perfect superhero costume? The hands that drew the lines of the Spidey we know and love actually belong to Phil Jimenez, School of Visual Arts alumni, professor and prestigious comic artist. Adding to SVA's impressive alumni roster is Chris Prynoski, who created Motorcity and co-founded Titmouse, the studio that animated the cartoon portions of Guitar Hero. 2015 computer animation and visual effects graduate Elizabeth Ku-Herrero is still getting jobs as a member of SVA's powerful alumni network. Ku-Herrero worked as creative director of her group senior thesis Taking the Plunge, an awards-winning animated short that has played at a dozen film festivals. "I've traveled all around the world because of my film, and I continuously run into SVA students," Ku-Herrero said. Part of what makes SVA so magical are the ample opportunities available in the Big Apple. With hundreds of studios in the area, it's easy to intern while working towards your major. And all of your work will be top-notch considering SVA's first-rate cameras and printers available at the Digital Imaging Center.