Let's get one thing straight: not everyone loves winter. Sure, tossing lights on a fresh fir tree is fun and hot chocolate tastes like heaven in a cup, but what did anybody do to deserve blustering air, frost bite and icy streets? The last thing any college student needs is to waste an extra 10 minutes every morning layering up only to strip it all off after dripping in sweat when you get to class.
Here's to the colleges with more sun than snow and low winter temps that feel more like highs.
10. Mercer University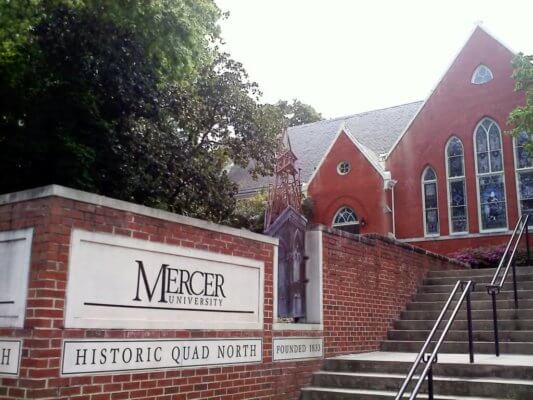 Right in the heart of Georgia lies Mercer University, one of the oldest colleges in the United States. Established in 1833, MU offers a traditional, mild winter, averaging about 40 degrees at its peak. Above-freezing temperatures and classic east coast humidity make Macon, Georgia, the perfect choice for fellow July junkies. Not to mention the warm southern hospitality throughout campus only makes MU cozier. "I feel like they truly care about me as a student," freshman Stephanie Martin said. "I'm not just a grade point average designed to help boost their ranking." Talk about an extra layer of warmth! On a typical "winter" day at MU, students can kick back on the Coleman Hill overlook in just a light jacket. Chill with your newfound friends and eat Georgia peaches while the leaves blow by.
9. Grand Canyon University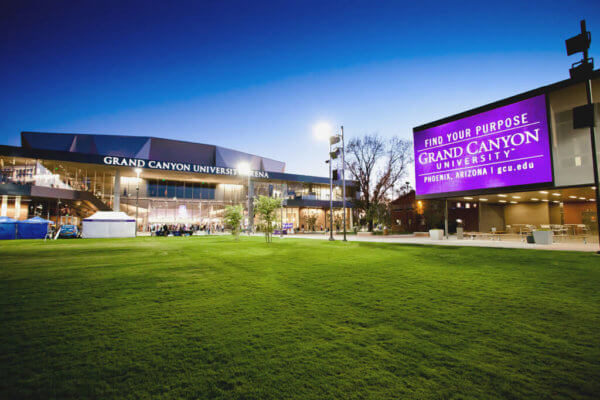 Nicknamed the Valley of the Sun, Arizona's capital is home to Grand Canyon University, a private Christian college with a bright reputation. Students seeking an abundance of Vitamin D, 299 days of the year worth, need to make Phoenix their home too. "Winters at GCU are jeans and a T-shirt weather," sophomore Kelsey Campbell said. But that's not all this university has going for it. "There are so many things I love about GCU. The people I've met are so awesome, the food is awesome, the gyms and pools are awesome," Campbell said. The university has new pools and fitness centers around campus, and pool parties stay lit even in the "brunt" of winter. At GCU, the school spirit is just as grand as the torrid canyon it's named after. Grab your bathing suit and head to Chaparral Hall—it's time to show off that summer bod all year long.
8. College of Charleston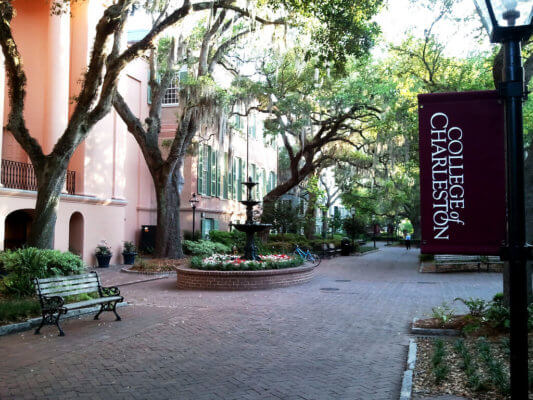 When you imagine the east coast, you don't typically picture warmth, right? South Carolina is no Death Valley, but if you want to escape the sunny southern states without freezing to death in December, the College of Charleston will reel you in like a kid passing a lemonade stand. The area doesn't fall short of providing entertainment from November to February. You can spend a nice, January day on the coast celebrating the start of boating season at the annual Charleston Boat Show. Or if you'd rather enjoy some blooming flowers (yes, even in December), roam Magnolia Plantation, the country's oldest public garden that's open year-round. With average winter temperatures in the 50s and a strong colonial American vibe, CofC surrounds students with historical, winter scenery minus the many feet of snow. You can even study outside during the winter because your fingers won't freeze off. Who doesn't want to do British Lit homework on the front lawn of the 19th century Greek-styled Randolph Hall?
7. Texas A&M University–Kingsville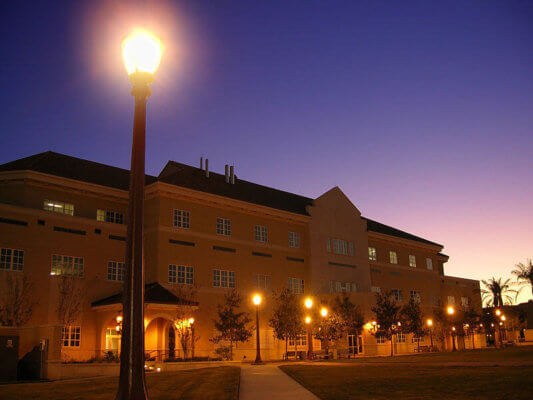 Tracking Texas' temperamental weather patterns isn't an easy feat, but neither is tracking a snow storm. While Kingsville isn't exempt from the Lone Star State's unpredictable climate, its warm winter weather (say that five times fast) and nearly 227 sunny days per year can definitely be counted on. On a beautiful 250-acre campus, count your blessings while catching some rays on the Mesquite Village West lawn. When December rolls around, kick off Christmas the Texas way—at La Posada de Kingsville, the town's annual parade of lights—and don't bother with gloves and scarves because this isn't like the winter parades in New York City. Saddle up and get ready to trot through the next Kingsville winter—you'll definitely make it out alive.
6. Tulane University
Nightlife ain't the only perk the Big Easy has going for it. "Along with meeting lots of neat people who come from all over the country, I've also really gotten to enjoy the city's awesome food and festivals," junior Christina Attia, a Florida native, said. Soaking up the NOLA culture and sun just add to the perks of an education at TU. The subtropical climate makes TU an ideal university for anyone who gets anxiety at the thought of frozen water falling from the sky. The Crescent City's comfortable December temps allow for one hell of a holiday season—Friday night movies along the Mississippi and the annual fleur-de-lis drop, a more spirited version of the Times Square Ball drop—how better to breathe in the winter air?
5. University of South Florida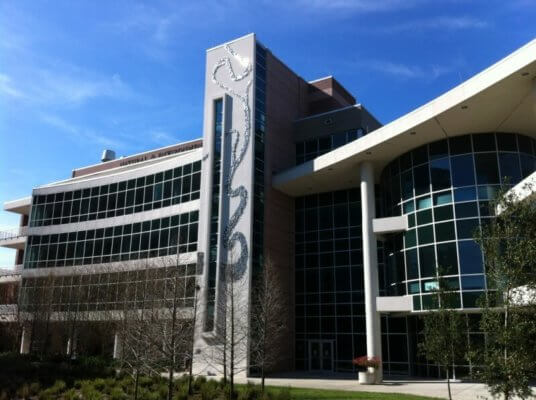 When dreaming about warm weather, the Sunshine State always floats into the picture. The University of South Florida attracts thousands of people to Tampa, the Seattle of the south. The biggest difference between Seattle and Tampa, besides geography, is that Tampa boasts sunshine a whopping two-thirds of the year. "I see some schools like University of Wisconsin literally in snowy weather for a third of the year, while over at USF we're just planning mid-week beach trips in winter," junior Yamini Mulla said. Mulla considers herself a proud Bull and not just because she gets away with wearing sundresses in the winter. "Of all the campuses I toured in Florida, this was hands down the most beautiful," she said. Buy some tickets to Busch Gardens or sunbathe on Ben T. Davis Beach because a USF winter won't restrict you to hiding under blankets at home.
4. Loyola Marymount University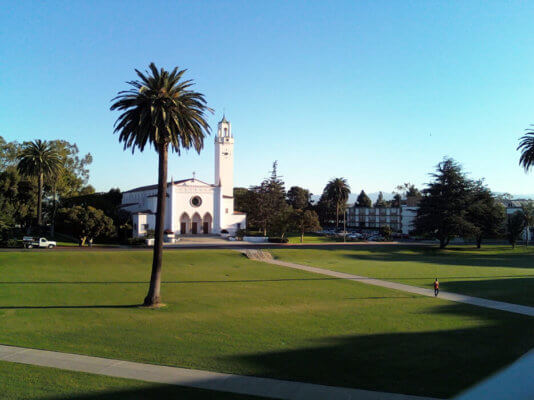 Los Angeles, the City of Angels, La La Land. It doesn't matter what you call it, Loyola Marymount University calls the toasty city home. Though a winter in LA feels like it doesn't even exist, you can bet your favorite beanie it's still festive. Students at LMU find endless opportunities around them to be outside without freezing into the next human Olaf. There's no reason to get locked away because of a snow storm when the warm sands of Venice Beach and sunset views at Baldwin Hills Overlook are in driving distance. Not feeling a trip into the city? No worries—you can stay on campus! Grab a blanket (though you probably won't need it) and watch a holiday movie on the Sunken Gardens.
3. University of Miami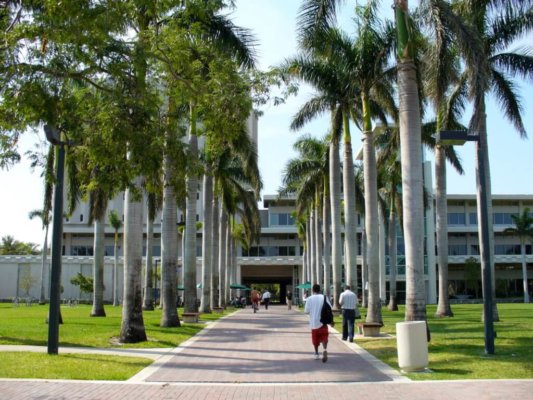 The beautiful Miami area marks a necessary stop on the Tour de Warmth. With an average winter low of almost 60 degrees, Coral Gables, Florida, harbors the University of Miami—a private research university. A tropical winter destination, The Gables takes clear advantage of winters disguised as summers by hosting outdoor events throughout the holidays. Students at UM celebrate December, January and February a little bit differently than the rest of the nation by strolling on the white sands of South Beach, hanging around Matheson Hammock Park and being artsy af during Art Basel (which happens every warm December) in Wynwood. "Here, winters are actually something to look forward to and not dread," junior Jose Lardizabal said. "Due to the city being right [by campus], along with the art district and countless other beaches and parks, the [winter] possibilities are endless." Tired of eating it face-first on a frozen puddle in front of the whole campus every winter? You just might need to transfer to UM.
2. Hawaii Pacific University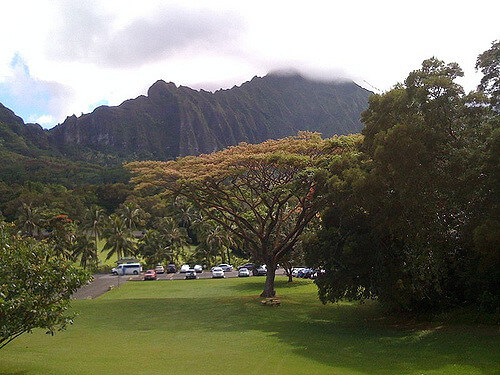 Aloha Oahu! Hawaii Pacific University doesn't just have a tame winter, it has a lifetime of scenery around it as well. With palm trees, beaches, jungles and waterfalls, Honolulu is paradise for the warm-blooded. After all, their average low during the winter only reaches 70 degrees, matching the average high of coastal Maine's June. You don't have to be born on an island to adopt the islander lifestyle either—you can live a temporary life of bliss while earning a degree. During your time on Oahu, you can drink from coconuts out of a cabana, learn to hula at the Polynesian Cultural Center and rest easy knowing you'll never suffer another snow-laden walk to class again. Heck, you can wake up on a nice February morning and take a stroll down the famous, and picturesque, Waikiki Beach…because why not?
1. Azusa Pacific University
Southern California's Azusa Pacific University deserves attention from every sun lover. When they aren't studying on the quaint little slice of Route 66, Azusa students can view a variety of California's beautiful mountains, palm trees, rivers and canyons that can only be enjoyed in a location that doesn't drop below 70 degrees. Though somewhat inland, The San Gabriel Valley's proximity to the Pacific satisfies anyone who owns more sandals than boots. Winter blues are just about the only thing you'll miss out on at this university. A private Christian college with nearly 300 sunny days and 23 inches of rain per year, APU has an atmosphere even brighter than the sky above it. "The culture and reputation drew me to APU," recent grad Laura Merrick said. "It is a very close-knit and diverse culture, which is awesome to be a part of." The overwhelming camaraderie just confirms why an APU winter won't involve the loneliness and isolation that other winters employ.
Are you actually a winter lover who found this page by accident?