The holidays creep closer with every passing day; now that Halloween is over we're all going to start hearing Christmas songs wherever we go. And when you think of your artsy friend, it's hard to know what they want for their studio that they don't already have. If you are hoping to get a jump on your holiday shopping for your favorite painter, artist or writer friend, check out these gifts, perfect for birthdays, Christmas, Hanukkah or any other occasion. Finding gifts for artists doesn't need to seem so hard.
Keep reading to for creative gifts for artists they'll never expect.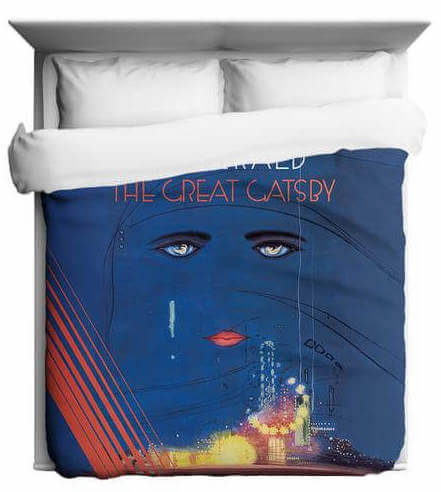 Looking for a great gift for your favorite English major? We all read The Great Gatsby in high school. Your English major friend will love this duvet cover because it reminds them of one of their favorite books, not some boring book he read in high school.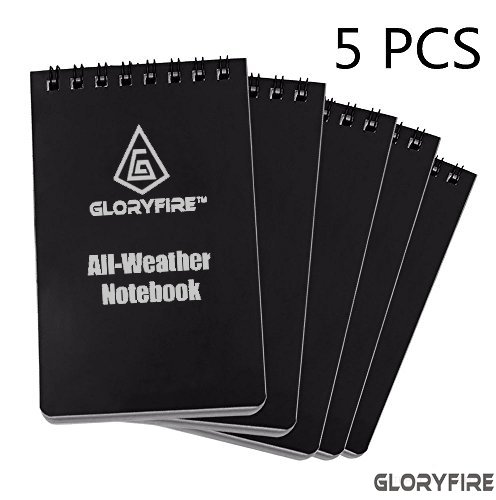 Do you have a forgetful friend? Shower time might be the time where she comes up with the best thesis or a new design for that Google contest. This one's for her. All she needs to do it sketch out her idea, no matter when it comes to her.
Price: $9.68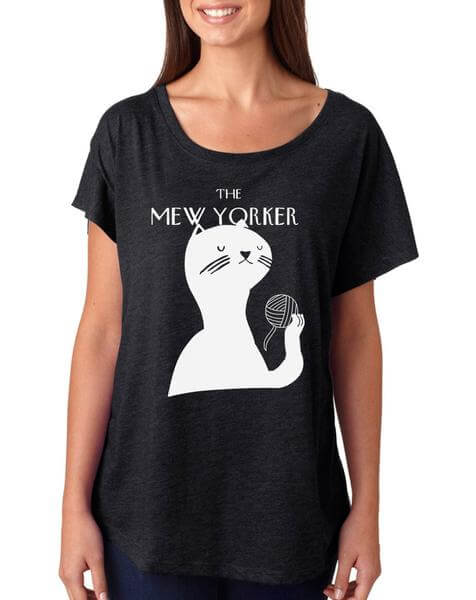 We all have a cat obsessed friend. This t-shirt will embrace her cat obsession. "I would love to get a real cat but for now I will settle for this shirt," Luther College junior Megan Mathison said. Wear it with jeans or yoga pants to brighten up anyone's day with a clever cat pun.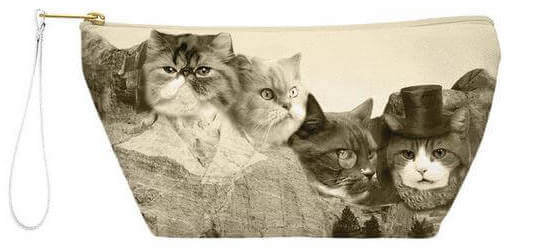 This pouch fits paints, paintbrushes or pencils or anything else that belongs in a cat lover's art pouch. You might even find a fur ball in there.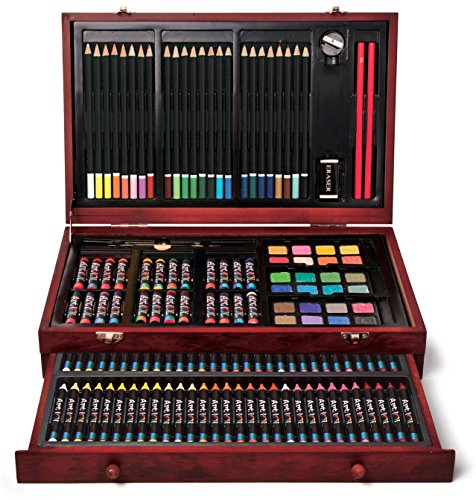 This comprehensive art kit makes a great gift for your artist friend or anyone looking to start coloring. "I would love to get this as a gift. My inner artist screams yes," said Luther College junior Ali Turnquist. Your friend will love de-stressing with some art projects so she can get back to her English paper with a calm spirit.
Price: Varies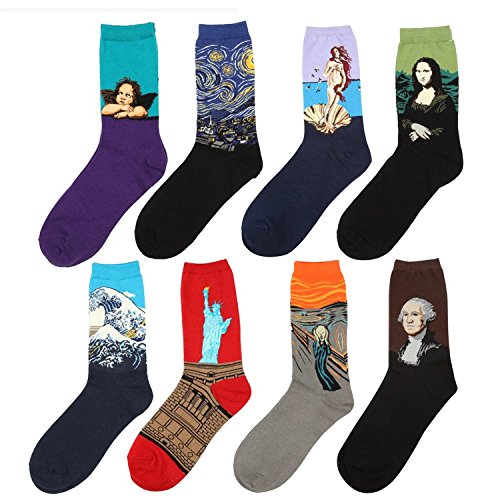 Your friends can say goodbye to freezing cold feet with these cozy socks. "As a sock enthusiast and a studio art major, I think that there socks are amazing! They would be a great gift for any art or art history buff, and personally these are going on my Christmas wish list," said Winona State junior Lexi Prowizer.
Price: $16.99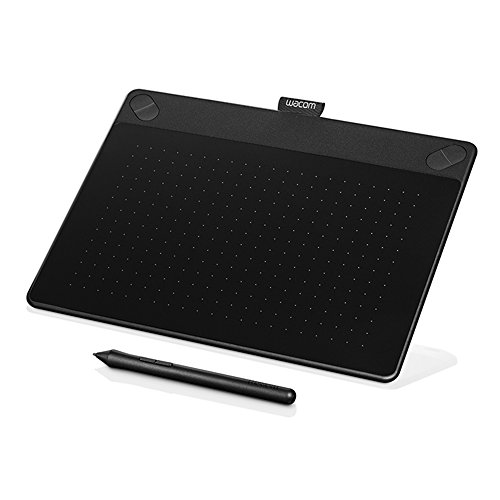 Art tablets outdo the professional competition making the perfect for your professional art friend. "Digital art tablets look really professional; they have all of the drawing tools. You don't have to worry about paint brushes or canvases or spilling paint all over yourself," said Mathison. Whether a graphic artist or just a fan of drawing, technology lovers will need this gift.
Price: $200.69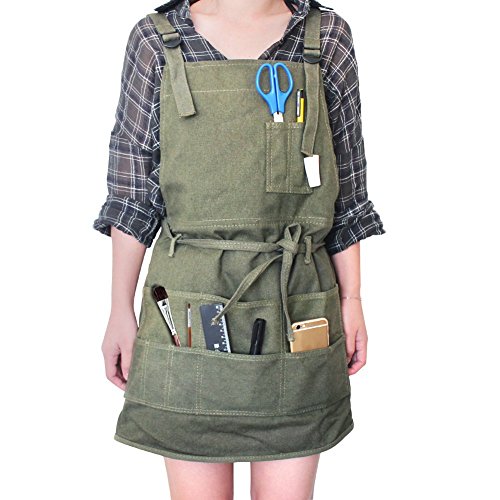 Painting is messy. Colors will fly all over the place, and more importantly all over her cute outfit. For your friend who always gets paint on her clothes, help her save a few bucks on dry cleaning with a smock to keep the creativity flowing.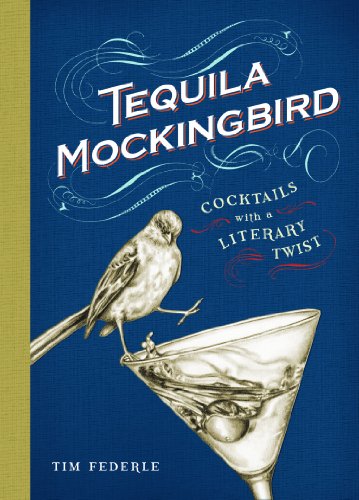 Looking for some new drinks? This book is perfect for anyone who loves a good drink and a good literary reference. As the book said, "Think of this recipe guide as SparkNotes with a liquor license."
Price: $10.99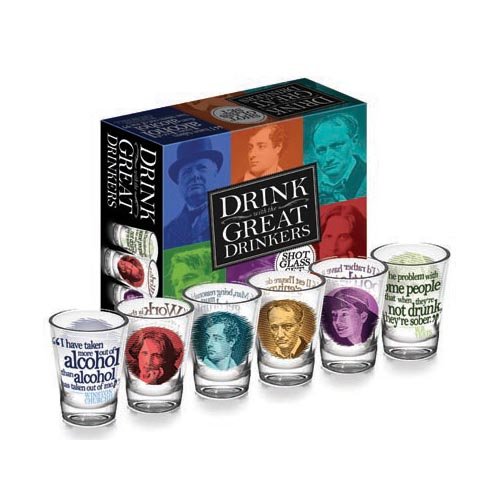 Want to share a drink with your favorite author? This won't give you the same experience, but it's close. "It's funky new way to consume alcohol," Luther College senior Andrew Botz said.
Price: $16.95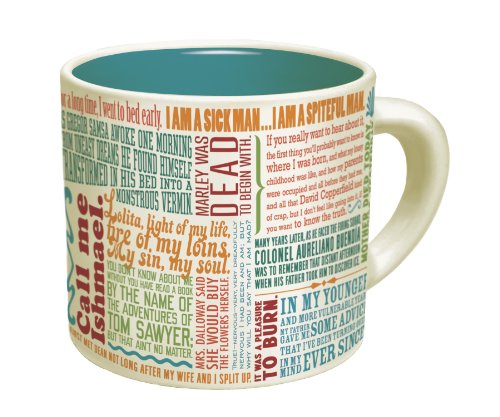 Relax with your coffee and find your next great read at the same time. Figure out what book the first lines on the mug come from, and then actually finish reading that book.
Price: $15.95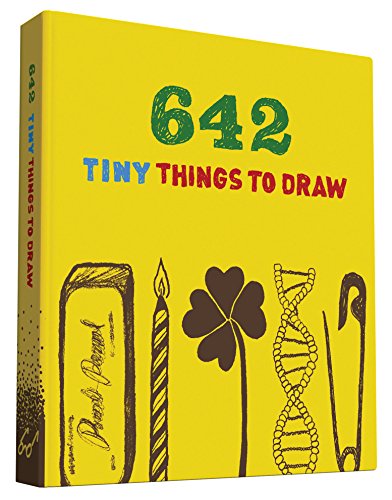 Is your friend new to drawing? Help him develop his natural talent, giving him the chance to draw as many things as possible.
Price: $9.13
We all have that one friend who likes to correct everyone's grammar. No one wants to encourage these (annoying) ways, but this mug feels undeniably perfect for him.
Price: $11.99
Wearing art is way cooler than looking at it. This necklace will make a unique and gorgeous addition to every art lover's jewelry collection.
Price: $7.99
Your recycling, hippie friend who's determined to save the world, but also needs a place to store her hemp based lip gloss will appreciate this gift.
Price: $7.51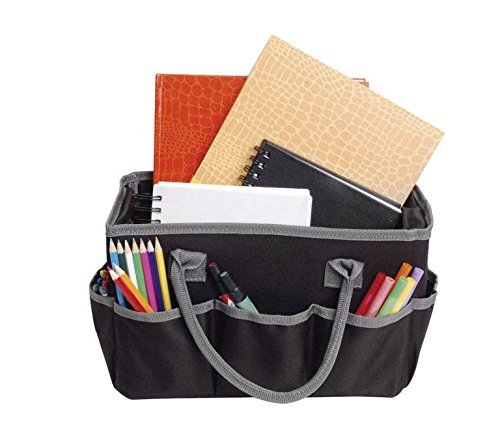 For the friend who needs a place to store all her art supplies, this pouch will be a godsend. Whether moving between home and the studio or someone who likes to paint landscapes outside, this tote bag will hold all their art supplies.
Price: $12.59
If you can't help but channel your inner grammar nerd and preach about the difference between "their" and "there," you need this mug. Your friends will never forget their grammar again. "My friend has one and she loves it, so I could give this as a gift," said Luther College junior Harleigh Boldridge.
Price: $11.99
Does your roommate always keep you up with her lights on while scrambling to finish her homework? Do yourself a favor and give her one of these pens so she never has to keep you up again. "These pens seem like a fun and new way to write notes to friends at night," Luther College junior Claire Little said.
Price: $14.99
Everyone loves to curl up with the latest thriller while they sipping their favorite tea. These tea bags will give you a literary reference with every cup. "These are clever and practical, so I could definitely see myself giving these as gifts," Boldridge said.
Price: $13.50
We all know and love that hipster friend who refuses to wear a costume on Halloween. Give them this t-shirt he can wear to every costume party for the rest of his life instead of going as "himself" every year.
These will double as an adorable way to decorate a dorm room, bedroom or anything else your friend can paint to decorate her new dorm room or bedroom. "These are perfect for people who really like little inspirational quotes or paintings," said Turnquist.
P.S. We have more gifts for artists.
Written by Marin McCall.
What do you get the friend that knows brushstrokes by name when you don't even know the difference between teal and turquoise? Don't touch their workshop if you want to escape with your life and don't turn to their shopping list either—turpentine might be necessary, but as a gift (and a substance) it stinks.
These 21 gifts for artists will inspire your favorite artist for many masterpieces to come.
That Halsey "Colors" quote every alt-girl has sad tweeted at least once after a boy messed with them? Child's play. Artists can use this helpful guide to mixing colors to help create even more masterful pieces of art.
Price: $8.31
You can follow in the footsteps of your favorite badass lady painter without sacrificing your brow game (power to all brows, including Frida-style though). A biography of Frida Kahlo or any biography of your favorite artist's favorite artist gives them a glimpse into a creative mind that they actually have the talent to emulate. "This book is at the top of my wish list this year," Seattle University sophomore Isabel Cunningham said. "Not only is this collection of diary entries filled with Kahlo's illustrations, but it also contains an intimate perspective from the last 10 years of her life."
Price: $12.99
Combining everyone's favorite kids menu activity with one of the most famous works of art in history makes for a fun challenge for artists from beginning to expert. While the instructions helpfully lead you to a masterpiece with little effort, a little creativity could make this into a Mona Lisa template for your own new interpretations of the piece.
Price: $12.99
Those creative arms that produce their own art should be clothed in art too. Everything from the artist's creative mind to their talented hands will represent art, borrowing a peaceful yet powerful image from one of Katasushika Hokusai's famous works. The artist in your life will know exactly how to create an outfit around this shirt like every great artist knows exactly how to display their piece in a gallery. A simple frame of black skinny jeans and a masterful black eyeliner wing will make the statement of the top stand out.
Price: $17.79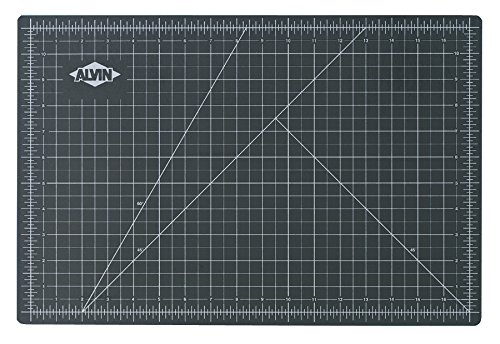 Even artists struggle with spacing and drawing straight sometimes. Maybe their heads are crooked from their stronger right side of the brain tipping the balance? "I have always wanted one of these for my work space. The durable material and built-in grid make it perfect for drawing and collaging. They are also super cheap and easy to store!" Cunningham said. Even if your artist friend prefers their work in one piece, a cutting mat has uses for all types of creations.
Price: $12.29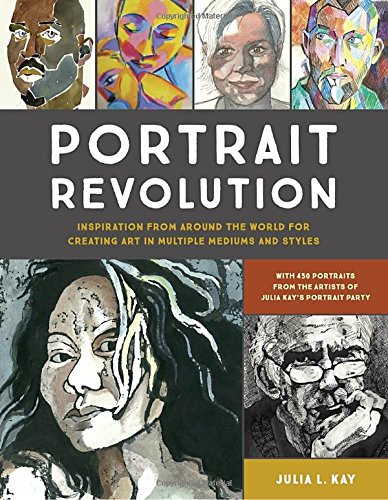 Sick of selfies? Grab this book to subtly suggest they should pick you as their next portrait muse so #selfiesunday can get an artist's update. "I would mainly consider myself a portrait artist and I always love new ideas on how to reinvent the portrait," University of Iowa junior art major Sydney Wientjes said. The different styles represented in this book will inspire many different iterations of your likeness.
Price: $13.69
Miranda Priestly could tell you what color schemes will dominate the runways, but artists of all kinds can draw inspiration from these matchups of hues. Sometimes just seeing the color combinations can spark an idea. "I'm notorious for sticking to black/white/gray color schemes and being very traditional," Wientjes said. "Because of that, it's sometimes hard for me to know the right colors to use when venturing into color theory in my pieces. I also can get stuck in a rut with the same, drawn out color palettes so having a fresh perspective can help."
Price: $28.99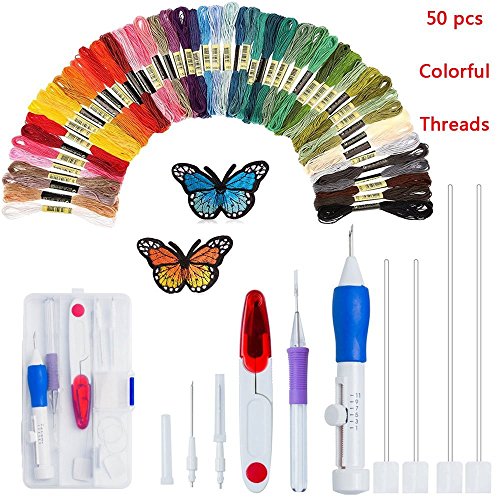 "I have been meaning to take up embroidery, but with the endless pit of obligation that is my sophomore year, I don't have a lot of extra time on my hands," Cunnigham said. "This set is perfect because it gives you the same embroidering experience with much more efficiency and much less time." Saving time even in your free time sounds like exactly what a college student needs for a new creative pursuit. Experienced embroiderers will appreciate the efficiency just as much as beginners too.
Artist's block cramps up the hands so that you can't even finger paint, let alone create a masterpiece. Hopefully even with this affliction, your artist will still be able to pass their eyes over this book and dive into the core of the issue: creativity. Taking a look at your process from the outside lets you tweak the plan before the product even touches paper.
Price: $9.98
Plenty of artists already work in 3D. Hit the 2D purists with this curveball to bring any drawing to another level, or should we say dimension. This pen might even make your thank you note from them way more interesting.
Price: $43.99
Your artist probably has a specific aesthetic that their wardrobe always follows. If they love quirky jewelry, find something that will represent their interests. Those who create art should look like art too.
Price: $9.99
Help beautify their personal spaces with prints from their favorite artists and illustrators. "The three P's [prints, pins and patches] are always the most fun gifts to receive, and more importantly–support! female! artists! Some of my favorite illustrators are Polly Nor, Ambivalently Yours, Henn Kim and Laura Callaghan," Cunningham said. Your artist friend probably agrees. Your purchase of one artist's work supports the movement to get all artists paid for their work.
Price: $23.90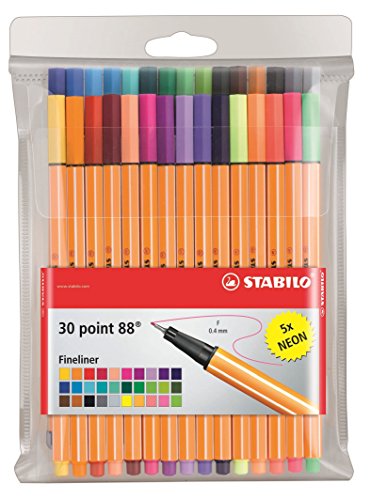 Believe it or not, some people come prepared to class with their own beloved writing utensils rather than showing up and digging up some free pen from the career fair booths from the depths of their backpack. Pen-thusisasts choose their mightier-than-a-sword weapon carefully. "These are the perfect pens for every situation, whether it be jotting down notes or doodling in class. There are 47 different colors to choose from, but the 30 Color Wallet makes for the best gift!" Cunningham said.
Price: $14.78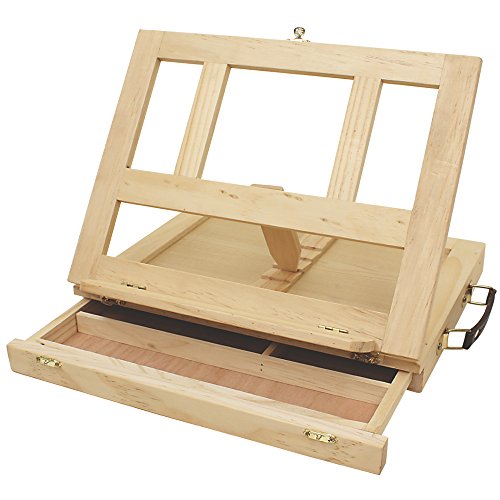 Creative types tend to get messy. Paintbrushes after painting a landscape scatter to the north, south, east and west of their studio. Charcoal and graphite smudges make them look like a Dalmatian. Neat, tidy, expandable solutions with lots of compartments for organization will help to contain the clutter of the creative.
Price: $14.57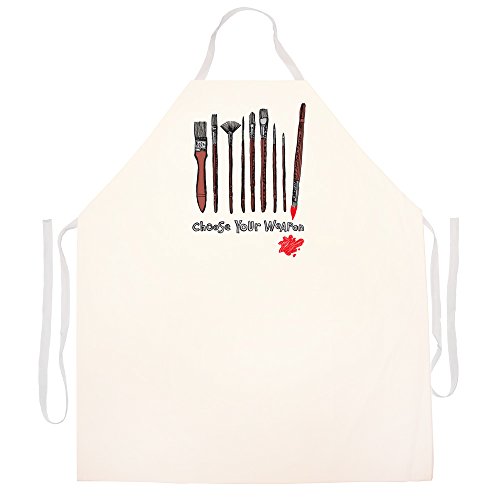 Art belongs on the canvas, not the artist. While seasoned artists know not to wear good clothes while creating, an apron still cuts down the number of T-shirts that suffer from secondhand Jackson Pollock splatters.
Price: $13.70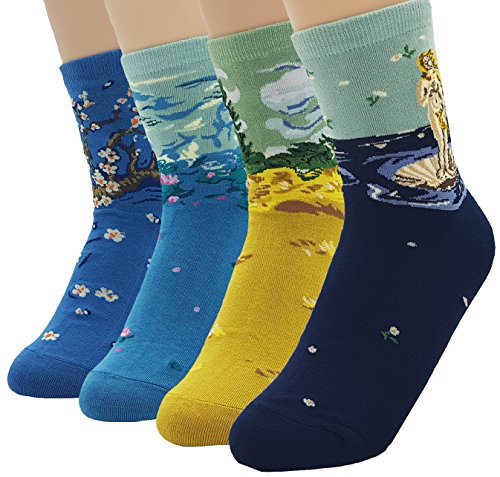 Some artists eat, sleep and breathe art from head to toe. You can cover the toe part with socks sewn in the style of famous works of art. Your favorite artist will have ideas up their sleeve and masterpieces in their shoes. "My mom got [these socks] for me last year," University of Iowa sophomore art major Katie Shumaker said. "I think they're really cute since I like funny socks like that, so I'd definitely recommend them."
Price: $13.98
Ever since we could punch keys on a board to construct messages, people have ditched the carpal tunnel pain of handwriting. But gifting this lost art to an artist ensures the gift will be returned. "I really want to get into calligraphy more and be able to make gifts for people using those. Those pens can be kind of expensive though," Wientjes said. The price of this gift invests in a future of complementary calligraphy for life, though.
Price: $19.99
"I relate to this high key. If I'm not too mentally exhausted while I'm painting to read this, it would definitely help me," Drake University junior art major Mia Tirado said. Don't let your favorite artist make the horrible mistake of drinking form the wrong mug. You can also get any beautiful art-themed mug as a gift for your artist friend to decorate their shelves and give them something a fellow artist is proud to call their creation. They can drink their morning coffee and get inspired for the day.
Price: $39.99
If your favorite artist deals in the medium of photographs, get them something that always says they're looking for portrait subjects. The double take that this mug will inspire will get your friend a lot of attention while staying true to their passions.
Price: $12.99
Upgrade your artist friend's cell phone photography game with easy attachments. Though they probably have a camera that's worth more than all the cheap, collapsible furniture you stuffed in your dorm, an iPhone will have to do the trick for on-the-go photographic art. "It'd be dope to have some of those lenses you can place over your iPhone camera," University of Iowa sophomore Emma Scintu said. "I want my Instagram to look good even when I don't have my nice camera on me."
Price: $24.99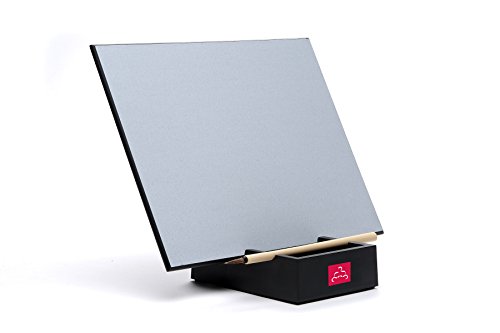 Even if your artist friend deals in serene landscapes of ripple-free waters and quiet, sunny forests, her inner mind might look more like that boat scene in Willy Wonka. Ease her mind with a Buddha board relaxation tool, where you can draw with water and watch your work evaporate. Without the added pressure of permanence, your artist can release her inner thoughts peacefully.
Price: $34.95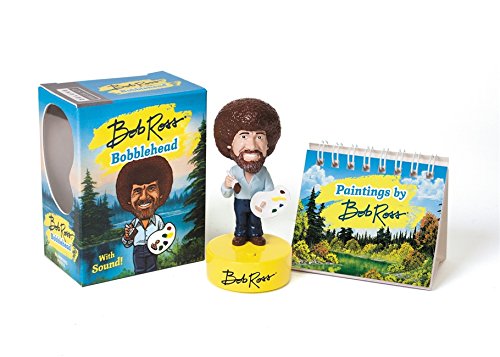 Adorn your favorite artist's desk with the master of happy trees himself. A little reminder of the good in the world through Bob Ross's cheery smile brightens anyone's day, but it'll remind your artist friend of the smiles their work can bring just like his does.
Price: $6.85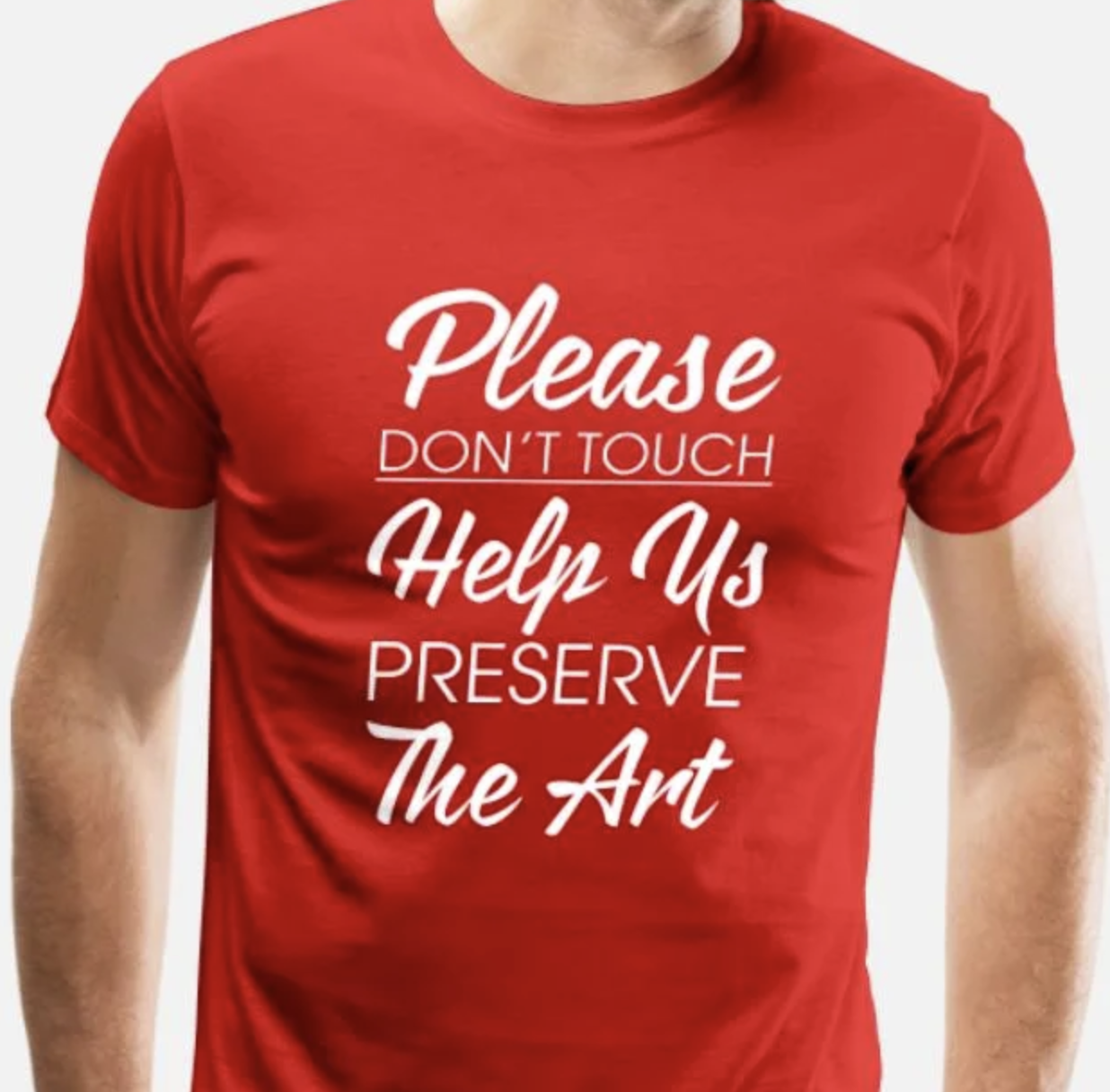 Remind your artist friend that their face is your favorite masterpiece. They might paint their face makeup or leave it natural, but either way someone has to remind people to keep their hands off. Every artist will appreciate spreading every gallery's number one rule, too.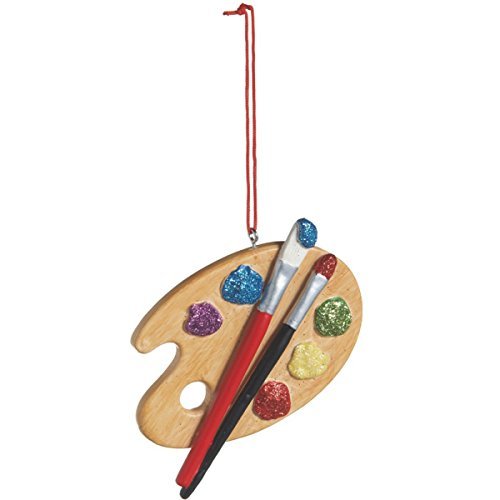 Whether this gift makes it directly onto the tree to hang for the rest of the season or gets packed away for the next, every Christmas after your artist friend receives this ornament, you'll see it displayed on their tree. Every time your favorite artist sees the ornament illuminated by the Christmas lights, he'll think of you and the next creation he has planned for you.
Price: $8
Check out 5 more gifts for artists to give your favorite creative thinker.
Written by Bilal Mohamed.

Artists always work on more projects than they can finish, but with a tidy work bench, they'll be able to complete a wide range of projects. From sculpting and painting, to writing and drawing, they'll get everything done with this gift. "I am at a point of such creative experimentation where I feel like I need something I can use to build a variety of works that cross a variety of techniques," San Diego State University junior Tyler Young said. With a work bench to store those small tools they constantly lose; your friend will have the peace of mind to create anything their hearts may desire.
Price: $72.09
47. Money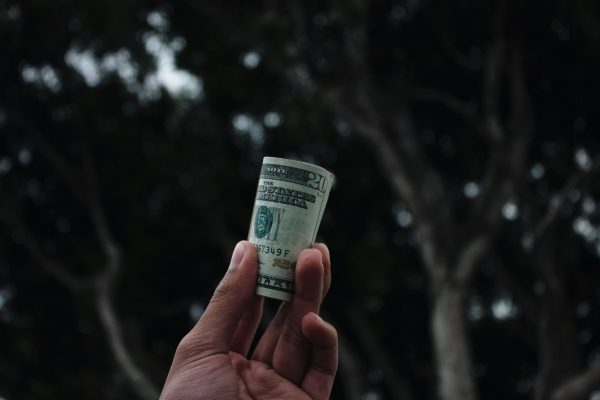 Most people would hate cash as a present for the holidays, but not artists. In this economy, that's the best thing you could give them. "Most of the presents I'm given aren't useful, so I would ask for money as a gift to spend on what I really need," San Diego State University senior Kasey Nauton said. Artists just want the ability to create what they want, when they want and some cold hard cash never ceases to make that possible for your beloved struggling artist.

It doesn't matter what kind of art your friend creates; artist or not, nobody's going to turn down some free clay. "I'd love to be given a blob of clay to just mess around with and see what I can create, as well as not worry so much about wasting precious art supplies I bought myself," University of California Davis freshman Holly Fern said. With some free clay in hand, it's guaranteed your friend will enjoy creating, and who knows, maybe they'll become the next Rodin because you got them into sculpting.
Price: $16.56
Peace and quiet: the one thing all college students desire. With five roommates causing a ruckus every night, gift your friend the closest thing to that studio sanctuary they dream of with some high-quality noise cancelling earmuffs. "Earmuffs would help me feel as if no one is around me. I could just zone out and focus," Southwestern College senior Asad Abdi said. Save them from the chaos they're forced to deal with and give them a quiet headspace to focus on their craft.
Price: $11.99
50. Personal Art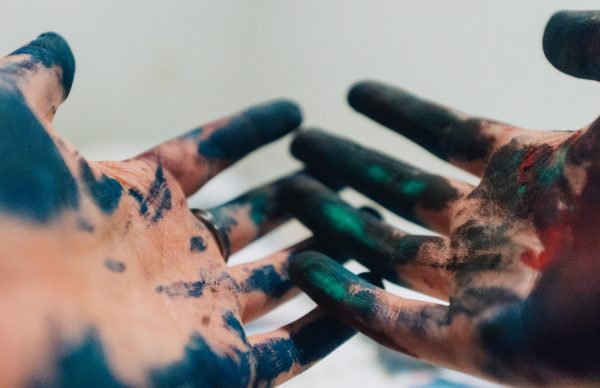 Show your friend how much you really care and put yourself in their shoes. Even if you're not an artist, lace up your creative kicks and make an art piece just for them. Artists appreciate the effort. "Creating an art piece: a painting, jewelry, or even a written piece, is creating a representation of your relationships in a more in-depth way. It makes such a beautiful, unique, and personal gift for your loved ones," San Diego State University sophomore Angelina Patti said. Artists strive to make an impact on people and seeing you put in the time and creativity to make something special for them may even spark some inspiration to keep creating.
Still feeling uninspired? Check out 10 more gifts to get those creative juices flowing.
Written by Monique Tudon

Price: $24.49
The great thing about Pixar, one of the thriving creative forces of the 21st century, includes the fact that they don't keep their creative processes all to themselves. In fact, wrapped neatly in giant aesthetically-pleasing books, they document progress ranging from storyboards, conceptual art and character design for nearly all their films. These 'Art of Pixar' book series offer a stimulating and unique experience for nearly any art jock. As your fellow artist flips through the pages full of color pallets, conceptual art, rough storyboard sketches and behind the scenes information, they'll consider these books a breath of fresh air to turn to during any creative stump.
Price: $23.99
For those who enjoy tracing, creating animated sequences or even need a little less strain for their eyes as they work, a portable Light Pad offers an essential gifting for your artist friend. When I took a traditional animation class this past summer, I used a similar device so that I could easily see my previous drawing and develop animations that moved realistically and smoothly. Besides this, a light pad can be used for various projects such as stenciling, calligraphy, embossing, scrapbooking, tattoo transferring, sewing projects, quilting, and so much more. This gift has all the quirks needed to take your artist's projects to the next level.
53. Lessons at the Animation Guild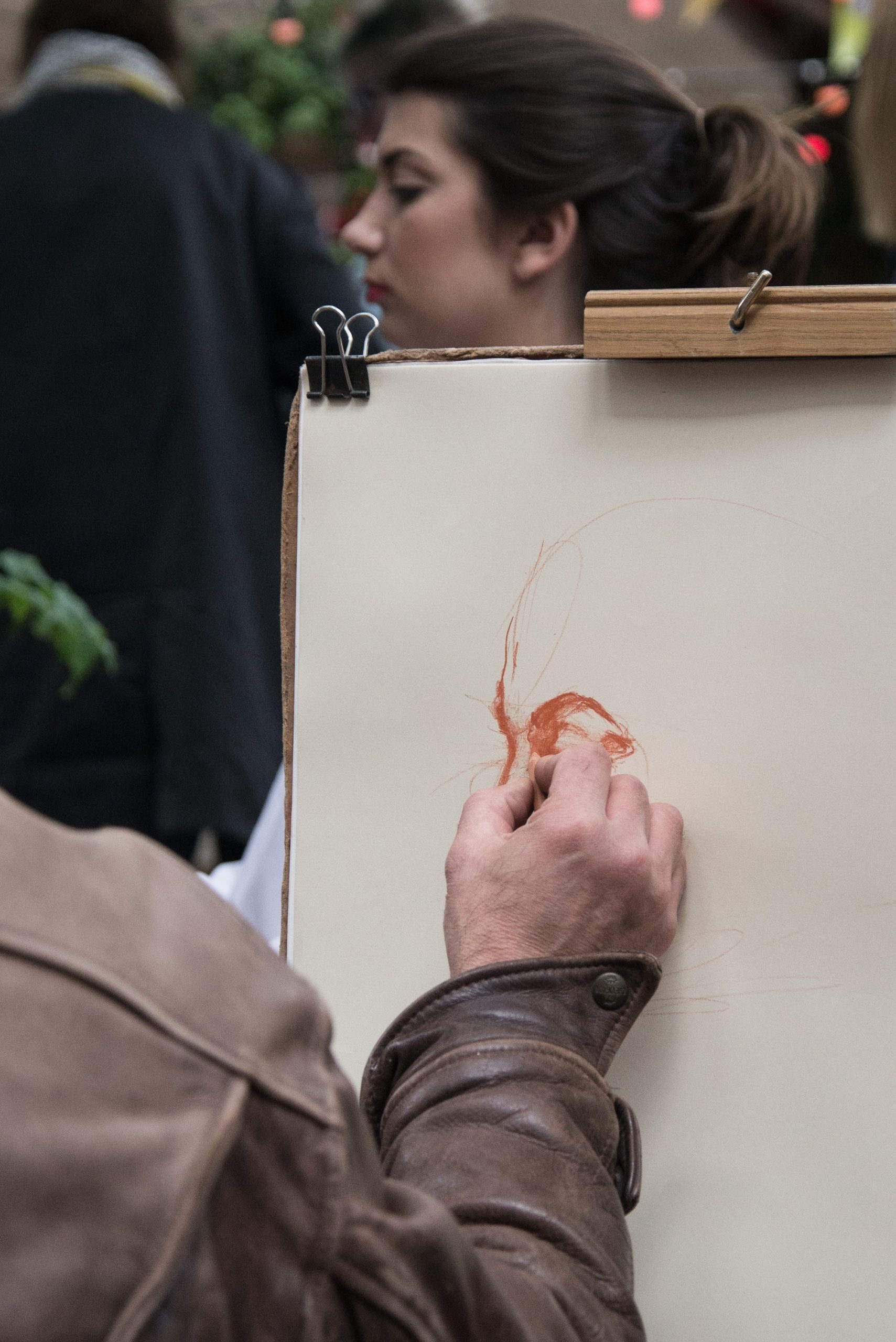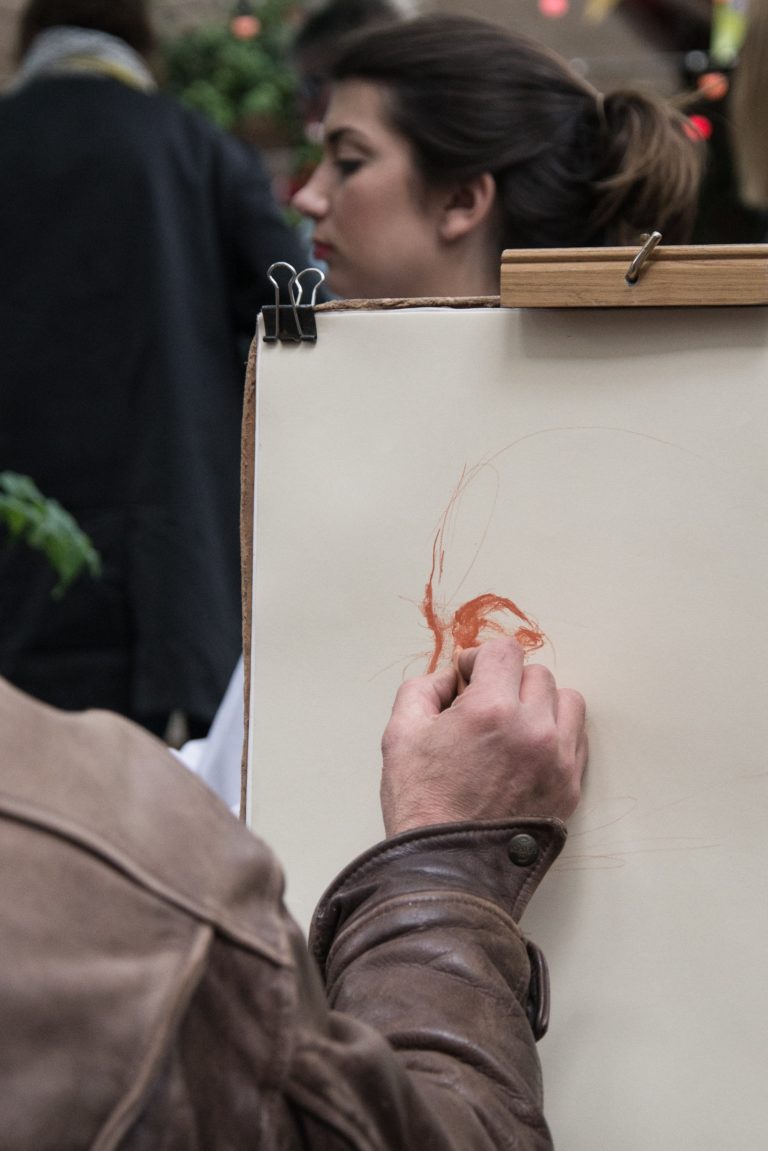 In any other profession or hobby, gifting someone lessons might subtly suggest that they need to improve at what they do. But to the humble artist, lessons and the chance to improve their craft seems like a dream come true. Formed in 1952, the Animation Guild makes up a union of artists, writers and technicians who not only stand up for the rights of artists, but dedicate themselves to educating potential artists as well. As a result, they offer classes such as figure drawing and painting, gesture drawing, character design, storyboard masterclasses, and a bundle of other specified classes taught by renowned professionals from Disney and the industry. Most excitedly, the classes charge very cheap compared to the skyrocketing prices in college and art schools. Lessons at the Animation Guild offer a sweet treat for any artist.

Price: $15.99
If artists can attest to loving one thing, the fact that they love to stand out through fashion and accessories rings true. These enameled pins from the Unemployed Philosophers Guild offer unique and entertaining pins of your favorite artists. From a Van Gogh pin with an ear pin, a Salvador Dali pin with a melting clock, or even a Bob Ross pin made complete with a "happy little tree" pin, these pins can become a collector's piece to anyone who knows and enjoys art. Your artist friend can sport these pins on their backpack, jean jacket, and hat as a way to declare their love and recognition for their all-time favorites.

Price: $22.99
As an artist myself, nothing is more annoying than lugging around art tools and art pads only to have some of my best work get ruined from being tossed in my backpack with other assignments. An art portfolio carryon or backpack offers the perfect solution to this problem, allowing your artist friend level up from messy amateur to organized professional. These waterproof bags have various compartments for supplies, both large and small, such as giant art pads, notepads, rulers, pens, paint bottles, and even a portfolio folder. For any artist that wants to take their art more seriously or who simply wants to get organized, a portfolio carryon/backpack makes the perfect gift.
56. Blick Art Store Gift card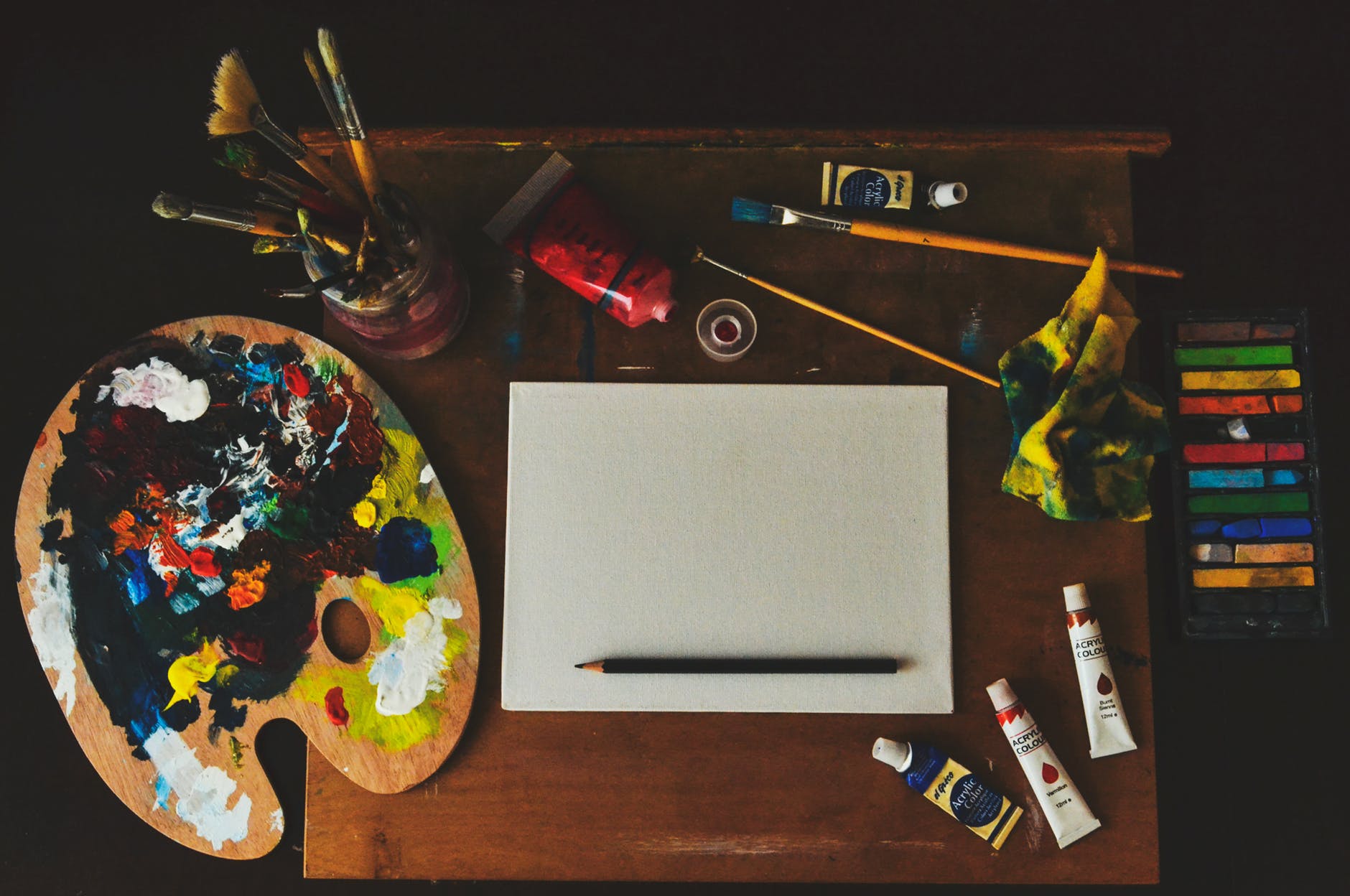 Price: varies
You know how Toys-R-Us identifies as the holy grail for any kid, just like Barnes and Noble and Apple Store for any book lover or tech maniac? Well, you can assume the same thing about the Blick Art Materials Store for any artist. Offering quality and even-priced materials ranging from copic markers, acrylic and oil paints, notepads, easels and so much more, a gift card for this store proves as yet another dream come true for an artist. A gift card takes the weight off your shoulders as you remain unsure if your fellow artists will love your gift, and places the freedom and creativity all in their hands.

Price: $20.00
A tote bag sporting graphics of your own choosing offers a great gift for any college student, not just artists. Specifically, this tote bag appears unique in that it displays portraits of some of the best poets and authors with tattoos, spiked hair and nose rings implying that they have gone punk. How entertaining and cool does that sound? After all, at the heart of every artist lies a punk soul wanting to separate themselves from society and create their own path. More so, a tote bag offers an essential gift used for carrying groceries, school materials, or just acting as a carry on to your Friday night concerts and poetry readings.
Price: $13.60
In the day and age of VSCO girls, thrifting, and zodiac sign conversations, another popular fad is oracle cards, in which people enjoy seeking fortune and advice from cards. A craft and hobby in itself, Oracle cards come in all shapes and sizes, with illustrative designs that have surely come from the detailed efforts of other artists. This specific oracle set comes with illustrations and portraits of your favorite artists. Displaying artists like Picasso, Van Gogh, and Monet with appropriate sayings, this deck of cards would be considered a great find for any fellow artist in your life.
59. ArtSnacks Subscription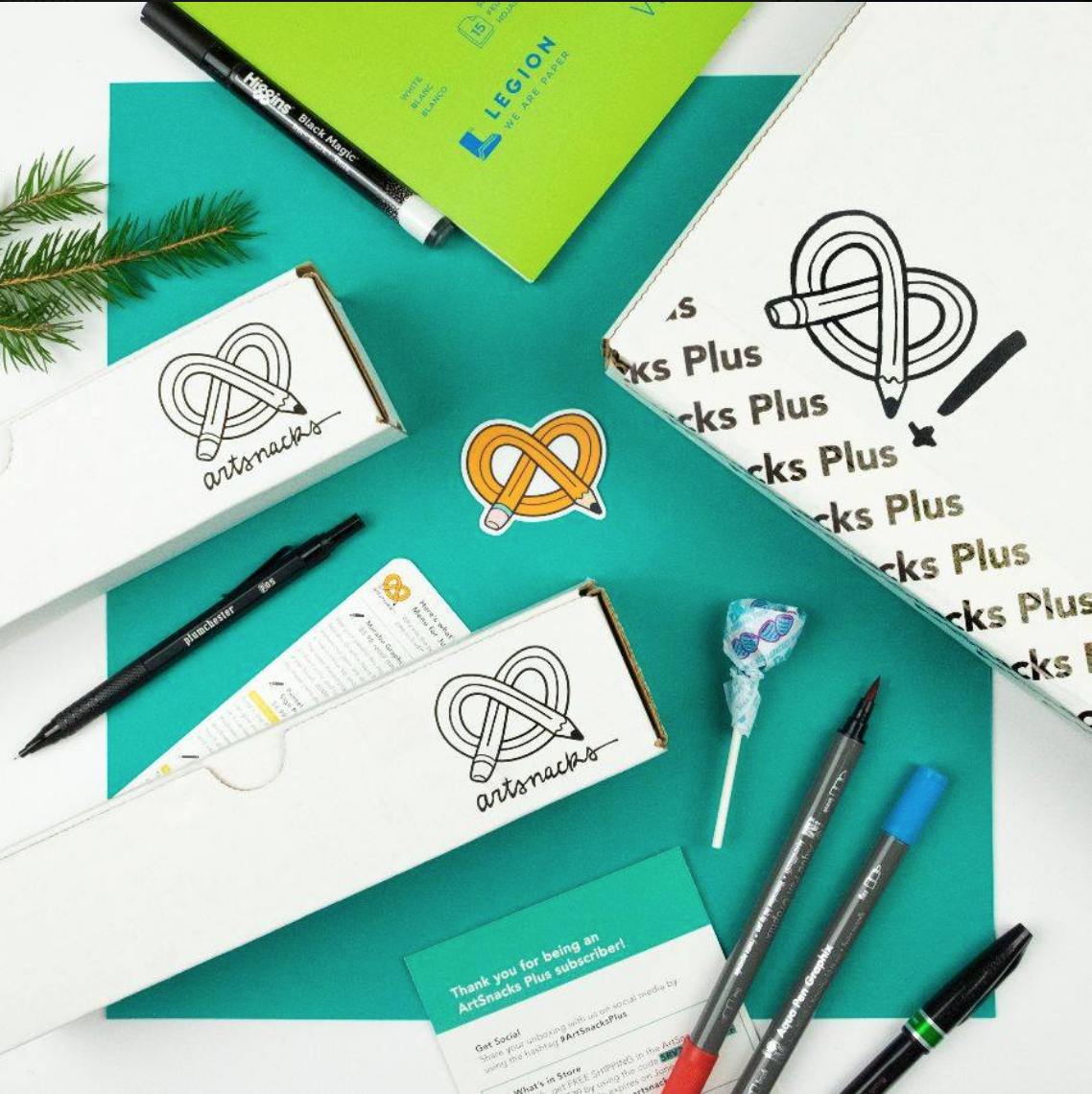 Price: $24/month or $39/month
The art world spans far and wide, meaning that there exists a number of art products and materials that your fellow artist likely hasn't had the opportunity to try yet. An ArtSnacks subscription offers the perfect chance for an artist to widen their margins and sample new art materials monthly. The subscription itself includes pens, markers, paint and other new products as samples for your artists to experiment and try for themselves. If they like it, score! A new item has just been added to your artist's most favorite collection of art materials. An ArtSnacks subscription offers the perfect gift to turn to when all other gifts fail to satisfy.
60. Artist Series Mug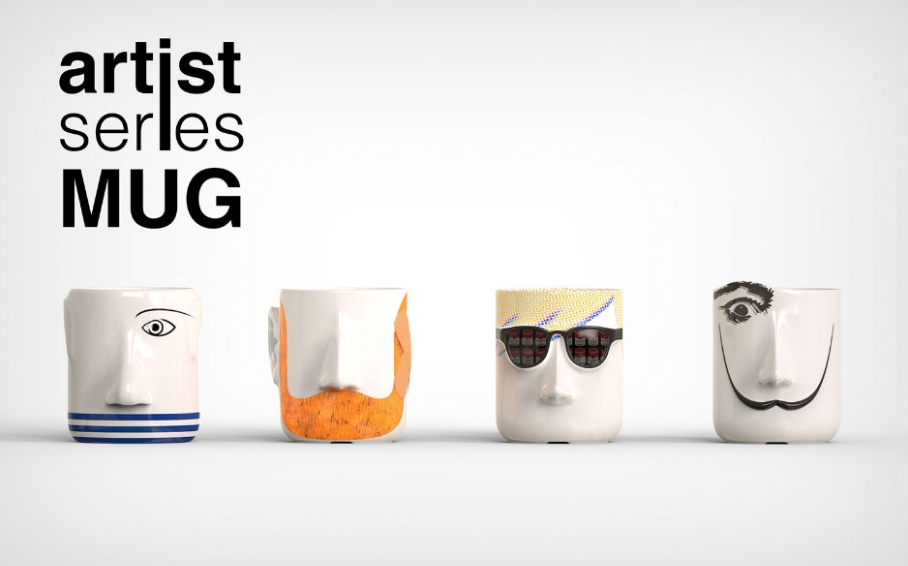 Price: $24.99
Not sure what kind of medium your artist works with or the specific types of art that interest them? Have no fear, because a handy mug can save the day. Let's face it. Mugs offer one of the most creative ways to carry our drinks and at the same time flash our interests, summer vacations spots, and alma maters. But a mug modeled after some of the world's greatest artists can take your mug experience to a whole different level. Any fellow artist would just love to receive this trendy and unique mug featuring their favorite artist for the sake of sipping their tea while they work or even using to hold their paint water. Some of the most original mugs I've seen, these mugs can make any fellow artist's day better.
*Updated on December 7, 2017 by Marin McCall to include gifts 22-45.
**Updated on December 6, 2018 by Bilal Mohamed to include gifts 46-50.
***Updated on December 6, 2019 by Monique Tudon to include gifts 47-60.