Also by Lillian Nagengast
With Halloween just around the corner, you and bae are hot on the search for that killer couple's costume. Even though you may be a little short on time, don't resort to the cliché sexy cop  and criminal costumes. Check out 15 out-of-the-box ideas that will ensure first place in the costume contest, while also maintaining that cute couple vibe.
1. Google Maps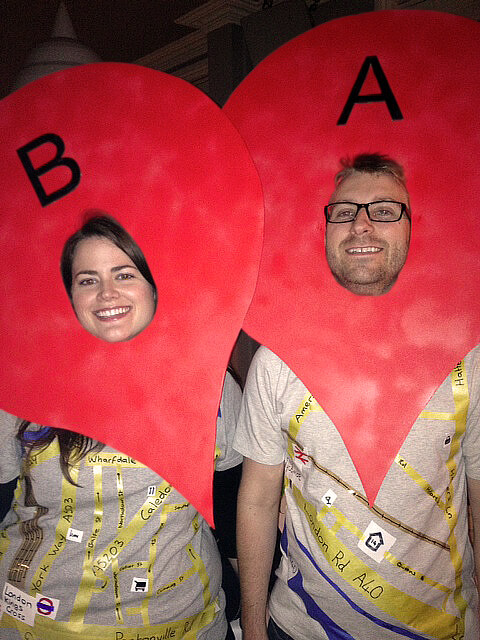 A journey isn't a journey without a starting location and an ending destination. Your relationship is a journey and without each other, there would be no relationship. You complete each other, just like two points on a map complete an adventure. For this costume, you'll need a gray shirt, yellow duct tape, red construction paper and a black marker.
2. Ash and Pikachu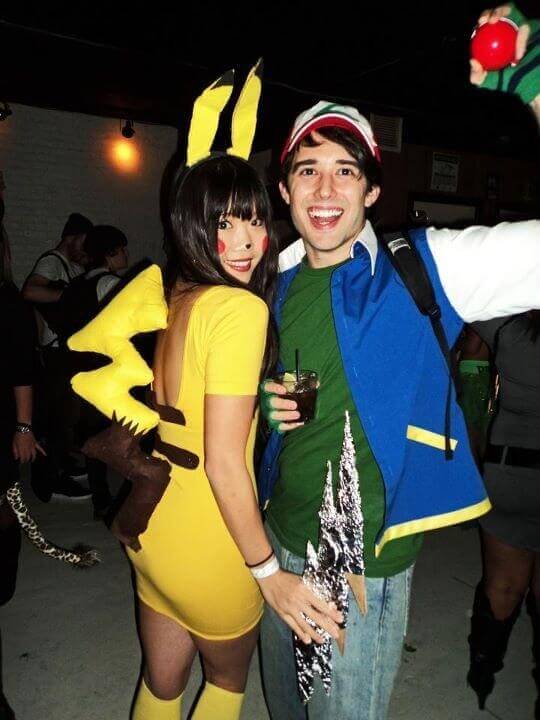 Everyone went through a Pokémon phase—and if you're anything like me, it was more of an obsession. For this cute costume, you'll need a yellow shirt, black shorts and a red lip or suspenders for Pikachu. For Ash, rep a navy polo and a hat painted with the Pokémon logo. You'll be sure to catch 'em all with this look.
3. Old couple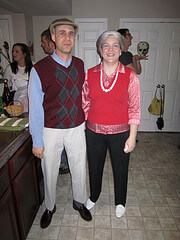 Your love will last forever, even well into old age when you develop aching backs and gray hairs of wisdom. Give your friends a flash-forward into the future and show them how cute your relationship will still be, even when you qualify for the early bird special at every restaurant. Dig deep into your grandparents' closets for these costumes, searching for any suspenders, canes, wigs, dentures, pearls or sweater vests.
4. Risky Business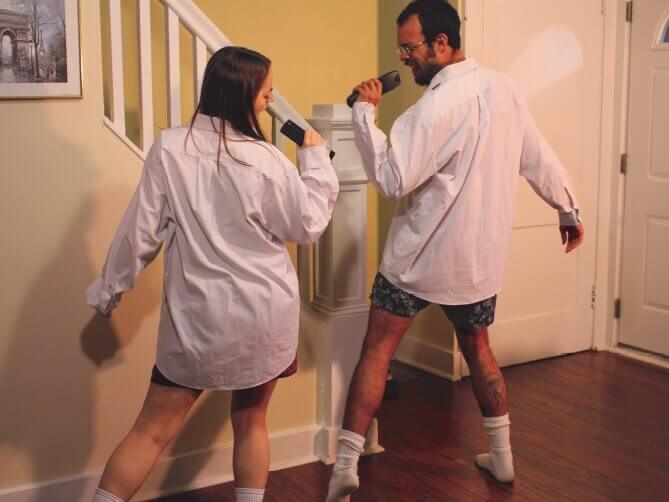 This look is so simple because you won't need to buy a single thing to rock it. Both members of the duo can wear a white button-down, sunglasses, boxers and white socks. Boom: You're Tom Cruise.
5. Paula Deen and Butter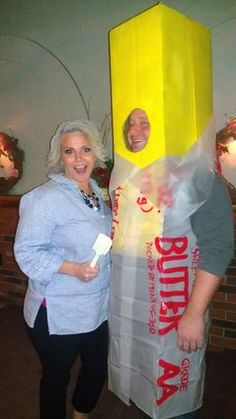 Paula Dean can't seem to make one dish without the excessive use of butter. She and butter are inseparable, just like you and your significant other. You guys complement and bring out the best in each other, similar to how butter enhances the flavor of everything (according to Paula). To emulate Paula's signature style, find a blue button up shirt, black pants, a gray wig and some large flashy accessories. To be her butter stick, cover a long cardboard box in yellow construction paper and label it as "Butter."
6. Dora and Diego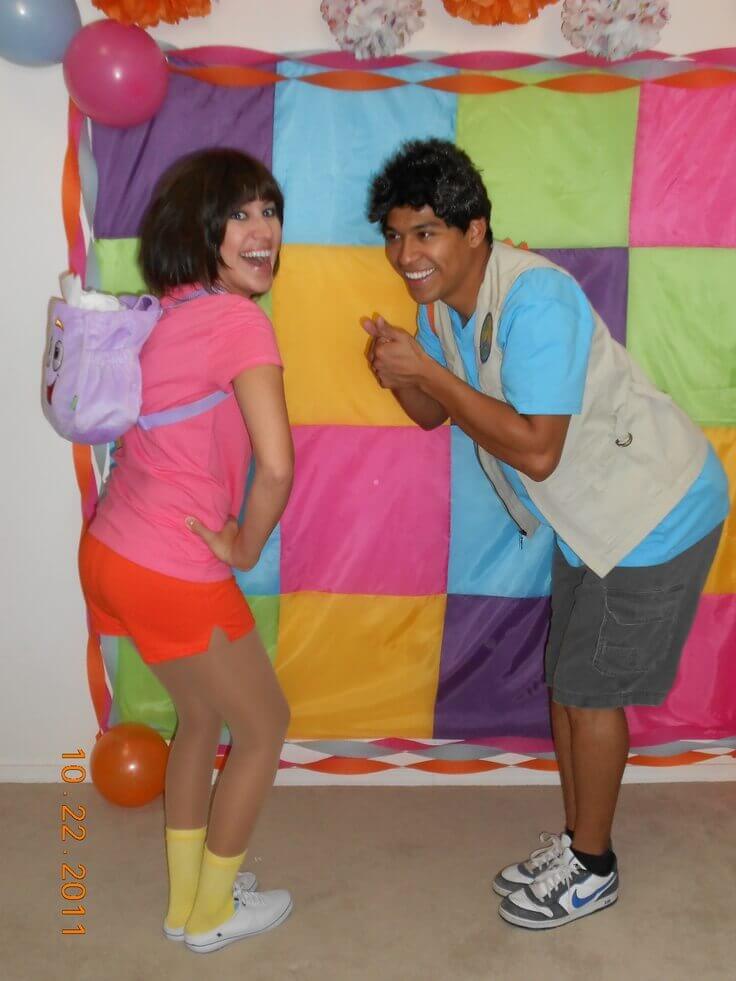 Rep your favorite childhood cartoon characters this Halloween with these brightly-colored looks. All you need are backpacks and pink and blue clothing like Dora and Diego, which is likely sitting in your closet. This look will let you bring out your inner child and won't empty your wallet. Bonus: If people don't get it, all you need to say is "Swiper no swiping."
7. Tommy and Chuckie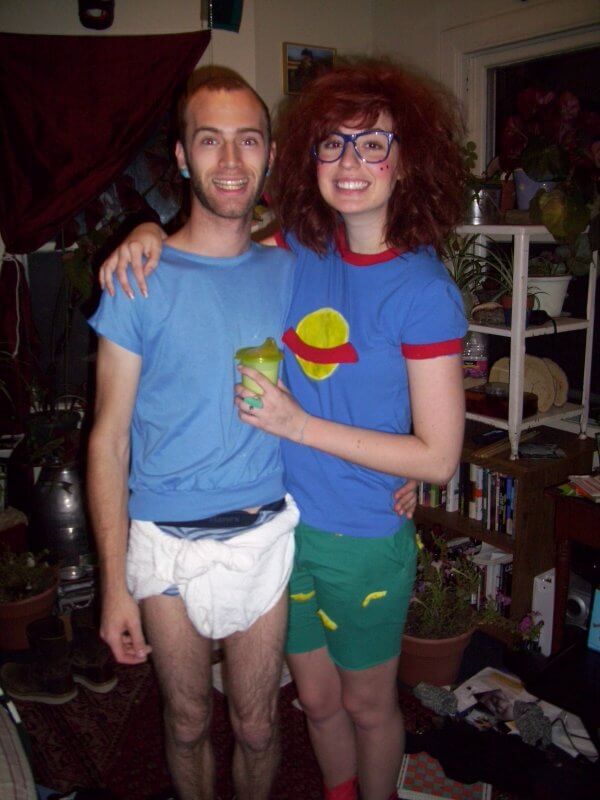 Throwing it back to the 90's during the prime of our youth, Tommy and Chuckie from Nickelodeon's Rugrats were the best of friends, just like you and your significant other. You share every aspect of your lives together, whether it's secrets, food or even diapers (hopefully not). The perfect Tommy costume requires a light blue shirt and a white towel fashioned into a cloth diaper. The Chuckie costume will need a red curly wig, red high-top sneakers, Chuckie's signature blue shirt and green shorts (details can be cut out of felt and pinned on) and a pair of purple eyeglasses.
8. Dalmatian and Firefighter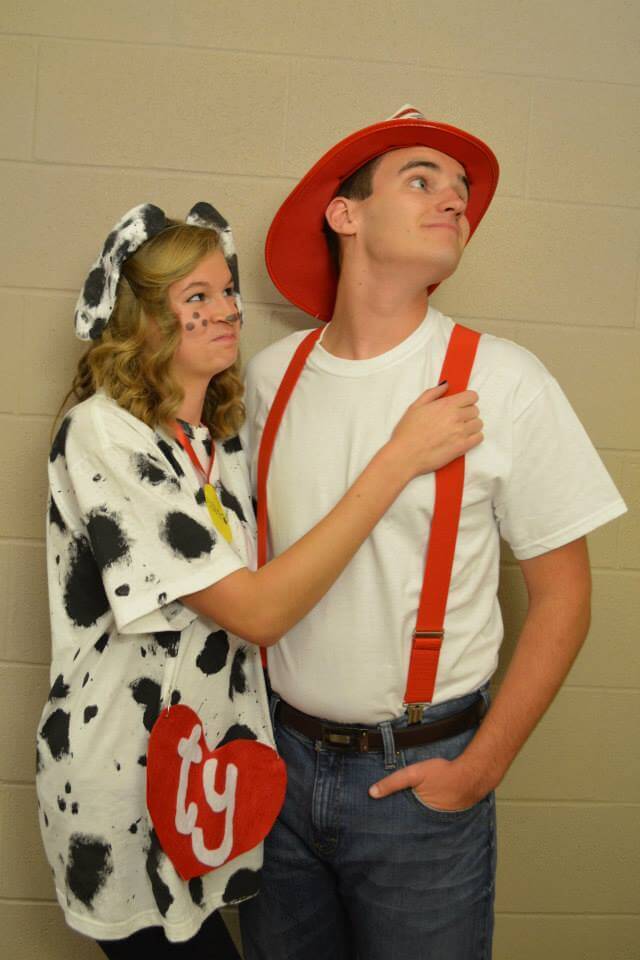 Keep it modest and keep it cute. For the girl, simply paint black spots on a cheap white dress and pair it with tights and heels. For the guy, wear black pants, red suspenders and a plastic fireman hat. You'll surely be the hottest couple there.
9. Tetris Pieces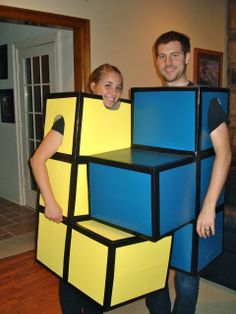 You and your significant other fit together so perfectly. What better way to show that than through a classic game that everybody knows and loves? This creative costume idea will give you the high score in the costume contest and your friends will be wishing that they came up with the idea first. You'll only need some cardboard boxes, colored construction paper and duct tape to hold it all together. Make sure the costume pieces actually fit together because if not, game over, you noob.
10. Cosmo and Wanda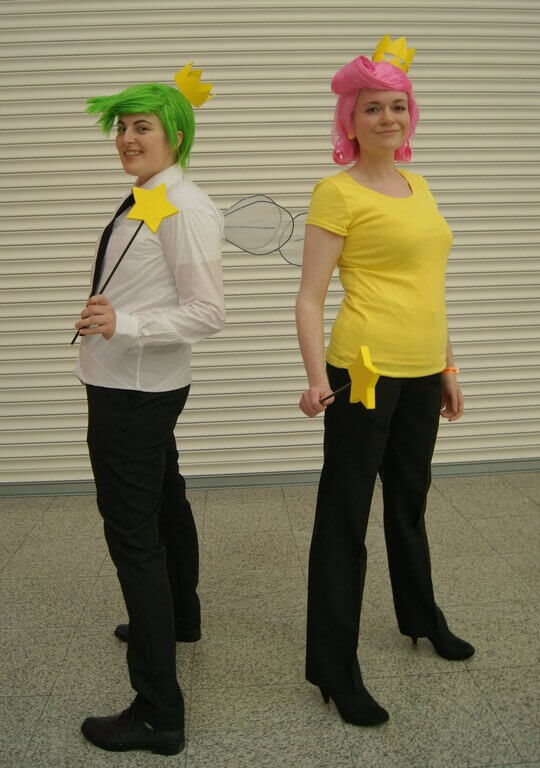 Bring back everyone's fav fairly odd couple with this simple costume. For Wanda, spray your hair pink and wear a yellow shirt. The guy should spray his hair green and wear a white button down with a black tie. Whip up some crowns with paper and wire, get a black stick for the wand and you're set. Go grant some wishes.
11. S'mores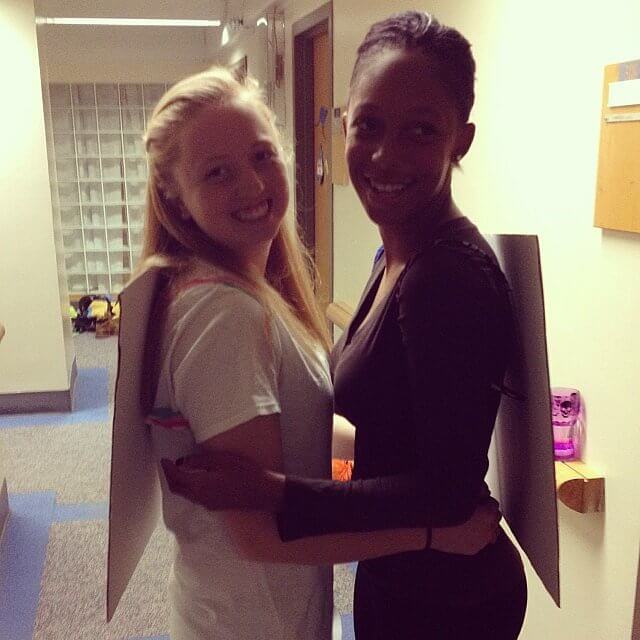 Just like the delicious snack that so many people enjoy, you guys are the couple that everyone loves. Your friends can't imagine you apart because they always see you together, just like s'mores. It just makes sense that you're two parts of a whole. To dress up as this toasty campfire treat, you and your partner just need to wear all white and all brown outfits to represent the chocolate and marshmallow, and attach pieces of cardboard on your backs to be the graham crackers.
12. Paulie and Juno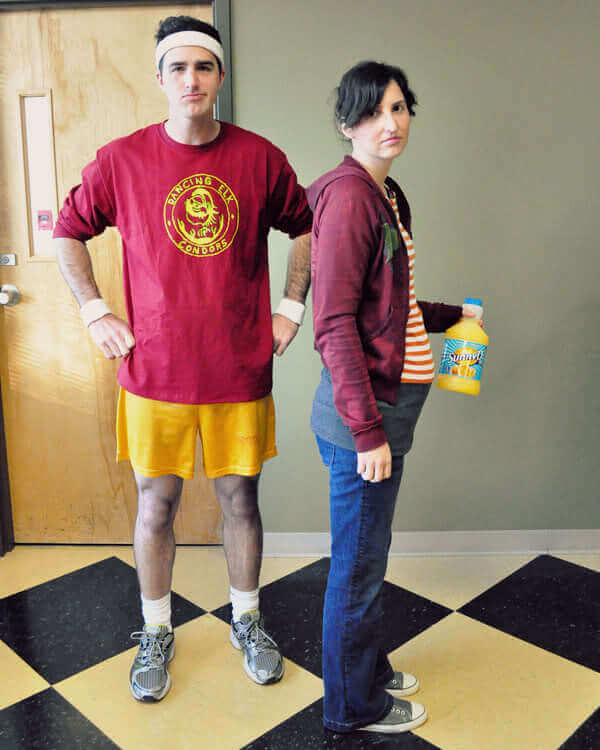 Channel your inner attitude and apathy for everyone's favorite teen parents. For Juno, you'll need a striped shirt, some baggy jeans, a plaid skirt, sneakers, a hoodie and of course some type of preggo padding to put under your shirt. The guy should wear some sweatbands, a maroon colored shirt and short-shorts.
13. Thing 1 and Thing 2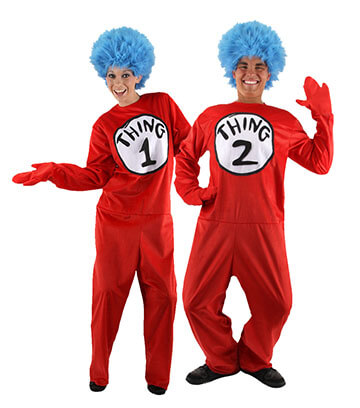 You two are always up to mischief when you're together. Your sense of humor and outgoing personalities ensure that you have fun every time you hang out, even though it may get you in trouble sometimes. Bonus points if you have a cat…in a hat. To dress up as these mischievous creatures, buy blue wigs and Thing 1 and Thing 2 onesies. If the latter is more difficult to find, be creative and make your own with red shirts and markers.
14. Starbucks Barista and Drink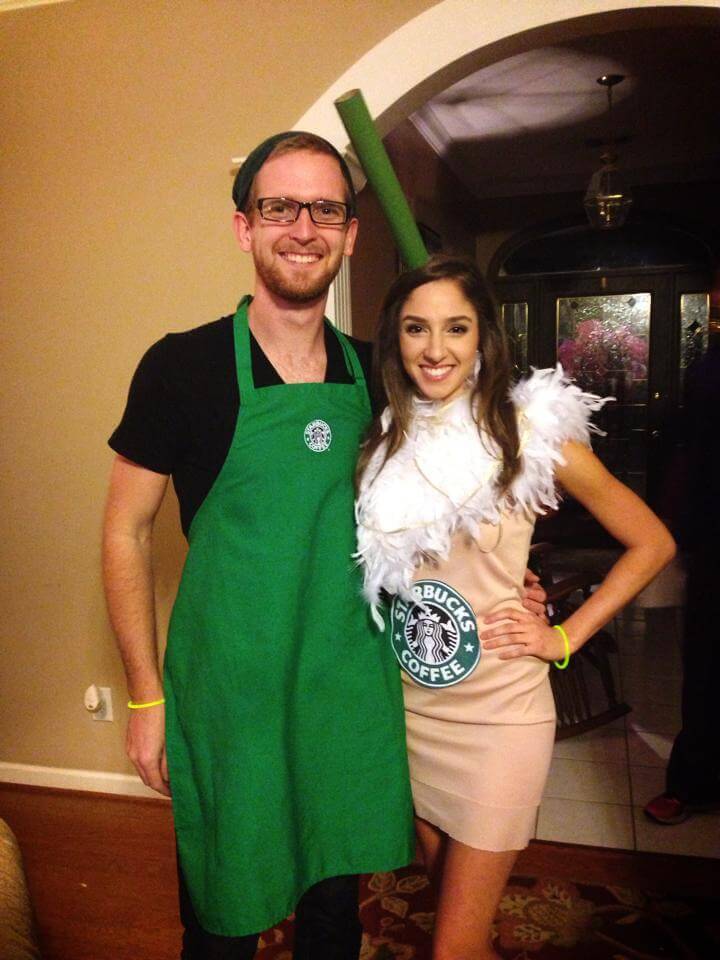 Do you and bae spend way too much time (and money) on all-nighter fuel? Go out as America's favorite drink and the hero who makes it. For the coffee itself, make a Starbucks logo out of paper and tape it to a nude or tan shirt. For the foam, use tissue paper and scrunch it into a crown on your head. Kudos if you land an actual Starbucks apron for the barista costume, but if not, buy a cheap apron, tape on a logo and pair it with a pair of black pants. 
15. Bonnie and Clyde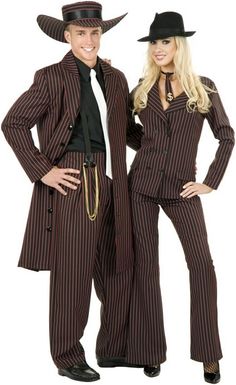 You stole each other's hearts, so why not steal the costume contest as well? Although Bonnie and Clyde can break the law, they won't break each other's hearts. This atypical costume might cause the fashion police to tell you to "Stop…in the name of love," so beware of getting yourself arrested for having an awesome taste in costumes. Dressing up as this dangerous duo will require pinstripe suits, fedoras, neckties and a desire for living life on the edge.