Does the thought of carving pumpkins send shivers down your spine? While your affinity for this holiday may never wear away, the same can't be said for the funds in your account. As tuition prices continue to climb, Halloween-loving college students find their wallets filled with cobwebs instead of cash. What if I told you that you can dress up without spending a pretty penny? Dazzle your friends and frighten your foes with these 10 scarily simple DIY college Halloween costumes.
Check out 10 college Halloween costumes you don't even need to head to the store for.
1. Wednesday Addams
Scowling on Instagram in September won't earn you many likes. Frame that frown with some black lipstick, pigtail braids and a spooky filter in October, and you become #halloweengoals. Embracing the littlest and cleverest Addams' pessimistic charm requires only minimal effort. You'll need some black tights and shoes, a white collared shirt and some witchy (but deceptively simple) makeup to complete the look. Snap to it.
Still not sure what to wear? Keep reading for 10 more College Halloween Costumes For a #LIT Halloweekend
Written by Phoebe Bain.
Ghosts and ghouls beware—Halloween lurks right around the corner. And speaking of ghosts, the old sheet-ghost costume feels a little dated, don't ya think? On the other hand, that costume also does not cost any money or time. Halloween and deciding whether or not to dress up as a sheet ghost yet again might be a first world problem, but we are here to solve it anyways.
1. Kim Possible (and Shego?)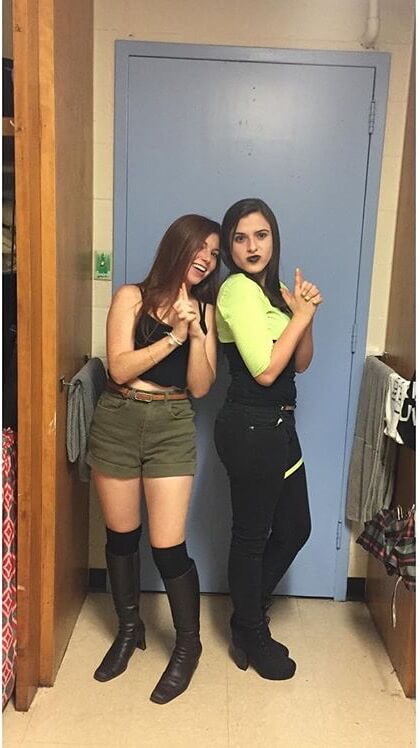 My best friend from freshman year has red hair and I have dark hair, so this costume was easy AF. So if you have anything close to red hair, or just want to pretend Kim Possible got a hip brunette dye job, whip out your best black tank and cargo pants. "I have green cargo pants and a black crop top, so I've been thinking about doing that. Also download KP's famous ringtone (beep-boop-BE-BOOP) to cinch the aesthetic!" said James Madison junior Rachel Dumene. If you and your girl are looking for a duo costume, black clothes and lime green accents are all you'll need (or at least it worked for my bestie and me, see above).
2. A Ceiling Fan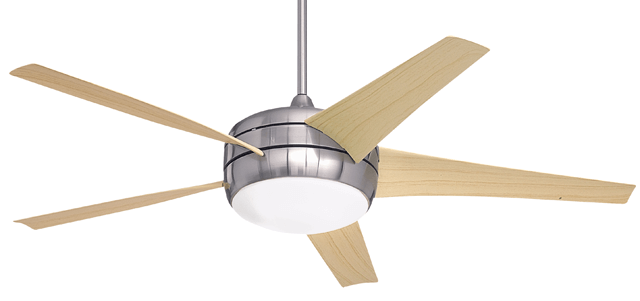 LOL, puns! Just put on your regular clothes (preferably something simple so as not to detract from your witty goal here), write "go ceilings!" on a piece of paper, and there you go. You'll have a perfect costume that also serves as a conversation starter and a few points on your pun-meter. "GO CEILINGS!" Boulder senior Fred Bower said. Well put Fred, well put.
3. The Moon and Stars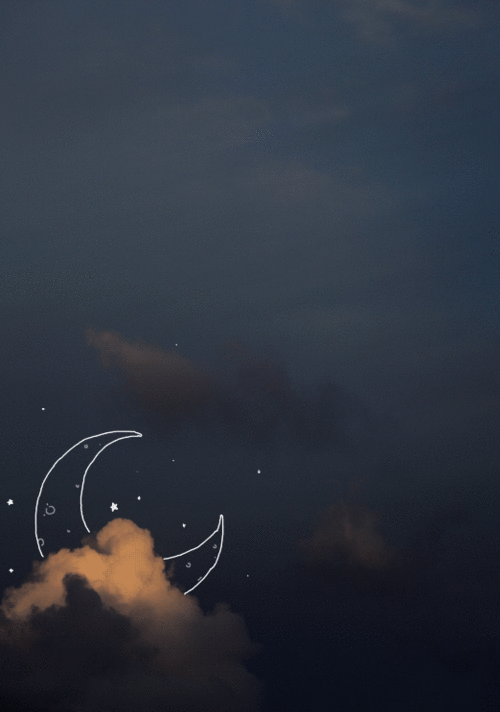 "Freshman year I saw some girls cut up paper plates into the shape of the moon for one of them and stars for the other and put them all over their body," said Dumene. Wear a silver or white outfit for the stars and black for the moon to make your costume stand out…or shine like a star? Turns out Halloween = lots of bad puns.
4.  A Frat Boy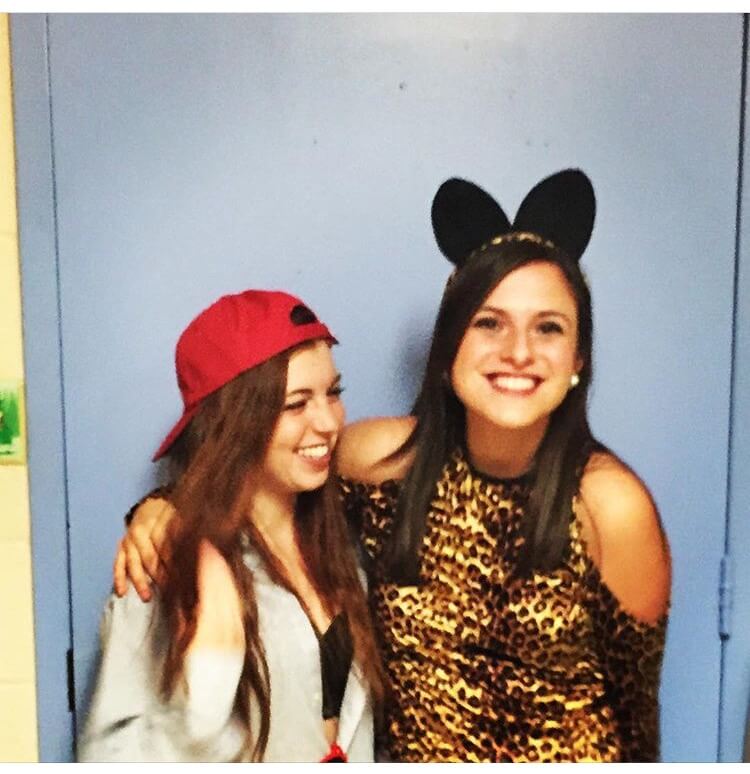 This one always seems like a crowd pleaser at frat parties. Grab a big button up shirt from a guy on your hall, borrow some boat shoes from your token preppy friend, stick your favorite baseball hat on backwards and you will be good to go. Carry around a red solo cup all night and ask people "who do you know here?" for the full look.
5. Lumberjack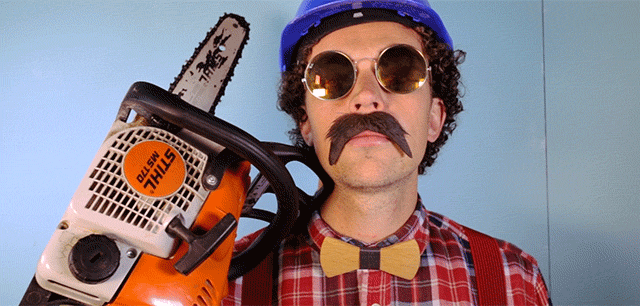 "All you need for this costume is a flannel, overalls and combat boots. Cut your Halloween costume competition down a size!" Dumene said. This costume gets major bonus points for being not only accessible but also warm. So many Halloween costumes leave you shivering while in line to get into the club, but the lumberjack would never do that to you.
6. Smartie Pants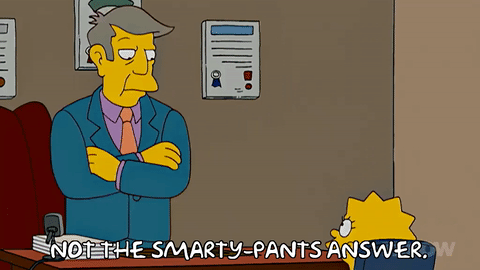 Buy some smarties (the candy), then tape them to your pants. It does not get much easier than that. Add a pair of Warby Parkers if you want something extra.

"People love galaxy stuff!" George Mason University junior Caroline Melvin said. Remember three years ago when galaxy print was really popular? If you do not still have some of that laying around in your closet, surely one of your trendy friends does. Bonus points if you put on a headband and attach antennas to it in the form of pipe cleaners.
8. Jersey Shore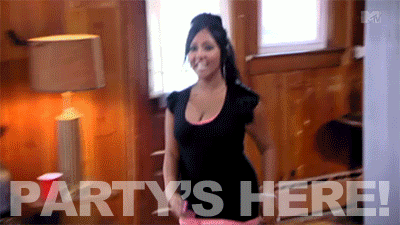 Name a single person who does not wish this show was still on, and I will show you a person with no taste. JK, but for real, it did serve as easy costume inspo. "Wear a tight dress (preferably cheetah print) and tease your hair up really high," Melvin said. If you want people to genuinely mistake you for Snooki, keep asking where the beach is while you are on the beach.
9. Taylor Swift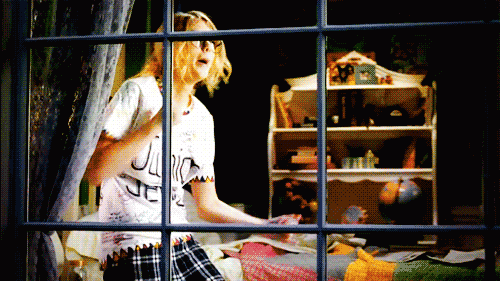 Remember that infamous shirt Taylor wore in the You Belong With Me video? It said "Junior Jewels" and had all her friends names written in sharpie on it. Turns out, that shirt seems really easy to make. Do some easy DIY with a white t-shirt and just like that, you dressed up as one of the most talked about celebrities of the year with a hint of nostalgia.
10. Audrey Hepburn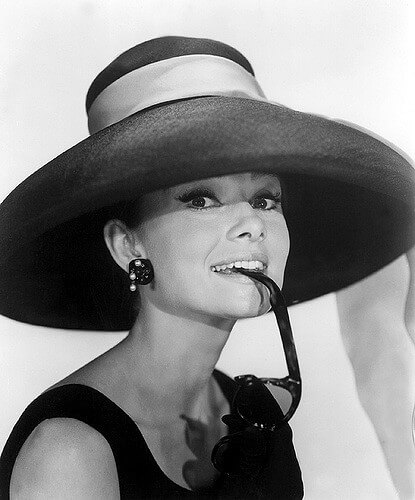 "Audrey Hepburn. You wear a black dress and put your hair up and get a straw to look like a fake cigarette," said Melvin. This costume will not only make you the classiest person at your Halloween party, but also serves as a great litmus test for guys trying to flirt with you. If they ask, "Who's Audrey Hepburn?" then you know to walk away. So much time saving here.
Check out 10 more easy DIY costumes that you can actually afford
Written by Samantha Spotswood
11. Cereal Killer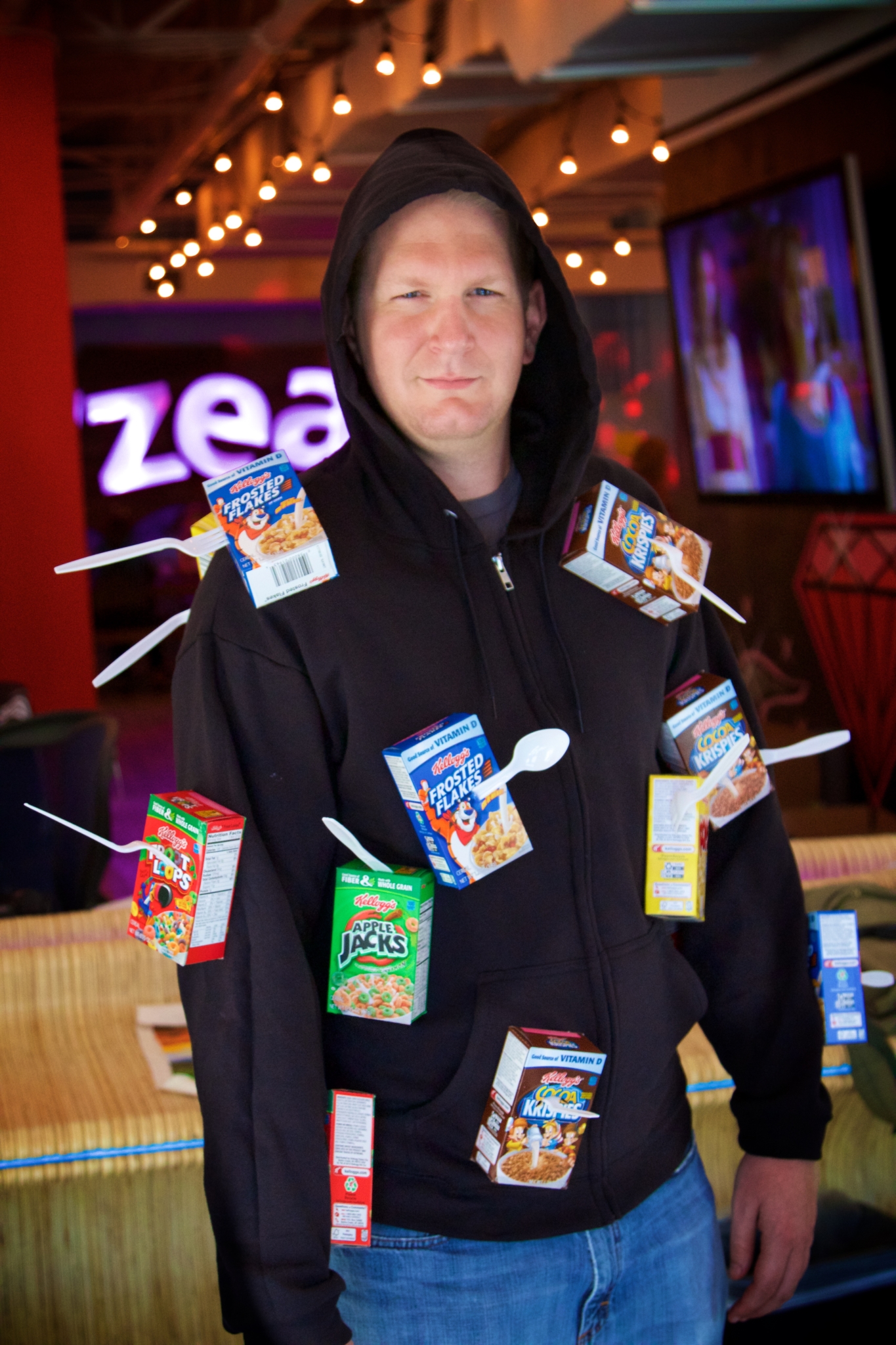 Your search for the easiest DIY Halloween costume has come to a close. Grab those empty Lucky Charms boxes collecting dust in your dorm and recycle them into the perfect outfit. "I was once a cereal killer for Halloween. I dressed up with taping cereal boxes on me," University of California, Los Angeles junior Ashish Sareen said. This clever costume will help you kill it on the dance floor at your local Halloween party, in a lighthearted way of course.
12. Arthur Meme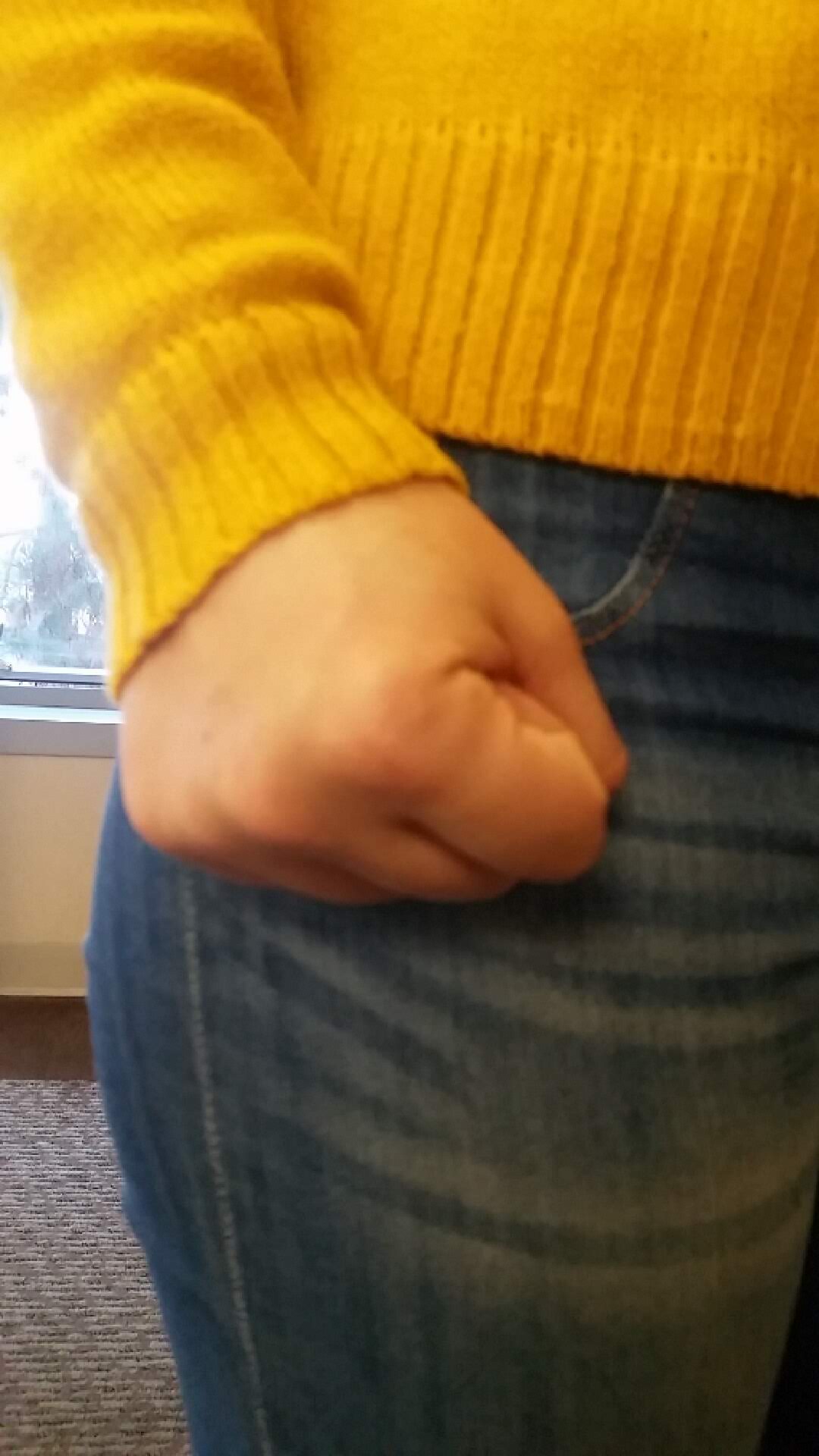 Who hasn't related to the iconic Arthur fist meme? Perhaps one of the simplest costumes to create, the Arthur Meme costume will impress any fellow partygoer. Simply adorn yourself in a yellow sweater or long sleeve, some blue jeans, and white shoes. Make sure you ball your fist in frustration and leave it hanging by your side.
13. Bob Ross
Get a little crazy with a Bob Ross costume. "Bob Ross is the best guy for stress relief, so it'd be cool to dress as him," UCLA junior Griffin Carter said. You will need a curly wig, a long-sleeved collared shirt, blue jeans, a canvas and a paintbrush. Extra points if you paint the canvas with a masterpiece. Make sure to speak in a soft tone and reassure your friends that, "There are no mistakes, just happy accidents."
14. Leslie Knope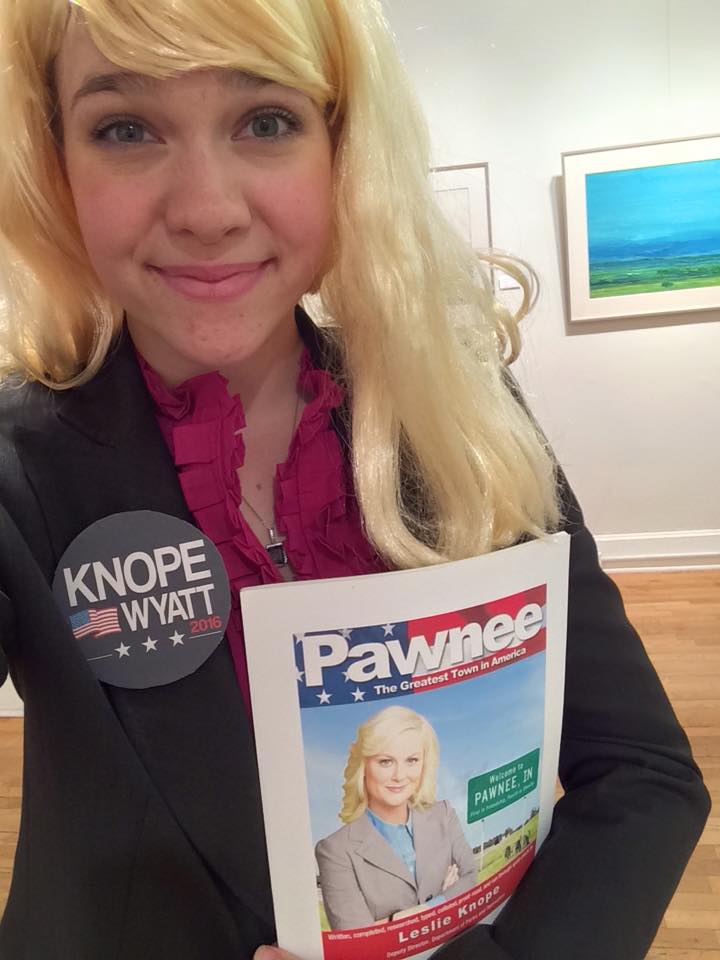 If you love comedy, consider dressing up as a character from your favorite TV show, such as Leslie Knope from Parks and Recreation. Grab your blazer and dress pants from the back of your closet, and create your own "Knope 2020" sticker to put on your lapel. Add an extra edge to your costume by acting as optimistic as humanly possible. You can also go as the half perm Leslie Knope—simply curl half of your hair and leave the rest straight.
15. Dwight Schrute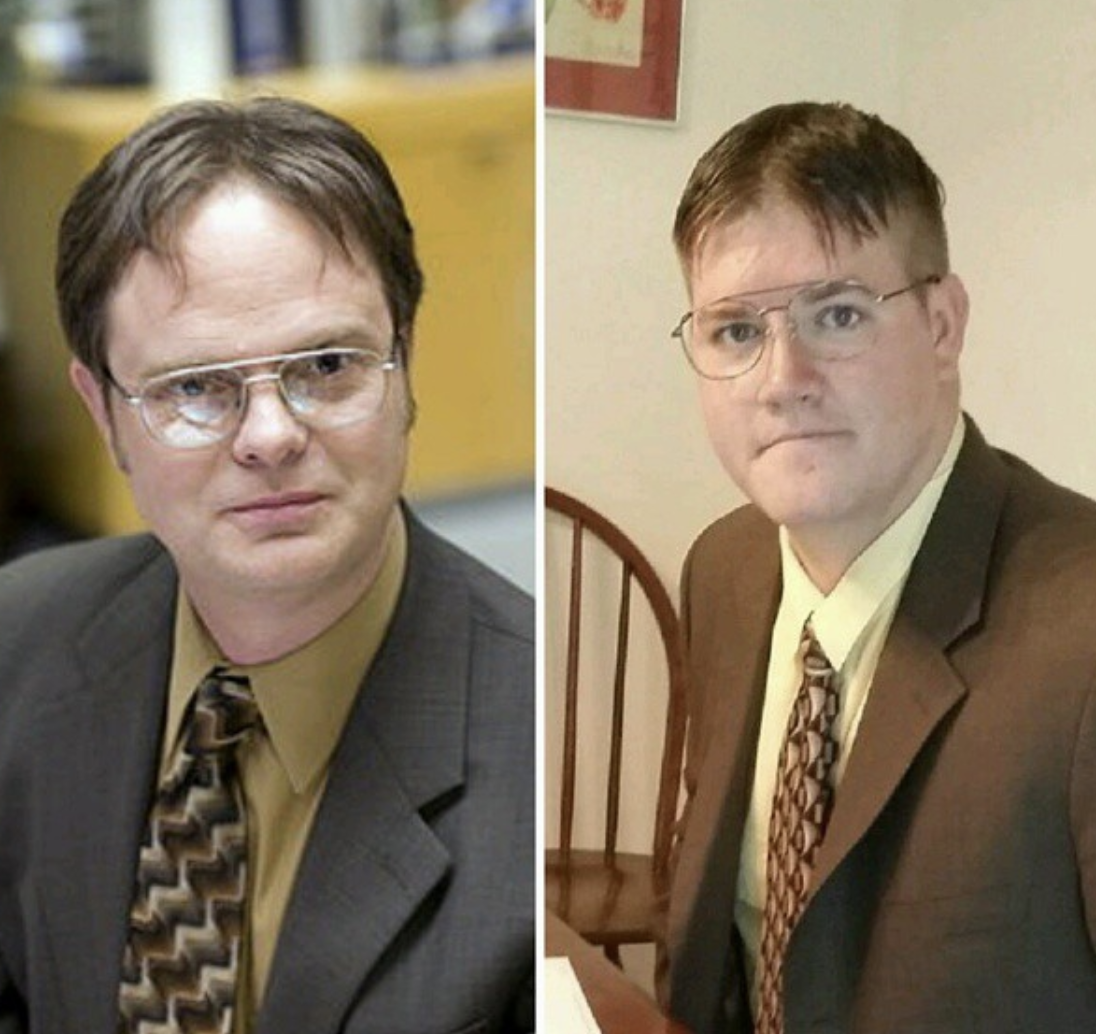 If you prefer The Office over Parks and Recreation, Dwight Schrute serves as the perfect alternative to dressing as a TV character. "It's really easy to dress as Dwight, but it's such a great costume because who doesn't love Dwight?" UCLA sophomore Christina Ly said. Be sure to wear khakis, a tacky dress shirt with an equally obnoxious tie and your nerdiest aviator glasses. Part your hair in the middle of your head and continually recite the mantra, "Bears. Beets. Battlestar Galactica." Easy as that, you'll have your friends putting your supplies in Jello.
16. Your favorite Harry Potter character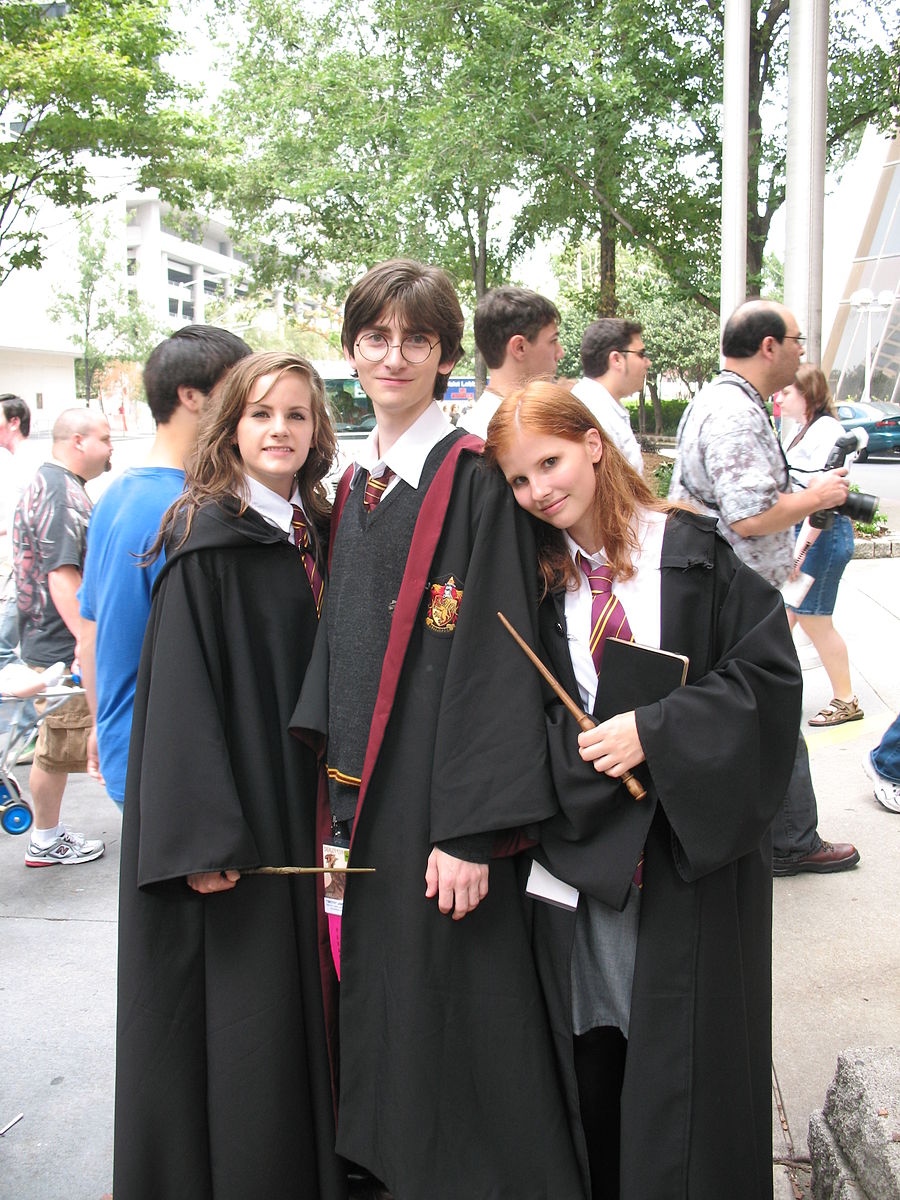 Fly back to your childhood by dressing as your favorite Harry Potter character. Dress in a black skirt or some black pants, a button up and a clip-on tie. "I was Cho from Harry Potter last year. Instead of a robe, I just used my graduation gown," UCLA junior Alice Ho said. What better way to have a magical night than transforming into a wizard or witch?
17. Evil Kermit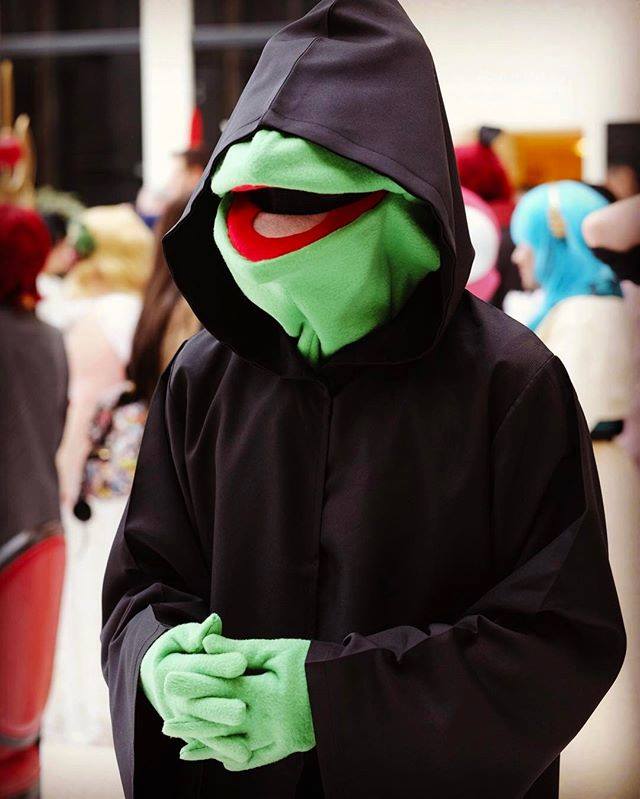 Perhaps one of the most renowned memes on the internet, the Evil Kermit has penetrated the psyches of college students across the nation. Emulate the iconic meme by wearing a black hoodie and a makeshift sign of your own choosing that represents the toxic behavior your inner self sometimes drives you to do. This costume can easily turn into a couple's costume with the other half of the party dressing as Good Kermit.
18. Jake from State Farm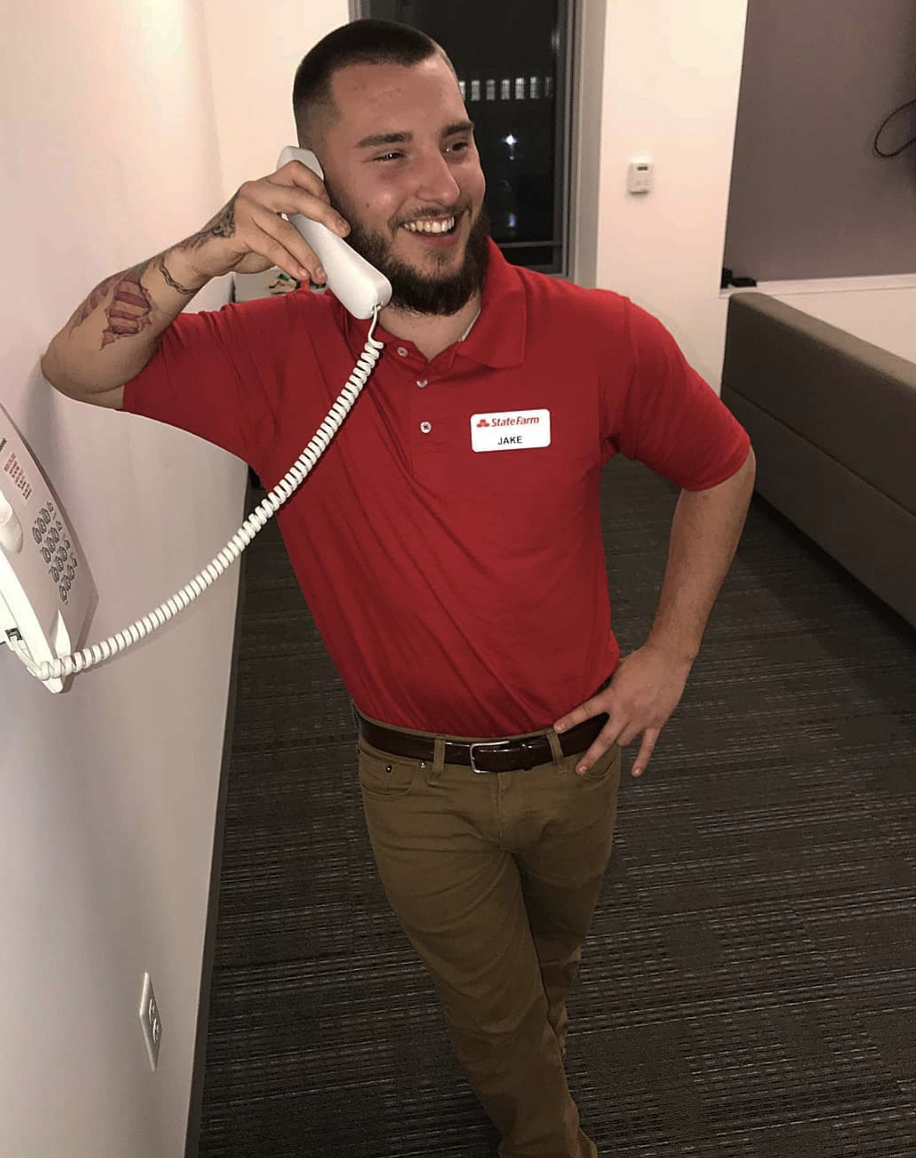 If the thought of your Halloween costume keeps you up at night, consider dressing as the infamous Jake from State Farm. "Jake from State Farm would be a fun costume because it's a really funny commercial and it has become a popular joke," UCLA junior Welly Wang said. As Jake from State Farm, you must wear, uh, khakis. Pair your khakis with a red polo shirt and an old telephone. As Jake, you'll surely get college students asking you how they can save on their insurance.
19. Flo from Progressive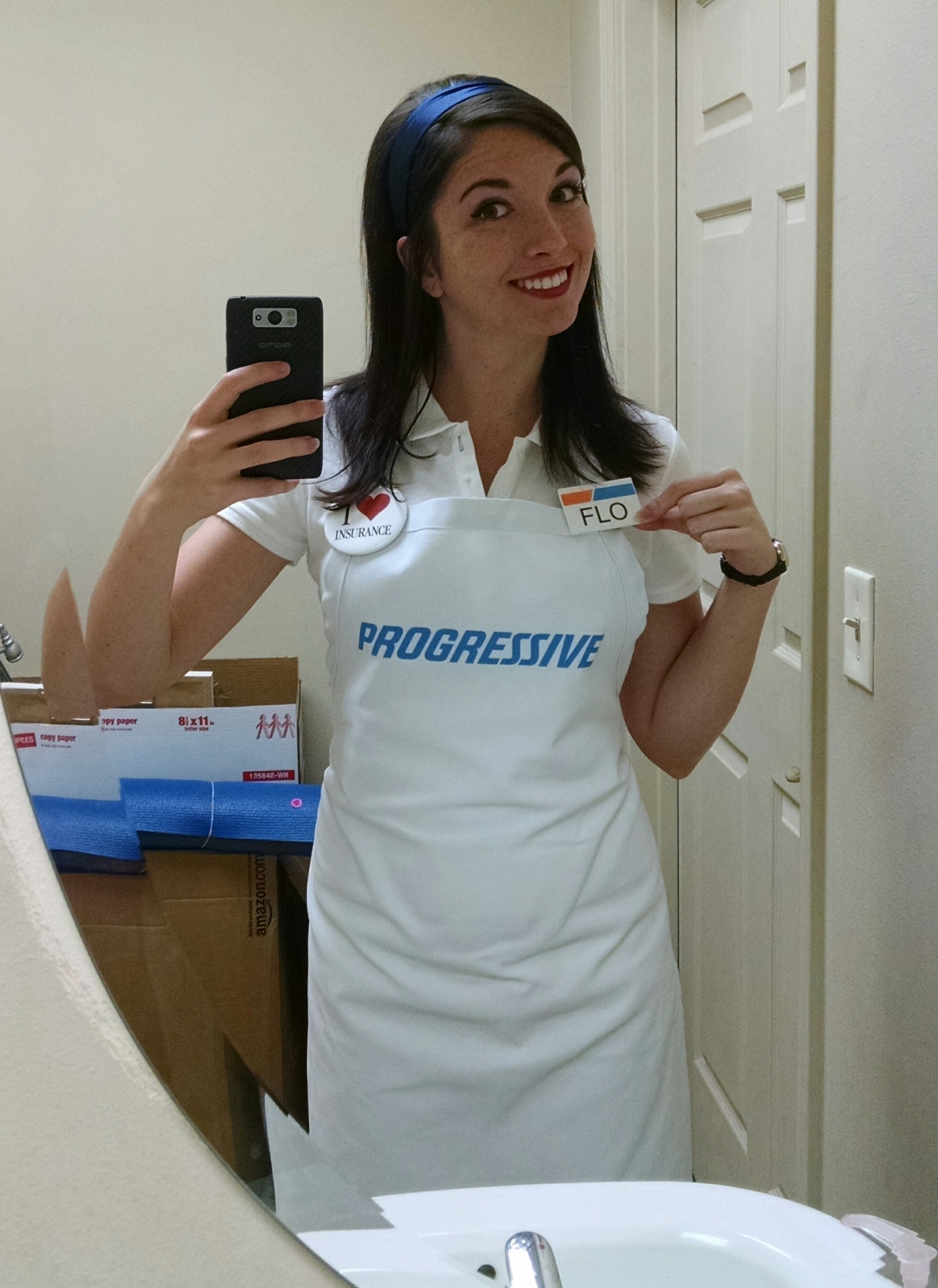 If Jake from State Farm doesn't appeal to you, you may want to dress as his commercial counterpart, Flo from Progressive. For this costume, you will need to dress in all white and wear a white headband in your heavily teased hair. You can add extra flare to the costume by wearing a white apron or by bringing a prop that looks like the "Name Your Price Tool."
20. Sushi
If all else fails, dress up as everyone's favorite meal, sushi. You will only need two white pillows and a large black belt to strap around your body. You can add extra accouterments by layering in green and salmon colored clothing. No matter how you personalize this costume, you will certainly look like a snack.
Still not feeling inspired? Check out 10 more costumes to win 'Best Dressed'
21. The Purge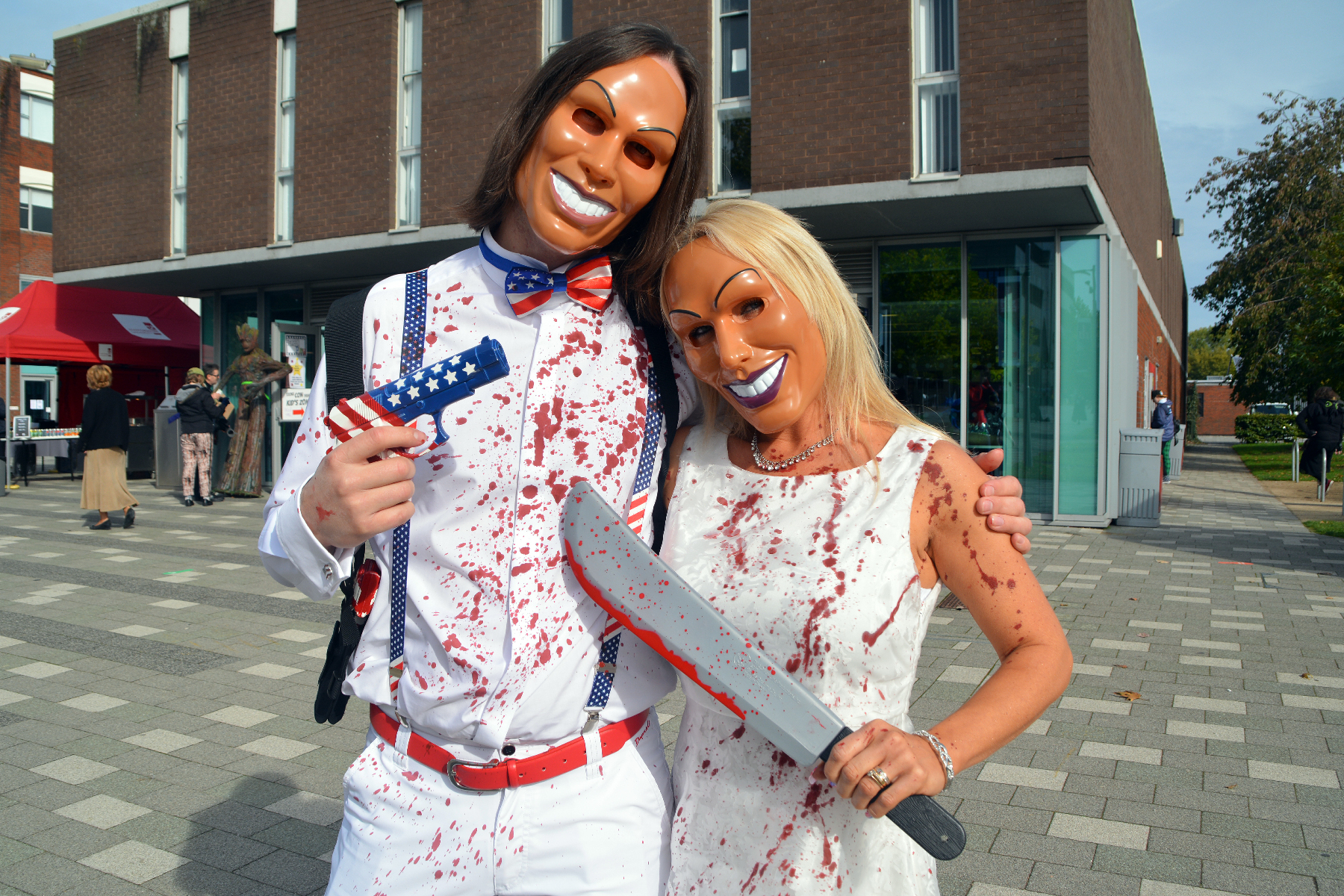 The Purge franchise pumps out new content every year progressing from a single scary movie to a trilogy and now TV show. Lucky for you, this makes a Purge costume all the more relevant not to mention simple. You only need a white t-shirt, but any t-shirt will do because on purge night, whatever you wear will end up bloodied red.
22. A Homicidal Maniac
Some of the scariest creatures, villains and monsters look just like everyone else. To dress as a homicidal maniac, don't change a thing about your typical outfit choice. You might get asked "what are you?" a lot, but you can just quote Christina Ricci as Wednesday Adams from The Adams Family and say, "I'm a homicidal maniac, they look just like everyone else."
23. A Ghost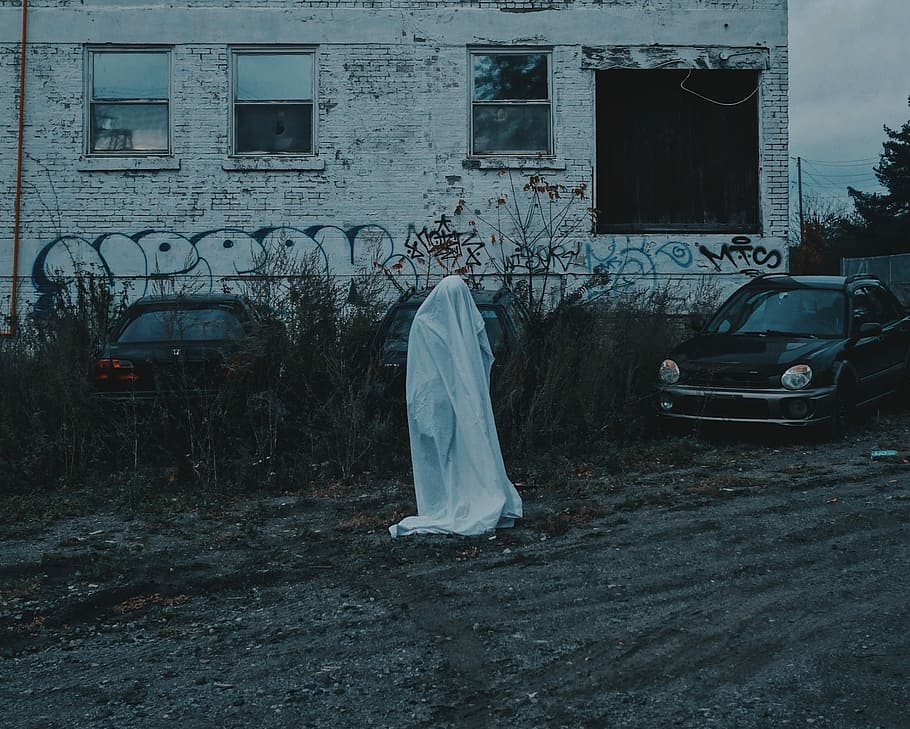 You can't go wrong with a simple classic. The ghost costume will give you the comfort to wear whatever you want underneath and you'll get tons of laughs. How many people–above age 10–do you know have been a ghost for Halloween? Probably not many. It's an odd costume for an adult, but it's funny, simple and comfortable.
24. The Slutty Pumpkin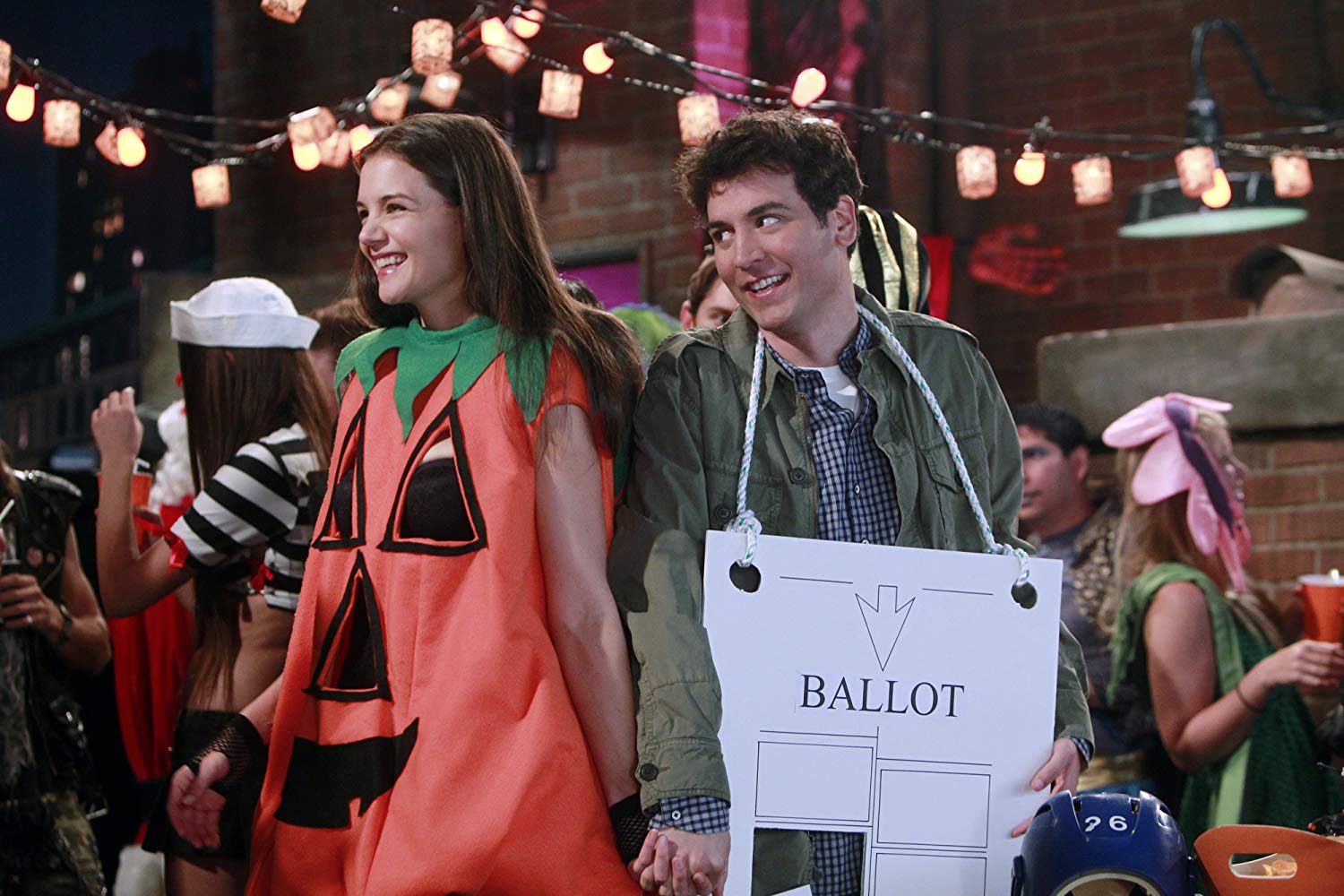 Anyone who watched How I Met Your Mother remembers the infamous slutty pumpkin, a woman Ted met at a Halloween party. Although, if you recall there wasn't much to her outfit other than an oversized orange t-shirt with holes for the jack-o-lantern's face. In that case, dawn your oversize tee with—which I advise you wear a shirt or bralette underneath—or without holes to recreate this iconic television character.
25. A Victim
Whether you've been strangled, bit, scratched, stabbed or shot, you can re-create the horror with makeup. Another costume where you don't have to dress to impress, the victim just requires a fair amount of blood—or red lipstick. No one will worry about your outfit, just your well-being.
26. A Piece of Fruit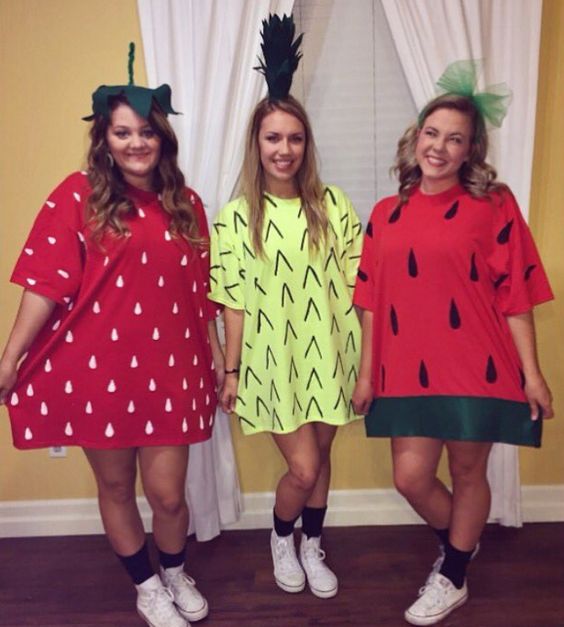 This idea can appease a quick solo-scramble for a costume or a group struggling to come up with a good theme. From a pineapple to a strawberry to an orange, the costume only requires over sized t-shirts and some imagination.
27. A Tourist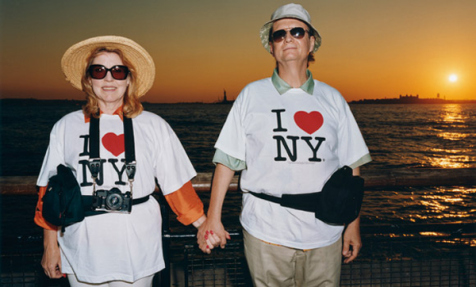 What college student doesn't have a spare Hawaiian shirt lying around? Put it to use with this costume, pair it with some sneakers, a print out of a large map and don't forget to constantly take selfies.
28. Morty from Rick and Morty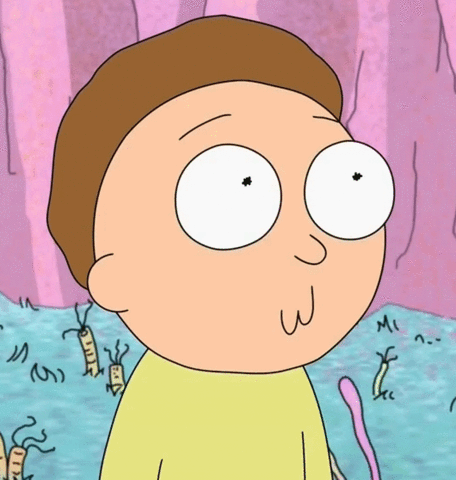 Unlike Rick, Morty dresses casually and simply. You only need a yellow t-shirt and some jeans. With so many different versions of Morty out there, you can also add little items to customize your Morty's personality, like an eye-patch if you want to be evil Morty.
29. Boba Tea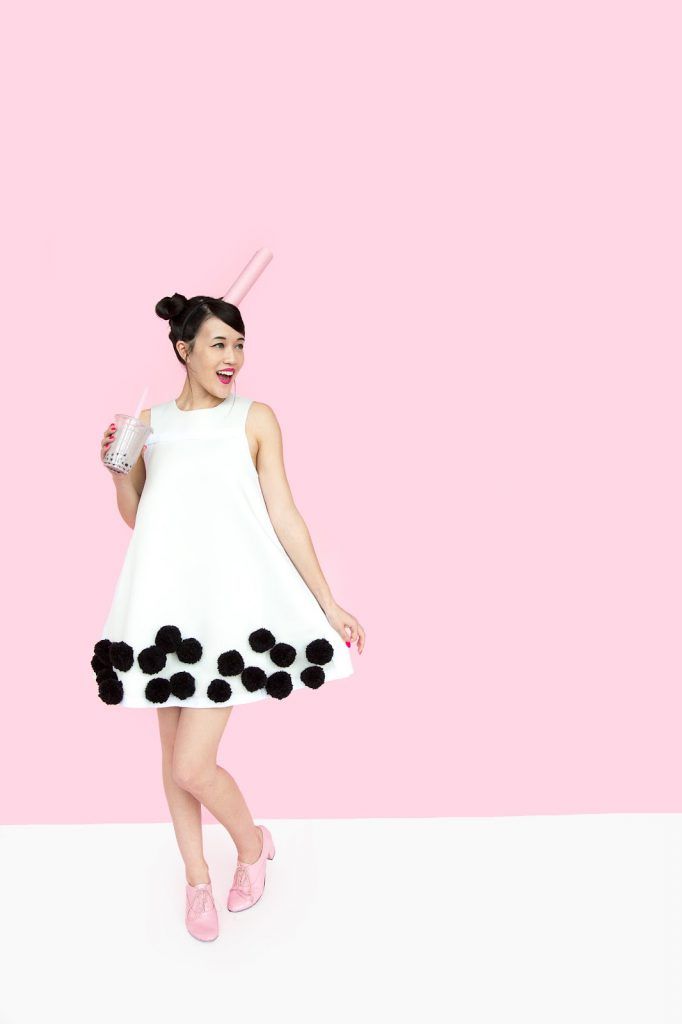 The boba tea trend has taken over typical tea world now it's coming for Halloween. The best part? It's simple, comfortable, cute and customizable to your boba preference. If you prefer green tea boba, choose either a light green dress or t-shirt and paint large circles at the bottom. For the straw, use a spare toilet paper roll to attach to your head. Voila, you have become your favorite drink and are bound to make your friends thirsty.
*Updated on September 22, 2017 by Phoebe Bain to include 10 more DIY Halloween costumes.
**Updated on October 12, 2018 by Samantha Spotswood to include 10 more costumes
***Updated October 30, 2019 by Samantha Harward to include 9 more costumes