Let's face it, the best thing about having a significant other is the fact that you don't have to brainstorm costume ideas for one when Halloween approaches. Why walk around as the Mother of Dragons when you could have Kahl Drogo with you? Why dress up as Kim Possible if there's no Ron Stoppable to back you up? Make you and bae #goals this Halloween.
1. The Fairly Odd Duo (Cosmo and Wanda)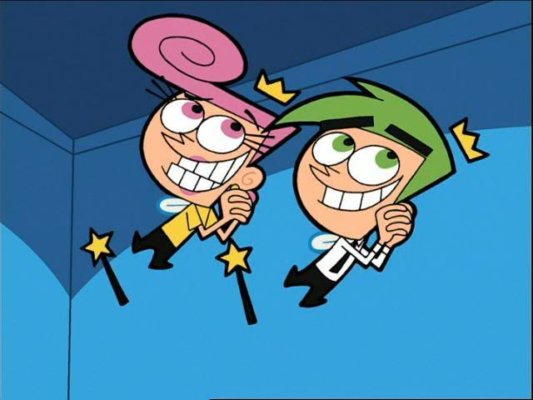 Despite the dysfunction, everyone adores the forever love of Cosmo and Wanda, the Fairly Odd Parents. While the hair might be a bit of an annoyance (or expense), you can find a cheap wig and craft everything else. For wands, just paint a paper towel tube black and cut out a yellow star for the top. You can cut crowns from construction paper and attach them to a headband. I couldn't tell you how to make the wings, but there are plenty of DIY options that cost way less than a $15 pair in the store.
For Wanda: Pink wig, yellow shirt, black pants, black shoes
For Cosmo: Green wig, white shirt, black skinny tie, black pants, black shoes
2. Life's a Couple of Chocolates (Jenny and Forrest Gump)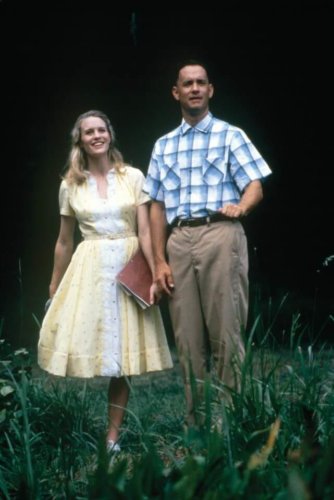 Whether they're running for candy or snacking on chocolates, Jenny and Forrest are a great couple costume for parties (especially if you want quotes thrown at you all night). A bonus to this costume is that you can easily build it in your own closet.
For Jenny: Hop into a flowy white dress (maybe with a thin brown belt), a flower crown, a ukulele, a fringed jacket and brown flats (or just go barefoot if you're daring).
For Forrest: Tap into Forrest's classic look: a blue plaid shirt, khakis, running shoes and a red baseball cap.
3. Catch Me if You Can (Harry Potter and the Golden Snitch)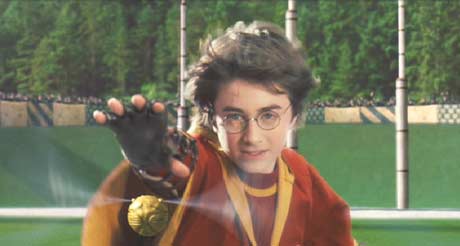 Even Hermione couldn't cast a spell to make a costume this great. Well, actually she probably could…but that's not the point. This costume is perfect for nerds with a creative side (since obviously your significant other isn't actually going to be shaped like a ball).
For Harry: The usual go-to is a black shirt and pants, a red and gold tie, round glasses and a drawn-on lightning scar. You could always get the robe from a costume store, but even Daniel Radcliffe kinda ditched that after the third movie (I'm not saying I like that detail but it'll be cheaper for you). For the wand, any brown stick will do.
For the Snitch: This is where you get really creative. You can either create a giant gold ball or can buy a metallic gold dress and wear dark leggings. Wings can either be angel wings or sheer fabric with glitter attached to your sleeves.
4. Dancing Jaws (Katy Perry and Left Shark)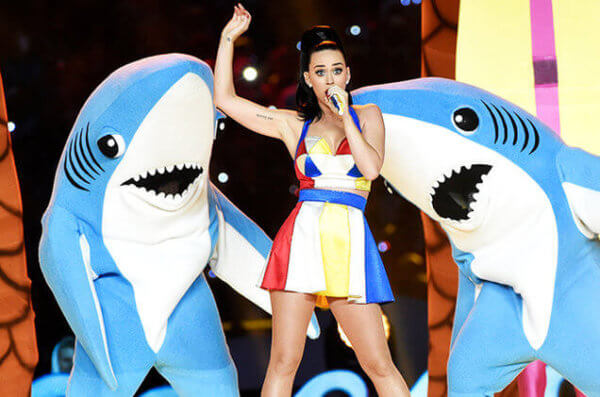 For these costumes, you are probably going to have to break out the wallet, but it's worth it when you'll see how excited everyone is that their favorite backup dancer came to the party. Knowing all the words to "Teenage Dream" doubles your cool points.
For Katy: Put your hair into a high ponytail and find a dress with all the primary colors.
For Left Shark: There's no getting around this one––you're going to need the blue shark costume.
5. You Always Look So Cool (Daisy and Gatsby)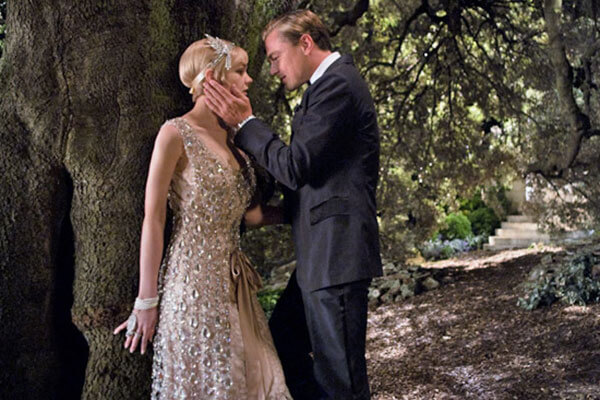 While the star-crossed romance between Daisy and Gatsby might be more than a little misguided, who doesn't want to have the fun of the Roaring 20s on their Halloween night out? Plus, I guarantee someone you know has been to a Gatsby-themed party and has something you can borrow in their closet.
For Daisy: Wear anything silky or chiffon and sparkly. Gloves, a beaded necklace, and (if you can't find a headpiece you like) some glitter pins or hair combs. Heels are usually pretty modest in this era too, so some nude pumps or Mary Janes would be great.
For Gatsby: Start off with a suit (or as close as you can get) and then detail it like no tomorrow. Throw on a Panama, Fedora or even a boater hat. Use tie pins with your tie, cuff links and a colorful handkerchief in your pocket. And don't forget to shine your shoes.
6. Welcome to the Planet (Lois Lane and Clark Kent)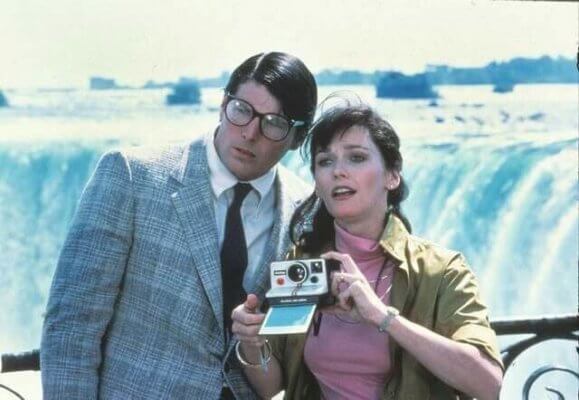 Every woman looks for a Superman, but make sure she doesn't walk past your Clark Kent. Lois and Clark in their normal people clothes are super easy, just make sure whoever plays Clark can pick Lois up (or do it the other way around for fun pictures).
For Lois: Lois is very professional, so I suggest a button-up shirt, a pencil skirt, a small notebook, a press pass and a little pencil to stick behind your ear.
For Clark: A button-up shirt over your Superman insignia (you can't just pull the shirt back without the logo behind it). And don't forget the glasses. You have to whip those off for effect.
7. Lipstick and Khakis (Flo from Progressive and Jake from State Farm)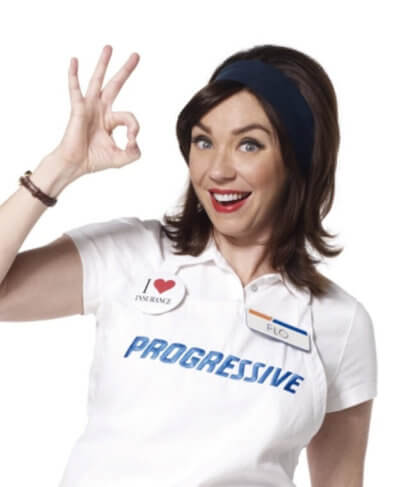 How are these two not paired together more often? They would be the ultimate team to save you money, and this Halloween they may be the ultimate team for the costume contest.
For Flo: A blue headband, white long-sleeved shirt, blue jeans, bright red lipstick/nail polish and Progressive apron (this one may require some time at the costume store).
For Jake: Red polo, khakis (these are essential) and a name tag.
8. Everybody Lies (Gregory House and a Patient)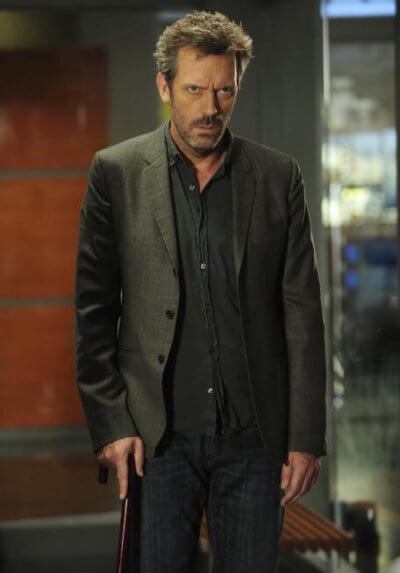 This costume is perfect for either a couple having fun or two bros who like House M.D. It's not necessarily romantic, but it's entertaining. If you want to make it extra funny, have the patient wear a sign that says "It actually is Lupus!" Anyone who is familiar with our Sherlock-inspired doctor will get the joke.
For House: A cane, comfortable tennis shoes, blue jeans and maybe a motorcycle jacket. Get into character by limping and carry around a prescription bottle (though I highly suggest not bringing that into a club or anything, it might get you in trouble).
For Patient: An oversized blue shirt (maybe cut the back and tie it together) with scrubs underneath and flimsy slippers. And seriously, wear the lupus sign. Twice as funny.
9. Boogalo (Jim and Pam)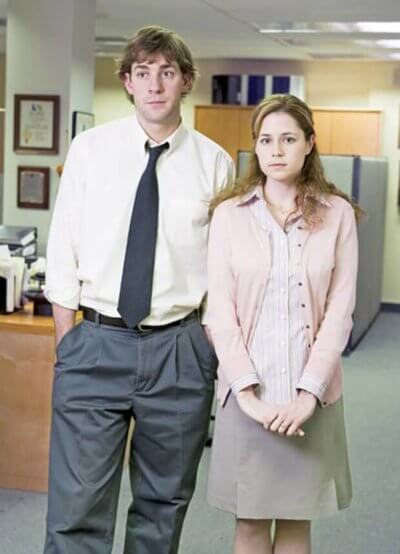 I must admit I've never seen "The Office," but everything I've seen about Jim and Pam has been so adorable that I've awwed in public spaces (and I usually reserve that for puppies). So why not get some "awws" thrown your way this Halloween? Plus, because this show is realistic (sorta), costumes are super easy.
For Jim: A button-down shirt, a skinny tie, khaki pants, sensible shoes and a name tag.
For Pam: A white button-down, a pink cardigan, a khaki skirt and white shoes.
10. Get Schwifty to Get Scary (Rick and Morty)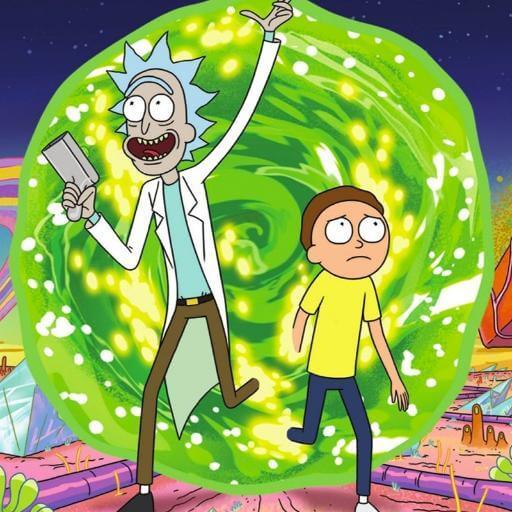 If you believe Rick and Morty, there are an infinite number of universes. That stands to reason that, in this one, you and your significant other are the best possible Rick and Morty there ever were. Best of all, these costumes may be the easiest, and cheapest ones to build at the last minute.
For Rick: A simple light blue shirt, brown pants, a lab coat, black shoes, hair gel and blue hairspray or a blue spiky wig
For Morty: A yellow t-shirt, blue jeans and white shoes.
11. Call Me Beep Me (Kim Possible and Ron Stoppable)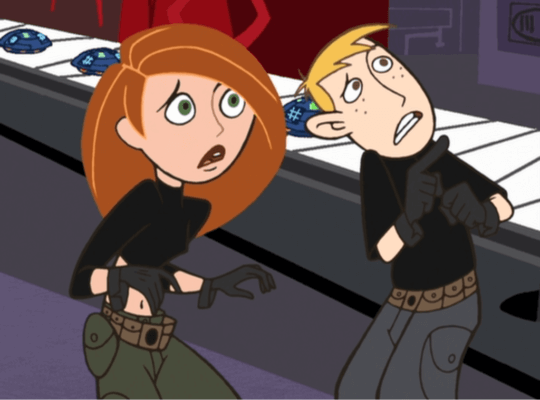 If you didn't have this ringtone on your phone in the sixth grade, I'm very disappointed in you. Kim and Ron are the ultimate proof that the friend zone is breakable, so this might be the perfect costume to suggest if someone is just not getting the hint. Plus, you know, they save the world. That's kinda awesome.
For Kim: A black, long-sleeved crop top, green cargo pants, black shoes, dark grey gloves, a brown belt and orange hairspray. Definitely download the ringtone to your phone, and you know how to answer it anytime you get a text.
For Ron: A black, long-sleeved shirt, grey cargo pants, a tan belt, grey shoes and dark grey gloves. Go the extra mile and find a naked mole rat or, you know, the Beanie Babies version.
12. Larger than Life Couple (Paul Bunyan and Babe the Ox)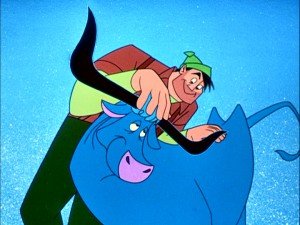 This couple is a little more traditional, a little more folksy, but just as fun at parties. Of course you shouldn't bring an actual axe to the party, but you could easily make a fake one. Perhaps the best part of this idea is that you won't run into anyone else with the same costume.
For Paul: A red plaid shirt, blue jeans, big work boots and a knit cap.
For Babe: All the blue. Snag a blue body suit, blue shirt and blue pants or a metallic blue dress. Then throw on a pair of horns and maybe a snout. If you want to go all out, get blue face paint.
13. The Double Triforce (Link and Zelda)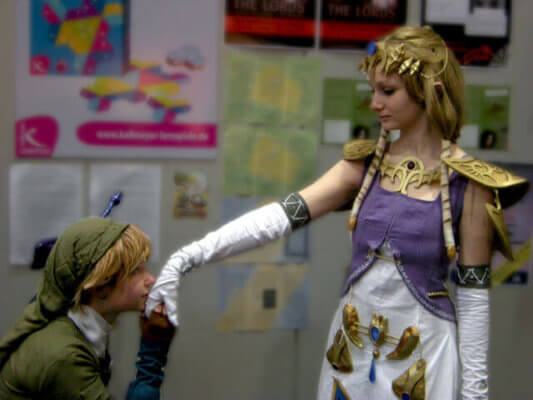 These costumes can be very elaborate, and odds are someone is going to mistake the Zelda in your pair for the Link. But maybe you'll run into a Mario or a Lucas, and you can have a melee match. No doubt the two of you shall be victorious with Link's courage and Zelda's wisdom.
For Link: A green tunic, a white undershirt and pants, brown boots, a green elf hat (preferably without a little bell on the end) and a toy sword. You can make the shield too out a piece of cardboard, look up the design online and paint it.
For Zelda: You could modify a dress you already have, but that requires a lot of attention to detail and time. So go ahead and buy the dress and get a diadem and a sword, or you can start piecing it all together yourself. Happy sewing!
14. I Chose You (Ash and Pikachu)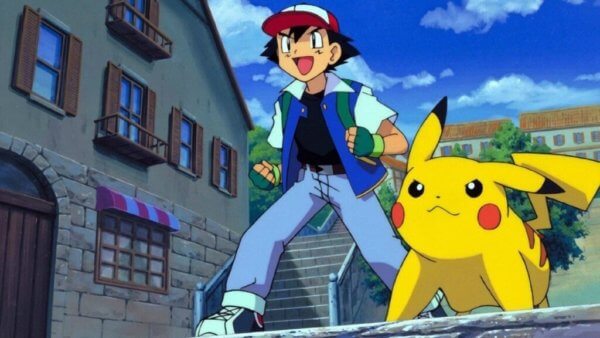 Now that Pokemon Go has reminded everyone how much they loved the original game, you and your date can bring the game to the real world. Bonus points if you successfully protect your date from another set of dates with red and blue hair who announce themselves with rhymes.
For Ash: A red and white cap with the drawn-on L design, a black shirt, a blue vest (get a blue shirt from Walmart and cut it, then glue some yellow buttons on) and blue jeans. Paint some red and white Pokeballs to use during pong.
For Pikachu: A yellow dress or a yellow shirt and black pants, yellow knee high socks and yellow or white shoes. Make the tail from cardboard and paint and glue it to your back. The ears might be a headband you buy, or you could make them from cardboard as well.
15. Hanging Chad and Slutty Pumpkin (Ted and Naomi)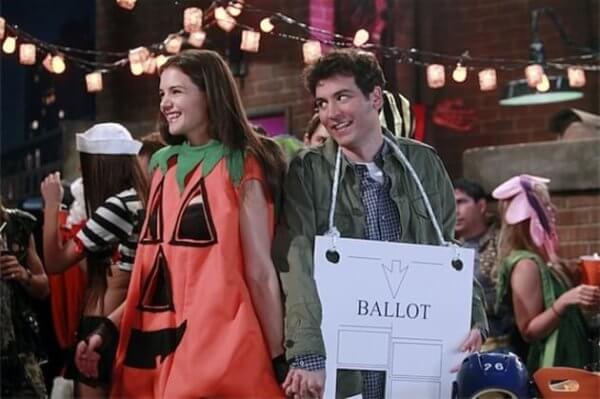 Just because Ted and Naomi didn't end up together doesn't mean we should ignore the fact that they were fantasizing over each other's costumes for years. They dressed in a couple costume before most of us were old enough for couple costumes. Plus, who doesn't want to say they pulled off a "slutty pumpkin"? And if you don't know what a hanging chad is, Google it.
Hanging Chad: A large poster paper, string, scissors and a marker. Write "Ballot" on the poster, draw eight squares on the board and then cut one so that it's almost falling off the board. Next, poke holes in the top and wear it around your neck.
Slutty Pumpkin: There are actual pumpkin costumes you can buy, or you can make your own with orange and green fabric. Cut holes for the jack-o-lantern's face and wear black clothes underneath. Depending on how low-cut your top is, this can be as classy (or not) as you like.
16. The Princess and the Rebel (Han and Leia)
For every rebel princess out there, there's a scruffy-looking nerf-herder following close behind. As the best couple in a galaxy far, far away, these outfits let you take over any empire (or at least any guy in a Darth Vader costume).
For Han: An off-white, long-sleeved shirt, a black vest, blue pants (you'll probably have to add the red stripe yourself) and knee-high black boots. You can find or create a gun holster too.
For Leia: A long-sleeved white dress, a silver belt to cinch it and space buns. If you're not down with the mainstream approach, my personal favorite is the forest look from Return of the Jedi. Get a green poncho, a brown belt, black leggings and boots. This one's much easier to move around in.
17. Jeepers Gang! (Fred and Daphne)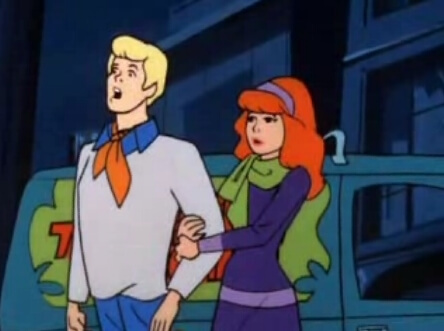 Halloween is the night that monsters and ghosts roam the streets, and who better to patrol them than you and your boo as Fred and Daphne, the ultimate ghost hunting team? Sure this might be more fun if you're in a large group and can add the other three members of Mystery Inc., but you can crack the case with only two.
For Fred: A white shirt with a blue collar, blue pants (and not jeans, actually blue pants), an orange ascot and brown shoes.
For Daphne: A purple dress (or purple skirt and top combo), a green scarf, a purple headband and purple flats.
18. Tale as Old as Time (Beauty and the Beast)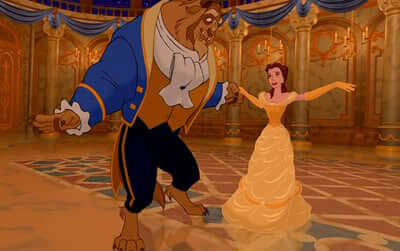 The Belle and Prince Adam look is timeless. These costumes are more difficult to make yourself (unless you're good at sewing), but thrift stores typically have what you need.
For Belle: A long yellow dress, a yellow headband and yellow/gold heels. A rose or mirror would be a nice touch too, but they're not necessary.
For the Beast: A blue and yellow suit jacket, black pants, a white undershirt with a frilly collar and shiny shoes. The furry mask is something you'll probably have to find at a Halloween shop unless you're a pro at special-effects make-up.
19. Every Night is Halloween (Morticia and Gomez Adams)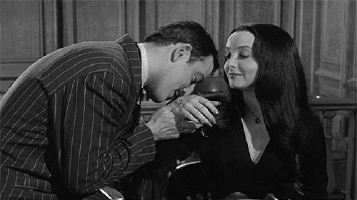 Morticia and Gomez scream best couple because every day of their lives is Halloween. Add that to the fact that they are a loving and devoted couple––what more could you want in a costume?
For Morticia: A long black dress, preferably with lacy or spider web applications, a long black wig and black heels. Use make-up to appear deathly pale and bright red lipstick for the color pop.
For Gomez: A black or dark grey suit with a white shirt, a black bowtie, a pencil mustache and shiny shoes. You also need some makeup to get pale.
20. It Started with a Mouse (Minnie and Mickey Mouse)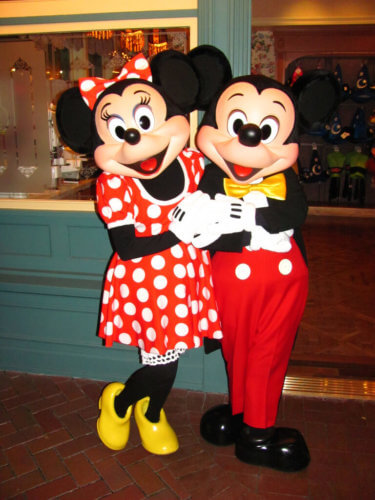 Did you know the couple that voice Mickey and Minnie Mouse are married in real life? That makes this couple costume all the cuter. Dig into your Disneyland stash for mouse ears unless you're down to make them yourself.
For Mickey: A black shirt, red pants, black high socks, white gloves and yellow shoes.
For Minnie: A red polka dot dress or a black shirt, leggings, a red tutu skirt with yellow flats, white gloves and a red and white bow if you don't have the Minnie ears.
21. Always Go After Your Princess (Mario and Peach)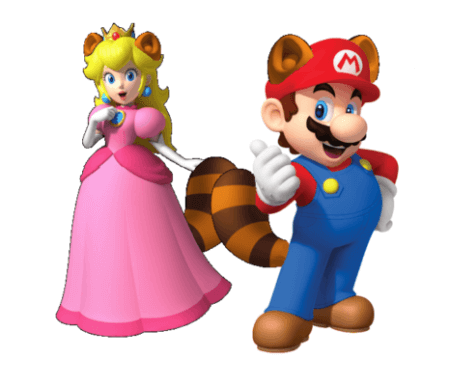 Hopefully you won't have to rescue bae from a castle before the party starts, but you might as well look the part in case.
For Mario: A red long-sleeved shirt, blue overalls and a red cap (you can add the white circle and M yourself), a mustache and white gloves.
For Peach: A pink dress, a big blue necklace, white elbow gloves and a sparkly crown.
22. Cleanse the Soul ("The Purge" couple)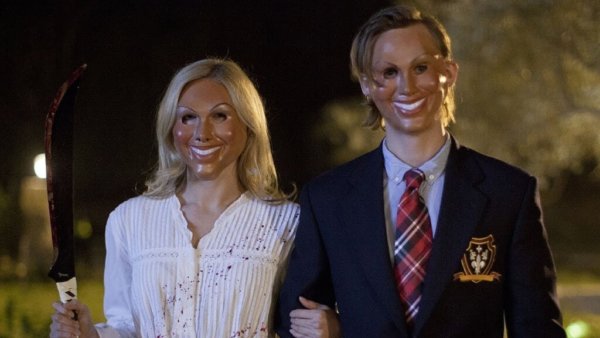 We all know a couple that's a little creepier than they are cute. But that's all part of the fun, especially on Halloween. As long as you don't actually go purging on Halloween, "The Purge" couple costume will truly freak out tons of people.
For the Boy: A creepy mask, a nice suit, a skinny tie, nice shoes and a small fake gun.
For the Girl: A white nightdress, a creepy mask and a fake machete.
23. EEEEVVVVVIIIIILLLLL (Mermaid Man and Barnacle Boy)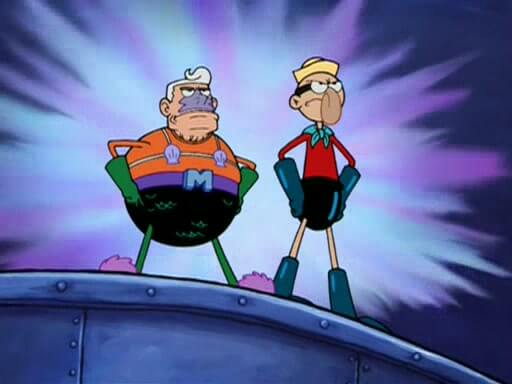 This would be another great costume for friends or dates, as long as you both agree on who's the man and who's the boy. This requires a certain level of DIY or Amazon shopping, but you'll be the coolest pair at the party, so who cares?
For Mermaid Man: An orange shirt, black shorts, green leggings, pink slippers and green gloves. Use purple makeup or tear apart a Little Mermaid costume for the purple shells and starfish for your face. Then you can add a cardboard M to a belt.
For Barnacle Boy: A red shirt, a blue ascot, black shorts, blue rain boots, blue gloves and a white sailor hat.
24. Sexy Praying Mantis and the Hotsy Totsy (Sheldon and Amy)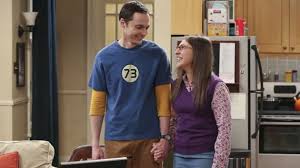 If you and your date are nerds, or better yet scientist, why not dress up this Halloween as the smartest couple on TV? Both Sheldon and Amy are easy to find clothes for, so the only challenge is acting the part. Just be an extreme smart aleck and spit out random facts no one knows.
For Sheldon: A superhero graphic tee (Flash is the best, but Green Lantern will do), a long-sleeve undershirt, khaki pants and brown shoes. When you get to the party, make sure you designate your "spot" and yell at anyone who dares to sit there.
For Amy: A nice shirt with a heavy cardigan over the top, a khaki knee-length skirt, tights, sensible shoes and glasses. You can hang onto your Sheldon all night while simultaneously rolling your eyes. You can't tell me you don't already do that with your boo.
25. As You Wish (Buttercup and Westley)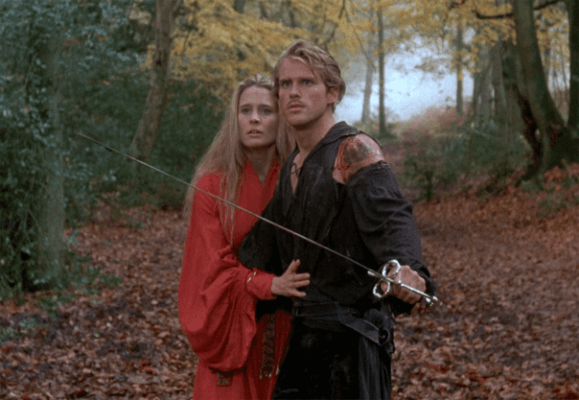 Our last costume idea requires getting super romantic with The Princess Bride power couple. For a late night activity idea, try rolling down a really big hill. I don't recommend going sand-pit diving or tackling R.O.U.S.s, but you do you!
For Buttercup: A long red dress with a light red/orange cloth belt. You could also go for the wedding dress look, in which only need a fancy white dress and a crown.
For Westley: Black pants, black billowy shirt, black belt, black gloves and a black face-mask. Get yourself a skinny sword, and you're ready to protect your princess from iocane power, rock-throwing giants, the Shrieking Eels and random drunk guys hitting on her.