You spent your teenage years drinking whatever you could get your hands on, putting your liver through the ringer (Four Lokos, I never want to look at you again). Now as a sophisticated adult, you need to start acting like one. Did you know one serving of liquor is two ounces? So yes, only the bottom line of that red solo cup should contain vodka. The rest should be Sprite, you hooligan. Before you know it, you'll order your drinks through mysterious adult code: "I'll have a Tanqueray martini straight up, with a twist." Years of ordering Starbucks trained you well. After a few nights on the town, you'll pass the preliminary phases of stuttering, "Coke and rum—I mean rum and Coke," to the bartender and learn to take the first few sips from your cup before spilling it all over the person next to you. With this master guide at your fingertips, your GPA wont' be your only college-earned accomplishment.
Behind the Bar
1. Beer
Serving Size: 12 ounces
Types of Beer: Ale, Lager, Stout, Porter, Malt, Amber, Blonde, Brown, Cream, Dark, Fruit, Golden, Honey, Indian Pale Ale, Light, Lime, Pale, Pilsner, Red, Strong, Wheat
College-Friendly Brands: Natural Light, Bud Light, Yuengling, Miller Light, Busch, Pabst Blue Ribbon, Rolling Rock, Keystone, Coors Light, Corona Extra, Heineken, Blue Moon, Stella Artois
2. Liquor
Serving Size: 2 ounces
Types of Liquor: Vodka, Whiskies (Scotch, Irish, Canadian and Bourbon), Rum, Gin, Tequila, Brandy
College-Friendly Brands: Skol, Smirnoff, Svedka, Absolut, Ciroc, SKYY, Pinnacle, Ursus, Jim Beam, Jack Daniels, Kentucky Gentleman, Jameson, Captain Morgan, Bacardi, Calypso, Malibu, Sailor Jerry, Cruzan, Seagram, New Amsterdam, Jose Cuervo, El Jimador, Camarena, Terremoto, Milagro
3. Wine
Serving Size: 5 ounces
Types of Wine: Shiraz, Cabernet, Pinot Noir, Zinfandel, Sauvignon Blanc, Riesling, Chardonnay, Pinot Grigio, Champagne, Rosé, Vintage Port
College-Friendly Brands: Yellowtail, Barefoot, Charles Shaw, Woodbridge, Smoking Loon, Franzia, Rex-Goliath, Frontera, Lindemans, André
How do I avoid spending the night on the toilet?
The major key to enjoying an evening with friends without transforming into a blubbering, red-faced buffoon is patience. Make sure to pace yourself and your drinks throughout the night, always eat a hearty meal before your insane night begins and pay attention to your vision, physical sensations and whatever the hell you're chatting about to the person sharing the couch with you.
As long as you're sippin' slow and keeping your cool, you'll be alright, kid.
What low-calorie options can I drink?
Allow me to introduce to you to club soda. Translation? Carbonated water. The water means zero calories and the soda means the closest you'll get to not tasting that bottom shelf vodka. Of course, you can add any liquor to club soda, but vodka soda will be your most traditional (and tasty) combo. Don't forget to add a lime—zero to 100 real quick, you'll see. Staying fit and wasted at the same time comes down to staying away from sugary soda and fruit juice mixers. You can drink diet mixers, but everyone knows artificial sweeteners are so 2005. If you need a break from your strict vodka soda diet (trust me, you will), broaden your horizons with wine, which is naturally low in carbs, or light beers.
How much can I drink and still drive?
Technically you can legally drive with a 0.08 percent blood-alcohol level (BAC), but reaching that 0.08 percent is stupid easy. Your weight, gender and what you ate that day all factor into how your body processes alcohol. So no, you can't calculate a magic number of drinks before getting behind the wheel. Bottom line: If you plan to drive, don't drink anything. You already complain about the money you spend on cover, drinks and Ubers every time you go out. How about thousands of dollars in fines, a revoked driver's license and a criminal record to go with that? Especially in college towns, cops scour the roads because they know too many young dummies drive under the influence. Always go out with a plan to get home, whether that means walking with a group of friends, calling a cab or picking a designated driver. If you volunteer to DD, stick to your word. Sometimes you might crack under pressure. A certain group of friends, the right song or running into the wrong ex might send you into an unexpected booze-guzzling frenzy. If you do end up drinking after promising to DD, apologize to your friends and treat them to a cab ride home. Your friends, family and everyone on the road will thank you.
What should I do if my friend is too drunk to function?
Not everyone found this master guide, so use your wisdom to help everyone. You can't miss the drunken buffoon: she slurs her words, her eyes look droopy and getting from point A to point B looks more like a baby giraffe learning to walk. If you find your friend like this, grab her by the arm and tell her it's time for a slumber party! You don't need to become an overprotective mother hen—you can be helpful without coming off condescending. Make sure your friend gets to a safe place. Don't let a stranger (even a good-looking stranger) convince you that safe place is with him. Hail a cab to take your buddy home with you, order a pizza and call it a night. If your friend becomes unconscious or starts puking uncontrollably, you have a more serious matter on your hands. Your friend might have alcohol poisoning that calls for immediate medical assistance. Death from binge drinking happens too often to college students. Don't let your friend be next. Most universities understand the panic of such situations, and therefore enact an amnesty policy. Even if you or your friend are underage, neither of you will be subject to disciplinary action by the university. The hospital will save the victim and life will move on.
I'm hungover AF. Now what?
As the sun rises, your eyelids peel open and in floods a downpour of regrets. Exhausted and dehydrated barely describe your physical state. You feel like you fought a pack of gangsters before making it home last night (and lost). The last thing your body wants to do is move, and yet you know the healing process begins with your first step out of bed. Get up, get a large glass of water—seriously, the biggest glass you can find—and take some Advil. Next, shower to scrape off every last remnant of dirt, mascara, glitter, Sharpie marker and whatever else you contacted last night. Depending on how hard you raged the night before, eating greasy food may or may not sound like the next step. Grab your group of party people that most likely feel as mizz as you and demand a recovery brunch. Everyone will zombie-march out of bed by at least 11 a.m., just in time to grab the last table at your favorite breakfast joint. Coffees all around, please. Oh, and some more water too.
Top 3 Ways To Get Your Drank On
1. We're Going Out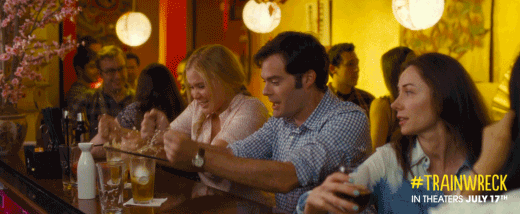 Any evening that you find yourself with nothing to do—out of work early, homework completed, your roommate's snoring—you know you need a night out on the town. Check the group chat to find out where to happy hour, pregame or party all night. Stop weighing the pros and cons of spending another evening getting shit-faced with your woes and to start figuring out what to wear.
2. Let's Have a "Chill" Night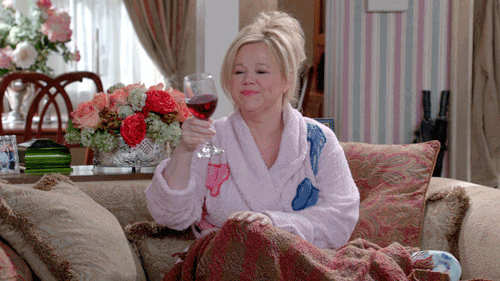 Some nights your couch feels extra cozy and the idea of trudging through crowds of sweaty desperadoes sounds unbearable. But, like, you still wanna party a little bit. After texting back and forth with your equally sluggish bestie, complaining about your stressful week and your hatred for everyone around you, you both know where this conversation will end. Lo and behold: the "chill" night. The chill night happens at someone's home and calls for wine or beer. You're in no place for liquor right now. Dress up in sweatpants, ditch the makeup and find a chick flick to watch. Bros, bring out the Call of Duty. Let the epic night-in begin.
3. Day Drinking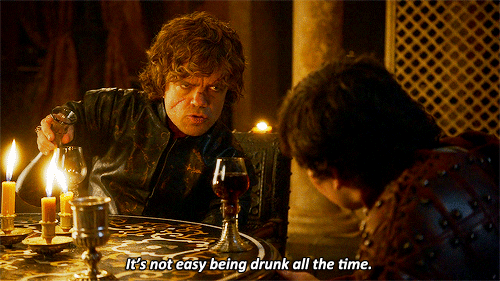 Sunday Fundaaaay, people! Game Day! Cinco de Mayo! Whatever excuse imaginable works, really. Day drinking takes skill, definitely a major one you'll learn in college. Luckily, bars love to profit from our terrible urge to get buzzed in the middle of the day with a little something called Happy Hour. Discounted drinks for a limited time every afternoon? It's enough for any 20-something to make an event out of it.
Top 3 Drinking Twitter Handles
1. Young Alcoholics — @LifeWithAlcohol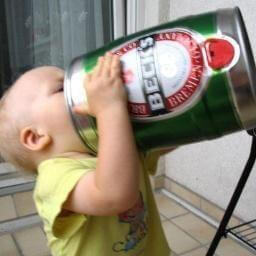 With a motto like "drink more, worry less," this should be your go-to feed for drunk-spiration. The feed streams hilarious memes that epitomize the ridiculous drinking culture of college life. When you feel on the fence about going out, take a look at @LifeWithAlcohol to get yourself in the right state of mind.
2. Tipsy Bartender — @TipsyBartender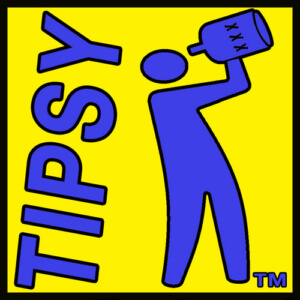 Got a very important party coming up that calls for specialty-themed cocktails or jello shots? Stop your Google search, @TipsyBartender tweets the most amazing drink recipes imaginable, from fruit and candy to coffee-inspired drinks. Make summertime holidays like Memorial Day and Fourth of July unforgettable (or more forgettable?) by serving some crazy patriotic strawberry-blueberry slushies this year.
3. Drunk Girl Problems — @DrunkGirlLife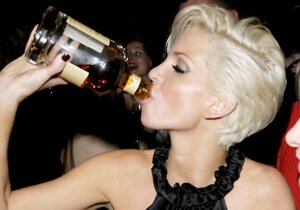 Everyone knows the drunkest girl at the party, but did you know she has an insane Twitter following? @DrunkGirlLife makes acting like an obnoxious alcoholic seem okay…or at least okay to watch.
Stay classy. Keep reading to learn about everything from Slap Bag to Wine Glasses. It's CM's Guide to Vino.
By Nancy Mucciarone, Junior, Magazine Journalism, Syracuse University
Is wine just a hangover in a box? In college, the answer is often yes.  But not anymore. While we can't promise to rid you of that throbbing headache, we can assure you that Franzia will no longer be your only choice of wine.
Let's start with the basics: red wine is made from red grapes, and white wine is made from white grapes (kind of self-explanatory). "The big difference? Red wine uses the skins of the grapes," according to Michael Green, wine expert of Liquid Assets Consulting Group. "Red wines often have a higher degree of tannin—found on the skin of grapes—and creates a bit more grip and structure to the wine." White wines are typically lighter, more refreshing and served cooler than red wines.
When it comes to pairing wine with food, Andrew Dornenburg and Karen Page, authors of What to Drink with What You Eat, said that it's important to master the basics if you want to impress. They suggest following the old saying: "Red wine with red meat, white wine with fish."
And always order an appropriate wine with flavors that go well with what you're eating. "If you're having oysters and you order an expensive red Bordeaux, you're not going to impress anyone because the flavors will clash," they said. And when you're ordering wine for a meal with that significant other, your parents or a prospective employer, you'll want to appear at least a little wine savvy.
Looking to buy good wine on a beer budget? While $5 wine probably isn't going to cut it, you also don't need to spend $50 on a single bottle.  Green suggests finding a style of wine that you like and then finding a "stunt double" that is far less expensive. Instead of buying expensive genuine champagne, look for the cheaper American brands of sparkling wine. "There is a sea of affordable and tasty wine out there for your sipping pleasure," Green said.
If the rules of wine are too much for you to remember, expert food and wine matcher Natalie MacLean has created the perfect cheat sheet: the Drinks Matcher widget. Download the widget to your desktop from NatalieMacLean.com to get great wine pairings for everything from pizza to pop tarts.
Cheers! The Dos and Don'ts of Drinking in College
Forties, Jungle Juice and Franzia: the trifecta of collegiate drinking. Each hold the power of creating lifelong memories of nights out on Thirsty Thursdays but also the destructive consequences of downing one too many shots. Want to avoid the crash and burn?
Strap in to learn more about the dos and don'ts of drinking in college.
Bargain Booze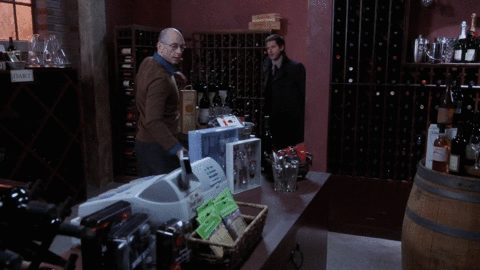 Getting lit on a budget requires laser-like focus and stealthy sale hunting skills. Scanning the rows of booze and wine bottles poses a threat of overspending or underestimating the quality of some alcohol. So, where should someone start on their quest for bargain booze? "The so-called king of cheap alcohol, specifically beer, is Natural Light, AKA Natty Light. I've been able to find a 15-pack for around $9 at grocery stores," St. John's University senior Brian Gallagher said. "Most of the popular domestic beer brands (Miller, Busch, Budweiser etc.) are usually cheap and don't have too harsh of a taste." Of all the types of alcoholic drinks, wine often takes the cake for most affordable with the average price in the U.S. being $15.
But if $15 stretches the funds, drive over to Trader Joe's. Trader Joe's is the wave if you're trying to wine and dine on a budget. Their Ménage a Trois red wine (coming in at a whopping $6.99), clearly stands as the best wine pocket-money can buy. Chock-full of fruity flavors, the red wine can easily be paired with humus, nuts and microwave popcorn.
Secret Hangover Cures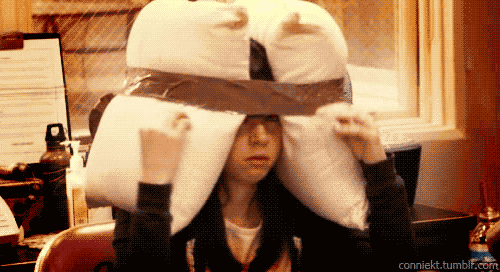 Want to know what regret and pain feel like? Meet your hangover. Not only does the pounding in your head hurt like a buttcheck on a stick, but said punishment lasts all day or up to 72 hours after your drinking escapades. So, how can one cure a hangover? "The only cure for a hangover is not getting one. You can try taking a cold shower, or eating greasy burgers, or a nice plate of eggs & bacon with a cup of black coffee, but the best way to cure a hangover is preventing one," Gallagher said. "Make sure to drink water throughout the night, and especially before you go to bed at the end of the night." But if you're in too deep and find yourself headfirst in a toilet bowl, heed the following tips to prepare for the upcoming battle.
Alcohol dehydrates your soul, so drink fruit juice or anything containing electrolytes to rehydrate your desiccated body. Next address the pain pounding in your head. If drinking water suggests no change, take a pain reliever. According to a report by Harvard Health, nonsteroidal anti-inflammatory drugs (NSAIDS), better known as aspirin and ibuprofen can help ease the achy feeling. Tylenol, however, should be avoided. If Tylenol and alcohol mix, the risk of activating toxic effects from the medicine and releasing them into your liver skyrockets. Lastly, get some carbs in your system. Your body needs substance and carbs to fulfill said needs. If your someone with celiac disease, water and some gluten-free pasta will do the trick. So, before you pregame with the homies, remember to always drink (and act) responsibly.
Know Your Liquor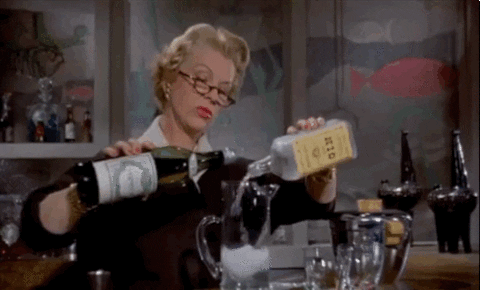 Ever heard the phrase "beer before liquor, you've never been sicker"? Or "liquor before beer, you're in the clear"? Take the wisdom literally. Don't mix your drinks. If you start your night with vodka you better end with vodka. But also keep track of how much you consume. "I would say is to space out your drinks. What that means is, between every drink have one or two bottles of water. It'll slow down the effects of alcohol," St. John's University senior Adrian Genao said. Liquor contains a higher alcohol content than beer and wine. Therefore, two or three shots will do you in the same as three or four beers.
Also, if your body lacks the necessary precautions to combat the alcohol (like carbs and water), then your night will end sooner than you think. "You gotta make sure you got plenty of water and don't overexert where you don't have to, basically just be low key," St. John's University senior Rafael Ramirez said. "Take it easy, don't try to be the big man on campus because you won't impress anyone blacking out off a couple of beers (I've seen it)." Another word of advice: steer clear of the Jungle Juice.
Wine 101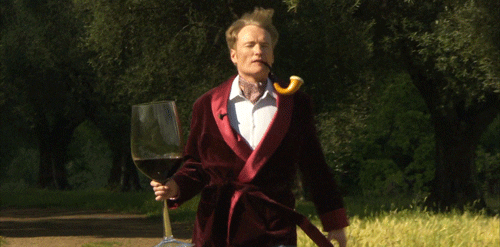 To new drinkers, wine gives off an elegance far removed from your typical college frat house basement where most alcohol consumption (likely chugging) occurs. But little do they know the power of wine knowledge. Time to make you an "okay" wine expert (fake it 'til you make it, right?). The first golden rule of wine: red wines should be paired with red meats while white wine accompanies white meats like fish and chicken. Understood.
However, not all wines (red or white) taste the same. "Wine preference is subjective. There's no right or wrong answer when it comes to tasting and enjoying wines. Don't take yourself too seriously and have fun trying different types of wine to see what you like. Scout and Cellar has 70 plus wines available, and the portfolio is always evolving," Scout and Cellar Consultant and the mind behind Back That Glass Up Meredith Dieterle said. "It's really just trial and error to find the right wine for you. As a Scout and Cellar Wine Consultant, I get to talk to folks about their taste preferences and help them select wines. What's more fun than tasting and trying different wines?!" Each has its own flavor profile which depict the sweetness, bitterness and smoothness of the drink. Then, everything changed when people realized the power of mixing varieties (the flavor!).
Now instead of having only several bottles of wine on your supermarket shelf, thousands occupy spots in bar carts, wine racks and cardboard boxes across the globe (oh to be a box of Franzia on a sorority girl's self). So, before diving into the wine aisle do some quick research. Now get out there and flaunt your stuff! *In French accent* Oh, garçon your finest bottle of two-buck-chuck wine, please.
Designated Parent Friend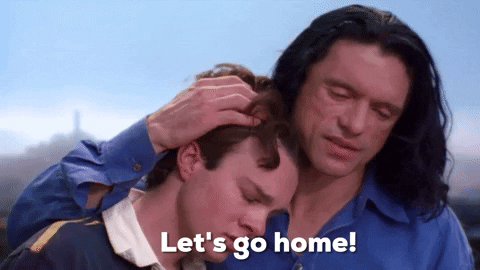 Quick shoutout to all of the "mom friends" of the world. Thank you for always being there to literally pick up your friends after a night out and deciding to call an Uber at the right time. No matter how often you go drinking or how high your self-proclaimed "alcohol tolerance" is, have a designated parent friend. You heard me. "This may seem a bit lame or unfair to that person, but I promise when you or one of your friends is in a bad state, it will help out greatly," St. John's University senior Mathew Jelicks said. "If everyone is too far gone to understand the severity of a situation, the night becomes much worse for everyone else! So, it's always better to trade off who's going to be a bit more responsible each outing, instead of ending up in a situation you can't fix." Whether you're pregaming in a dorm, downing shots at a club or throwing it back at a frat party, have someone responsible keeping tabs of you and your friends to prevent any unwanted emergency situations. Remember to have fun drinking, but not too much fun you crazy kids.
If you can't drink at your desk, you might as well keep reading about drinking.
The Top 10 Schools that Party All Day, Every Day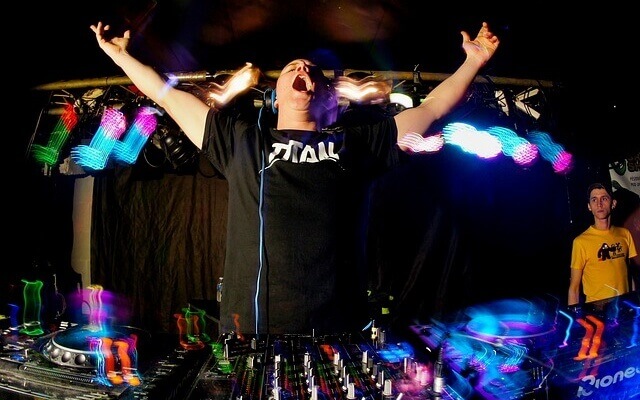 21 Ways to Celebrate Your 21st Birthday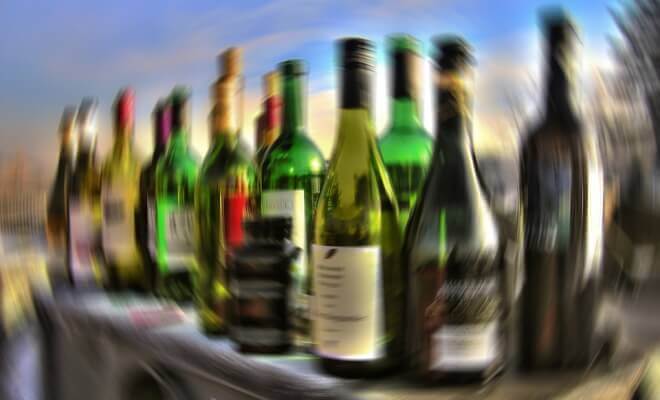 How to Keep Warm en Route to Your Booze Blanket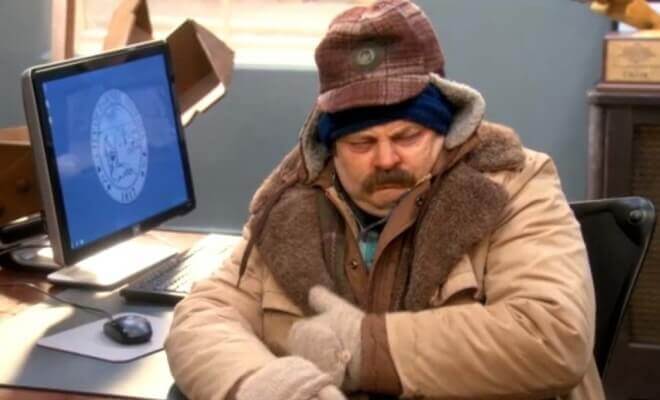 College Magazine does not promote underage drinking. Please drink responsibly.
*Updated May 5, 2016 by Nancy Mucciarone to include "Slap Bag to Wine Glasses: CM's Guide to Vino."
**Updated August 7, 2020 by Maddie Bradford to include "Cheers! The Dos and Don'ts of Drinking in College."