Football season may have ended, but if you identify as an Owls fan, you know that football season creeps right back around the corner. As a Temple student, you count down the days until the first big game day arrives again. Every Temple student loves game day, but some tailgate-goers may forget about these tips when actually getting prepared for the tailgate. Make sure you don't forget them for next year's football season by getting a head start now.
With these top ten points, you will easily have a bomb tailgate at Temple University.
1. Get Up Early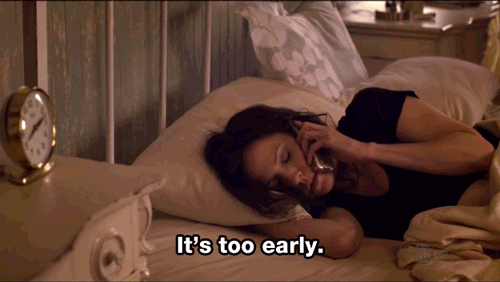 The game may not start until 3 p.m., but that means a strict 9 a.m. wake up call for you, Owls. You might wake up from the Temple Fight Song being screamed – no promises that you will have an easy (or quiet) wake up on game day around here. No matter what time you get to the Lincoln Financial Field, cars will pack the parking lot from the second the gates open. If you plan to take your own car, just remember, "the early bird gets the worm." If not, you might still want to wake up early enough to make the most of the day. The subway gets packed from shoulder to shoulder with every other Temple student going to the AT&T station. Therefore, if you want to avoid this mayhem, then you should plan to go a bit early. The way I view it, you can never show up too early for a day drink anyways. "Tailgates make game day so much more fun. Just make sure you get there early enough to enjoy it, since they shut it down once the game starts and the busses and subway fill up fast," said Temple University sophomore Marissa Dowdy.
2. DIY Your Temple Pride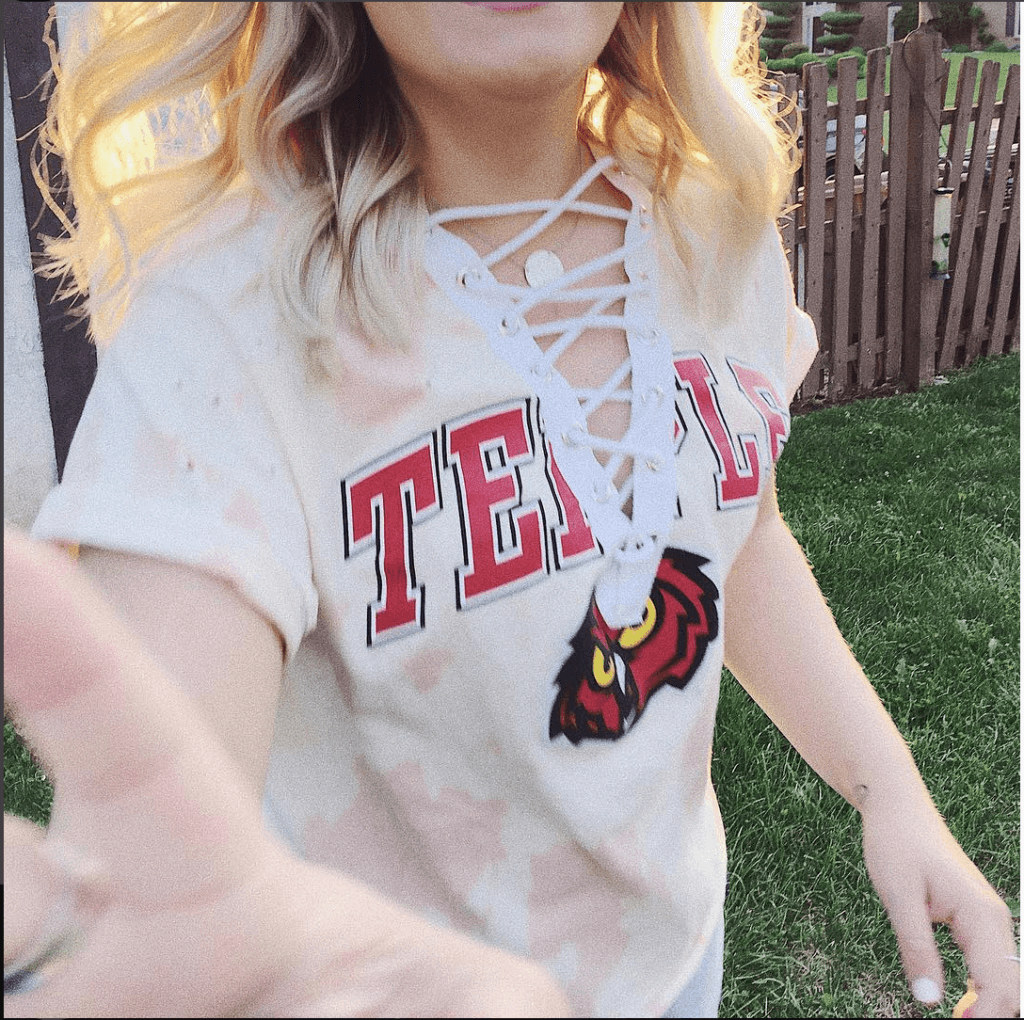 Girls wearing cut up, bleached or decorated t-shirts will surround you at a Temple tailgate. If you need help with an outfit, many students on Temple's campus specialize in creating the raddest tailgate gear. "My favorite tailgating memory was getting off the subway at the AT&T station and walking towards the field and seeing a ton of girls wearing the tailgating shirts I made them. It made me proud to be the creator of the shirts, but also to be taking part in the Temple tailgating experience in a different way," said Temple University junior Caroline Lang. Caroline creates her own customizing t-shirts for Temple students and posts her shirts on her Instagram account: @custome.tees_by.c. Or, if you feel like getting a bit crafty, you can look up various DIYs to cut, dye and create your very own from the old, free t-shirts that Temple loves to give out.
3. Get Decked Out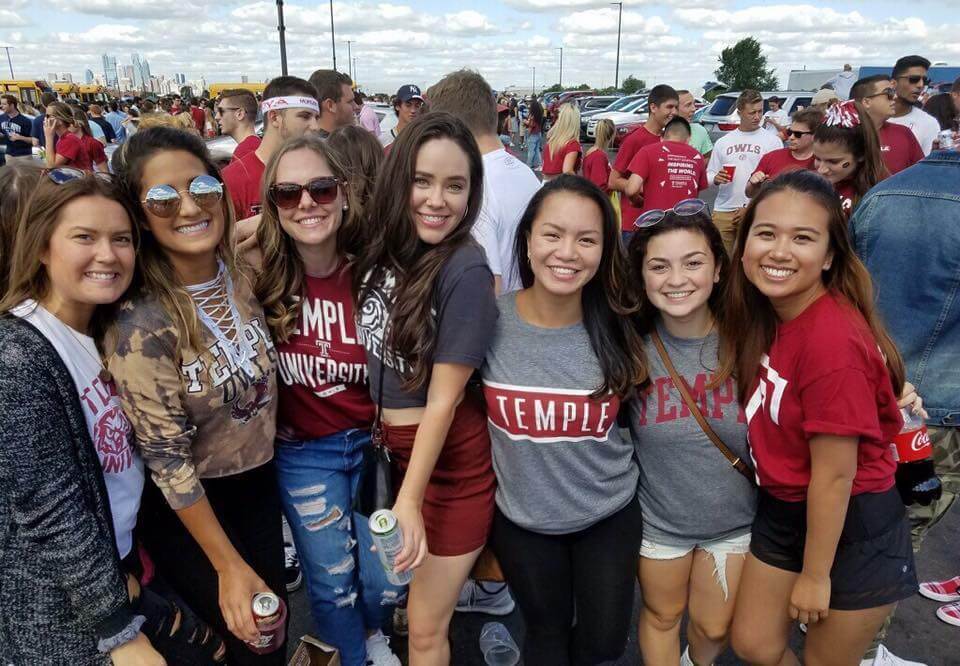 Temple goes all out for their tailgate outfits so make sure you get decked out in your cherry and white to represent your fellow Owls. You can never go wrong with owl temporary tattoos or cherry and white beaded necklaces to spice up your game day outfit. No matter what you wear, make sure you dress appropriately for the weather. Hypothermia or a heat stroke might be the only things capable of ruining an Owl's game day experience.
4. Pregame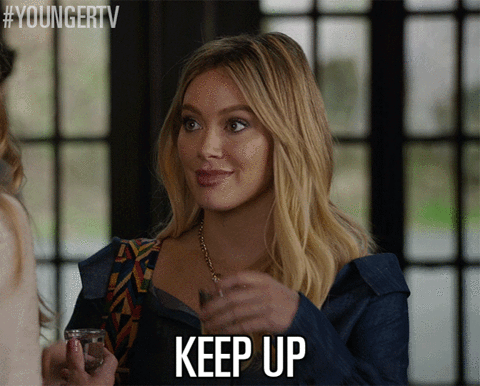 If Temple students know anything, they know how to pregame. As we all know, pregaming provides a better experience when done with a fun crowd. Just say "game day" and everyone will immediately show interest. Honestly, how could they not? Even though Temple is in the city, this doesn't stop us. So, huddle up your best pals and get the pregame on the road. Gather your friends and party before the tailgate at someone's house or one of the local Temple bars. If you don't know where to go to pregame, you can't go wrong with the Temple favorites: Maxi's, Master's or Draught Horse. For the non-21 year old crowd, almost every fraternity will host a pregame.
5. Bring the Essentials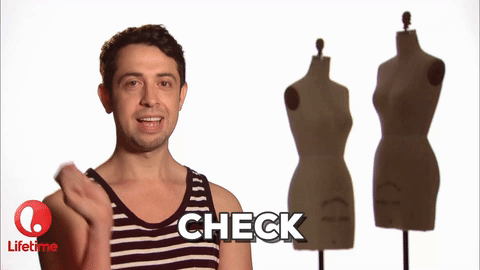 The essentials to a Temple tailgate include: a pong table, a boombox and food. You really can't go wrong when you have these in stock. To really party, you need good tunes and fun games. And, let's get real, you will most definitely get hungry from being surrounded by the dedicated Temple families who always set up trays of delicious food. When surrounded with that much food, you can't help but want to steal it from those who were smart enough to pack it. Bring your own snacks to steer clear of any temptation. If you bring your own car to the tailgate, you and your friends can easily have a potluck. During my freshman year, we bought a mini grill to the tailgate to make hot dogs and cheeseburgers. Go all out for your tailgate – you won't regret it.
6. Drinking Games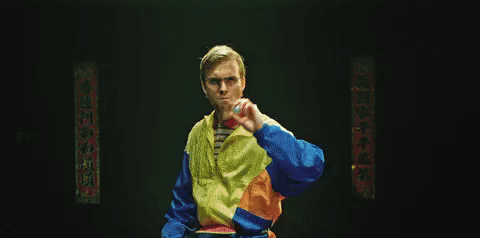 The drinking games do not and should not stop at the pregame. If you bring a table to the tailgate, get a crowd going for your favorite drinking games. You can never go wrong with beer pong, flip cup or beer ball. If you and your gang feel competitive, you can always play the tailgaters from the rival team. By branching out and socializing, you will definitely have a great time even if they do support the enemy. This makes the games more competitive. Your crowd should befriend them and then crush them in pong to show them that they're in Owl Country now. "Pong in the Linc parking lot is a must. It's always a good bonding experience with whoever you're going with (especially if you and your partner win), and you might even make a few friends from people passing by who stop to watch or even try to get in on a game," said Temple University senior Brian McDevitt.
7. Snap a Photo with the Temple Kings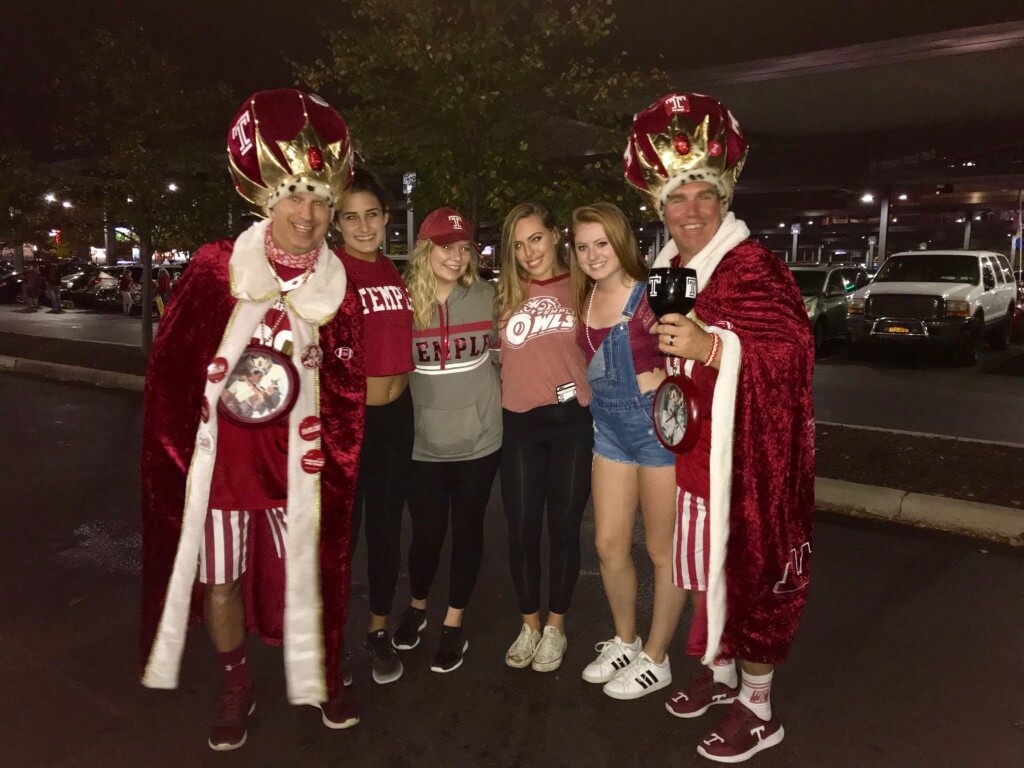 As an upperclassman, you already know where to find these guys. If you don't, you can find them in the heart of lot K. They attend every home game and, with these costumes, you can't miss them. Snap a photo with them because they know everything anyone needs to know about school pride. These kings show that they are obviously Temple Made through their school pride that never died down. "Rain or shine, you can always count on the Temple Kings to cheer on our boys by getting the crowd hype with their undying enthusiasm," said Temple University junior Kathryne Von Helms. "Occasionally we'll get celebrity visits too, like that one time Crazy Eyes from Orange is The New Black randomly appeared at a tailgate. Temple tailgates never fail to amaze me. There's always something surprising happening."
8. Chants
On game day, the Temple Fight Song equates to the national anthem. Not only will you hear it chanted at almost every car in the Linc's parking lot, but you can start the chant whenever you want without feeling awkward because everyone around you will certainly join in. Chanting hypes up the crowd and definitely makes the tailgates unforgettable. Plus, chanting exemplifies school spirit among Temple students. "Chanting is a spontaneous way of getting a sense of camaraderie while being surrounded by the Temple community," said Temple University senior Melanie Puzio. If you don't have it memorized yet, it will just take one game to know the Temple Fight Song by heart.
9. Xfinity Live!
If you don't have tickets into the game, don't fret. You can easily spot Xfinity Live! right down the street from the stadium. Xfinity ranks as one of the best sports bars in Philadelphia and 21+ students get lucky enough to watch the game inside. When inside Xfinity, the party never falters. The flat screens plaster the game on every wall, the restaurants have long but fast lines and every room has a stacked bar with fun music. "I love tailgates; they're the best part of the fall semester. To be honest, half the time I go down to The Linc, I don't even go to the game. I'm just there to hangout with all of my friends," said Temple University senior Matthew Rego. Don't worry, you won't miss the game even if you go to Xfinity. Xfinity provides a great atmosphere for the partygoers but also shows you play by plays of the game. Oh, and if you feel frisky, ride the mechanical bull. It is a rite of passage to get slung off.
10. Get Home Safe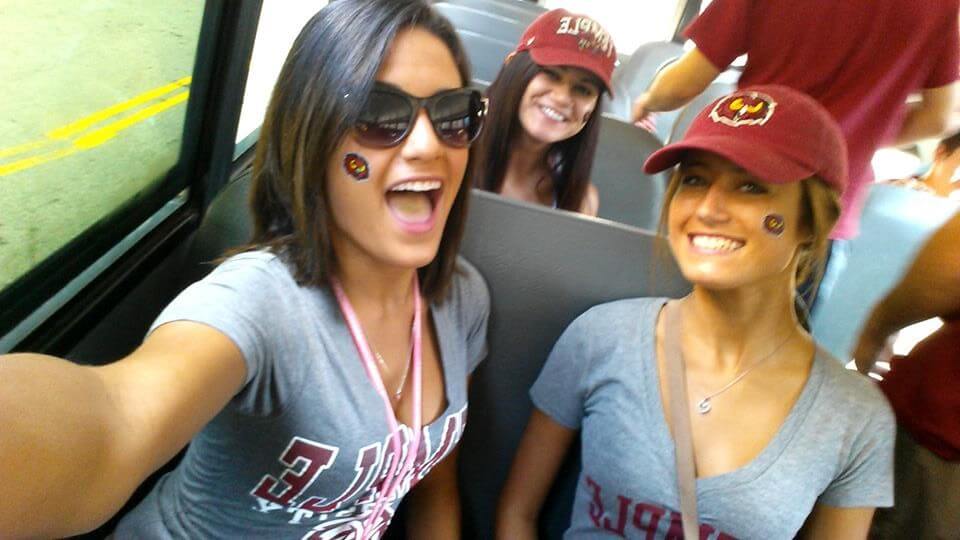 Don't forget the most important part of a tailgate: stay responsible and get home safe. As much fun as we have at tailgates, everyone should stay smart about their outing. Your safety means more than a party. In the middle of the city, you have the ability to utilize all of your transportation options: Uber/Lyft, subway, bus, etc. But, if you don't want to pay for an Uber or wait for the packed subway, Temple provides free bus transportation to and from the game for all students. The buses let the students off at the Student Center, a prime location in the center of campus. What better way to show school pride then positively representing our alma mater by staying safe and having fun.