Get the latest ranking of The Top 10 Journalism Schools 2019 here.
Do you dream of a front-page byline? Pick the right journalism school and you're on your way. Maybe you want to produce for CNN. With premium connections to internships, you'll be one step closer to your dream. The country's best J-schools ultimately shape students into top-notch journalists, editors, producers, anchors, Emmy winners and foreign correspondents with a passion for tracking down the truth. These 10 journalism schools offer prestigious student publications, Pulitzer-worthy faculty and connections to brag-worthy internships that will set you on the right track to the New York Times.
Want your byline on the New York Times? Check out the best journalism schools in the country.
10. Arizona State University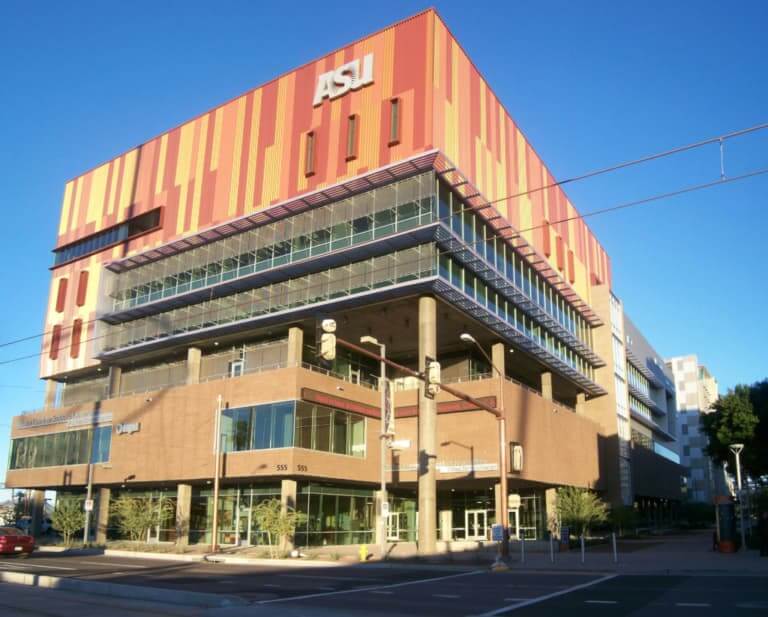 ¿Quieres ser periodista? ASU's Walter Cronkite School of Journalism and Mass Communications allows students to follow their passion however they choose, with focuses in digital media, broadcast news, reporting, public relations and Spanish-language reporting. Within these specialized areas, ASU directs students towards real-world experiences through internships at CBS Radio, Fox Sports and Vogue Magazine. "It's a university filled with instructors and students who really care about issues. They're really interested in public service," graduate student Elizabeth Blackburn said. "When I look back at my education at ASU I remember those people who truly want to serve—that is what ASU does." The school also trains award-winning journalists like Hearst Journalism Award winner Megan Thompson. Don't you want to be recognized at the national level? Your first steps through the doors of ASU's J-school could lead you to the spotlight.
What It's Really Like to Go to the One of the Best Journalism Schools in the Nation
1. You'll start to feel the heat.
"Emerson is really competitive and all the journalism students are really smart so everyone gets to learn from their peers and improve to become better journalists.… Classes are very challenging because we strive to stay as the number 1 school in journalism. To be honest I chose to go to Emerson because I wanted to challenge myself. Emerson is one of the top journalism schools and I thought I could learn a lot from the experience to become a better writer and journalist." – Reilley Djou, Emerson College, sophomore
2. You'll get one-of-a-kind opportunities.
"One particular class that I adore is actually a set of 2 classes. The first, Latino and border issues, is a lecture. The second, which you have to be invited to by the professor of the first, is in depth reporting where the school flies students to a different country each year over spring break to report on an in depth story of your choosing that has to do with the people in that country." – Rachel Banks, Arizona State University, senior
3. You'll write about stuff that actually interests you.
"Classes definitely vary from professor to professor in how they are structured but what doesn't change is the creative freedom they allow their students. As someone who is aspiring to be a sports journalist, I'm giving free range to pursue the sports stories that interest me. That is so important as I never feel disengaged from classes since I know I'll be allowed to use the journalism skills I'm learning to report on things that interest me." – Jack Aylmer, Emerson College, sophomore
4. You'll find an open door at every knock.
"There's such an amazing network of Emerson alumni that work at publications and news stations across the country, and dropping the name Emerson can get you into so many doors and give you so many opportunities…All of the classes I had were engaging and challenging and definitely prepared me for a career as a journalist, especially as a freelance one." ­ Jacqueline Weiss, Emerson College, recent graduate
5. You'll get that name recognition.
"There is something that we refer to as the "Mizzou Mafia", and it's basically a term that refers to the fact that Mizzou grads hire Mizzou grads, and you can find a Mizzou grad in every major news outlet in the country…. I am currently in Hong Kong, working as an intern at McCann-Erickson and I have already met people who have either studied at the Mizzou journalism school or have been to Mizzou for various conferences and visits." – Elin Enrooth, University of Missouri, senior
6. You'll learn from professionals who actually want to help.
"I've absolutely loved my time at Emerson so far. The journalism professors are all very distinguished members of the industry, but more importantly are more than willing to work with you one-on-one to help you improve." – Aylmer
7. You'll feel supported and respected by the journalism community.
"Not only does attending BU mean there are multiple papers and tons of respect for journalists, but the community as a whole supports and regards our writing. Each student is emailed every single day with three/four articles from one of the papers. Also, if you don't know someone who writes for FreeP (Daily Free Press), Tab (TheTab) or Odyssey (The Odyssey) then do you even go to BU?" – Sabrina Schnur, Boston University, sophomore
8. You'll learn if a journalist's life is really for you.
"You will leave a class either completely confident this is what you want to do forever and you have gained valuable life skills on how to do it from experienced professionals (our professors certainly have amazing resumes of past experience); or over-stressed and decide to switch fields. This is such an important thing to learn while in college instead of once you have a job doing it." – Schnur
9. You'll actually feel prepared to enter the journalism industry.
"Our classes are very hands-on, which I have found pretty difficult yet very helpful for the future! This we call the 'Missouri Method' and it describes the hands-on approach the journalism school takes toward the learning process. Through internships and other experiences where I have been able to work with journalism students from other universities, I have been amazed at how in-depth my education has proven to be. I actually feel that I am prepared for work after graduation, and I am confident in my skills." – Enrooth
10. You'll learn that upholding journalistic integrity is always #relevant.
"Most schools regard journalism as a dying art that requires a focus solely in visual media (aka- 'yes we have journalism but anyway we have film, tv'). BU incorporates a whole major called emerging media, but will never lose its literal journalistic integrity." – Schnur
5 items every aspiring journalist needs
2. Notebook
3. NY Times Student Subscription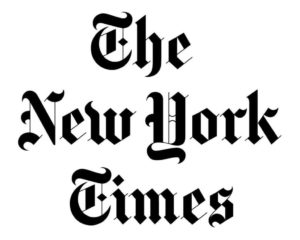 4. A laptop
5. Smart phone
Not sure what to major in? Check out different journalism concentrations to narrow your focus.
Print Journalism: Whoever said print journalism was going out of style was so wrong. Newspapers and magazines still end up on people's doorsteps—just make sure to learn how to incorporate various media components to the online version of articles.
Broadcast Journalism: Whether you want to stand in front of the camera or act as the mastermind behind it, this major is for you.
Photo Journalism: Learn to tell a story through a lens with the photojournalism major. You want the picture to speak thousands of words—that way you don't have to.
Media Studies: Get to know the media so you can master it.
Bring your love for words to life with the writer collection: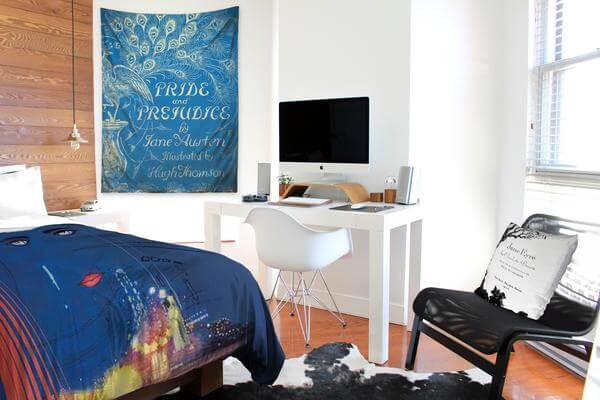 Updated July 14, 2016: An internship program with The New Yorker previously referenced in the section describing New York University has been changed. This internship program has been cancelled by Condé Nast, the media company responsible for The New Yorker. The article has been altered to include an internship at New York Magazine available to NYU journalism students.
Updated August 1, 2016: We added awesome dorm products and links to get them fast.
Updated June 30, 2017 by Celina Pelaez to include sections"What It's Really Like to Go to the One of the Best Journalism Schools in the Nation," "5 Items Every Aspiring Journalist Needs" and "Journalism Concentrations," plus literary dorm accessories.