Broadcast journalism brings newspapers to life through the lens of shows like the 11 o'clock news, Entertainment Tonight, and Sportscenter and through the sounds of radio shows like NPR. Broadcast journalism majors get paid to talk about their passions. You can become the next Erin Andrews, a popular morning talk show anchor like Robin Roberts or even a notable radio personality like Howard Stern. Why not get paid for working the news segments you sit and watch every day?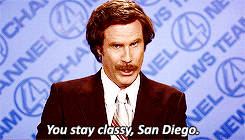 What you'll be doing
As a broadcast journalism major, you'll learn about all the positions needed to create programs like CNN's Situation Room and Sportscenter. From editing videos and creating "packages" (1-2 minute visual stories) to learning the ropes of becoming a reporter, this major prepares all students to understand every position. Other than taking your typical lecture courses, broadcast journalism (BDJ for short) exposes you to the hands-on experiences of its careers early on. "BDJ 465 was the most realistic situation to what we would be facing after graduation," said Syracuse '14 alum Heather Prusak. "It simulates a real newsroom atmosphere and gives you a better idea of how a station operates on a daily basis." Besides the hands on experiences in classes, many universities offer student run TV and radio stations to help further your expertise.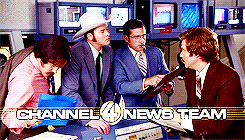 Upsides
1. "I think this major helps people find their voice and come out of their shell. It allows people to show off many sides of their personality and be creative at times. I love what I do simply because it's fun." – Heather Prusak, 2014 Syracuse graduate
2. "The amount of stories that make you look at situations and your own life differently is nuts. I guess that's sort of the romantic side of the job." – Gabe Altieri, 2014 Syracuse graduate
3. "I really enjoy the video aspect of the major and the classes you take give you a hands on experience with this. I just love being able to shoot video. That creative aspect of [BDJ] is such a different kind of story telling than print journalism in general." – Marisa Decandido, 2013 Syracuse graduate
Downsides
1. "The standards of the major are high because the standards of the profession are high. Plus for some, getting in front of a camera doesn't come as comfortably for them so that can add to stress." – Darius Joshua, 2014 Syracuse graduate
2. "The only downside is how tough finding a job can be, especially one that pays you an amount you can live off of. You will most likely start your first job far away from your hometown. The transition to moving somewhere far away to somewhere you have never been before is tough, in my case, North Dakota." – Marisa Decandido, 2013 Syracuse graduate
3. "If you are going to be a good journalist, you need to put in time. I think most journalists would tell you the same thing. It really could do damage on your personal life, which is why you need people in your life that understand or figure out another way to manage your time." – Gabe Altieri, 2014 Syracuse graduate
Career Opportunities
The broadcast journalism major prepares its students for a broad choice of careers. From writing news stories to announcing Yankees games, here are the most common careers of a broadcast journalism major:
1. Radio Personality
Being a radio personality means having all the perks of being a reporter without having to get dressed in the morning. A radio personality presents the news in his or her own way. Radio personalities are responsible for creating their own content and presenting it in a timely manner, all while keeping the news fresh and lively. Talk radio focuses more on discussions of news (primarily political debates) or sports (opinions on specific players or outcomes of games). While AM/FM radio personalities combine these discussions with a focused selection of country, rock, oldies and Top 40.
2. Anchor/Reporter
Just refer to the film Anchorman, and do the complete opposite. A TV anchor or TV reporter is responsible for presenting the news visually. Anchors are responsible for presenting national news from the station's studio. Reporters are responsible to go out to the scene of the news story to interview people and report the news from right where it happened.
3. Writer
Writers are responsible for creating the scripts for radio and television news segments. It differs from newspaper journalism because each story generally ranges from 15 seconds to 2 minutes. Writers are responsible for getting the main point across as quickly as possible with short and clear sentences.
4. Producer
Producers are responsible for creating and structuring the show. Producers create the order of the show and approve all scripts, video clips and packages. In essence, they oversee the entire production. Producers have expansive knowledge of all positions in order to run the show smoothly.
5. Sports Commentators
Sports commentators are those who give play-by-play action of games seen on TV or heard on the radio. Radio commentators focus more on creating a vivid display of what is seen on the television. TV commentators will discuss every play but will also discuss more about the athletes statistics, opinions on calls, and display their reactions to the game. Not to mention you get paid to watch sports and share your opinions instead of just screaming at your TV every night.