What makes a collegiate newspaper a powerhouse publication? Most campus newspaper staffers agree—it requires a great deal of passion and commitment to produce a daily paper. Keeping the public entertained and informed on a daily basis is not an easy task–especially when you're juggling five classes, a part-time barista job and a social life. Oh yeah, and that pesky thing called a sleep schedule.
Creative content, a handful of prestigious awards, thousands of daily readers, a flawless online layout and an extremely talented and committed staff are the ingredients for a shining student publication. Here are 10 daily college papers that go above and beyond.
1.The Minnesota Daily, University of Minnesota–Twin Cities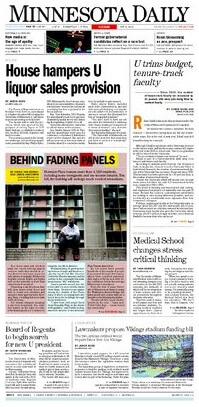 Snappy headlines, a sleek, professional design, stellar pictures and coverage of both campus and national issues immediately catch your eye on The Minnesota Daily's website. The paper has solid opinion, news, sports, A&E, Campus and Metro sections, as well as a hilarious "Overheard on Campus" segment. Quotes like "You're like a mythical creature–you only exist on Twitter!" and "You steal our sriracha, we steal your friends!" are like the "Texts from Last Night" of U of M. The Minnesota Daily strikes just the right balance between hard-hitting news and unique, entertaining sections that are sure to induce a few laughs and nods of recognition among fellow students. The Minnesota Daily is currently the largest student-run newspaper in the country.
2.The Daily Texan, University of Texas at Austin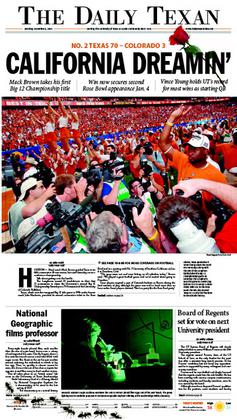 The Daily Texanhas received more awards than any other collegiate newspaper. The paper also boasts 10 Pulitzer Prize winners among its former writers and three yearsrunning as the Texas Associated Press College Paper of the Year. The Texan is known for its extensive coverage of important historical events like the Vietnam War, as well as recent campus scandals such as a coach having a relationship with a student.
"I think what sets The Daily Texan apart from other college newspapers is its history and dogged pursuit of all manner of stories, no matter how unpleasant they may be for those in power," said Editor-In-Chief Riley Brands.
3.The Lantern, Ohio State University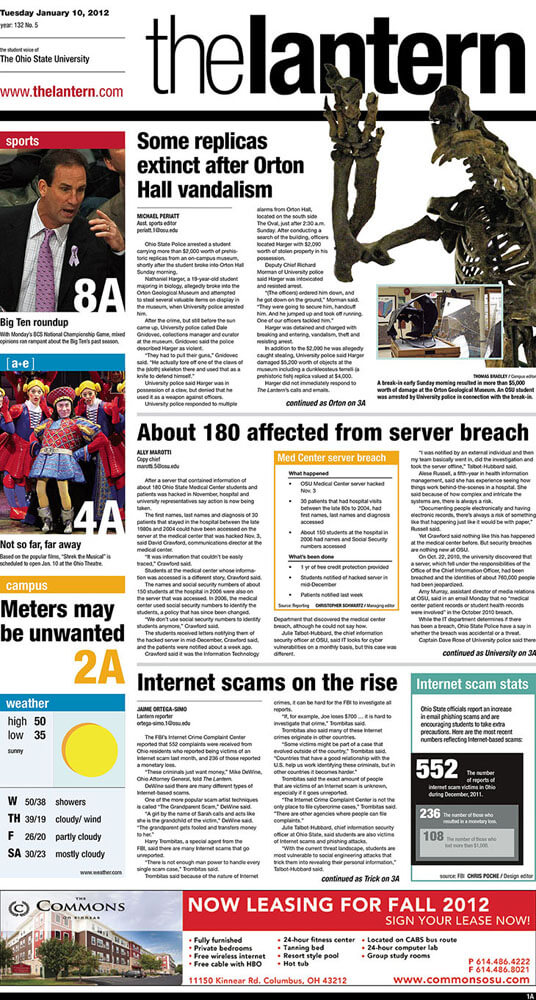 Other college papers don't hold a candle to OSU's The Lantern. Over 100 talented writers, reporters, designers, and editors work together to produce this award-winning publication. The Lantern has expanded its audience in recent years with a broadcast component called Buckeye TV as well as an online webcast. In 2011, The Lantern was named the top university newspaper in the state of Ohio by the Ohio Newspaper Association and Best College Daily Newspaper in Ohio by the Society of Professional Journalists. The paper also garnered national press attention that year when it was the first to break a story about a scandal regarding football players selling sports memorabilia for money.
"I'm only 20 and still in college, but it's so rewarding to see what I do really make a difference on campus and beyond," said Editor-in-Chief Liz Young.
4.The Daily Iowan, The University of Iowa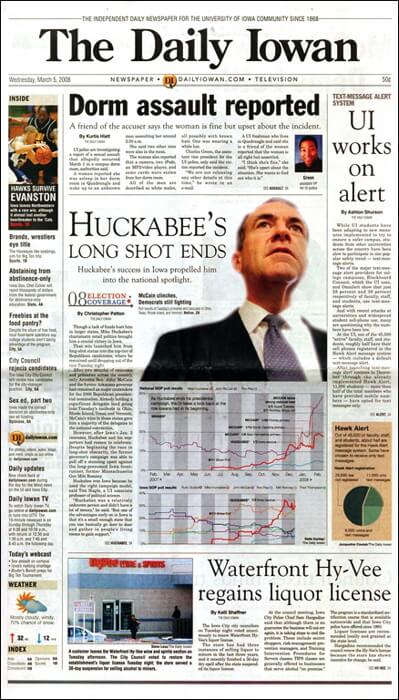 The Daily Iowan's writers are well on their way to becoming the next generation of Pulitzer winners. In 2013, The Daily Iowan was awarded the National Pacemaker Award, which has been dubbed the "Pulitzer Prize" of university journalism.
While The Daily Iowan has produced high-quality daily content for nearly 150 years, it gracefully transitions into the digital age. The paper is not only available in print and online, but also offers a free app for the iPhone and iPad. Daily Iowan TV also conveniently delivers student-produced newscasts Sunday through Thursday, available both online and through a local television channel.
Check out our Top 10 Schools for Journalists

5.The Daily, University of Washington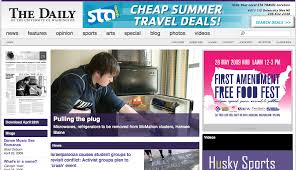 With a staff of 172 students, many coming from unexpected majors like Physics and Applied Sciences, The Daily's staff is just as diverse as the content it offers to its readers.
"People really are a lot more than their degree, so I'm glad we're looking at ability, commitment and passion rather than degree and GPA," said Editor-in-Chief Andre Stackhouse, who is an Informatics major himself.
The Dailywas awarded the Pacemaker of General Excellence in 2010 and won the Apple Award for Best College Newspaper from 2007 to 2010. Along with daily print and online content, The Daily staff also publishes special sections throughout the year, including a Housing Guide, Salute to Grads, Spring Break Edition and The Holidaily.
"I think the reason we all come back is because we really all are hooked on the experience of collaborating on something really tangible that's visible to such a large and diverse audience," Stackhouse said.
6.The Cornell Daily Sun, Cornell University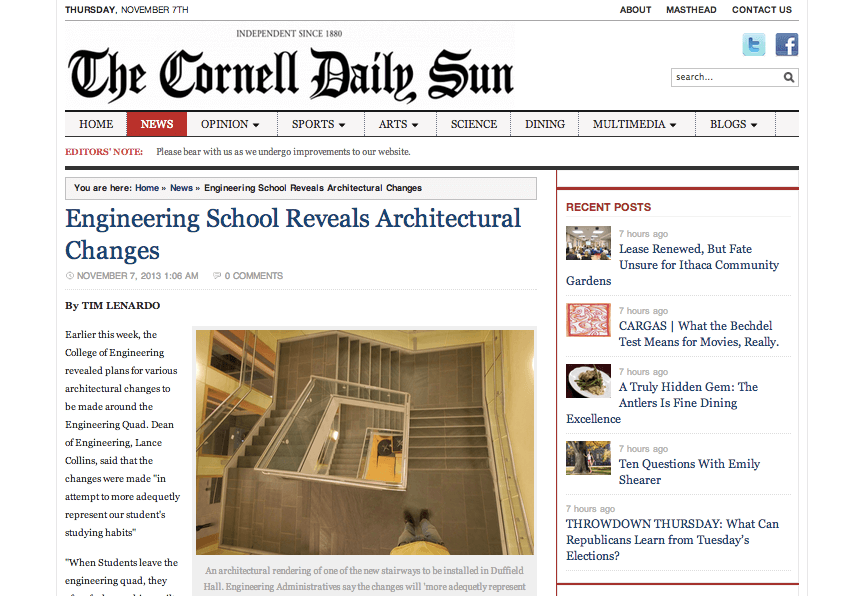 The Daily Sunis aptly named, because it certainly shines. Cornell's daily isa completely student-run publication and was the first collegiate member of the Associated Press. Former writers have gone on to work for NPR, The Chicago Tribune, The New York Times, Slate and other award-winning publications. The paper prides itself on nine Pulitzer Prize-winners and a writer and producer for Law & Order among its alumni.
The Sun's online design slightly resembles The New York Times, and has equally accurate and interesting content. The paper has been consistently publishing for 134 years and is sure to produce the highest quality content for at least 134 more.
7.The Daily Californian, University of California, Berkeley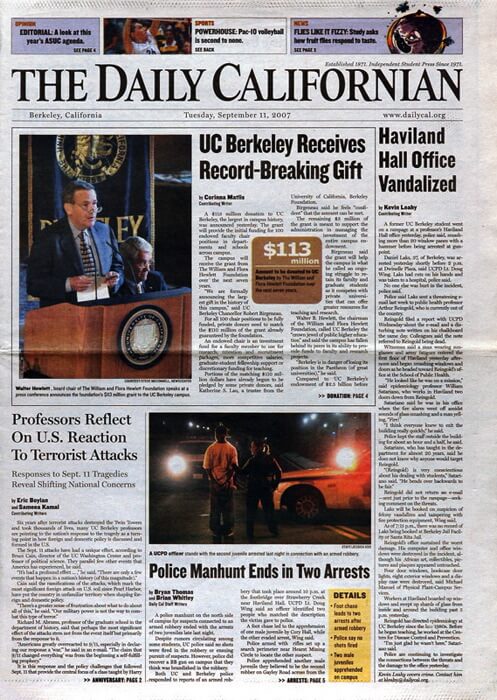 If you walk into EIC Chloe Hunt's office at The Daily Cal, you'll see very little wall space. Why? Her secret to success is documenting the paper's achievements and future goals through sticky notes on the walls. Hunt says it helps to remind her what she's accomplished, while not letting long-term projects fall by the wayside.
UC Berkeley's daily newspaper has been around since 1871 and has received numerous awards over the years, including 18 awards from the California College Media Association in 2014.
"We are student-run, meaning we have no faculty advisor guiding us or calling the shots," said Arts & Entertainment Editor Grace Lovio. "Because we do everything ourselves, there are so many opportunities for students to step into leadership roles and make an impact in our positions."
The Daily Cal also has eight different blogs that express the diverse voices of Berkeley students, covering everything from sports and travel to the ins and outs of being a copy editor. Cal's main blog is aptly named The Daily Clog.
"It's smart, funny and uniquely Berkeley-esque," Lovio said.
8.The Badger Herald, University of Wisconsin—Madison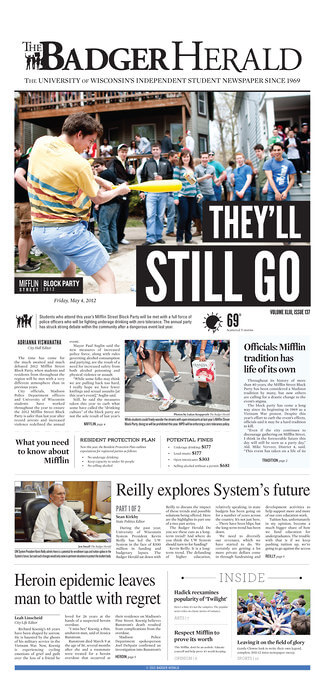 The Badger Herald's website offers a unique section called Shoutout of the Day, consisting of small, silly expressions of gratitude that are sure to put a smile on your face. What began as an experiment in 1969, The Badger Herald has received a large amount of success in the following decades. It is one of two student papers at U of W and is completely student-run.
"We are always trying to look forward, find better ways to reach our audience and make our content informative, captivating and user friendly," said Tara Golshan, the current EIC.
Golshan nostalgically recalls her first encounter with the paper, when the offices were above a Madison bar. "Beer cans lined the steep staircase and the office was this glorious combination of absolute wit in decoration and off-the-street garbage. It was loud and it was fun, there were miscellaneous objects mixed in with piles of newspapers and bad Chinese food. I just fell in love."
9.The Harvard Crimson, Harvard University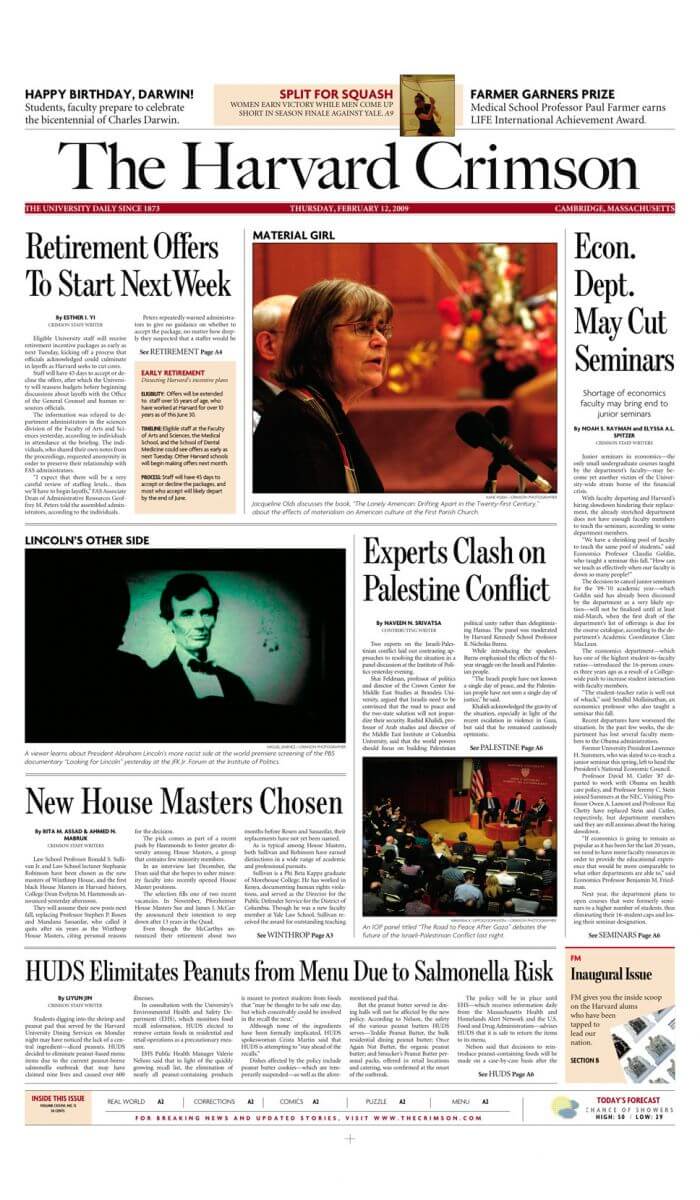 Did you know former president JFK wrote for the Crimson? Harvard's daily also boasts 12 Pulitzer winners among its alums as well as writers for The New Yorker, Slate, The New York Times and CNN.
The Crimson reports on issues that affect the Harvard campus as well as college students at large. Its "Postcards" section lets students sound off about what it's like to get a little cultural perspective. In addition to publishing a daily newspaper, The Crimson produces an Arts pullout on Tuesdays and a magazine on Thursdays. The Crimson is the only U.S. collegiate newspaper with its own printing press.
10. The Diamondback, University of Maryland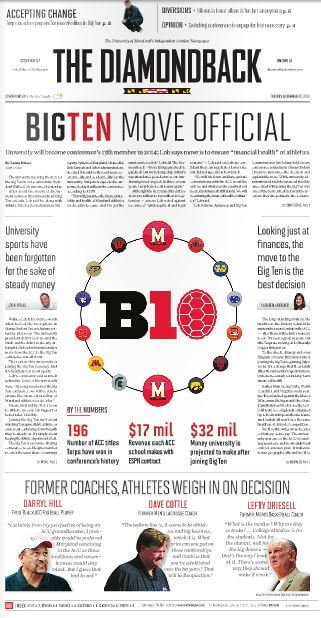 On the The Diamondback's website, headlines like "Sex, Porn and Amanda Coop" and "Metal mainstays Mastadon reach for new sound" immediately vie for attention. With a simple, easy-to-navigate layout and a unique choice of content, University of Maryland's independent daily is a unique blend of versatility and vibrancy. The Society of Professional Journalists recognized The Diamondback as Best All-Around Daily Student Newspaper in Region 2 (Delaware, North Carolina, Virginia, Washington and Maryland) for the 2012-2013 academic year. The paper covers all the bases—fashion, crime, music reviews, sports and everything in between. University of Maryland's daily paper also spotlights student voices with a collection of videos in its Multimedia section, which discuss a range of topics from costumes to car safety.
If you love to read, rep your favorite classics
For more university rankings, check out:
CM's 10 Most High-Strung Universities

CM's Top 10 Journalism Schools

Update: A previous version of this article misattributed The Daily Iowan to Iowa Sate University. We've made the change to The University of Iowa on July 10, 2014.