Forget wining-and-dining, these days the key to a successful relationship comes with the mutual trading of memes. Can you truly identify as a couple if you don't constantly flood each others DMs with relatable posts? There's usually a meme for every occasion. Funny ones for when your partner needs a pick me up, or even relatable memes that seem as though they were made specifically for your relationship. And, of course, the sweet ones to show that you miss and think about your person. Before the relationship reaches the "official" level, it goes through many different stages—but with memes helping to express and explain every step along the way, it makes thing that much easier. Essentially, memes can do all the talking if you let them; they channel a way with words that you couldn't do justice if you tried. The memes below? Guaranteed to make you and your recipient actually laugh out loud. 
Check out 25 memes that you'll want to send your partner for a good laugh.
1. YOU DECIDE! NO YOU DECIDE!
No matter how perfect the pairing, the decision on where to eat will always cause the most arguments. You know, the endless back and forth bickering with each of you getting more hungry by the second. Note to proceed with caution when dealing with a hangry girlfriend! 
2. COMMUNICATION IS KEY
How can boys explain their exact location in group video games as if their lives depend on it, but they cannot express how they feel about your relationship? Perhaps in order to encourage communication, you might wanna grab a headset and join the party.
3. …HI!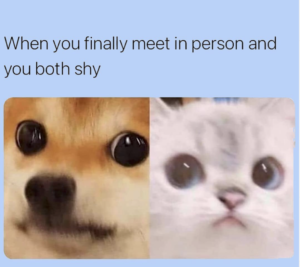 Meeting for the first time always feels nerve wracking! When the nervous energy gets followed by awkward silence, seconds can feel like hours. Send this to your SO to reminisce about your first encounter. 
4. WOW, OK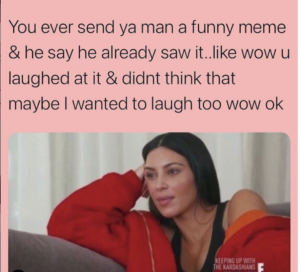 So you don't think about me every second of the day? You share laughs with people other than me? Wow, that kinda hurts. 
"I do find that sending memes helps us grow closer as a couple. Between both of us having school and work it's often hard to find time that we are both free. If I see a meme that I know Ravyn will like but she is busy for a bit, I can send it to her so she can watch it later," Hunter College senior Anthony D'Ambrosio said.
 While it does suck when sometimes your partner doesn't send you funny memes, maybe it's just because they were busy. Though, how awesome does it feel when they do?
5. THE ANSWER TO YOUR PRAYERS
Send this to the partner that can never make a decision. Say goodbye to arguments with this handy spinner! Decisions never felt so quick and easy. 
"We never know where to eat and always just go back and forth trying to figure it out. We actually made a list of all the restaurants we like and wanted to try, and every time we go out to eat for something, we look at the list and pick one randomly," St. John's University sophomore Amanda Montanino said.
If you needed proof that decisions can be made that much easier by using a spinner, here you go!
6. BF/BFF
A boyfriend that doubles as your bestie? Yes, please! Send this to your man that loves hearing all the tea. 
7. I SEE YOU!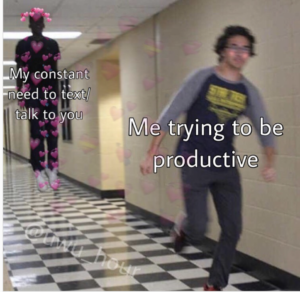 Ever try to get things done but just cannot put your phone down? You can try to outrun it, but somehow the urges catch up. Aka, when you tell bae, "I'll talk to you in a little, I am busy," but they actually hear from you five minutes later. 
8. DON'T GO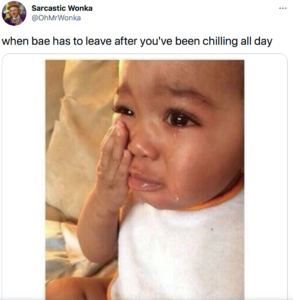 What do you mean you need to go? Send this to your SO that always throws a mini tantrum when you need to leave. 
9. EXCUSE ME!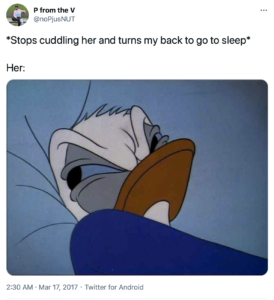 Send this to your cuddle buddy if her face looks like this when you gather the nerve to go to sleep. C'mon dude, who needs sleep anyways? 
10. OOPS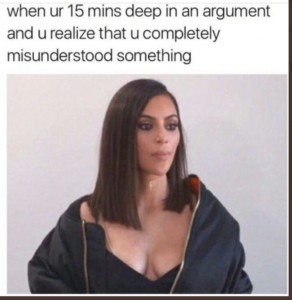 Well, looks like I missed something. Do I apologize, play it off, or start to cry? 
11. WAKEY WAKEY!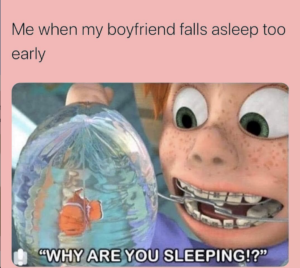 Anyone else's boyfriend just knock out without permission? "Excuse me sir, but I wasn't done hanging out with you!" Send this to the sleepyhead that always falls asleep on you. 
12. THIS IS MY JAM!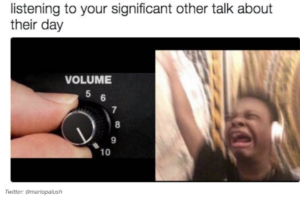 At any point, did you experience a time where the other person talking about their day sounds like your favorite song or podcast? Yeah, that sounds like a "That's all, folks!" for you. Share with the person that makes doing laundry and going to work sound like skydiving. 
13. MY PERSON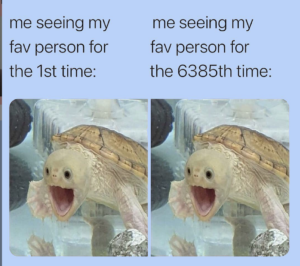 For when you see your SO all day, everyday, yet still give them the same reaction every time you see them. How flattering!
14. SENDS TEXT*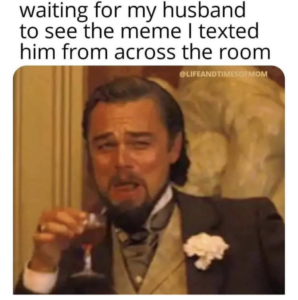 What kind of couple doesn't send memes in front of each other to catch their reaction? Doesn't matter the occasion, especially when the reaction ends up priceless. 
"We usually send memes as a way to make the other person laugh. Sometimes, we even use memes as a way to poke fun at the other person, like if the meme's content is an inside joke or something we think is a funny habit of the other person," Adelphi University senior Ravyn Malvino said.
What better way to embarrass your partner at an event other than to send them a meme that you know will cause them to burst out laughing? 
15. WHOLE LOT OF LOVE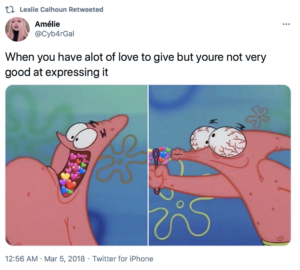 Ever feel all the feels, but don't know what to do about it? All the love gets bottled up, overwhelms you and comes out all at once. When you cannot express your feelings, try relaying them in a meme. 
"If a meme is personally sent to me, I feel like I have to watch it/look at it. That person thought of me when they saw it, and that makes me so happy!" Lafayette College sophomore Annalise Loscalzo said.
A simple meme can say all of the things you need it to while putting a smile on your partners face. What's better than that? 
16. RAWR, I'M A DINOSAUR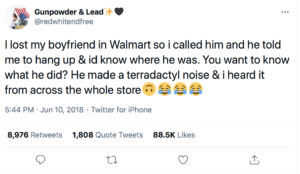 If they don't embarrass you in public, you did not find the one. Yes, go claim your pterodactyl sis!
17. WERE YOU EVEN LOOKING AT ME?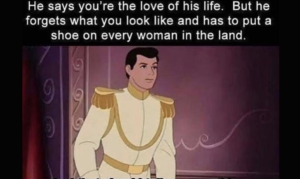 Honestly, how could Prince Charming not be able to identify Cinderella? When you know, you know, right? Apparently not, but at least they live happily ever after.
18. NOT YOURS, OURS
When he makes a habit of saying mine, and not ours, does that means those comfy hoodies? Free real estate: all of your hoodies. Our hoodies, now. No such things as "yours" or "mine"—just ours. 
19. ALMOST DONE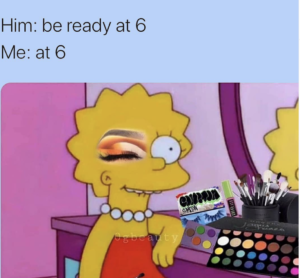 Every girl understands the struggle and effort to perfect a makeup look. Makeup: the modern art form. Every guy should know that, "Be ready at six," really means you'll leave by seven…maybe. 
20. I AM NOT CUTE!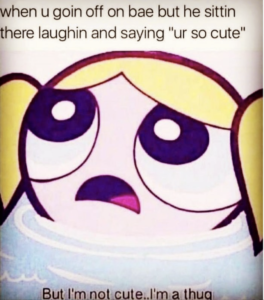 When you find yourself arguing with bae, trying to come off as tough, thinking you pulled it off and then he smiles? Not cool, dude. Sometimes a girl needs to be feared, not adored.
21. DON'T LOOK AT ME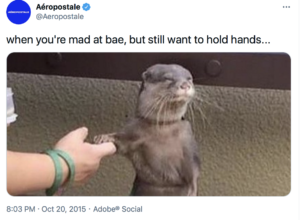 I don't wanna see you, I just wanna hold your hand! Just because I don't like you right now does not mean I don't need attention. 
22. TWO WRONGS DON'T MAKE A RIGHT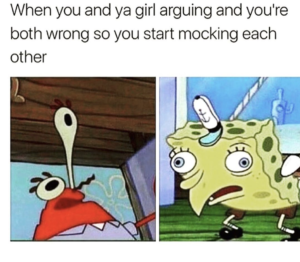 When neither of you will win the argument so you just begin mocking each other. This will almost always give you something else to actually argue about.
23. DO NOT LOSE FOCUS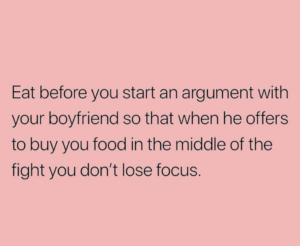 Never start an argument on an empty stomach, sister! Always come well prepare and never welcome distractions—and yes, Chipotle counts as a distraction. Keep your eyes on the prize.
24. THEN VS NOW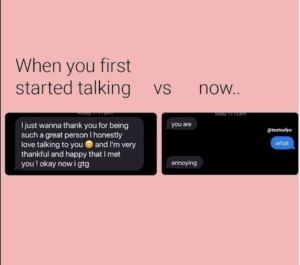 Compare your texts with you SO from the beginning of your relationship now and spot the differences. What a world of difference feeling comfortable creates! Send this to them to show how far you came. 
25. DEEP BREATHS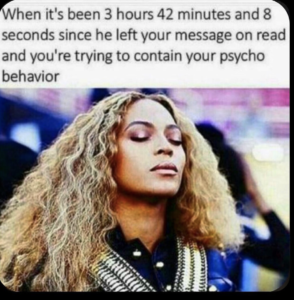 We all know the feeling of being left on read and our minds running a million miles a minute, trying to think about what they do while not answering. As hard as it can be, stay strong. He better come with a good excuse, though.