Cute, ugly, funny or bold–Christmas sweaters come in as many styles as Santa has reindeer. Whether you need loungewear for a movie night with family or a statement sweater for a fun Christmas party with your friends, make sure you have the perfect ugly Christmas sweaters for the occasion.
Look at these 15 ugly Christmas sweaters to find the one that stands out to you like Rudolph's nose.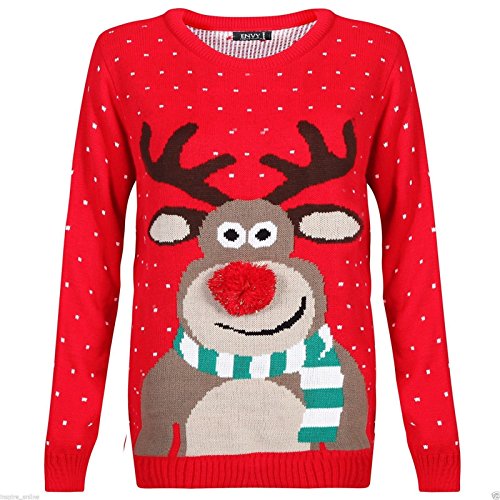 If you and your family watch Rudolph the Red-Nosed Reindeer every year, then wear this thematically appropriate sweater to your traditional movie night. With an adorably tacky light up red nose, everyone will know your favorite holiday icon.
Price: $6.79-$39.99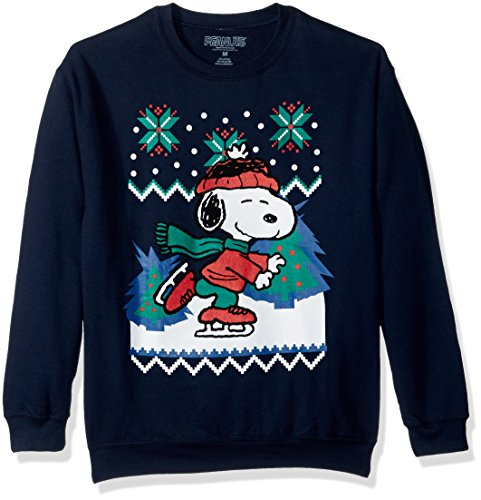 Sure, he might not be an official Christmas icon, but Snoopy belongs in the ranks of timeless holiday characters. You probably won't find anyone who doesn't know him, and your sweater will be a huge hit at Christmas parties, no matter what generation. It might even inspire everyone to choose A Charlie Brown Christmas for a post-Christmas dinner movie.
Price: $10.77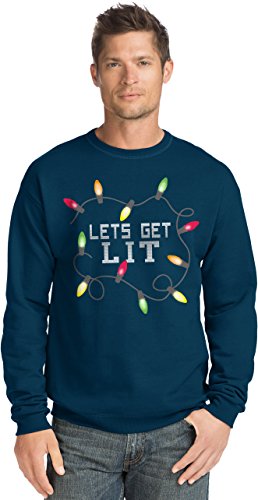 You won't find a better sweater for the party people of the holiday season. A funny play on words while including festive Christmas lights, this sweater will hype up any holiday party. Take your Christmas party with your college friends to the next level in this sweater—it'll go perfectly with all that spiked eggnog and peppermint schnapps.
Price: $7.91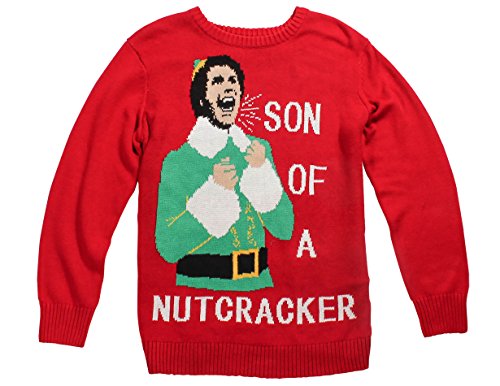 Does our generation have a more iconic Christmas movie than Elf? With this funny Elf reference on your sweater, you can rep the movie you love. You might even inspire an Elf movie night… for the fifth time that week.
Price: $49.99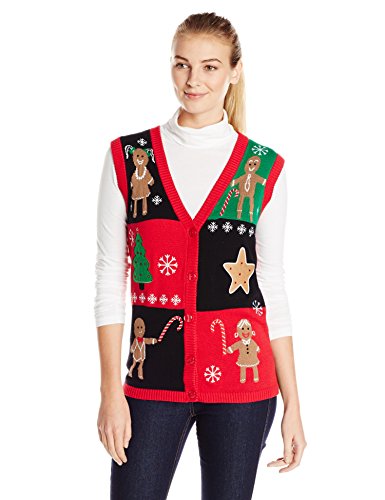 Surprise your family with your bold fashion statements by wearing–get this–a sweater vest. A new take on the classic Christmas sweater, Christmas vest will have everyone at the holiday party talking about your bold fashion statements.
Price: $20.30-23.30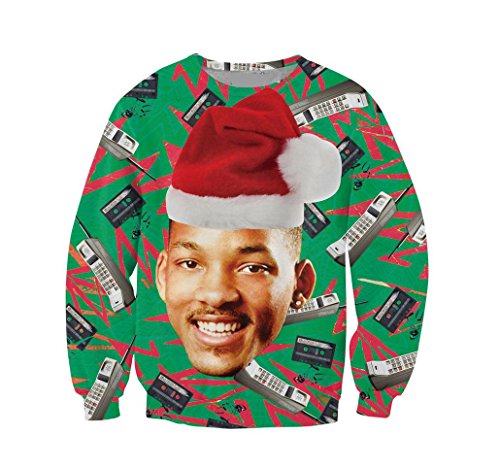 Are you the funny guy or class clown in your friend group? Swipe this sweater of the ultimate class clown of the 90s. Perfect for those who love the 90s, this sweater will fit right in at any retro-themed Christmas party.
Price: $29.99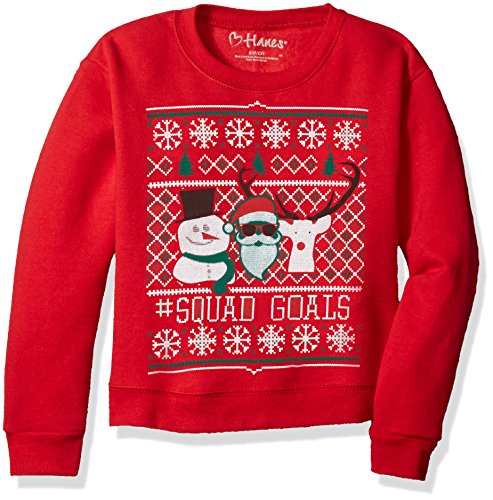 This will make a perfect secret Santa present for you and your friends. Get your friends to wear them to the next Christmas party and define #squad goals. You'll get an incredible Insta, and your feed will definitely put your followers in the holiday mood.
Price: $5.02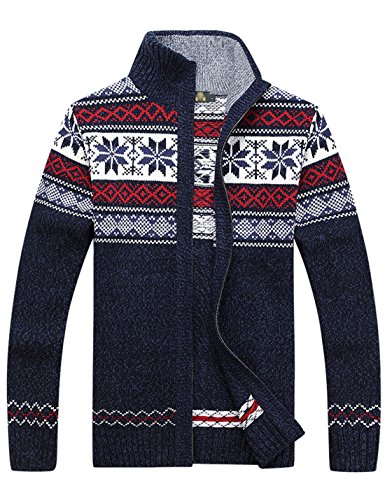 Opt for a classic Christmas sweater style if you want to be subtly festive. Try something with classic holiday colors that won't scream Christmas in your face. Look cute for holiday card pictures, get aesthetically pleasing Instagram's and warm yourself up as you get cozy by the fire in this wintery sweater.
Price: $40.97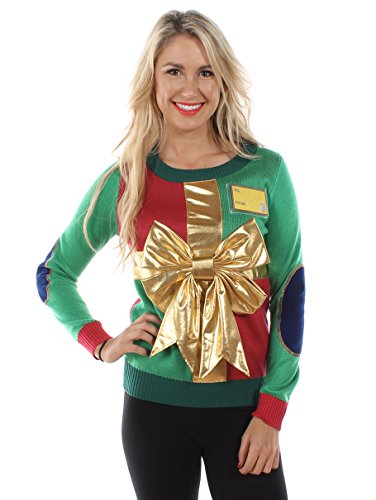 Have you ever dreamt of being wrapped up like a present and placed under the Christmas tree? Wear this to a party if you are showing up with no present… YOU are the present 😉 This pulled out all the stops to make you look wrapped up as a gift, including a To and From tag and a three-dimensional bow.
Price: $59.95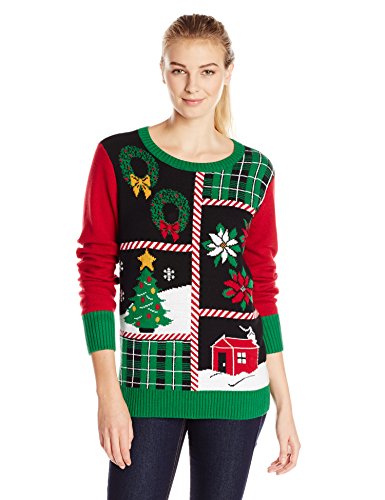 For the I-dug-through-my-grandma's-closet look, pick up a classic ugly Christmas sweater. The mix of patterns and knitting makes it look it look like a sweater your grandmother would have actually worn. But even though it has the #vintage look, this will last longer and be better quality than what you managed to find in the attic or back of a closet.
Price: $29.99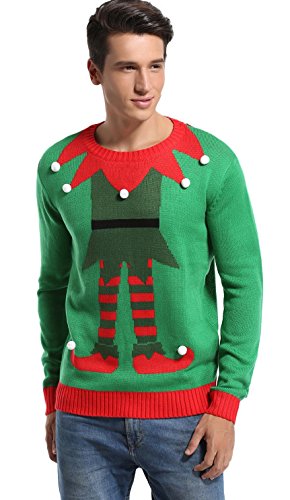 Not everyone may celebrate Christmas, but everyone loves elves. An ugly Christmas sweater like this gives you an easy elf costume that will be a hit at parties. Wear this a cheesy design alongside your friends to be Santa's elves at any holiday party you go to.
Price: $24.99 – $29.99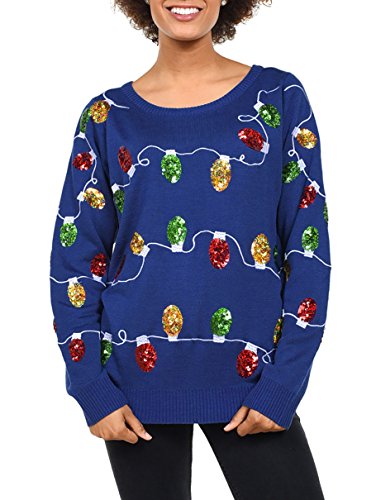 Stand out at parties with your sparkly Christmas lights sweater that will draw some serious attention. You'll have a unique sweater you can repeat season after season without worrying you'll run into someone else with the same one.
Price: $54.95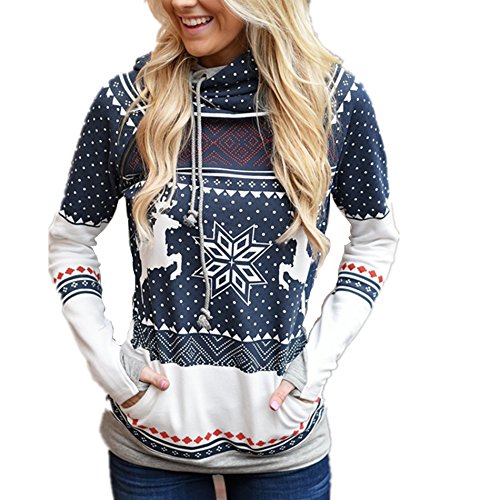 Sure, you love Christmas sweaters, but you don't love purposely dressing ugly. Why can't there be a fashionable way to participate in the sweater trend? Slip on a hoodie holiday sweater that mixes festive and fashionable without being tacky. The turtleneck will keep you incredibly warm during the winter months as well.
Price: $7.78 – $29.77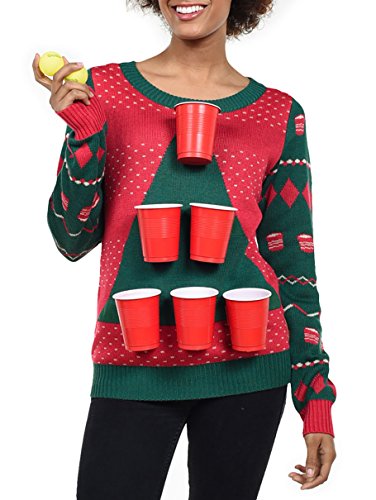 For the hardcore partiers, wear this beer pong Christmas sweater to your holiday party. It will be the favorite sweater by far because the interactive sweater that involves a drinking game will liven up any party. With Velcro, you can remove the cups when the game finishes and watch your party trick turn a cute red and green festive jumper just in time to see your family.
Price: $49.95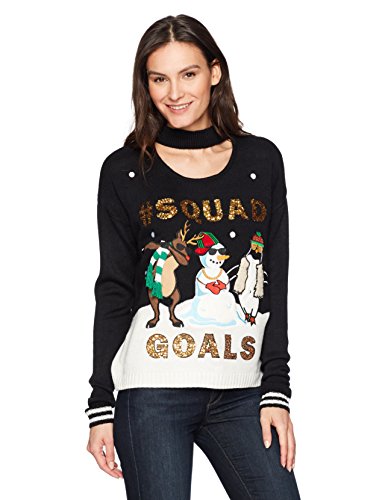 Surprise your friends with these sweaters for you and the whole squad. A fashionable take on the ugly Christmas sweater, the a cut out neck and sparkles make this sweater #extraAF. If you and your friends love to keep up with trends and want stylish but fun Christmas outfits, these sweaters will make your cheeks even rosier with holiday cheer.
Price: $15.39
Check out some more ugly Christmas sweater ideas that will make everyone at the holiday party jealous.
Written by Natalie Wollenzien
It's the most wonderful time, of the year. The winds might blow and the final grades might seep into the worried psyche of our college brains, but there is one thing those professors cannot take away from us: holiday sweaters. Yes, that's correct. Nothing warms the soul quite like a ridiculous piece of fuzzy fabric, and that's why I'm writing this with shaking hands because of how damn excited I am. Also the coffee, but mainly the passion for the sweaters you're about to see.

Light up the entire world with a battery-powered sweater. "I love them because they're literally lit. I have to spot clean it, but that's part of the charm," University of Northern Iowa senior Kennedy Elliott said. You can become the belle of the ball at any party or "that cousin" at any family function you ever take part in. We love a good holiday dynamic.
Price: $65.99 – $123.18
Combine so many of your interests into one. Christmas? Yes. Cats? Double yes. Looking absolutely ridiculous and having the excuse of it being a holiday? Oh, most certainly. And for any of those wondering, yes, I own one myself. I was born to rant about ugly Christmas sweaters.
Price: $9.99 – $24.99

The more ostentatious and painful to look at, the better. "I think they're the reason for the season sometimes. My favorites are the ugly obnoxious ones that are an eyesore to all. It just makes the holiday season perfect. Only the Grinch would hate Christmas sweaters," University of Nebraska junior Candice Mayfield said. You'll be the talk of the party with a sweater like this. Whether or not that's a good thing is up to you.
Price: $9.99 – $20.99
You might not feel mentally sane if you wear this outside of the Christmas season, but isn't that what makes the holidays so special? The opportunity to wear virtually whatever you want ripens the mood ever more. Plus, the hoodie has antlers so maybe you'll pass as one of Santa's reindeer. Incredible.
Price: $12.69
We love a good winter meme. Sprinkle the love, sprinkle the cocoa powder and keep the fans at bay with all the kudos you'll get for rocking this sweater. Start some conversations and bring some laughter to any holiday party you crash.
Price: $24.99
There's a chance (a one hundred percent chance) that I speak from personal bias, but this sweater transcends trends and arguably even seasons. "Those Obama sweaters should have matching Biden sweaters to make the pair," senior at Florida State University Kaylin Berner said. A Barack Obama pun can put even the Grinchiest person in a good mood.
Price: $36.99
Outsmart all your best-dressed friends at the sweater party with this lovely rendition of the ugly holiday sweater. "I love crazy prints. But also, the addition of a llama really completes the ugly Christmas sweater theme," Berner said. We have the bright colors, the comfy fabric and the bow-tied llama you never knew you needed .
Price: $9.96 – $26.99
I'm not even lying right now; I want to get this sweater vest for my damn self. Seriously, what more can you ask for in a sweater vest? Santa and Rudolph wearing astronaut helmets. A splendid and bright sweater vest pattern. A sweater vest, period. A well-rounded, out–of–this–world fashion choice. Ha, get it?
Price: $29.99
Say that three times fast, yeah? Wear this sweater to any event of your choosing, everywhere from the best-dressed holiday party to the brunch with your extended relatives the next day. Sit back and watch the compliments pour (or should I say, gallop) in.
Price: $29.95
Quote an iconic Christmas song, use it in reference to a pun and use it in reference to a dog. This sweater quite possibly fulfills all your holiday sweater needs. With this sweater, you can conquer any holiday party you set your mind to. Because what college student doesn't enjoy puns and dogs?
Price: $39.95
Pay homage to your favorite anti–hero with this quotable Christmas sweater. You'll have to wear this around a crowd that's seen the character, but at this point who hasn't? No spoilers required for this joke .
Price: 22.99
Prepare some quarters for the inevitable laundry run this sweater will require. With a target placed in the center of your stomach with accompanying balls to fire with, you'll be a hit at those parties. You will also be literally hit, with compliments as well as cups.
Price: $49.95
Deck the halls perfectly with this holiday sweater. With its shiny green garland and red-and-gold baubles, you'll look like the shiny Christmas tree that everyone dreams of. Pair this with a shiny crown and you'll be the shining star at any holiday gathering.
Price: $59.95
Sure, The Office ended several years ago, but everyone and their mother knows at least one quote from the iconic show. As a great conversation starter, this sweater will have you knowing everyone's favorite episode by the end of the night.
Price: $24.99
We can never forget your furry metaphorical child, either. Make your dog or cat the most popular of any holiday party with this truly incredible pet sweater. "I love this sweater! My dog looks so adorable in it and she gets so many compliments when she wears it out!" junior at Florida State University Margaret Fowler said. Complete with holiday design and 3D Rudolph nose, this sweater will make your critter comfy as well as truly adorable.
Price: $14.90
*Updated on December 21, 2018 by Natalie Wollenzien to include Ugly Christmas Sweaters 16-30.
College Magazine does not promote underage drinking. Please drink responsibly.