If there are two things Iowa City's got, it's soybeans and bars. Neither of those sound like entertaining ways to spend a whole summer break, so what's a Hawkeye to do? Well, Iowa City throbs with culture and fun—you just need to know where to look.
1. Devonian Fossil Gorge
Just off of the Coralville Dam lies a unique opportunity to explore the seafloor as it appeared 375 million years ago. During the summers of 1993 and 2008, floods from the Coralville Lake removed more than 17 feet of soil and rock that exposed Devonian age fossils that are older than dinosaurs. On a nice day, you can wander and search for fossils (though you're not allowed to take them) and learn about an age where Iowa was once south of the equator. "It's a beautiful sight to see," University of Iowa junior Barbra Newhall said. "Just watch out for all the gnats during the summer!"
2. Free Movies on the Pentacrest
Got films? Every year downtown Iowa City puts on the Summer of the Arts, a program that hosts free cultural events all summer long to bring the community together. Summer of the Arts committee intern Victoria Peterson said that the program helps you experience Iowa City's spirit. "The city seems to come alive in a way unique to our college town," Peterson said. "This is the time where you get to see why Iowa City is known for its art and writing because you will see it everywhere." Part of this program includes the Free Movie Series, where movies are projected up on the side of Macbride Hall on Saturday nights for families to come out and picnic. This year movies include The Martian, Inside Out, Sixteen Candles and Star Wars: The Force Awakens.
3. Live Music at the Pedestrian Mall
Another part of Summer of the Arts is the Friday Night Concert Series, where live musical performances are held at the Pedestrian Outdoor Mall, right next to the library and children's park. The music is all family friendly, so you can grab your lawn chairs and camp out from 6:30-9:30 p.m. and listen to local bands. This year's lineup includes a Grateful Dead tribute band, City and West High School Jazz Ensembles and Des Moines native Christopher the Conquered, who recently returned from touring in Europe with his "interstellar soul music."
4. Coralville Lake/Coralville Dam
You wouldn't exactly picture Iowa City as a place to lie out on the beach, but we've got one—an unconventional beach, that is. During the warm summer days you and a group of friends could take a trip out to the Coralville lake, lie out on a blanket to tan, cook hot dogs and play in the water. University of St. Francis junior Hannah Holzapfel said her freshman year in Iowa was basically spent down at the dam. "The Coralville beach hosts a lot of really cool bike races for those into cycling. There's a ton of food vendors and things like that, they're fun to go to if you're into the sport or if you want a fun day by the water." With all this just 10 minutes down the road, who needs an expensive plane ticket to bask on the beach?
5. Iowa Summer Arts Festival
During the first weekend of June, the entirety of downtown Iowa City is closed off to cars. Instead, visitors can wander the streets and see the featured 115 local and national visual artists displaying and selling artwork, as well as watch musical performances and experience culinary stations' food from many of the different restaurants downtown. University of Iowa junior Kaity Twaddle said that she and her stepmother had a blast browsing the festival last year. "I had no idea it was going to happen. I just kind of got out of work one afternoon and found the whole block closed up," Twaddle said. "They played music, and there were kids running around everywhere. It was a huge shift from the usual college environment, it felt way friendlier and more open." Everywhere you look, there will be more to see, and about twice as much to eat.
6. Iowa City Jazz Festival
In case it hasn't been made apparent by now, Iowa City-ans love their music. Another way this is shown over the summer is the Iowa City Jazz Fest which is held Fourth of July weekend (July 1-3) on the Pentacrest lawn. It's three days of multiple stages for different jazz performances, FUN Zones for kids, artist booths and culinary stations lining the streets. "The Iowa Arts Fest and Iowa City Jazz Fest will be booming productions of art, live music, food and amazing people that makes for an irresistible experience that I suggest you go to for at least one day!" Peterson said. For three days you can enjoy the relaxing and playful atmosphere while you wander around, listen to free music, munch on snow cones and eventually end the evening with a lovely fireworks show.
7. Fireworks at the Old Capital Building
After the Jazz Fest ends, spectators are treated to a Fourth of July show outside the Old Capital Building where fireworks are lit off as soon as it gets dark. Both students and older town members alike gather together after a day of listening to the jazz music, settling down to watch the bright lights streaking across the sky. It's a relaxing end to the night, and who doesn't love fireworks anyway? The Capital just makes it look even more patriotic.
8. Johnson County Fair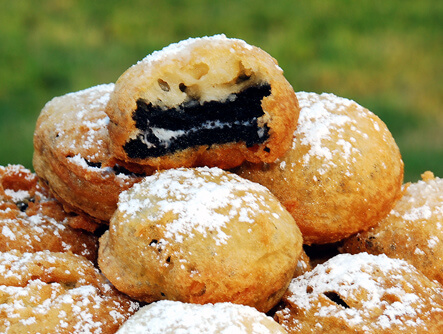 After your culture meter has been fully exhausted by all the musical fairs early in the summer, you can do some state fair activities at the Johnson County Fair. Just some of the items on the itinerary for this year include an Ugly Cake contest, the Chicken Throwing contest, deep-fried Oreos and homemade ice cream demos, a hay bale toss and buffalo wing eating contests. This is definitely a must-see experience for Iowa natives and non-natives alike.
9. Solon Beef Days
If you have access to transportation and the willpower to drive for a half an hour, you can catch the Solon Beef Days Celebration on July 15 and 16. Local non-profit organizations and individuals in the community band together to put on entertainment and fun activities to help fundraise for local groups and causes. You can enjoy pretty much all the forms a cow can possibly take—steak sandwiches, pork patties, Sloppy Joes and ribeye steak dinners—while listening to the Wild Hogs Band, the Iowa Vanguard Jazz Collective and the Pork Tornadoes, as well as catch a parade, run a 5K marathon or take part in the kickball tournament, to name a few options.
10. Iowa City Farmers Market
From May to October, to satisfy all of your organic and homegrown culinary needs, Iowa City hosts a Farmers Market at Mercer Park, stocked with locally-grown food just waiting for a hungry student to pick it up. University of Iowa junior Brenna Johnson loves to get her week's supplies there. "They have such a variety of food trucks set up like Nodo, Jamaican breakfast burritos and a ton more," Johnson said. "They have fresh produce, homemade clothes, and tons of the vendors. It's a great way to spend a morning." Even if you're not an early bird, it is worth it to get up and wander around in the sunlight of an Iowa City morning.