Normcore and hobo-chic have taken the fashion world by storm. Perhaps the only good thing to come from 2016 is that we no longer have to sacrifice comfort for fashion. We're here to tell you that "ugly" is in.
With ugly dogs trending all over the Internet and ugly sweaters popping up in every store, why not give ugly sandals a try, too?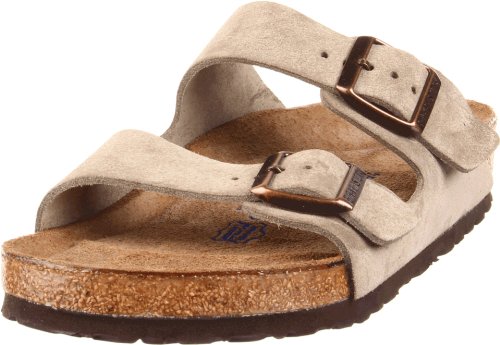 Ah, the "Jesus sandals." Birkenstocks are the only one out of our 10 best ugly sandals give you a foot-tastic spiritual awakening. "I started wearing Birkenstocks because I liked the aesthetic appeal, but they ended up being super comfortable as well. I don't know why people say that they're ugly–I think clunky shoes can still be cute," Northwestern University senior Aliza Abarbanel said. From two straps to three straps, earthy tones to bright colors, Birkenstocks do it every way. Whether you rep a more earthy and crunchy or a clean and chic look, there's a Birkenstock for everyone.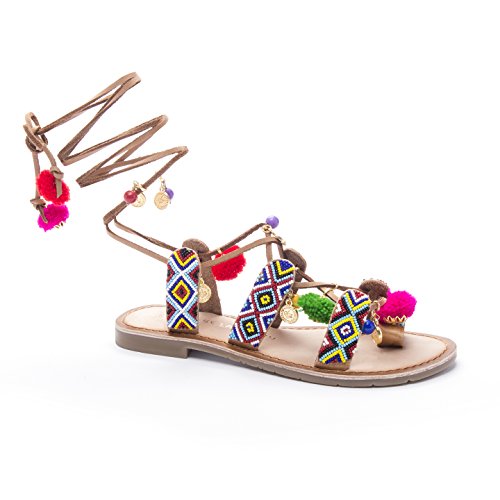 Picture your ankle laced up from your strappy sandal and along the way a bunch of colorful…pom-poms? These ugly sandals have taken over the sandal trend. While some say they're too bright to sport during any other season than summer, these sandals add a pop to any outfit. If you asked anyone a couple years ago, these "ugly" sandals would have never stood a chance. But now you, cheer on any outfit with a pair of Pom Pom sandals.
Tevas tans are finally in. It's the moment so many of us have all been waiting for–camp and fashion have officially collided on good terms. "I love wearing my 'ugly' Tevas because they let my feet feel free when I'm walking around [and] they're easy to take off if I want to be barefoot. They're great for hiking since they don't constrict my feet," Cal Poly San Luis Obispo junior Aaron Schmidt said. Stay in style while you hike with platform and metallic options.
We'd like to thank Rihanna for bringing these fluffy sandals into our lives. While these ugly sandals aren't the most logical for a sport sandal, the fur slides still embody a certain type of "chicness." Whether you want black, gray or pink, jump on your chance to buy a pair because they sell out fast.
Stop complaining about how short you are and start wearing platform sandals. Okay yes, they are a little bit chunky and maybe hardcore, but they are some of the most comfortable ugly sandals you could own. Flatforms provide an alternative to high heels, which we all know can totally suck and pain your feet. With a pair of Flatforms, you won't need to walk home barefoot anymore after a big night out!
Although these ugly sandals may scream "tourist," they might be worth their discouraging aesthetic. Chacos have proven to stand popular for outdoors activities as they provide ultimate support and maximum breathe room. While Chacos aren't the cheapest for an investment in the "ugly" sandal trend, these sandals will last a lifetime.
You might have a pair of these tucked away in a storage box from your childhood. Well, it's time to dust them off and strap them right back on your feet. Say goodbye to your 90s nostalgia because these ugly jelly sandals have returned to mainstream fashion. Not only are they cheap, but they come is every color, and sparkly, too. But the verdict is still out on if this is a good or a bad thing…
Slide to left! Take it back now y'all! Slide into ultimate comfort and ease with a classic pair of one of the best ugly sandals. Addidas Slides have moved out of the locker room and onto the sidewalks. Paired with your favorite joggers or fashion sweatpants, these seemingly simple sandals make a statement. Not to mention, slides may be the only sandal acceptable to wear with socks!
Espadrilles traveled from their reputation as a simple and "eh" footwear to the center of ugly sandal fashion in 2016. "I can't stop wearing them. I wore them all throughout fall because they just add a little bit of summer fun to any outfit, and I plan on wearing them this winter too," Bucknell University senior Mariele Saunders-Shultz said. Who said you can't wear sandals in the winter?
"Ima let you finish, but Crocs may be the most practical shoe of all time." Face it. The long-awaited, ugliest of the ugly sandal isn't going anywhere, so you better embrace them. "I do a lot of aquatic-related activities so they're perf because they're water proof, but also I can wear socks with them after when my feet are chilly, unlike flip flops," Barnard College junior Michaela Schwartz said. "And I think once one starts wearing crocs semi-regularly, one realizes how comfy they are and wants to wear them more often." Rep your favorite colors, your favorite sock, favorite buttons and strut your stuff in these ugly (yet classic) sandals.