Party like the ice isn't a tripping hazard in those new booties and stop, drop and shop for those Christmas, Hanukkah, Kwanzaa and even New Year's outfits. Instead of suffocating because you just had to wear that sparkly dress to the holiday party, grab one of these must have sweaters. You'll be cute, fun loving and, most importantly, super warm no matter what holiday you celebrate.
1. For the Kardashian-lover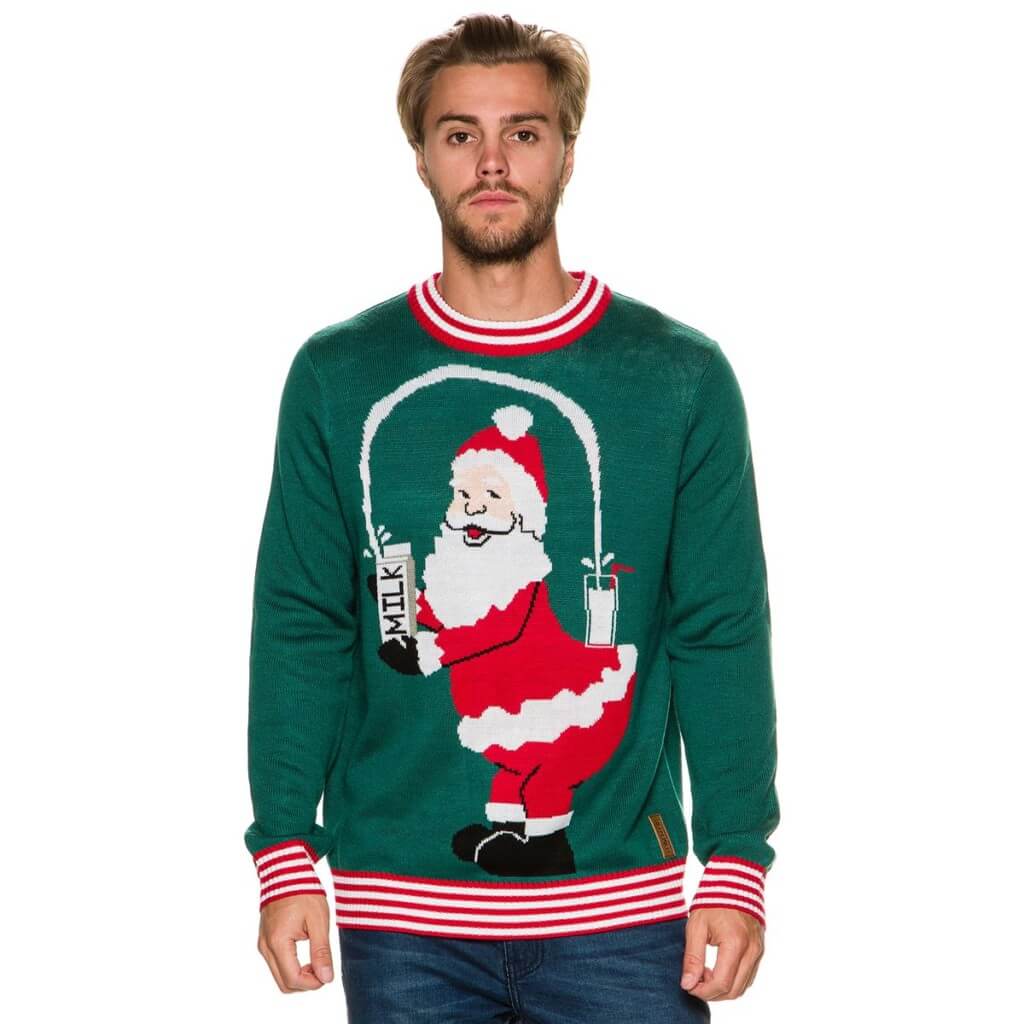 Kim-K broke the Internet during the winter of 2014 with the iconic champagne-popping cover for Harper's Bazaar. With this cozy sweater, you're bound to keep up with the Kardashians this Christmas. Be sure to try to squeeze milk up and over your head into a cup just like Santa. Extra holiday bonus to those fearless enough to try it with eggnog.
2. Drinking Games anyone?
Crank the party up with this frat-friendly Christmas sweater. "My buddies and I would have a great time changing up the party playing this game for sure," Mercyhurst University sophomore John English said. The rules are simple—trying to get your crush's attention? Aim for the red stripe so you have to share your drink with someone. Is your best friend a winter baby and celebrating their 21st? Aim for the white stripe and make them chug alone. "We like to sabotage each other in the house," Mercyhurst senior Michael Lawson said. "If one of my roommates made me angry, he's definitely going to drink when I hit the white stripe," he said. But why stop at one when you can get the whole house? Hit the bull's-eye and watch everyone else down that peppermint schnapps while you gloat.
3. Oh Christmas tree, Oh Christmas tree
Last year, you were runner up for the ugly Christmas sweater competition. This year, leaf the competition behind. Hide the sweater with Christmas trees on it, rethink your competition strategy and be the tree. Fully equipped with a star atop of the hood, ornaments balls on the "tree branches" and embroidered tinsel across the front, this sweater is a must for the pine-lovers among us.
Price: $36.80-45.95
4. Dabbing through the snow
The Christmas tree isn't the only thing getting lit this year. If your Spotify Premium makes you the default DJ, then you need this sweater ASAP. Be a holiday sensation and turn up in fashion. Not only is this sweater super cute on its own, but it also lights up.
Price: $16.44
5. Two turtledoves
Who was naughty and who was nice? Pick a side, throw on some jeans and top off your look with a Santa hat. "I love Christmas, and I love my girlfriend, but this sweater could drive us nuts. We're both sweaty people,e so I think we could only take a picture in it before the party started," Mercyhurst University senior Kyle Ashburn said. Let things heat up under the mistletoe in this two-for-one sweater before the champagne kicks in and you bust a move–and maybe a seam–when you hit the dance floor.
6. Oh snap!
Gingerbread lattes are delicious during December. Spotlight your passion for creamy spice this year with this funny holiday sweater. Hopefully you'll make out better than these poor gingerbread men at the party. Anything but the gumdrop buttons!
Price: $45
7. For movie marathons
We know you've seen Elf every Christmas season since it first debuted, so why pass up the chance to dress up in this sweater? Although Buddy says he's a "Cotton Headed Ninny Muggins" who can't make toys like the other elves, you might end up just as inept at the bar crawl after one too many hot toddies. Don't forget to eat your spaghetti with chocolate syrup and get down and dirty in the annual snowball fight.
Price: $29.99
8. Lllamakah, oh  llamakah
Who said holiday parties were just for people who celebrated Christmas? Get in the Hanukkah  spirit with this cozy sweater. With a fuzzy llama on the front, intarsia-knit designs knitted along the sides and festive dreidels to complete the look, this sweater outshines all those red and white monstrosities. "I have a lot of buddies that are Jewish, so seeing that there is a variety of different holiday sweaters out there is nice," Community College of Allegheny County freshman David Blackhall said. "I might buy one of these myself because I like the llama so much," he said. Pair this llama-licious number up with a pair of your favorite jeans and you're all set.
Price: $24.97
9. For the crazy cat lady
The Griswold clan stole our hearts in their Christmas movie. Remember the cat eating the wires on the tree? Poor kitty. How about sporting a cuter version of said movie scene in this green number? Hopefully you don't spend all nine of your lives drinking out of the punch bowl at the party.
$39.99
10. 'Staching through the snow
'No Shave November' just passed, but who's to say the 'stache has to leave in December? In this cute, tinsel-trimmed sweater, you'll be sure to sparkle at the party. "As cheesy as I find this sweater, I don't think I could pass it up because I love the look of the tinsel too much," Community College of Allegheny County adult student Jill Carter said. Is bae a burly man? Pair up with your sweetie and show off your mustaches. His might be a little scruffier, but at least you'll be looking cute matching in the photo booth. Christmas cards anyone?
11. Hit the Kwanzaa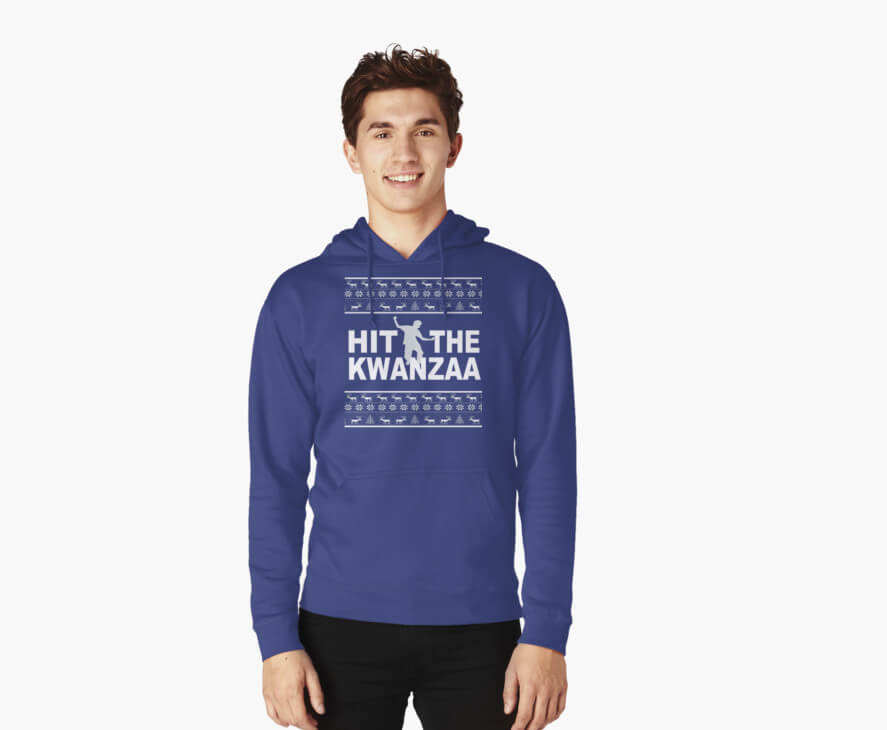 Well played sweatshirt, well played. In this holiday sweater, take time to teach grandma at the party how to "hit the Quan" and then perform for the rest of your family. Not only are you going to spend valuable time together, but mom and dad will surely get a laugh out of it, too.
Price: $48.91 
12. Let's get Hanukrunk…
The Menorah isn't the only thing getting lit this year. Think about that one family member that tends to get a little cozy next to the spiked eggnog. Maybe your crazy aunt that can't attend a party unless she's sloshed off boxed wine? Since the design is super simple, this sweater can be dressed up with a button-down underneath or kept casual with some jeans. Either way, you'll be having a good time. Mazel tov.
Price: $33.97-37.97