Every hopeless romantic knows the feeling of cozying up on the couch and getting lost in an idealistic world filled with whirlwind romance and charm. With heartache and strife intertwined, most rom-coms end in a way that will make you swoon. A common theme among them? They somehow always involve a college campus and the charming little towns in which they are set. It may seem like these universities only exist in on-screen fairytales, but fortunately for romantics everywhere, that notion does not check out. The inspiration and settings of these films come from somewhere, and that somewhere means actual campuses. The iconic professors that help movie characters find their passions and life missions exist as well, and some hidden spots on these campuses will make you feel as though you were transported into a film. From lakes to balconies, to inspirational professors and fountains in the rain, many universities can provide a romantic comedy feel, and who knows? Maybe your college love story will be the script for your next favorite movie. 
Keep reading to find out CM's top 10 colleges straight out of every romantic's wildest dreams.
10. College of Charleston
Rich in history and heart, the College of Charleston located in South Carolina provides no shortage of charm and personality. Nationally recognized for its public liberal arts and sciences university, the College of Charleston offers quality education, student life and affordability, as well as a beautifully historic campus. World renowned for its architecture, culture, history and coastal environment, who wouldn't fall in love with the city of Charleston? 
When you think rom-com, even if you don't like them, the first movie that comes to mind will likely be Nicholas Sparks' The Notebook. If by some chance you are unfamiliar with the movie, the College of Charleston got used as the backdrop for the main character, Allie's, college. 
On this campus, there's no shortage of beautiful spots, though standing on the portico of Randolph Hall is hard to beat. Randolph Hall, one of the most iconic buildings on campus, looks beautiful at night lit up by the stars. Speaking of Nicholas Sparks, the Cistern Yard located at the center of campus may be recognized as a filming location used for Dear John. The live oaks and historic scenery create a wonderful atmosphere of nature and freedom. The Ravenel Bridge can transport you to downtown Charleston. Though being only five minutes away from campus, this bridge can be the perfect area to stroll with your s/o or to capture the perfect Insta pic. 
Aside from the aesthetics, the College of Charleston became well known for their academics and one of the best Hispanic Studies professors in all of the U.S., Professor Devon Hanahan. Professor Hanahan received multiple awards for her work and achievements including the Demetria N. Clemons Distinguished Mentor Award in 2016, the Alexander M. Sanders, Jr. Award for Outstanding Public Service in 2015, as well as Faculty Marshal in 2016…and her class sounds like the perfect backdrop for the start of an iconic rom-com romance! Students applying to the College of Charleston can rest assured they will receive a well-rounded experience rooted in historic sentiments and mesmerizing sights. 
9. Emory University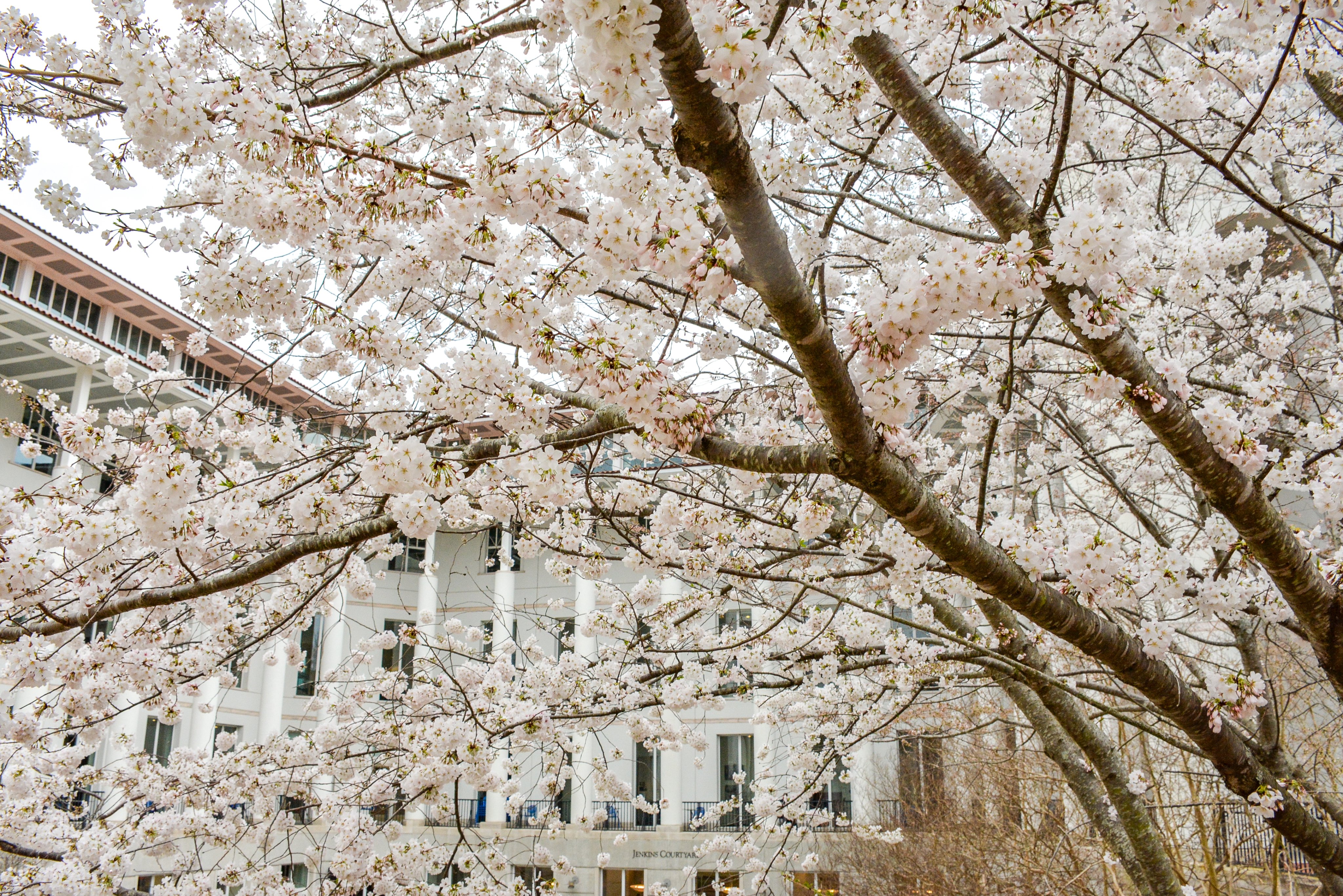 To "think beyond oneself" became the motto and purpose of Emory University. This university gets recognized internationally for its outstanding liberal arts colleges, graduate and professional schools, as well its own health care systems. This stunning southern campus, located in Atlanta, Georgia and used in the filming of the Wattpad phenomenon-turned-motion-picture, After, makes for the perfect location. 
Lullwater Park offers scenic walking and running trails that pass the Lullwater House mansion, skirts the Candler Lake and crosses a span bridge to explore a mill beside a tumbling spillway waterfall in a beautiful, wildlife-rich forest. The feeling of serenity and solitude provided by Lullwater Park makes for the perfect escape from campus to clear your head and gain perspective. A scene right out of a rom-com would feature the lead character perplexed, sitting at the edge of the waterfall on the brink of a major decision. 
The Michael C. Carlos Museum on Emory's Atlanta campus marks another perfect location for a rom-com scene. Since its establishment in 1919, it has become one of the premier museums in the Southeast. The museum holds one of the most comprehensive collections in the region with artwork from ancient Egypt, Nubia and the Near East; Greece and Rome; the Americas; Africa; and Asia, as well as a collection of works on paper from the Renaissance to the present. After a tour of the museum, head up to the roof of the Woodruff Library to enjoy a peaceful view of campus from the top floor.
"Museums always make for the perfect first date, but the Carlos Museum is the perfect size to visit on a weekend afternoon. The Carlos Museum's permanent collections and visiting exhibitions naturally awaken interesting, intellectual conversations with your date. Many of our objects, like the 1st century statue of Venus, the goddess of love who watches over visitors in our Greek and Roman gallery, add an aura of romance to any date. Many couples have met and fallen in love at the Carlos Museum, and we have even facilitated several marriage proposals," The Michael C. Carlos Museum's Director of Marketing and Communication Sarah Jones said.
Still not convinced? With a similar disposition to that of Glee's Will Schuester, Professor Eric Nelson is a professor of music and director of choral studies at Emory University. In 2016, he appeared with Mick Jagger and Rolling Stones at Bobby Dodd stadium. The possibilities and imaginative scenarios at Emory University are endless, making it the perfect spot for almost any romantic student. 
8. Wake Forest University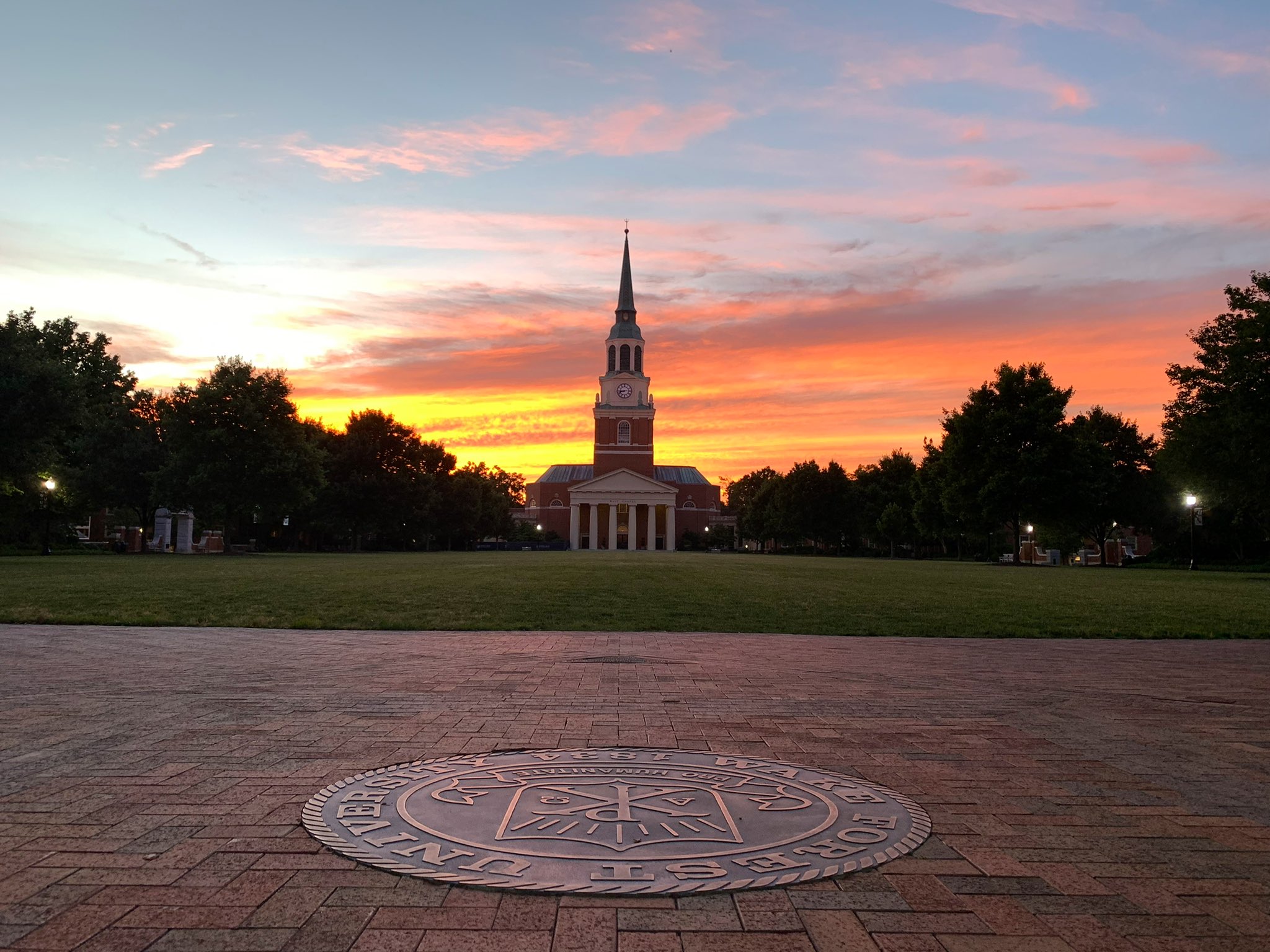 "Love recognizes no barriers. It jumps hurdles, leaps fences, penetrates walls to arrive at its destination full of hope," said Maya Angelou. Prior to her passing at the age of 86 in 2014, Dr. Maya Angelou found her passion through teaching at Wake Forest University in North Carolina. Wake Forest University is a private university that exudes light and diversity in the academic community. This wholesome university was the perfect filming ground for The Longest Ride, in which a young cowboy falls in love with a Wake Forest senior art student. Reynolda Road and University Parkway campus entrances were shown, and much of the filming also took place on or near Hearn Plaza and inside Scales Fine Arts Center. Taking the walking path from campus and winding through the woods will lead you to the Reynolda House Museum of Art and Reynolda Gardens.
"The Reynolda Gardens is the most picturesque place on or near campus. The Gardens are connected to the Reynolda House Museum and both are now owned by Wake Forest. When there aren't weddings happening there, it is an amazing place to walk around and capture the colors of springtime," Wake Forest junior  and aspiring photographer Riley Herriman said.
Stratford Road and its avenue of overhanging trees looks beautiful, especially in the fall. If in need of some juvenile fun, the swings on Davis Field pose as the perfect place to unleash your inner child and let go for a bit. The view overlooking Reynolda Hall from the steps of Wait Chapel (Hearn Plaza) cannot be beat, especially at twilight. A trip to visit Wake Forest University in the fall sounds like a dream to art and romance lovers alike. 
7. New York University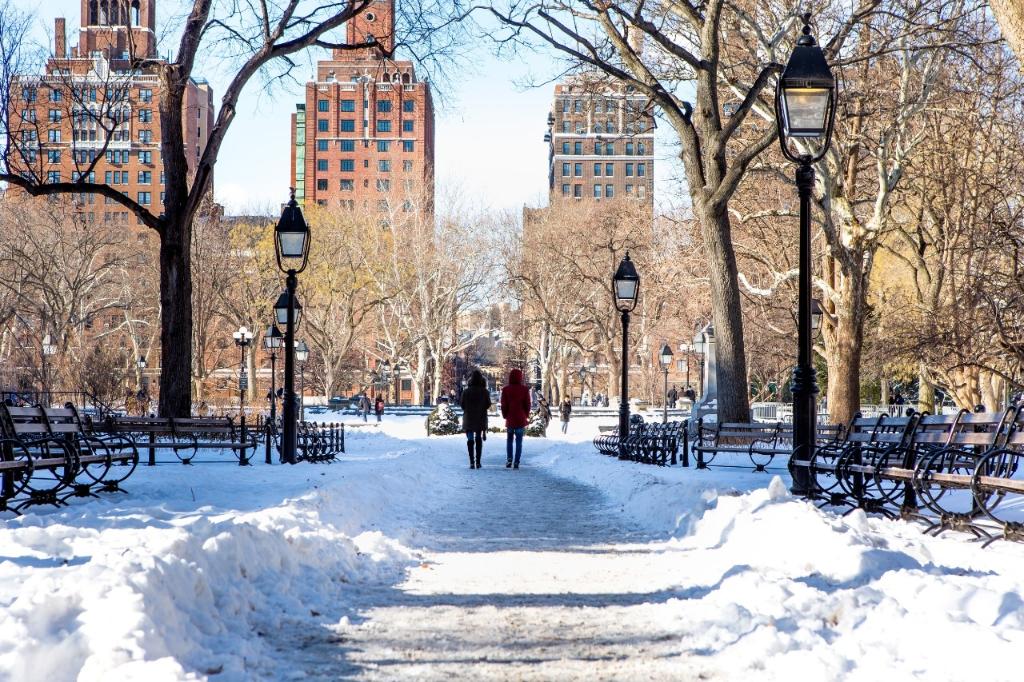 What better place to fall in love other than NYC? Aside from its location, NYU stands out for being one of the most iconic universities in New York and across the country. Surrounded by Central Park, The Metropolitan Museum of Art, the Brooklyn Bridge and the Manhattan Skyline, it's truly the city that never sleeps. One of the highly-cited researchers on campus, Viral V. Acharya, even holds the position of the C.V. Starr Professor of Economics in the Department of Finance at New York University Stern School of Business and an academic advisor to the Federal Reserve Banks of New York and Philadelphia.  
The film Remember Me starring Robert Pattinson, a 21-year-old who audits classes and works in the NYU Bookstore, embodies the brooding jerk who changes his demeanor after falling for a girl. The film contains all of the elements of rom-com gold, from the scenery of NYC to the finicky family relations all leading up to the tough bad boy turned warm and sweet. 
Bobst Library comes as a staple at NYU, boasting the largest library in NYU's 11-library system. Bobst holds 3.9 million of the 5.9 million books in NYU's catalog and is the most popular study space on campus. Thousands upon thousands of pages littered with endless words portraying eternal love further depict the magic of novels.
"Sparks flew in Bobst Library. We used to meet there to study and never got any work done all four years (too busy staring at each other and laughing until our stomachs hurt)!" New York University 2004 alum Suhaly Bautista-Carolina said.
Years past confidently show that for years to come, couples will continue to fall in love at NYU. Who knows, maybe your soulmate will find you in New York? 
6. Louisiana State University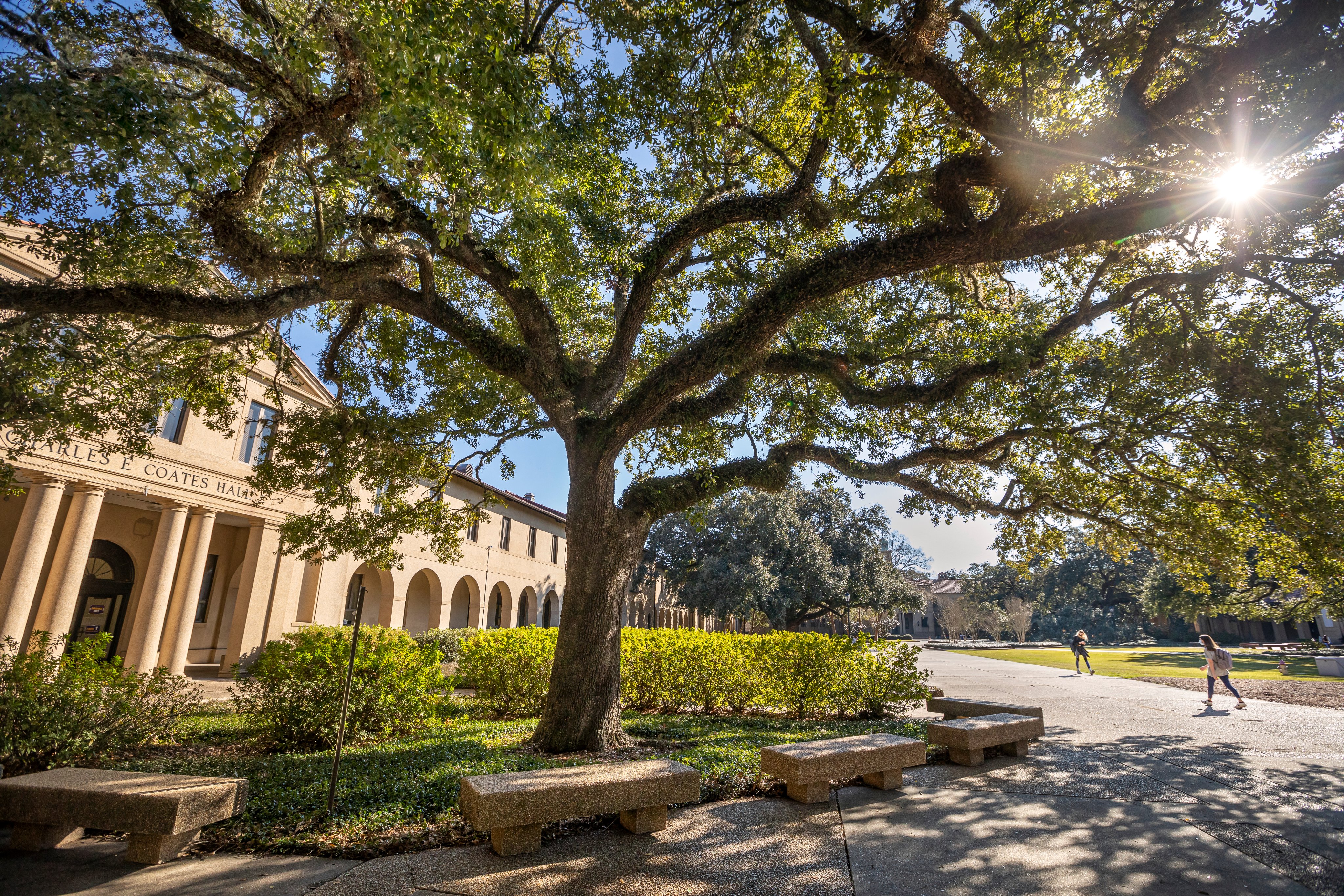 Surrounded by five historic and beautiful lakes, and home to two Indian mounds, this campus' rich history will pull you in and pique your interest. At the southern part of Baton Rouge near the Mississippi River, the campus of Louisiana State University famously displays 1,200 oak trees and an abundance of magnolias that surround the university. In addition to its beauty and history, the campus of LSU featured the high budget, well-loved Pitch Perfect films. You can spot the infamous Swine Palace and Exxon Quad at LSU throughout the films. 
"Swine palace is an extremely interesting venue on campus, it is used for many theatre performances. I have also heard other students say that it was actually a pig house before it became a theatre. The Greek amphitheater was also used as a filming location and is very picturesque! As for surrounding areas, there is always something beautiful to see in Baton Rouge. From oak trees to wildlife there is always a sight to take in," LSU junior Emilie Chenault said.
LSU's acting program differs from other programs because it offers a B.A. rather than a B.F.A. This means that rather than just taking acting classes, the curriculum requires general education classes as well, leading to a more well-rounded education. Keeping on topic of entertainment, Dr. Christine Barrett boasts maintains an impressive reputation for being an outstanding English professor that engages the student by acting out parts of plays and offering generous amounts of extra credit. Her passionate way of teaching and care for her students guarantees success for her students much like the creative and dramatic ways of Ms. Darbus from High School Musical. 
With academics and history aside, LSU homes some hidden gems that provide quite the romantic, adventurous experience on campus. In need of a cheap date? The Magnolia Room offers a restaurant-style dining experience for $8.50 on campus. An all-you-can-eat buffet that overlooks the parade grounds? Yes, please. After finishing dinner head over to the Sculpture Garden to gander at the sculptures and take a seat at the bright yellow park bench or the swing hanging from the deck. 
5. University of California, Los Angeles
What? Like, it's hard? The University of California, Los Angeles, home to a lovely campus and the location for Legally Blonde, brought the famous Elle Woods to life. Spots on campus that can be seen in the film include Royce Hall, the Bovard Administration building and Kerckhoff Hall. And come on, how could someone not adore Los Angeles? From the weather to the views, attending school here sounds like a dream. The school places a strong emphasis on student research, awarding nearly $1 billion in competitive research grants annually. 
Continuing the theme of encouraging students, UCLA proudly associates with the Geffen Playhouse. The Geffen presents a body of work that garners national recognition each year, noted for its welcoming, intimate stages and celebrated for its commitment to the development of new theatrical works. 
Another aspect of art at UCLA comes in the form of the Hammer Museum. The Hammer Museum at UCLA believes in the promise of art and ideas to illuminate our lives and build a more just world. Stretched across five acres of UCLA's campus, lies the Franklin D. Murphy Sculpture Garden with over 70 sculptures in perfectly landscaped areas. This area poses as a perfect spot for a leisurely stroll or to take that special someone. No shortage of first date locations exist on this campus. 
In 2020 UCLA professor Andrea Ghez received a quarter prize share of the Nobel prize for physics. A professor in the department of physics and astronomy and member of the UCLA Galactic Center Group, she assists in helping to further the mission of transforming our understanding of black holes and their role in the universe with high resolution observations of the Milky Way. She might quite literally be able to help you find your shining star.
4. The University of British Columbia
The mere thought of Amanda Bynes's role in She's the Man in 2006 can provide anyone that saw the film with a wave of nostalgia… as well as bring a slight smirk to their face. This piece of comedy gold was filmed at the consistently ranked University of British Columbia. Centered around sports, it makes sense that Thunderbird Stadium would find itself featured throughout the film. Sports don't excite everyone, however, who doesn't love scenery? The Rose Garden at UBC provides a picturesque landscape overlooking the water and only minutes away from campus. The sea of blooming roses creates the perfect atmosphere.
If you find yourself looking for something a bit more risqué, UBC's clothing-optional Wreck Beach became an infamous location to sunbathe and watch sunsets naked. If some summer lovin' down in the sand interests you, keep UBC in mind. 
The best kept secret at UBC? The Botanical Gardens, which make for the perfect romantic place; plus, it's pleasing to the eyes and the nose. If you more prefer romance to public nudity, this hidden garden creates the perfect place for old school romance among the canopy trees on the Greenheart Treewalk or just having a chat on the bench. 
Back on campus, sociology professor Kerry Greer received the UBC Killam Teaching Prize for her excellence in teaching. Said to be a selfless professor, due to constantly putting the needs of her students first and prioritizing their learning, maybe she can explain the appeal (or lack thereof) of finding love on Wreck Beach. 
3. Washington State University
The city of Pullman, Washington upholds a reputation as a friendly town with great culture, diversity and atmosphere. The beautiful Washington State University campus provides the perfect atmosphere for those who enjoy nature and photography. The colors and contours of the Palouse landscape attracts photographers from all around the world. Pullman's bustling main street provides an overwhelming sense of small-town charm, from its colorful mural that lights up Pine Street Plaza to the fresh flowers outside storefronts. Unlike Seattle, Pullman sees many more sunny days making adventuring all the more enjoyable. 
Due to its unique architecture and traditional styling, producers of the film, At Middleton, chose to shoot on WSU's campus. This rom-com relays a once-in-a-lifetime love story between parents that meet while taking their kids on a college admissions tour. The film's star Andy Garcia said they were going for a certain woodsy look and classic nature, making WSU the perfect location. Scenes were filmed at Thompson Hall, Honors Hall and the Murrow building. 
Academically, WSU psychology professor Carrie Cuttler hones a passion for lecturing and supportive teaching philosophy. The students voted Cuttler the best professor for the 2019 Student Choice Awards. Aside from teaching, Cuttler researches the health effects of cannabis. The students enjoy her focus on the mental and physical aspects of the potential benefits and detriments of cannabis use. Those looking for the perfect location as nature lovers who enjoy going with the flow of life, WSU may be for you.  Finding someone to enjoy the chill vibes with will make the experience much more fun and potentially even romantic. 
2. Binghamton University
What better way to honor something than to write a letter to it? Binghamton University alum and filmmaker Marc Lawrence ('81) created a rom-com titled The Rewrite. He described it as a love letter to Binghamton and claims that there are two love interests: the leading lady and the city of Binghamton. 
While many students would not consider the vending machine outside of the Newcomb Reading Room in Bartle to be romantic, Marc Lawrence and his wife would beg to differ. Their story began there, and their romance inspired the film. This tribute to Bing also featured Harpur Quad and Route 17, as well as the campus bookstore. Lawrence credits distinguished professor of English, the late William Spanos, with shaping his storytelling skills. Spanos could further one's screenwriting dreams like no other. Aside from being an intellectual scholar, Spanos also believed in mutual joy and productive collaborations amongst individuals. 
The nature reserve at Bing provides not only serenity, but also the perfect romantic escape. The reserve encompasses 182 acres of land, which includes a 20-acre wetland. It features 14 diverse trails along slopes and hilltops, and through woods and meadows. One of the most popular routes takes you over a beautiful wooden bridge through the pond and marshlands. Harpur Pond, Oak Trail Forest and Bunn Hill Road Property are a few of the many places to explore.
 "I love the nature preserve. It's so nice to have a place like that on campus and it's only a two-minute walk from my dorm, so it's always good to go on a run there or just go explore in general. One of my favorite memories was when my friends came to visit and we all went on a nice walk and took pictures. Another was the cute little V-Day photoshoot I had there with my boyfriend. The view was beautiful, and lucky for me— it wasn't just the scenery," Binghamton junior Kostandina Spriollari said. 
Into the nature aspect but not the hiking? The E.W Heier Teaching and Research Greenhouse is the spot for you. Right off campus, the Kopernik Observatory and Science Center is perfect for stargazing as one of the best equipped observatories in the northeast United States. Perhaps stargazing and a picnic can be you and your soulmates start to a beautiful relationship.
1. University of North Carolina at Chapel Hill
The University of North Carolina at Chapel Hill may now be known as the place where Sara and John B. go on a treasure hunt and fall in love on a trip away from the OBX. Prior to instant fame, however, Chapel Hill already had a great reputation for its beautiful sights. Since 1795, the university strives to nationally recognize innovative teaching, campus-wide spirit of inquiry and dedication to public service. Full of Instagram-worthy locations, UNC can help you achieve the perfect feed, starting with The Old Well. 
Hundreds of Tar Heels start the first day of classes with a sip from the Old Well in hopes of securing some extra luck for the school year. Legend says that a sip from the well, a focal point of campus since the university opened in 1793, brings students luck in the form of good grades. Surrounded by beautiful blooms that will surely brighten up anyone's day this well holds not just meaning but also beauty. 
Looking for a spot to take bae and watch the stunning Carolina sunset? The views of the sunsets from the south campus balconies are unmatched and will not disappoint! Another swoon worthy spot is the marble bench that sits at the base of "Davie Poplar", a large tulip tree in McCorkle place on campus. According to legend, if a couple kisses on this bench underneath the 300-year-old tree, they will get married. This has led to it becoming a popular place for wedding proposals. 
The 1998 Robin Williams film Patch Adams shot on this beautiful campus featured places including Polk Place, Gerrard Hall, Wilson Library and Carroll Hall. Retired computer science professor at UNC recalls his chance of a lifetime in 1998 when he had the chance to sit and watch the magic of Robin Williams in Patch Adams. This gorgeous campus comes with many legends. Some legends in the form of stories, some that had the pleasure of walking the halls at UNC, and even some that fell in love here.