"All passengers please prepare for an emergency landing." My heart stopped. That's definitely not what you want to hear from your pilot while on the way to your spring break destination.
It's funny how quickly our little ideal world flipped completely upside down. Our flight went from one filled with care-free excitement and hope to escape the stress of college life to one filled with instant terror. The pilot's words will never leave my memory.
In that moment, so many other emotions flooded my body— confusion, shock, fear. The feelings drowned me the same way the Atlantic Ocean threateningly swirled beneath us. My mind jumped to horrible conclusions— how could it not? My worst fear became my reality and it stared me right in the face.
Two words repeated themselves in my mind: plane crash.
I looked nervously at my sister and my two best friends. Their eyes said it all. The time came to face the possibility that this plane might not land safely. I forced myself to look away from the window and its perfect view of what I believed was my impending fate. Every time the plane shook or dipped down my hand gripped my sisters tighter and prayers escaped my lips faster.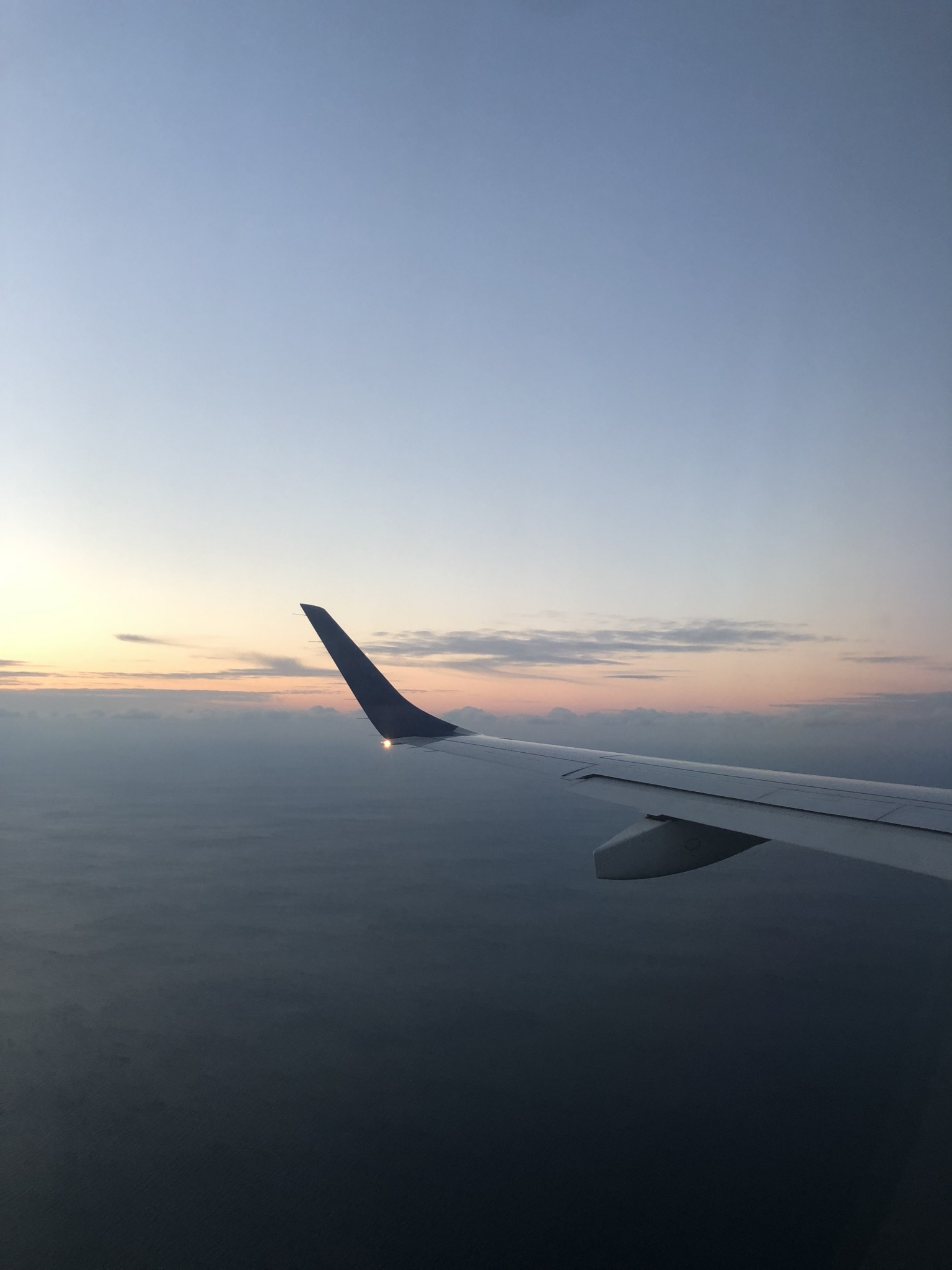 Time moved in slow motion. How long until we are safe? Will we even be safe? So many questions anxiously raced through my mind. I could hear my heartbeat in my ears. After what seemed like an eternity, I felt the wheels hit the ground with a jolt and my eyes jerked open.
Each of us let out a sigh of relief— we landed safely and most importantly we were safe together. The plane made a controlled landing. As we walked down the aisle to exit the plane, the pilot and co-pilot sat in the first few rows of the plane with an expression of shock I'd never seen. They looked like they just escaped death. A shudder sent itself up and down my spine along with an intense uneasiness. You never think things like that can happen to you until they actually do; beyond grateful is definitely an understatement.
This fshock and relief began to fade in comparison to a disappointing impending future: not making it to spring break. Not only did we nearly escape a possible disaster, but we also ended up right back in the place we were trying to escape— freezing, snow-filled Boston, along with 140 other agitated passengers. What a combination.
As we stepped off the plane, our new problem was fully ready to taunt us with its challenging intricacies. We had to deal with it immediately and there was no time to reflect or recover. We had a narrow window of time between our connecting flights. Because of the emergency landing, the chances of making it to our spring break destination seemed slim. We felt defeated and panicked, but it felt relieved knowing we could evenly distribute the burden of these feelings with each other.
Like sardines, we packed into a long line and waited for hours to reach the airline desk for any information or help to book a new flight. Many of the passengers in front of us approached the desk with an attitude suited for a fist fight, treating the airline workers as their adversaries. Screams echoed through the terminal. A police presence was even requested when one altercation escalated too quickly.
We definitely felt the fire of rage within us, but we knew to put up a fight would solve nothing. We decided to take a different approach and walked up with smiles. After all, the people working the airline were simply trying to do their job and had absolutely nothing to do with the plane's trouble.
Never underestimate the power of a smile. The airline agent helping us worked desperately to find us the best alternative route to get us spring break as soon as possible. We were left with only one option: leaving the next day. We snagged the only four seats remaining on those flights. Our disappointment lingered, but we also felt blessed. Patience and positivity secured us the promise of our island vacation and at the end of the day, conquered our disappointment.
Spring break is supposed to be worry-free—no stress, no problems. It's safe to say we got off to a rough star. Those two things we expected to be free of actually constrained us. We never expected to face our worst fears or almost miss our trip, but it made it that much better when we finally landed at our destination safely.
I never felt more happy to feel warm air or step onto solid ground. I underestimated how much a positive attitude and confidence in friendship and hope could overcome such an unfortunate event.
This experience, although upsetting, taught us a few very important lessons: prepare for anything, be grateful for everything and definitely expect the unexpected.