A week off from tests, quizzes and papers calls for a time of travel. And we know where you want to go. The only place you think of when you think "spring break" is the Sunshine State. With a peninsula dotted with beaches, how does one know which Florida beach will make the perfect spring break? Ditch the basic spots and become a Floridian travel expert this break. Go snorkeling for the first time. Spend all day dancing on the beach.
Hit one of the 10 hotspots for your version of the perfect Florida spring break.
1. St. Petersburg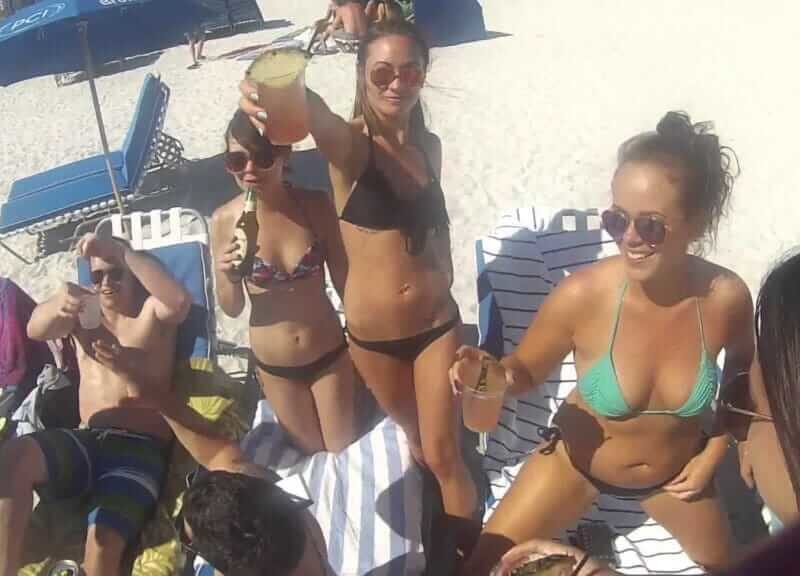 The daily sunrise and sunset of St. Pete beach counts as just one of the reasons why you should head here for spring break. "I chose to come here during spring break for its remarkable beaches and serene environment, and don't even get me started on the sunset," said Florida State University junior Mia Granade. Palm trees and clear blue water surround students on the Gulf Coast while they relax on the beaches during their break from professors and homework. And, if you want to become adventurous at night but stay by the shore, head to Woody's, The Undertow or Harry's Beach where you'll find live music, volleyball nets and tiki huts.
2. Key Largo
Come down to Key Largo and head to the one and only John Pennekamp Coral Reef State Park, the first undersea park in the United States. Snorkel underwater and feast your eyes on the turtles, tropical fish and, if you're lucky, dolphins. "Coming from New York, I chose Key Largo for my spring break. As a college student, I had the chance to see dolphins for the first time and play with them which led to some great memories," said St. John's University senior Stephanie Alfano. Key Largo has sweet nightlife options like Sharkeys Pub & Grill, Caribbean Club and Breezer's Tiki Bar.
3. Panama City Beach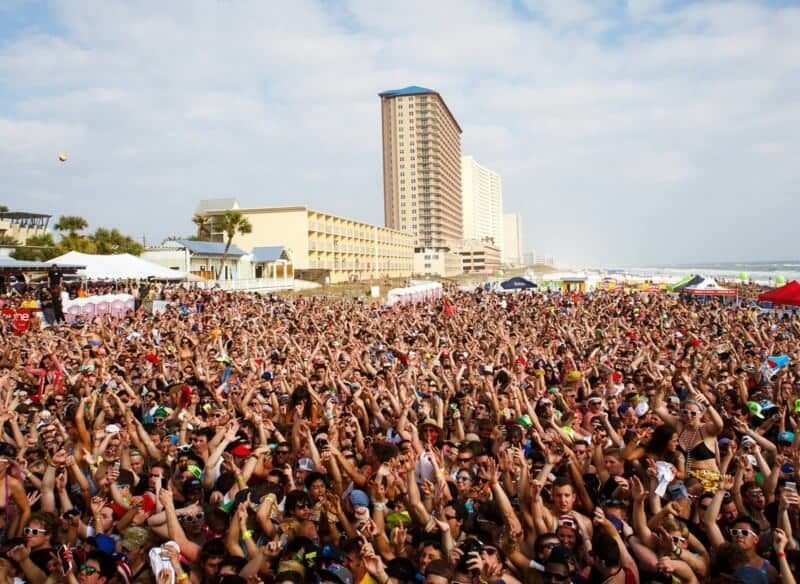 Remember the movie Spring Breakers? That's the kind of fun you'll experience if you venture to one of the most popular beaches in Florida. Concerts galore and night time bars lead students from day partying on the beach to night partying at the club. "Panama City Beach is the 'picture' or 'ideal' for every spring break trip for a college student… I think every student should experience it because you meet kids from all over the United States and adventure all day and night," said University of Denver senior Chris Russo. Make sure to pack a fanny pack for the beaches and some wedges (you can pick some up at PCB's Pier Park in case you forgot yours) for the nightlife. You'll enjoy your spring break 24/7 at PCB.
4. Jacksonville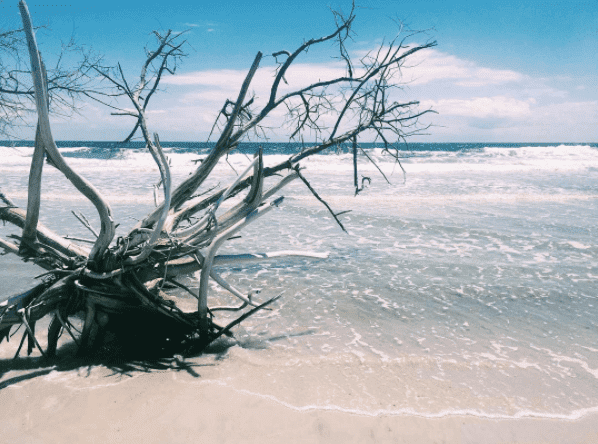 Home to the Jacksonville Jaguars, this city offers spring breakers a place to munch on seafood, attend jam band shows and surf at the beach. "Jacksonville is the perfect place to vacation as a college student because I'll be eating some shrimp at one moment while jamming out to folk bands seconds from the beach," said University of North Florida Kiki O'Connor. If you're up for an intimate music scene and a couple margaritas, The Pier Cantina & Sandbar and Jack Rabbits Live can set the tone for you. And you won't want to miss Jacksonville's state parks including Little Talbot and Big Talbot Island. Open 365 days a year, head to these nature preserves with friends to camp, boogie board and hike.
5. Miami
Welcome to the one of the most vibrant cities. Miami stands out due to the various "towns" you can visit including South Beach, Wynwood and Brickell. "Miami is a must-visit destination for college students because you get to experience nightlife with people from around the world, and it's cool to see how diverse of a scene it is there," said FSU senior Keenan Maher. Check out some delish Spanish food in Miami Beach at the Naked Taco, Puerto Sagua and Larios on the Beach. After snacking on paella, head to LIV, STORY or Wall Lounge where you can get your groove on all night long.
6. Naples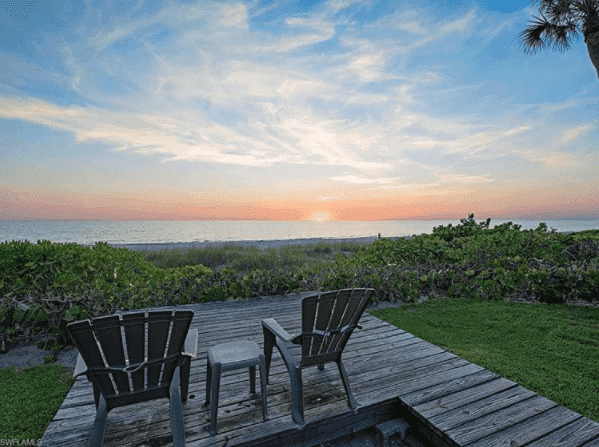 Naples' relaxing atmosphere will give you time to wind down after weeks of nonstop studying. You can also enjoy insane fishing opportunities and a well-known craft beer fest held every March. "My friends and I chose to come to Naples for spring break to relax by the calm beaches in gorgeous weather. Also, Naples has this insane beer festival that was cool to see how people from all over the U.S. came together for a cause. The event introduced me to tons of people and honestly gave me a cultural type of spring break," said University of Miami junior Mackenzie Buckley. Get ready to relax on these white sand beaches.
7. Fort Lauderdale
Your parents probably did spring break in Fort Lauderdale—but don't expect them to admit it. The outrageous beach scene and vibrant night-life and nightclubs all within walking distance of one another makes Ft. Lauderdale one of the best spring break destinations. "My buddies and I love Fort Lauderdale because we get to bask in the warm weather of Florida, hang out with groups of students from all around the world on some of the coolest beaches in the nation and head to party at bars which is only a few blocks away and the short distance is a nice feeling travel-wise," said FSU senior Lauren Kasten. Don't forget to bring beach towels and some sunscreen when heading to the beautiful beaches of Fort Lauderdale.
8. Daytona Beach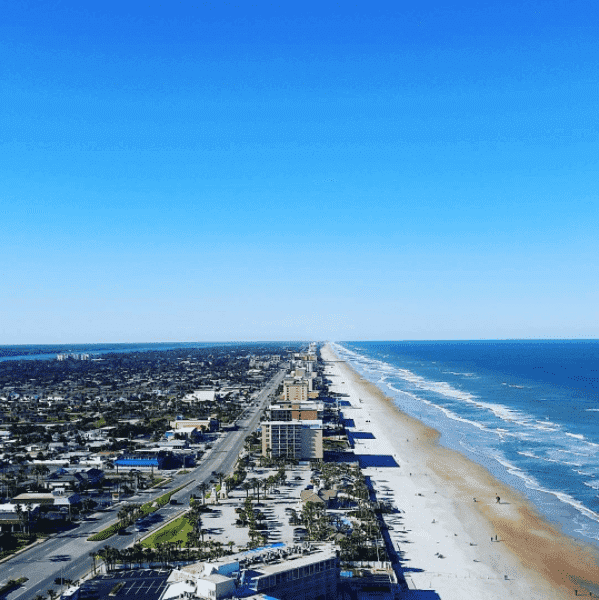 If you're looking to attend driving races, slide down insanely fun water rides and day drink on the beach, check out Daytona Beach. "I couldn't have asked for a more fulfilling spring break because I partied on a budget, and as a college student, I'm pretty much broke all the time. Daytona has waterpark price options for literal pennies and when I wasn't in the lazy river, I was cheering on the drivers at the Daytona Speedway," said UCF senior Connor Lavin. Daytona, one of the best beaches in Florida, get ready to pack your bags and experience a Florida spring break consumed of the vroom-vroom.
9. Fort Walton Beach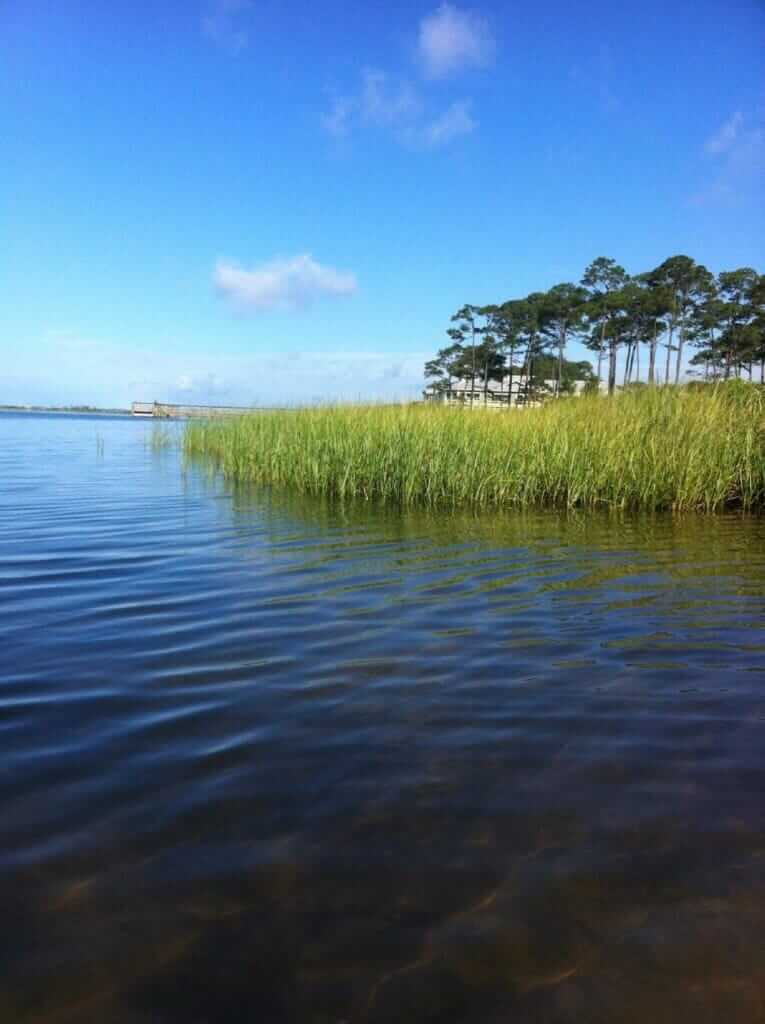 In the small town of Fort Walton Beach, college students look forward to a relaxing week full of nature exploring. "As an environmental studies major, I loved traveling to Fort Walton for spring break and participating in multiple parks tours. It encouraged me to pursue my major and Fort Walton has some of the most beautiful parks I have ever seen," said University of Colorado-Boulder Madison Little. Pack a backpack and some sneakers if you're looking to adventure into the serene beachfront environment.
10. Siesta Key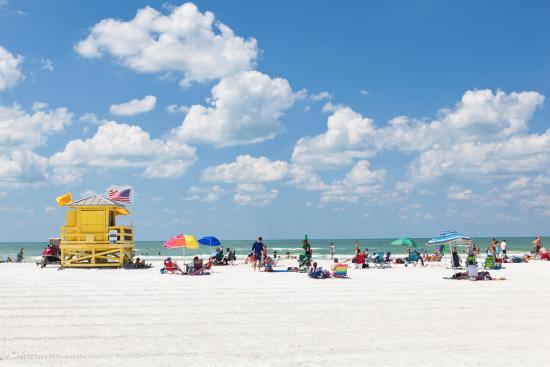 On an island off the West Coast of Florida, Siesta Key offers college students water activities like kayaking, canoeing and parasailing. "I always had a fear of heights but when I went parasailing for the first time at Siesta Key this past spring break, I realized that trying new things may be scary, but sometimes worth it," said New York University senior Michael Tardino. Siesta Key also offers daily yoga on the beach—which can be a good way to forget the one too many beers from yesterday. As a college student, doing some yoga then parasailing the day away definitely makes for a fantastic Florida spring break.
11 More Florida Spring Break Hotspots
Written by Devon Ledbetter.
11. Pensacola Beach
No, I'm not saying Pensacola offers a great spring break destination just because I'm a Pensacola native—but that doesn't hurt my opinion. Come experience the "World's Whitest Beaches" for yourself. The Pensacola Boardwalk features restaurants, tourist shops and bars, but the Gulf Breeze area in general offers some of the best seafood restaurants in the Panhandle. "What sets Pensacola apart is the fact that it's not busy. It's not a jam-packed place with rowdy college students, but a place to relax and explore as a small town urban community," said University of West Florida senior Nancy Patton. Spend your days soaking up the sun and spend your nights in downtown Pensacola. Drink all your liver can handle at World of Beer or see how long you can last on the mechanical bull at Wild Greg's Saloon. Don't feel afraid to ask a local for some insider tips, I promise we're friendly.
12. Sanibel Island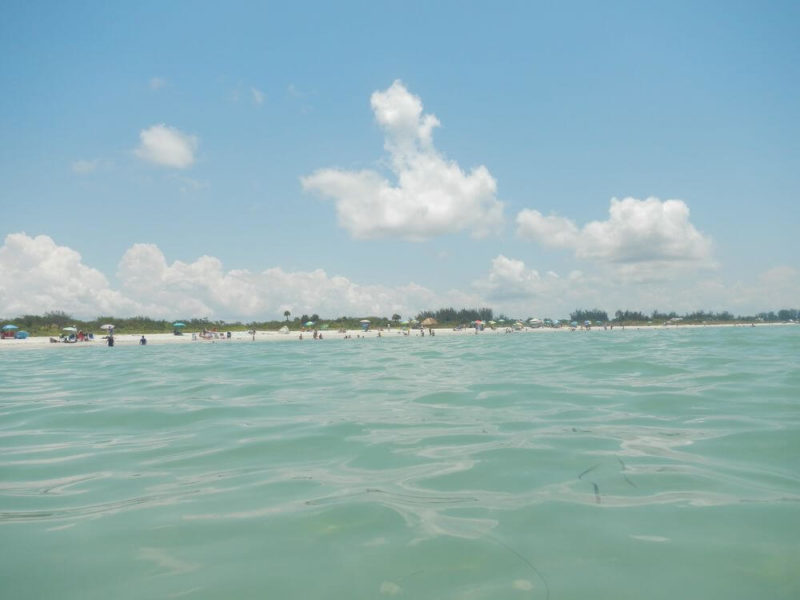 If your vacation dreams involve completely immersing yourself in paradise, then you must go to Sanibel Island for spring break. Leave your worries and your homework behind as you spend the next seven days in ultimate bliss. You have easy access to several different beaches where you can fish, swim, sunbathe, snorkel or scuba dive. You can also try your hand at kayaking and canoeing or experience a cruise around the island. If your sunburn gets too bad, venture further onto the island and soak in the arts instead of the sun. Sanibel offers cultural experiences through museums, live theater, movies and music.
13. Devil's Den Spring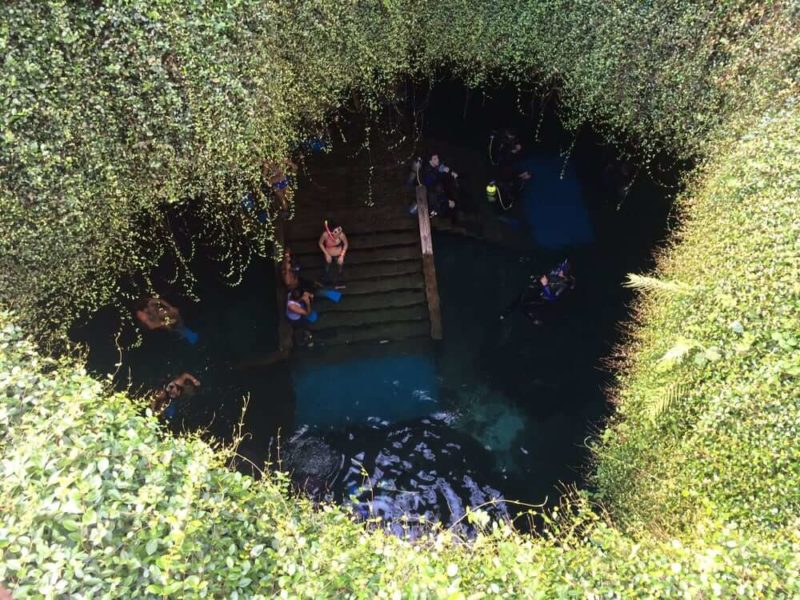 If you hope to spend your spring break learning a new skill, then traveling to the Devil's Den may be worth your while. What better place to learn to scuba dive than at this certified scuba diving training center at this beautiful natural spring in the middle of Florida? If you don't feel ready to take the plunge, don't worry. You can still experience this adventurous hole-in-the-wall with some relaxing swimming and snorkeling for a unique spring break experience.
14. Citrus County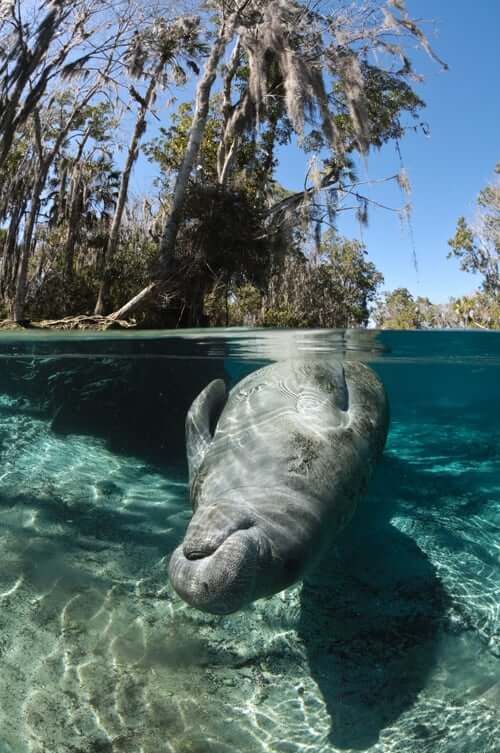 Not ready to commit to the wild antics and crowded beaches of a SoFlo Spring Break, but want to go past the Panhandle? Citrus County provides the perfect compromise. Get ready for an out-of-the-box spring break experience with this one. Within the county perimeter, you can find the crystal-clear Homosassa Springs for some swimming and kayaking or take a tube down Crystal River with manatees. The county itself offers so much more. "Lots of times there's festivals going on during the weekend all over the county. Everything from the Manatee Festival to BBQ cook-offs with dragon boat racing. All outdoor adventures in Citrus can be done at little to no cost," said University of Florida freshman Paislee Peyton. Embrace the small side of Florida and come back to school with some amazing memories.
15. The Keys
Drive (or fly) to this string of islands stretching 120 miles in between the Atlantic Ocean and the Gulf of Mexico. You'll reach ultimate chill status in this Florida paradise. "Duval Street is a fun time, we happened to go on St. Patrick's Day and there were a ton of people barhopping during the day. Key West is such an eclectic place where everyone is super chill but likes to have a good time," said recent Florida International University graduate student Gaby Ortega. If you make it a road trip, make sure to drive all the way down to Key West to see the mile marker zero. The drive may seem intimidating at first, but the views will make you forget any worry in no time. "And also, always stop to have a meal by the water. We like to go to Islamorada Fish Company, but there's so many options to get good fish and a piña colada with a view," said Ortega. Just make sure to have some key lime pie during your visit, as this delicious dessert originated within these islands.
16. Destin
The Emerald Coast offers a wide array of activities to keep you busy for the week. From the miles of beaches to the Destin Commons shopping mall to fun excursions such as the Big Kahuna's water park or The Track Destin, you won't feel like you have enough time to hit everything in Destin's city limits. Don't worry, though; if you plan right, Destin will provide the ultimate spring break vacation. Just make sure to stop by The Back Porch for lunch right on the water one afternoon for some good grub with a view. You may even spot some dolphins swimming by from your seat on the sand.
17. Cape Coral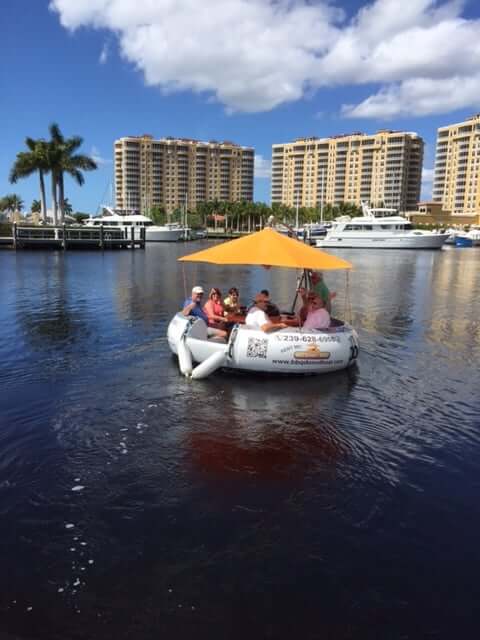 Nature lovers should definitely go to Cape Coral for vacation. Full of parks to explore like Four Freedoms Park and beaches that offer boat tours, you won't grow bored during your visit here. "It's a small town near Fort Myers and has a cute water park. Since it's close to Fort Myers, you're close to beaches where you can find full sand dollars and the Edison and Ford Winter Estates," said Florida State University sophomore Rebekka Behr. If you want a fun day on the water, take a BBQ Donut Boat out to the waves for some good southern food with friends. Spend your last night in town at Harbour View Gallery for some southern cuisine, live music and purchasable art.
18. Vortex Springs
This spring may be in the middle of nowhere, but it has a lot of fun to offer. You can scuba dive at this one, too, but most come just to swim and have a good time. They have canoes you can rent to go up the spring for some peaceful paddling and they are constantly building new additions to make your time here as memorable as it can. From big slides to rope swings, you have plenty of options to help you take the first plunge in the ice-cold water. Plus, you can find a delicious local doughnut shop just 15 miles from the spring grounds.
19. Orlando
https://www.youtube.com/watch?v=sbvfpW9m37U
Maybe spending your break on the beach doesn't quite float your boat. Go to one of Florida's biggest cities instead. Take a shopping trip to The Florida Mall to buy a new outfit and pick up dessert from Carlo's Bakery, then travel to one (or many) of the history and art museums that can be found around town. After a long day of exploring, experience Orlando nightlife like a local on I-Drive. Packed with bars, clubs and good eats, you can spend your whole night hopping from one place to the next and never get bored. Plus, Orlando is home to Disney, Universal and SeaWorld. "Disney has been such an important part of my childhood so whenever I go back it always gives me a happy and nostalgic feeling. Plus, with the Florida weather, spring is the perfect time to go. It's sunny but not too hot like the summer months. Overall I think everyone just has a really fun time being on vacation and spending time with their friends and family riding rollercoasters and eating great food," said UF junior Elexa Suarez. Relive your childhood dreams with this basic but fulfilling getaway.
20. Anna Maria Island
This little island in SoFlo will have you begging to stay forever. Events that draw in every kind of crowd constantly take place within this paradise. Different annual festivals such as "Symphony on the Sand" offer live music, every kind of food imaginable, and arts and crafts to be admired and maybe even purchased. One day will make you feeling more cultured than you ever expected out of spring break. With art galleries, museums and aquariums all within a short distance of each other, you won't have a problem finding something else to do when the beach scene grows old. Plus, they pride themselves in running primarily local mom and pop businesses rather than big tourist franchises, making it that much easier to fall in love with this little piece of heaven on earth.
21. Weeki Wachee Springs
https://www.youtube.com/watch?v=HZymMONi1XA
One word: mermaids. At Weeki Wachee Springs, you can witness live underwater performances by mermaids in an aquarium-like setting. Along with the show, they have a water park and boat rides to offer guests. As the deepest naturally formed spring in the U.S., you'll want to brag that you took a dip here to give your friends some serious FOMO. Of course you can find beaches here, too, but these won't compare to the experiences you can have at the spring or the Weeki Wachee Preserve.
5 Must-Haves for a Successful Florida Spring Break
Written by Devon Ledbetter
You already know most of your day anywhere in Florida will involve the hot sun beating down on you. Work on your tan and stay protected from those harmful UV rays. Stock up on the sunscreen before you head out for your beach-cation. Take it from someone who has spent every spring break beachin' it—you won't want to leave your hotel if you get sunburnt. Play smart to avoid ruining your vacation.
If you intend to go anywhere outside other than the beach, pack mosquito spray. The little blood-sucking vampires have no mercy. Don't spend your spring break itching and scratching, just bite the bullet and wear the magical spray. Yes, it stinks, but you can't flirt with that cutie across the bar if you're scratching all over from your hike earlier that day.
This seems obvious, but you don't want to forget your bikini and have to purchase a tacky suit from the local tourist shop. Treat yourself to some new trunks before your trip so you feel extra confident strutting your stuff. With so many styles available, you may end up purchasing one for every day of the week.
A beach tote will go a long way for your spring break. Not only will it make transporting your stuff back and forth from the beach to the hotel much, much easier, but it'll also help protect your phone and any other electronics from the hot sand. Plus, your vacation provides the best time to purchase items with cheesy quotes featured on them, so go all out with a "Beach Please" or a "Life's a Beach" tote.
Florida isn't called the Sunshine State for nothing. A pair of decent shades protect your eyes from those harmful UV rays and can prevent headaches from all that squinting you'd do without them. Plus, they can also make you look really cool. Splurge on a good pair and feel like a character straight out of Baywatch for your Spring Break.
If you plan to spring break in Florida, you'll need cute tanks to pair with shorts as your cover-up.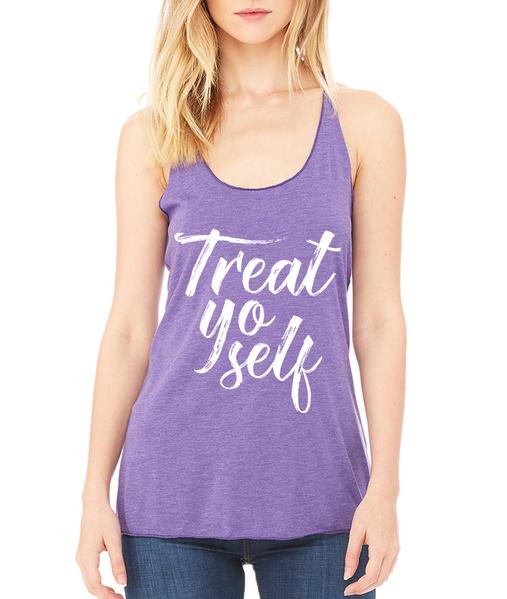 Treat Yo Self Racerback Tank: $24.99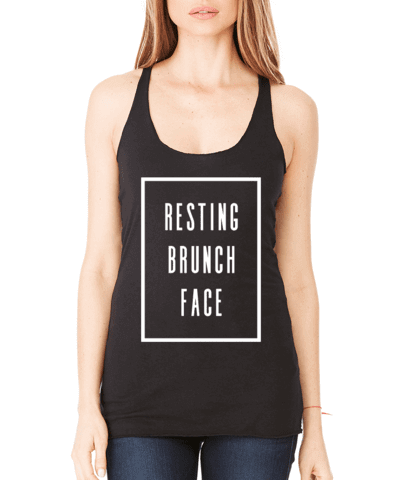 Resting Brunch Face Racerback Tank: $24.99
**Updated on February 1, 2018 to include list items 11–21 and "5 Must-Haves for a Successful Florida Spring Break" by Devon Ledbetter