You've probably heard your entire life that breakfast is the most important meal of the day, but if you're like me, you've gained a lifelong appreciation for this widely admired meal. If Shakespeare had his tales of love and loss, I have my stories of eggs and sausages from around Oberlin's campus. There are reasons why all Yeomen and Yeowomen should skip the snooze button and make time for breakfast.
1. Breakfast Can Help Your Productivity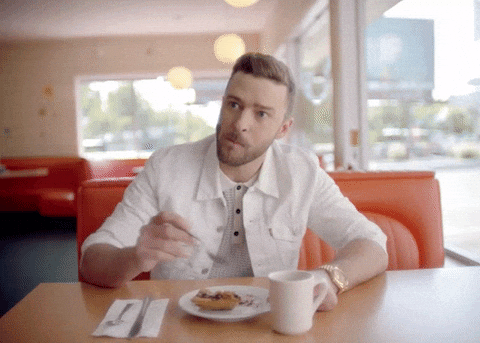 At Oberlin, one of the selling points in the admissions office is that people often stay up late, going to concerts or discussing the world. After three and a half years at Oberlin, I've become accustomed to meetings in the library after midnight or staggering into my bedroom in the wee hours after finishing a paper. Waking up for breakfast every morning gives students the chance to start their work early, preparing for class instead of cramming, and enjoying a little alone time during a quieter part of the day. Oberlin junior Sam Weiss said, "At night, everyone is awake and ready to chill. The options [of things to do] are tempting and distracting." During the morning, students have more time to do the largest part of their job: study.
2. Variety of Options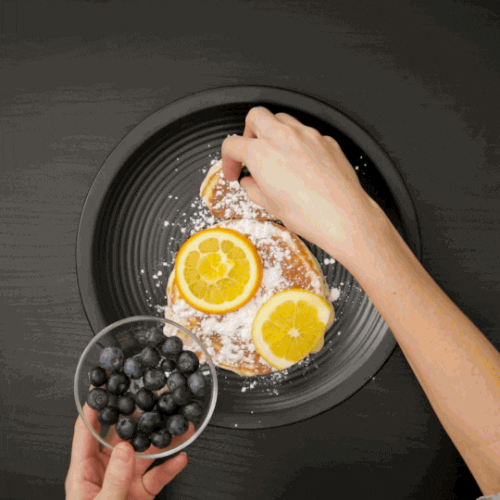 Although Oberlin is snugly nestled in the Midwest, where diners reign supreme, it provides an excellent variety of breakfast options worth waking up for. Opinions on Oberlin's cafeteria system can be mixed but, with on-campus options like Dascomb and the Science Center cart, students can usually find something worth eating. If venturing off campus, there are far more great options than anyone would expect for a tiny Ohio town. The Feve has #1 ranked brunch in Ohio, regularly serving up savory pancakes alongside intricate omelets or quiches. Right across the street, Black River Café routinely cranks out delicious traditional breakfast food. Who said breakfast had to be a boring bowl of cereal?
3. Hangover Cure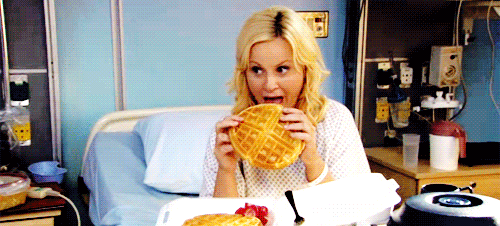 When I asked some of my friends back in Oberlin what they love about breakfast, the quickest response came from one of my housemates, who said, "An egg sandwich equals instant hangover cure." When my dad was in college in the late 1980s, he and his friends generally opted for Hardee's to counteract a late night's after-effects, but I'm loath to agree with my housemate. Hangovers suck at every school, but they're almost worth it if you can trudge your way to a Stevie brunch or The Feve to fill up on greasy eggs and bacon, French Toast and, most importantly, coffee.
4. Bottomless Coffee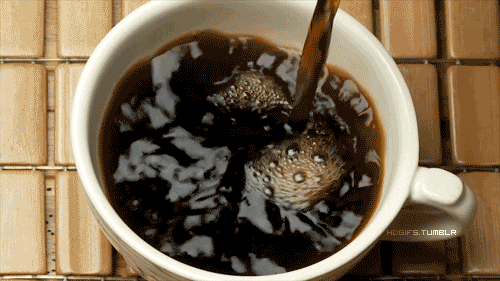 One of the most pervasive topics of conversation among the writers and producers at my job at CONAN is a never-ending fight against caffeine addiction. "I'm trying to cut back to one cup a day" is a common refrain. Coffee can be a calorie-free energy juice, an ambrosia we're allowed to drink every day. During breakfast, nobody cares how much coffee you drink. When you go out for breakfast, the server often fills it up without it ever running empty. You might not know yourself how much you've had. Second, it's early, and if someone is going to judge you for trying to wake up, they should lock themselves in a dark room to calm down.
5. Bacon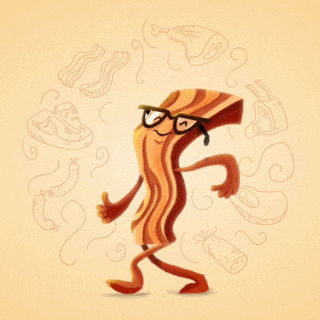 Apologies to the hundreds of vegetarians and vegans at Oberlin and beyond, but one of the reasons breakfast makes so many people happy is bacon. In fact, that solitary word, that lonesome statement, "bacon," might be everyone's favorite part of breakfast. Bacon can work as a side to eggs, a sandwich topping, a flavoring for pancakes or waffles, or even a meaty perfume cascading on diners for miles around. Most eaters are daintier than the famously bacon-obsessed gluttons at Epic Meal Time. That said, bacon strips on bacon strips have almost universal carnivorous appeal.
6. Overeating With Little Consequence
Everyone has had a food coma, even if they have a different name for it. Whenever I eat too much, I invariably find myself lying down to recover. When this happens in the afternoon or evening, I often have a problem. I can't go to sleep immediately after dinner, or risk forgoing an important reading or meeting. If I eat too much at lunch, my attention in class or at work could waver. In the morning, especially on a weekend, a food coma can be welcome. Even if I fall asleep, I am awake before most of the Oberlin day starts, recharged and energetic for my tasks to come
7. Morning Cocktails at the Feve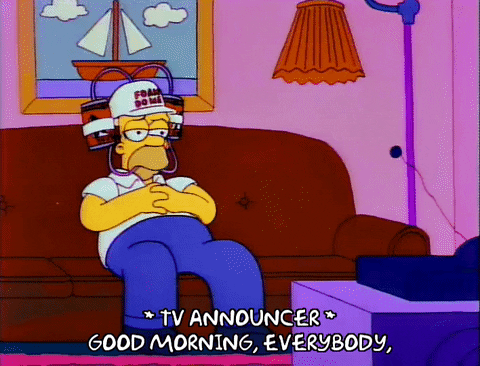 Waking up in the morning with a cocktail seems like the kick start to a day of tailgating or hanging out with friends. A little drink also seems like a nice way to take a relaxed approach to homework over the weekend. Try mimosas, a Bloody Mary or some Irish Coffee if you really want to get frisky.
8. Because Ron and Leslie Said So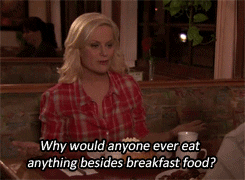 If Ron Swanson and Leslie Knope both ride for something, who are we to deny them? Even at the saddest points of their professional careers on Parks & Recreation, the two protagonists—nay, heroes—found joy in waffles, eggs and bacon. When Leslie asked Ron, "Why don't people eat breakfast food for every meal?," Ron gave the only answer that matters. "Because people are stupid." It might be difficult to be smart and eat pancakes every meal, but the least you can do is wake up in the morning to indulge yourself in the magical meal once a day.