Check out even more of our favorite coffee makers and accessories in our shop.
Some people are excited to go to sleep to rest up; coffee lovers are excited because they're that much closer to their morning cup of joe. All you can think about is sipping that hot, fulfilling cup of morning coffee. Your addiction is clear and you have no problem admitting it. You are a true coffee lover. Whether you know of someone who shares the same coffee bean passion as you or you want to just "treat yo self" to your own stocking stuffer, below you'll find a list of coffee gifts that will boost every coffee lover's holiday.
1. CapsuleKong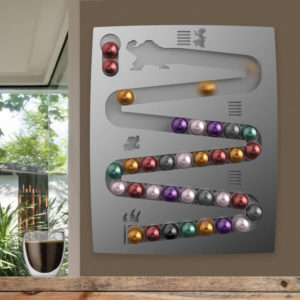 This gift is on the pricey side. However, if you are able to splurge this holiday season on your favorite coffee lover, it'll be worth it.. This metal coffee pod holder resembles the original classic Donkey Kong arcade game and is by far the most creative way I have seen to display your coffee selection. The downside: Hologramer's metal pod holder can only hold Nespresso Pods. Nevertheless, the quality and mounting instructions are sturdy and simple — screws or even 3M wall hooks will do the job.
Price: $295.00
2. Starbucks Frappuccino Scented Candle
Half of the joy of drinking coffee is the wonderful smell that enters your nostrils after you brew that first cup — or light this candle. The Doublebrush vendors on Etsy have a thoughtful gift for your coffee enthusiast. Each used Starbucks Frappuccino bottle is recycled, cut and sanded by hand, then filled with coffee fragrances and 100% natural soy-wax. The different Frappuccinos available are mocha, coffee and vanilla. The candles' high quality allows them to burn 50-60 hours, leaving your house smelling like the corner coffee café.
Price: $16.00
3. "Criminalize Decaf" Wall Art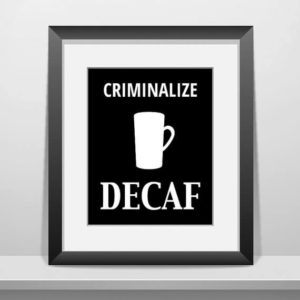 If there is one thing all coffee lovers can agree on, it's that decaf coffee is utterly pointless. This funny wall art poster is perfect to hang up at work or in your kitchen and will allow you to proclaim your assertive stance on decaf coffee. The 8×10 print is actually available to anyone that has access to a computer and printer. At RiBoStudio on Etsy they send you a digital file of the image within 48 hours of purchase, and then you can save the image to your computer. You can print as many copies as you would like, but distribution and resale are prohibited. There are 16 different background colors to choose from so you can personalize it with your coffee lover's favorite color.
Price: $4.95
When asked, "where do your coffee beans come from?" many of you coffee drinkers may reply, "from the corner Starbucks, of course." While flipping through the pages of this book you'll not only read about the history of coffee and the farmers who harvest it, but will also see many pictures that illustrate your favorite drink of choice. This book is a bit on the pricey side because availability is slim. When finished, it would be a perfect read to pass on to coffee lovers alike. This book isn't something you'd want to put down while sipping your coffee at your favorite café.
Price: $12
5. Dunkin' Donuts Seasonal Coffee Blends

What's a better gift to give than coffee itself? These 11 oz. bags of Dunkin' Donuts coffee are only available during the fall and winter seasons at grocery stores or the coffee shops themselves. I've never seen the bags sell for more than $12, and there are three delicious flavors to choose from: pumpkin spice, apple pie and eggnoggin'. If you know the person you are buying the gift for already adores Dunkin' coffee, then these special flavor gifts surely won't disappoint.
Price: Varies by Store
6. "A YAWN is a silent scream for COFFEE" latte mug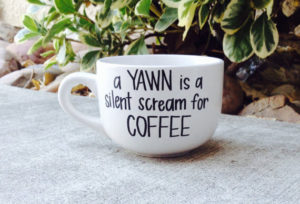 All coffee lovers alike can relate to the endless yawn attacks we have before our daily caffeine fix. This quirky quoted mug says it all. Artist MakeLoveLive on Etsy handwrites these $14 mugs. Each 16 oz. latte mug is unique in its own way, and also comes in 12 oz. or 15 oz. sizes depending on how much coffee you gulp down every morning. The quality of this product should last, as long as you handle it with care and hand wash only.
Price: $14.00
"Cause you're hot and you're cold," aren't just the lyrics to your favorite Katy Perry throwback song — they're also the two ways you can take your most delightful drink. This coffee bean-shaped ice tray is both an inexpensive and genius gift. Fill the tray with cooled coffee and freeze, and later on you can add them to your iced coffee without worrying about watering it down. The tray is flexible because it's made of food-grade silicone — just make sure to wash this by hand too.
Price: $8
This isn't a conventional coffee mug that will only keep your coffee warm until you make it to work. Instead, this nifty mug can be powered up to heat your coffee all day long. It has a 12V port so you can plug it into your car's charger outlet. Then when you get to work or school, it also has a USB port to plug into your computer. Being that it's a step up from an ordinary mug, the $22.99 price isn't too bad at all. It only comes in the color red but the quality is there with a rubberized finish, rugged-grip handle, spill-proof lid and double insulation.
Price: $22.99
In just minutes, this coffee canister is able to transform a hot freshly brewed cup into a cold and refreshing beverage. When I want my iced coffee, I want it now. Sometimes I just don't have the patience for a hot cup of coffee to cool down. All you do is pour the coffee into the pre-chilled mug, slip on the insulating sleeve and then screw on the lid with the accompanying straw. The cup is fit with a sturdy spill-resistant lid and it's also BPA-free.
Price: $29.99
Finally, we have the best gift to get your coffee lover this season: the world's strongest coffee. It's only $18.99 for one pound of this revolutionary coffee. The unique blends, roast shades and beans make for the ultimate cup of caffeine-filled brew. You can even buy a five-pound bag for $79.99. The beans are totally organic, and the Death Wish Coffee Company team has had over 70 years of experience making it.
Price: $19.99